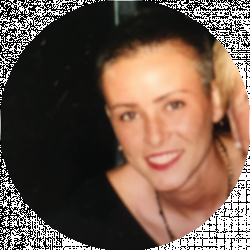 Latest posts by Richelle Tieman
(see all)
Are you planning a birthday party for someone special? Thinking of a way to make the party come alive? Giving the guest of honor a birthday sash that rocks the party and lets people know "who's who" can be the best ice-breaker.
As a full-time working mom, anything to make life more convenient was welcome, as was a prop to ease social situations into a positive outcome. A birthday sash proved to be one of those props!
Creating a fun atmosphere doesn't have to be expensive; if you do it enough, it becomes easier each time! A birthday sash is an extremely affordable way to give that little extra added buzz to a birthday celebration, whether it's the first birthday or the 90th!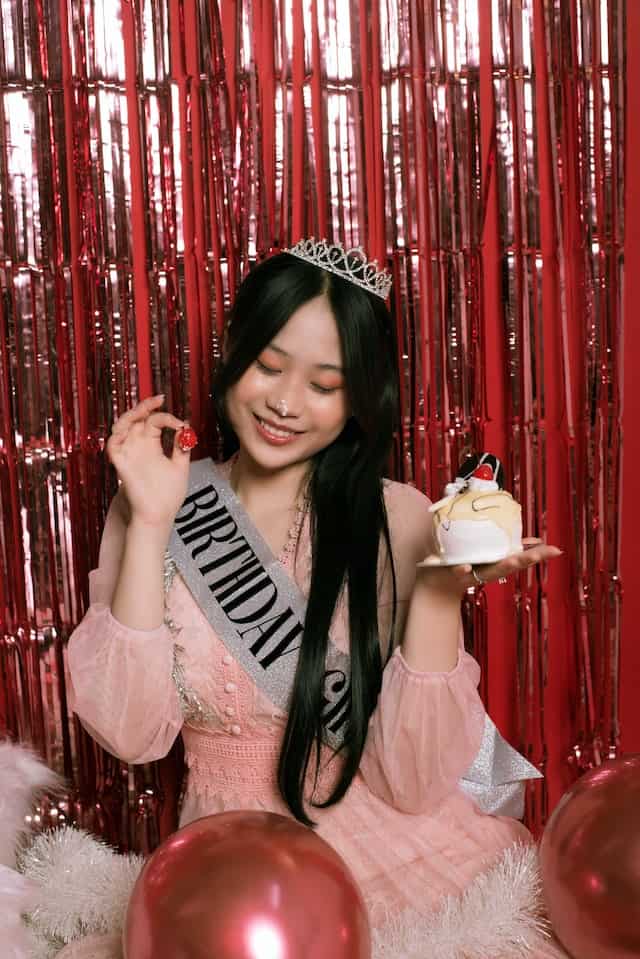 Bottom Line Up Front
With so many choices, it is difficult to choose just one. Since most people are searching for a children's birthday sash and probably aren't concerned with it withstanding the test of time, my is that the bottom line best birthday sash is the Light Up Fun Birthday Sash.
I love the versatility of this sash being worn by a girl or boy, and the confetti colors against the blue background make it easy on the eyes. It lights up with the push of a button, and that feature alone will excite the guest of honor! Kids love anything that lights up – it's like magic to them!
How I Choose the Best Birthday Sashes
Customization
It's important to note that if you buy online, many sellers will customize the name, ribbon colors, year, etc., for you. Take a good look at the fields you must fill out to ensure you put the correct information where it goes. I like Etsy for this very reason. You can email the owner directly with your message and ensure the item will come out exactly as you want it.
Don't be afraid to ask for some customization that isn't listed! I always email the seller to ask if they can change one thing or another in whatever I am ordering, and usually, they are happy to do it!
High Quality
Nowadays, I'm not too concerned with re-using the same sash for another function, so longevity will probably not play a huge role in my choice. That being said, I have included more substantial sashes of extremely high-quality satin ribbon with fabric backing stabilizers that can be machine washed.
I would buy these sashes for my aunt's or parents' senior birthdays, including many relatives and friends. These sashes will be softer to the touch, won't rip when snagged, and make sitting in them easier. They also look classy. I know my mom won't mind wearing the same substantial sash my dad did when he turned 90!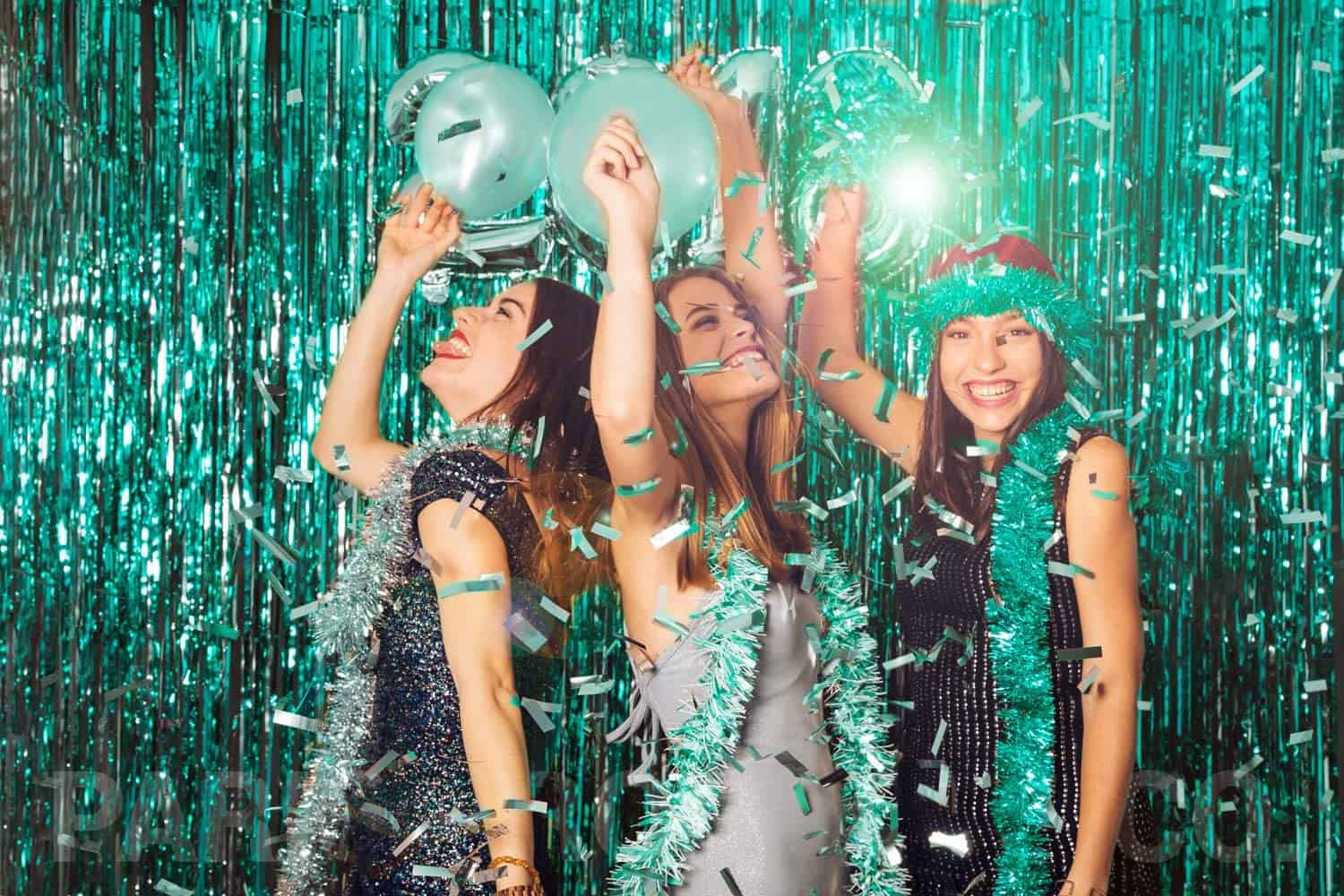 Categories of Best Birthday Sashes
Most sashes can be customized to have the correct birthday number, name, and message. I didn't break the sashes down by every single year but rather by age category. Please remember that these are general categories; if you see something you like, use it for any year!
I broke it down into male and female first, which makes quite a difference for most themes. Then I broke it down by age group. Again, remember that there are so many options you can choose when buying a sash that if there's something in the messaging that makes it specific to a certain age – you can probably change it.
Total List of Best Birthday Sashes
Girl's Sashes
Boy's Sashes
Women's Sashes
Men's Sashes
Unisex Sashes
Details about the Best Birthday Sashes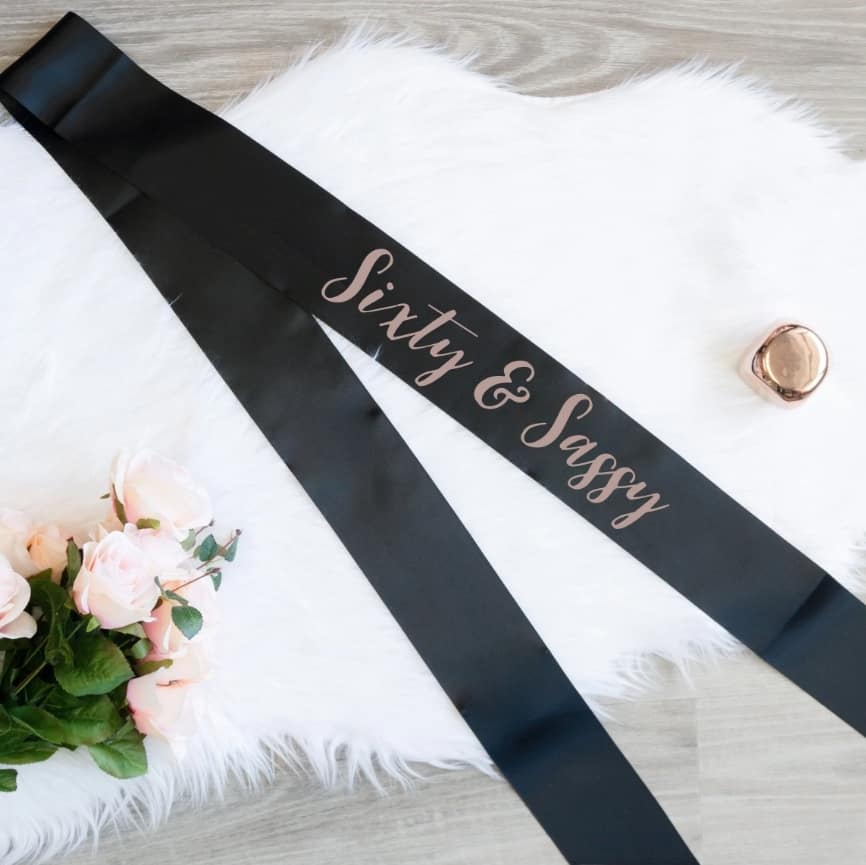 Do you know someone who gets more feisty with age? Celebrate a fun-loving friend or relative with a suitable sash that speaks to their sense of humor. Great for older folks to let them know you appreciate their wisdom and wit! I like the 4″ wide sash as it gives more room to be read. There is no age where I run out of "fun-ness," and when I'm 60, I hope someone wants me to wear this! Get it here at Simple and Sentimental.
| | |
| --- | --- |
| Pros | Cons |
| Handmade with professional heat applied lettering | More expensive |
| Great for older people to feel special on their birthday! |   |
| Customizable with all colors |   |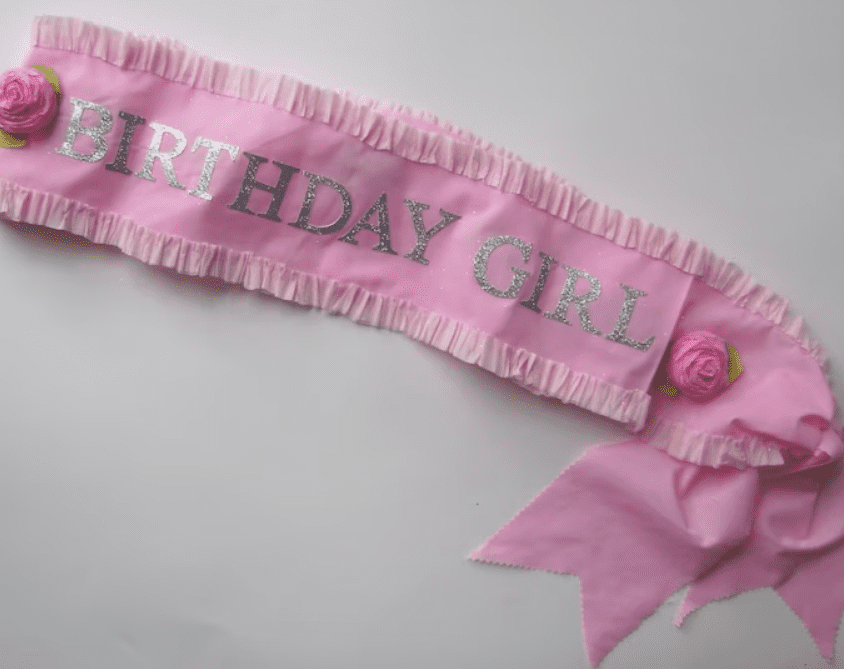 I adore this fabric handmade birthday sash! It is made in the USA and has dreamy crepe paper roses, and hand stenciled glitter. Sure to hold up throughout a rough and tumble celebration, this is fit for a princess! 5,000 reviews of 4.9/5! This is customizable with fabric colors, rosebud colors, messaging, glitter, etc. Get it here on Etsy.
| | |
| --- | --- |
| Pros | Cons |
| Handmade in the USA | More expensive |
| Luscious fairy princess sash for the birthday girl |   |
| Sturdy fabric won't rip when snagged |   |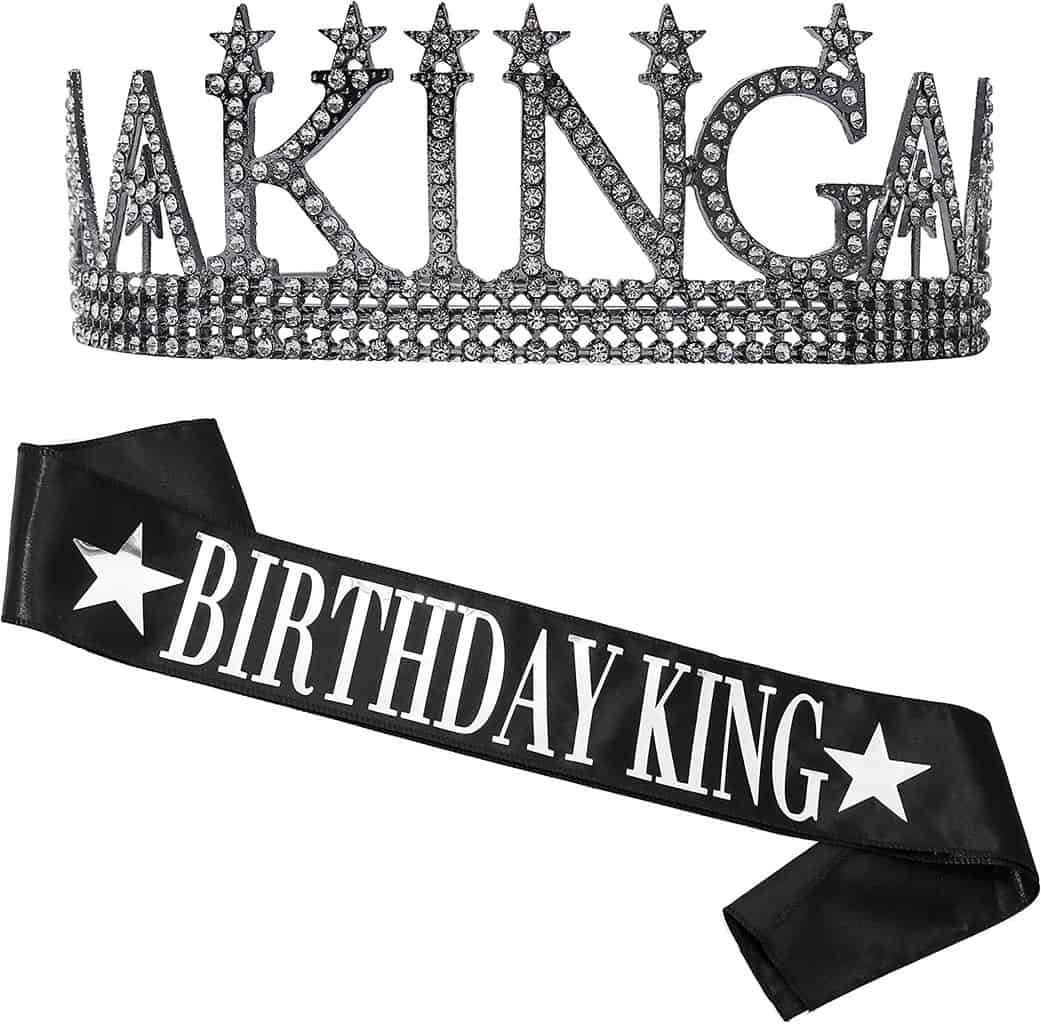 This is fabulous for a black tie-themed party, or with white and black balloons and cake! A checkerboard decoration goes nicely with this as well! I am picturing a 20-something or older man's birthday – or a very sophisticated teen! I like the simplicity of this style for clear messaging and a classy look. Reviewers say that the crown is heavy metal, and it's adjustable! Check it out at Amazon.
| | |
| --- | --- |
| Pros | Cons |
| Heavy, substantial crown | Men may not want to wear the crown – you can use it for a cake topper! |
| Simple and classy black and white theme |   |
| Five hundred buyers rated it 4.7/5 |   |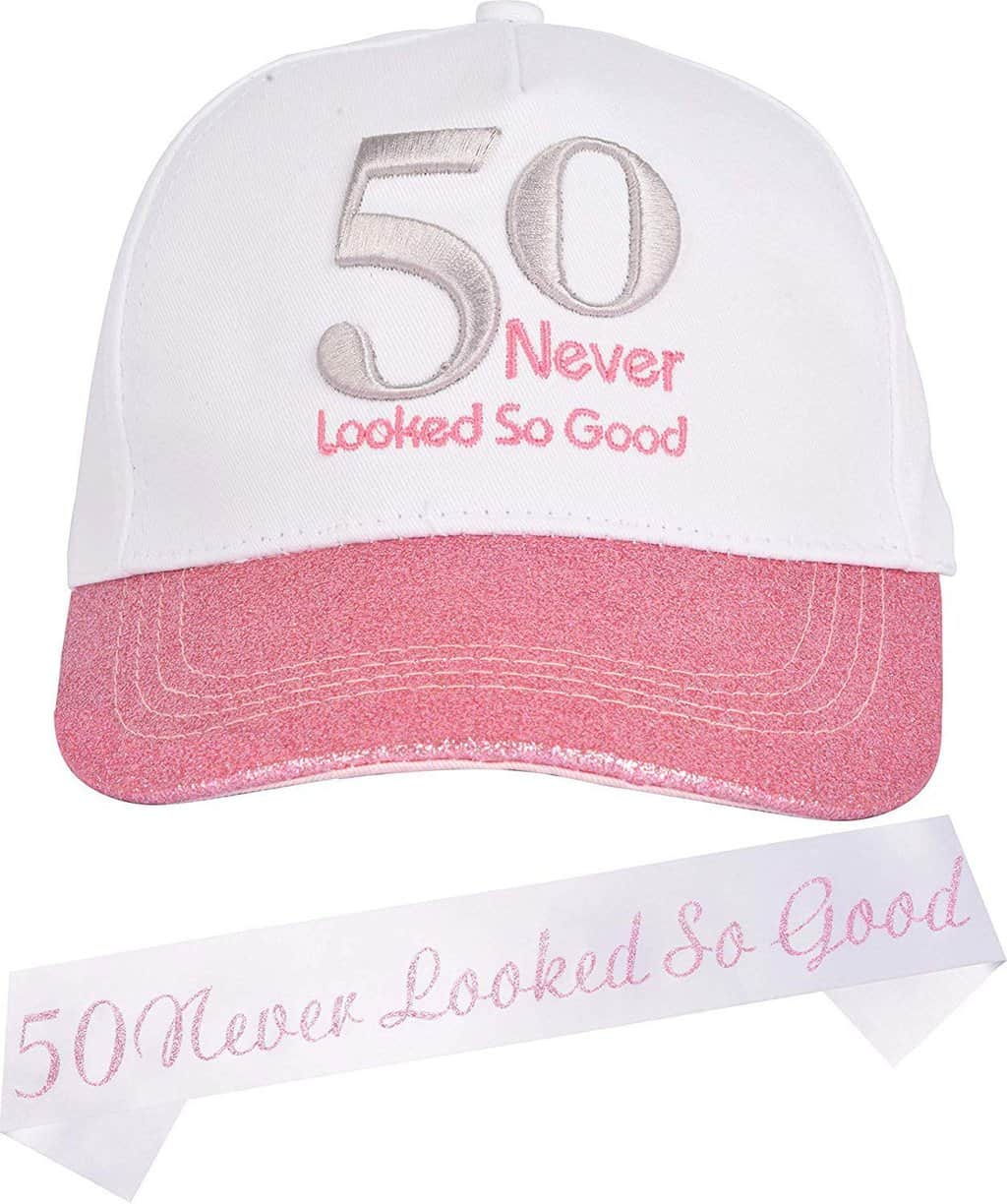 Perfect for a sister, friend, or better half, celebrate her five decades of living in a pretty pastel pink glitter sash and cap. Exquisite embroidery and a flattering message gleam softly on the white background. I love this cap, and I would wear this all the time! Bubblegum pink or cotton-candy pink colors could match the cake decorations! Find this at Amazon.
| | |
| --- | --- |
| Pros | Cons |
| Fresh and delicious style to wear every day | I wish the sash writing were a little darker |
| Over 300 buyers rated this 4.8/5 |   |
| The hat is adjustable, and the sash is 80 inches long |   |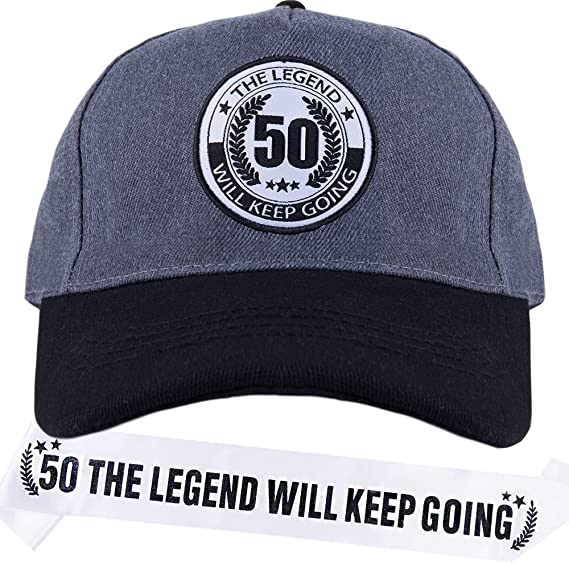 Classy and stylish, this legendary sash and cap celebrate a half-century of living! This is perfect for my brother-in-law because my nephews always call him a "legend," and he has made a legacy for the family. This is one cap that won't get stuffed in the back of the closet after the big day! An Amazon's Choice pick. Find it at Amazon.
| | |
| --- | --- |
| Pros | Cons |
| Stylish enough to wear every day | Sash needs to be pinned on clothing |
| Classy black and white simple sash |   |
| Satisfaction guarantee and rated 4.7/5 |   |
Stunning and exquisite in their celestial blues and turquoise, this birthday queen sash and matching tiara are luxury accessories for the big day! I just want to melt into these crystals and glitzy shine! Silver writing highlights the sparkle of the ribbon sash, and the words are visible from across the room. Over 1,000 ratings of 4.8/5! Get this on Amazon!
| | |
| --- | --- |
| Pros | Cons |
| Gorgeous lush colors | Sash is only 33 inches, so you need to pin it on clothing for older children |
| Rated 4.8/5 |   |
| Money back guarantee |   |

This sash caught my eye for the simple blue and white decoration and the included crown made totally of fabric! This crown will last! I love the idea of getting a blue birthday sash and crown for one boy and a red and black (the next one) sash and crown for the other boy on the day of the celebration! No one feels left out, and it is a great theme for the party with the two Kings running around with their crowns and sashes! Get this at Walmart!
| | |
| --- | --- |
| Pros | Cons |
| Birthday crown, pin, and sash all in one | A little more expensive |
| Crown made entirely of durable fabric for use after the party |   |
| The simple blue design isn't overwhelming |   |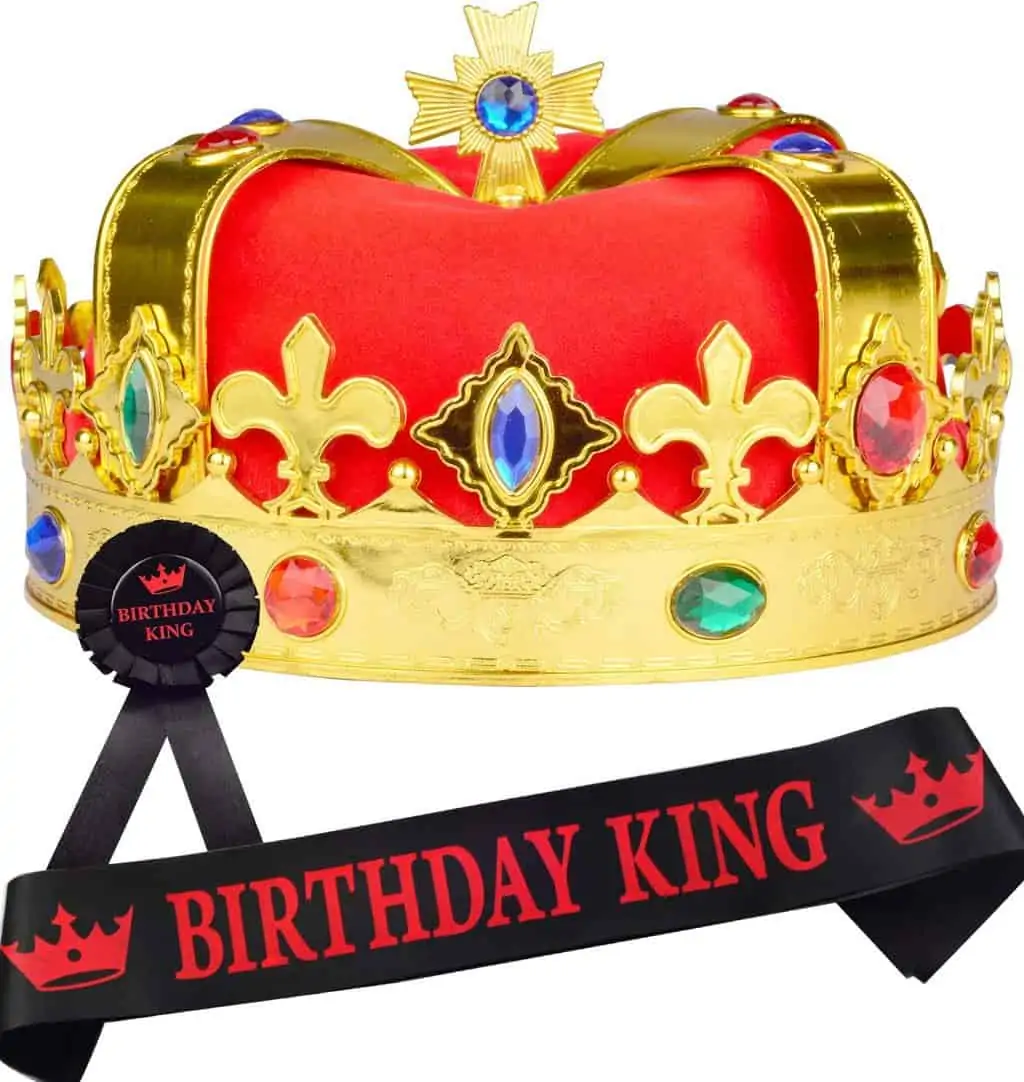 This covers all bases with a birthday pin, sash, and crown for the lucky boy! I love this puffy, fully styled gold crown that looks just like real royalty! The crown can be used for play-acting after the party is over and can fill many purposes. I like that the crown is made of alloy and cotton fabric, lasting longer than polyester. Find this at Amazon.
| | |
| --- | --- |
| Pros | Cons |
| A super cute crown can be used after the party | Only comes in black sash |
| Adjustable back snap for the crown |   |
| 100% money back guarantee |   |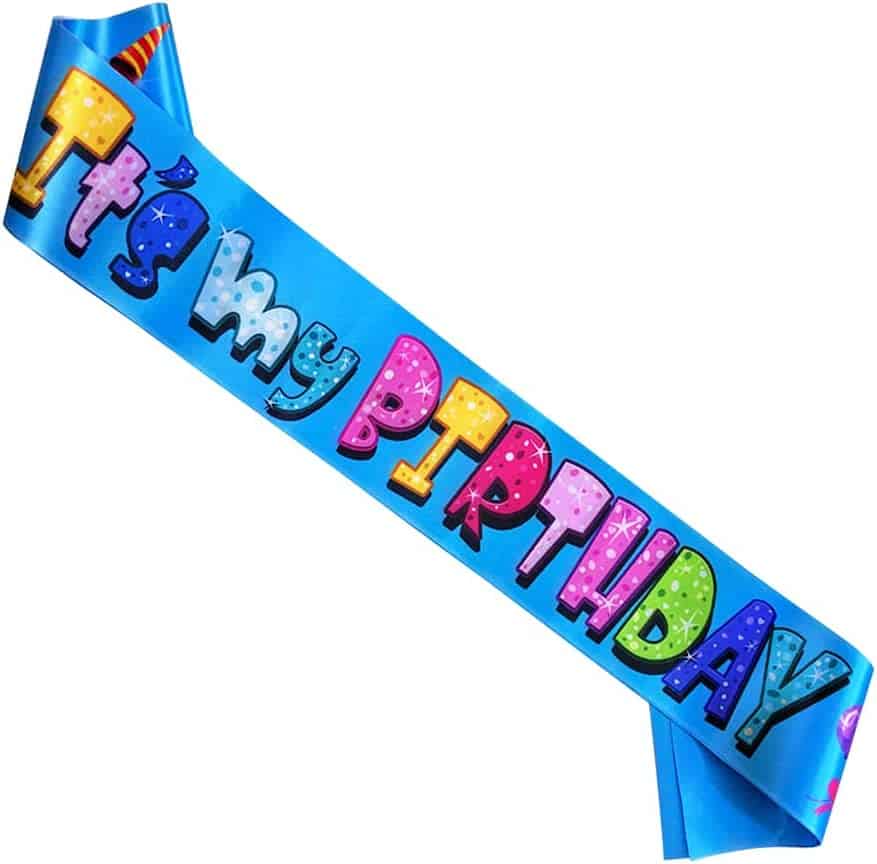 I like this birthday sash for the plump writing style and design detail on the letters. This has so much fun color and shading outlining the words that it looks well crafted. I feel happy just looking at it! It's also non-gender specific, which is a plus in my book. You can even wash and iron this to use for many years! Find this at Amazon.
| | |
| --- | --- |
| Pros | Cons |
| Excellent quality with high definition printing | I wish it was larger |
| Engaging and fun sash for a boy or girl |   |
| Machine washable and comes with a cupcake sash pin! |   |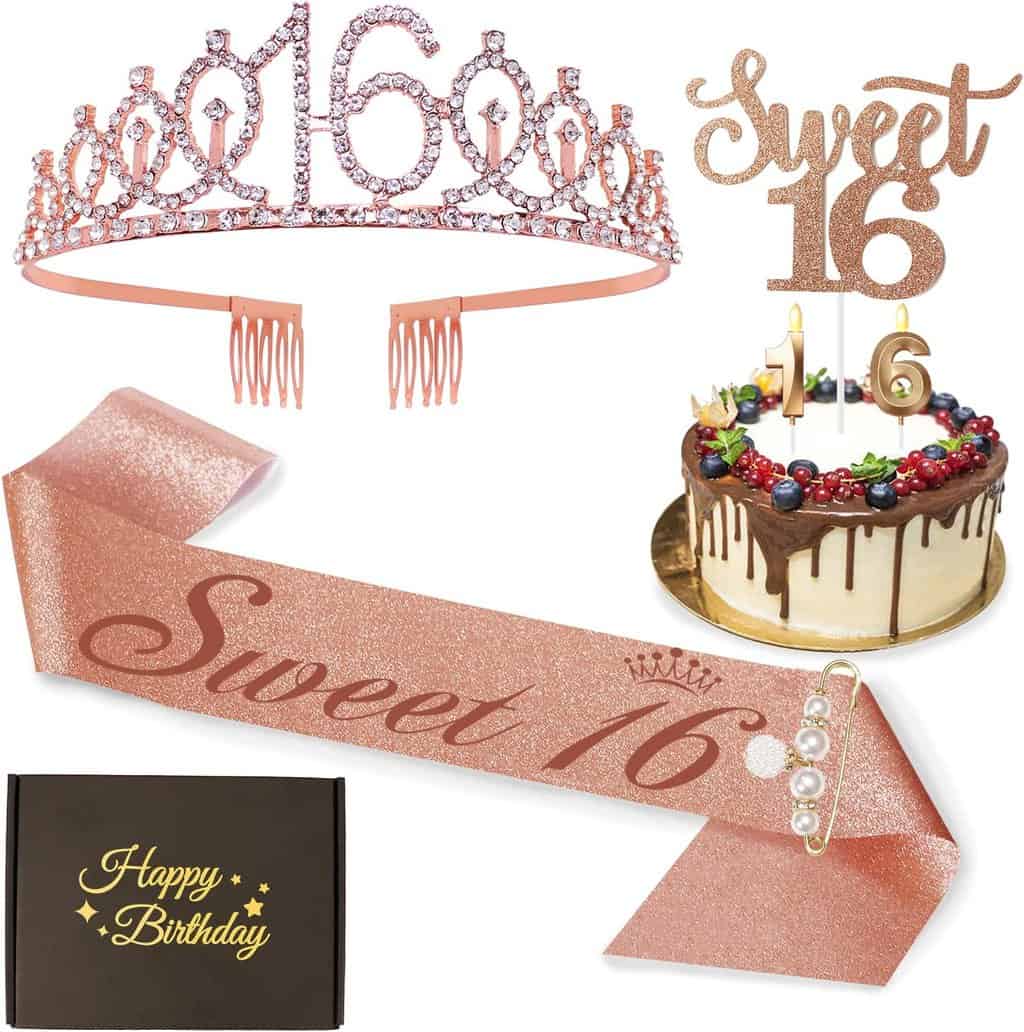 Something about rose gold exudes lushness, and I can't get enough of this color! The official teenager cake topper is so pretty with its glitter and matching tiara and sash. This has glam all over it yet still seems subdued if you look at the sash. This is a great way to welcome the teen years – especially with the beaded sash pin and number 13 candles! Find this on Amazon!
| | |
| --- | --- |
| Pros | Cons |
| Lush glitzy rose color sparkles | No reviews yet |
| Five things in one – super easy coordinated decorating and inexpensive |   |
| Includes candles and a stylish sash pin |   |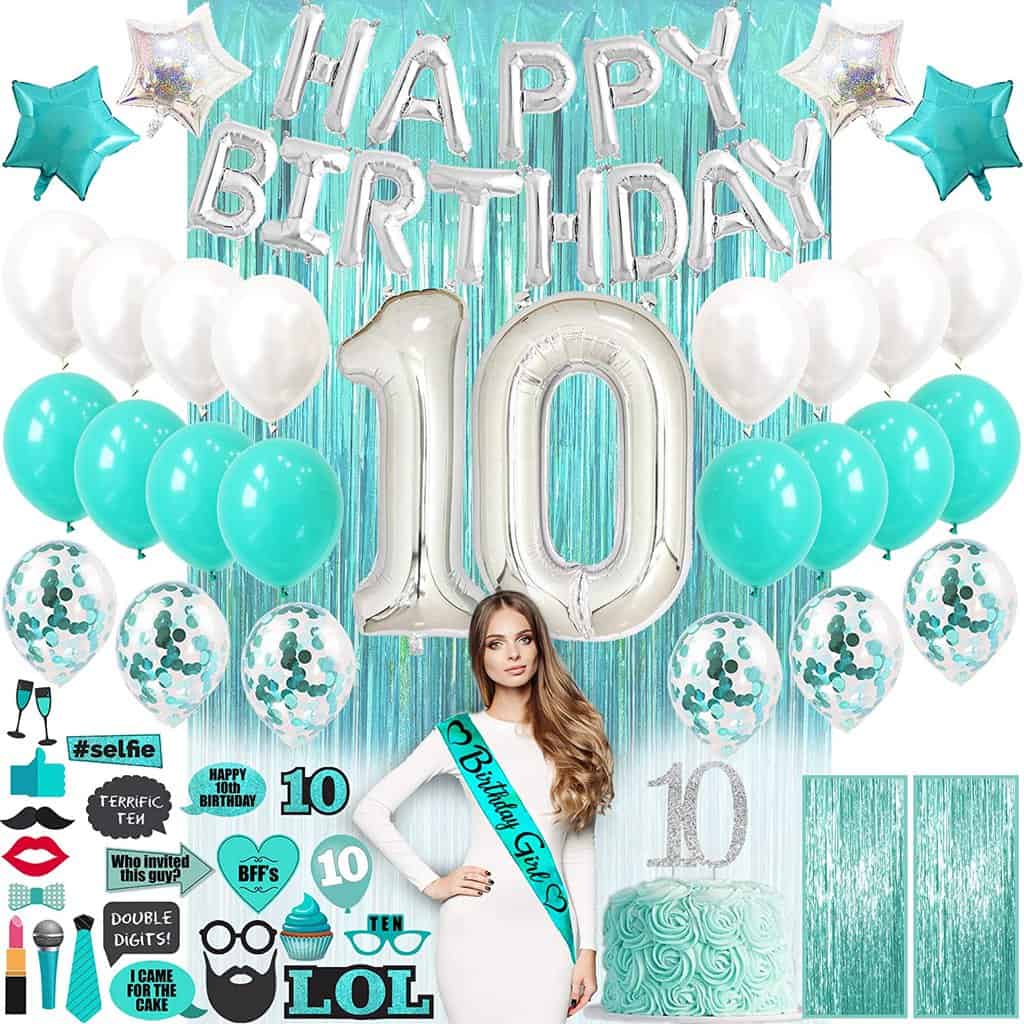 A Mom's Choice Award winner, this item and company have been featured on NBC, CNN, ABC, and a host of credible media networks! I want to decorate my room in this aqua-blue glitz party with sparkling, brilliant colors and matching photo opp props! The balloons are super fun with confetti dots, and the sash is simply creamy blue gel! Find this on Amazon!
| | |
| --- | --- |
| Pros | Cons |
| Delectable glittery colors create a matching theme party | Only comes in several birthday years |
| Mom's Choice Award winner |   |
| It saves you time, energy, and money- super convenient! |   |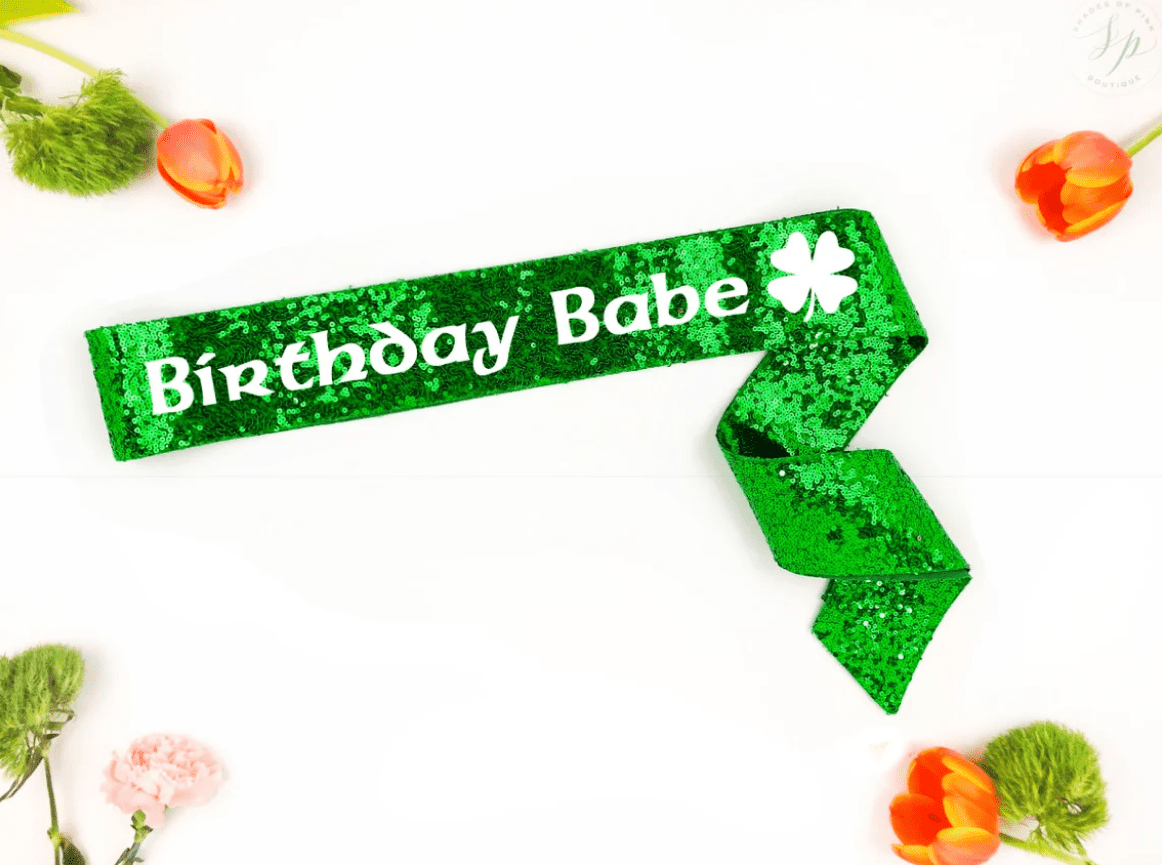 I love this twinkling, sparkly green St. Patricks Day birthday sash for its stand-out design and bold beauty! Let everyone know that your birthday falls on the same day the Irish celebrate their heritage and culture! If you have to share your day, make it fun and put yourself back at the party's center! Find this on Etsy!
| | |
| --- | --- |
| Pros | Cons |
| Made in the USA, high-end fabric | More expensive |
| Super bright with a fun theme |   |
| 5/5 stars |   |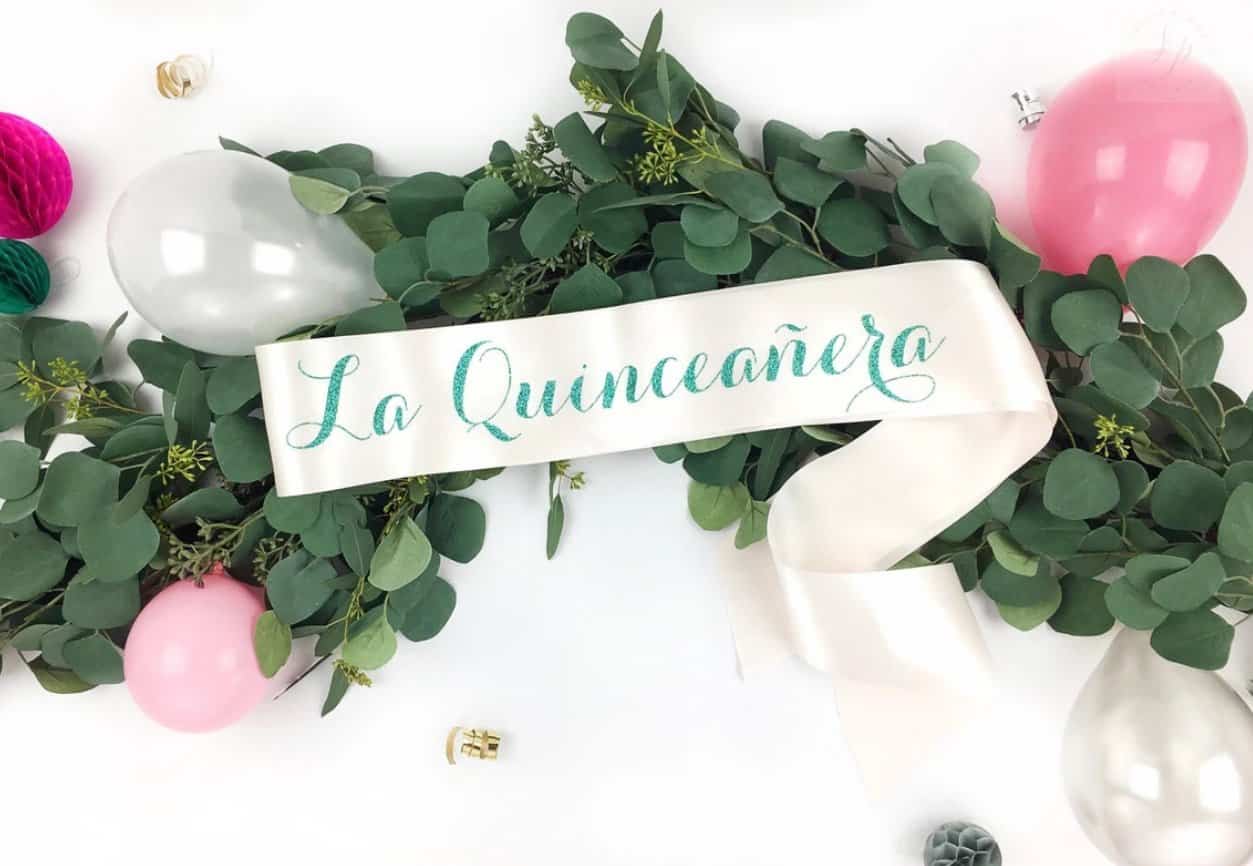 Every girl looks forward to her 15th birthday celebration, La Quinceanera, as it symbolizes the transition from childhood to being an adult. Wear this double-faced high-quality satin ribbon sash with confidence as your custom colors announce in glitter that you have arrived! Handmade in the USA with over 11,000 buyers rating it a 4.9/5.
Get this on Etsy!
| | |
| --- | --- |
| Pros | Cons |
| It comes with velcro fastening for a custom fit | I wish there were more culturally specific themes |
| Elegant and charming simplicity in custom colors |   |
| High-quality with 11,000 reviews of 4.9/5 |   |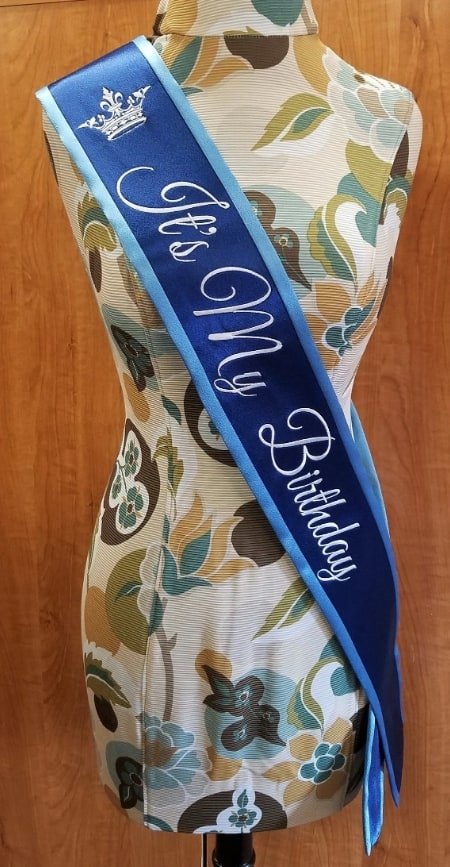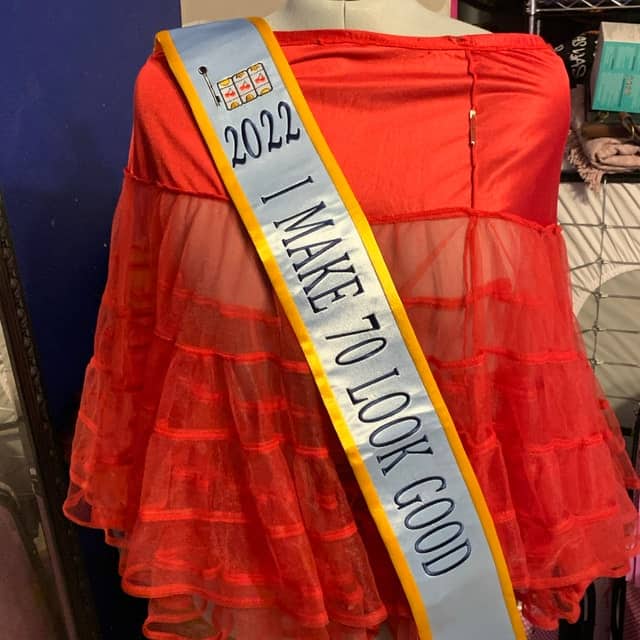 Spectacular heavy-duty lined custom-made birthday sash with your name, saying, birthdate, image, etc., on it! This is the way to go for outstanding quality and comfort when wearing a sash. Custom embroidery will create your personalized sash with long-lasting fabric stabilizers to protect the satin ribbon while stitching. Four sizes and countless colors, with 3,000 ratings of 5/5! Find this at Etsy!
| | |
| --- | --- |
| Pros | Cons |
| Lined satin sash with fabric stabilizer | Expensive |
| Your custom phrase, name, and design |   |
| Rated 5/5 by 3,000 buyers! |   |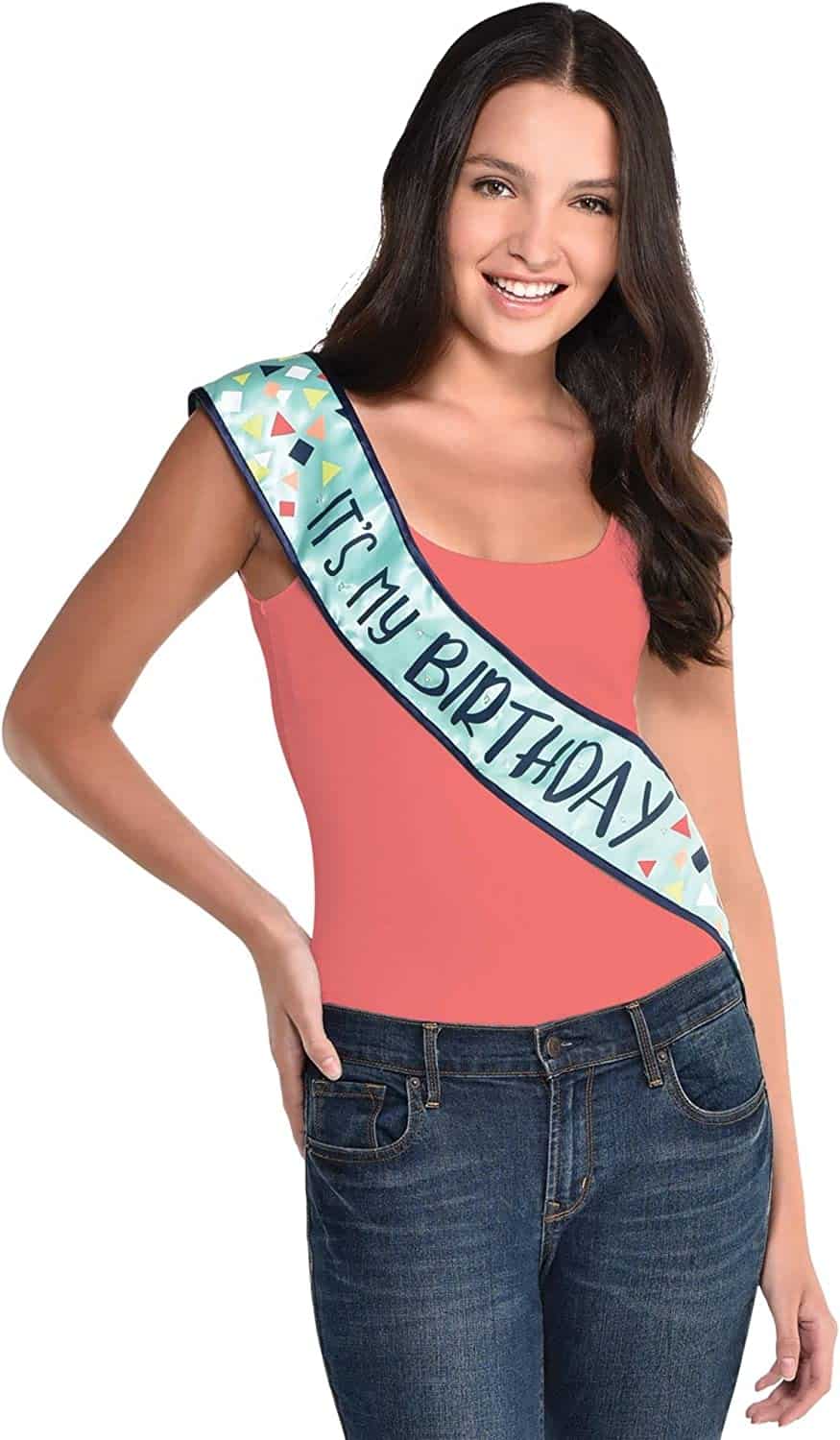 I love this light-up birthday sash's clear graphics and colorful confetti shapes. It can be used for both boys and girls, men and women! Stand out with the fun lights that are battery-operated and will show up outside when it starts to get dark! Very few lighted sashes are available for anything, so this is a great find! Get this on Amazon.
| | |
| --- | --- |
| Pros | Cons |
| Amazing fun with this glowing lighted birthday sash | No reviews yet |
| Unique item with bright colors |   |
| Inexpensive |   |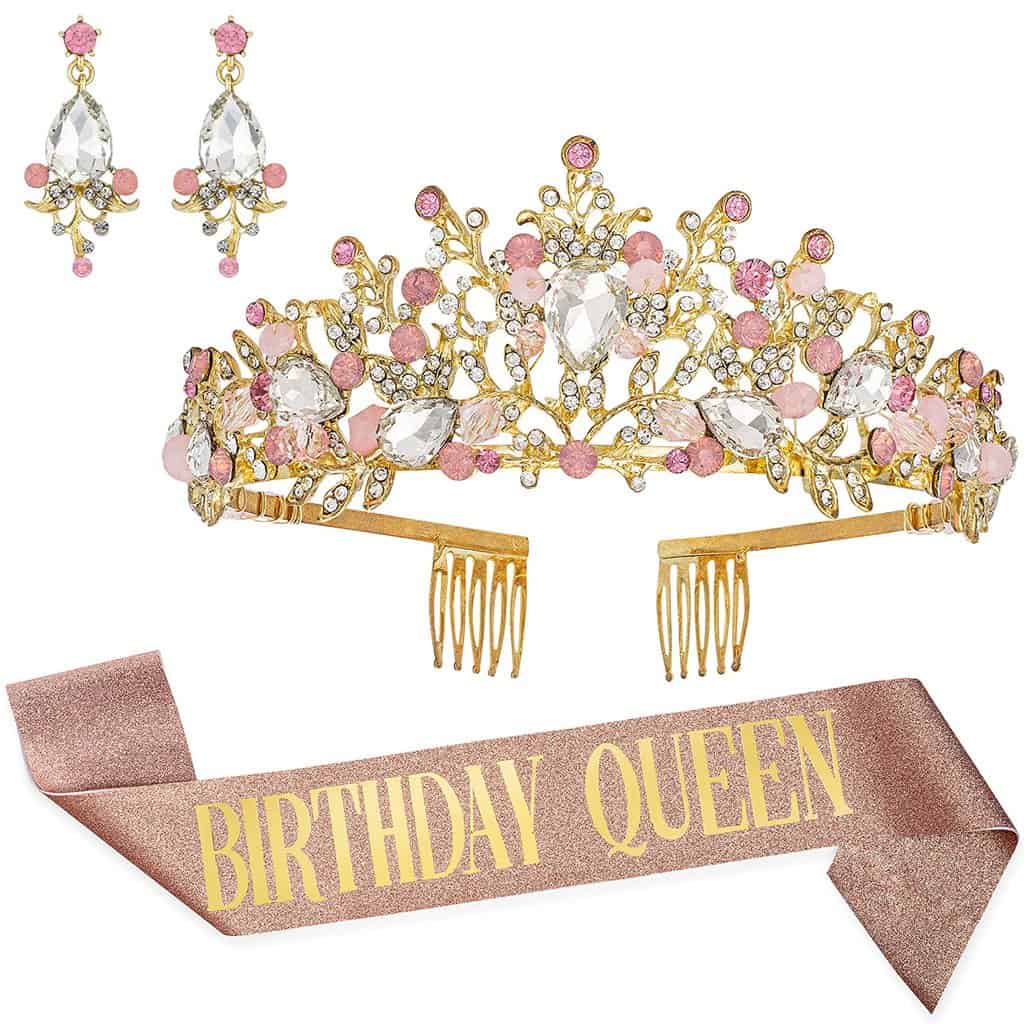 Fascinating to stare at, I love this glittery rose and gold birthday sash set with earrings! So delicate and pretty with lots of crystals, showcasing the birthday girl. Gorgeous drop-down earrings match the tiara and rip-proof sash, adding glamour and shimmery dazzle to the party. These colors are charming, and the detail in the crown and earrings is spectacular. Almost 500 buyers gave this a 4.7/5, so it must be just as delicious as it looks! Find it here on Amazon.
| | |
| --- | --- |
| Pros | Cons |
| High-quality, rip-proof, and reusable three-piece set | A little more expensive |
| Gorgeous shiny crystal tiara and earrings are dazzling |   |
| 500 ratings of 4.8/5 |   |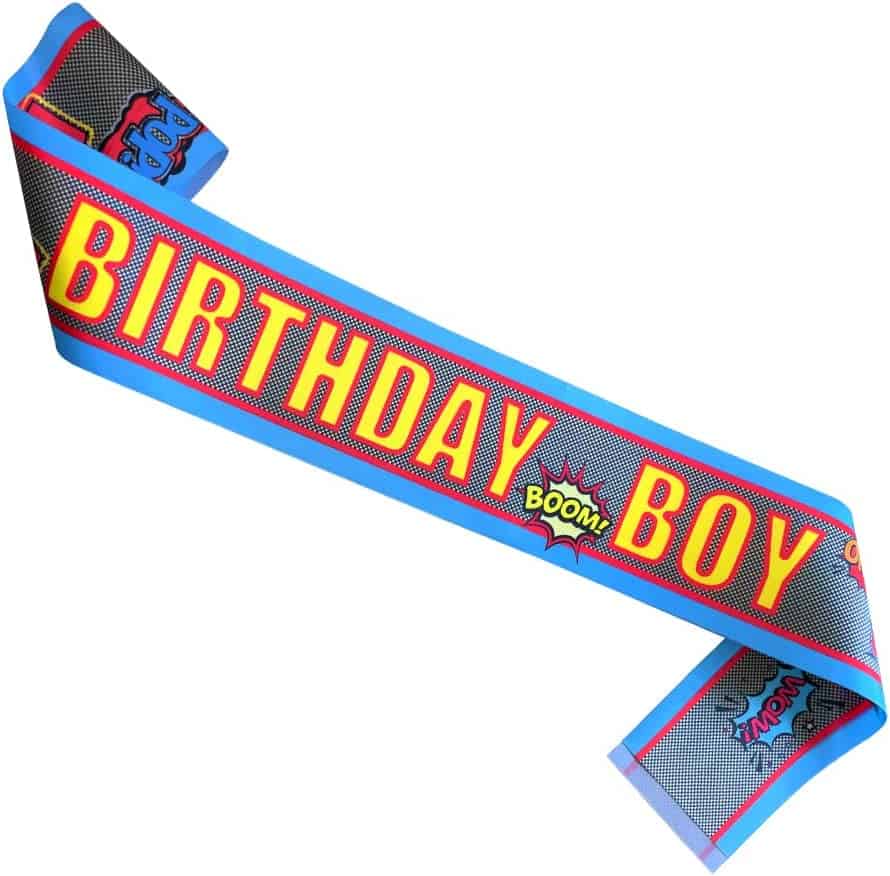 I can't get enough of this stylish superhero-themed birthday sash! I love it for boys, and it's the only one I have found that has anything like our famous friends from Marvel. Bright and cheery with stunning comic book graphics, this will please any birthday boy to feel like a superhero on his special day! I love the high-definition printing and the superb quality that make this washable, and it even can be ironed! Find it here at Amazon.
| | |
| --- | --- |
| Pros | Cons |
| High-quality, reusable, washable, and ironable | I would like to see this in a larger size |
| Unique sash with a comic book theme |   |
| Money back guarantee |   |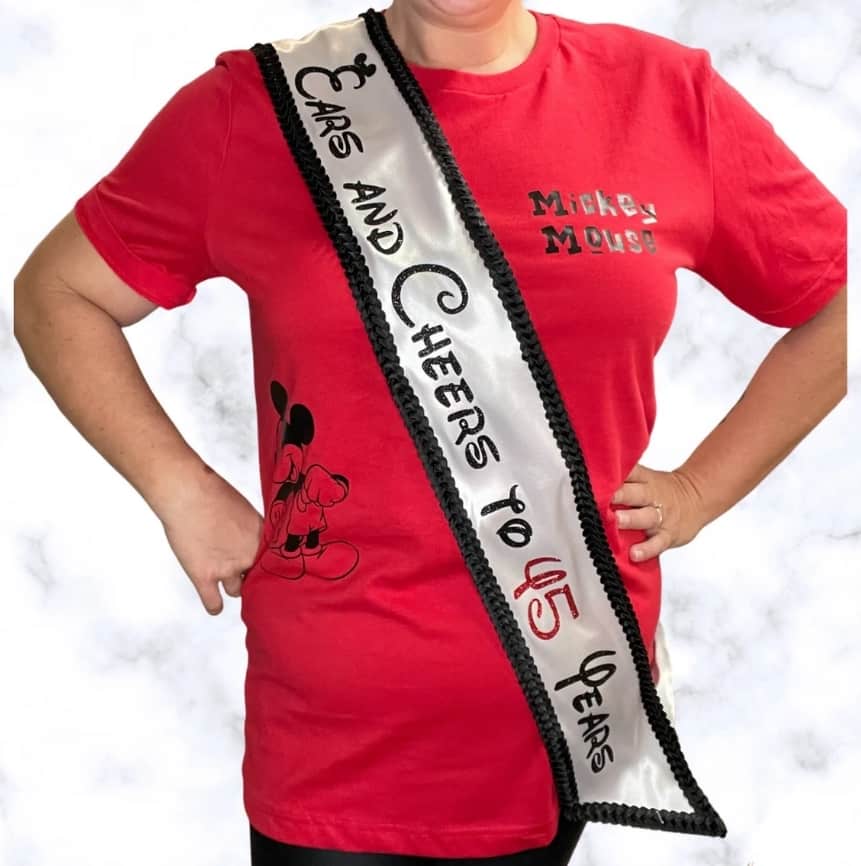 This is the grandest birthday sash ever made! What could be greater than a personalized message from Mickey Mouse himself? This birthday sash looks like a Mouseketeer sent you birthday wishes. Custom made in the USA with any birthday age. Find this on Etsy!
| | |
| --- | --- |
| Pros | Cons |
| Unique custom-made Disney sash | More expensive |
| Handmade in the US |   |
| Classy black, red and white design |   |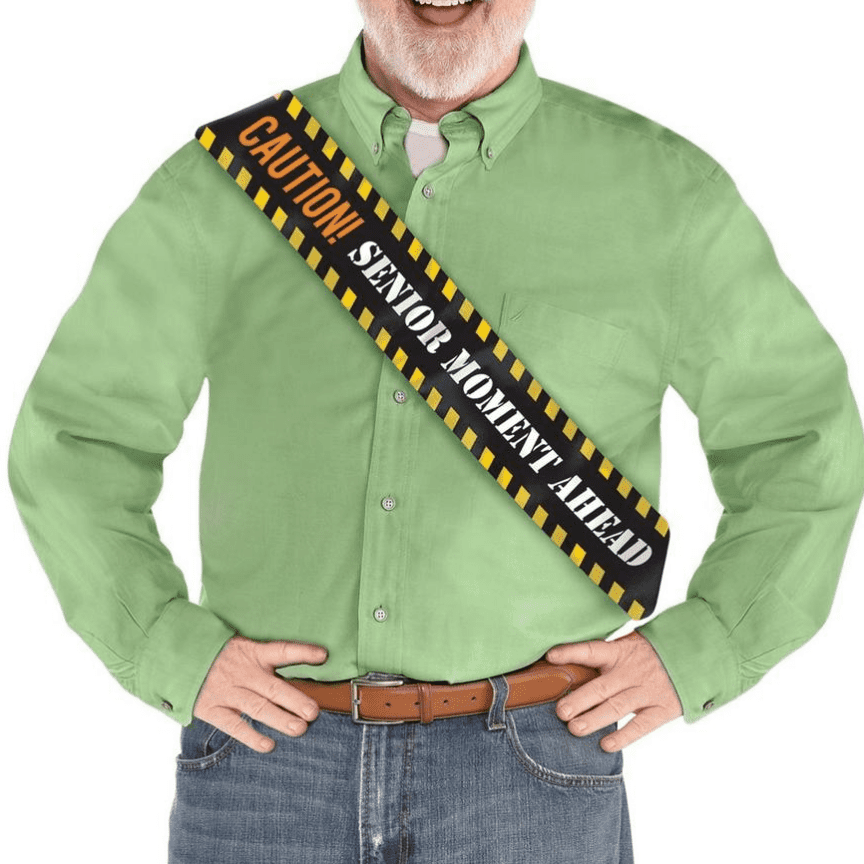 Warning! A senior moment is about to happen! This funny black caution tape with bright yellow and orange mark the territory that could be dangerous- the birthday person! For those with a good sense of humor, this makes a great conversation starter at any party. Find it here at Party City!
| | |
| --- | --- |
| Pros | Cons |
| Extraordinarily funny for older guests | No reviews yet |
| Unique conversation starter |   |
| Inexpensive |   |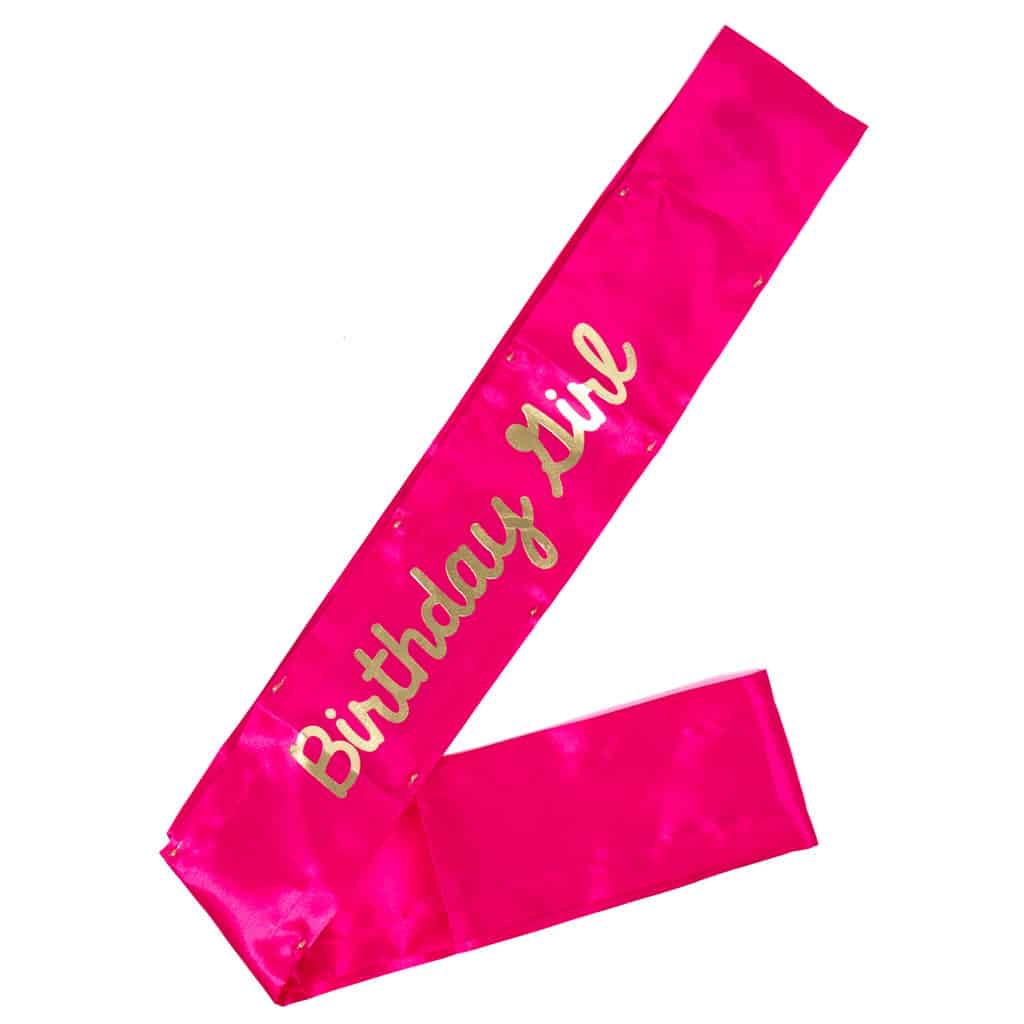 Time to light it up! Shining lights show off the gold letters of this hot pink sash with the touch of a button! Three different light settings to choose your custom glow. One of the only light-up sashes available, this will take the spotlight without multiple distracting colors. Find this at Walmart!
| | |
| --- | --- |
| Pros | Cons |
| Showcase lit sash | Does not indicate if there are batteries |
| Inexpensive enough to buy several |   |
| Clear message and writing |   |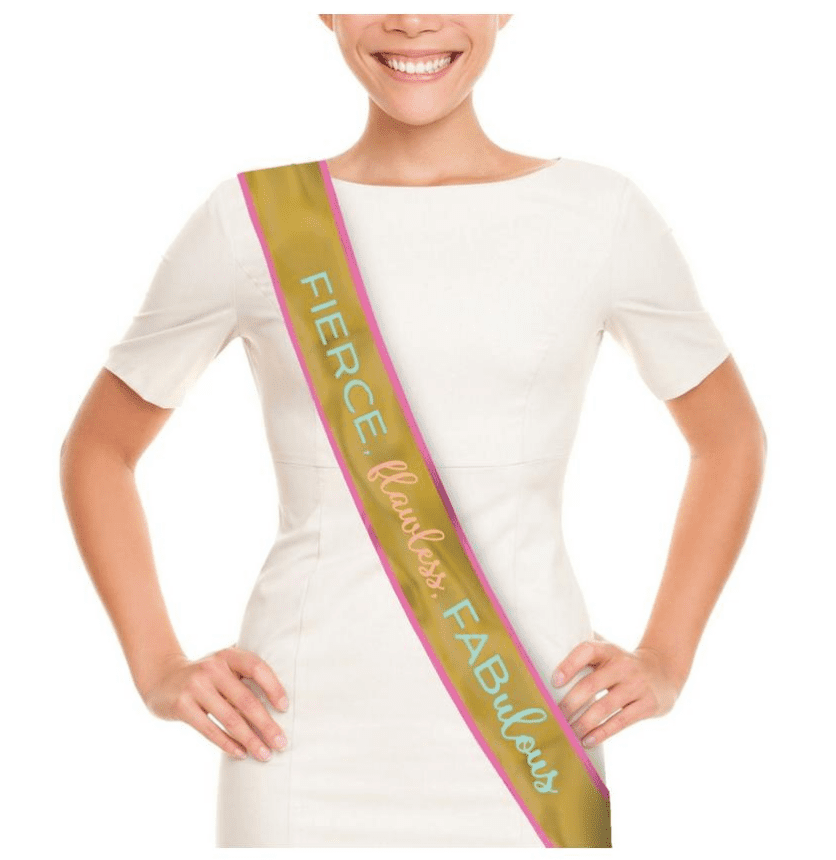 Know anyone who has fought fiercely and shown courage? This is the perfect birthday sash to celebrate that person's fabulousness! Great for anyone who does the right thing daily with conviction and style. The colors are classy and out of the ordinary, just like your special person. Find it at Party City.
| | |
| --- | --- |
| Pros | Cons |
| Dazzling metallic gold ribbon with bright pink trim | I wish this came in more colors |
| Inexpensive |   |
| Sixty inches long, Great for other occasions as well |   |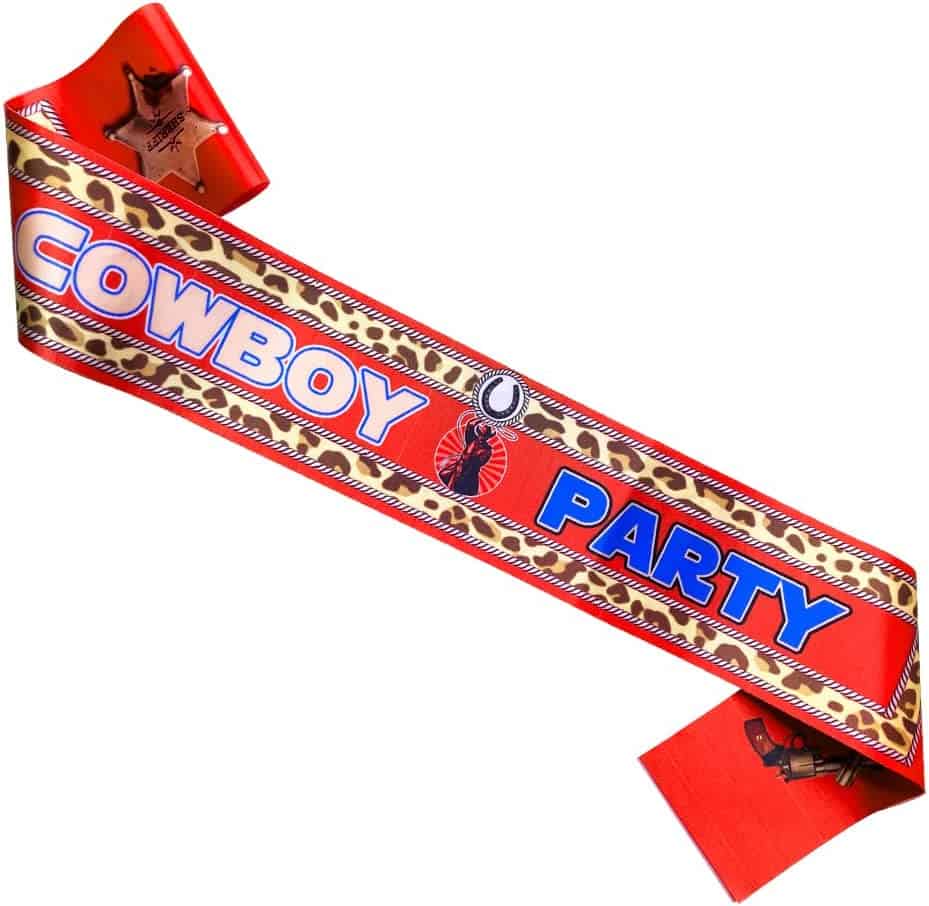 This is one rootin', tootin' birthday sash for a western theme party! Have the birthday girl or boy wrap this around to show who's the guest of honor! I love the vivid colors of this dramatic, feisty sash and the fact that it is machine washable to use again! Made of high-quality satin with chic leopard print and long-lasting ink! Get this here on Amazon.
| | |
| --- | --- |
| Pros | Cons |
| I love the unique design that shouts "fun"! | No reviews yet – (but the company has good reviews) |
| High-quality satin |   |
| Machine washable |   |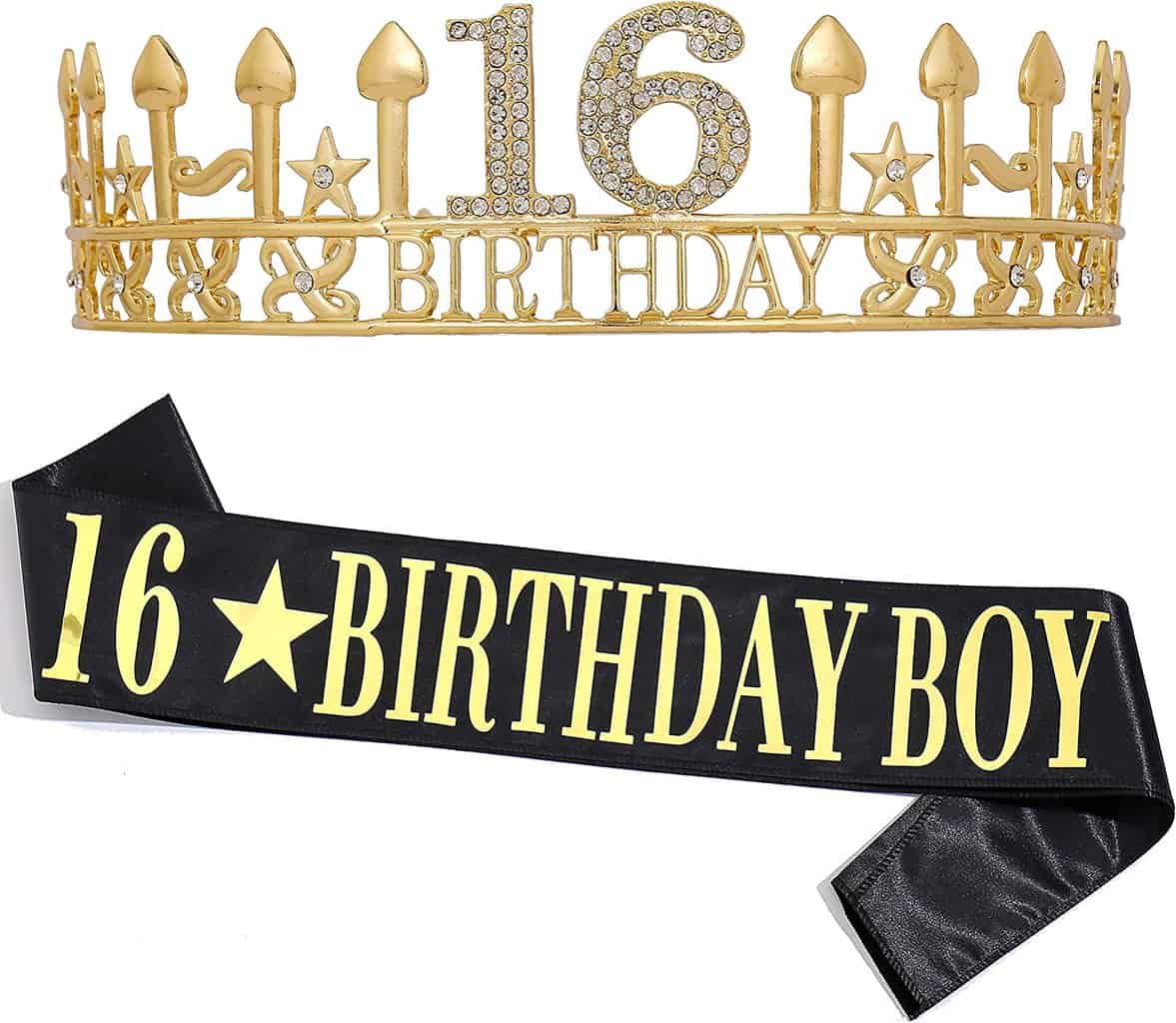 Thank goodness they have a birthday sash for boys when they reach their 16th birthday! All this fuss about a girl's "Sweet Sixteen," and where are the male-themed sashes? This will make a statement with a crown fit for a king, with rhinestones in the number sixteen. I love to use the crown as a cake topper, so if the birthday boy balks at wearing it, he can wear the sash, and you can put it on the cake! Find this here at Amazon.
| | |
| --- | --- |
| Pros | Cons |
| Reviewers gave this 4.5 out of 5 stars | Sash is only 35 inches – need to pin it to clothing |
| Black sheen and gold sparkle |   |
| Ships in a protective box |   |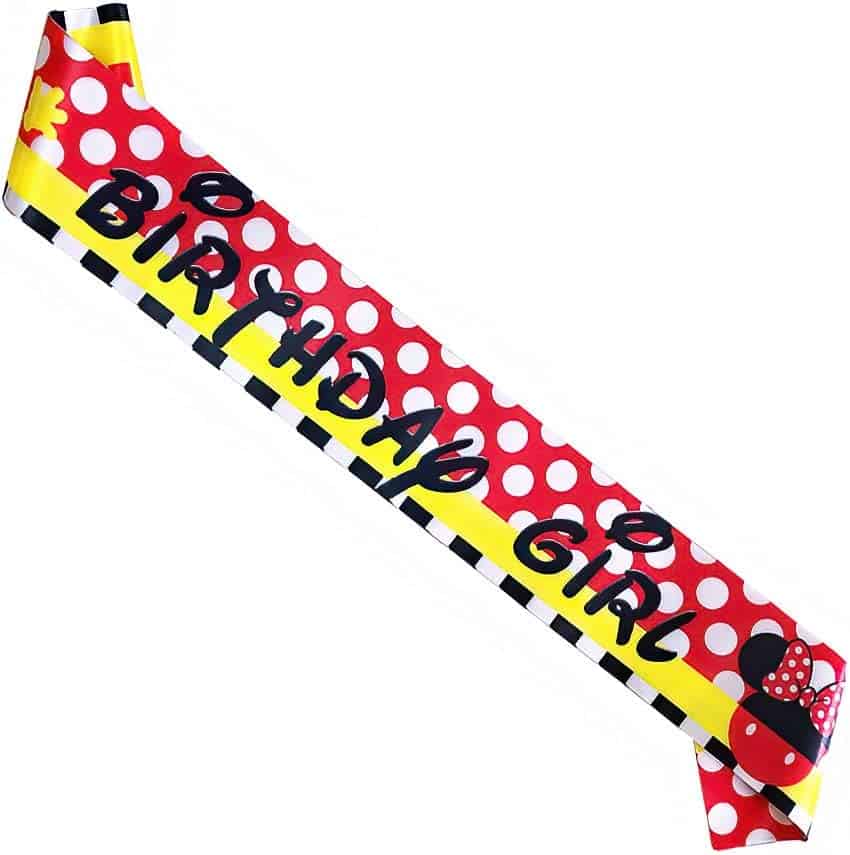 I love this Minnie Mouse birthday sash with its signature writing and red, black, and yellow colors! I used to have a Minnie Mouse doll from Disney growing up with the big red and white bow, curlicue writing, and red button pants! This is bright and happy and reminds me of laughing out loud. Perfect for a girl's favorite day. Buy this here on Amazon.
| | |
| --- | --- |
| Pros | Cons |
| High-quality | Only two ratings of 5 stars |
| Can be washed and ironed |   |
| Inexpensive |   |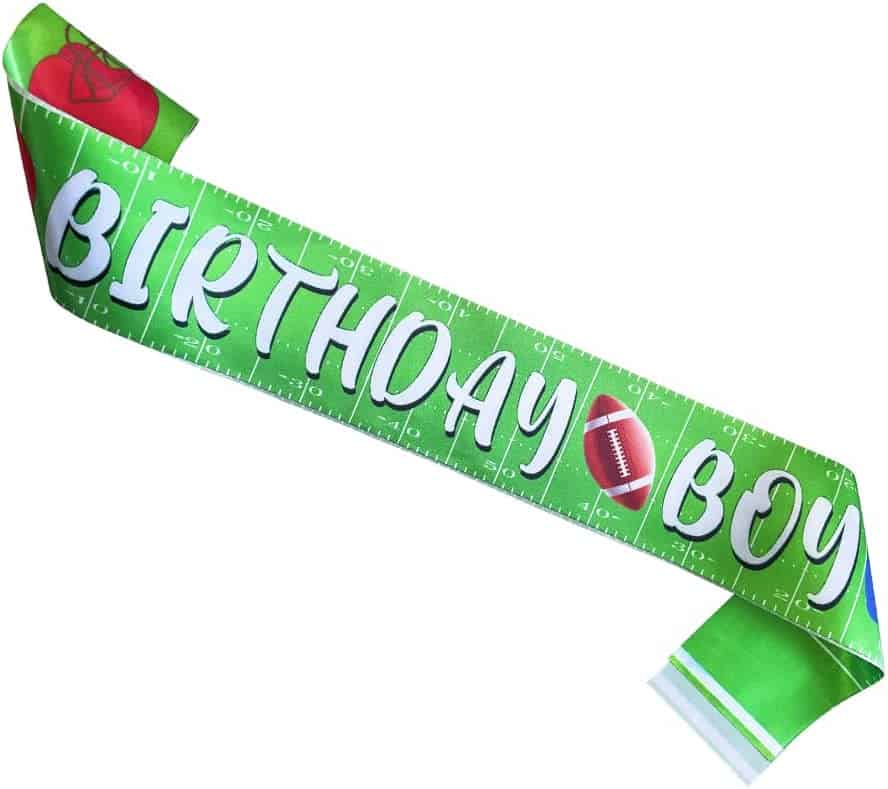 Finally, a sports-themed birthday boy sash that isn't black or pink! I had to look long and hard to find even the most basic sash for a boy's birthday, but luckily this is bright and cheery and fits the bill! The touch-down yards are a cute feature with the football helmets and balls. This comes with a 100% satisfaction guarantee or your money back! Get this here at Amazon.
| | |
| --- | --- |
| Pros | Cons |
| High-quality satin material | Only shows football images, not general sports |
| Machine washable and can be ironed! |   |
| Buyers rated it 5/5 |   |
FAQs
Question: How do I put on a birthday sash?
Answer: Most birthday sashes will come with either a safety pin or sticky velcro tabs that you affix yourself. Position the sash so that one end is over the person's left shoulder and the other goes diagonally down across their abdomen to wrap around their waist. Walk behind the person and pull the two ends together so you can pin them or determine where you need to stick the velcro tabs. The exact fit will depend on personal preference and the length of the sash.
Question: How do I turn on the lights on my birthday sash?
Answer: Usually, the lights are sewn into the sash at different points along the length, and there will be a battery pack at the end. Many lighted sashes have several settings for steady or blinking lights, so look for a button near the batteries and instructions in the sash's guide.
Question: How do I make my own sash out of ribbon?
Answer:  There are so many choices available for a DIY birthday sash that you can get exactly what you had hoped for with the message and the fabric. Many videos demonstrate different types of DIY sashes, but I find this one simple: DIY Making Sash Out of Ribbon on YouTube.
Final Thoughts
There's no doubt that a birthday sash is an inexpensive, fun way to liven up the birthday of someone special. I make a big deal of the little achievements in life and look for how I can increase the joy factor. A birthday sash costs very little, whether you buy one or make one (check out this DIY 21st Birthday Sash/Easy and Affordable Make your own), but it adds a special touch.
Convenience and affordability are front and center in my mind these days when it comes to non-essentials, and that's why my best pick for a birthday sash is the gender-neutral Light Up Fun Birthday Sash.
I hope you found something you can use!
Recommended Reads: