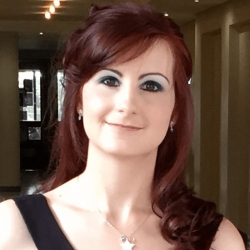 Latest posts by Denine Walters
(see all)
Any party should be magical and fun-filled, so the guests and the guest of honor (birthday gal or boy, mommy-to-be, etc.) have a blast. If you've found yourself looking for a unicorn party supplies guide, you're in luck and at the right place! 
There are so many unicorn party supplies these days – if you know where to look, and if you are a unicorn fan, anything unicorn just catches your eye. But if you are a bit lost, you won't be for long. 
Here's the ultimate inspiration and guide to finding and buying the unicorn-theme party supplies for the birthday party, tea party, or baby shower you need to plan.   
My Bottom Line Up Front 
It's best to have a game plan whenever you need to shop for party supplies, and unicorn supplies are no different. 
Think of how much money you have available to spend, make a list of the party requirements while working within your budget, decide where you want to shop and buy the best unicorn party supplies by looking at the price, uniqueness, and versatility. 
If you are in a hurry and want to buy the best supplies for your unicorn party now, here's the best of the best:
Invitations: 
Decor: 
Party Favors: 
A Step-by-Step Guide to Unicorn Party Supplies (+ Tips!)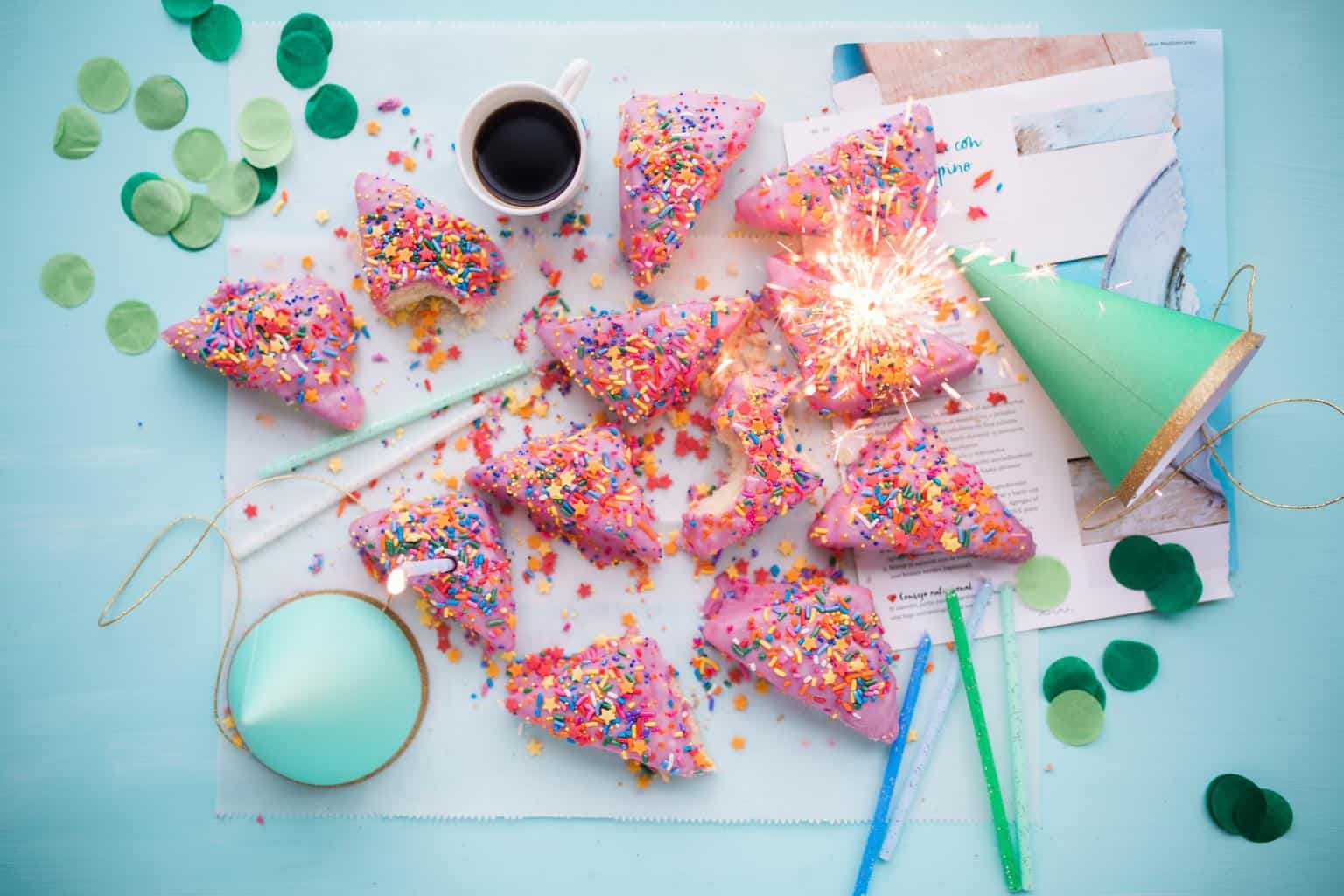 Throwing any party is quite a lot of work. This step-by-step guide will lead you to ensure your party is a success and you've catered to all the party needs – from the invitations and decor to food, music, party favors, and more!  
Step 1: Your Budget for the Unicorn Party 
You can throw as lavish a unicorn party as you can imagine and go wild with decor, catering, and entertainment. Still, no party is worth breaking the bank. 
The good news is you can throw a magical unicorn party, whether you are on a tight budget or have a couple of thousand of dollars to spend. Know your budget, and then you can plan what you need. 
Pro Tips
Balance the party spend regarding the decor, food, entertainment, and party favors. You don't want to spend 80% of the celebration budget on decor (sure, the venue needs to look fabulous). Then you're left with very little for food and the other party essentials.

The fewer people you need to invite, the smaller the venue (and venue fee), and the less decor, food, and party favors you need. 

If you need to count pennies, see what you can DIY, buy in bulk, or buy on sales. 

Buy the must-have items for the party first before splurging on nice-to-haves.   
Step 2: Make a List of the Unicorn Party Supplies 
Once you know how much money you have available for the party, you can start making a list of the unicorn supplies you need. If you don't know what the individual items cost, Google is your new best friend. 
Pro-Tip
Simply type [name of item] cost in the search bar on Google, or go straight to an eCommerce platform like Amazon to get an idea of prices. Checking prices helps you stay on budget (and on track). 
Below is a list of the supplies you may need for your unicorn-themed party. Though not exhaustive, the list is comprehensive, but you need to pick out what you need for the type of party you are organizing and what works best with your budget. 
A-List of Unicorn Party Supplies You Need
Invitations and envelopes 

"Thank you" notes 
Decor Items
Balloons 

Unicorn balloon arch 

Tablecloths 

Tableware – plates, bowls, cups, straws, napkins, cutlery, and placemats  

Streamers 

Party banner 

Photo backdrop 

Bubble making machine 

Glitter 

Unicorn piñata 

Garlands 

Confetti 

Party hats or headbands 

Fairytale and unicorn toys 

Decorations like flowers, trees, toadstools, rainbows, and more   
Food Items
Unicorn cake, cupcakes, or cake pops 

Mason jars filled with treats 

Star, unicorn, and rainbow-shaped cookies 

Fairy punch

(aka pink lemonade) 

Unicorn chocolate bark   

Unicorn fur (cotton candy) 

Rainbow cinnamon rolls or donuts 

Unicorn horns with ice cream cones and yummy fillings 

Rainbow ice cream 

Rainbow popcorn 

Rainbow macaroons 
See also: Sunflower Cake Ideas
Activities and Entertainment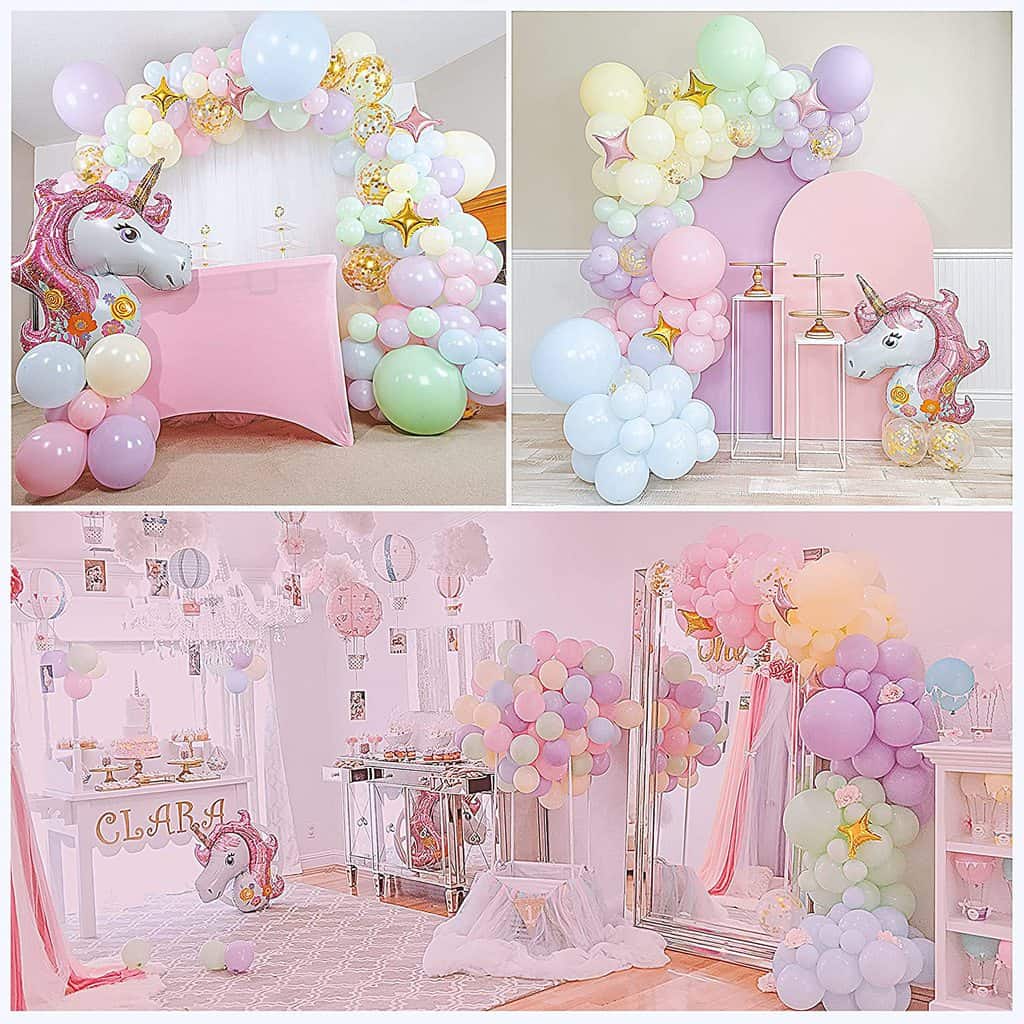 Like Pin the Tail on the Donkey, but

Pin the Horn on the Unicorn

Play with glitter bombs 

Unicorn makeover with colorful streamers, a unicorn horn, and a shining tail

Make your own unicorn-flavored milkshake 

DIY unicorn headbands stations 

Explore your senses with unicorn playdough or slime (or make your own)   

Decorate mason jars to look like unicorns 

Unicorn treasure hunt 

Unicorn horn ring toss game 

Make a

unicorn dreamcatcher

  
Party Favors
Gift bags 

Plush unicorn toy

Party favor sets with lots of goodies inside 

T-shirt

or cap with a printed unicorn 

Unicorn blanket or slippers 

Unicorn coloring book 

Unicorn stickers  

Rainbow keyring 

Unicorn headband 

Unicorn charm bracelet 

Fuzzy socks with unicorn prints 
Others
Venue 

Lighting 

Music 

Temporary unicorn tattoos 

Unicorn T-shirt or outfit for the guest of honor  
Step 3: Finding Unicorn Party Supplies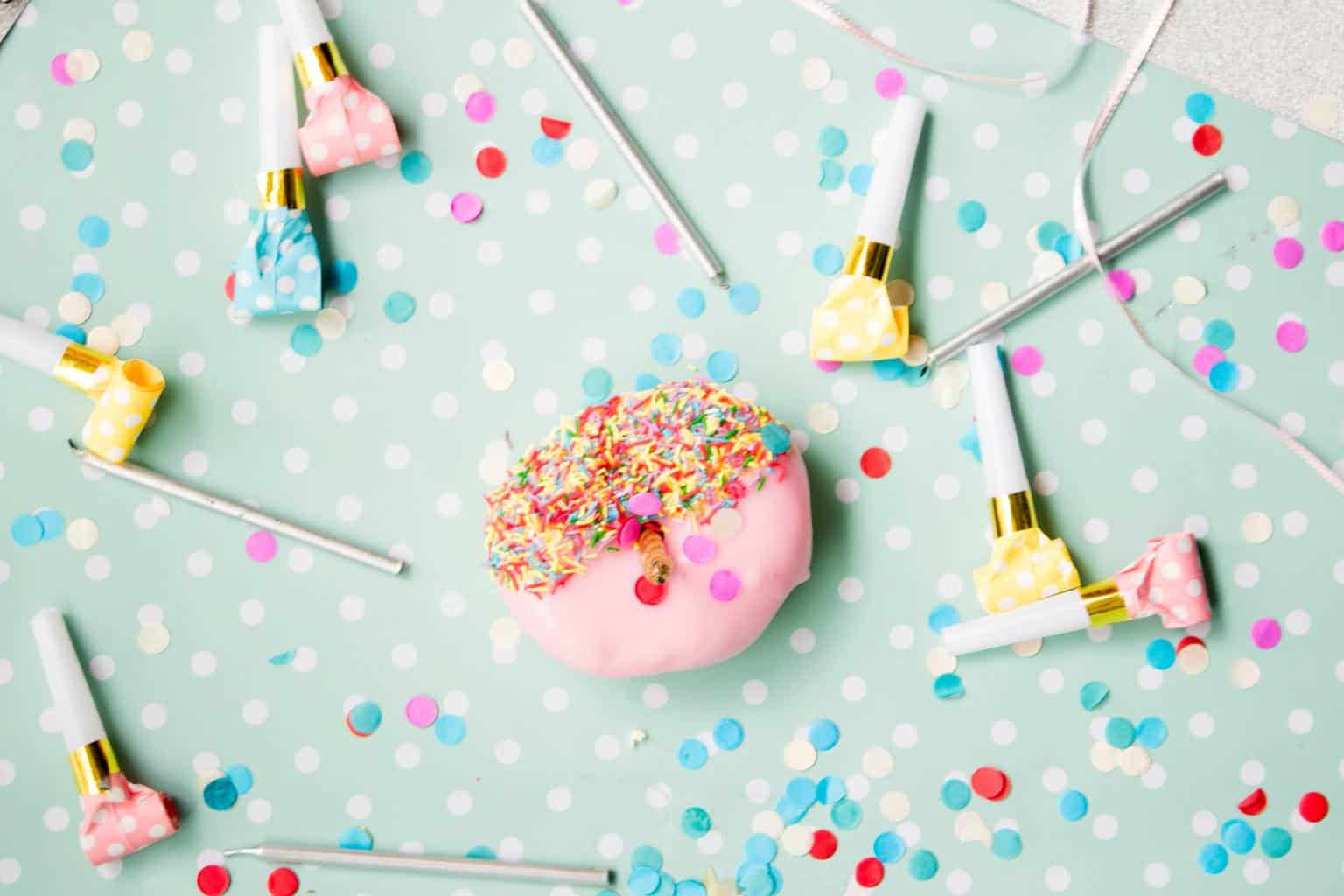 Once you know what you need for your unicorn party, you can get shopping. But where exactly can you find the best unicorn supplies for the kind of party you are throwing? 
One option is brick-and-mortar stores. Party supply stores and sometimes even shops like Walmart will stock what you need. 
For example, there are more than 3,500 unicorn products on Walmart (online), from unicorn poop slime, unicorn plush toys, and unicorn bracelets and necklaces to stickers, "create paint your own ceramic unicorn," and a party unicorn banner. So you can get decor stuff, activity supplies, and party favors for the unicorn party you are planning.   
Other party-specific supply stores in the USA are USA Party Store, Party City, Party Warehouse, and other local shops in your town. 
One of the best online platforms to shop on is Amazon; there are currently more than 50,000 results if you search for "unicorn party" products. You can also try Etsy for more bespoke items.   
Pro Tips
Even if you aren't planning to buy from a store like Walmart, browsing their unicorn items gives you ideas for the party you want to throw. 

The pros of shopping for party supplies in a traditional shop are that you can physically see and touch what you buy, whereas buying online usually means you have many more options. 
Step 4: How to Buy the Best Unicorn Party Supplies 
Now it's time to get into how to buy the best unicorn party supplies. I also used these criteria when shopping around for ideas for this guide.  
Keep these considerations in mind when choosing the best unicorn party supplies for your event: 
Affordability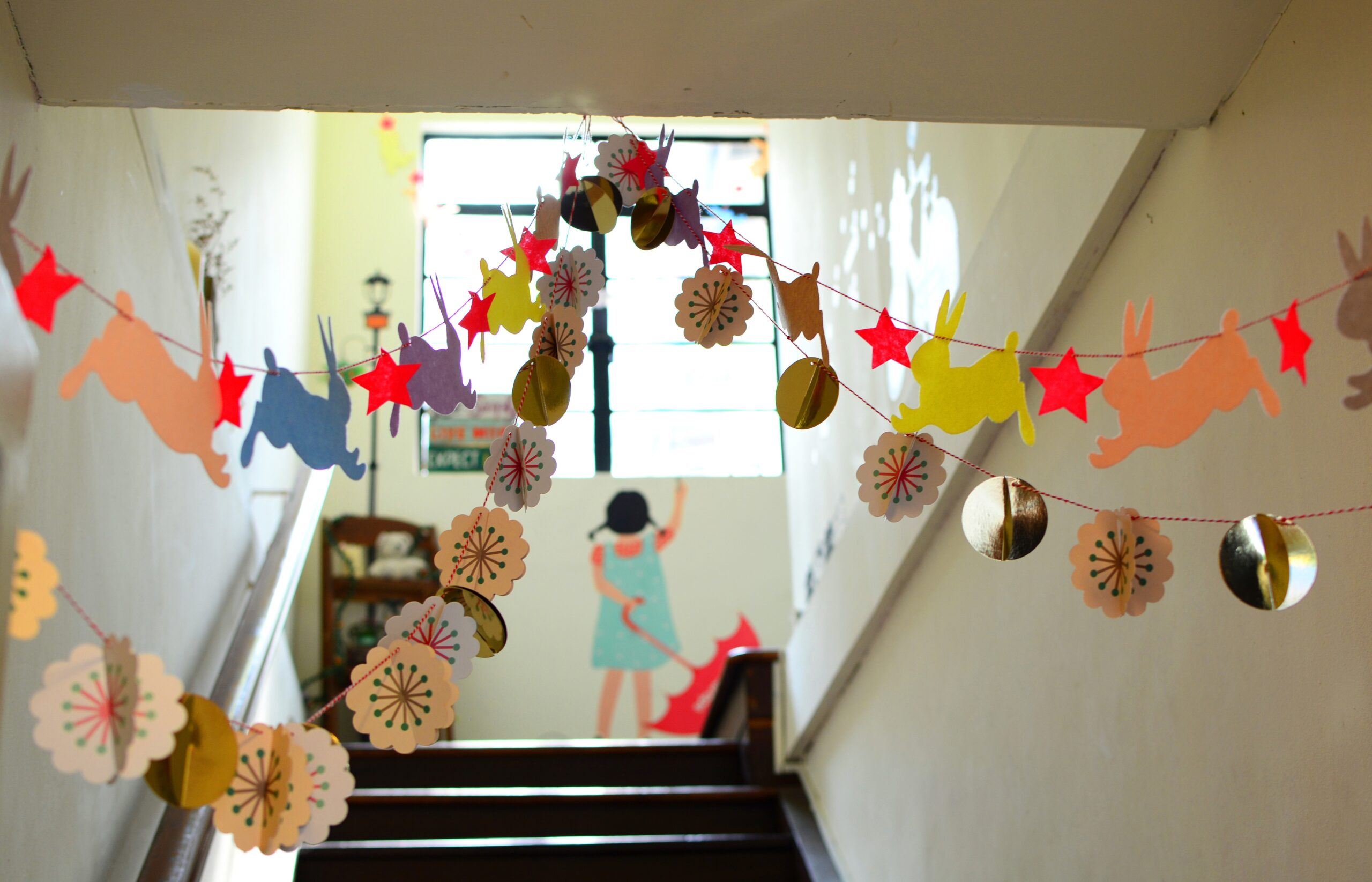 Your budget dictates what and how much you can buy.  
The number of guests is a significant factor – the more guests you have, the more of everything you need for your party. You'll need to order a bigger cake, more snacks and drinks, more party favors, and need more games and activities to keep everyone entertained. Many guests also mean you need a bigger venue to host everyone. 
When I looked at the best unicorn party supplies, I looked at affordable items you can buy if you have a tight budget and many guests. But I also considered a few "luxury" buys if you can splurge or have a little extra in your budget for something unique.    
Versatility 
Unicorns aren't just suitable for little kids. You can throw a magical unicorn party for a teen or adult too. Thus, the party supplies need to be versatile. 
When I chose the unicorn-themed supplies, I considered a more "grown-up" unicorn look and extra cutesy products so you can find what works best for your party.   
You'll probably opt for brighter colors for a kid's unicorn party. A unicorn-themed party for a young lady can be in muted or pastel colors.  
Originality  
There are many run-of-the-mill unicorn party ideas out there. While I've included a few of these (because these kinds of supplies are easier to find and often more budget-friendly), I also considered the originality of the supplies. 
A unicorn horse would be "standard," but a unicorn llama, cat, or other animal is unique. 
Most people usually choose a paper gift bag for party favors and fill it with a party favor supply set with stickers, wristbands, and candies. I looked at other ideas, like a unicorn blanket, unicorn stamps, a unicorn drawstring bag, and mason jars decorated as a unicorn (which can be a party activity) filled with unicorn slime, popcorn, or other goodies.  
See also: 18th Birthday Ideas: 17 Amazing Ways to Celebrate a Big Day
The Best Unicorn Party Supplies You'll Need 
Here are the best unicorn party supplies that will meet your party needs:  
1. Bluekate Rainbow Party Tutu Table Skirt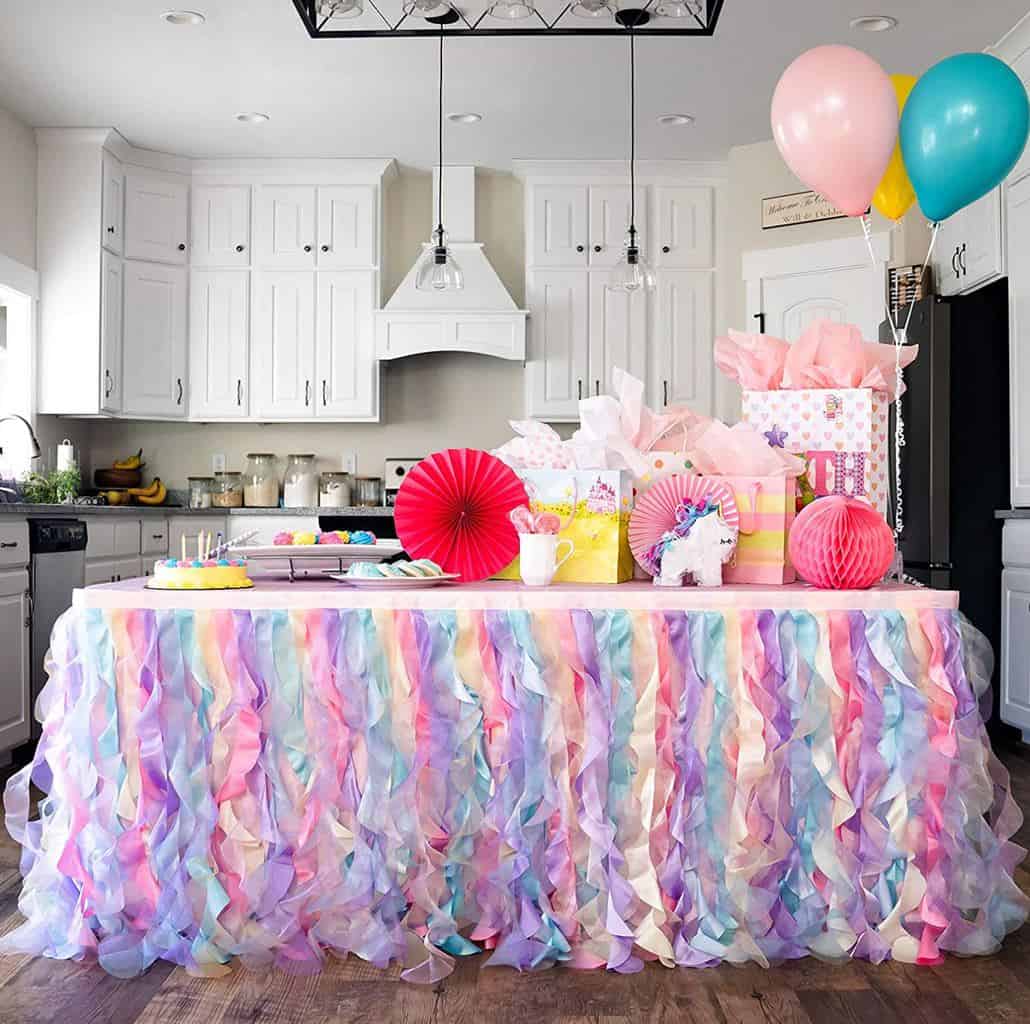 The Bluekate Rainbow Party Tutu Table Skirt looks magical with the turquoise, yellow, pink, purple, and blue satin ribbons with a shimmery organza overlay.   
You can dress all the tables at your party venue with the rainbow table skirt or make the rainbow table your main focal point. If you have other tables, you can choose a different color skirt (like mint). Or choose a different table skirt for every table to make it genuinely whimsical. 
Likes
Comes in 3 sizes: 6 ft (L) x 30 in (H), 9 ft (L) x 30 in (H), or 14 ft (L) x 30 in (H) 

Available in 10 colors: rainbow, sparkle white, silver-gray, purple, pink, mint, ice blue, coral pink, champagne gold, and blue

Easy and fast installation with the velcro adhesives 

Hand-washable 

Comes with a tutu party carrier so you can store the table skirt until your next party  

10-year warranty   
Dislikes
The ribbons can be wrinkly when the package is delivered 

Buy 2-3 to cover the whole table or place the table against a wall only to cover the sides and front  
2. Magigift Unicorn Party Favors Bags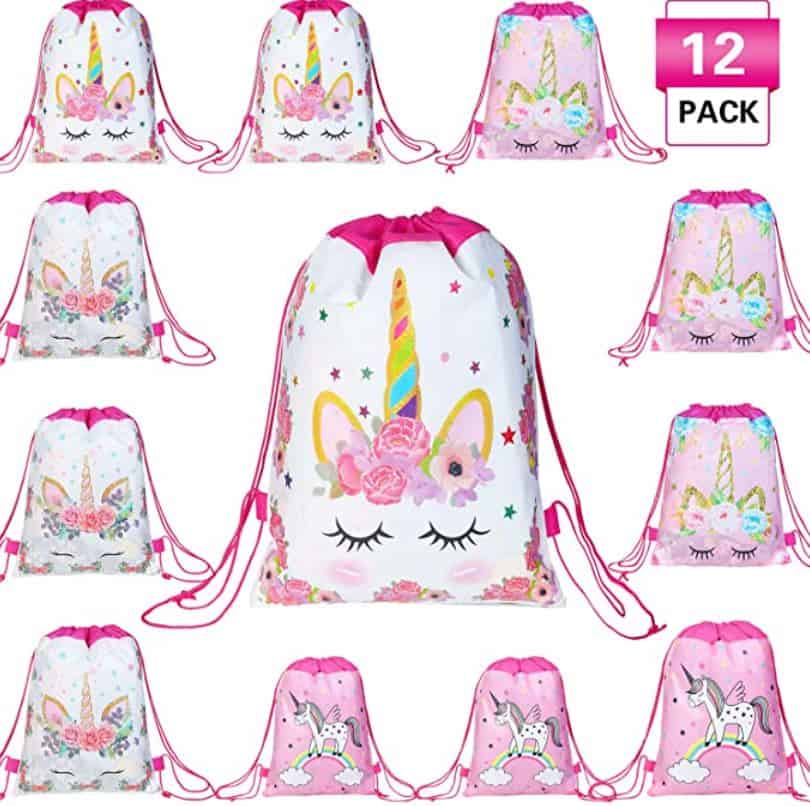 The Magigift Unicorn Party Favors Bags are drawstring bags you can use for your party favors. The benefit is that your guests can reuse these bags when they go to the gym or beach, so it's not wasted or stored in a closet somewhere. 
The bags are big enough to hold your party favors – whether you add a plush unicorn toy, unicorn slippers, lots of little goodies, or even just a few items.   
Likes
A 12-pack comes with 4 different unicorn designs 

Unicorn bag is printed on both sides 

Bags are printed in eco-friendly, non-toxic, and no-odor ink 

Sturdy bags since they're double stitched  
Dislikes
The 4 designs can cause conflict among young party guests 

Only available in pink, so it might be too "girly" for some  
3. VUDECO Glow in the Dark Blanket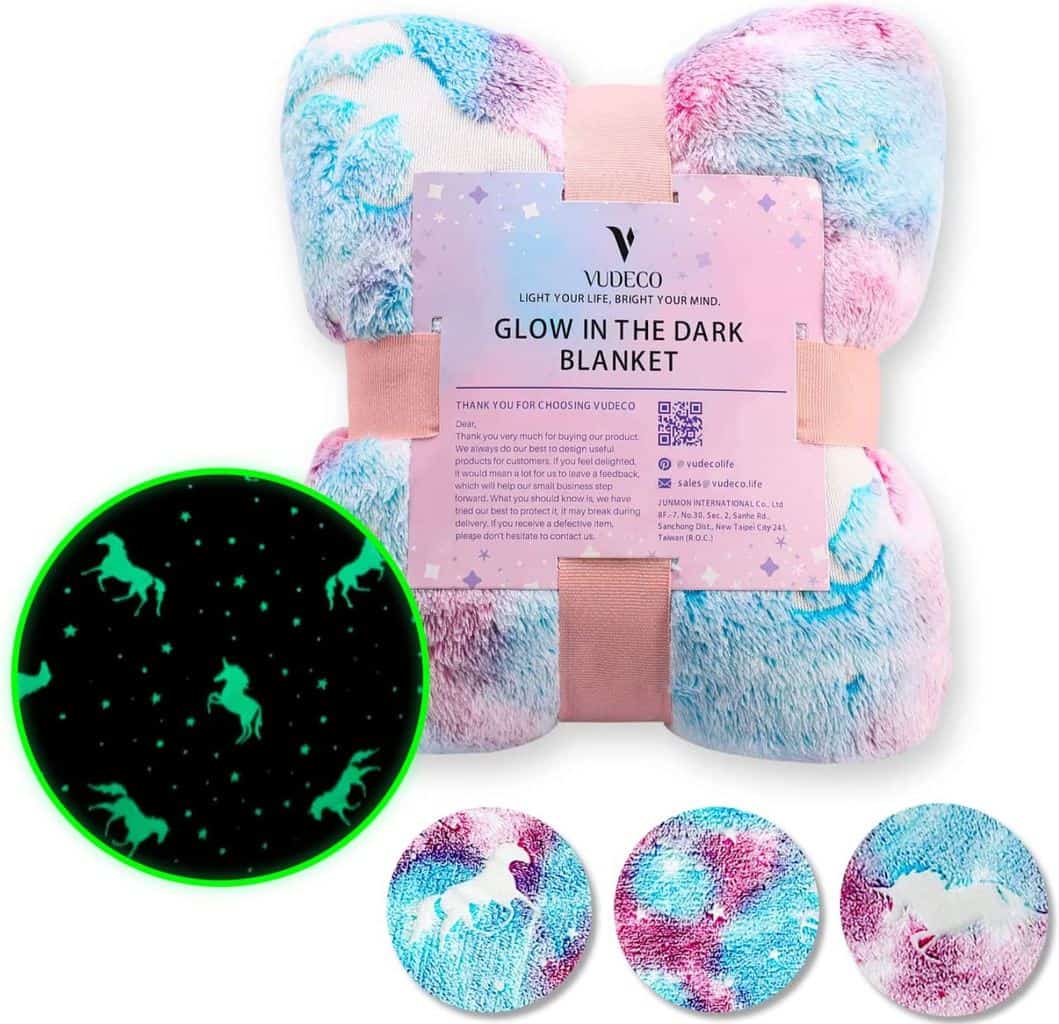 The VUDECO Glow in the Dark Blanket is a bit pricey if you have many guests. Still, these blankets are excellent party favors for a small, intimate birthday party. 
Each blanket features unicorn prints. While this is a good-size kids blanket at 60 in (L) x 50 in (W), the Glow in the Dark blanket is a beautiful cuddle blankie when you chill by the TV during those cold mornings or evenings or need some warmth on a road or camping trip.      
Likes
Available in 3 colors: starry sky, gray unicorn, and rainbow unicorn 

Durable and soft; made from 100% polyester microfiber 

Glows in the dark for 3 hours after 10 minutes of light exposure 

Machine-washable   
Dislikes
The blanket is thin, but it's cute  
4. Unicorn Birthday Invitations (Flower Unicorn Style) 

For a great budget buy, I like these Unicorn Birthday Invitations. Instead of a horse or llama, there are the unicorn ears, horn, eyes, and flowers that make these invitations work for all age groups. The colors are also more pastel, which can help set the tone for the coming celebrations.   
Moreover, these invites don't have to be only for a birthday party. With the wording, "Please join us for a magical celebration," the invitations are suitable for a housewarming party, baby shower, or any other magical celebration.  
Likes
24 invites, 24 envelopes, and 30 sticker labels (in 5 styles)  

Suitable for any occasion – from birthdays and housewarmings to baby showers 

Great for kids and adults!
Dislikes
Envelopes are a little flimsy  
5. Little World Unicorn Headband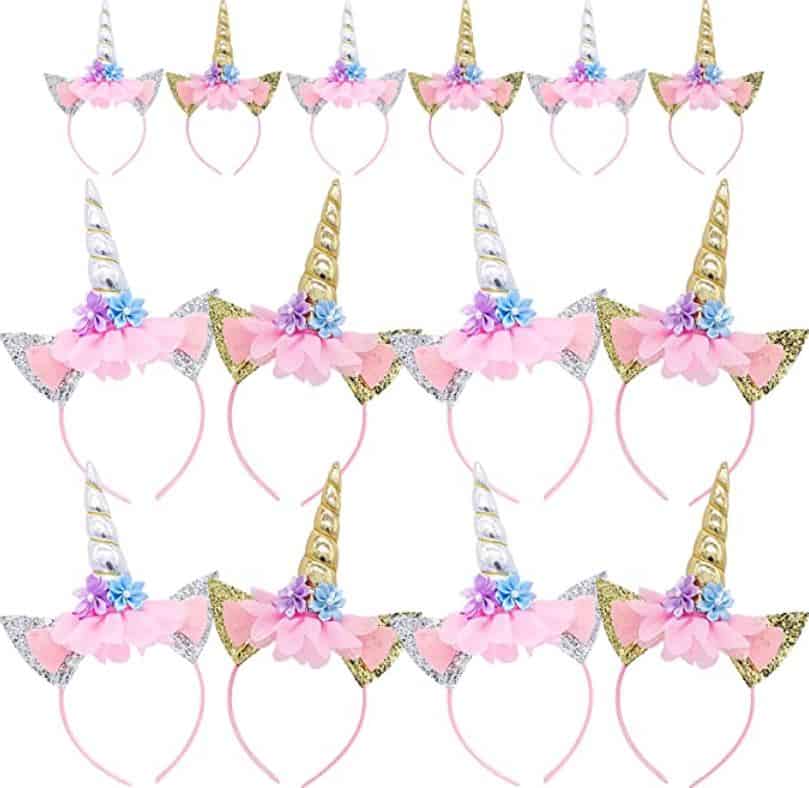 Have every guest at the party look the unicorn part with these Little World Unicorn Headbands. Alternatively, use these as a party favor. 
Likes
Suitable for toddlers, teens, and adults 

Comes with gold or silver unicorn horns for some variety 

Ideal as a party decoration or party favor 

Comfortable fit  
Dislikes
Horns seem to be a bit flimsy  
6. Ultimate Unicorn Party Supplies and Plates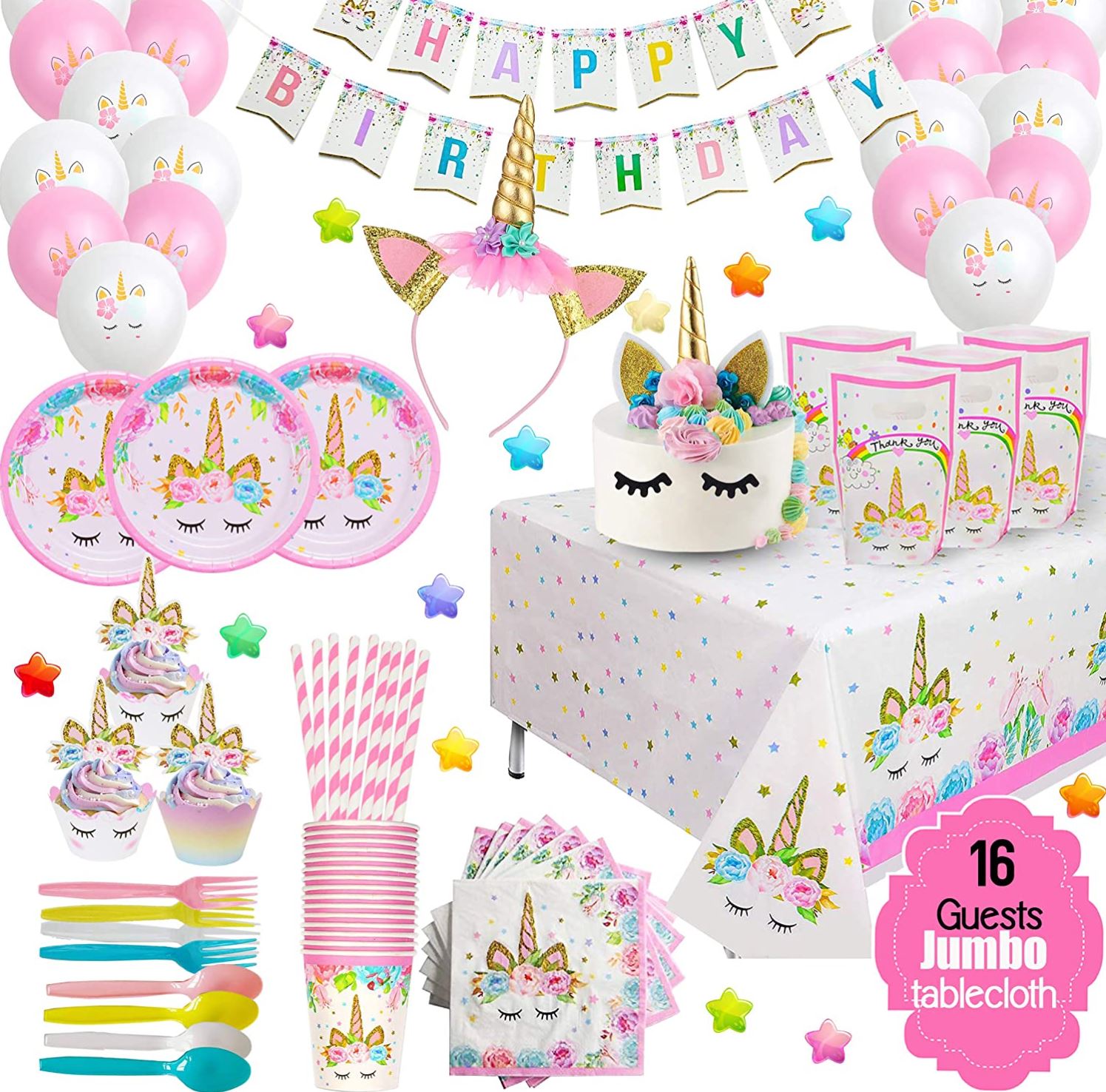 If you need to be really careful with your party spend, a party supply set is a way to go. It takes care of many aspects of the unicorn party decor, so you can just worry about the snacks, cake, drinks, party favors, and activities. 
The Ultimate Unicorn Party Supplies and Plates set is one of the best options. It also features the unicorn horn/face/flower design that's currently so popular and works well whether the party is a birthday or a baby shower.      
In the unicorn party kit, you get: 
1 birthday banner 

1 jumbo tablecloth (108 in x 54 in) 

1 cake topper 

10 balloons 

16 goodie bags 

1 headband (for the guest of honor) 

32 spoons and forks 

16 cups 

16 unique cupcake wrappers 

16 paper plates 

16 straws 

16 napkins 
Likes
Suitable for 16 guests 

Cute design that works for any celebration 

Very budget-friendly  
Dislikes
Paper cups are a bit flimsy, especially for a kid's party  
7. HUAYI Unicorn Party Wall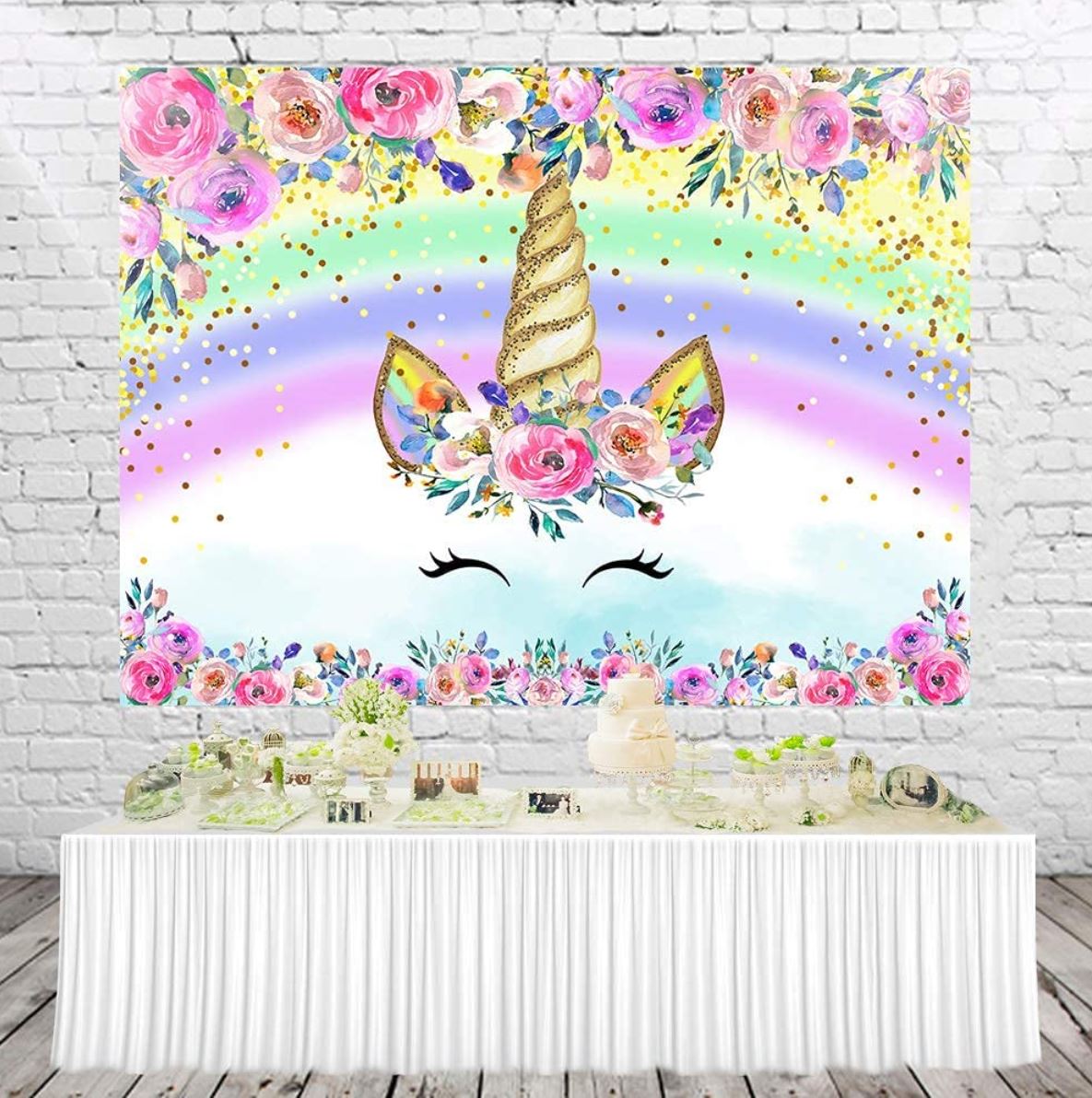 I specifically like the HUAYI Unicorn Party Wall because there's no "happy birthday" written on the backdrop. You can use the banner for any magical celebration you are planning. Or even just put it up in your daughter's room after the party as a fun reminder. 
The unicorn horn/face/flowers design works well with the other unicorn party supplies on my list, so you don't need to worry about color coordination.  
Likes
Versatile; suitable for any party, as a backdrop, banner, or photo wall  

Comes in 2 sizes 

Features gold spots to add bling and oil-painted flowers to add a feminine touch.  
Dislikes
Needs to be dry cleaned 

Clips or a frame/stand for photography purposes are not included.   
8. Shimmer and Confetti Premium Pastel Rainbow Unicorn Balloons Arch Garland Kit
 
Where there are unicorns, there are rainbows. 
Opt for this Shimmer and Confetti Premium Pastel Rainbow Unicorn Balloons Arch Garland Kit to make the party even more festive. The kit pairs well with the RUBFAC 60 pcs Unicorn Mermaid Balloons at $9.49 or Boao 18 inch Pastel Rainbow Unicorn Foil Mylar Balloons at $7.99 for 8 balloons.     
Likes
Suitable for any party 

Pastel rainbow colors with gold and pink star balloons and gold foil confetti balloons to add sparkle  

Unicorn foil balloon included 

Decorating tape, glue, curling ribbon, flower clips, fishing line, and tying tool are included in the kit with the balloons. 

Easy to assemble  
Dislikes
Need to blow the balloons via your mouth  

Time-consuming to blow up all the balloons (minimum of 2 hours if you have help) 
9. Unicorn Party Decorations – Hanging Lanterns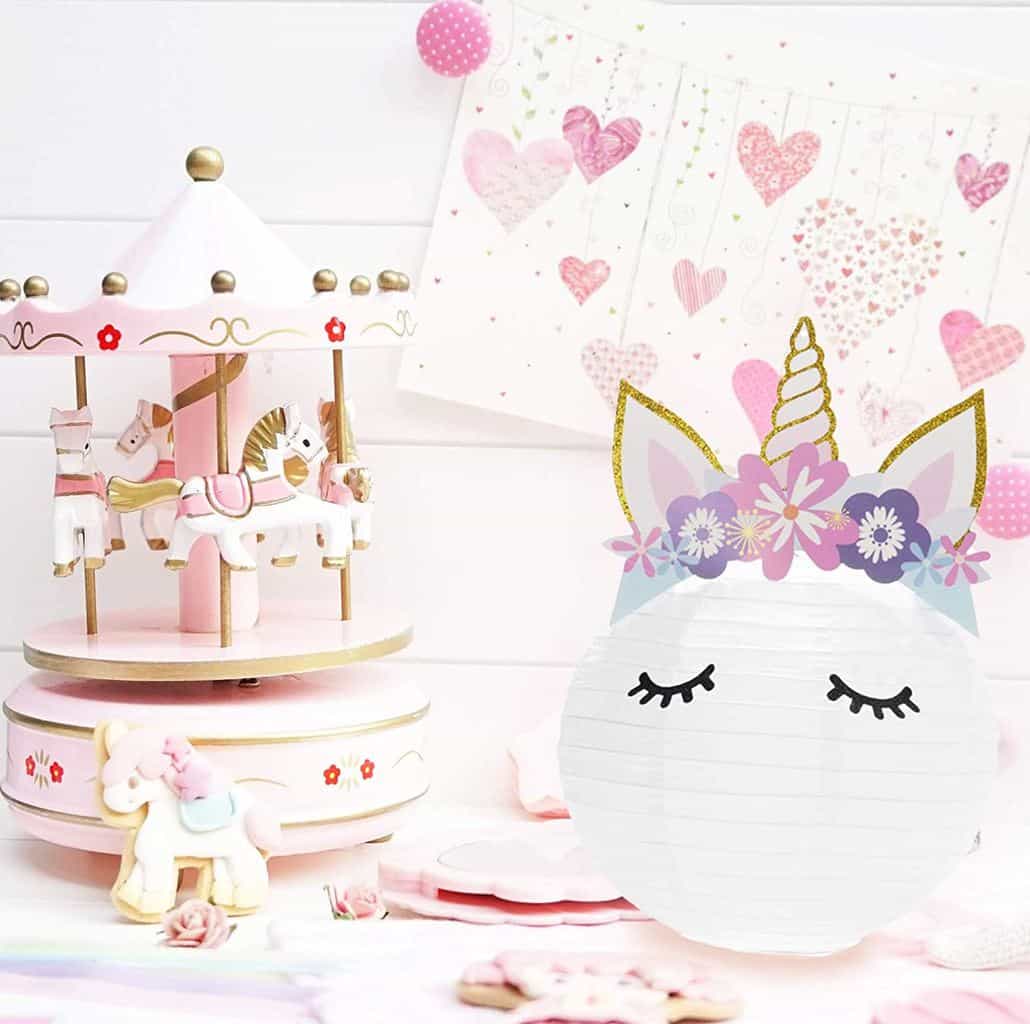 Add a magic touch to your party venue with these Unicorn Party Decorations – Hanging Lanterns. The lanterns also feature the unicorn face design. The horn and ear outlines of the unicorn are done in premium gold glitter to sparkle up the festivities.   
Likes
Easy to assemble 

Versatile since you can reuse them after the party  
Dislikes
Eyes don't stay on the lantern 

Tape to attach the eyes and string to hang the lanterns aren't included  
10. Pooqla Remote Control 3D Rainbow Unicorn Color Changing Unicorn Lamp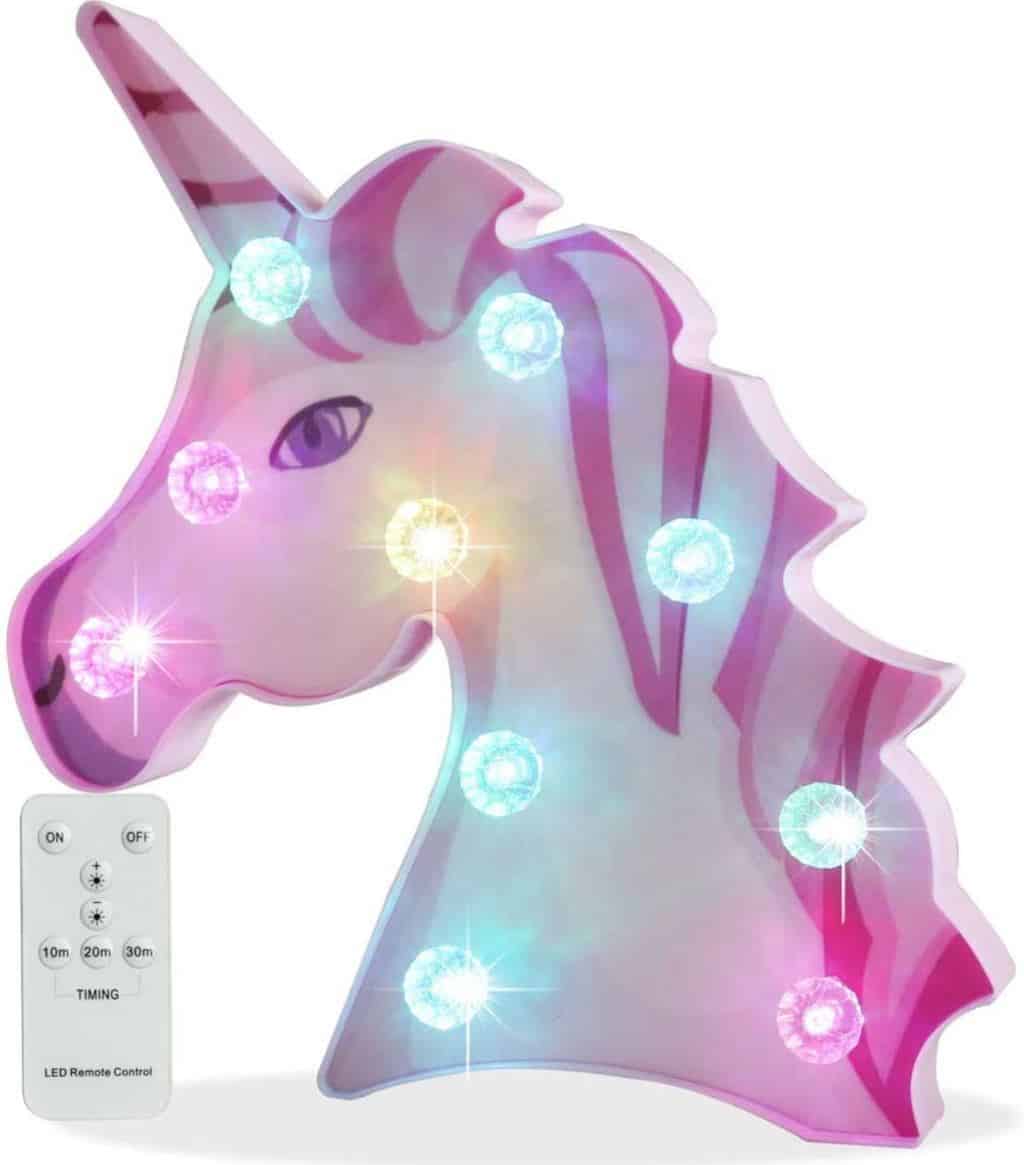 The Pooqla Remote Control 3D Rainbow Unicorn Color Changing Unicorn Lamp is ideal for a table centerpiece. Or, if your budget allows, you can add one to every table to light up the party.   
If you want different lights at the party, consider this coral pink unicorn light or purple/blue unicorn light that's also a bit more budget-friendly. 
Likes
Can set the brightness and also put the light on a timer (10, 20, or 30 minutes) 

Use it as a table centerpiece, and then place the light anywhere in your home after the party 

Beautiful design 

Can rest the light on a surface or hang it up 

Made from non-toxic material 
Dislikes
Batteries for the remote control aren't included  
11. Iridescent Party Supplies Circle Garlands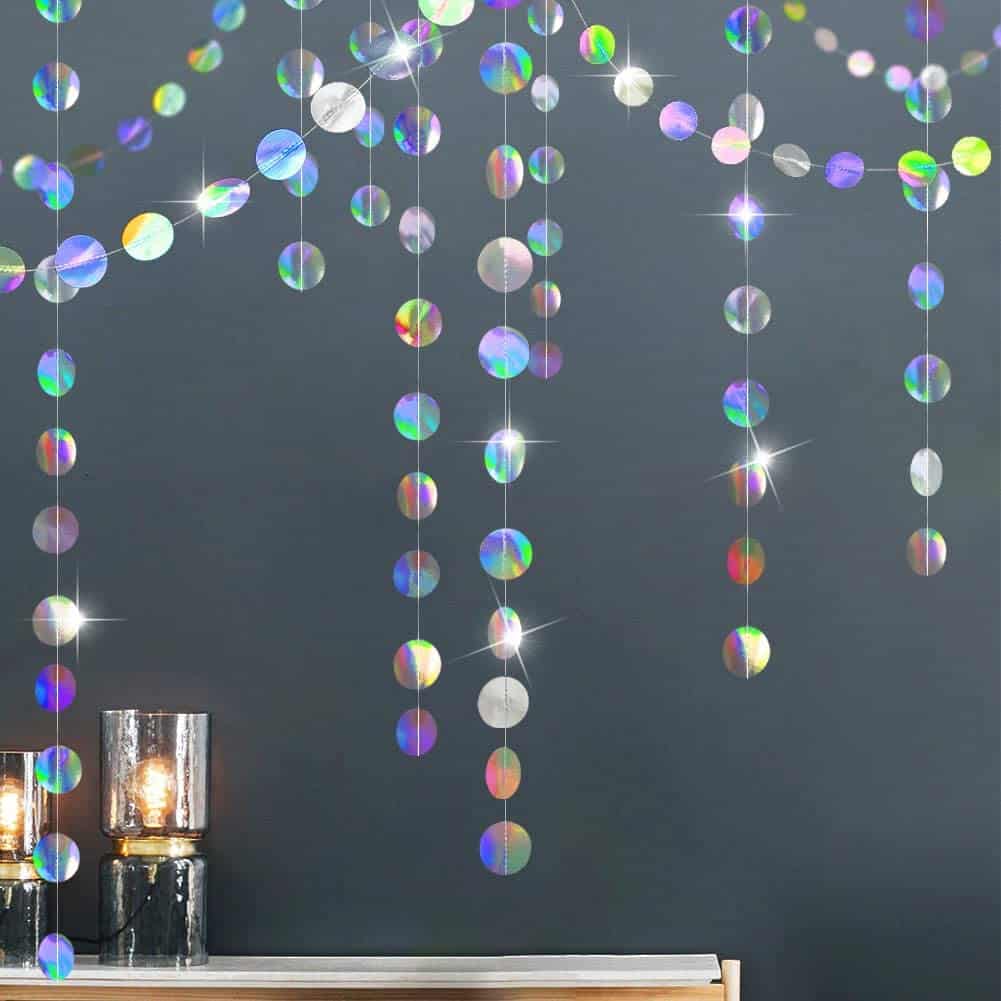 You can hang these Iridescent Party Supplies Circle Garlands for a touch of whimsy at the party. When the light touches the holographic dots, it adds a definite party or disco vibe. 
If you like stars with the holographic discs, there's this Twinkle Little Star option too. You can even mix the two and create an even more unique effect at the unicorn party!   
Likes
Add a magical "party" feeling 

Kind on your wallet 

Perfect for any celebration, and works well with a unicorn-themed party 

Versatile; can hang these garlands in your home for a magical addition  
Dislikes
12. YOFUN Decorate Your Own Water Bottle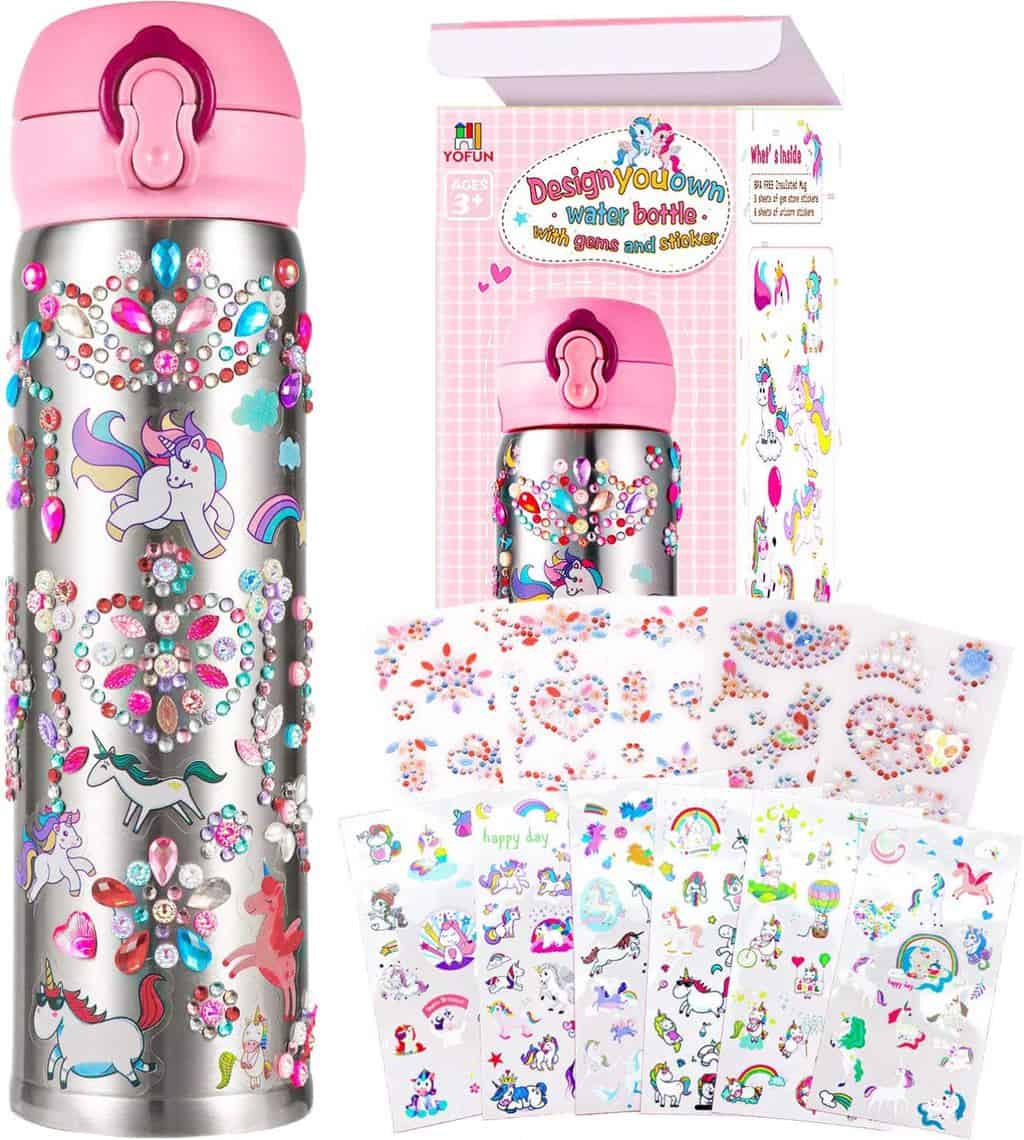 Get these "Decorate Your Own Water Bottles" and include them as a party activity or add it to the party favor bag. The water bottles come with 5 sheets of gemstone stickers and 6 sheets of unicorn stickers.     
Likes
A unique activity or party favor 

Lots of fun to decorate your water bottle 

Comes in 2 options: silver or pink 

Durable stainless steel water bottle that's 100% BPA and toxic-free to keep your water hot or cool   
Dislikes
Pricey if you have many guests  

After too many washes, the stickers come off 
13. Something Unicorn – Pastel Rainbow Wall Hanging Sign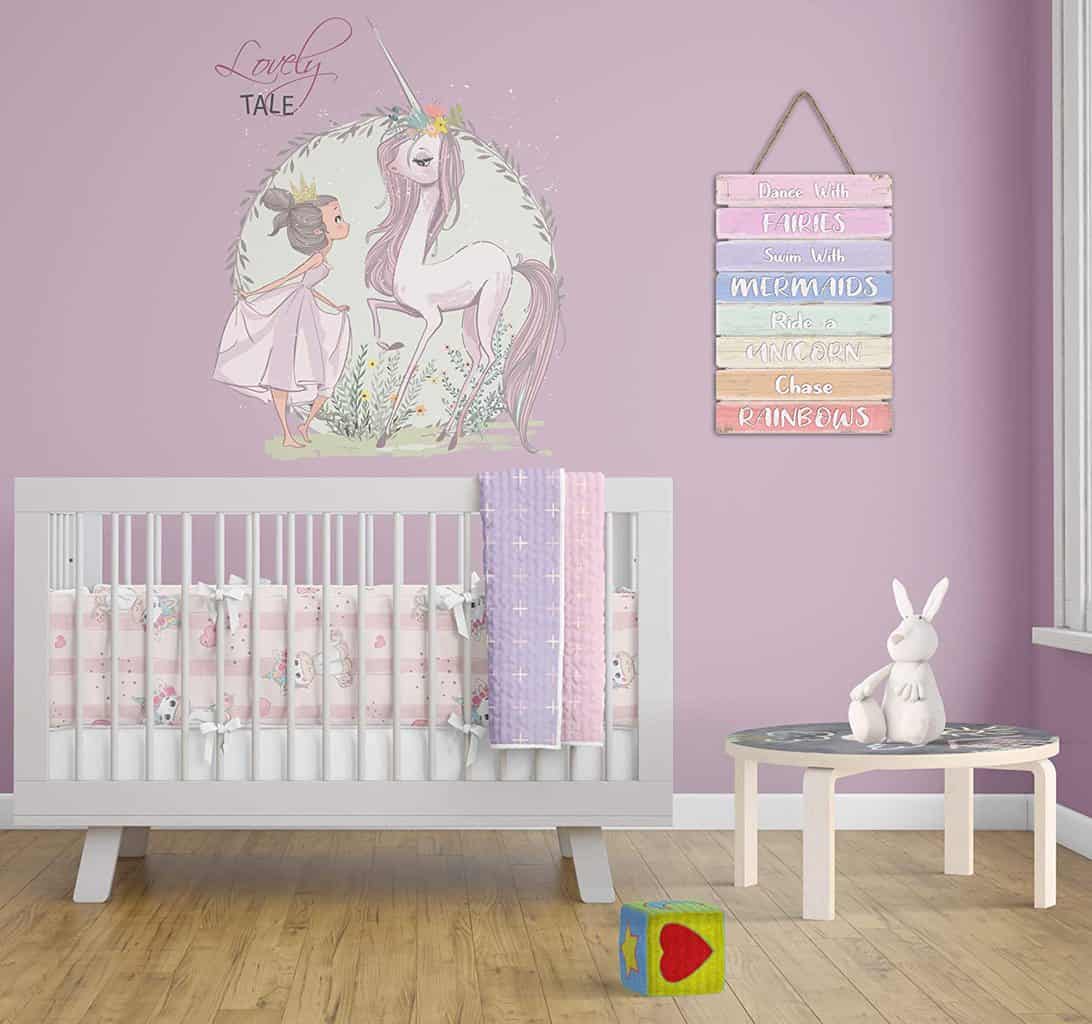 For a cool unicorn party decoration, the Something Unicorn – Pastel Rainbow Wall Hanging Sign that you can place on a table and against a wall makes the celebrations even more magical. 
I'd actually place this at the party entrance so everyone can read what the sign says to help put them in a unicorn mood. The sign says: "Dance with fairies. Swim with mermaids. Ride a unicorn. Chase rainbows." Beautiful, right?  
Likes
Comes with a hemp string for easy hanging 

Stunning design that's ideal for a unicorn party 

Can place the sign anywhere in your home or office after the festivities  
Dislikes
Might be smaller than you expect (12 in (W) x 17 in (H) x 0.4 in (D))  
14. Macoosy 9 Pieces Rainbow Unicorn Honeycomb Centerpieces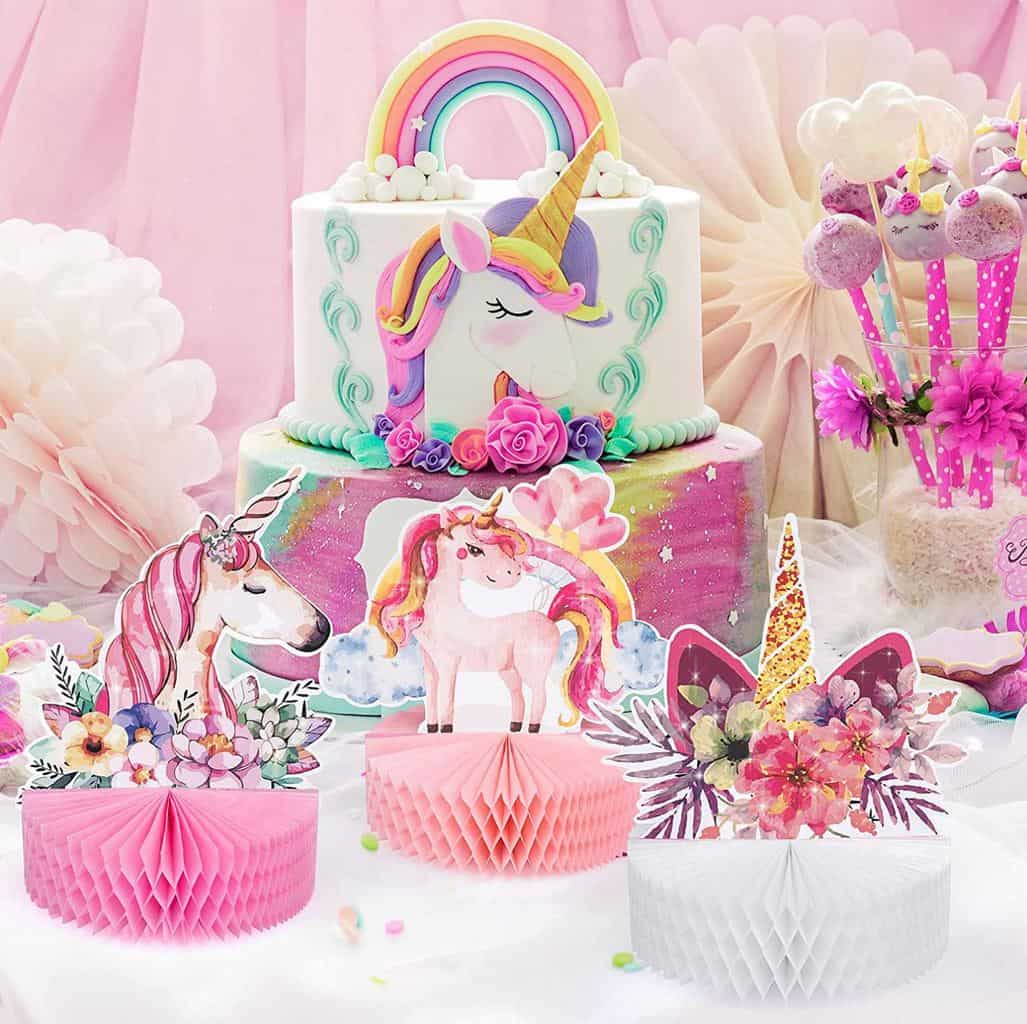 The Macoosy 9 Pieces Rainbow Unicorn Honeycomb Centerpieces are stunning for any table at your unicorn party. Every design is different – one has just a rainbow, while another has a unicorn sleeping on a crescent moon. 
These are utterly charming, and to use them after the party, you can place them around your house or in a showcase.   
Likes
Made from thick, durable cardboard stock and honeycomb orbs 

Easy to assemble 

9 different designs 

Suitable for any unicorn party  
Dislikes
Need to use glue dots to ensure they stay stable; glue dots aren't included 

Color might not work for every party  
15. Unicorn Theme Party Favor for Kids 

Buy a party favor set like the Unicorn Theme Party Favor for Kids when you need to be mindful of your budget and want several items to add to the party favor bags. You can add popcorn and unicorn slime or these unicorn bracelets.    
In this set, you get: 
96 tattoos (8 sheets) 

24 unicorn stamps 

6 unicorn slap bracelets 

6 unicorn keychains 

6 mochi animals 
Likes
Made from non-toxic, high-quality materials 

Perfect for the party favor bags for young kids  
Dislikes
Pricey if you need to fill many party favor bags  
FAQs
Question: Why go with a unicorn-themed party? 
Answer: Unicorns are appropriate for adults and children. The mythical being represents something highly desirable but rare. The unicorn also symbolizes innocence, purity, freedom, gentleness, divinity, and magic. 
Choose a unicorn that is a horse, llama, or cat with a horn; add sparkles, sweetness, and fantasy. You have a unicorn-themed party suitable for a baby shower, kitchen tea, or birthday.   
Question: What do you do at a unicorn party? 
Answer: Depending on the age of the guests, you can do similar activities at a unicorn party that you'd do at any other party. Play music, get a bouncy castle and do face painting. Or play games like the unicorn ring toss or pin a horn to a unicorn. Consider fun, artsy activities like embellishing a party favor bag, making unicorn chocolate bark or a milkshake, or making unicorn slime.  
Question: How do you host a unicorn party? 
Answer: Hosting a unicorn party starts with setting a budget and asking the guest of honor what they expect of their party (unless it's a surprise party). Next, you'll need to consider the theme – should it be more cutesy unicorns for kids or cute but grown-up for adults? Then you can choose the venue, decorations, the cake, activities and games, music, snacks, and drinks. 
My Final Thoughts on Unicorn Party Supplies 
Finding and buying unicorn party supplies can be fun. Still, it can also be quite intimidating if you don't know where to start. 
Remember: 
Create your budget 
Make a list of the supplies you need – decor, activities, party favors, tableware, etc. 
Buy online or in-store (or both) 
Consider the price, versatility, and uniqueness of each product and how each tie into your overall unicorn party idea. 
Good luck, and happy shopping!
P.S. If you are looking for other party ideas, I've got an excellent mermaid party ideas guide for you.  
Recommended Reads: