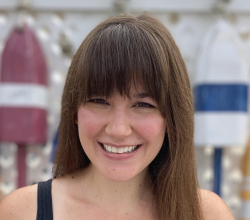 Latest posts by Lauren Vigdor
(see all)
My brother had a Star Wars-themed party when we were kids, complete with a movie marathon, a surprise plastic lightsaber battle, and of course, a Star Wars cake. My mother had formerly owned a catering company, and she threw some epic birthday parties for us as kids. I was often tasked with helping decorate cakes for my younger brother's parties, which usually consisted of meticulously dotting colored buttercream onto a sheet cake until way past my bedtime while dancing around to music that was not quite loud enough to wake the neighbors. 
By the time we got to my brother's Star Wars party, the cakes had become less labor-intensive but no less memorable. That particular cake was a simple sheet cake with some writing on it, and a few plastic Star Wars figurines plunked on top, and it was perfect. It was delicious, it fit the theme, and it was offered up with love. 
Star Wars has been a popular franchise for generations now, which means there have been decades worth of opportunities for Star Wars-themed parties and cakes. A quick google search will result in thousands of examples, so I've taken the liberty to narrow them down a bit. Whether you're looking for a Star Wars birthday cake, a Star Wars wedding cake, or a cake to celebrate Star Wars Day, you'll find plenty of ideas below. 
Bottom Line Up Front
If I were going to order a cake off of this list from a professional, it would probably be either the Yoda Galaxy Cake or the Boba Fett Helmet Cake, depending on the occasion. They're each delightful in their way, and I know they'd have all my party guests talking. If I were to attempt to make one myself, it would most likely be the Sarlacc Bundt Cake because I think it's clever, hilarious, and absolutely achievable for a home baker!
Things to Consider When Selecting a Star Wars Cake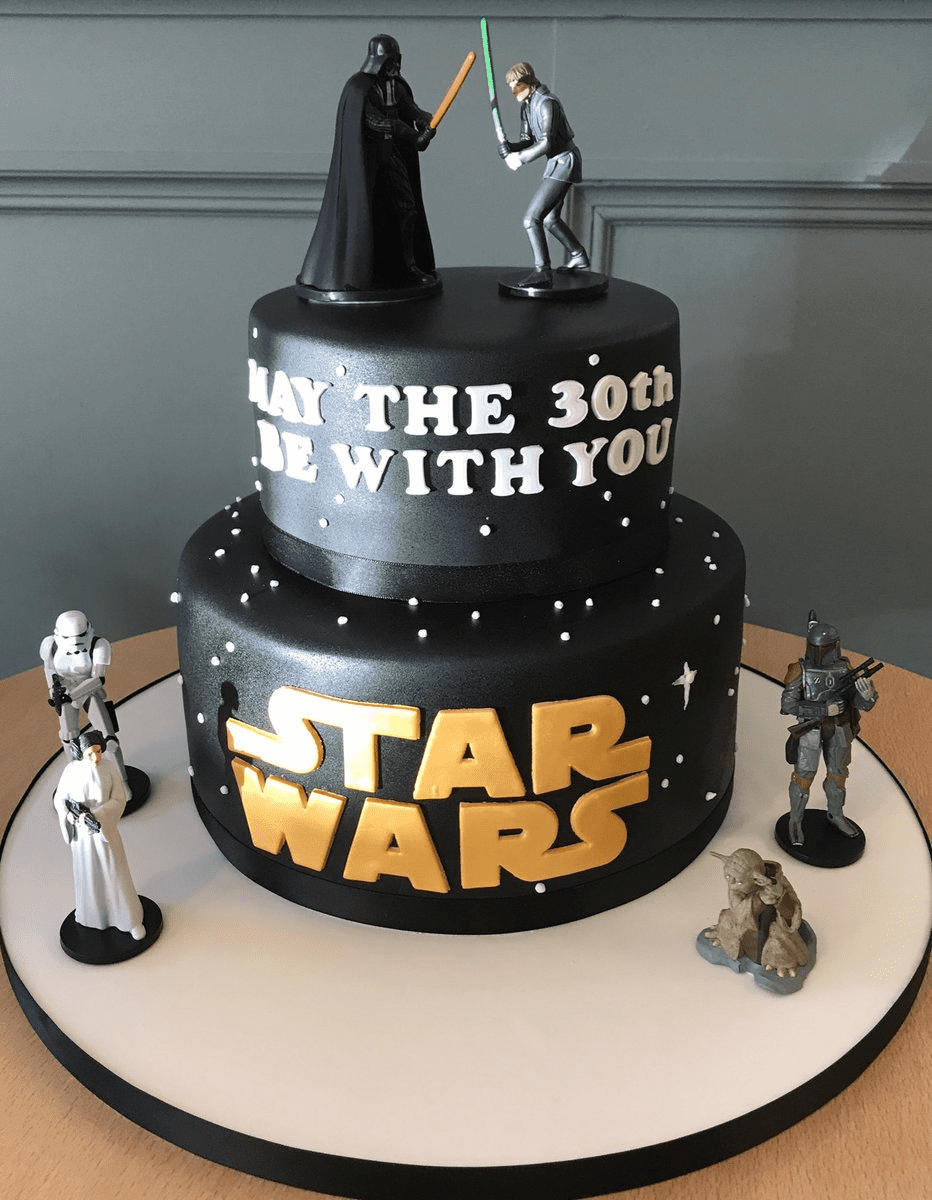 When choosing a Star Wars-themed cake, there are a few things you should first take into consideration.
Occasion
What is the cause for celebration? Are you looking for a Star Wars birthday cake, retirement cake, or wedding cake? How many people will be at the event? Are you going to need a large sheet cake or multiple tiers, or will a single 9" round cake suffice?
Style of Cake
Are you looking for a realistic Star Wars character cake, or would you prefer something cute and cartoony? Do you want a marbled galaxy cake or something bold and graphic? These are a few things to consider when determining what cake style you're looking for.
Age of Recipient
Star Wars fandom knows no age limit, but you should probably consider your recipient's age when purchasing or baking a Star Wars cake. A young child most likely won't fully appreciate that you recreated every duct and trench on the surface of the Death Star, whereas an adult might consider plastic figurine cake toppers childish. 
Favorite Star Wars Film, TV Series, or Character
I've found that people tend to swear allegiance to whichever films they grew up watching and remain slightly skeptical regarding some of the others. I fall solidly in the "Ewoks aren't annoying, they're cute!" camp, but I still haven't 100% accepted the prequel trilogy as canon. Consider which Star Wars films, shows, and even characters your recipient likes when choosing a cake. Not everyone has seen some of the newer TV Series, for example, so a Baby Yoda or Ahsoka Tano cake might not land the way you want it to. When in doubt, it's probably safe to stick with a more general Star Wars theme or any of the characters from the original trilogy, such as Han Solo, Luke Skywalker, Princess Leia, Darth Vader, and of course, R2-D2. 
Cake Flavor
I feel like it should go without saying, but you want your Star Wars cake to be delicious! Don't forget that as cool as it may look on the outside, people are still going to want to eat the cake. Select a flavor that your recipient will like or something crowd-pleasing, and make sure the cake tastes good!
Budget
Before you start looking at Star Wars cake ideas, it's good to figure out your budget for the cake. Some of the cakes on this list cost a small fortune and are meant to be once-in-a-lifetime splurges (I have a section on Star Wars wedding cakes below,) whereas others are more suited for a child's birthday party. Whether baking the cake yourself or ordering it from a professional, figuring out what you're willing to spend before you begin searching will help narrow down your options significantly.
See also: Best LEGO Cake Ideas To Love For Your Next Birthday
Skill of Cake Maker
Finally, you're going to want to consider the skill of your cake maker. Are you making the cake yourself? Purchasing it from a professional? Outsourcing it to a friend? If you choose a more complicated design, make sure that you're confident that your cake maker can pull it off. Keep in mind that professional cake makers tend to have their own styles, so ask to see a professional's portfolio, and when in doubt, opt for a simpler design and allow yourself to be pleasantly surprised by the result!
If you're planning on making the cake yourself, give yourself plenty of time to get it done. If possible, spread the process out over a few days and never NEVER try to decorate a cake that's still warm. It will only end in disaster and probably some frustrated tears. Just trust me on this one. 
Star Wars Cake Ideas
I selected these Star Wars cakes because they offer a range of styles, characters, and difficulty levels. All of the cakes on this list are distinctly Star Wars themed, but each is unique and special. I like that many of the cakes on this list can be used as inspiration and modified to create a custom cake that is unique to your needs. 
Simple Star Wars Cakes
These cakes are simple and classic looking. They shouldn't be too difficult for a home baker to recreate but will also look immaculate if made by a professional. 
Cakery Star Wars Cake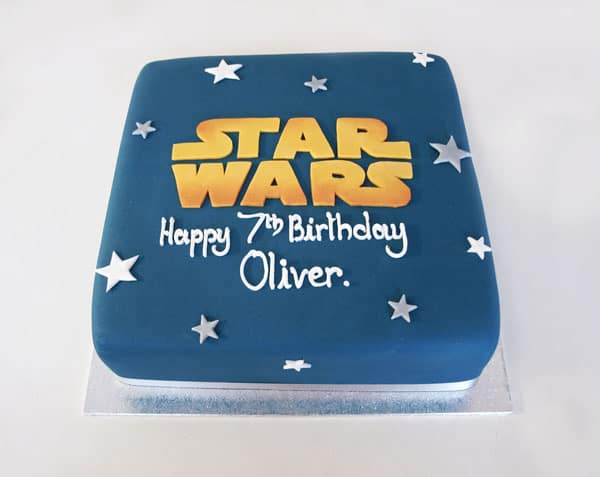 This is my favorite simple Star Wars cake. I love the clean lines and bright colors. The two-tone airbrush detailing on the Star Wars letters really make this cake look professional. As long as you've got a steady hand and can cut out fondant letters with a stencil, something like this would also be relatively simple to pull off at home. 
Simple Lightsaber Cake
I like how un-fussy this cake is. It's simple and wouldn't be too difficult for a home baker to put together. I also like that an idea like this can be customized to fit your needs. Got a kid that loves Mace Windu? Make one of the lightsabers purple. Don't feel comfortable with all that black food dye? Maybe marble some blues together for a galaxy effect instead. The Death Star in the corner is a nice touch, but I think the cake would work fine without it there. This cake makes an excellent blueprint if you're looking for something that you can make at home without losing too much sleep. 
See also: 10th Birthday Party Ideas That Your Little One Will Never Forget
Simple Storm Trooper Cake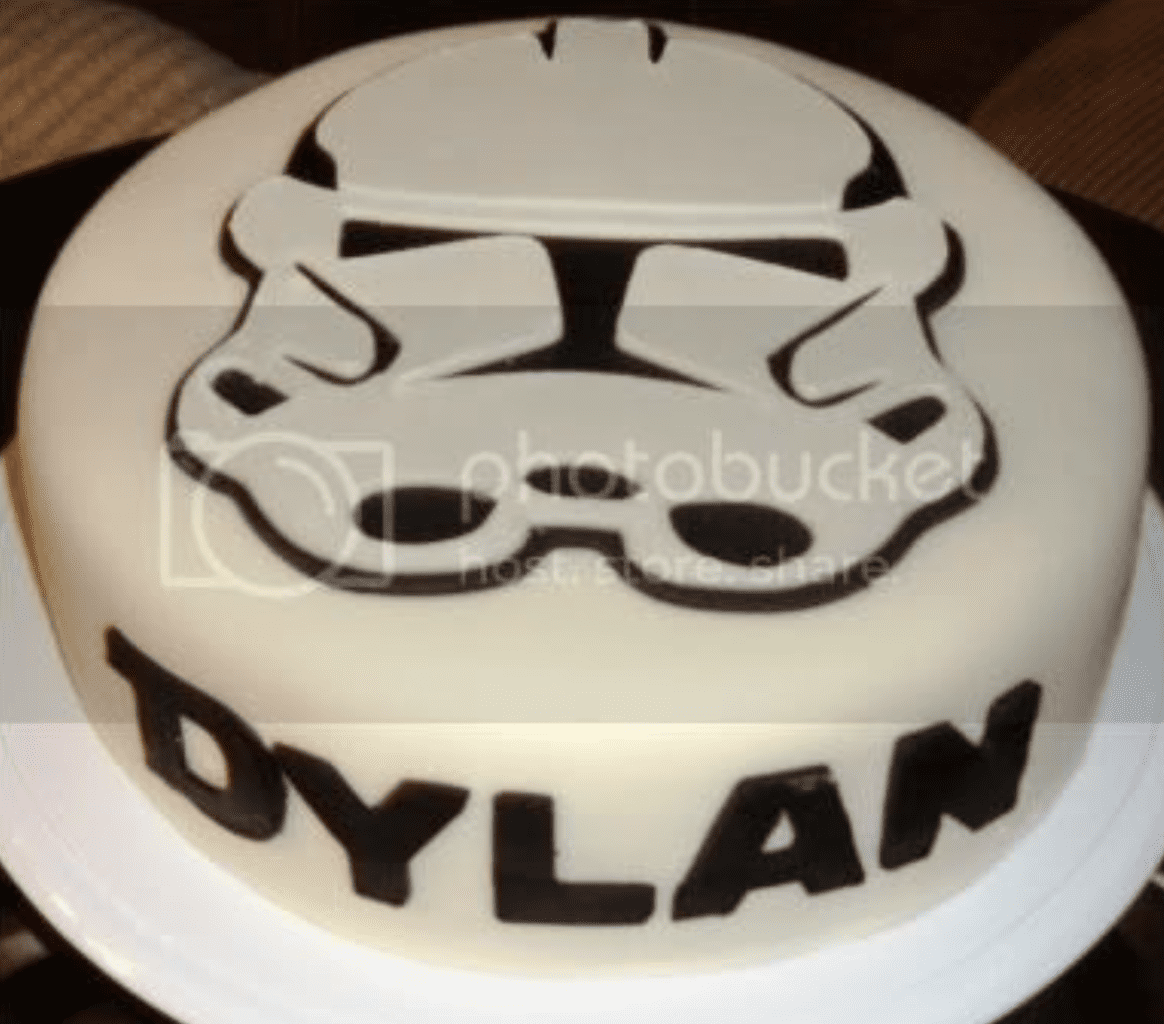 All you need for this cake is a steady hand and some black and white fondant. The cake pictured was made using a Cricut Cake, which makes cutting the fondant pretty much painless, but a sharp knife and some printed templates would get the job done. This cake style can easily be recreated in different colored fondant using a different character's image. Characters with bold features and bright colors would work exceptionally well. I'm picturing Queen Amidala or Darth Maul. 
Cute Star Wars Cakes
These cakes are all adorable and are great options for a child's Star Wars themed birthday party or cake smash.
Lego Star Wars Cake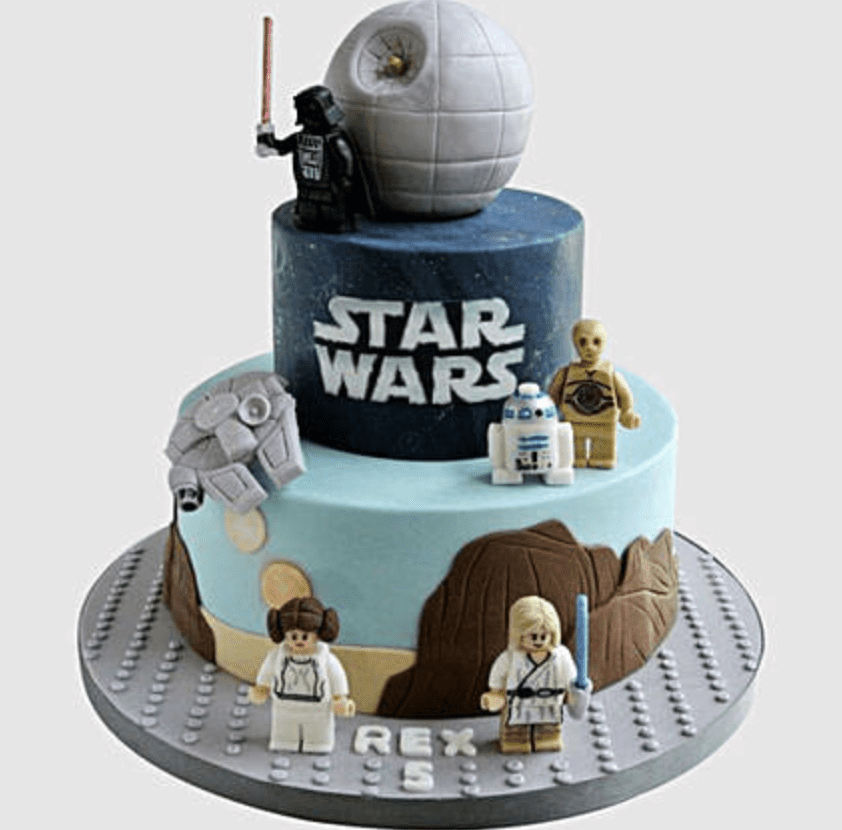 This adorable cake combines two of my favorite things, Star Wars and Lego (and I'm willing to bet that I'm in good company at the center of that Venn diagram!) This cake is perfect for a special birthday where you want to do something a little extra (maybe a golden birthday?) 
Cute Figurine Cake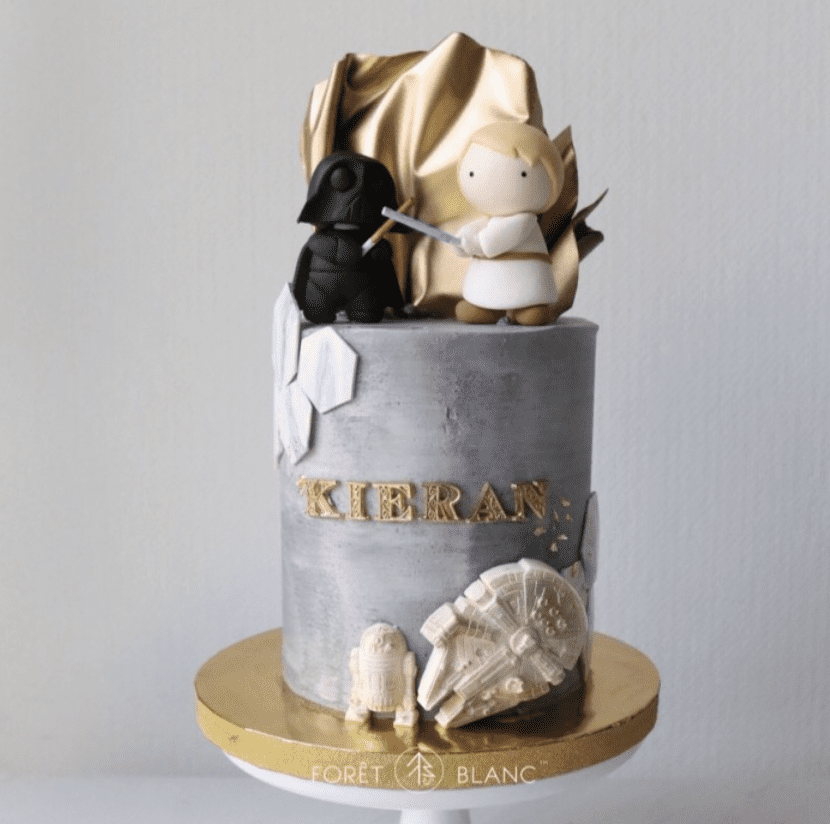 I know that the adorable figurines on top of this cake steal the show, but I have to say I think the color palette is my favorite part of this one! The colors remind me of the harsh landscape of Tatooine, but at the same time, they make the cake look expensive. I also really love the chocolate Millenium Falcon on this one. 
Chewbacca Cake Smash Cake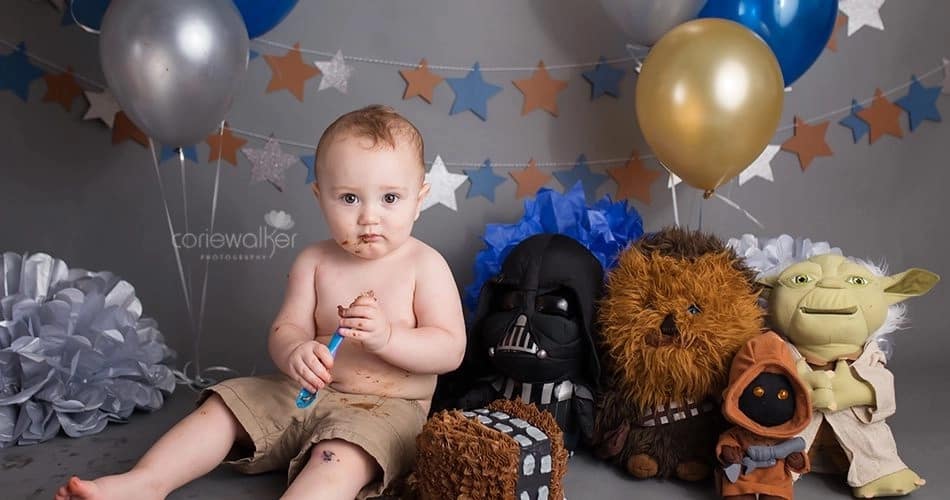 This little Chewbacca cake is adorable for a cake smash. This particular cake fits into a lot of categories on this list. It's cute, simple, and celebrates a character (see below), but I'm putting it here because I think it's the perfect cake to celebrate your little Han or Leia's first birthday. 
Star Wars Character Cakes
All of the cakes in this section celebrate a particular character from Star Wars. 
R2-D2 Cake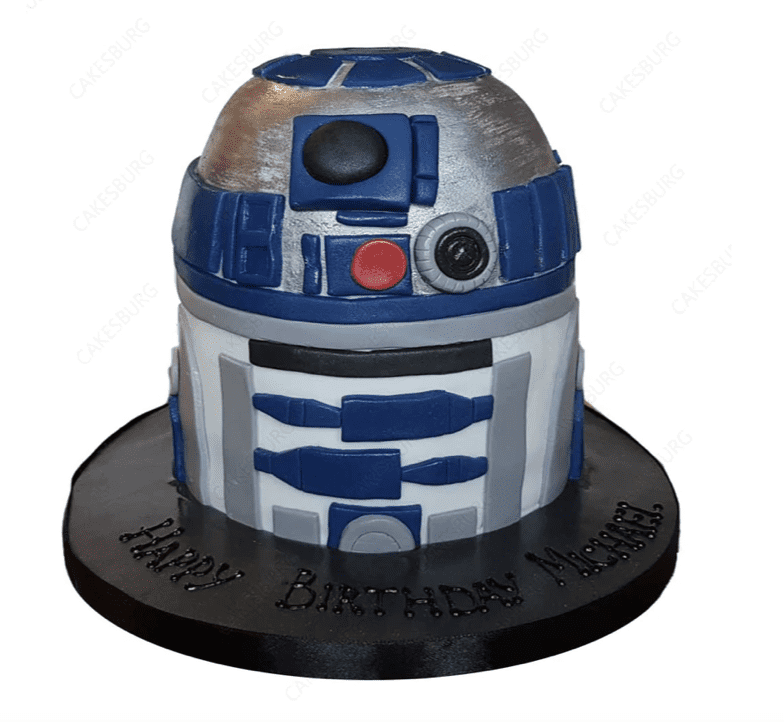 I can't think of a better way to celebrate a special occasion than with everyone's favorite droid! This R2-D2 cake is a literal interpretation of the droid but is still simple enough that an intermediate-level home baker could probably pull it off. R2-D2 is a fan favorite character because he's cute, sassy, and a little bit of an anarchist! He would probably be a blast at a party! 
BB-8 Cake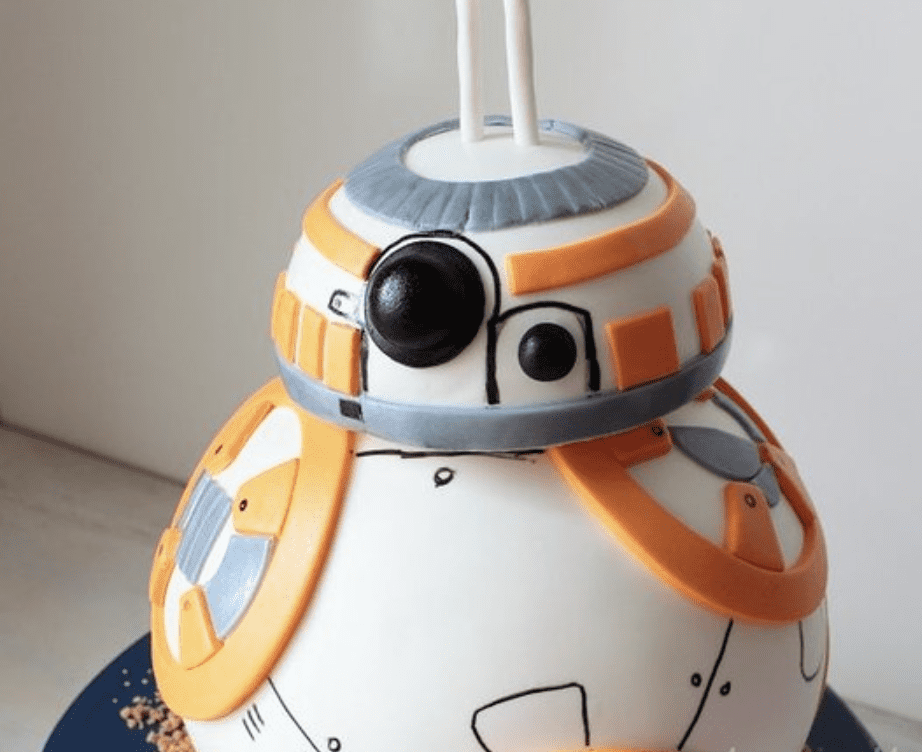 BB-8 is the heir to R2-D2's throne in terms of droid fandom. This is another lifelike cake, but carving this one will take a bit more skill than R2-D2, despite its relatively simple, graphic appearance. I love the clean lines and bright colors of this cake. It would be great for a child's birthday party, especially for fans of the sequel trilogy that began with The Force Awakens. 
Boba Fett Helmet Cake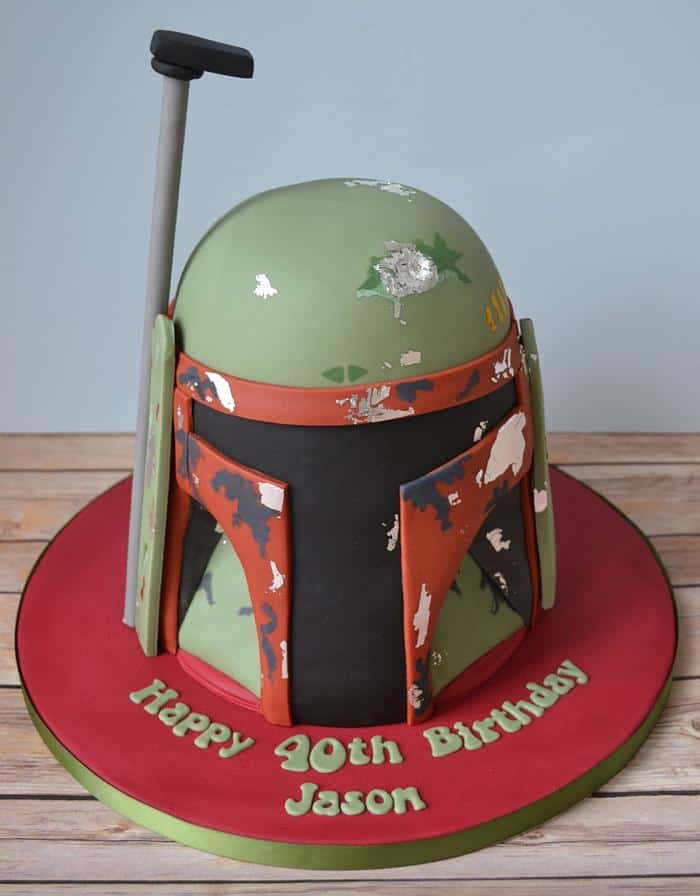 Boba Fett is another fan-favorite character from the original trilogy, and he was recently resurrected for the Disney+ series The Book of Boba Fett. His iconic helmet is his most recognizable feature, and this cake is a perfect, lifesize model of it, down to its signature dent.
If you'd like to make a cake like this yourself but don't have experience carving cakes, this shape would be easy to recreate in two dimensions using cut fondant or piped frosting on a sheet cake.
Sarlacc Bundt Cake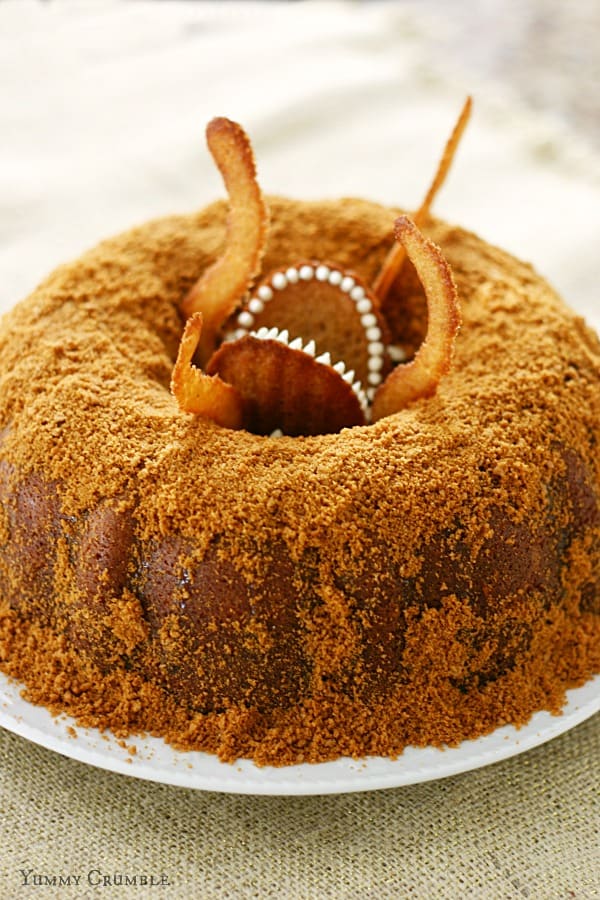 I struggled for a minute when determining whether or not I should categorize this cake as a character. The Sarlacc is very much a living creature in the Star Wars universe, but it's also a staple of the landscape of Tatooine. This cake is a little bit silly, and it might be my favorite one on this list. It might also be the geekiest cake on the list. I like that this cake is relatively simple for a home baker, and it's instantly recognizable from the monster's scene in Return of the Jedi (even with the divisive CGI beak that was added during the rerelease of the film.) 
Baby Yoda Cake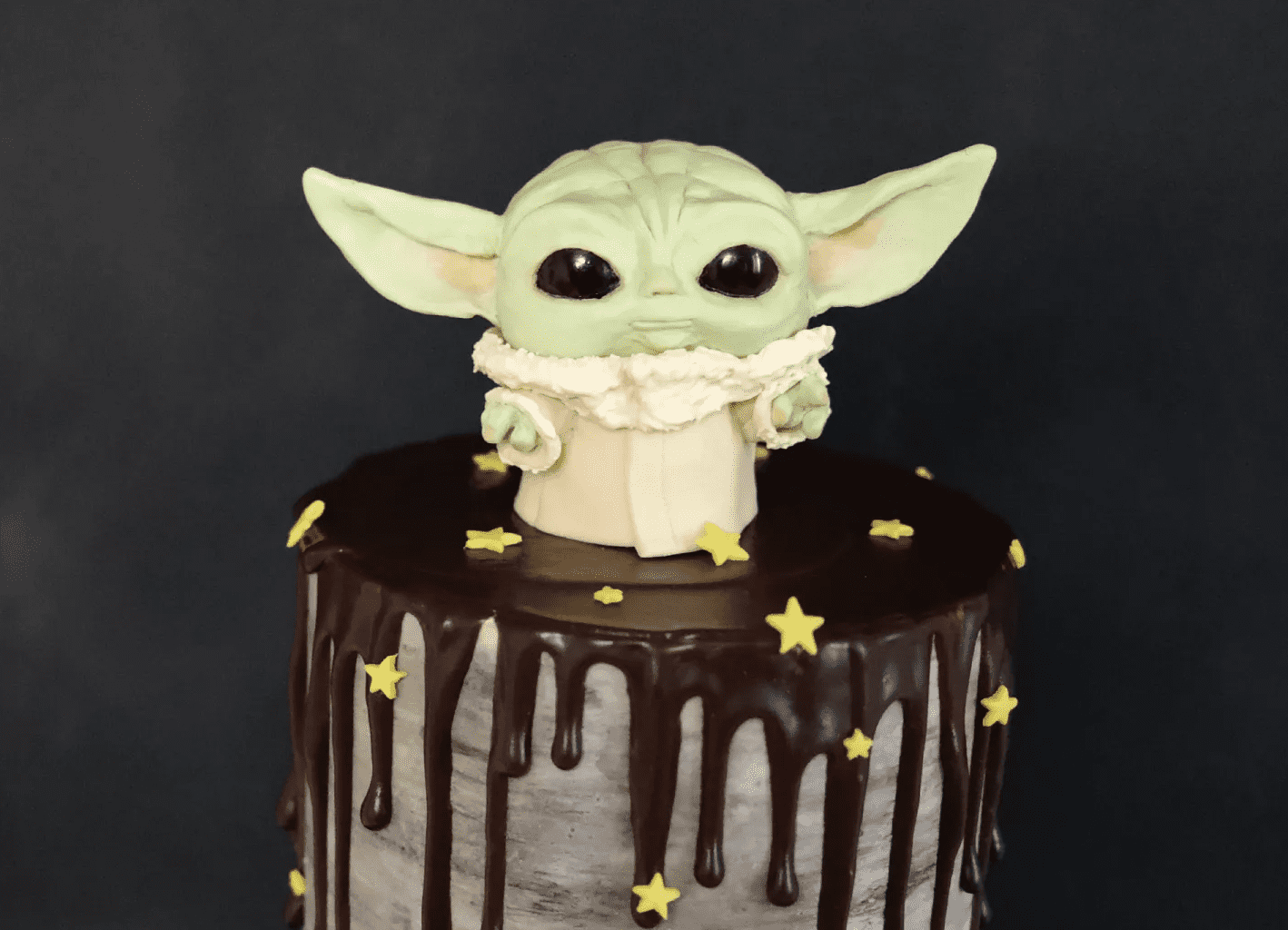 Grogu, aka Baby Yoda, stole the hearts of anyone who watched The Mandolorian. For a while, after his on-screen debut, it seemed like this little guy was everywhere. The craftsmanship of this modeling chocolate figurine is spot-on, but those of us who are less talented sculptors could achieve a similar look with a Baby Yoda Funko Pop as a cake topper. 
Darth Vader Cake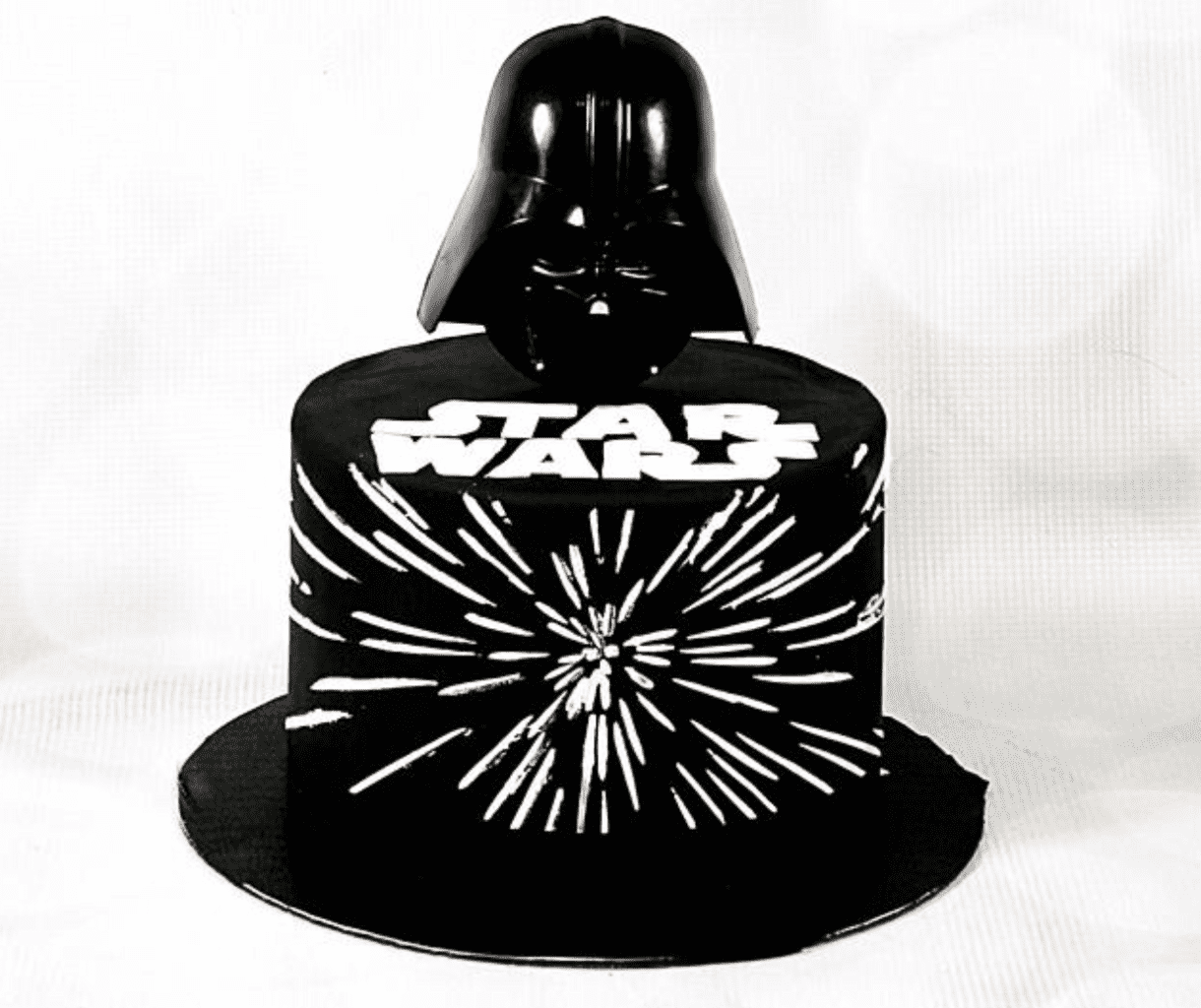 My favorite part of this Darth Vader cake has to be the hyperspace lines on the side. The stretched-star visual effect when ships jump to lightspeed is an iconic image in the Star Wars universe. This is such a simple and clever design element on this cake and one that even a novice baker can pull off. 
Han Solo in Carbonite Cake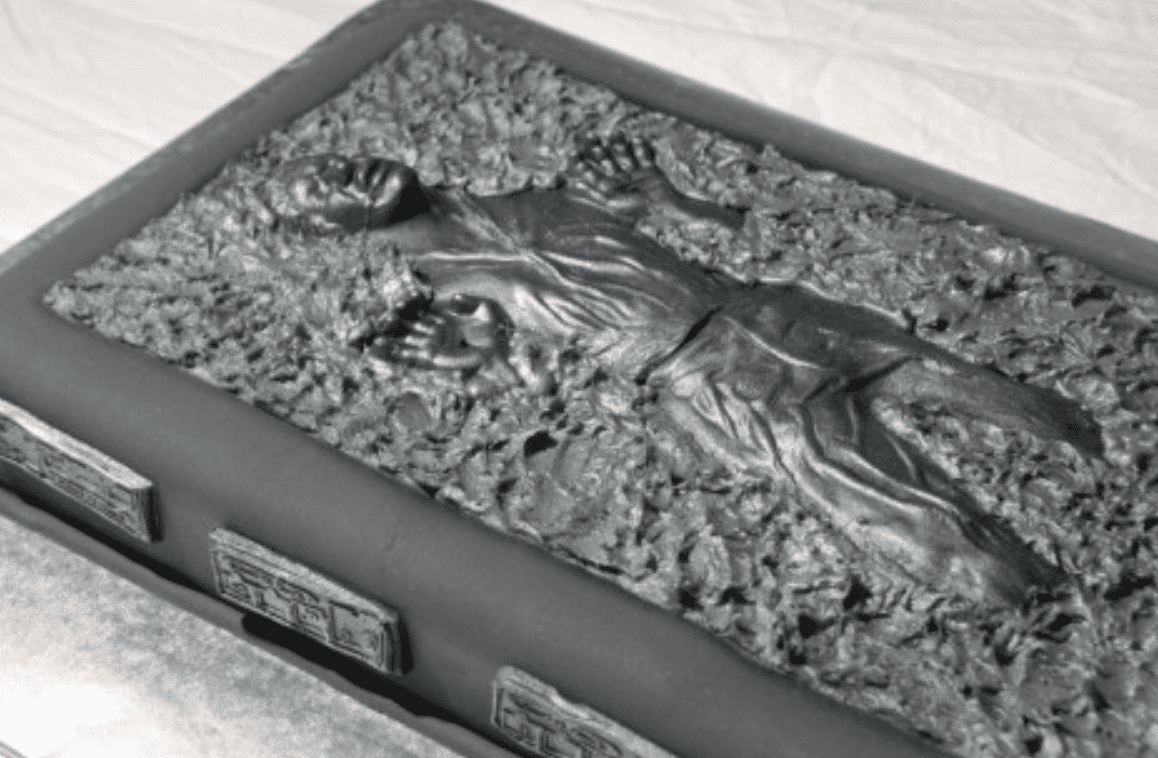 This is another clever Star Wars cake that adult fans especially will appreciate. The shape of the cake itself is super simple, but the detail of Han Solo in the carbonite is so impressive!
Kylo Ren Cake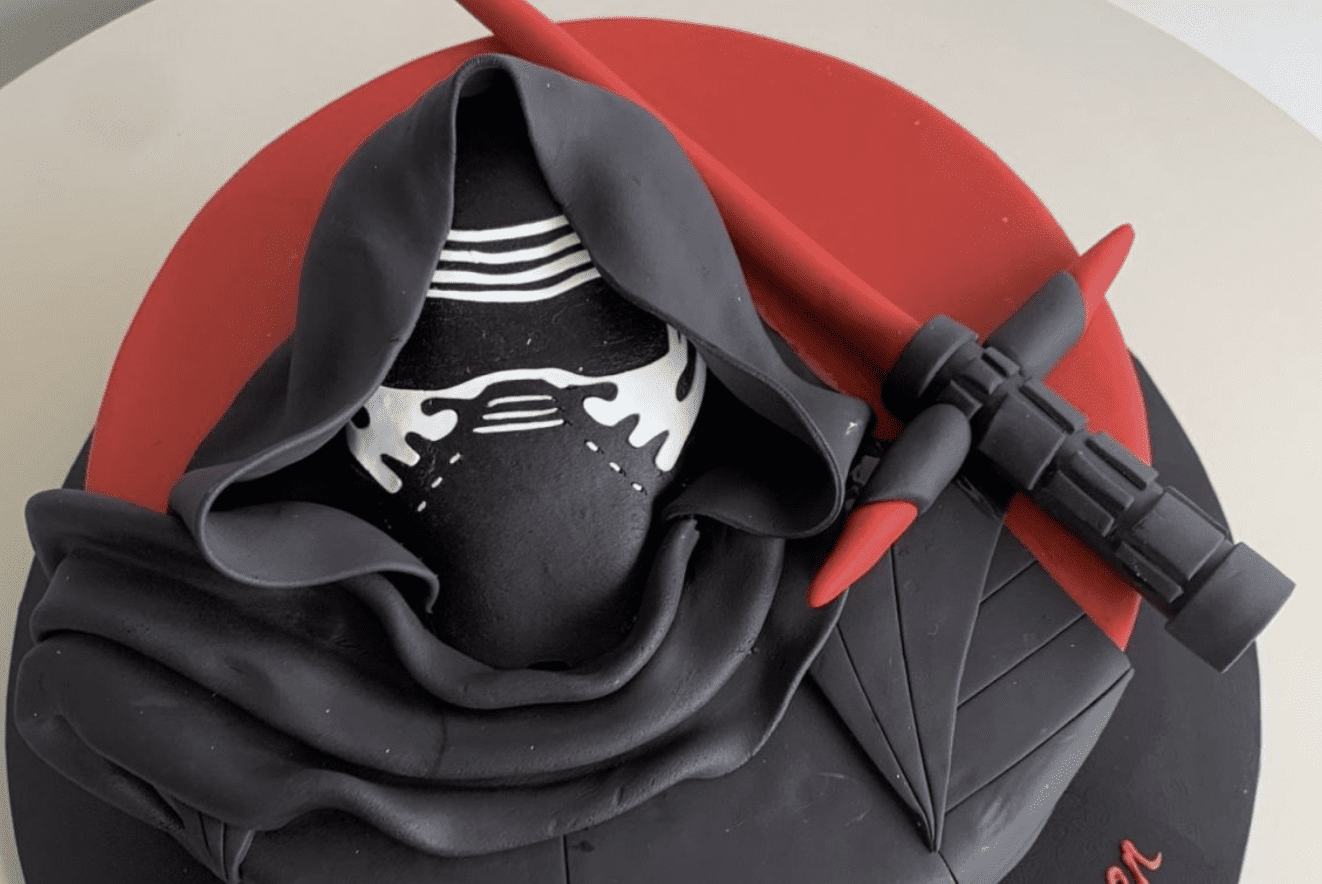 Kylo Ren is the villain-turned-hero of the sequel trilogy. He's strong with the dark side of the force and leads the New Order against the resistance. This cake would be great for a child's birthday party, especially for a fan of the sequels. I'm not usually a huge fan of fondant on cakes since I don't think it tastes very good, but I love how it drapes to form the fabric of Kylo Ren's cloak here. 
Wicket the Ewok Cake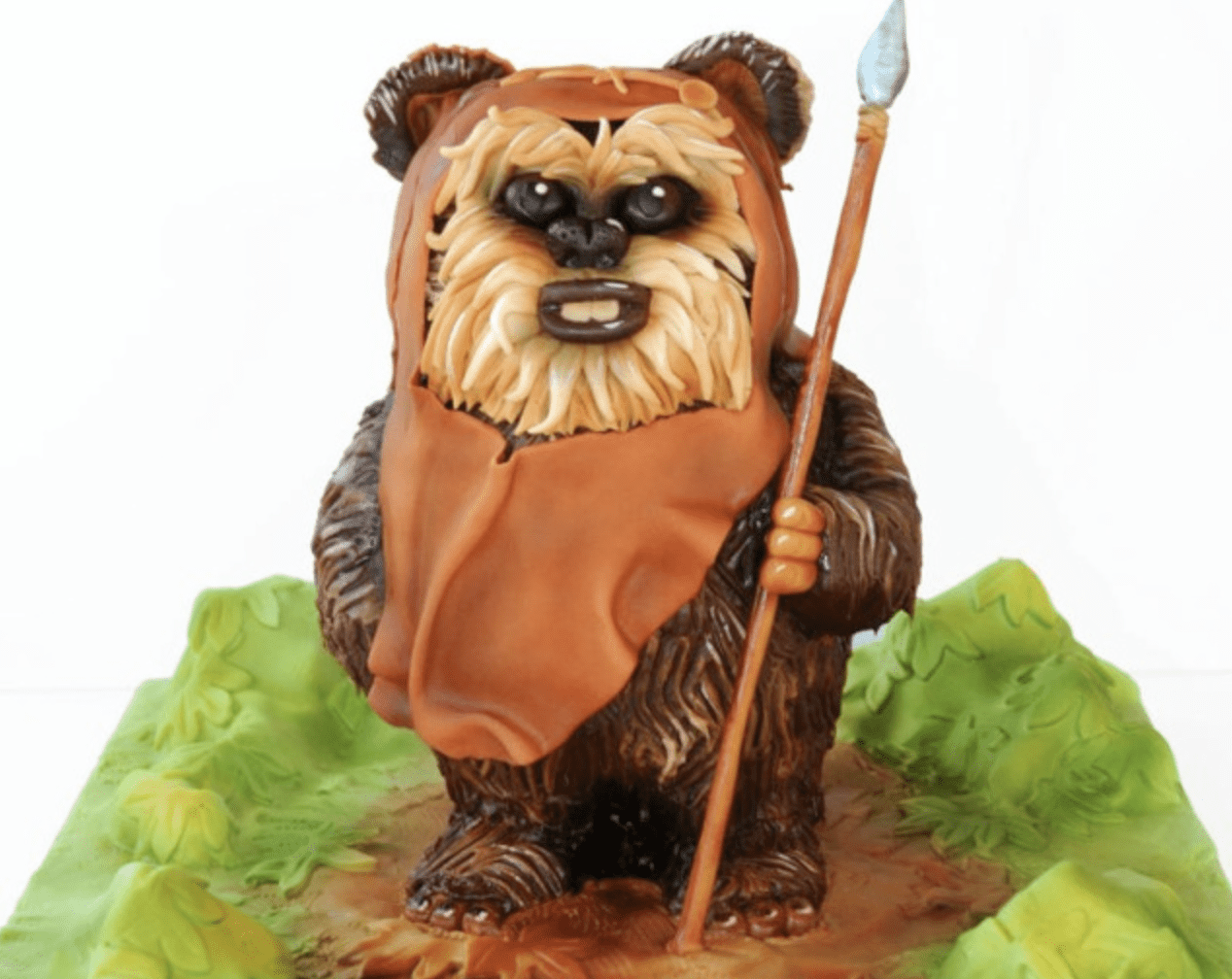 Ewok cakes can be challenging to get right. I think it's something about their facial expressions. Take it from me; there are some pretty freaky-looking Ewok cakes on the internet. This cake, depicting Wicket, the Ewok who befriends Princess Leia in Return of the Jedi, is so cuddly looking! He looks like a little teddy bear. 
Droid Cake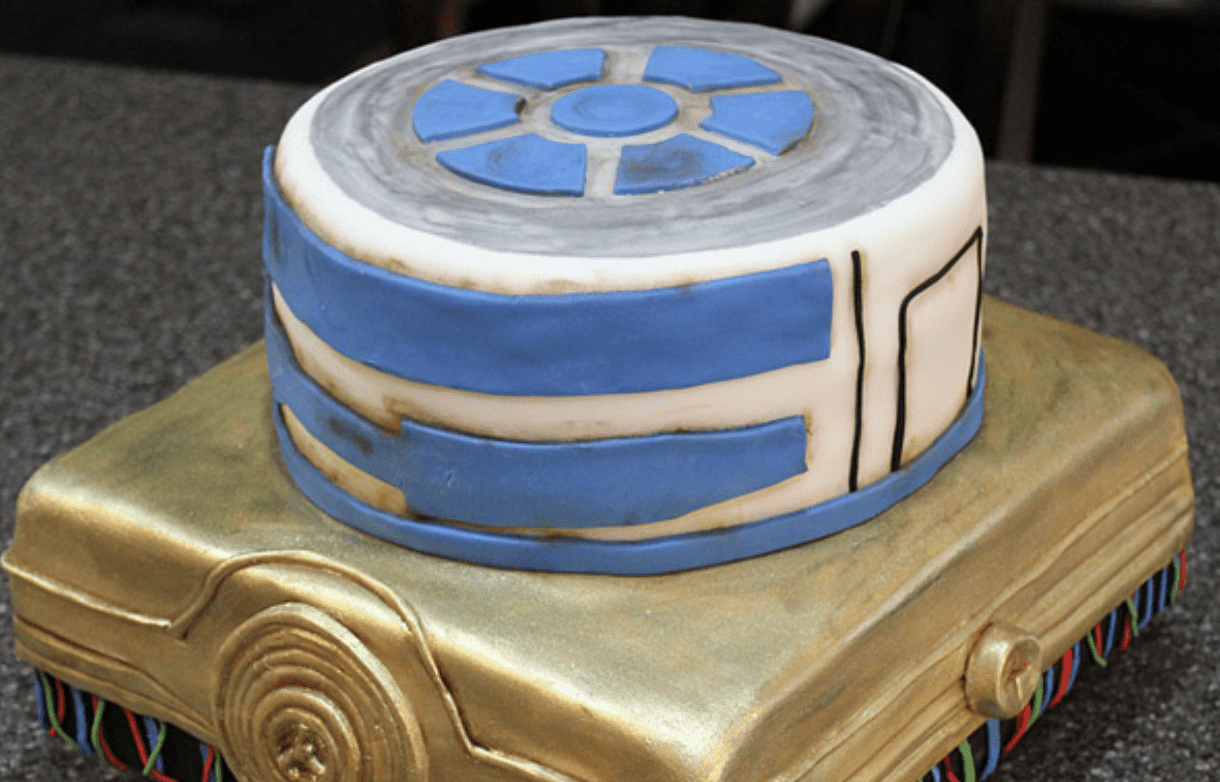 I love that the structure of this cake is pretty simple, but there's no mistaking the characters represented. It doesn't get much more iconic than the odd couple droid pair of R2-D2 and C-3PO, and I love that this cake celebrates them. The attention to detail here is really cool too. 
Darth Maul Cake
https://www.pinterest.com/pin/168040629837397296/
Darth Maul was the coolest Sith lord and crime boss of the prequel trilogy. He also had the coolest lightsaber! Anyone who grew up loving the prequels will love this terrific cake, regardless of how many birthday candles go on it this year!
Star Wars Galaxy Cakes
Galaxy cakes are cakes with swirled frosting or glaze made to look like stars in space. They're fun to make and gorgeous to look at, and they make the perfect backdrop for your Star Wars cake!
Yoda Galaxy Cake
​​https://www.pinterest.com/pin/101049585375813954/
This is my favorite galaxy cake on this list. The cake base itself is gorgeous, and the Yoda and Death Star toppers are impeccably done. I think it's pretty rare to find a galaxy cake that actually looks like an image from space, but the color usage in this cake is just perfect. 
Cute Star Wars Galaxy Cake

I think that this cake is absolutely adorable for a child's birthday party. The galaxy cake base is lovely, and the cut-out characters are so cute! You could definitely recreate a cake like this at home, and there's a lot of room to put your own spin on it. Just be sure to print on or glue the characters to something like cardstock or foam core to make them sturdy, and secure them to the cake using toothpicks or skewers. 
Rebel Fighter Galaxy Cake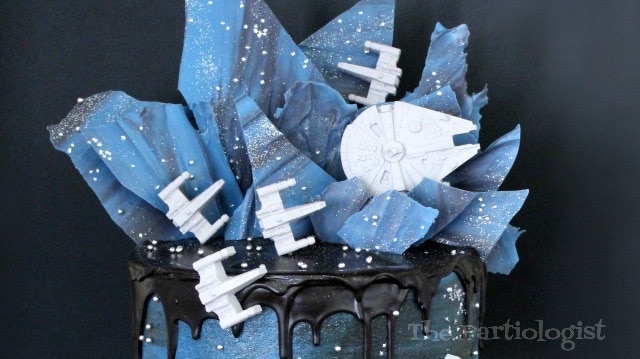 I love the chocolate X-Wings and Millenium Falcon on this cake. They're made using candy melts in a silicone mold — super easy! The shards sticking out of the cake are also made with candy melts and make the cake look so dramatic! 
Star Wars Spacecraft Cakes
Millennium Falcon Cake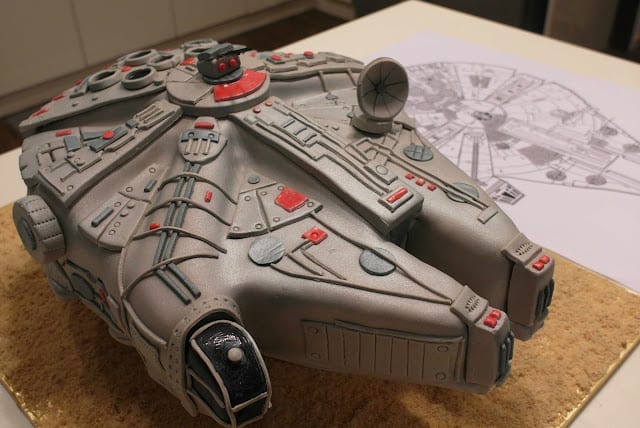 This epic cake features everyone's favorite Star Wars ship, the Millenium Falcon. The cake is carved and covered in buttercream and fondant with a TON of detail work. A cake like this takes hours to pull off, but the result is outstanding. 
Star Destroyer Cake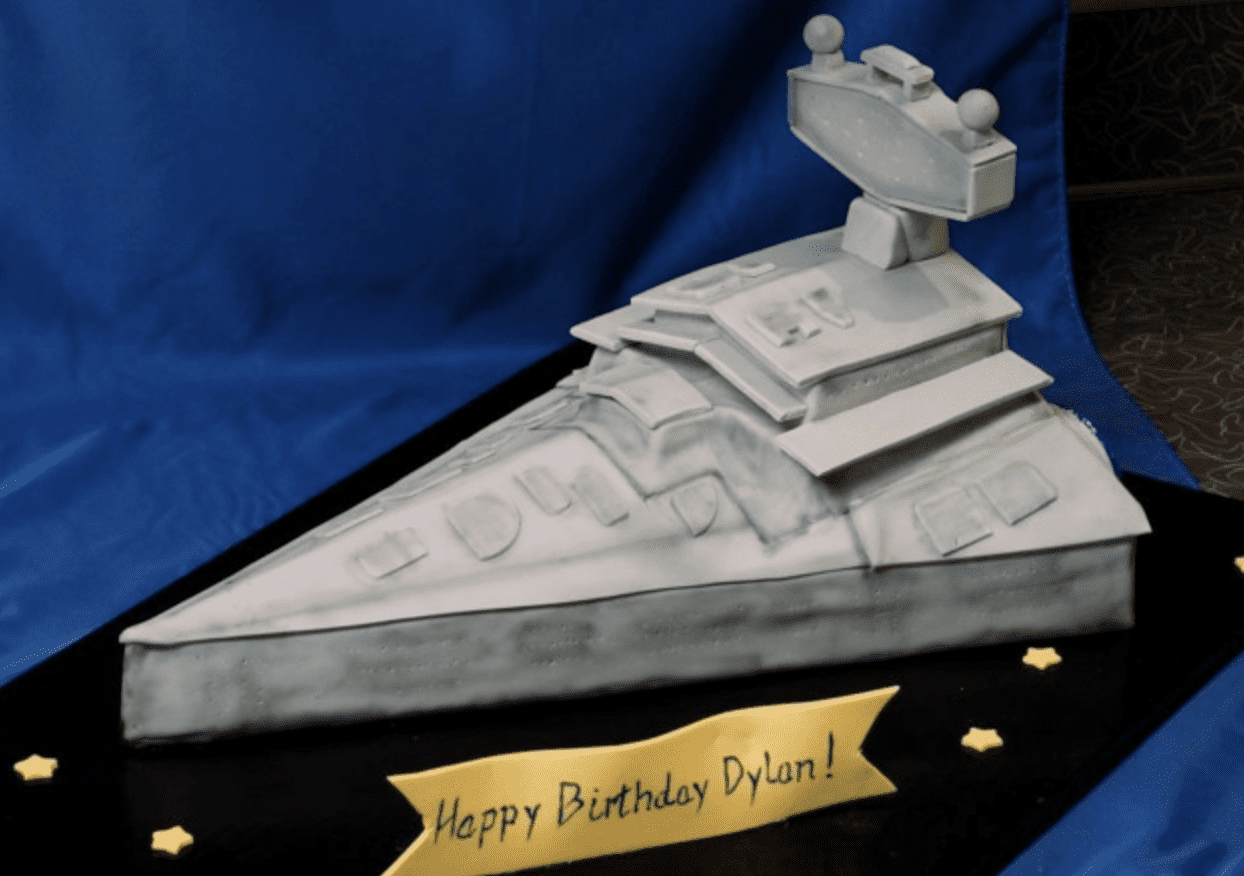 This Imperial Star Destroyer cake is made similarly to the Millennium Falcon above, but it's slightly more straightforward. I like that this Star Wars cake also looks like it would be easy to cut and serve at a party — something I think we don't often consider when choosing cake designs. 
X-Wing Cake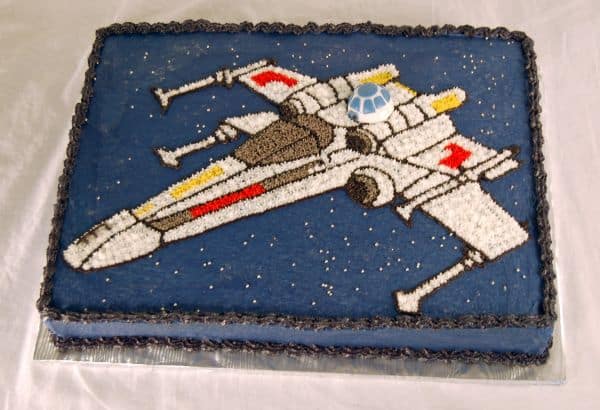 This X-Wing cake reminds me of a lot of the cakes my mom used to make when I was young. This was in the before times — when there weren't dozens of tv shows and thousands of Pinterest boards dedicated to elaborate carved cakes. I clearly have nothing against carved cakes, as there are many on this list, but I do love the simplicity of a well-decorated sheet cake like this. All you need to pull this off (besides a steady hand) is a pastry bag with a star tip, plenty of colored buttercream, and a template or reference photo. The result is charming, and you don't have to be concerned about gravity interfering with the structural integrity of your cake! 
Death Star Cake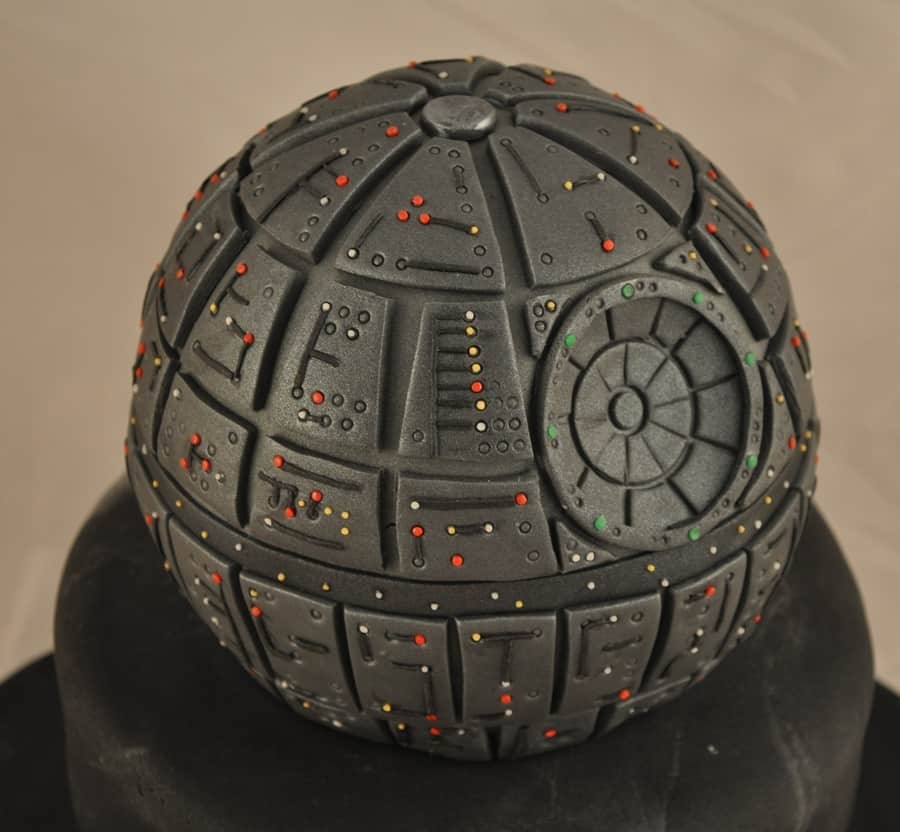 This Death Star cake is just spectacular! The Death Star may be more of a space station than a spacecraft, but I thought it fit nicely in this category. I think this cake is stunning, and the design is relatively straightforward, though it will take some skill and quite a bit of patience. 
See also: 27 Amazing Spiderman Cake Ideas for All Ages
2-D Death Star

I wanted to include a two-dimensional Death Star cake on this list as well because something like this is definitely more in line with my skillset (and, let's be honest, my patience level.) This cake could be made at home fairly simply with a round cake and some fondant. Just be aware that cutting out all of those little fondant panels will take more time (and possibly cause more frustrated tears) than you will budget for. That's just the way cakes like this work, regardless of how much time you allocate. If you give yourself eight hours to work, it will take nine. Trust me on this. 
Star Wars Wedding Cakes
When two Star Wars geeks meet, and sparks fly, it's only natural that they want to honor their love and mutual fandom with a Star Wars themed wedding cake. Below are some of my favorites!
Half and Half Star Wars Wedding Cake
Can we talk about that Death Star cake topper? It's so cool! The half and half or hidden panel look is very popular for Star Wars wedding cakes. It allows for a traditional look when the cake is viewed from certain angles and a delightfully nerdy surprise when viewed from others! I like that this cake is classy and straightforward, but there's no mistaking that topper! 
Character Panel Wedding Cake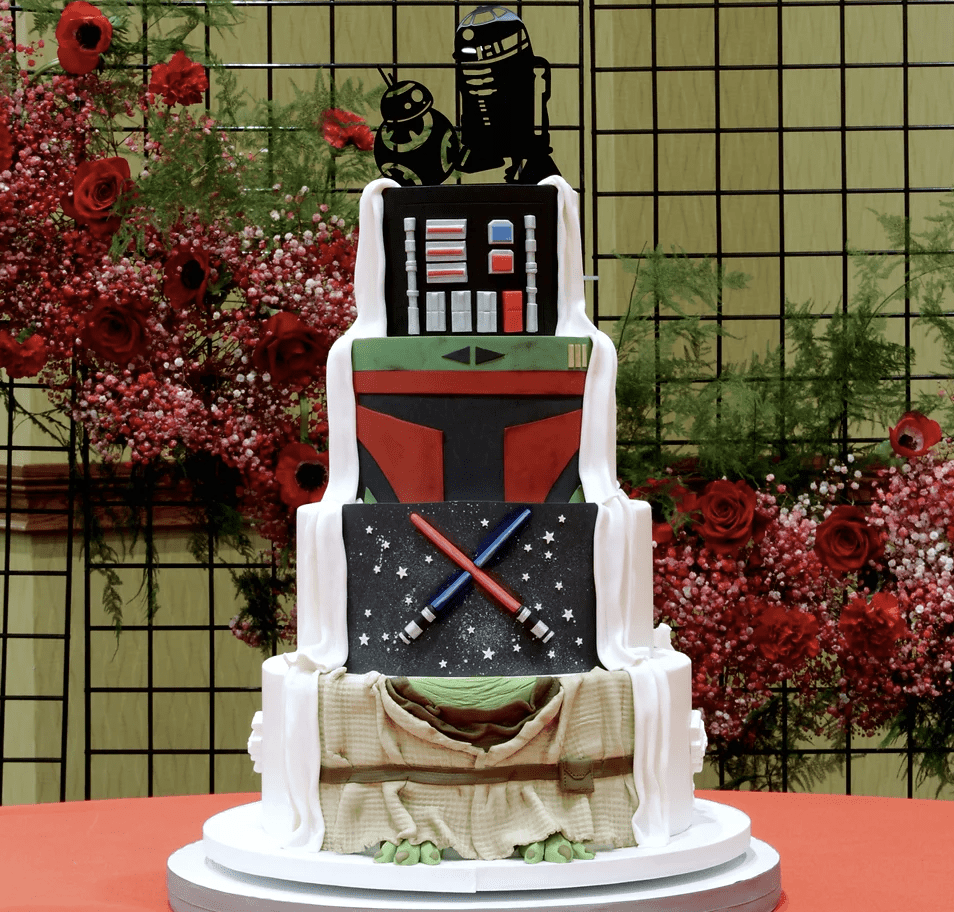 I love that they went all-in on the Star Wars panels for this cake. They're brightly colored and incredibly detailed. Each panel depicts a different character or scene from Star Wars: Darth Vader, Boba Fett, Yoda, and the lightsaber battle between Luke Skywalker and Darth Vader. The R2-D2 and BB-8 cake topper is just adorable too. 
All White Star Wars Wedding Cake
It's actually hard to find Star Wars wedding cakes that still feel wedding-appropriate without relegating the Star Wars aspect to only a portion of the cake. I like that this cake is clearly a wedding cake while simultaneously being unapologetically Star Wars themed. The detail work is beautiful and not distracting, and the toppers are so sweet! 
I Love You, I Know Topper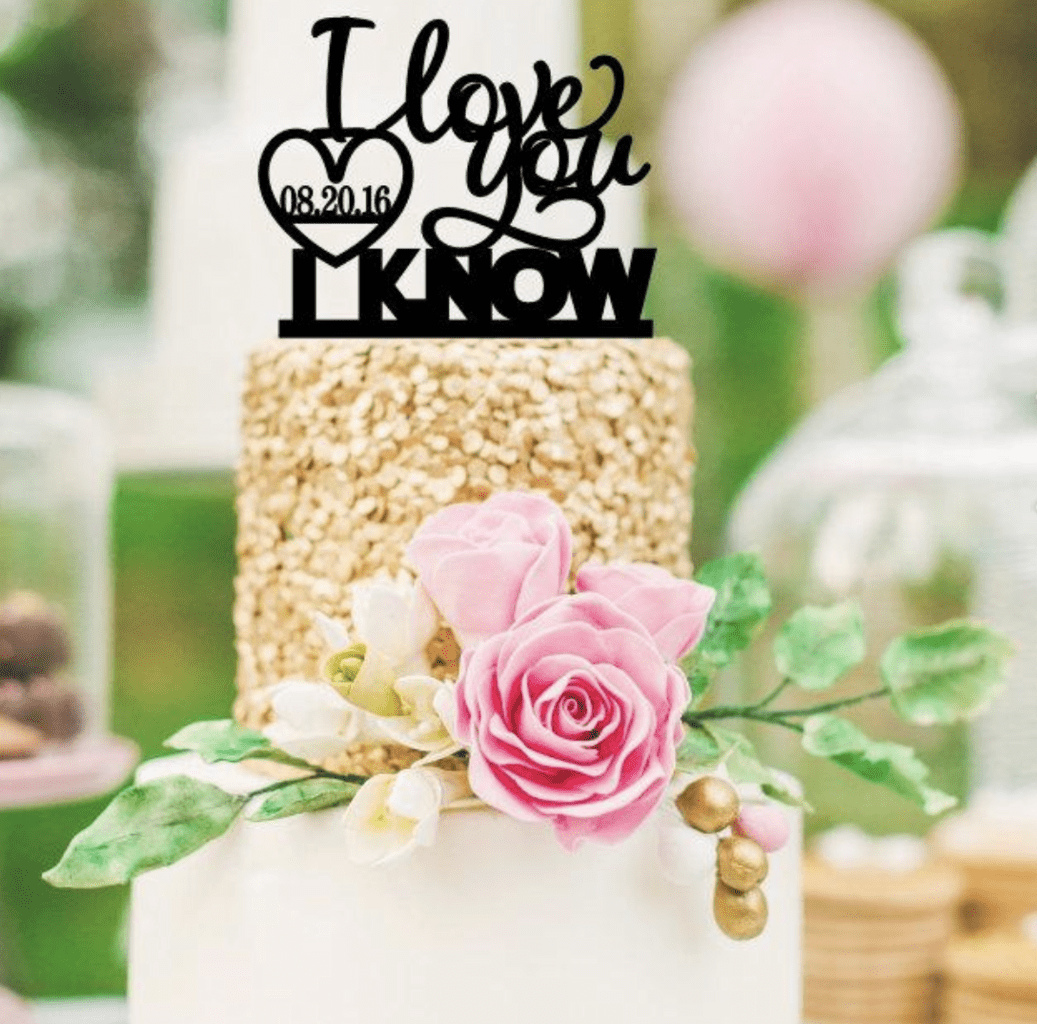 This one is a different take on a Star Wars wedding cake, and I love it! The simple, traditional wedding cake sports a topper citing Harrison Ford's iconic adlib from The Empire Strikes Back. If you know, you know. 
FAQs
Question: How are the Star Wars movies divided?
Answer: The nine main films of the Star Wars franchise are divided into three trilogies: The Original Trilogy (A New Hope, Empire Strikes Back, and Return of the Jedi,) The Prequel Trilogy, which takes place before the events of the Original Trilogy, and the Sequel Trilogy, which is set in the years following Return of the Jedi. There are also several stand-alone films and television series in the franchise.
Question: How long before a birthday can I make a cake?
Answer: You can bake a birthday cake two or three days in advance, as long as you store it properly. Wrap layers tightly in plastic and, if possible, seal them in an airtight container. Cakes can be refrigerated or stored at room temperature. 
Question: When is Star Wars Day?
Answer: Star Wars Day falls on May Fourth. "May the fourth be with you" is a play on the series' famous phrase "May the force be with you."
Final Thoughts
I think that when it comes to picking the perfect Star Wars cake for your party, the biggest problem is the fact that there are just so many good options! Narrowing down your search is tricky, but I hope this guide helped make things easier. I know I'm definitely making the Sarlacc Bundt Cake for my next Star Wars movie marathon. 
Recommended Reads: