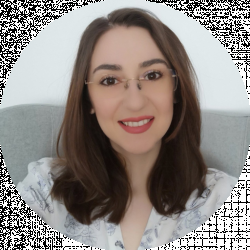 Latest posts by Alexandra Gavrilescu
(see all)
I still remember the joy I felt when I turned ten years old like it was yesterday. It had been a rough year with my parent's divorce and all. So, their gesture of planning a birthday party for me melted my heart, and it even made me hope that they would reconcile. Unfortunately, that didn't happen, but the celebration day and its lovely moments continue to be with me to this day.
Ten years old is an important milestone in any child's growth and emotional development. However, kids this age are almost preteens, so their personalities are getting stronger. That's why I created today's post about the best 10th birthday party ideas that will inspire you. I hope these ideas will help you bond with your kids and ensure they're joyful all throughout their big day.
Bottom Line Up Front
Your child's 10th birthday party should be fun and memorable, regardless of your budget or the number of guests. Here are my favorite ideas. I've picked my favorite element out of each category listed below:
Invitations – my favorite is the one with the unicorn head embellished with colorful and girly flowers;
Cake – the dripping ice cream cake since I'm a sucker for the dripping effect on cakes in general;
Decorations and supplies – I would want to save time and effort by choosing a party supply kit that contains everything one needs: banners, confetti, balloons, and more;
Food – my absolute favorite pick would be that of a brownie and cupcake combo. I could never imagine a party without sweets, snacks, and pizza – so I also like marshmallows, pizza, and piglets in blankets;
Activities – all are so fun, but my favorite is ring tossing;
Goodie bags – I'm a woman, so I am subjective when I say that a goodie bag should include girly stuff. Still, the perfect party favors consist of a wide range of items like candy, toys, snacks, puzzles, and more;
Theme – my favorite theme is that of superheroes because I want to arrive dressed as Wonder Woman.
The Best 10th Birthday Party Ideas
Below, I've detailed some of the most inspirational 10th birthday party ideas that will bring joy and happiness to your child.
10th Birthday Party Invitation Ideas
There's no such thing as a party without guests, and what better way to make sure your child's guests will get excited about the big event if not with some fun invitations?! As a child, I've never sent out birthday party invitations. They just weren't something we used to do back then. So instead, a phone call to invite someone would suffice. Well, if I were to do it again, I would certainly come up with some pretty invitations with gorgeous designs.
Obviously, the design of the invitation must send the right message. So, make sure to customize them, if possible or necessary. That way, the birthday party invitation will match the theme of the event. Besides that, all invitations must also feature the date and hour of the party as well as the location.
If you've decided to opt for a costume birthday party, you should mention that on the invite. Here are some of the most inspiring 10th birthday party invitations to consider.
a. Pirates-Themed Invitations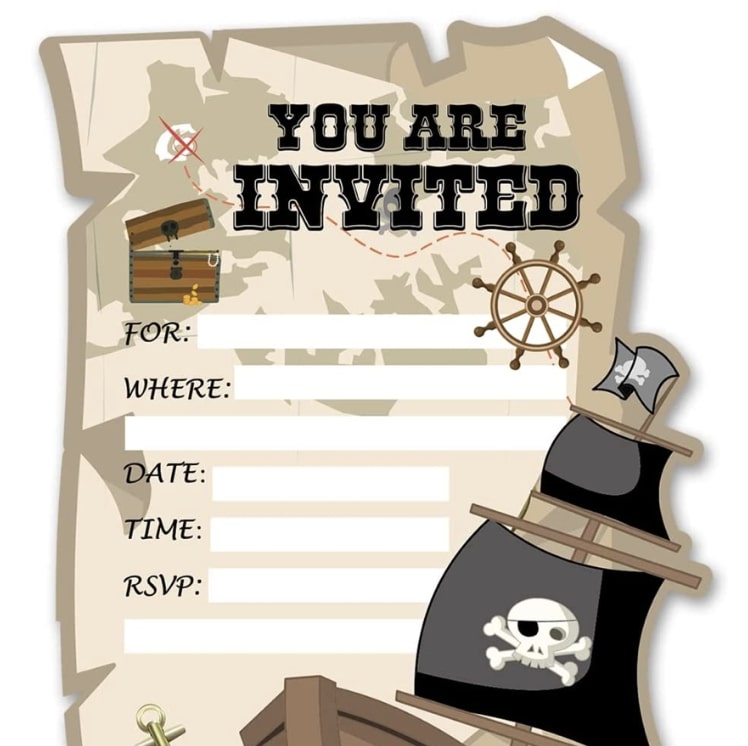 If your little one is a fan of pirates, he must constantly engage in Ahoy-themed pretend play. In that case, you should focus on a pirate theme when organizing his 10th birthday party. I believe that the perfect pirate-themed invitation design would be a paper that recreates the look of an old scroll.
I envision these invitations like this: on one side, they should have all the details regarding the event, while the other side should feature a wonderful illustration of a treasure map.
b. Bowling-Themed Invitations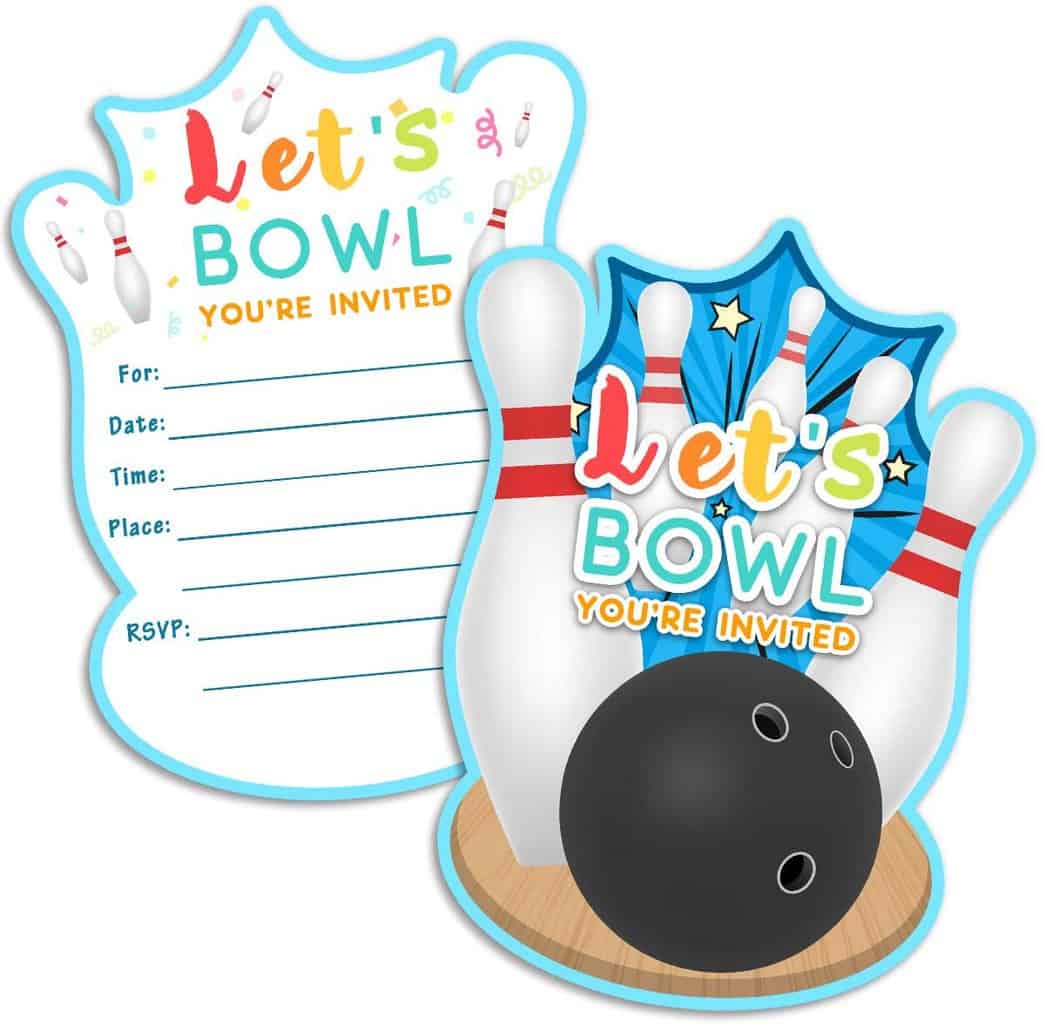 If you plan to take the kids out for bowling, you should order matching invitations. Keep it sweet and simple. I would choose a design that either features the word Strike or the expression Let's Bowl on top of the invite and mentions the words You're Invited on the bottom part.
c. Glitz and Glamour for a Classy Girl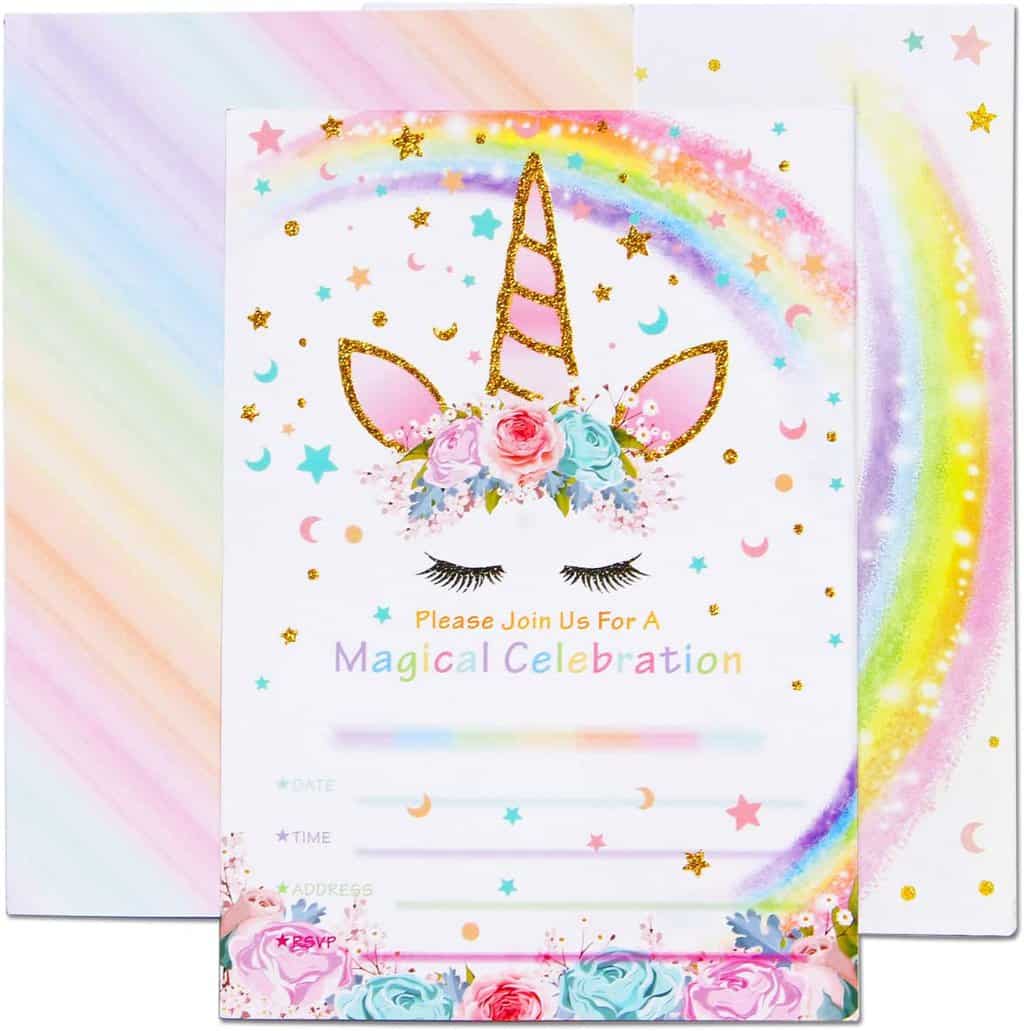 I don't know about you, but I used to love unicorns as a child. I remember having a small collection of tiny colorful supernatural horses that I deeply cherished. At one point, I remember that McDonald's used to include miniature unicorns as part of their Happy Meal toys. I was so excited, so I totally understand if your birthday girl wants a unicorn-themed party.
To start with, you should order magical unicorn invitations that are both cute and eco-friendly.
d. Invitations with Summer Elements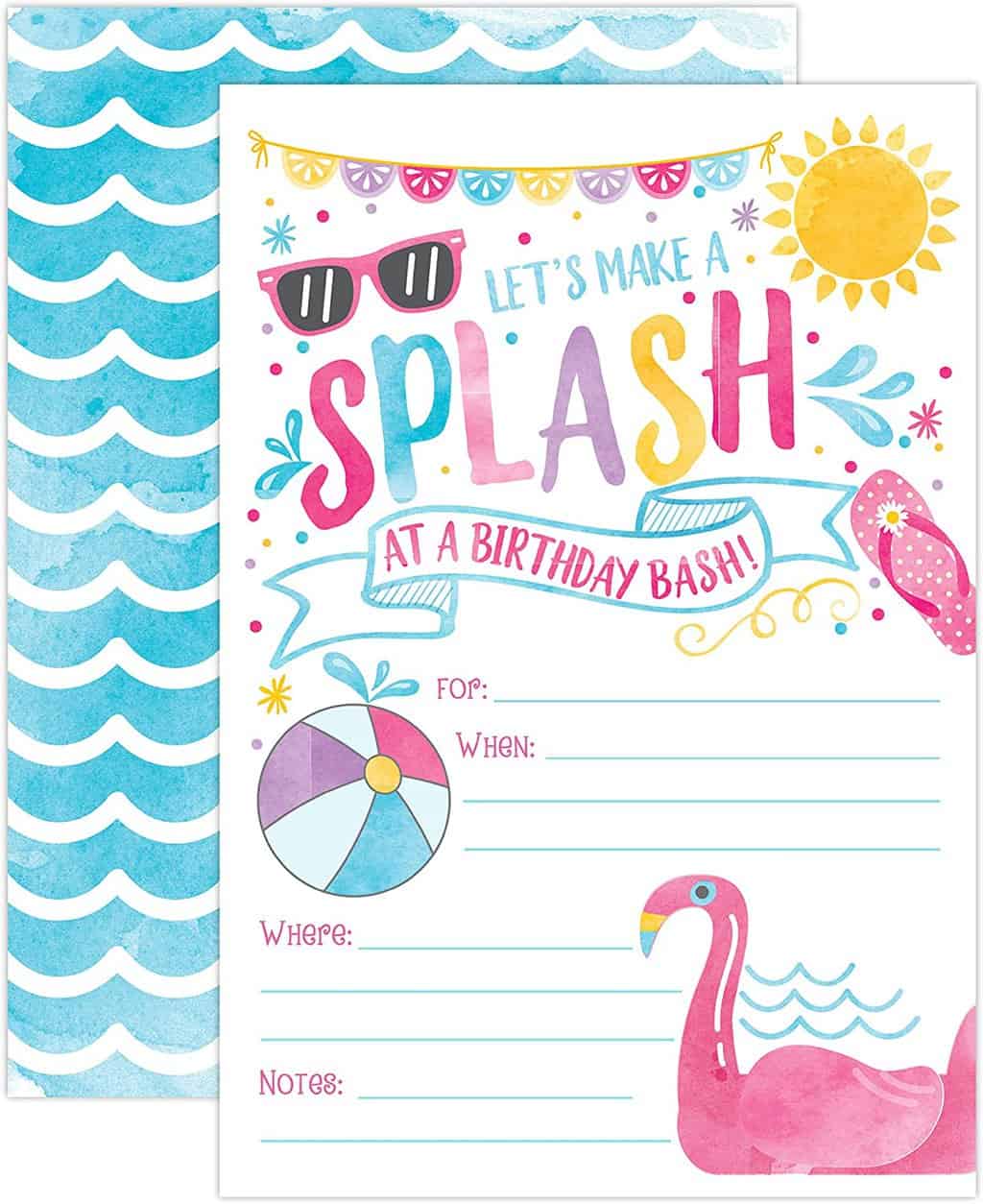 If your little one is born in summer, you should choose a pool party or, at least, consider an outdoor party full of fun, splashy activities that you could organize in your backyard. I was born in October, but I always loved summer. Just writing and researching about these eye-catching child invitations makes my inner little girls so happy.
The invitations could have sun umbrellas and swimming pool illustrations on them. Or, they could feature purple mermaid tails splashing turquoise water all over if that suits the party's theme.
e. Spiderman Invitations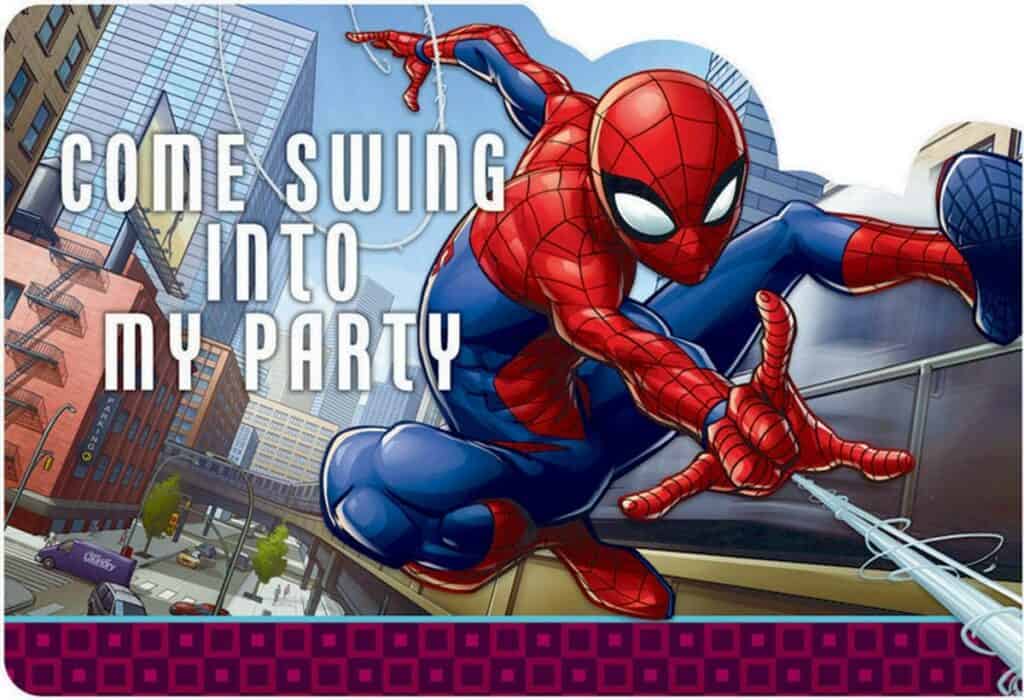 Forget that I'm a girl (after all, girls can be Spiderman fans too). I watched Spiderman cartoons a lot when I was around ten years old. I was intrigued by his powers, and my imagination used to go through the roof whenever I watched how he managed to fight against evil characters.
These are great for a 10-year-old birthday boy whose favorite superhero is Spiderman. Many beautiful choices are linked to this theme. However, my favorite Spiderman invitations are those with a witty invitation message. I would order invitations made of high-quality, durable paper that also come with themed envelopes, but that also depends on your budget.
f. Simple Balloon Invitations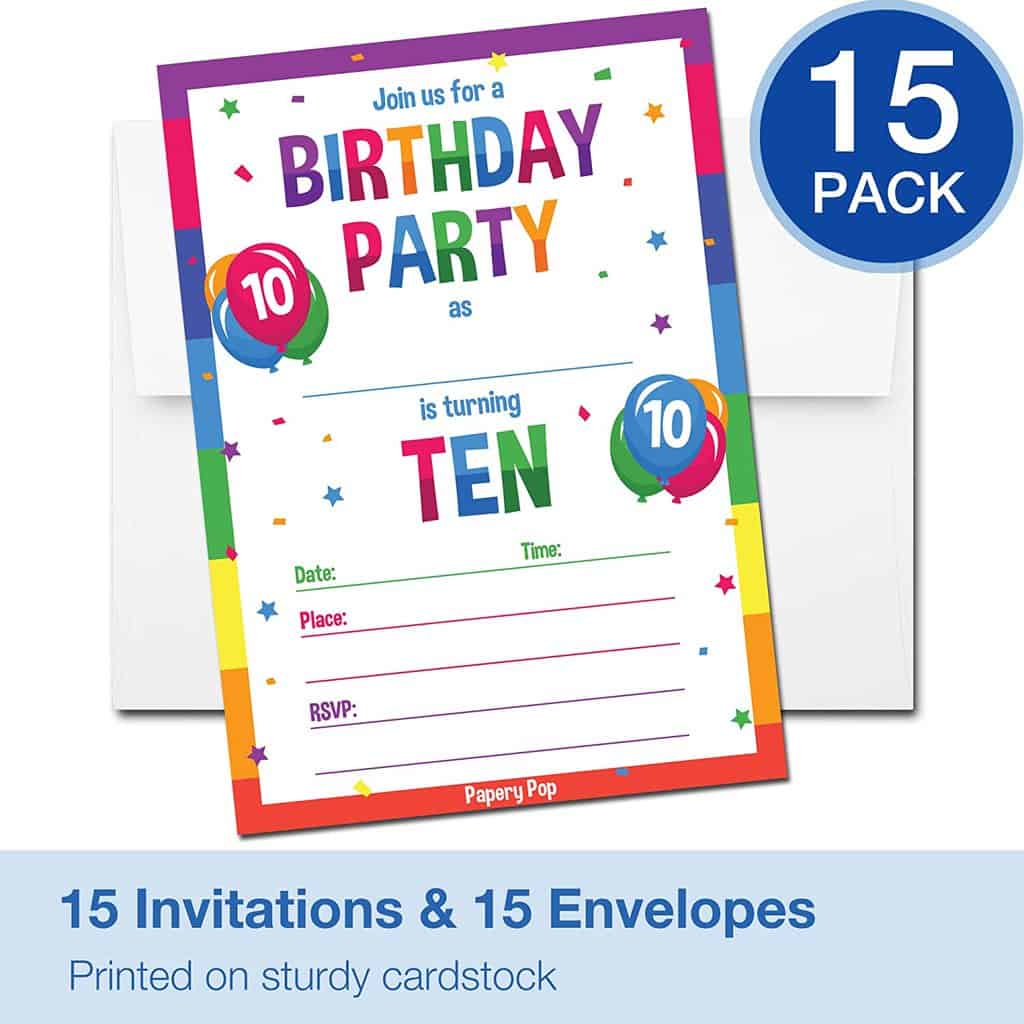 These are my favorite if you plan a generic or themeless birthday party. They go perfectly for both girls and boys, regardless of the location or the other decorations. Pick balloon invitations with a larger and more colorful font that announces the big news of your kid turning ten years old.
10th Birthday Party Cake Ideas
For me, the cake is one of the most important elements of a successful birthday party. Of course, being surrounded by dear ones and enjoying a lovely party atmosphere are also essential, but if the cake is delicious and looks stunning, then you're halfway there.
Dripping Ice Cream Cake
This is a wonderful cake idea for your 10-year-old child. On top, you have an ice cream cone that is placed upside down. The dripping effect is made of chocolate, so it seems the ice cream is melting. Moreover, you should pick your child's favorite color for the body of the cake. For instance, you could opt for pink if your little girl loves that color, or you could pick a purple, green, or any other hue your kid likes.
I would choose buttercream as frosting, and I believe that tiny colorful bonbons sprinkled all around the bottom of the cake would complete the look. If your child loves ice cream, this cake would be a dream come true.
Rainbow Cake
The rainbow cake remains one of my favorite sweets, not only because of its gorgeous and colorful layers but also due to its fantastic taste. Of course, based on your child's preferences, you could customize this birthday cake so that each layer has a different flavor. Wouldn't that be amazing?!
As I'm writing this, a million ideas come to mind. For instance, I would opt for a customized rainbow cake with all those colorful layers hidden inside. The outer part would feature a mermaid tail with edible glittery elements. I would do that for my niece's birthday, which is soon, at the end of the month. Or, you could choose a naked cake so that the rainbow layers can be seen on the outside as well.
Open Cake with Sweets Hidden in It
This is another excellent idea for your 10-year-old's birthday. The cake I'm thinking about is cracked open and has candy coming out of it. Now that I'm thinking about it, I would undoubtedly want the cake to have gummy bears bursting out rather than classic candy, but that's just my taste. Perhaps your kid wants M&Ms or marshmallows.
Delicious Cake with Your Kid's Favorite Cartoon Character
I'm sure you already know your child's favorite superhero or cartoon character. If you're not sure, go ahead and ask. For this type of birthday cake, there are two possible choices that I can think of. You could either opt for a specific cake that features the elements of one single character, such as Cinderella or Superman. Or, you could opt for a broader theme that consists of multiple and similar cartoon figures like superheroes or Bratz dolls. The second option is definitely something I would choose.
Princess Cake with a Glittery Cake Top on It
This sumptuous cake is suitable for a 10-year-old young lady who's into princesses, fairytales, and even fashion. The kind that's daddy's little girl. And, she deserves nothing but the most elegant and girly birthday cake ever. For that reason, I think the cake wouldn't be complete without a cute cake topper. The topper should mention the words Happy Birthday or Princess written with glittery letters.
10th Birthday Party Supplies and Decorations
Decorations are a must since they make the party venue more beautiful, whereas party supplies are essential because the guests will need them to enjoy the delicious cake and other foods you may serve. Here are some of my ideas.
Colorful Balloons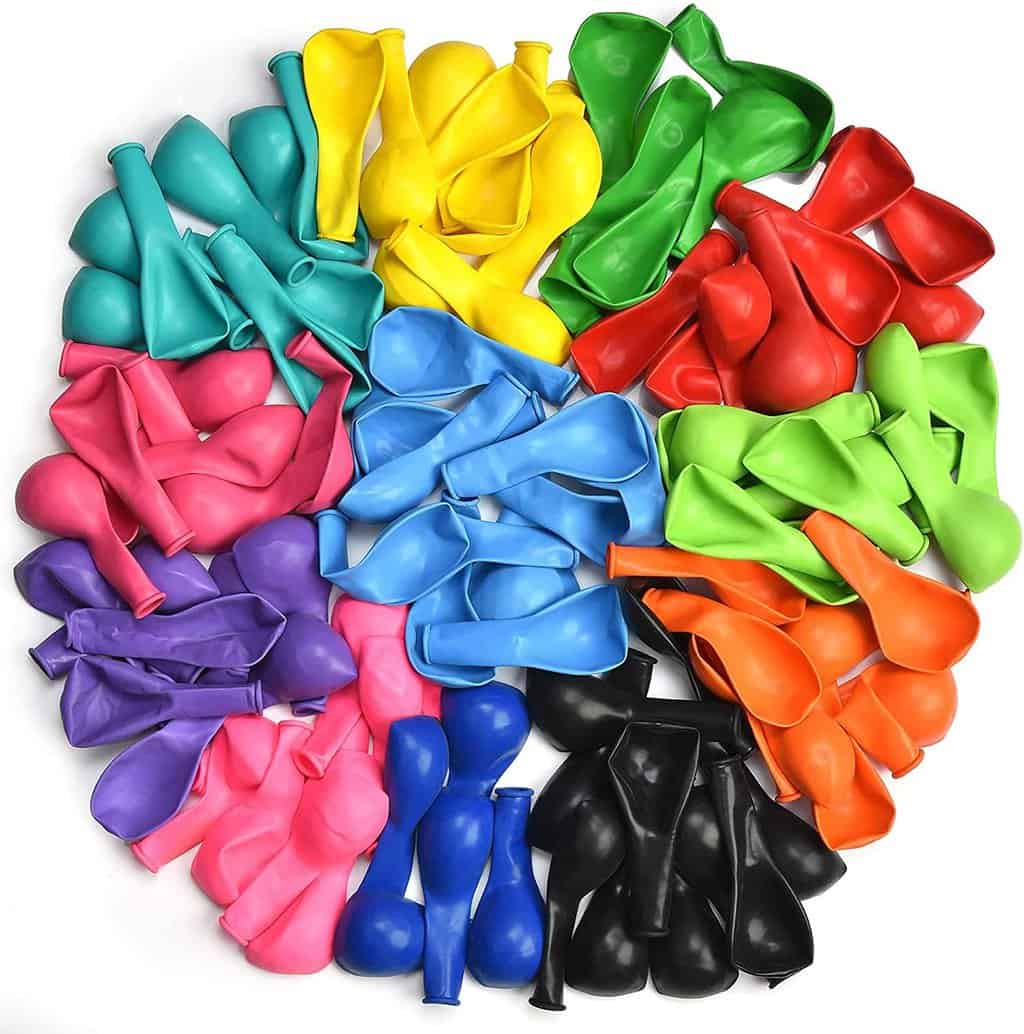 Image source: Amazon
If you're on a tight budget, you should opt for generic balloons, the kind you find all over the place. Just make sure to pick a color combination that matches your child's preferences. But, what I would do, if the budget allows me, is to get customized balloons that feature personalized messages, my niece's name, her age, birthday wishes, and a few of her favorite cartoons.
Birthday Decoration Kits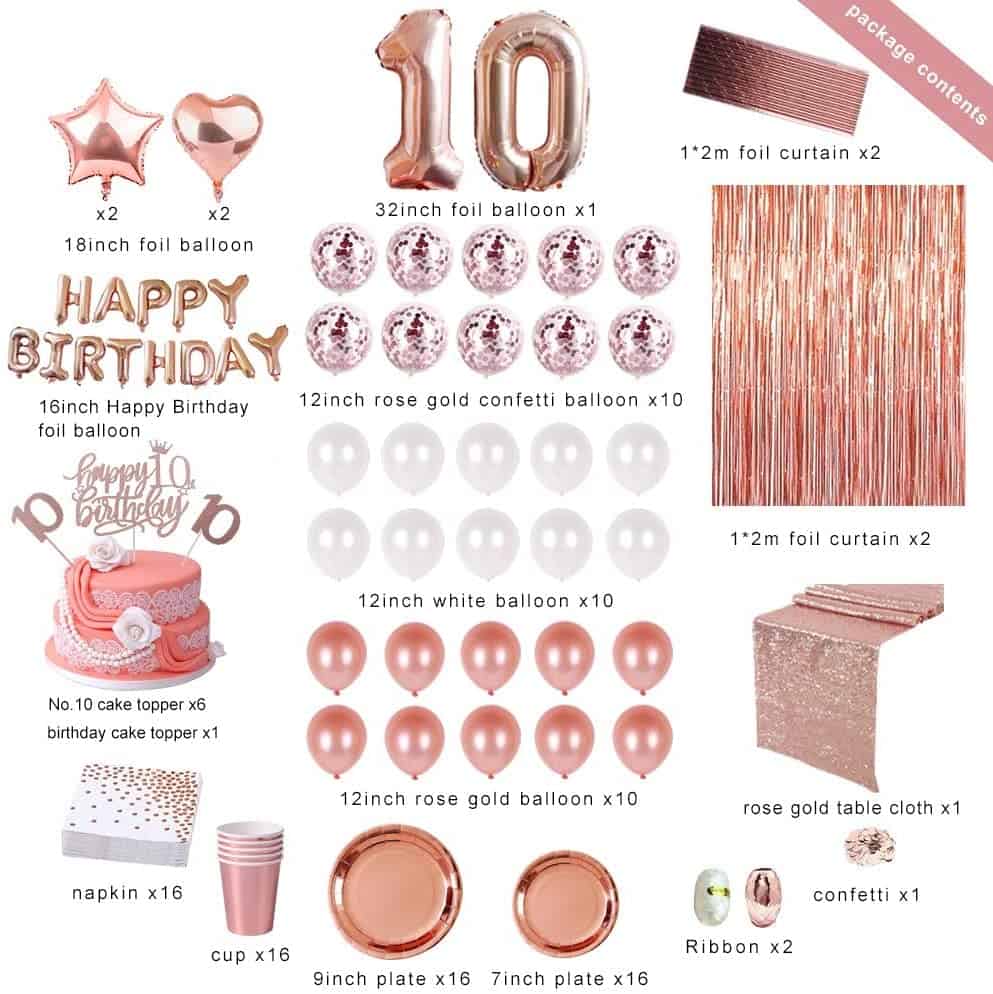 Image source: Amazon
I would surely opt for a birthday party supply kit because this is a one-stop-shop kind of product, and I'm lazy. So, for my niece's birthday party, I would choose a glitz and glam alternative, something like a pearl pink or rose gold and white combo. The kit should include everything you need for a successful party. I'm thinking about items like balloons, centerpieces, paper plates, and cake toppers. A banner with the words Happy Birthday and confetti should also come included.
Confetti Poppers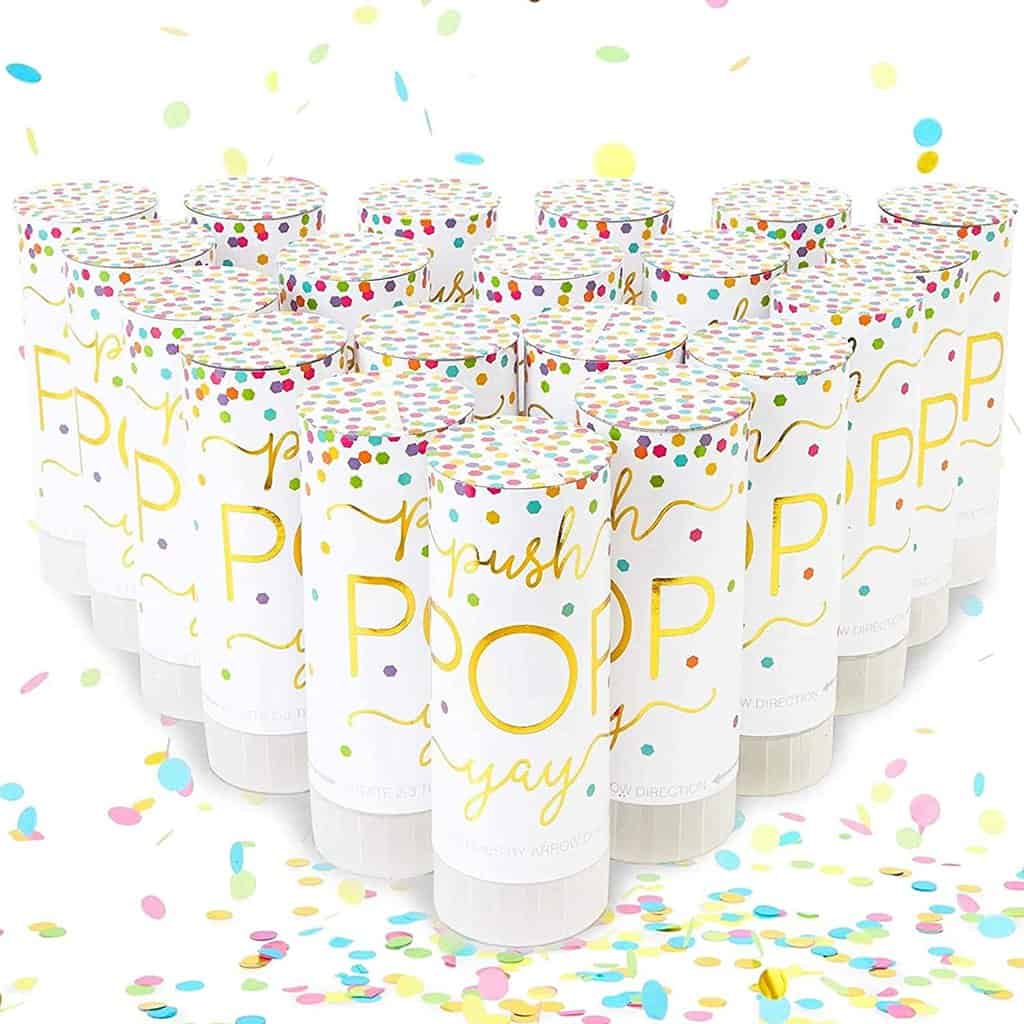 Image source: Amazon
As a child, I would have given everything to have confetti poppers at my birthdays, but I don't think my mother would've allowed it since these tend to create a mess, especially if you're holding the party indoors. I know what you're thinking; you'll never be able to get those tiny confetti pieces out of your carpet. But, allow me to give you some advice: your child's happiness is worth it.
Also, you could opt for more oversized confetti such as the one pictured above instead of those squared and very little ones that are indeed harder to clean.
Birthday Wall Decorations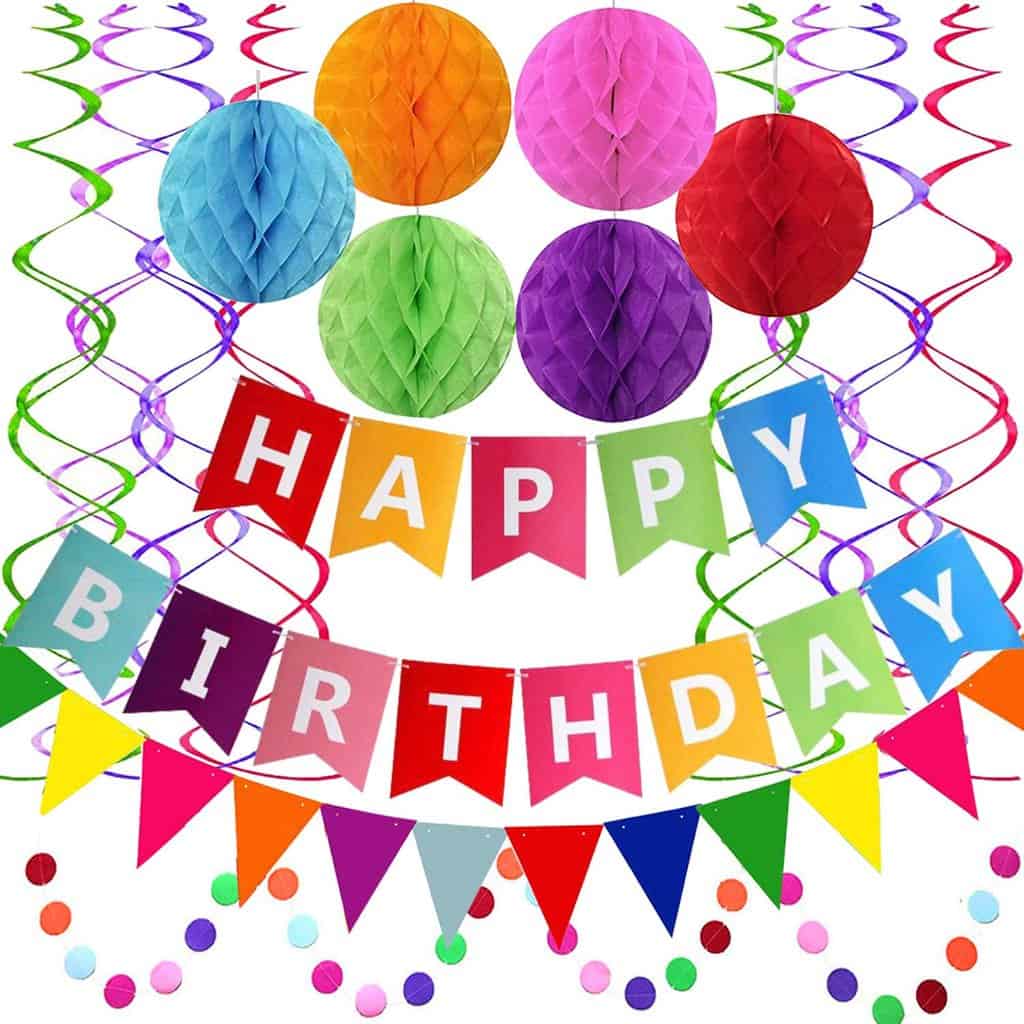 Image source: Amazon
Background curtains, glittery garlands, paper flags, and photo booth tinsel foil are some of the decoration ideas I would opt for when it comes to a 10-year-old birthday party. All these are fun, and they look fantastic. They can embellish any party venue, including your backyard or the inside of your house.
During my childhood, birthday parties were simple, without too many decorations or props. So, nowadays, I would do anything to organize some of the best parties for my kids just to see them smile and be happy. Don't get me wrong! I was a pretty happy child, but still, there are certain things I would now do differently.
10th Birthday Party Food Ideas
You can either prepare or order classic party foods that are appealing to kids who're ten years old. If I were to cook or prepare them myself, I would opt for hassle-free options. Some of the most popular food ideas are finger foods, nachos, piglets in blankets, fruits, popcorn, pizza, burgers, and a few others.
Think about kid-friendly foods that are easy to make and other delicious treats that all the guests will approve of.
Veggies, Fruits, and Marshmallows on a Stick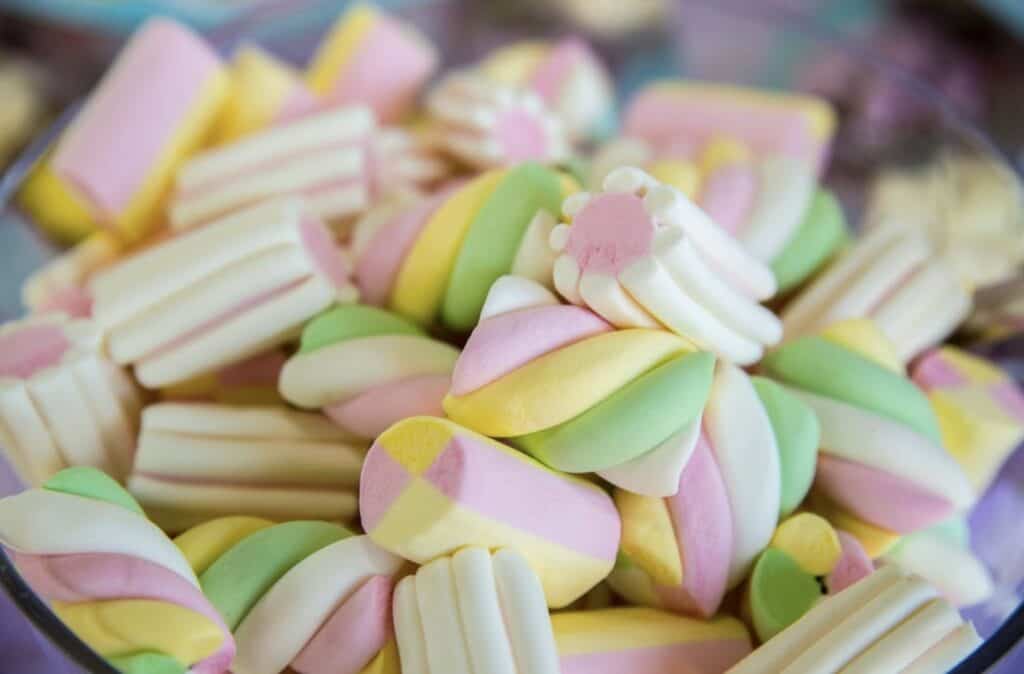 Image source: Pexels 
Instead of your regular BBQ meat on sticks, I would opt for something healthier and more refreshing that consists of veggies and fruits. Of course, these treats wouldn't be complete without the tasty flavor of marshmallows that all kids love. To achieve a beautiful finish, you should use cookie cutters to shape the fruits and vegetables.
I must admit that of all the items you could place on those sticks, my favorite ones will always be marshmallows.
Brownies and Cupcakes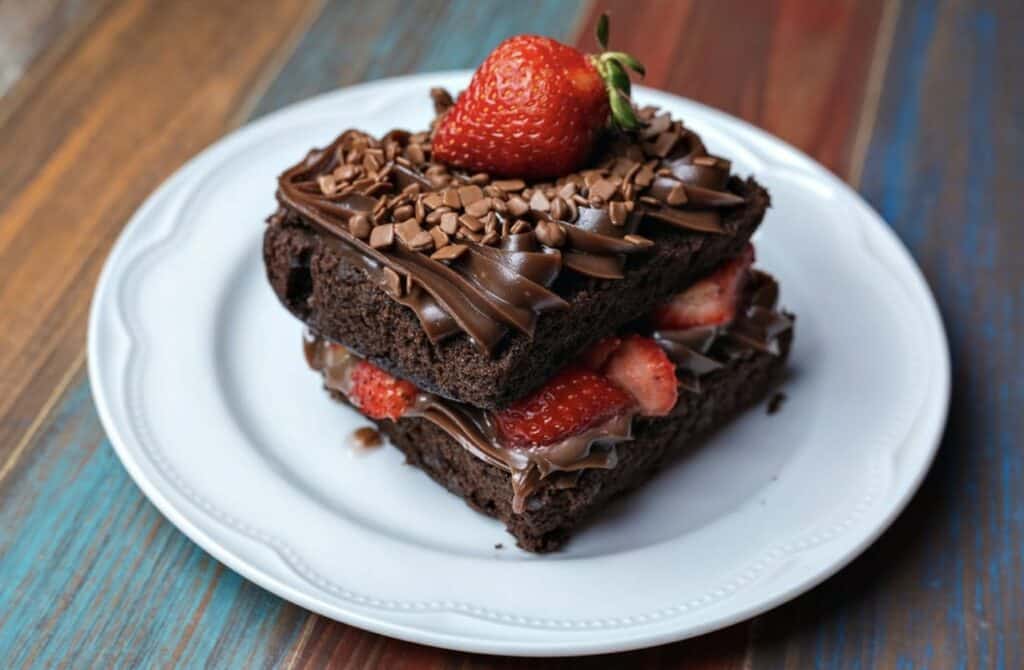 Image source: Pexels
I like cupcakes, but I adore brownies in almost any type of form. They remind me of my childhood when my mom used to bake her special brownie recipe regularly. In fact, in our house, the most popular desserts were brownies and pancakes. You could bake or order two types of cupcakes while sticking to the classic flavors: chocolate and vanilla.
Regarding the brownies, you should find out if any of the guests have any sort of food intolerance. It's always wiser to prevent these issues than to deal with them.
Candy Pops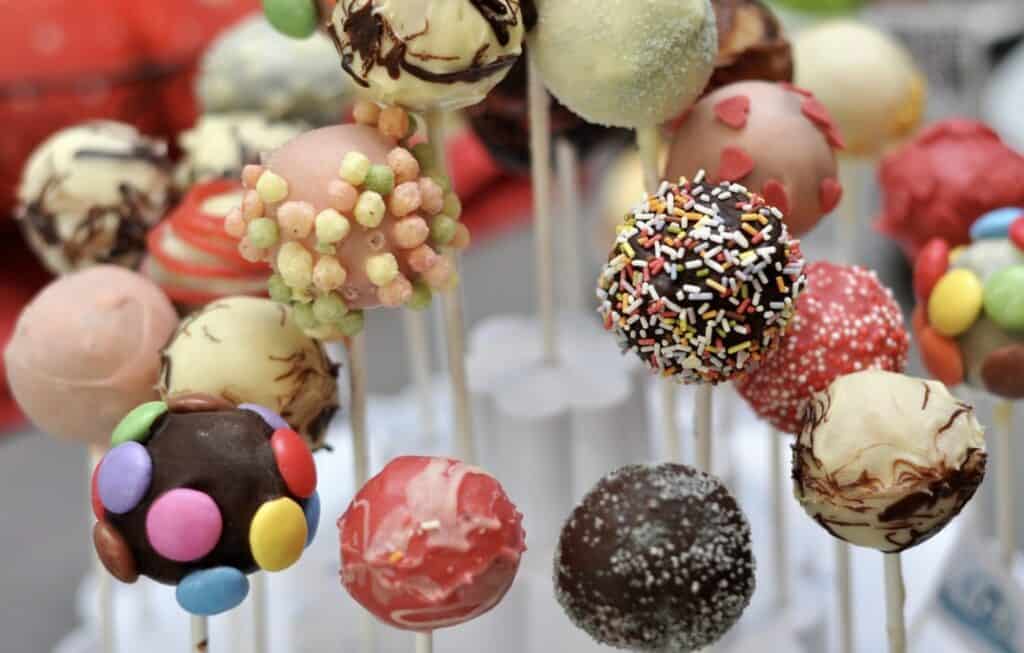 Image source: Flickr
While these aren't my favorite party treats, I'm sure many children love them. So, they should be part of the food you plan to serve at your child's 10th birthday party. I don't think I've been to a wedding, baptism party, or any other kind of event where they don't serve candy pops as part of the candy bar. Sometimes I try them. Other times I'm focused on other sweets placed on the table that caught my eye.
For a 10-year-old's birthday party, candy pops should be colorful and feature candy sprinkles.
Mini Pizzas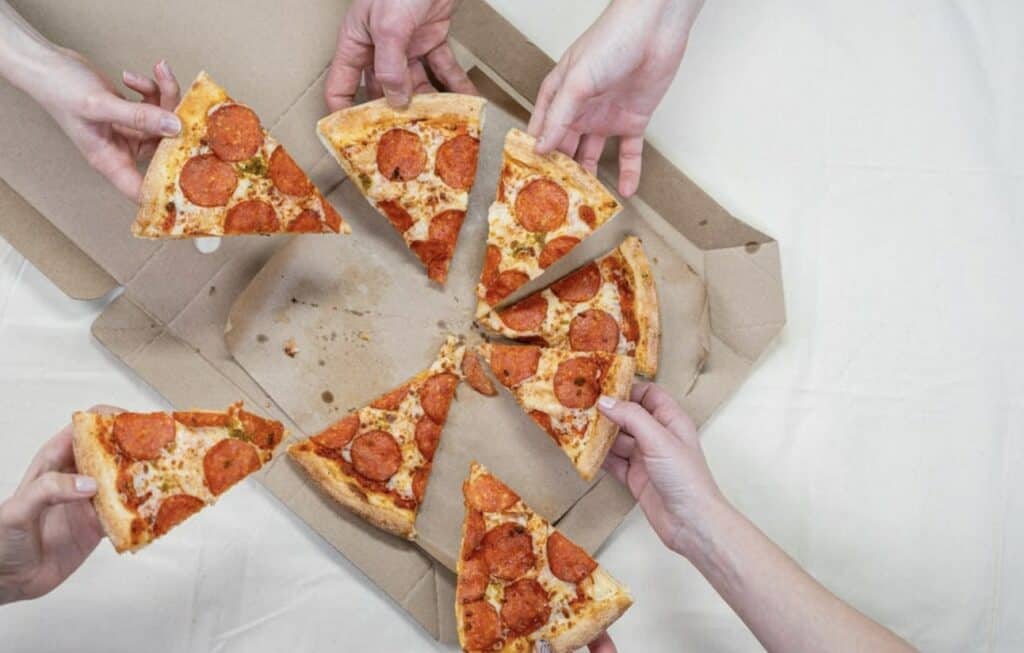 Image source: Pexels
I don't think I've ever met someone who didn't love pizza. It's one of the most popular foods on the planet. Moreover, pizza is very kid-friendly when it comes to party treats. Like I said numerous times before, I'm very lazy (please, don't judge), so I would opt for the classic round-shaped mini pizzas. But if you're more talented in the kitchen than I am, you could experiment with various exciting pizza shapes like stars, calzone, rolls, etc.
Chocolate Cookies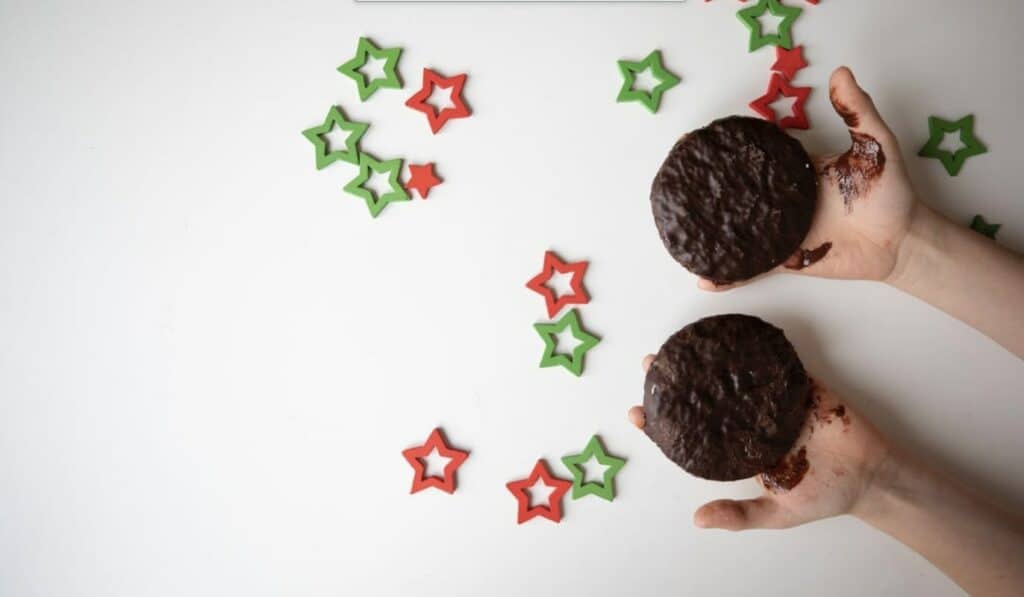 Image source: Pexels 
These are the all-time favorite when it comes to children's parties. What I would do is organize a fun activity in which all the guests must decorate their own chocolate cookies. I believe it's a beautiful way to engage all the kids attending the party. Make sure to have bonbons, sprinkles, frosting, whipped cream, and other treats nearby so that the children can use them to decorate their cookies.
10th Birthday Party Goodie Bag Ideas
This is a tricky one since you must be very careful about what goodies you include in the bags. Think of it this way: your child, as well as his or her guests, are not small kids anymore, but they're not teenagers yet either. So, you must consider the most popular items that will excite preteens but won't exceed your budget.
Here's what I think: the perfect goodie bag must contain at least one item from each important category (novelties, foods or sweets, tiny toys, mini-puzzles, or other simple games, etc. Also, if you're willing to make an effort, you should personalize the goodie bags that go to girls and those given to boys.
Party Favors for Girls
A girl's goodie bag should contain all or some of the following items:
Lollipops;
Chocolate bars;
Coloring pencils; 
Printed coloring pages;
Girly stickers;
Gift vouchers for the movies, frozen yogurt, or ice cream;
A decorated water bottle with her name on it;
A tiny doll, etc. 
These are just my ideas of what a goodie bag should contain. Of course, you can choose whatever items you want and the things that are most suitable for your guests.
Party Favors for Boys
A boy's goodie bag, in my opinion, should feature the following things:
Candy or sweets;
The mini-version or printed version of a popular comic book for boys;
Gift certificates for football lessons, bowling, or mini-golf;
Marbles;
Slime, etc. 
Again, with the risk of repeating myself, these are only some of my ideas, and if you prefer other items, feel free to include those.
10th Birthday Party Fun and Engaging Activities
This just goes without saying, but a great party must be filled with fun games that the kids will be happy to play. I think you should focus on board games and team play so that the children can practice their social skills. In addition, they should hear kid-friendly music in the background while they play. One thing I never liked is music that's way too loud at these types of events. Therefore, make sure the music is at a decent noise level so that the guests can hear each other.
There are so many amazing activities that I love, but here are my top three best choices to consider.
Dancing Limbo
Heck, the limbo game is fun regardless of your age. Kids will laugh and have plenty of fun while trying their best to go as low as possible under the limbo bar. I would add some themed music to this game or perhaps even a themed birthday party. I would consider organizing a Luau birthday party for my niece.
Don't fret if you don't have a professional limbo pole since you can use whatever you have around the house, including a simple broomstick.
Balloon Bulls Eye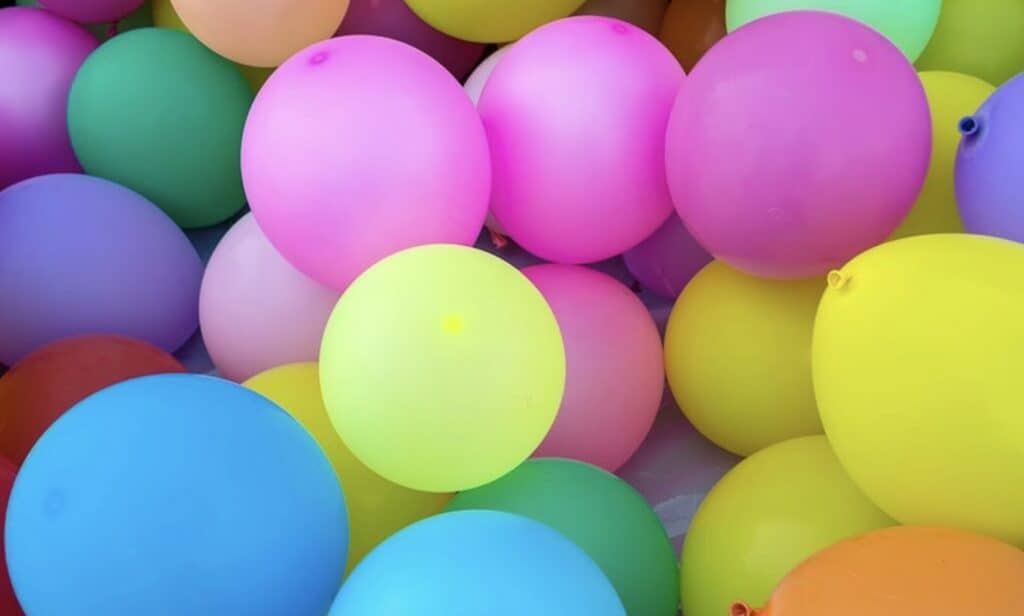 Image source: Rawpixel
This is an excellent choice as a 10th birthday party activity because it will engage everyone attending it. If I were you, I would buy colorful balloons and give each kid one of them. Each participant in the contest should have a different balloon color. This way, it will be easier for you to keep score.
Place a target or a mark somewhere on the floor or the wall. Then, ask the children to blow up their balloons. Another rule is to hold the balloon tight enough with your fingers until the moment is right to let it go. Next, one of the parents could count to three, at which moment all the kids will release the balloons. The one that flies closest to the mark mentioned above wins the contest.
Ring Tossing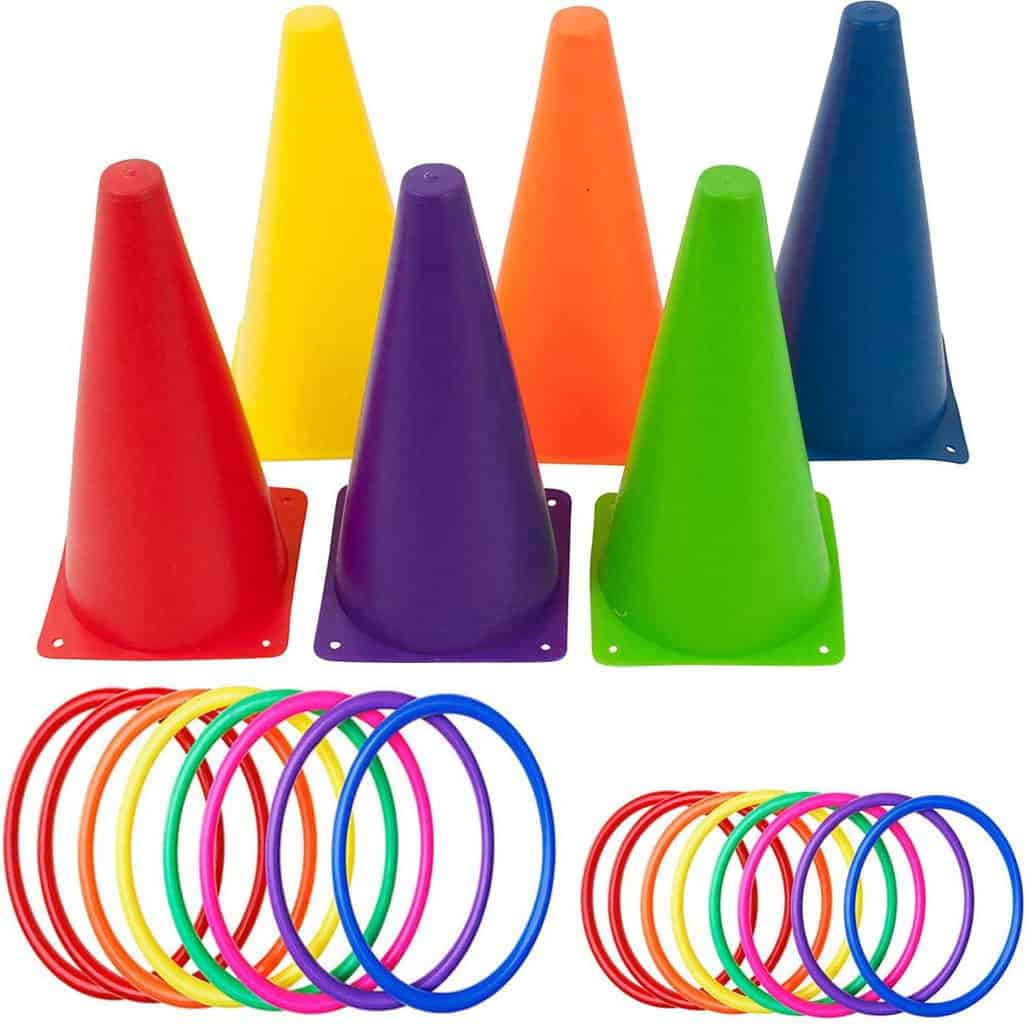 Image source: Amazon
Ring tossing is the kind of game that's very popular at parties and festivals. There are so many options on the market, or you could even improvise and create one yourself. Nevertheless, you'll still need rings to toss at specific targets. The children will throw one ring at a time, taking turns. The one that hits the mark the most will be the winner.
It's a simple and fun game to play at your 10-year-old birthday party. Unfortunately, my generation didn't have a wide range of toys growing up, but I feel I can relive parts of my childhood every time I engage in these types of games alongside my two adorable nieces.
The Best Themed Party Ideas for a 10-Year-Old
You'll find the perfect theme for the party only if you ask your kids what they want and know their interests. I've listed some of the most popular themed birthday party options – I admit that these are also among my favorite ones:
Slumber party and movie night combination – kids love slumber parties. So, what better way to finish the night than with a kid-friendly movie. I would also throw in some popcorn;
An evening of video games – if your child and his friends are fans of video games, then you should allow them to play those games for an entire evening;
Summer pool party – this works amazingly for kids born in summer because you can invite all their friends to the local pool. There, they will have a day full of water games, swimming, eating ice cream, and just having fun in the sun;
Scavenger hunt – this theme is perfect for kids who're more adventurous and love to explore and search for things based on clues. You could hide clues all over your backyard or even the neighborhood if it's a safe and secure area where parents can supervise the activity;
Superhero costume party – this party has a dress code that enables each child to show up dressed as their favorite character. I would certainly opt for Wonder Woman.
The Best 10th Birthday Party Ideas – FAQs
Question: What Should You Do for Your 10-Year-Old Birthday?
 
Answer: There are so many wonderful things you could do, from throwing a lavish party at a restaurant or a playground to creating a loving and cozy vibe at home where your little one will be surrounded by family members and only the closest friends.
You could also plan a scavenger or treasure hunt or even take the entire family for an outdoor picnic. The sky is the limit when it comes to birthday party ideas for your child.
Question: Is the Age of 10 an Important Thing?
Answer: Yes, since many people perceive ten as an important milestone in a child's life. A 10-year-old has lived for a whole decade, so the parents should plan something special to make the day count. At the age of 10, your kid isn't a little child anymore, but he's not a teenager yet either. So, it's pretty tricky to figure out what he likes and dislikes unless you ask him.
Question: What Should You Plan for Your Child's 10th Birthday If He Hasn't Got Many Friends?
Answer: As a child, I only had a couple of friends. At school, a few of the other kids used to bully me, so my school-related memories are overshadowed by those unpleasant moments. So, if your child is more of a loner, you could spend his birthday with family members and relatives such as cousins.

Or, you could take them to experience something new, something your little one has never done before, like going on a hike, starting swimming lessons, learning to ride a bike, etc.
Drawing to a Close
Organizing a birthday party for your 10-year-old child can be tricky. Still, with a lot of insights about their preferences and a bit of help from your family members, I'm sure you'll be able to plan the perfect party that your little one will never forget.
Pick a delicious and eye-catching birthday cake, create a kid-friendly music playlist, serve pizza, healthy snacks, and sweets, and decorate the venue with plenty of elements such as banners, balloons, and a photo booth corner with funny props.
Also, make sure to create a great and exciting atmosphere by encouraging the guests to play party games like limbo dances, ring tossing, and many others. Finally, at the end of the party, offer a goodie bag to each guest so that they have something to remember the party by.
Recommended Reads: