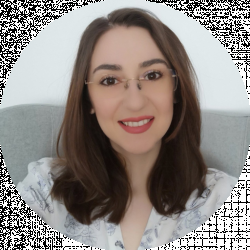 Latest posts by Alexandra Gavrilescu
(see all)
Who doesn't love Toy Story? It's hard not to become a fan once you see this animated movie. It's even better to watch it with your kids since the film is full of life lessons and inspirational moments. So, if your children are into Toy Story, they will undoubtedly want a themed birthday.
To help you with all of that, here are some of the best Toy Story birthday party ideas. I've covered everything, from invitations to food, decor, goodie bags, and party activities.
My Bottom Line Up Front
My favorite Toy Story birthday party ideas are the customized cake, the colorful decorations, and the engaging themed activities. Without these three elements, the party wouldn't be fun and successful. The rest is secondary in importance (at least to me). That's because kids don't really mind if the plates are simple instead of having Toy Story characters on them. However, if they're not having fun and don't enjoy the play and the overall party, the vibe will be low instead of joyful and uplifting.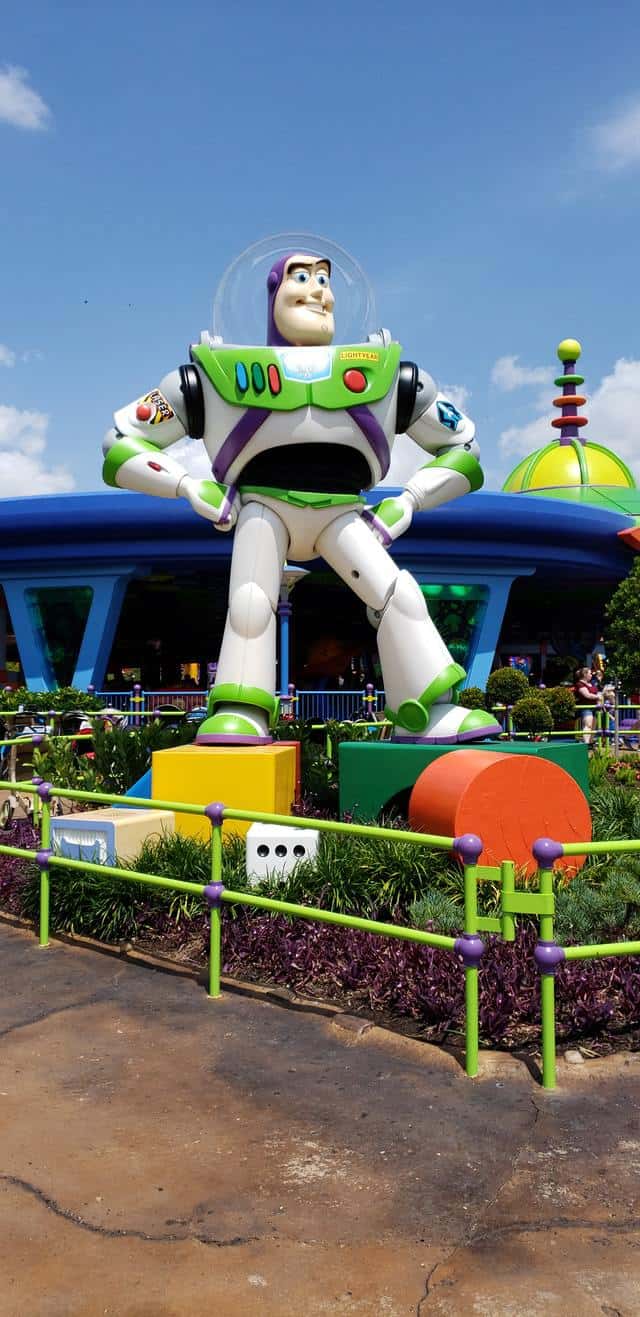 Top 10 Best Toy Story Birthday Party Ideas
Many of our friends have tweens who love Toy Story so much that they've watched all four Toy Story movies. Moreover, they're looking forward to seeing the fifth movie that's rumored to be released soon. If your little one is also a fan, here are some of the most beautiful ideas to consider when you're about to plan his or her next birthday party.
I've chosen to describe these ideas because they all sounded engaging and fun to me. It was music for my ears, and I bet you feel the same way as I do if your child is also a Toy Story fan. These guidelines will help you organize a remarkable event that will be hard to forget.
a. Toy Story Invitations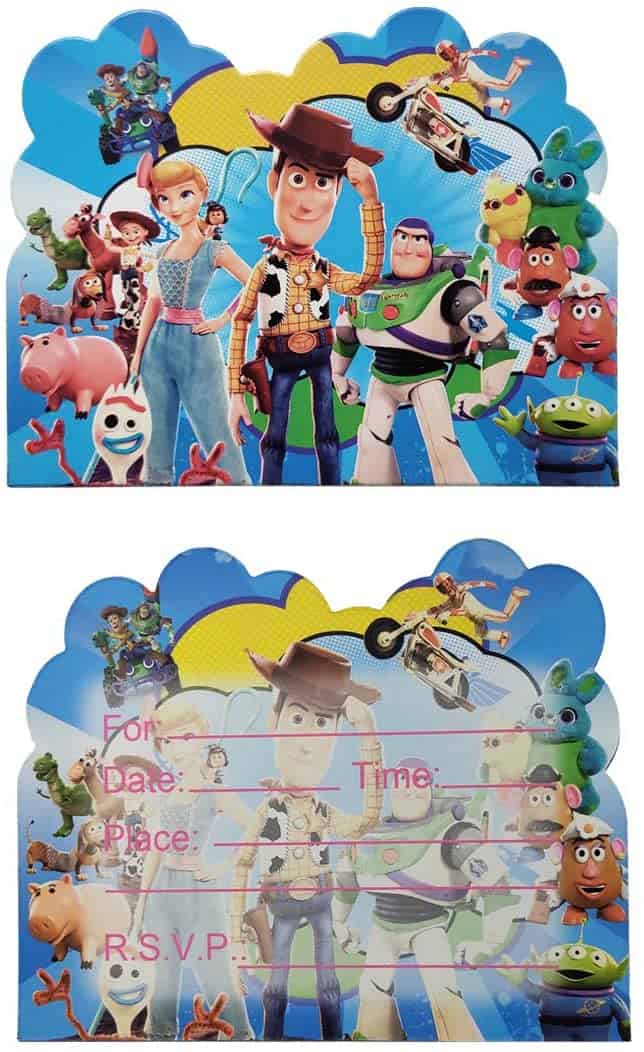 All birthday parties should have invitations, and Toy Story customized invitations will definitely look fun and exciting. You can do them yourself if you're good at arts and crafts. Or, you could order them online to save time and effort. If you want the whole package, you should also buy the customized thank you cards that you could teach your little one to send to all the guests after the party.
On the invitation, besides the time and the place, you could also ask those invited to bring their favorite Toy Story character. Another way to go is to announce that a costume party will take place so the guests know they should follow that dress code. All these will make things a lot more interesting.
b. Toy Story Birthday Cakes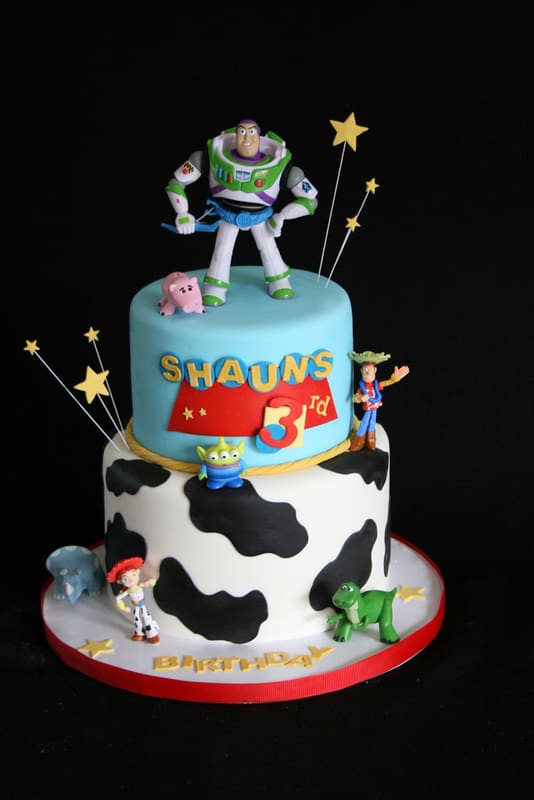 The show stopper of any good party is the cake, and a themed Toy Story celebration is no exception. Based on your child's preferences, you could opt for a niched cake that only features your little one's favorite Toy Story character, or you could choose a cake with several different customized elements that remind everybody of the overall vibe of the animated movie.
In my opinion, the perfect Toy Story cake should have a bit of everything and should feature edible decorations linked to Buzz, Woody, and the whole gang. You should purchase a personalized birthday cake from your favorite bakery if your budget allows it. Otherwise, baking the cake at home is also an excellent initiative. Either way, remember to write or place the name of the birthday boy or girl on top of the cake.
See also: Amazing Space Cake Ideas That Are Out Of This World
c. Toy Story Treats & Food
Besides the cake, you should also serve appetizers at first, in the shape of different Toy Story figurines. One idea I love and that I would totally do is a decorated table with a themed candy bar full of treats and sweets that kids will taste and enjoy. Then, on the wall, at the back of the table, you could hang a huge Toy Story wallpaper to make things more exciting for the guests and your little one.
Candy Bar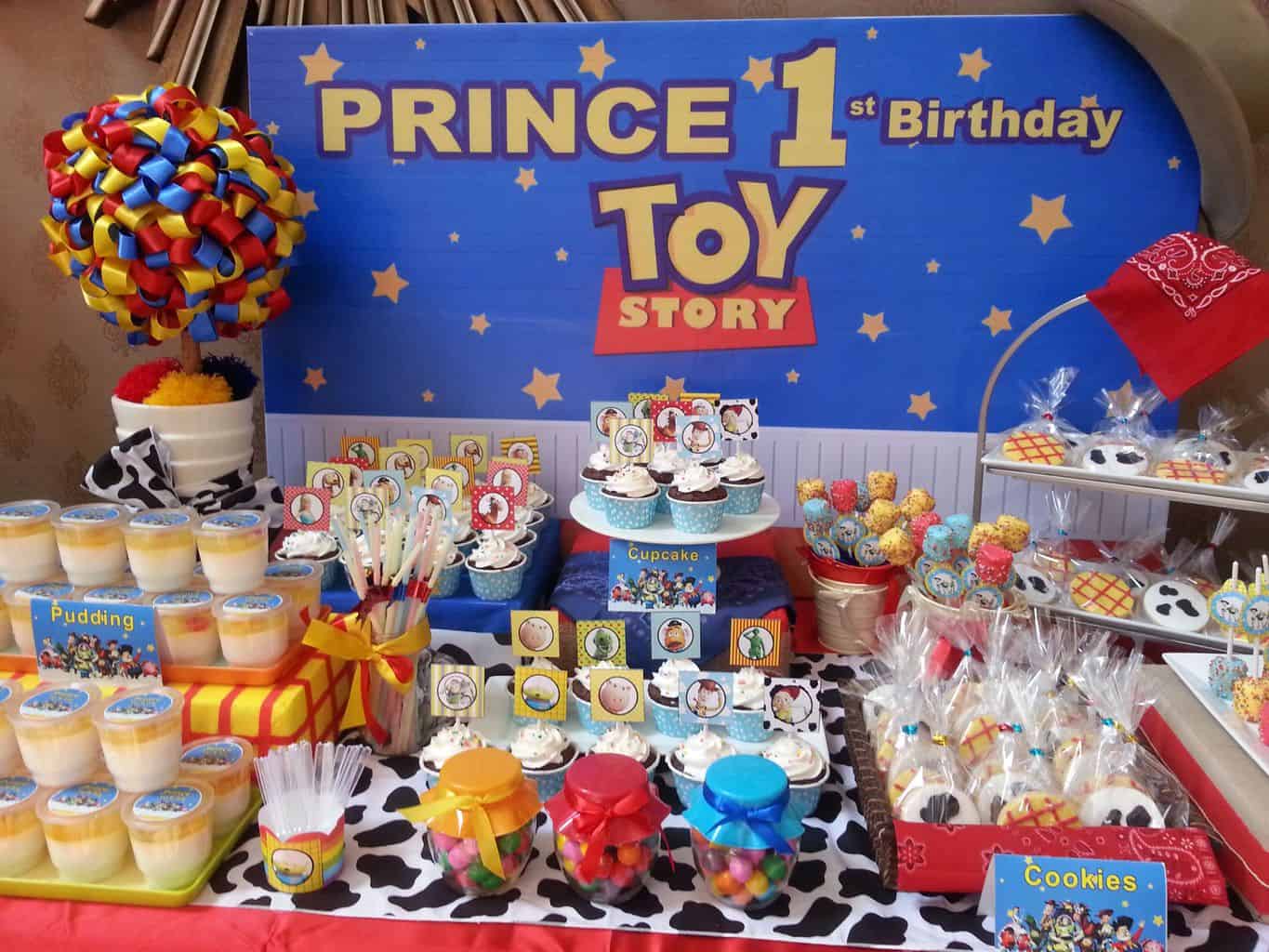 Chocolate cupcakes with green frosting in the shape of Toy Story's Alien are a must in the candy bar. It doesn't really matter if they're storebought or homemade as long as they're delicious. But, of course, cake pops are also part of any successful candy bar that attracts kids' attention. The head of the cake pops should feature Mr. Potato Head, Alien, Woody, Barbie, Bo Beep, and other characters from the movie.
Children will also love colorful Buzz-inspired cookies. These sugar-coated treats look and taste amazing. You could go even further and add green jelly cups to the table.
Other Toy Story Party Food Ideas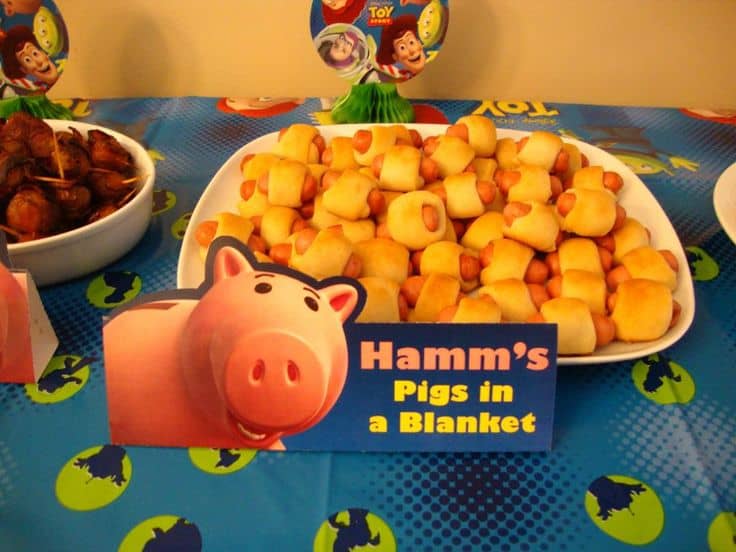 Puddings;
Biscuits;
Lollipops;
Marshmallows;
Rice crispy treats;
Popcorn;
Finger food such as piggies in blankets, mini fruit tarts, mini ham sandwiches, deviled eggs, etc.
Themed Drinks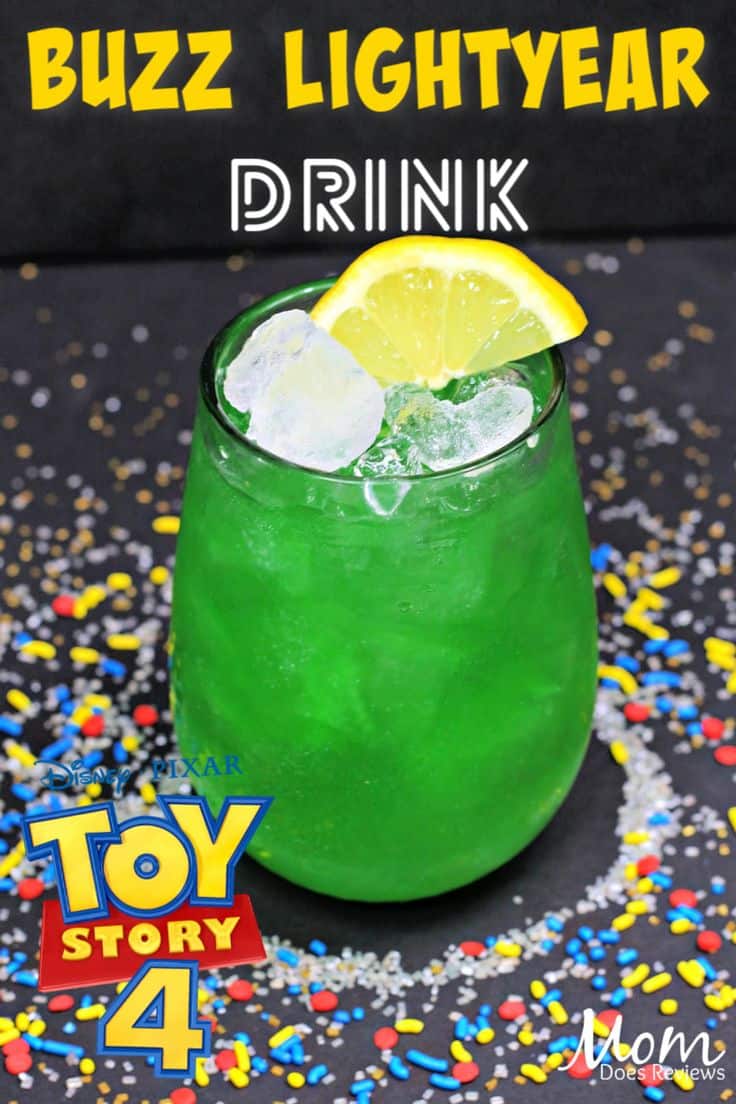 It would help if you didn't stop at themed foods. To make the whole experience a great one for all the guests, you should serve Toy Story-inspired beverages:
Aline freak shakes made of egg whites, sugar, vanilla extract, and food coloring;
Woody or Buzz mocktails made of lemon and lime soda, pineapple juice, and Kool-Aid;
Prepare some water bottles; remove their original label and wrap them in themed print wrappers.
Additional Ideas and Tips
Serve kid-friendly food such as pizza bagels, mozzarella sticks, and mini hot dogs as appetizers. To make things more exciting, you could write notes with the name of every type of food on the table, but make sure you come up with original theme-inspired names like Buzz's Bites or Slinky hot dogs;
You can create bottle wraps that feature the same print that's present on Jessie's ranch outfit;
Purchase or do them yourself – boot-shaped container made of cardboard full of snake-looking licorice treats;
Organize a cowboy-themed BBQ. 
d. Themed Party Decorations
Garlands & Posters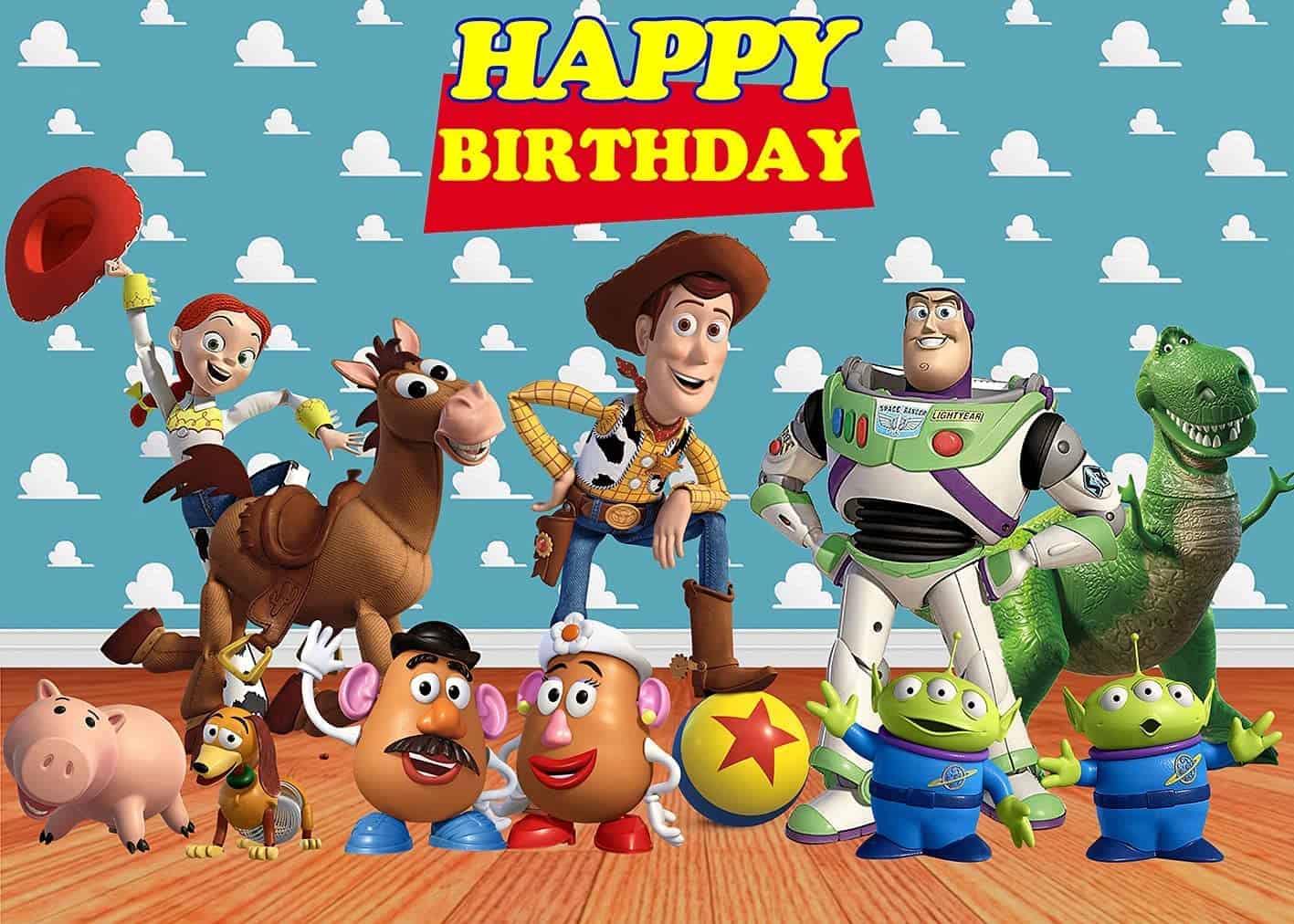 The easiest of them all is a ribbon garland inspired by Toy Story. You Can do it together with your little one or buy it online. Another cute and very creative decoration could be a customized Toy Story backdrop that says Welcome to X (insert the birthday boy or girl's name here) Birthday Party.
Balloons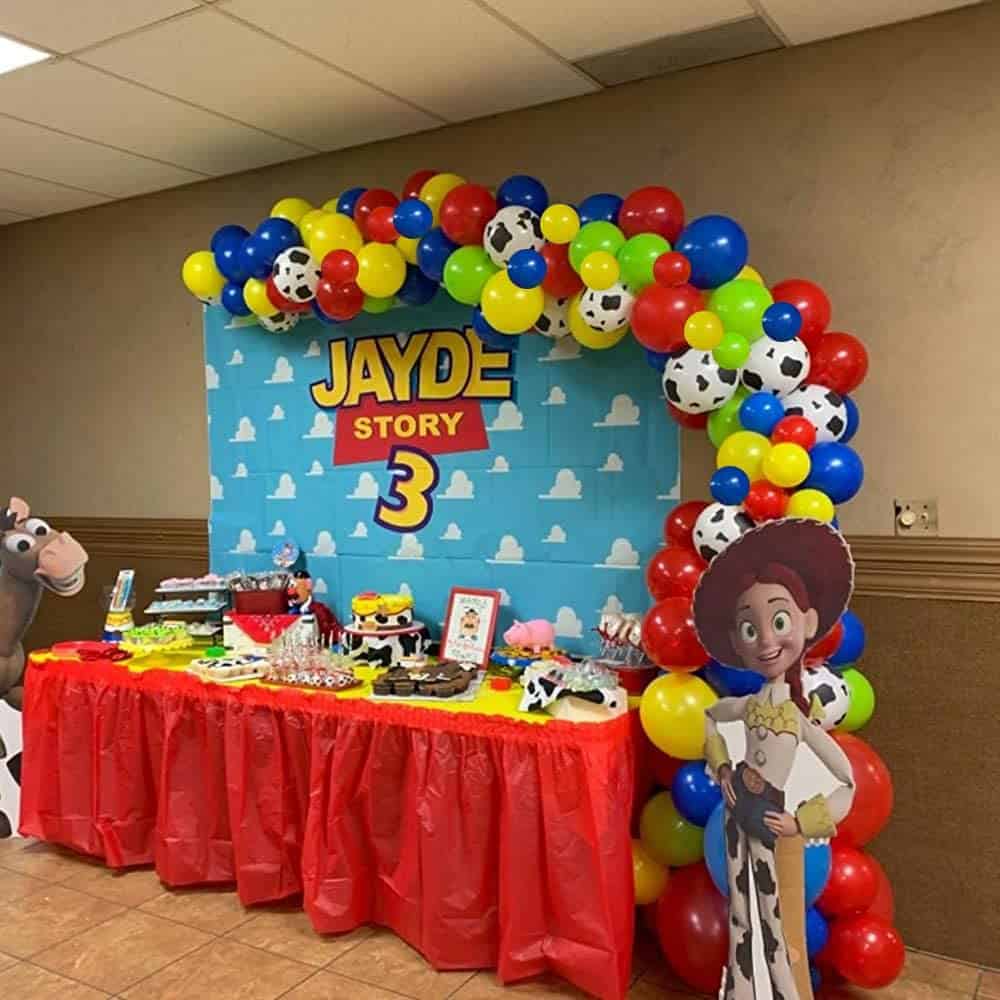 Classic decorations that would never go out of style are balloons. You can buy many standard-sized ones, or you could opt for a giant Toy Story-themed party balloon. Or, why not go with both if the budget allows a splurge. I love balloons, and I find them adorable and so very cute. I bet all the kids will go crazy about them.
Another great option is to purchase an already made balloon arch that you can place behind the treat table.
Toy Story Party Supply Kits
The best supply kits should contain many practical and decorative items, including large centerpieces, cute banners, themed napkins, plastic forks, paper plates, table covers, and more. I love organizing a birthday party due to this very step of the process: searching for the perfect decorations, preparing them, and placing them in the room or space where the party takes place.
Once the work is done, I can stay and watch the outcome for minutes at a time, being proud of myself and satisfied with the result, knowing that what I did will make someone very happy. The right supplies will transform an ordinary birthday into a memorable event. That's why it's wise to purchase supply kits because many of them come with all the elements you need for a successful celebration.
Printable Straw Decorations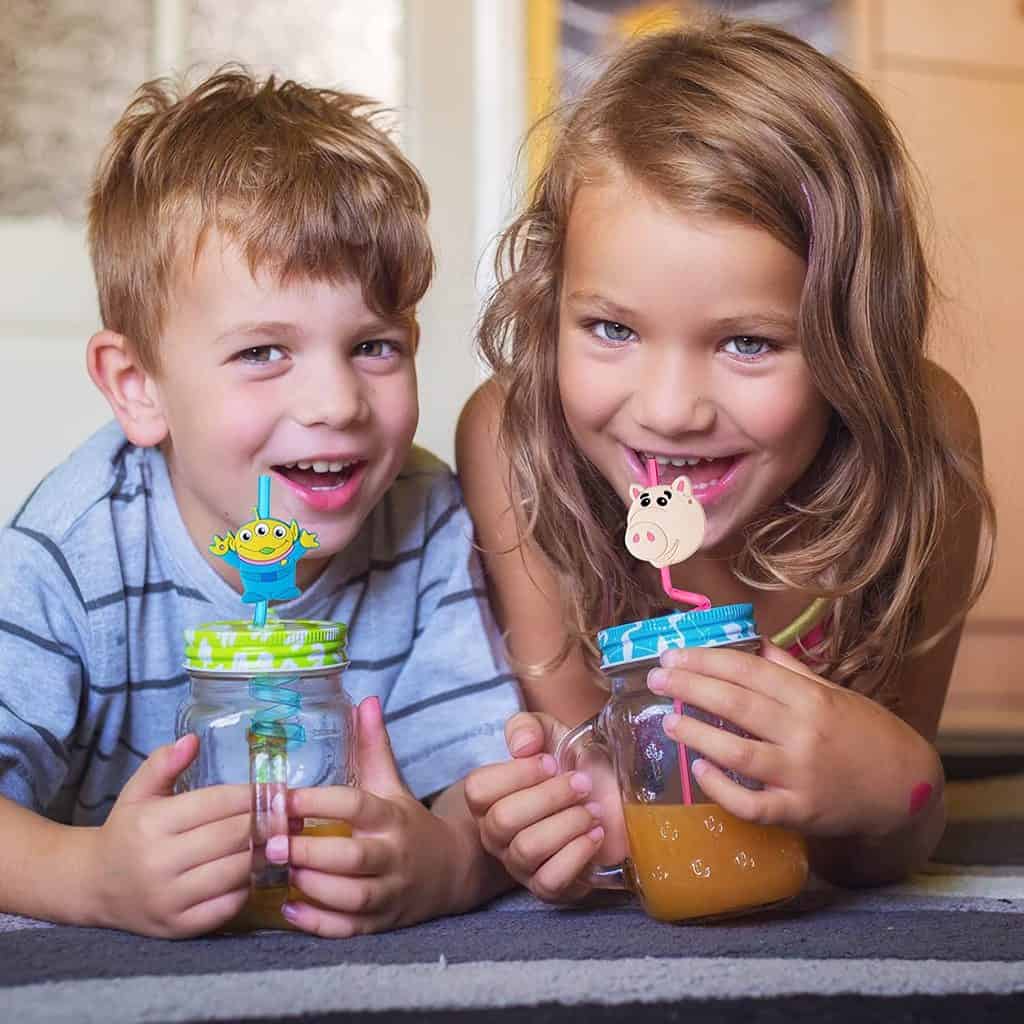 You could also add a few cute details to embellish the party straws. You can either look for these decorations online and print them yourself if you can or buy some already-made Toy Story reusable straws. These are so colorful and vibrant. Gosh, I wish I was a child again, for at least one year.
e. Themed Costume Party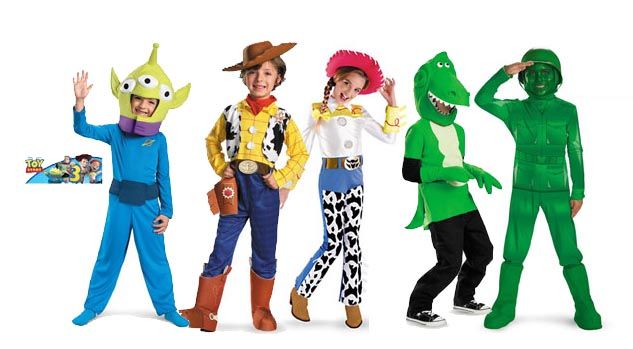 There are three ways to throw a costume birthday party inspired by Toy Story movies. First, you could rent the costumes and return them after the party. This will save you a lot of time, effort, and money. If your budget allows it, you could purchase your little one a Toy Story-inspired costume; the costume should be the one of their favorite character. Obviously, you couldn't and shouldn't buy costumes for all those invited.
Finally, if you have your arts and crafts vibe on, you could engage in a DIY project and create the birthday boy's costume yourself. But unfortunately, that involves a lot of time and effort, and if you're new to DIY projects, you might not achieve the wanted result. So, this party is a little tricky.
A Toy Story birthday party could indeed be held without costumes. They're not essential. However, if your child wants a costume party, you should make him happy by getting costumes for the entire family to wear on his special day. It's even better if you've already done that on Halloween because you already have those costumed prepared and ready to be worn again.
f. Toy Story Tabel Setting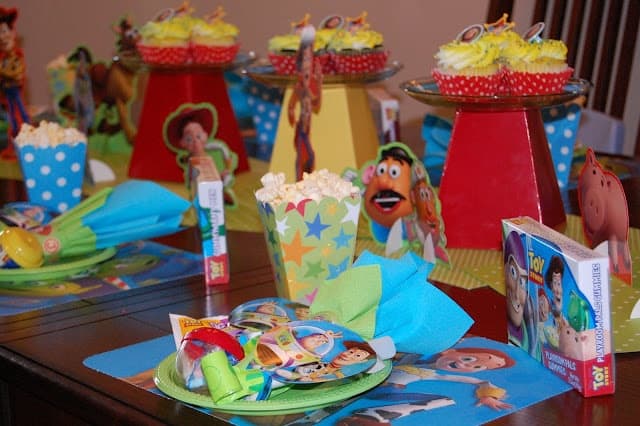 You can organize the table setting with decorative elements. Heck, you could even go and print beautiful calligraphic names of all the guests to place on the table. Instead of regular chairs, you could borrow and use barrels or wooden pallets for a more rustic vibe. There should be an iconic character from Toy Story on each name card.
Also, themed balloons are a must for the table setting. A fantastic addition would be a theme-inspired tablecloth. There are so many awesome ideas you could try that it's hard to choose one or a few of them. I know I would struggle with this decision-making process.
g. Themed Party Activities
Oh, boy! Here we go! Let the fun and games begin! And, while you're doing that, remember to brace yourself for energic kids and their loud and happy play. It's great and fulfilling to see your kids playing and being happy, but, at the same time, I know how energy-consuming that can be because they require all of your attention.
The best types of party activities are the ones that involve all the guests and teach them social skills such as how to be a great team player or learn how to lose a game with grace and dignity. Artistic activities are also useful and engaging. For example, you could ask all the children to bring their own slinky toys if they have one, or you could offer them as part of their goodie bags.
Slinky Races & Guessing Games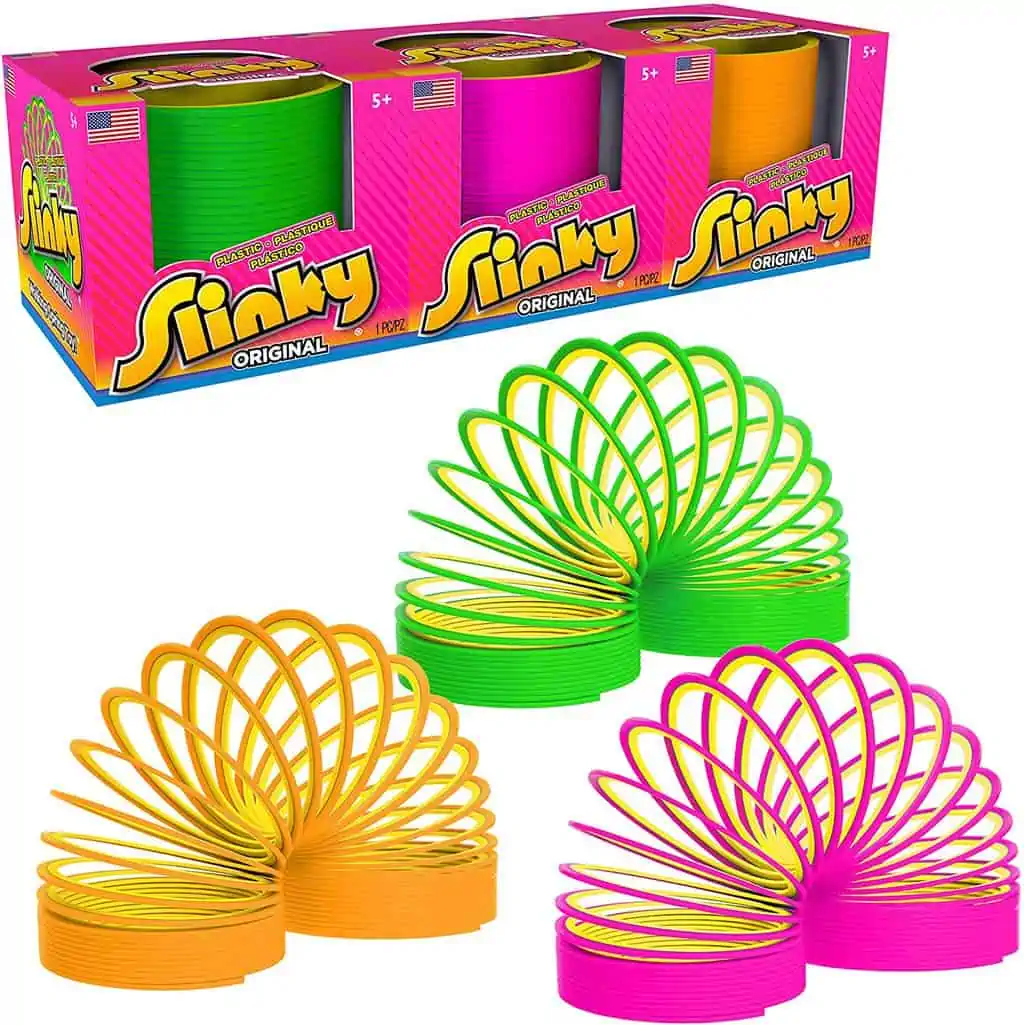 You could encourage the kids to organize an impromptu slinky race with those toys. That could be done individually or in pairs. Of course, the slinky toy that climbs down the stairs the quickest will be the winner. I guarantee that the children will have such a blast doing this.
Place numerous Toy Story items or toys in a see-through container, and then let the kids guess how many toys there are inside. The winner will be the one who gets the closest to the actual number.
Potato Head Assembly Races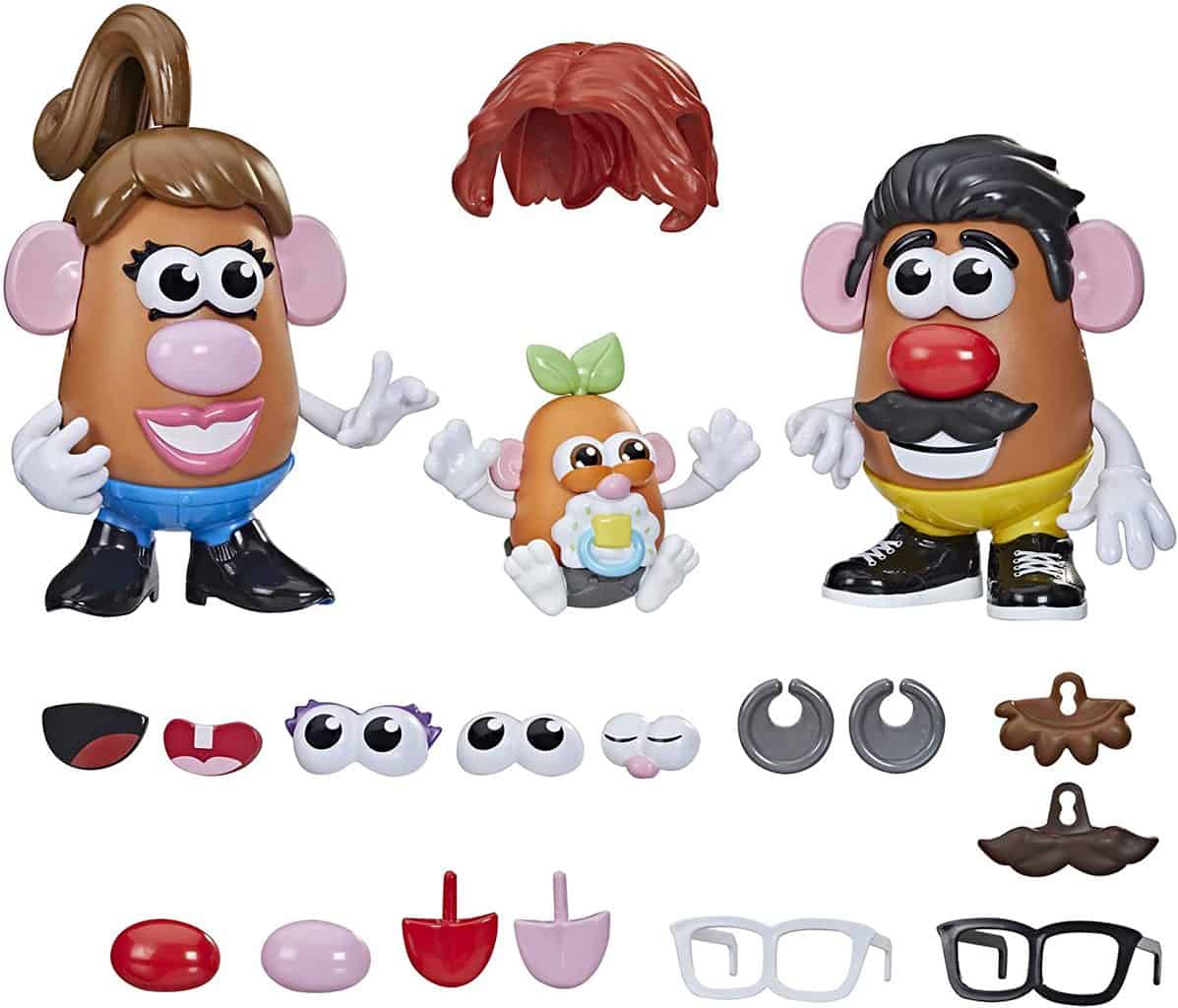 This is an authentic arts and crafts DIY project that kids will love. Not everything should be a contest, but it will be fun to see who gets to dress up Mr. Potato Head the quickest.
Building Towers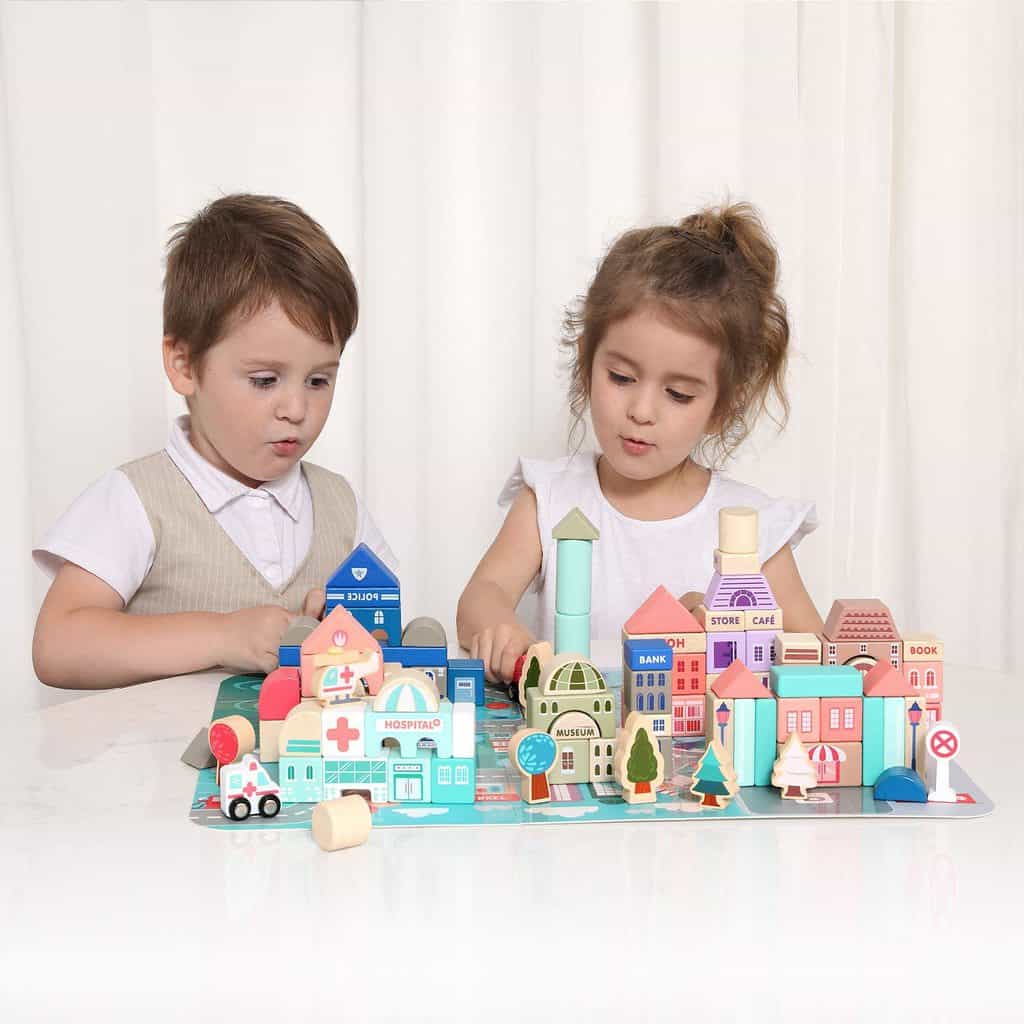 It's not really about a complex or intricate tower design but more about who can build the tallest tower until the time runs out. Also, as a rule of thumb, the tower should be stable enough not to fall down at the end of the activity.
Additional Activity:
Coloring or drawing their own bags in which they will put the party favors.
h. Toy Story Party Favors & Goodie Bags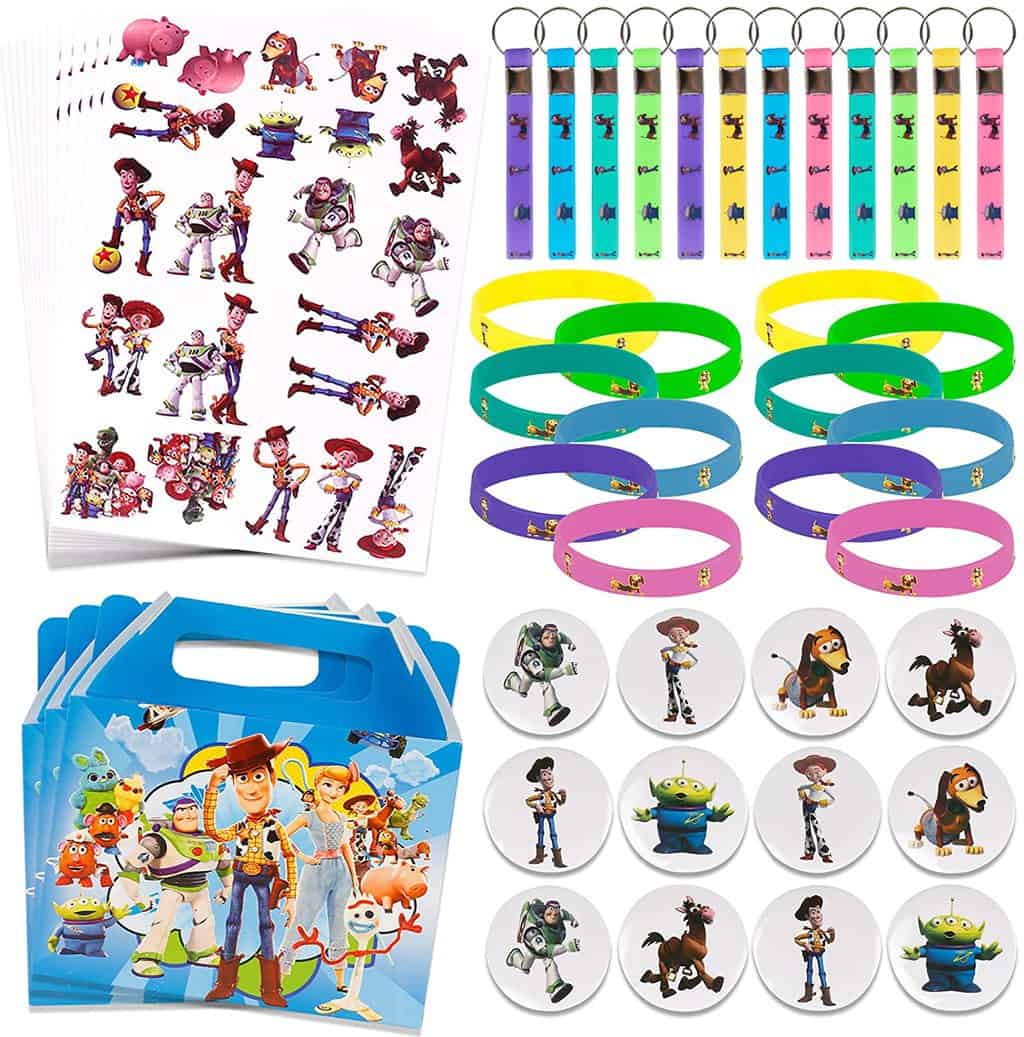 I bet all the kids cannot wait for the goodie bag they will receive when the party is over. You can purchase already-made goodie bags that could be full of mini toys and other Toy Story items, or you could buy the items separately and prepare your own party favors. The key is to mix and match various elements.
Other exciting ideas are cool Toy Story stickers or temporary kid-friendly tattoos, tiny cowboy hats, themed lollipops, a couple of Army men figurines, printed coloring pages, and many other fun alternatives. All you have to do is let your creative juices flow and be imaginative.
Other ideas for the goodie bag:
Themed slime;
Building blocks;
Alien bath bombs;
Cowboy bandannas;
Toy Story bookmarks;
Colorful pencils featuring Toy Story scenes, etc. 
i. Toy Story Pinata
All the guests will have so much fun, and there will be so much laughter when the kids try to smash that pinata. You'll probably hear many cheerful voices when someone finally cracks the pinata open, and all the candy falls down. I wish I had this birthday party custom when I was a kid. There were different times back then, I guess. It's ok that now I can rejoice with my nieces on their birthdays.
The pinata will also be used as a party decoration at first until the moment in which the kids will try to bash it to pieces.
j. Themed Photo Booth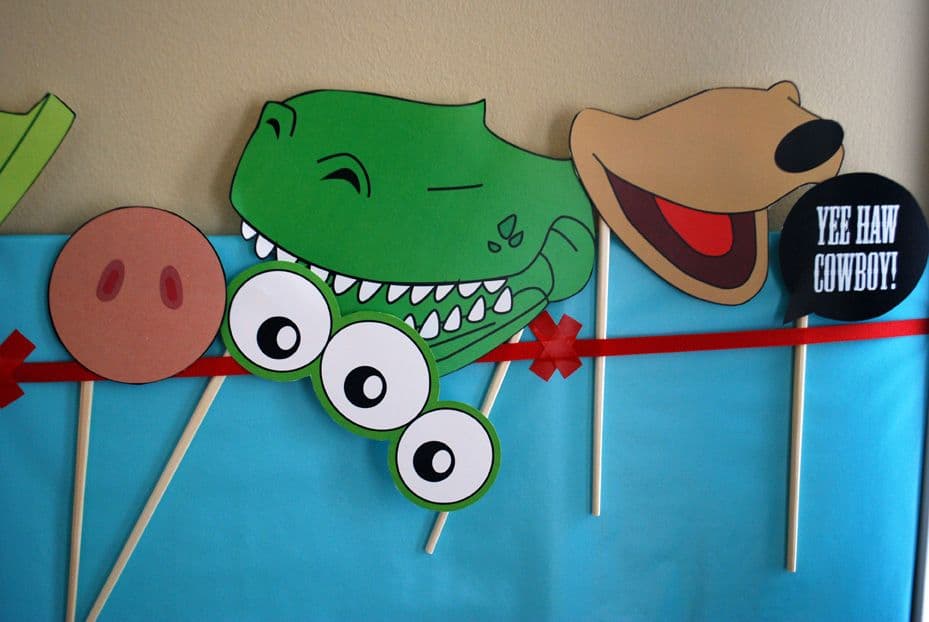 The kids will certainly love fooling around if you have a photo booth ready to capture all those wonderful moments. They will strike numerous hilarious poses, and if you also have a few themed accessories readily available, that would be even greater. The right types of props go hand in hand with a photo booth.
It's a great way to ensure you'll never forget these lovely memories. After all, the childhood years pass by so quickly, and soon you'll find yourself missing those moments when your little one was… well, little! 🙂
Toy Story Birthday Party Ideas – FAQs
Question: How Should I Plan a Toy Story-Themed Birthday Party?
Answer: First, you should plan ahead by making a list of all the things you'll need for the party. Try not to forget anything, from table setting elements like cups and plates to decorations, the cake, goodie bags, presents, and more. I know it's a lot so please, bear with me.

Think about the location. Is your budget generous enough so that you can organize the party at a local venue or kid's playground? Or, perhaps, you could throw the part at home or in your backyard. Make sure you buy or rent everything necessary for the games you want the kids to play. Make the cake the night before the party, or order it ahead of time.

Decorate the table and place tasty snacks and treats on it (candy could be optional). Then, create a movie night right after the party and play all the four Toy Story movies. Finally, remember to relax and have fun, and take a lot of photos because you'll want to reminisce on this day in the future when your kid will be all grown up.
Question: Should You Send Out Party Invitations?
Answer: Yes, you should, especially if you plan to invite more than just your little one's relatives or closest friends. You can craft those invites yourself or order them online. You can find free templates on some websites that you can download and print to save a couple of bucks.
Question: What's the Best Food You Should Serve at Your Child's Birthday Party?
Answer: Here are a couple of great ideas:
Snacks and treats – both sweet and salty;
Mini pizzas;
Cupcakes;
Pretzels;
Tacos;
Meatball pasta;
French fries;
Grilled cheese;
BBQ chicken or BLTs, etc.
Toy Story Birthday Party Ideas – Final Thoughts
As you can see, a Toycake  Story-themed birthday party can go better than planned if you follow certain guidelines. There are so many fantastic ideas you could consider. It is even better to ask your little ones and get them involved in the preparation process, asking them about their preferences. That way, they will feel equal to you and important. It's a great way to cherish, validate, or even empower your kids.
As I said, for me, the most important ideas are:
Serving good food and a delicious and appealing cake;
Decorating the room with some customized items to make the guests feel cheerful and happy;
Encouraging and initiating fun activities that involve everyone who's attending the event. 
Recommended Reads: