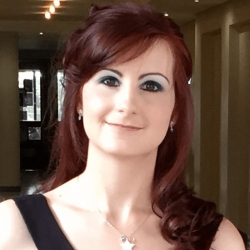 Latest posts by Denine Walters
(see all)
I recently had to organize a "super-duper" (those were the exact words) 3-year-old birthday party for my toddler and wished I had a guide with 3rd birthday party ideas to help me. Trust me; if a toddler wants something "super-duper," it better be shiny with all the bells and whistles. Everything has to be bigger and better, and let's not forget to mention that it may be somewhat impossible. 
With all the wonderful ideas available at the click of a button, I felt overwhelmed, and I had nightmares about runaway floats and confetti cannons. You may wonder: what kind of toddler party am I trying to throw here? 
So back to basics.
When I planned my toddler's 3-year-old birthday party, I started with the theme. Then it was all about the location – where was I going to throw this party (was there a pool, roaming farm animals, etc.)? Thirdly, I needed to decide on decor, invitations, and party bags (plus the goodies to fill these with). 
If you have to plan a birthday party for your soon-to-be 3-year-old, here are the best-themed party ideas for a super-duper event.
My Bottom Line Up Front for 3rd Birthday Party Ideas
It's tricky to decide on the best birthday party idea for a 3-year-old. There are just so many fantastic options from which to choose.
I recommend the affordable and age-appropriate Toy Game Story Birthday Party Supplies set, suitable for boys and girls. Each pack contains decorations, invitations, tableware, and goodie bags.
Selection Criteria for 3rd Birthday Party Ideas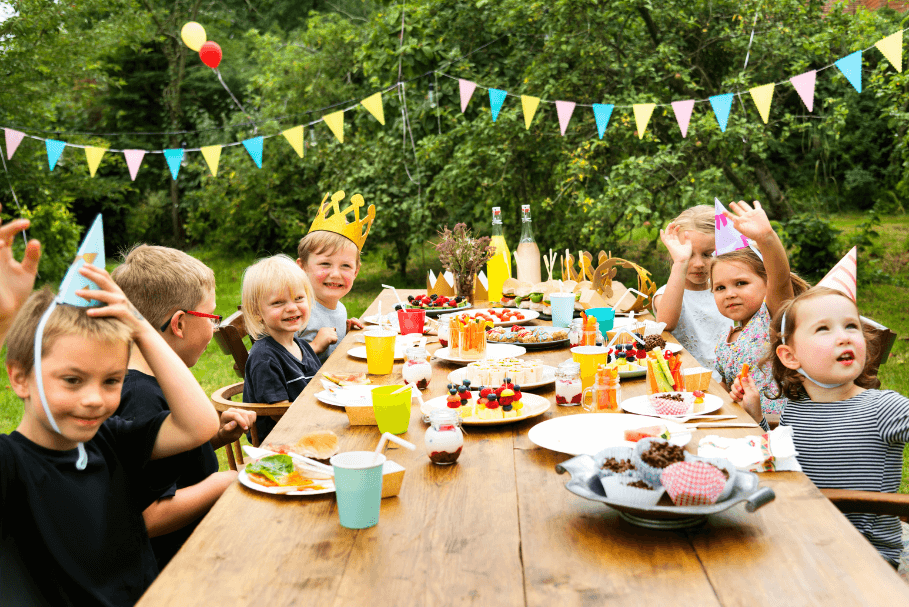 Planning a birthday party can be overwhelming, and you can quickly lose focus. I kept referring to the following three criteria to keep on track. 
Affordability
Wow, there is so much out there, and I wanted the best for my son. Alas, my bank account was not as enthusiastic as I was. When I first filled my Amazon cart with all the goodies I would need to throw an epic 3-year-old birthday party, I nearly fell off my chair. 
We had 10 fellow 2 and 3-year-old friends who would be attending our super-duper party, and while I wanted to impress, I had to be mindful that they were toddlers. They have no concept of the value of money yet, and as long as the party was bright, colorful, and fun, I knew my little guests would be happy.
So, I decided to act more like a grown-up and pick out more practical items that gave me more "bang for my buck."
See also: The 18 Best Mermaid Birthday Party Ideas
Versatility 
With my planning, I was all about the reusable options. With everything, or at least most of what I ordered, I tried to adopt the mindset of "can this be used again next year?" (or at least tweaked slightly and reused for another function or party). 
Maybe one of the moms from school or a family member needed to throw a similar party for their almost 3-year-old, and I could pass on my decor and goodies to them? 
Appropriateness for a 3-Year-Old
My essential consideration is the safety of my kids, and I always consider things like the type of candy I serve to my young guests. Hard candy and little goodies in the party packs can easily be swallowed and pose a choking hazard. 
Amazon has a wonderful filter showing you the age-appropriate level for their goodies, and this function became my best friend.
The Best Ideas for a 3rd Birthday Party
Picking a theme for a birthday party can be difficult. Get started by asking your toddler what some of their favorite movies, TV shows, activities, or characters are. 
Armed with this information, you have a good idea of which direction to go in. My toddler gave me a long list ranging from Paw Patrol to slime-making parties. 
I took some time to research his various "weird" and wonderful suggestions and came up with 5 themes that worked for a birthday party for a child who's turning 3 soon. 
So here are lots of birthday party ideas for your soon-to-be 3-year-old, which I've divided into 5 themes: 
3-Year-Old Flintstones Themed Birthday Party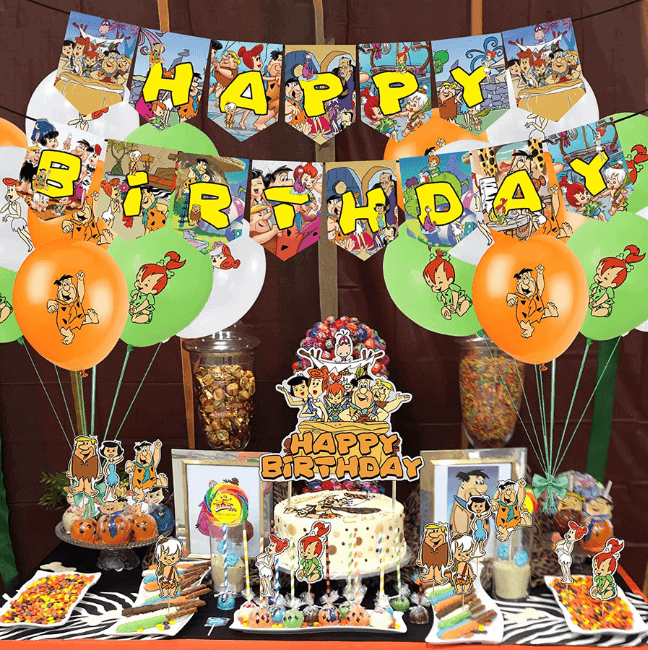 Yabba Dabba Doo! My son loved his Flintstones-themed birthday party. This party was so much fun to organize. You can use the Flintstones theme for the birthday boy or girl (which makes it easy to pass on the decorations). 
I dressed my son up as BamBam, and if you have a little girl, dress her as Pebbles. Here's an awesome Bambam and Pebbles costume set.
See also: Baby Yoda Party Supplies Guide [2022]
Flintstones Party Supplies and Decorations
For under $20.00, this 32-piece Flintstones Party decor set is fantastic. The decor set is suitable for your budget, and you can add extra goodies without breaking the bank. This 32-piece set includes:
1 Flintstones Happy Birthday banner

18 x 10-inch balloons

12 cupcake toppers

1 cake topper
Making goodie bags is super easy. Grab a pack of animal print paper bags and add Bambam's face for the boys and Pebble's face for the girls. You could personalize this further by adding the kids' names to the labels. 
Something that made my life easier was ordering a party favor pack for the goodie bags. Talk about a time and money saver. I recommend the Safari Party Favors set because it fits the theme perfectly and includes a beautiful assortment of goodies, such as:
12 different styles of felt masks

100 different animal stickers

20 slap bracelets (a huge hit with the kids)

12 keychains that can be attached to your toddler's backpack or school bag
A section of my yard became Bedrock by making a few paper mache boulders and stacking them around and on the snack table; voila—an authentic Flintstones vibe.
Flintstones Birthday Party Invitations
For my 3-year-old's birthday party, I chose to make my party invitations. I raided Pinterest and made a fun and unique invite that said, "Yabba Dabba Doo, Kian is turning 3." The options are endless, and there are many characters from which you can choose. Choosing a pamphlet-style invite without envelopes saved a few more cents. 
But if you are short on time, you can order these "party like a dinosaur" invites or the "Let's hang out" invites, which will also complement your theme.
Flintstones Birthday Party Games
The games for this birthday party rocked (pun intended). Here's a list of a few of the games I set up for my toddler and his friends:
See also: Best LEGO Cake Ideas To Love For Your Next Birthday
3-Year-Old Drive-Thru Themed Birthday Party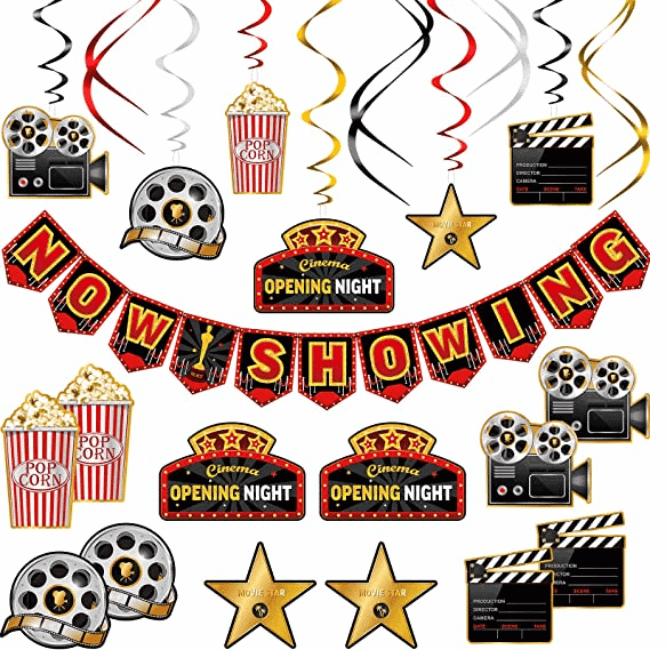 Lights, camera, action! Here is a reasonably quick and easy party to put together. You will need an outdoor area, an old sheet, a projector, and cardboard box cars for your little guests. I recommend choosing a movie full of belly laughs.
Drive-Thru Party Supplies and Decorations
I highly recommend these cardboard boxes for the drive-thru cars, as they come in a pack of 10, and you can order them in different size options. You can paint them in different colors and decorate them in any way (Pinterest has some beautiful ideas).
To save time, I recommend the Movie Night Party Decorations set. This 45-piece set is reasonably priced at only $15.99 and includes the following:
1 "Showing Now" party banner

18 spiral hanging decorations

18 movie-themed cardstocks in 9 different patterns

8 double spirals

Well-selected movie-themed ornaments
The Paperboard Pop-Up Food and Drink Tray makes a fabulous goodie bag. It comes in a pack of 25. You can fill it with juice boxes, crisps, gummy candy, and a Popcorn box full of yummy popcorn sprinkles (Kernel Season's flavors are delicious).
Consider the Amy & Benton carnival set for your party favors. This set contains an assortment of 120 toys (a great budget buy!).
Drive-Thru Party Invitations
The Movie Party Invitations is excellent; choose between two different styles: the clapperboard or popcorn bag. This invitation pack comes in a set of 25 and includes envelopes.
Drive-Thru Party Games
Here are a few party games that work well with the Drive-Thru party theme so you can keep the young guests thoroughly entertained:
3-Year-Old Toy Story Themed Birthday Party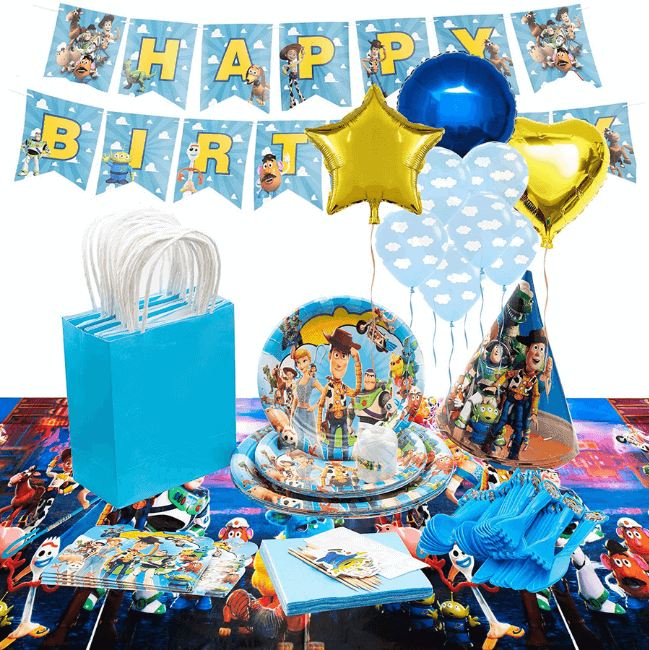 To infinity and beyond! There are so many characters to choose from with the Toy Story Theme. The birthday boy can dress up as Sheriff Woody, or the birthday girl can be Jessie.
If your almost 3-year-old is a fan of Toy Story, this is the perfect party theme.
Toy Story Party Supplies and Decorations
If you are pressed for time, go with the GK Galleria Toy Story Birthday Party Supplies for your party decor needs. This fantastic set caters to 12 young guests and includes:
Themed party plates

Plastic knives and forks

Table cloth

Party hats 

Invitation cards

Birthday banner

Toy Story foil balloons

Cloud latex balloons

Gift bags
The Toy Story Birthday Party Favors set is a bargain gift bag filler. It contains everything from bracelets to temporary tattoos (all Toy Story-themed!) for only $23.99.
Pinterest has so many fantastic and easy DIY options for tableware decor. Make a stand that looks like Buzz Lightyear's spaceship to display your birthday cupcakes.
Sticky tape cardboard around the snack table's edges to look like a giant cardboard box (similar to Andy's toy box in the movie), which can double up as a fantastic photo backdrop. 
Toy Story Party Invitations
I recommend the unique and affordable RENWEN Party Invitation Card pack. It's made from a high-quality paper card and has cute cartoon drawings on both sides. This pack contains 16 unisex invites, including envelopes. Best of all, it only costs $9.99. 
Toy Story Party Games
Here are a few Toy Story party games that will keep the little ones very busy:
See also: 27 Coolest Winnie the Pooh Cake Ideas
3-Year-Old Arty Themed Birthday Party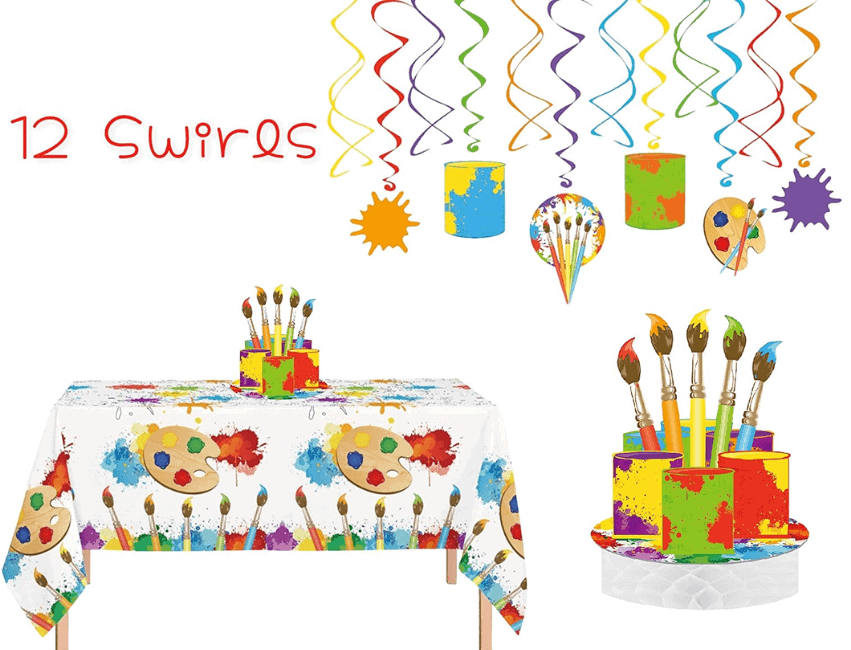 Let's get messy. My toddler loves getting messy with arts and crafts. This theme is easy to decorate for and isn't too pricey. Sure, the clean-up will be interesting, but it's all part of the fun. 
Arty Themed Party Supplies and Decorations
The art theme will make a (color) splash, and you can go crazy with DIY ideas to make the decor look amazing. 
But, if you want to save time and money, I suggest the Oojami art party supplies decor set for $35.99, which includes:
30 plates in different sizes

30 cups

30 napkins

2 beautifully decorated table covers

12 birthday swirls

1 Happy Birthday color splash banner

2 pennant banners
Make your snack table as colorful as possible with bright candy and snacks. Tip an empty paint can over the table's edge with flowing colorful material draped along the side. It can also double up as a lovely photo backdrop.
Merge your party goodie bags with your party paint supplies. Fill these Eco reusable coloring bags with goodies like the Mini watercolor paint set. You could also include one of these cute children's fabric aprons.
Your little guests will thoroughly enjoy painting their own bags, and when the day is done and the paint is dry, they can put all their painting goodies back into their bags and take them home.
Arty Themed Party Invitations
For invitations, I would suggest the Art and Painting Birthday invitations. They are super cute and covered in colorful paint splatters. They come in a pack of 20 and include envelopes. 
Arty Themed Party Games
Here is a list of games that will get your little guests' creative juices flowing: 
3-Year-Old Paw Patrol Themed Birthday Party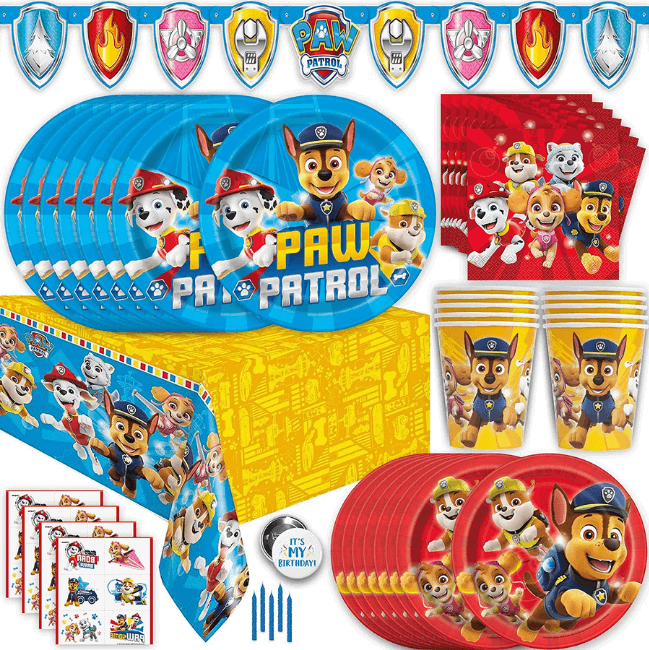 Paw Patrol is on a roll! This action-packed, 'paw-some' theme is perfect for boys and girls. Amaze your 2 and 3-year-old guests with colorful, fun decor and super party games inspired by the hit TV kids series.
Paw Patrol Themed Party Supplies and Decorations
I recommend the All-in-one Paw Patrol party supplies for $29.99. This time-saving and budget-friendly set includes:
1 table cover

1 shield pennant banner

16 x 9'' large paper plates

16 x 7'' small paper plates

16 paper cups

16 paper napkins

12 cake candles

24 temporary tattoos

1 "It's My Birthday" button
I recommend the Nickelodeon Grab and Go Play Packs for the goodie bags. Each play pack contains: 
4 crayons

25 stickers

1 x 24-page mini fun size coloring book
Paw Patrol Themed Party Invitations
Pinterest has stunning ideas for DIY invitations. If you prefer something that doesn't take too much time, choose the Pawtastic invitations for $16.99. This cute pack contains 20 invitations and envelopes.
Paw Patrol Themed Party Games
Here are a few paw-tastic games to keep your little friends busy:
Dog, dog, cat (same rules as Duck, duck, goose).
FAQs
Question: How can I make my child feel special on their birthday?
Answer: Ask your little one what kind of party they would really enjoy; this makes them feel important. Get a T-shirt printed for them with their name and a big number 3. Give them a party crown or cape to wear on their special day. A unique birthday chair that's decorated with balloons and lots of colors also makes your child feel extra special.
Question: How do you make a party fun?
Answer: There are plenty of ways to make a party fun. Here are a few suggestions:

Games and activities that fit your theme and age level
Play fun sing-along songs for your little guests
Use bright colors for your decor
Have fun, theme-inspired snacks and soda available
Use fun props when you take photos
Question: What should I do for a last-minute birthday?
Answer: This has happened to all of us. Suddenly the birthday has crept upon you, and you realize that you haven't planned anything. There is no need to panic. Your toddler will be excited about anything you put together. Here are a few easy ideas for a last-minute birthday party:

Rent a bouncy inflatable castle
Do face painting
Play games like musical chairs, tenpin bowling, pillowcase races (sack race)
Get a variety of chips, sodas, and candy
For party favors, buy some felt masks
The Last 3-Year-Old Birthday Party Thought
Choosing a time for your party is so important as many of your little guests still have naps during the day. A grumpy, sleepy toddler is not fun for anybody to be around. So, with that in mind, don't let the party drag on for too long. Toddlers have very short attention spans, so a short and sweet party is always a better option (preferably late morning or early afternoon). 
With all these 3rd birthday party ideas I shared, you can't go wrong. Your little munchkin will have a blast, and their friends (and parents) will talk about what a great party you organized!
Recommended Reads: