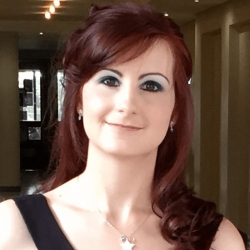 Latest posts by Denine Walters
(see all)
One of the mothers from my son's daycare class approached me the other day. Her little boy's first birthday was coming up, and she wanted to have a Blippi-inspired cake smash to celebrate his special day. Blippi is a popular name in our household, and I am pretty sure that there are plenty of parents reading this right now and nodding in agreement. 
Blippi has the energy we parents dream of. Somehow this wacky character entertains and educates our kids at the same time. Blippi, we salute you. I was super excited to make this little one's first birthday smash cake. I hit a brick wall when I searched the internet for the best Blippi cake ideas. There were so many options, and I couldn't focus on one thing at a time. 
Are you also trying to find a Blippi cake idea that works for your celebration, but you are torn between all the different options?
Yes? Samesies.
I put my oversized thinking cap on and sifted through all the fantastic cake ideas. And that's how I put together these fabulous cake ideas for all your Blippi cake needs.
My Bottom Line Up Front: The Best Blippi Cake Idea
So here it is. My absolute fav Blippi cake idea is the Blippi glazed donuts. These scrumptious flavorful dough balls are the perfect addition to any celebration. Plus, they're easy to make, easy to decorate, and easy on the pocket.
I can't think of a better way to show off your Blippi baking skills than by presenting your little guests with these gorgeous donuts. 
Best Blippi Cake Ideas: What Are My Criteria?
Blippi has a fantastic way of filling children with wonderment and an eagerness to learn. Parent's around the world thank Blippi for his service and ability to teach their kids in a fun way.
Blippi always chooses topics and themes that put a fun spin on even the most mundane subjects. So I put on my Blippi thinking cap and made sure that each Blippi cake:
Brought in the Blippi color palette (orange, blue, and indigo)

Matched Blippi's fun and enthusiastic personality

Remained faithful to the YouTube hit channel, music album, and Blippi's outlook on life

Was designed around the P-A-R-T-Y (in true Blippi "spell-it-out-with-me" tradition) taking place

Included educational elements such as numbers, colors, animals, planets, and dinosaurs (to mention a few)
11 Best Blippi Cake Ideas 
"So much to learn about. It'll make you wanna shout, Blippi!"
So what are we waiting for? Let's go and explore (that line was all me #kindaawesome)
Here are my nine absolute favorite Blippi-inspired cake ideas:
1. Blippi One, Two, Three Birthday Cake
If you're looking for a cake that's as easy as one, two, three, look no further. The Blippi one, two, three birthday cake got you covered. This cake will make any child's day. I would make this cake with a decadent coconut cream sandwiched between two layers of soft vanilla sponge.
I love number cakes, and the beauty is that you can dress them up or keep them simple.
Naturally, because this is a Blippi theme, I pulled out all the stops. You will notice that there is no frosting covering this cake. Instead, the top is decorated with blue and orange buttercream, using different-sized piping bags.
Use pastel and neon shades of orange to accentuate Blippi's fun accessories, such as his puffy hat, goofy oversized glasses, bowtie, and suspenders. Don't you love the metallic color of his orange bow tie? This shade can be achieved by mixing some dark gold metallic rainbow dust with your food coloring (#blingbling).
Decorate the cake with mini slabs of caramel crunch and milky chocolate placed randomly all over the cake for a fun, celebratory feel. I ordered iced biscuits of Blippi's face from a local baker and popped them on top with a generous sprinkling of confetti sprinkles. I suggest adding orange and blue glitter sprinkles to make your cake funkier for that vibrant Blippi effect.
2. Let's Go Carnival Crazy
Whoa! Did someone say carnival? Oh, I love the carnival. Fun rides, the smell of caramel corn, and hotdogs! Families and friends are laughing together (#itsthedream). The let's go carnival crazy cake is a sweet delight whose energy is sure to match the bubbly and enthusiastic personality of Blippi (or perhaps it's all that sugar).
This two-layered cake is a win with the little ones. The cake would be perfect if you made it from a soft gingerbread sponge and covered it in a smooth banana cream-flavored frosting. The top of the cake is dripping with a salted caramel syrup thickened to perfection. The contrast between the bright yellow on the pastel blue is mesmerizing.
Now for the decor. What is a carnival famous for? You betcha, junk food! I got these delicious sweet hamburgers and hotdogs for the cake. I will admit, I ate quite a few of these as I stuck them onto the cake with icing sugar glue.
Top your cake off with a generous amount of caramel corn, and stick a few candy cane lollipops into the top of the cake for a burst of color. You can also add some Fruit Loops cereal to the cake for extra decor (it looks kinda like mini glazed donuts).
3. Blippi Smash Drip Cake
Okay, so when it comes to cake smashes, I believe (and this is my opinion) that the cake you let your little one smash should be simple. I mean, doing all that hard work and decorating your cake to the nines, just to have little hands (and feet) smash it to smithereens, just breaks my heart.
Apply the KISS (Keep It Simple Silly) method when choosing a cake for your little one to break (that was purely for rhyming purposes – Blippi gets it). The Blippi smash drip cake is perfect for the job.
You can make it a simple one-layered cake or two layers if you feel like an extra amount of mess for the photos. I would make this a two-layered simple vanilla sponge cake with a gorgeous ombre effect of blue and white frosting covered with a sweet caramel sauce. 
Another mouthwatering flavor would be to bake a moist blueberry cake covered in a cheeky lemon curd frosting. Your one-year-old's blue-purple tongue ( from eating blueberries) will look so cute in the photos. 
When your little one smashes this cake, it will reveal a neon orange-colored sponge, which will look amazing on them and in the photos. If you want to make the cake a little more fun, add some bendable figurines as a cake topper.
4. It's a Giant Cupcake Cake
Aaah! The it's a giant cupcake cake has to be one of my new favorite cakes to make. I made one during the lockdown when we couldn't have family or friends over to celebrate my son's birthday. So this mama decided to make a cupcake cake. It was the perfect size for our little immediate family, and my son was thrilled with this excellent idea.
For this beauty, I would use the Wilton giant cupcake pan to get that fantastic larger-than-life-size cupcake I was going for. The silicone mold also works well and comes with various decorating utensils. I love that both have a gorgeous swirl on top, which makes your cupcake so much cooler. 
I suggest adding a packet of strawberry-flavored jello to the cake mix, which will help keep the shape of the giant cupcake. I filled the cupcake with some sprinkles for a surprise effect when my son cut into the cupcake.
I packed rolled wafers in different flavors around the base of the cupcake and decorated the top with a hearty amount of chocolate-flavored buttercream in a marvelous shade of orange and blue swirls. For the finishing touch, I placed a Blippi cartoon cake topper in the center for good measure.
Fun tip: You can always add a few dinosaur cake toppers here and there for extra educational value. (Blippi loves learning about dinosaurs!) I stuck a few alphabet letters on by using this awesome mold.
5. Blippi Pull-Apart Cake
Alrighty then. Blippi is a show that's all about educating young minds and learning new things. So this cake is new for me, and to say that I love it is a #understatement. Before we start with the tasty details, what is a pull-apart cake?
Well, I'm glad you asked.
These ingenious little beauties are basically little batches of cupcakes that have been arranged in a unique shape before frosting and decorating them. In this case, I lined them up to match Blippi's shirt, suspenders, and bow tie.
The beauty of this design is that you don't need to cut the cake. Your guests pull the cake apart, making the mini cakes or cupcakes the perfect takeaway treat (and the crowd goes wild). I'd decorate the Blippi pull-apart cake with a simple dollop of whipped marshmallow and buttercream frosting to give it that soft and chewy finish.
Use the colors of Blippi's outfit and add a giant bow tie to the middle, made out of orange fondant. This tutorial is super helpful if you want to make a perfect fondant bow tie at home.
6. Pop Goes the Weasel Cake Pops
"Pop goes the weasel." Blippi has a lovely nursery rhyme album that kids around the world adore. So why not make some delicious Pop Goes the Weasel cake pops in true Blippi style? How yummy would it be to make these creative cake pops from a super delicious vanilla sponge cake mixed with creamy peanut butter?
They are super simple to make at home, with ingredients you might even have in the pantry. These cake pop molds are perfect for getting that round cake pop look. Just a friendly tip: before dipping your cake pop in the frosting of your choice, make sure the pop is cold. This ensures that the dipping sticks well to the pop.
I would dip my cake pops into the scrumptious melted chocolate with hints of strawberry and mint. Roll them in some desiccated coconut and unicorn sprinkle dust for some extra bling. Decorate your cake pops to look like Blippi's outfit and add some details in fondant, like his buttons and suspenders.
These cake pops won't last five minutes once you have set them out. They are the perfect addition to any celebration.
7. At the Construction Site 
My kids love story time, and we have a vast Blippi storybook collection. My niece loves anything to do with construction vehicles and tools. So I would love to make a cake inspired by her favorite Blippi book. Ladies and gentlemen, I present the "at the construction site" birthday cake based on the popular Blippi book.
I would make this cake from four carefully constructed (#drumroll) layers of delicious chocolate and vanilla sponge cake. I'd cement the layers to one another with sticky sweet strawberry syrup. The bottom of the cake can be iced with a coconut frosting dyed blue. As we move up the levels, the colors can change to a soft orange. 
Blippi's large fondant face stands proud in the middle of the cake. On this cake, I would make a tipper truck out of fondant, tipping chocolate bricks all over the cake. The bricks are really simple to make out of chocolate-flavored fondant. Otherwise, break up a chocolate slab and paste it onto the cake with icing glue. This will also give your cake a 3D effect.
Make some fondant safety cones to add to the base of your cake, or add some construction cake toppers for a more fun effect. I found these CAT construction vehicles to be a fabulous addition to a cake like this. The party guests can take a vehicle home for an extra bonus. 
Another fun idea is to add a crane or TLB to the top of the cake. Hang a fondant number of the age of the birthday boy or girl from the hook on the vehicle.
8. Pastel Cakesicles
These beautiful Blippi-inspired pastel cakesicles are the perfect addition to any little girl's slumber party. Instead of using the classic bright Blippi colors we all know and love, I chose more gentle pastel colors. The result was exquisite. 
As for the flavor, I would go for a red velvet cake with a yummy dipped dark chocolate covering. It's such a taste explosion when you crack through the pastel chocolate, only to be met with a rich red velvet cake that melts in your mouth.
 Decorate your cakesicles with some icing, sprinkles, and edible glitter. For a fancier and sophisticated touch, I'd add some edible pearls. These pearls come in different shades as well. 
I discovered these edible cake sprays, which have changed my baking game and come in various colors. Give your cakesicles a gentle spray for a gorgeous finish.
9. Blippi Glazed Donuts
Nothing is nicer than biting into a soft, delicious homemade donut (with all the toppings, of course). These Blippi's glazed donuts won't disappoint, I can assure you. Surprisingly, making donuts at home is fun and easy.
I followed this tutorial when whipping up some donuts for my fam. For these beauties, I decided to go for a classic jelly-filled donut (yum) by using this donut filler injector. I mixed it up by using strawberry-flavored jelly in some of the donuts, and I used sweet apricot jelly in the others.
I covered these fluffy donuts in a vanilla and chocolate-flavored glaze. They're so easy to decorate, and I used sprinkles, edible glitter, chocolate chips, and fondant to make these donuts pop. Why not draw Blippi's glasses and suspenders on some of the donuts for that Blippi finish?
10. Dino-Roar Cake
Goodness, but some of those dinos' names are hard to pronounce, aren't they? Never fear; Blippi has his dinosaur song to teach little ones about these giant creatures. 
So, it's only fitting to add a dino-roar cake to this list. For all those little aspiring archeologists out there, this gigantic cake is sure to make a BIG impression. I would make this two-layered cake out of a chocolate chip-flavored sponge with a creamy mint frosting (I'll take three slices, thank you).
Wrap pastel blue shades of sweet fondant around the cake to show off the color of Blippi's pressed button-up shirt. Use a pastel shade of orange to accentuate Blippi's fun bow tie accessory. Trust me, the shades of orange against these blue hues are pleasing to the eye (and tummy).
For the cake toppers, I suggest these dinosaur cake toppers. They come in a variety of colors and different figurines. Let the guests take a dinosaur home once the cake has been eaten.
If you simply don't have the time to put a cake like this together, bake a cake using this dinosaur-shaped aluminum pan. The result is terrific, and decorating the cake is a breeze. 
Do you want to make this cake even more amazing? Great! Add some of these chocolate Easter candy eggs to the inside of the cake. All these cute little dino eggs will tumble when you cut into the cake.
11. Blippi's Art Deco Cake
Okay, mom and dad, this cake is for you. I know you have probably sat through hours of listening to Blippi giggle, spell, and, well…do Blippi things. If you're looking for a cake to give as a Christmas gift but want to add a fun element to it, why not give them a Blippi's art deco cake? It will definitely get a reaction (#LOL).
For this cake, I'd make a pumpkin spice drip cake covered in splashes of salted caramel syrup, which is sure to stir up that here-comes-Christmas vibe. Give your cake that classy art deco look by adding shards of glittered candy glass and a hearty sprinkling of star confetti. 
This cake decorating set is one of my favorites. It has everything you could need, from cake pans to rotating turntables. Add some blue and orange balloons and a big sugar cone filled with multicolored candy floss for the top of the cake.
Blippi Cake Ideas FAQS
Question: What is Blippi's real name?
Answer: Blippi's character is played by 33-year-old Stevin John. He is an energetic and fun entertainer who educates toddlers and children about things like gravity, museums, and art. 
Question: Is there a female Blippi?
Answer: There is a female version of Blippi. Matt and Lily Edwards created a YouTube personality named Mopsy who dresses and behaves similarly to Blippi. The show is also designed to educate toddlers and children about various fun things. 
Question: Why did Blippi pick this name?
Answer: Stevin John created the name Blippi from his memory of a middle school lesson he learned as a young child. This lesson taught them to speak from the front of their mouths. He wrote 700 to 800 words that could be pronounced from the front of the mouth. He finally settled on Blippi, which had repeating letters, was short, and sounded like a happy word. 
My Final Thoughts on the Best Blippi Cake Ideas
The cake smash was an absolute hit, and the photos were gorgeous. All that orange and blue coloring stood out so well. The little boy thoroughly enjoyed smashing his cake and eating it. I ensured all the Blippi cakes on my list catered to every child's Blippi obsession, from birthday cakes to giant cupcakes. I've covered it all (in delicious layers of frosting, that is).
Are you ready to see some more cake ideas to inspire you? Great! Check out my guide to the most PAW-tastic PAW patrol cakes and the fun frog cake ideas guide.
Recommended Reads: