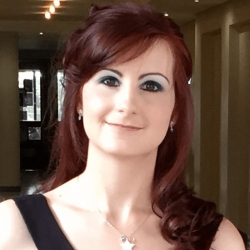 Latest posts by Denine Walters
(see all)
I was recently asked to make a birthday cake for a little boy who was turning four. He is PAW Patrol's biggest fan. When I asked him who his favorite character was, he immediately said Marshall (he wants to be just like Marshall when he grows up one day). This bit of information certainly made my job a little easier. Now I had to search for the best PAW Patrol cake ideas out there.
Was I intimated? Oh, yes. The internet has so many types, designs, flavors, and styles of cake that I found myself spinning in circles trying to find the perfect birthday cake for him. Perhaps you're also looking for the best PAW Patrol cake for a special occasion?
You are? Great!
So, I vote we get Ryder to help us navigate through the delicious world of PAW Patrol cake ideas. Here are the most PAW-tastic and fun cakes for all your PAW Patrol cake needs.
My Bottom Line Up Front: The Best PAW Patrol Cake Idea 
My favorite PAW Patrol cake idea has to be the PAW Patrol glitter cake pops. These cuties are so easy to make and super affordable. Plus, you can dip them in different flavors of chocolate (#yum). 
In my opinion, cake pops are the best addition to any celebration. What more could you possibly need for a PAW Patrol-themed cake?
Your PAW Patrol Cake Checklist 
Being a PAW Patrol Puppy is an honor, and it takes discipline and teamwork. So before I got started with finding the perfect PAW Patrol cake, I decided to put together a checklist to help keep me on track. 
"PAW Patrol ready for action." Keep these considerations in mind when choosing your PAW Patrol cake: 
PAW Patrol Cake Design
Baking a cake isn't always a piece of cake (#toofar?). Ask yourself these simple questions before you get started:
Do you want a large, medium, or small cake?

And do you want your cake to have layers or tiers?

Are you going for a simple design cake, or are you going all-out with all the bells and whistles?

Are you thinking about

cupcakes

,

donuts

,

cakesicles

, and

cake pops

?
Cake Flavors 
Ok, here we go. When it comes to cake flavors, there is no need to stick to the basic vanilla or chocolate flavors (obviously, you are welcome to). I feel when it comes to animated children's shows, you need to be a bit more adventurous with your flavors and make the cake fun to eat.
Why not try out some of these fantastic cake flavors:
A lemon yogurt cake with thick sticky maple syrup

A decadent chocolate flavor bursting with subtle hints of coconut to take your cake to a whole new level 

A moist sponge cake with hints of pineapple, banana, and passionfruit

A double chocolate, honeycomb ice-cream cake (I am drooling just thinking about it)
Top Tip: Ask the guest of honor what their favorite flavor is, and make it happen. The cake flavor options are endless.
Cake Shades 

PAW Patrol is such a colorful television show, and I love the shades of color that bounce off the screen. When I asked the four-year-old birthday boy which character was his favorite, he said the red one (Marshall).
I used all the colors from the PAW Patrol puppy pack: 
Marshall:

Use a bright shade of red to match this clumsy Dalmatian's proud firefighter red uniform

Rubble:

Bring in bright or pastel shades of yellow to show off this cute Bulldog's construction uniform

Skye:

Mix some soft pastel pink shades to match this Cockapoo's (cocker spaniel cross poodle) pilot's uniform

Chase:

Play with shades of blue to match the loveable German Shepherd's police uniform 

Zuma:

Use beautiful shades of burnt orange to match this chocolate Labrador's rescue uniform

Rocky:

Bring in shades of green to show off this mixed-breed puppy's Eco Uniform
Your Budget
Baking cakes for events can become expensive, especially if you're overwhelmed by all the beautiful options available. When I started looking for PAW Patrol cakes, I tried to keep the budget as low as possible. 
I shopped at local bakeries, party event shops, and my favorite online stores. Here are a few items that gave me more for my money:
PAW Patrol Cake Ideas: What Are My Criteria? 
As I mentioned, there are so many PAW Patrol-inspired cakes out there that it's easy to get swept up in a whirlwind of ideas. Ryder runs quite a tight ship at the PAW Patrol Headquarters, and he makes sure that each pup is ready for the case.
I took a leaf out of Ryder's book and made sure that each PAW Patrol cake:
Brought in unique elements from the PAW Patrol television series, such as Skye's helicopter and Rubble's bulldozer

Matched one of the character's personalities

Remained faithful to the television series, books, and games

Was designed around the celebration at hand

Showed off the PAW Patrol color scheme (red, blue, green, burnt orange, yellow, and pink)
Best PAW Patrol Cake Ideas 
In the famous words of Ryder: "No job is too big, no pup is too small!" Let's get his party started! Here are my 11 absolute fav PAW Patrol-inspired cake ideas:
1. The Lookout Cake (Aka Headquarters) 
"PAW Patrol, to the Lookout!" What better way to start off these cakes than by showcasing the Lookout cake? The place where all the awesomeness happens. The original headquarters. The puppy pad (ok, I will stop there). 
This towering cake boasts three layers of spongy deliciousness. It's covered in a gorgeous shade of blue frosting and topped off with a hearty rim of blueberry-flavored buttercream. Finish your cake with some cardboard cutouts of the Lookout tower and the PAW Patrol gang.
I decided to use this PAW Patrol gift set, which makes a fabulous cake topper. It comes with all the toy figurines of Ryder and the pup pack, and the cherry on top (#wink) in the set includes a figurine of the Lookout.
Your little guest will get to enjoy their cake and have a figurine of their favorite PAW Patrol Pup.
2. Marshall's Firefighting Birthday Cake
"Ready or not, I'm coming in hot!" 
I was undoubtedly the flavor of the month when I presented the birthday boy with the Marshall's firefighting birthday cake. This three-layered cake is magnificent. Marshall is made from flavored almond fondant and molded to perfection. 
He stands proud at the top of the cake while orange flames are being put out by two hoses (which, by the way, are edible) on the second tier. Decorate the first layer with multicolored buildings made out of wafer paper.
Follow this easy tutorial video on how to make the hottest isomalt flames in town. These flames were my favorite addition to the cake; they tasted so darn good. 
For the base of the cake, I added some grass made out of desiccated coconut mixed with green food coloring. For the finishing touch, make a fire hydrant out of some fondant.
3. Spooky Buttercream Halloween Delight
This spooky buttercream Halloween delight cake is sure to give your guests a tasty fright. Yes, it's possible to celebrate Halloween with a PAW Patrol theme (I seem to be in a rhyming mood today. Well, that's certainly enough of that).
Halloween isn't all about scary ghosts and haunted houses. For the children, it's more about the good stuff, and I'm referring to the candy. This two-layered rainbow cake brings me so much happiness. I mean, look at it.
Each fondant PAW Patrol pup is dressed in a Halloween costume. Not only is this cake tasty, but it's also pleasing to the eye. For a trick-or-treat effect, add some candy-coated chocolate to the inside of the cake. When you cut the cake, it will burst with candy. I wish it was Halloween already.
4. Skye's Pastel Cotton Candy Cake
"Skye, the spy is ready to fly!" What little girl wouldn't love Skye's pastel cotton candy-flavored cake? It's candy-floss-flavored. Do you need to hear more? This cake will make the perfect addition to any little girl's birthday party.
This beauty is as fearless as Skye, and the flavors will fly you to new heights. Your first bite will blow your mind with a soft, bubblegum sponge cake wrapped in a cotton candy frosting. White chocolate pockets will melt in your mouth as you take in this flavor sensation.
The cake is decorated in beautiful white-wash-styled shades of turquoise, pink, and purple. Place a cake topper of Skye on top of the cake, and place some of these gorgeous diamond-style PAW prints randomly on the cake.
This silicon mold is perfect for making candy PAW prints and bones for all your cake needs. It's so simple to use and doesn't cost a fortune. 
5. Pup Pack Cakesicles
Ooh, I can't explain how excited I am about these little gems. Cakesicles have to be the best thing invented since sliced bread. These pup pack cakesicles are perfect for any occasion, and they are an affordable option.
If you aren't familiar with cakesicles, let me enlighten you. Cakesicles are a fun version of the famous cake pop. The difference is that cakesicles are made in silicone popsicle molds. I love these PAW Patrol-inspired cakesicles because they are decorated to look like each one of the pup's faces.
It's amazing what a little fondant and food coloring can create. The cakesicles don't use much fondant, but they are hiding a secret. Each cakesicle is filled with a different filling, from biscuits to chocolate and even peanut butter. There are so many options. 
I found this tutorial video very helpful when searching for cake fillers. Once you have filled your cakesicles, they are covered with a chocolate shell and decorated to look like the PAW Patrol characters.
6. Rocky's Eco-Friendly Cake
"Don't lose it. Reuse it!" The Rocky eco-friendly cake is such a caring cake, just like Rocky, who loves nature. There are quite a few children out there who usually can't eat cakes or cupcakes at birthday parties because they are allergic to the ingredients.
I am happy to report that this cake is gluten and dairy-free. I assure you, you won't even notice the difference in taste. The simple two-layered design is complemented with a gorgeous shade of green (matching Rocky's uniform and motto). 
Use some Rocky-themed cake toppers to decorate the top of the cake. Finish the cake with some delicious cocoa and avo frosting. The avocado makes the frosting smooth and creamy, which is sure to keep your guests smiling.
7. "I'm Fired Up" Donuts
"I'm ultimately fired up!" These sweet donuts are an absolute win in my books. Personally, I am not a fan of oily food, and donuts are no exception. The "I'm fired up" donuts are baked and not fried. How amazing! The result is glorious. 
Instead of having oily marks all over the kiddies' clothes, they get to enjoy fluffy donuts that are jam-packed full of…well…jam (#drumroll). I went to a local bakery and asked them to bake a dozen medium-sized donuts. 
Pssst… if you would like to bake these donuts at home, you can follow this PAW-tastic tutorial. Decorate your donuts with a sweet white glaze and add some spots to make them look like the lovable Dalmatian. 
You can shape some fondant for the fireman's helmet, and voila, there you have it, a sweet selection of Marshall-inspired donuts. If you liked these donuts, why not try your hand at the PAW Patrol Facetime donuts?
8. Rubble's Smash Cake
"Let's wreck and roll! Seriously, is there any better way to say Happy Birthday to a one-year-old than by presenting them with a cake they can smash? Exactly, it's a no-brainer. Messy hands, messy feet, cake all over the place, and a smile that makes it all worth it. 
Ideally, you want a cake that isn't too big, but decorating it makes it much more fun, especially if you choose a theme your little one is excited about. That's why the Rubble's smash cake is an absolute hit.
The cake is a simple one-layered cake wrapped in yummy chocolate-flavored icing, and it's super colorful. Decorate the cake with some bones and PAW prints for that classic PAW Patrol look. 
Ryder suggests you bake some biscuits in the shape of Rubble or the pups and ice them. Suppose your little one is not so keen on getting their hands dirty at first. They can start munching on some tasty iced biscuits.
9. Pup Patrol Cupcakes
"PAW Patrol is on a roll!" Ok, well, not exactly, more like on a cupcake. But you get the idea, right. Fabulous. I will keep saying it, but cupcakes are a winner for any celebration. Bakers day? No problem. Birthday? Get outta here. I mean it, if you're pressed for time or don't have the energy to commit to baking and decorating a whole cake, then a cupcake is the one for you. 
These pup patrol cupcakes are perfect. Bake a vanilla or chocolate-flavored cupcake and decorate it with some colored frosting of your choice. Pop some edible wafer discs (with the PAW patrol characters printed on them) on top of your cupcake. 
I assure you that these gems will go down well at any celebration. Take a look at these cuties for some more ideas.
10. Zuma to the Rescue
"Let's dive in!" Aaah, here's a cake close to my heart (my doggo is also a Lab). The Zuma to the rescue cake shows off this chocolate Labrador's big personality. Spoiler alert: this one's made out of lots of chocolate.
This cake is made from a strawberry-flavored sponge cake that has layers of strawberry jam and cream on the inside. It's wrapped in a beautiful layer of smooth milky chocolate dipped in a pastel blue shade.
Decorate the cake using fondant to mimic Zuma's cute little puppy face. Add some paw decor and an anchor to show off his water rescue uniform. There are so many ways you can show off the PAW Patrol characters in cake form.
These face cakes are absolutely gorgeous, and they make such beautiful photos.
11. Peek-A-Boo Chase Cake
"Chase is on the case!" The Peek-a-boo Chase cake is a special little dome cake. Now, this is the kind of cake that would be perfect for a gender reveal or a small birthday party. You could color the sponge cake pink or blue, and when the parents cut into the cake, the gender of their unborn bundle of joy will be revealed.
Or you could use a dome cake for a cake smash. It's nice and small for little hands and simply picture-perfect. This dome cake is covered in mint-flavored icing over a soft chocolate sponge cake. Use fondant to shape Chase's face, and add some big old puppy eyes for that aaaah factor.
At the base of the cake, you could add some cute little paws and shape a policeman's hat for the top of Chase's head. 
PAW Patrol Cake Ideas FAQS
Question: How did Ryder meet all the pups?
Answer: The first pup that Ryder met was Chase, a German Shepherd puppy. Ryder's parents wanted to adopt a dog for Ryder, and they liked Chase's energetic personality. Soon they started to adopt the other puppies and trained them to be PAW Patrol pups. 
Question: Who is Ryder's girlfriend in PAW Patrol?
Answer: Ryder and Katie are very good friends. They are also two of the very few humans in the animated television show. 
Question: Who is the bravest pup in PAW Patrol?
Answer: The bravest pup in the show is Marshall (although he is very clumsy). Marshall is loyal, kind, friendly, and very sweet. He is a firefighter. To do this job, he needs to be competent and brave. 
My Final Thoughts on the Best PAW Patrol Cake Ideas
When it comes to toddlers, I can't imagine a more exciting and fun way to celebrate a birthday (or any celebration for that matter) than by adding one of these PAW-tastic cakes to the event.
With Ryder's guidance, I made sure to throw in a cake that suited everyone's PAW Patrol needs. There are smash cakes, donuts, cupcakes, dome cakes, and cakesicles.
If these vibrant and fun cakes have sparked an interest in you, and you feel like diving in for some more inspiration (like Zuma), then take a look at our Peppa Pig cake ideas or the unique Cocomelon birthday party ideas.
Further Reads: