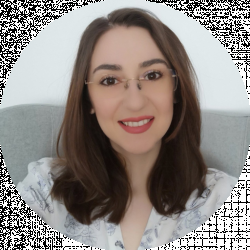 Latest posts by Alexandra Gavrilescu
(see all)
You should wear unique nail designs on your big celebration day. Moreover, I would even try to wear a different nail design each year if I were you. That's why I wanted this to be a post about the best birthday nail ideas you could try, each with its theme or pattern. They're all cute and fun to wear.
I know I'm always up for cute nails, and I get bored quickly with one single color, so I'm always trying different styles and unique designs. So, congrats on your birthday, and take a moment to browse through the following ideas to see which suits your personality the most.
Bottom Line Up Front!
There are so many wonderful choices when it comes to birthday nail ideas. But, of course, it depends on what you want and your favorite manicure style. I would personally opt for something that matches my birthday party theme if that's the case: candles or the shape of a cake on one of my nails and my birth year on another nail. Also, if my birthday wouldn't have a specific theme, I would opt for something timeless and classy such as blush pink nails, French manicure, or turquoise nails because that's one of my favorite colors. I would think of a nice combo: a teal blue or turquoise manicure featuring a minimalistic cake illustration only on the ring fingernails.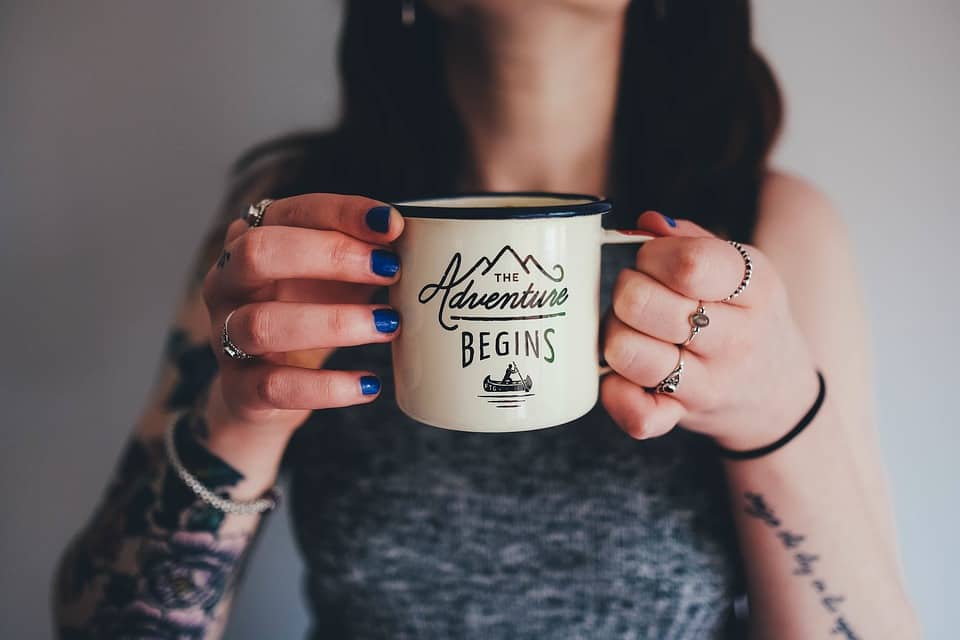 Selection Criteria
I've chosen the following birthday nail ideas based on how cute and fun they look, but I also tried to opt for those designs that match this special occasion. Moreover, I included a wide variety of ideas so that each of you finds at least one choice that meets your preferences and personal style.
The Best Birthday Nail Ideas – My Top 15 Choices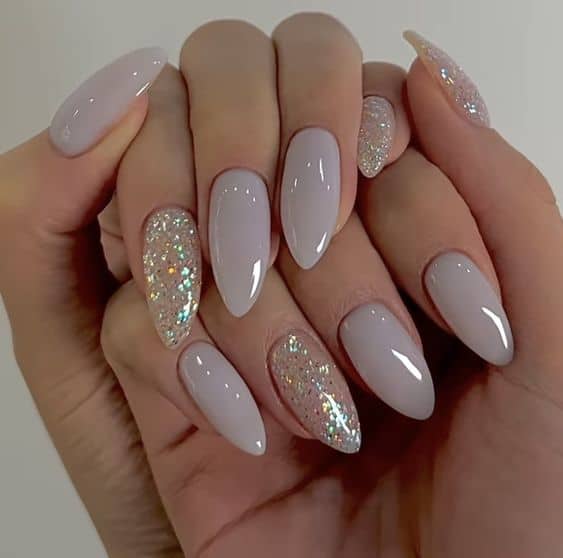 I love to pamper myself on my birthday and prepare for the party by doing my makeup, hair, and nails. Furthermore, I firmly believe that adding color and exciting patterns to manicures will make you feel special and cheerful on your big day. That's because, besides all the birthday wishes you'll receive, your guests will also surely admire your beautiful nails.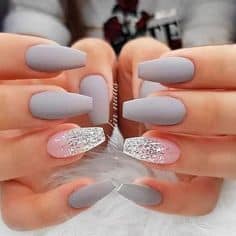 I confess that I'm not a fan of very long nails, but I must say they look classy and elegant and make one's fingers look longer. So, if you want a stylish and glam look on your birthday, oval or almond-shaped nails with glitter or any other sparkle would do the trick.
But I would avoid too much glitter if I were you. After all, you want to look classy, not cheap or trashy. Pick something tasteful like matte nail polish, and apply glitter only on your ring fingernails. I'm a firm believer in doing anything in moderation. The design featured in the photo I've included is usually made at a nail salon, but you can also do them at home if you have enough experience and a faux nail kit.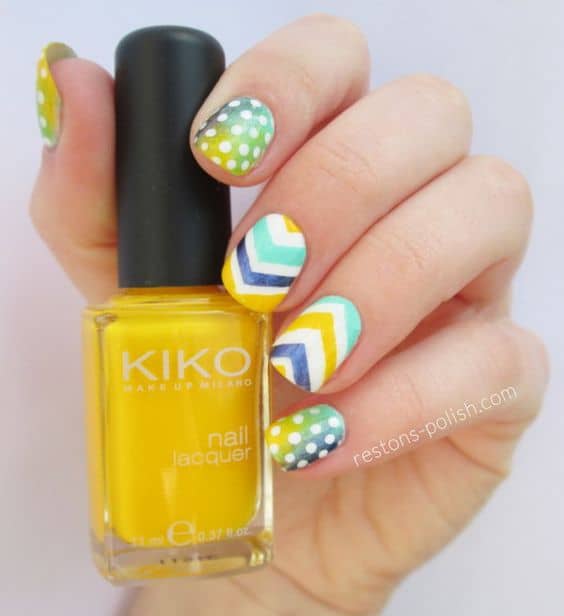 I love polka dots on almost anything, from dresses to nails and beyond. I think this design is retro and timeless as well as very feminine. You can opt for the classic version of white nails and black dots or try more unconventional color combinations. I would mix polka dots nails with graphic design manicure, similar to the one featured in the image above.
Also, I would choose vibrant colors because they match such a joyful occasion. One trend catching on is applying 3D polka dots on a matte nail polish base. That way, you'll achieve an exciting outcome that looks like a velvety fabric. This design is pretty easy to create at home if you have nail strips that you can place on your nails to draw those colorful polish lines. Then, all you have to do is remove the strips, and you're done. There's even a tool for the polka dots called a dotting instrument.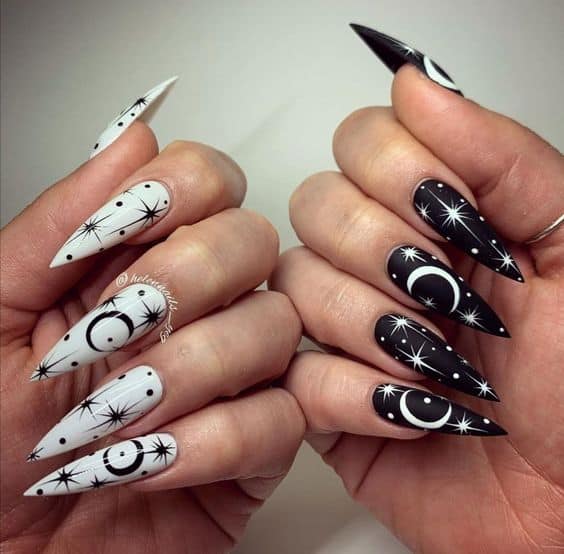 I know that nothing says gothic style more than black, but you could have fabulous gothic nails with a bunch of other colors such as white, red, dark brown, dark blue, and so on. For example, I would paint the nails of my right hand with black polish, while the nails of my left hand would feature white polish. Moreover, I would complete the look with some gothic symbols in contrasting hues.
I confess that this nail idea is more intricate if you were to create it from scratch. So, it would help if you went to your trusted nail salon or used fake nails that you can glue on top of your natural nailbeds. Or, you could mix black and white on each nail with an ombre design or a gradient color, just like the ones seen in the above photo. Both long and short nails work equally well for a goth birthday girl. However, if you want your manicure to resemble scary claws, you should opt for long pointy nails. In this case, I would opt for press-on fake nails if I were on a tight budget. Otherwise, I would go to a nail salon and benefit from the skills of an expert in acrylic manicure. Unfortunately, this type of manicure is complicated because you need several tools, including a nail drill.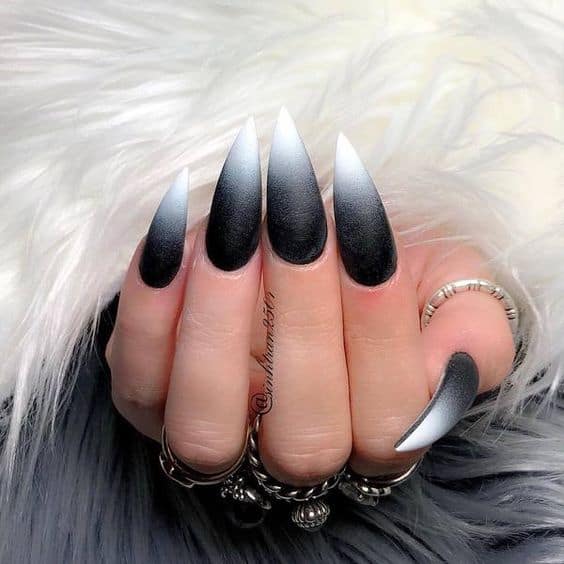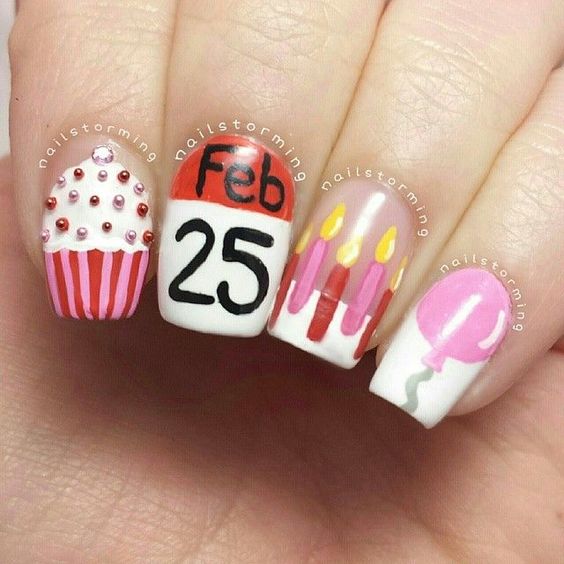 Birthday nails featuring the day you were born can be cute if you do them in cheerful pastel colors. For example, I wouldn't draw my birthdate on all my nails. Instead, I would choose one nail, while on the rest of them, I would create different fun shapes such as balloons, candles, treats, and more.
Or, if you want something more classic and sophisticated, you should apply shimmery nail polish on all your nails and only draw your birthdate on one or two of your nails. Here's an inspirational photo to create a clear idea of what I'm talking about. I believe this model is a bit easier to do at home if you're good at drawing or illustrating different items. You don't need special tools other than regular nail polish and maybe a needle to create those thinner shapes.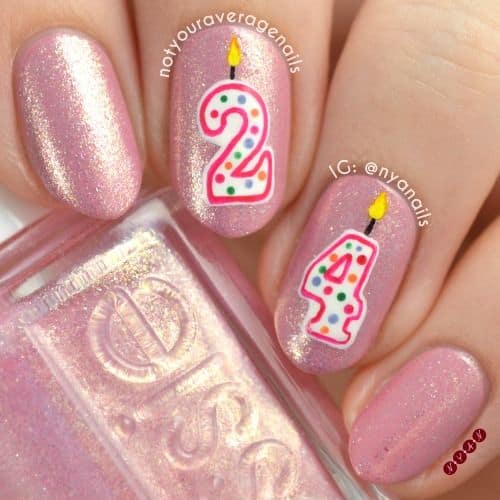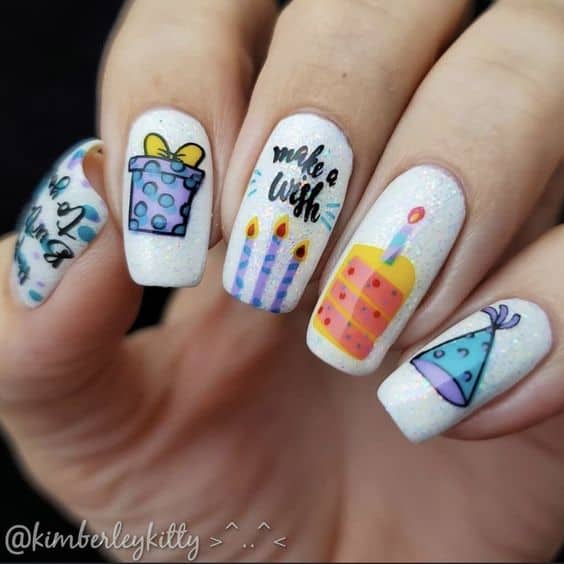 Besides manicures that feature one's birthdate, I would include cute and themed-appropriate messages on some of my nails. For instance, I would write Make a Wish on my left middle finger, while on my right middle finger, I would want a simple Happy Birthday message. Other than those two messages, if you're going to keep the other nails simple or you want to draw themed elements, that's totally up to you. All these layered designs will complete your birthday outfit. If you're brave enough to engage in a DIY manicure project but you've never tried that at home before, I strongly recommend using nail stamps.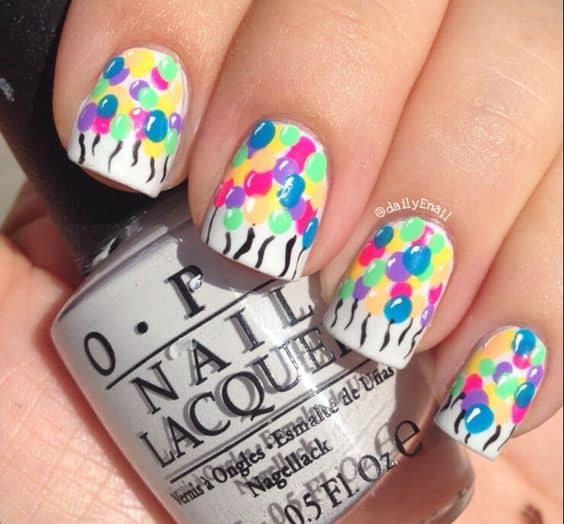 No birthday party is complete without balloons, so why not feature those elements on your nails?! With this birthday nail design, your celebration look will stand out. I could draw one balloon per nail, but I'm not sure if I have the right level of experience and patience to create something as intricate as the model presented in the photo included above. In my opinion, balloons are representative of a birthday celebration, regardless of one's age. It's a cute and playful look. If you want multiple colors on each nail, you'll have to use more than one nail polish. Also, I would personally use balloon nail stencils instead of drawing those elements myself since it saves time and effort.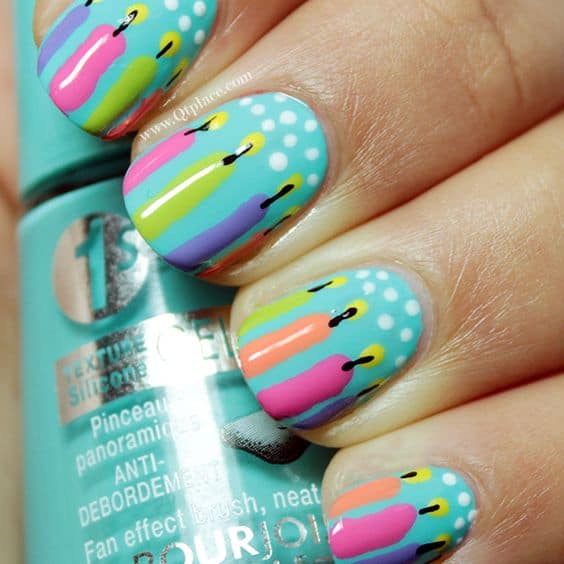 Candles are another element that's highly representative of a birthday party celebration. There will be candles on the cake so you can make a wish. Therefore, I would also draw some candles on my nails to match the party's theme. They look shiny and adorable and make your nails pop. You can choose whatever shades you want for the candles as long as the base coat is a contrasting color.
In this case, as you can see in the photo I've selected, the base is a light blue, while the candles are colorful and vibrant. I would even offer a slight glitter effect on the flame of each illustrated candle. After all, these symbols will be the highlight of your manicure. Use red and yellow or orange polish for the flames and different cheerful shades for each candle's body.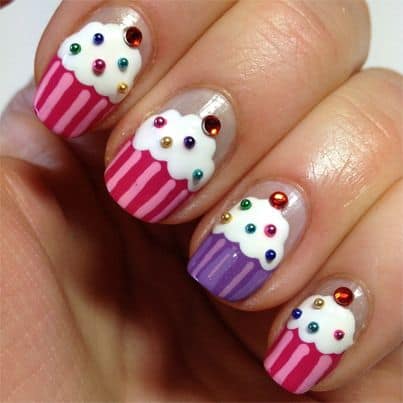 Who wouldn't be happy wearing cake illustrations on their nails on their birthday?! I would. Just look how sweet these nails look. I could almost eat them. They're an essential part of a joyful event. I have a huge sweet tooth, so this nail design is right up there in my top favorite birthday nail choices. You should apply 3D rhinestones as cupcake topping bonbons for boosted impact.
I'm a huge fan of dripping ice cream nail designs. I think they look amazing and delicious. Here's an idea of what I'm talking about. I hope you like it as much as I do and you'll want to give it a try. For example, the design featured below would look amazing on almond or coffin-shaped nails because that particular shape resembles the one of an ice cream cone.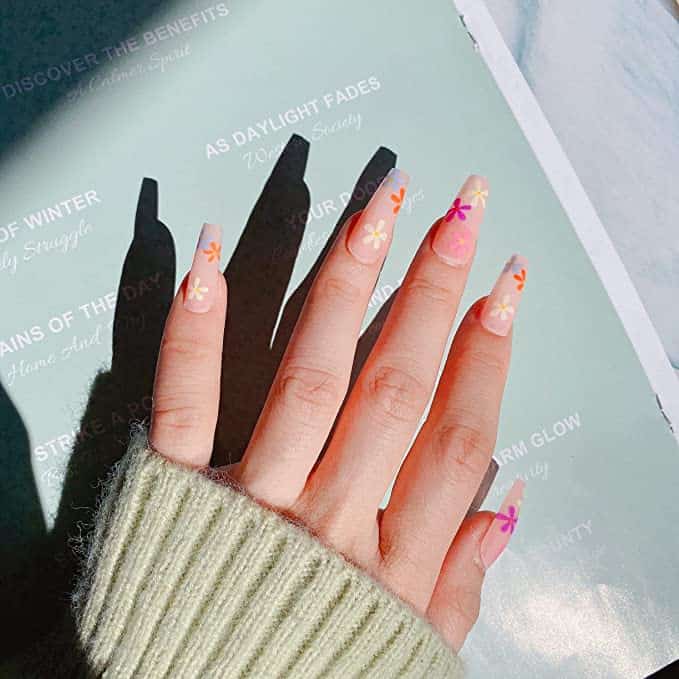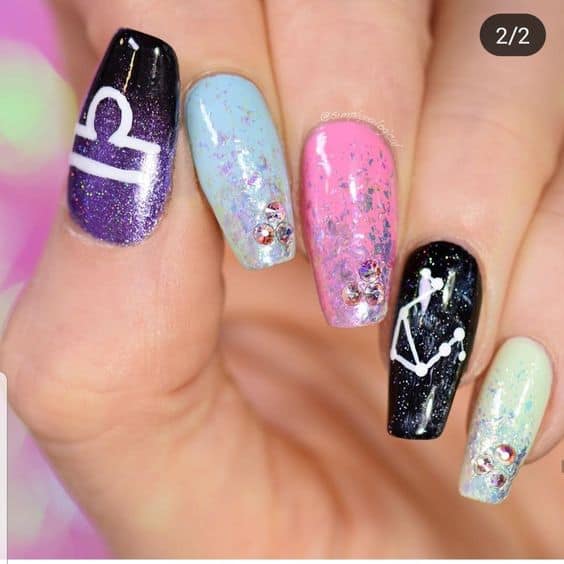 I listen to my horoscope reading every single day. I found a woman who's experienced in doing that, and I trust her above all the other so-called horoscope readers who appear on TV. These seem fake to me. Anyhow, I believe in the Universe's energy and the traits of my zodiac sign. I'm a Libra which means I'm an artistic person and creative by nature. That being said, I would go for a zodiac sign birthday manicure. Besides the fact that this design is ideal for my birthday, it will also symbolize an important part of who I am.
To me, the perfect zodiac sign manicure would look something like this: all nails should feature glittery stars that would symbolize the Universe. Then, I would create my zodiac sign on one of my thumbs. Libras have two symbols, one that's minimalistic and the well-known weight scale. At the same time, I would want my sign's constellation illustrated on one of my fingernails. Pretty cool, isn't it?!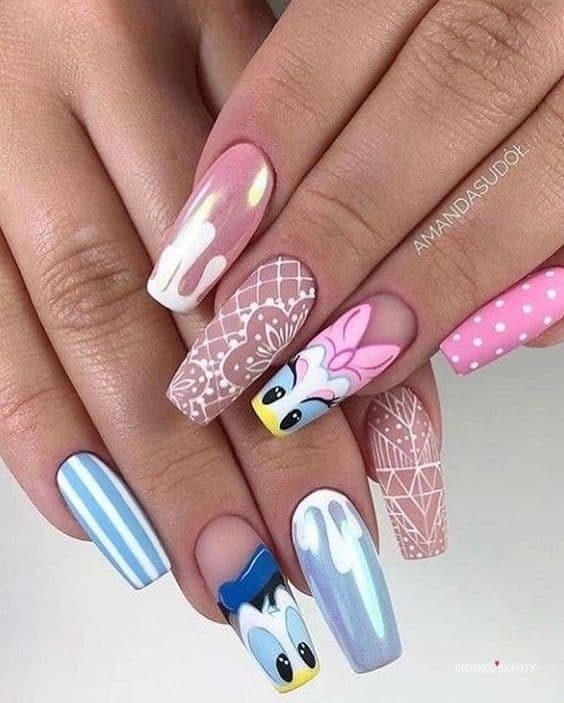 I remember that even as a teenager, I used to watch cartoons. I love them. And, I firmly believe that we should keep our inner child alive even when we're fully-grown adults. Therefore, wearing birthday nails with my favorite Disney characters sounds fantastic. The design presented above is my favorite because it combines everything I love: classic Disney cartoon characters, pastel colors, and floral patterns. Overall, it's a lovely, delicate, and feminine nail design.
If I were you, I would proudly show off this manicure on various occasions, not just on my birthday. For instance, it can be a great choice when you visit Disneyland or for a baby shower. Moreover, the more popular the characters are, the better because they will make your nails stand out. All your guests will admire your pretty nails. Some of these details seem quite complicated, so you may want to leave this part of the prepping in the hands of an expert.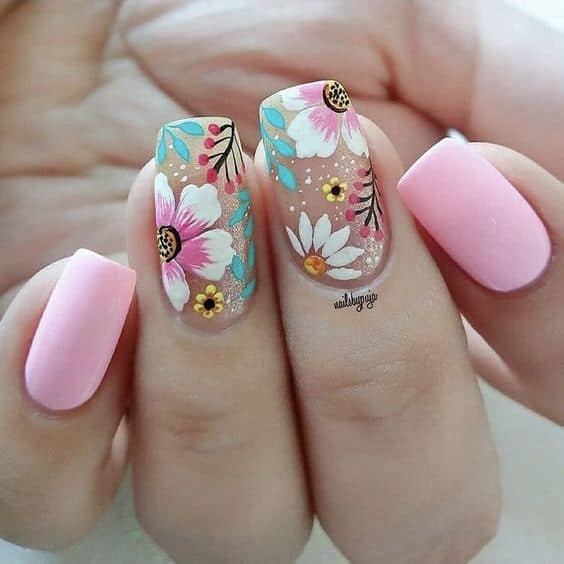 While flower stickers look cute on your nails, I recommend trying hand-painted floral nail designs. They look more authentic, and your manicure will steal the show at your birthday party if they're done well. If the decorative floral elements are in 5D, the result will be even more stunning.
I love this birthday nail idea since it's timeless, delicate, and classic. Maybe you want something subtle such as pale pink and tiny white flowers, or a bold design to make a statement; the choice is all yours. If you're courageous enough to try something out of the ordinary, you could wear darker and more intense colors and opt for the most contrasting shade to create the flowers. When it comes to floral designs, I always choose something discreet and delicate, like the nails showcased in the photo above.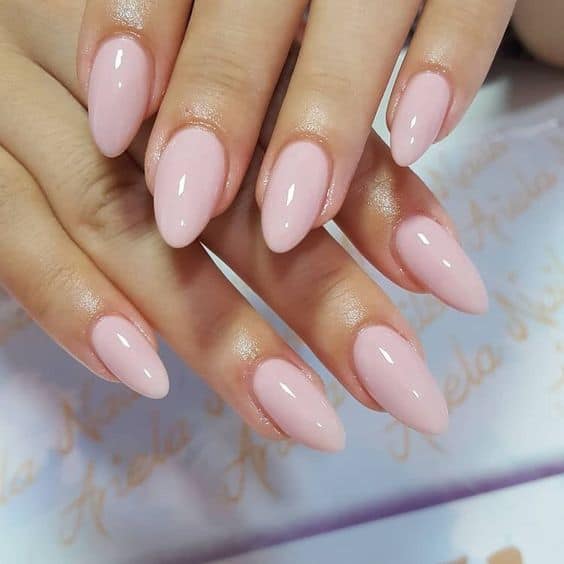 You can never go wrong with soft nail polish shades such as baby pink or pale blue. So, if you have a more introverted personality or are a bit shy and want pretty nails without making a fuss, you should choose this birthday nail idea. It works equally amazing on both long and short nails. It's a simple design that I've tried countless times. Unfortunately, I have short nail beds, so doing my manicure is a tedious task. Also, the polish brush is too broad for my nails, and I always get some of it on my fingers. Therefore, I prefer neutral colors such as tan, nude, pale pink, etc. Once in a while, I like to leave my nails longer, and then I get playful and try bolder polish hues.
So, if you have short nails, this baby pink manicure is the thing you need that won't attract a lot of unwanted attention. Another idea starting from the pale pink manicure is to add tiny white hearts on multiple fingers. I would only add them to my ring fingernails to take this classic design to the next level. You can see below an example of what I have in mind.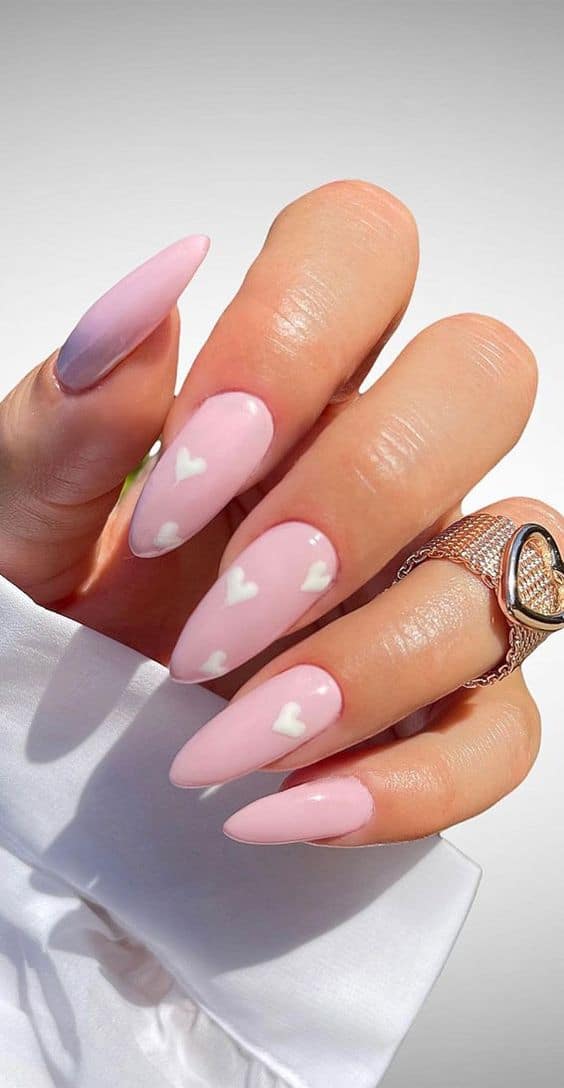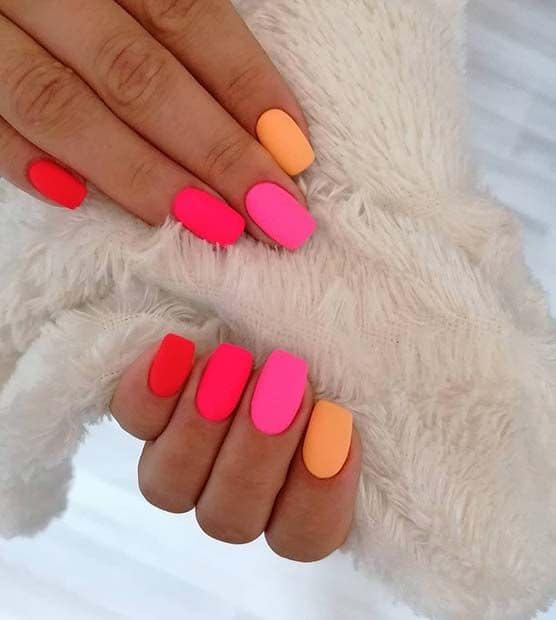 This is the perfect manicure for very courageous and unconventional women who aren't afraid to show their strong personality. If you're a non-conformist, then you should certainly give this nail design a try. I admit that this isn't my favorite type of nail idea, but it looks stunning on those who pair it with the right attitude.
For a more subtle effect, I would wear a translucent base coat and only paint the nail tips in bold neon colors, just like in the photo included below. It's like wearing a French manicure, but you will have neon tips instead of white tips. How does that sound? Pretty cool, right?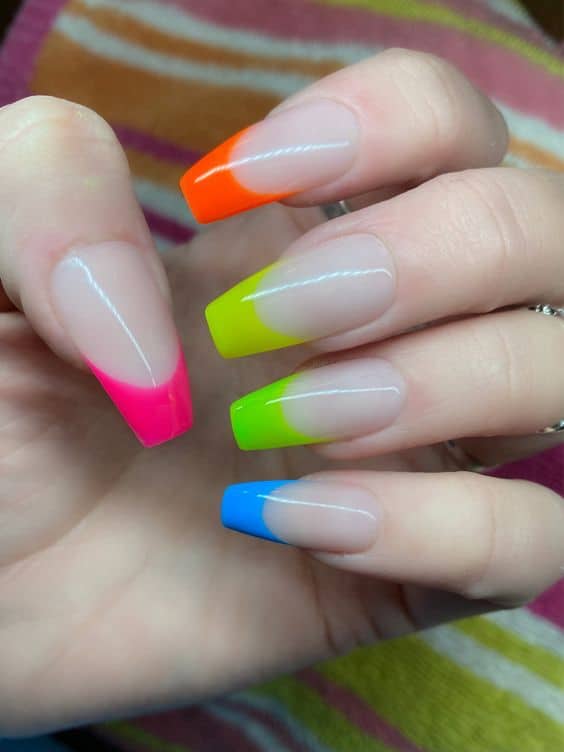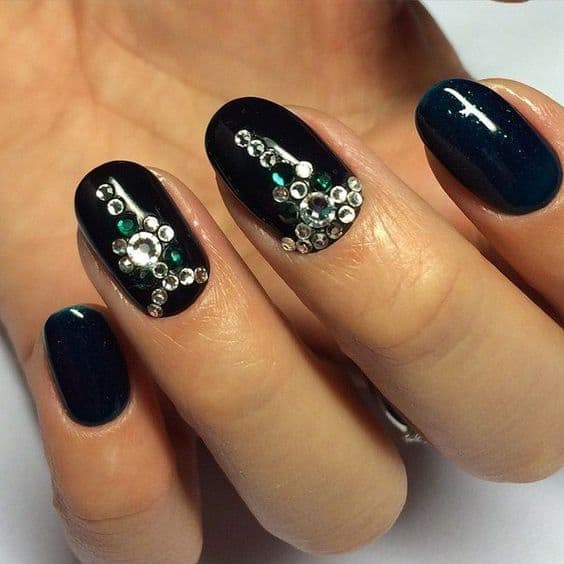 For a more sophisticated manicure, I recommend applying gemstones or rhinestones on top of the nail polish. Once again, you have two options. You can cover a lot of your nails with these gems, or you could opt for a subtle look by only applying these sparkling stones here and there, creating a more minimalistic manicure. I've included a more daring manicure above that features dark nail polish and plenty of white rhinestones. These gems are applied in such a fantastic way that they create an intricate design. I also love the nails' length, although you could leave your nails longer than that if you want a more dramatic effect.
A more straightforward yet classy alternative is the one presented below, in which the gemstones are applied only on one finger. The base coat is shimmery yet nude, and the almond-shaped nails look gorgeous and very elegant. I would choose to wear this manicure. In fact, I would've loved it on my wedding day.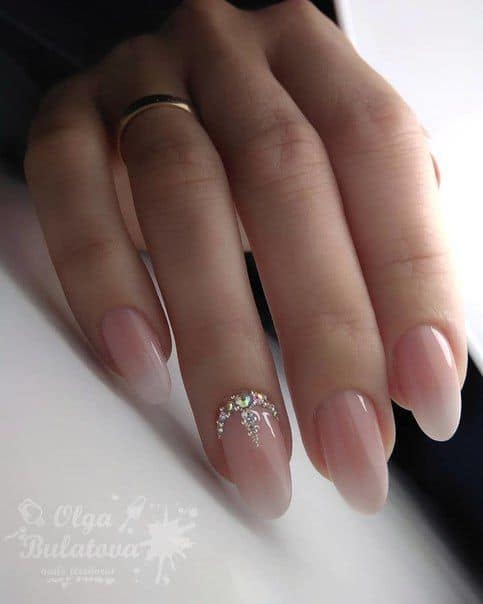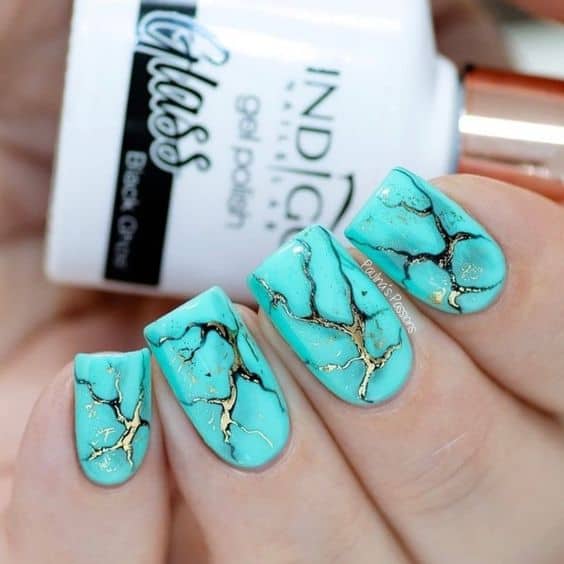 This would be one of my favorite choices since turquoise is my favorite color, alongside blue and green. I could wear turquoise every day without getting bored. Numerous nail designs feature this color, but the marble effect is the one I like the most. Just look how beautiful these nails look with those great stone details. It's almost like wearing your favorite natural crystal on your nails.
To me, this manicure looks retro with a twist. It's a mix of edgy modern chic and a few vintage vibes. Another excellent choice is the manicure that combines turquoise with golden details. It's another example of that marble effect I was talking about. I confess I've never tried doing these designs at home, but I bet they're not that easy to create, which is why I would suggest you go ahead and make an appointment at your regular nail salon if you want to display these babies on your birthday.
How I Chose Them
Well, let's see. I wanted to gather the most beautiful and original nail designs to help you stand out and feel special on your birthday. Moreover, I did my best to include a wide range of different manicures so that each of you would find something that matches one's personality. I think I've covered different nail lengths and shapes. Also, many of these birthday nail ideas work well on both natural and gel or acrylic nails. You could even try some of these designs at home. I also thought about my nail structure. I have thin nails, so applying a gel manicure feels good. With it, I feel my nails are more robust and more durable.
At the same time, if your nails are already thick by nature, you should think twice about applying gel to them because they might break or crack easily. Finally, if you want to try something new without the risk of getting stuck with that manicure for a longer period, there's always the press-on nail alternative. You must choose your desired model, order fake nails, and glue them onto your natural nailbeds. Then, when you're tired of wearing them, you can easily remove them.
FAQs
Question: What Are Birthday Nails?
Answer: Well, although this is a rather broad question, let me narrow it down for you. Generally speaking, birthday nails feature party-related elements, including balloons, cake, candles, and other festive elements. Party nails, on the other hand, are something else entirely. They're temporary nail extensions you remove once the party is over, and you're done wearing them.
Question: Is Acrylic Manicure Safe?
Answer: Yes, if you do it once in a while. No, if you do it constantly. If you use acrylic on your nails all the time, you'll eventually deal with some annoying side effects, such as weakened nails. Moreover, your nails will grow a lot harder than before, and they will be prone to breakage. A safer alternative is gel manicure since this substance is less harmful than acrylic when it comes to damaging your nailbed.
Question: Should You Always Wear Nail Polish on Your Nails?
Answer: No, not really, if you want to enjoy healthy nails. Wearing nail polish all the time, all day, every day, will lead to dry nails. Polish and polish removers dry out a significant part of your nails' natural oils. In time, your nails might become brittle. So, take a break to enable your nails to regain their proper hydration level.
Wrapping It Up
All the birthday nail ideas I've showcased today involve some sort of nail art technique. Some are simpler, whereas others are more complicated and could only be done adequately by nail experts. From artificial nails to gemstones and hand-painted details, you can find a wide variety of designs. So, it's impossible not to find at least one model that suits your taste and preferences.
Whatever design you choose to wear on your birthday, I bet your manicure will look perfect, and you'll feel great about it. A well-done and tasteful manicure has the power to boost the beauty of your outfit. My favorite designs are the turquoise marble nails since I love this color and feel it somehow represents me. But then, if I were to throw a themed birthday party, I would follow that theme or opt for classic birthday symbols such as cakes, candles, and balloons.
Recommended Reads: