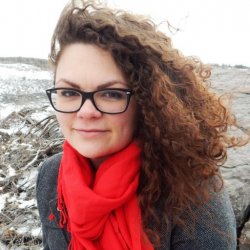 Latest posts by Candace Osmond
(see all)
The football season has always been a close second to the holidays for most of us in my circle. So, for this tailgate season, I've racked my brains to find football cake ideas that will leave everyone in awe. I believe I've outdone myself because most of these options are too darling for words.
What's more? Most of the ingredients required to pull most of these cakes are already sitting in your pantry. And if not, they're all readily available in your local grocery store's baking aisle. Why don't you check out the ideas and let me know what you think at the end of the post?
Bottom Line Upfront
Growing up, I hated watching football with my dad. But in my late teens and early years of college, my best friend was a major Packers fan and forced me into it. I still hated it by the time I graduated, but I found my role! I planned all the parties and made all the food! Using my cake decorating skills and love of all things edible, I whipped up cool football-themed cakes and desserts, platters of finger food, and more.
That said, I've made football cakes similar to the ones on this list. If you're looking for DIY ideas, I'd recommend trying the Pull-Apart Football Cake idea because it's fairly easy and looks so cool!
Top Picks
Here are the top 3 picks I came across in my search.
Best Overall Football Cake: Football Field Cake
Pop this fun football-themed field cake for any football fan. If I had the chance to prepare one, I'd also make it suitable for vegetarians.
Best Football Cake Idea for Men: New England Patriots Cake
This New England Patriots cake is perfect for any football fanatic, particularly gentlemen. Swap the decorations with the birthday boy's favorite teams.
Best Football Cake Idea for Women: Pull-Apart Football Cake
Celebrate the football fan girl in your life with these masterfully crafted and arranged pull-apart football cupcakes. I made this once before, and it's so easy!
Best Football Cake Idea for Kids: Chocolate and Vanilla Buttercream Football Cake
A football cake with mowed grass effect is a quick and easy way to spice up any kid's birthday party.
Try Some of These Awesome Football Cake Ideas
I tried to choose a mixture of ideas. Some are meant for skilled cake decorators; some are meant for beginners. I also picked a variety for men, women, kids, and a range of occasions, not just Super Bowl day.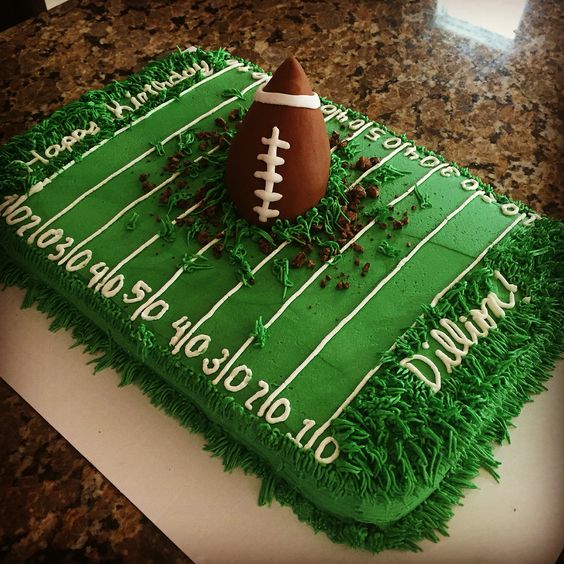 This is a touchdown of a cake if I've ever seen one. Pick this if you plan to celebrate all things football with a cake that'll be a hit all season. You can also make it for your loved one's football team, coach, or yourselves. It's a great choice to munch on as you all watch your favorite teams hit the field.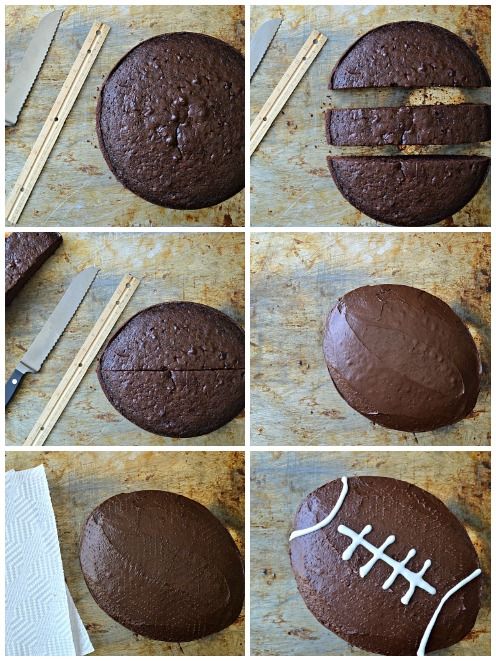 When mixing the butter for this football-shaped cake be sure to scrape the sides of the bowl occasionally. This ensures that everything will be incorporated well in the end. Regarding the decoration and design, use a 2-inch cardboard stencil to cut out a midsection from a regular round cake.
Get rid of the mid-section and push the two remaining pieces together. That should create the desired oval shape. Also, do not forget to add the turf fields for the ultimate party-worthy presentation. Just add a little green food coloring to coconut flakes and lay them around the cake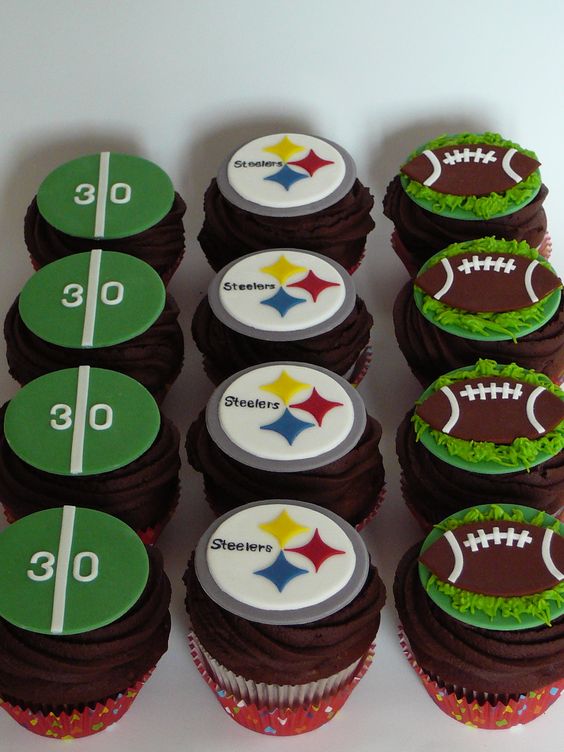 My youngest child has been obsessed with basketballs, soccer balls, and the steelers over the past year. With his passion in mind, I'm planning on making him cupcakes like these for his upcoming birthday. If everyone loves it, I may also consider preparing them for next year's Super Bowl.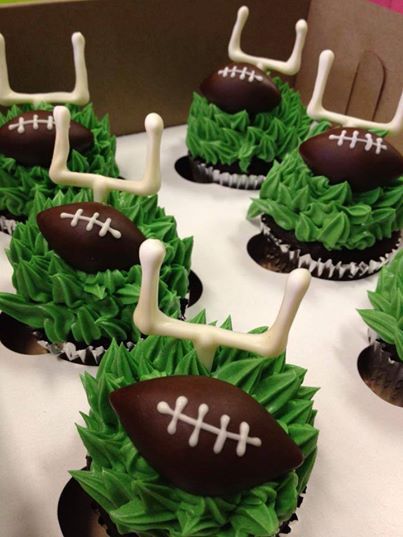 Are you considering keeping it simple with cupcakes but still trying your hand at customizing the toppers? This football cupcake inspiration could be what you're looking for.
I have several tips you can employ while preparing this cake to save time and effort. First, assemble the cake on a platter or the surface on which you plan to serve it. This helps keep things easy. Second, you can make the cake a day before when you plan on serving it.
Just ensure you store them tightly wrapped or in an airtight container.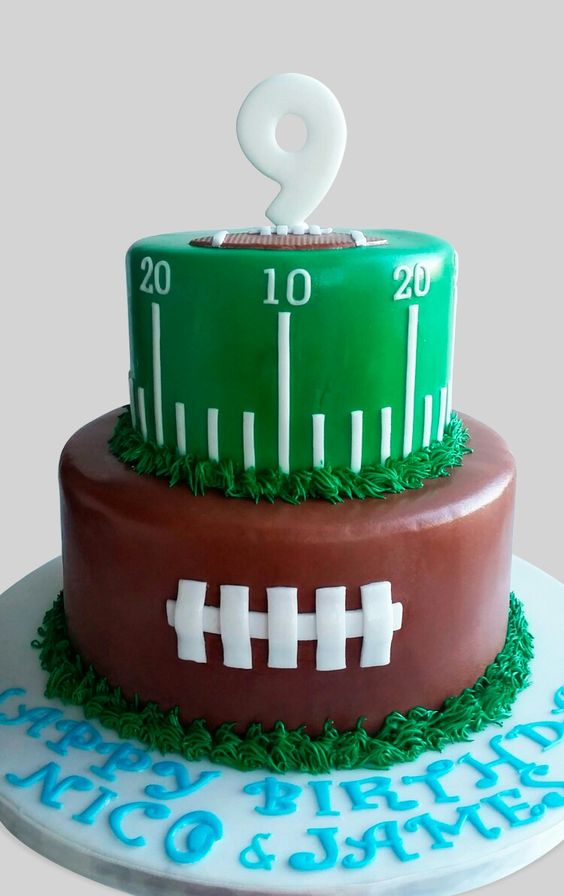 Pour your heart out while baking this sensational two-tiered cake and let your passionate results shine on your guests' faces. If sparkles are your thing, I'd also suggest covering the cake in edible glitter.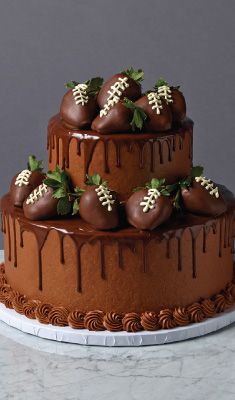 My best friend (who just discovered her passion for baking) is yet to gather the courage to give this a try. It's a tiered drip cake, and the sides are decorated with powdered sugar-dusted berries. Honestly, the cake is relatively easy to decorate and is assured to wow the keen footballer in your household.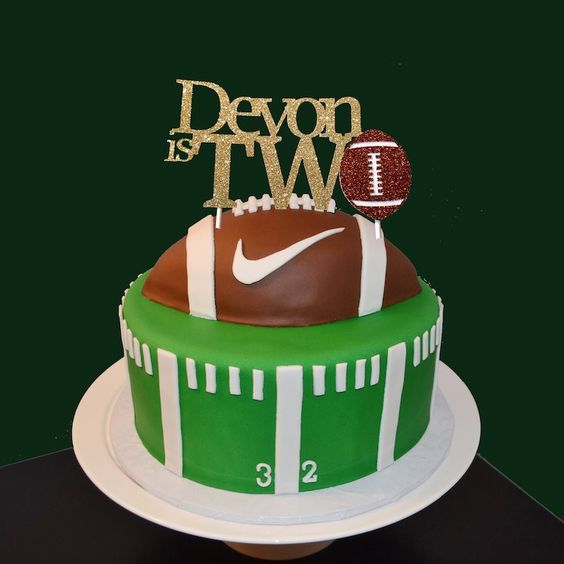 Here is another creative football cake concept if you're up to the challenge. Note, though, that you'll need to be confident in your ability to make patterns with piping for great results. Go all out and turn the cake into a fantasy football league draft.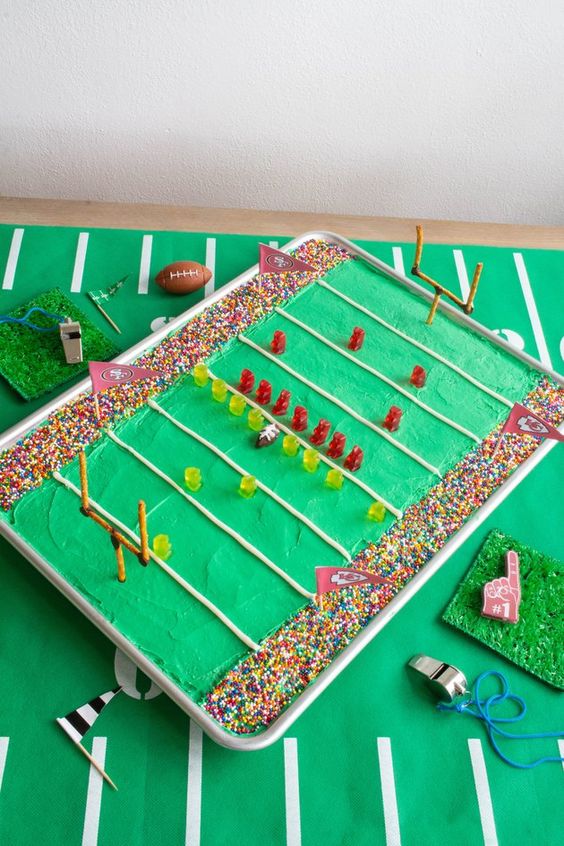 Have you been working on your icing skills and are looking forward to the chance to show them off? Here's an inspirational football cake idea you can theme after the cake recipient's favorite team. I also love that the cake combines different treats in one place.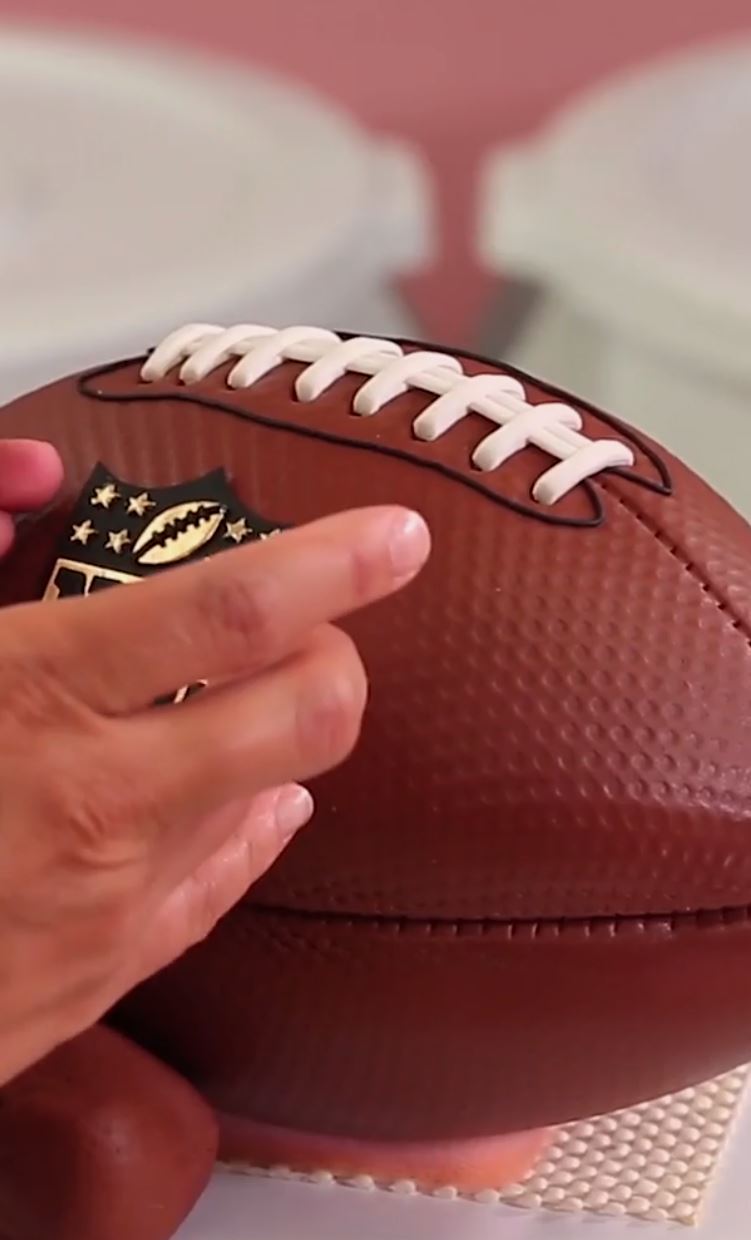 Three years ago, my younger brother (12 at the time) requested that I bake a similar cake for his birthday. I had barely been baking for two years at the time, but I couldn't say no. I mean, hey, who says no to a kid's birthday request, let alone their own baby brother?
So, I started by baking four strawberry cakes to pull off the cake. I then left them to cool before setting them in the fridge overnight. The next day, I stacked all four together, glued them with buttercream, and then put them back in the refrigerator.
This time, I let the cake only sit for 30 minutes in the fridge so the buttercream would set. Next, I began craving as best I could until I attained my desired shape. I'm sure figuring out the crumb coat layer and final layer of buttercream won't be a hassle to pull off.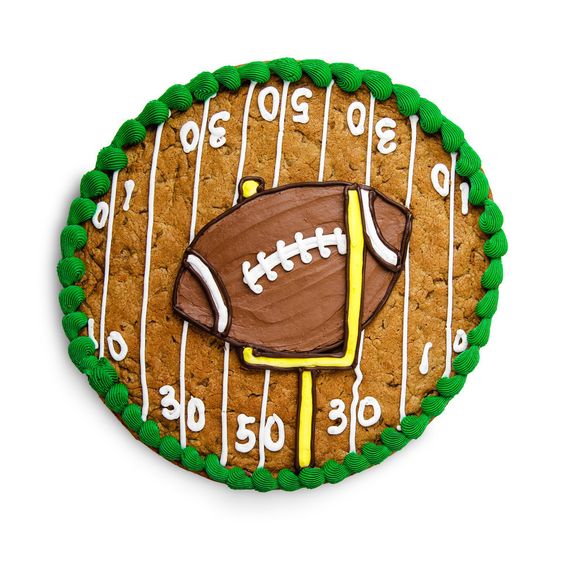 Need a tailgating cake recipe? Hosting guests in your home for a big game? Or perhaps you're just craving an aesthetic cake recipe. Whatever the case, anyone who gets a piece of this football cookie cake will be amazed.
The cake gets its football look from simple frosting piping and mouth-watering flavor from cinnamon sugar. I also love that you can make this cake up to a day ahead and store it at room temperature. Just make sure the cake is in an airtight container.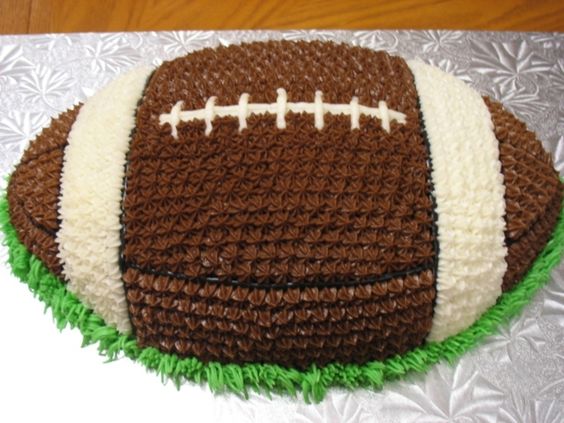 Your next football-themed party is about to get a little sweeter. With this football cake inspiration, you can make a cake that'll leave everyone at the party in awe. Don't fret about pulling off the edible "grass" below the football.
First, place shredded coconut in a resealable plastic bag and add several drops of green food coloring. Next, knead and shake the bag until the coconuts look like grass. Feel free to add more color as desired. When done, sprinkle the green "grass" on the serving platter around the cake.
You can also prepare football cupcakes if you'd like to add something your guests can easily serve themselves.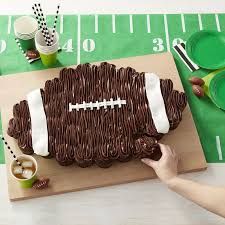 Are you going for professional-quality work and would like to award the cake you bake a taste of luxury? Then this pull-apart football cake could be what you're looking for. It's made up of approximately 40 chocolate cupcakes and requires no serving or slicing.
Your guests simply need to pull out a cupcake and dive in. Use the zigzag motion to pipe the autumn brown icing over the arranged cupcakes. The ribbed sweater and cuff effects are immensely appealing to the eyes.
If your goal is to score brownie points with your friends, family, and everyone in attendance, this is the way.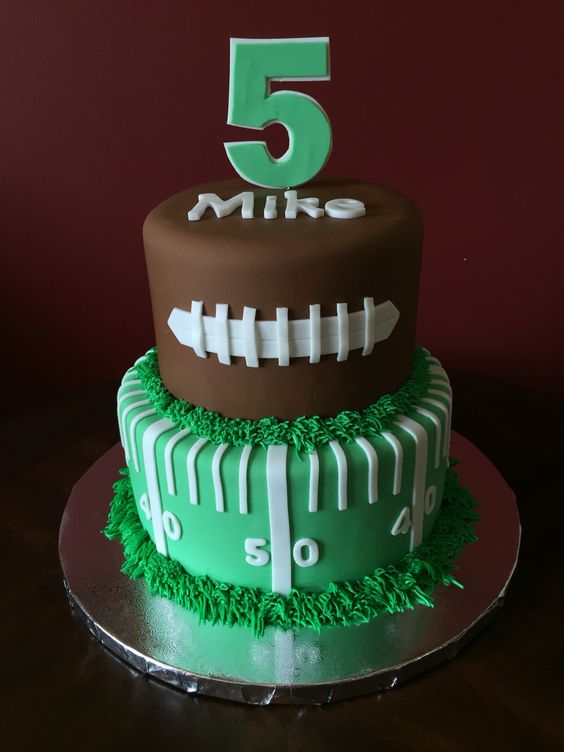 Remember the coconut grass idea I shared earlier in this list? That's not the only trick you can employ with this …. This creation is also fantastic because you can make it vegan and gluten-free. That's one way to rest assured EVERYONE will enjoy the cake.
You'll also love that the cake is easy to make and stores well. The latter will come in handy if you're a busy individual and would prefer to make the cake in advance.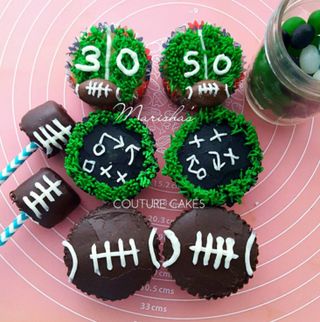 All you'll need to pull off these football party cupcakes are tootsie rolls, frosting piping bags, and cupcakes. The cupcakes should be cooked and cooled, and the frosting should be in three shades, chocolate, green, black, and white.
For the first batch of cupcakes, start by spreading an even layer of black buttercream over the cupcakes. Next, pipe a few arrows and Xs using white frosting and another grass border around the edge using green buttercream.
Use the same concepts to recreate the second and third batch of cupcakes. As for the tootsie rolls, remove them from their wrapper and place them in a microwave for ten seconds. Once they're soft, carefully knead them into a ball, pipe football lines onto them, and put them on the cupcakes.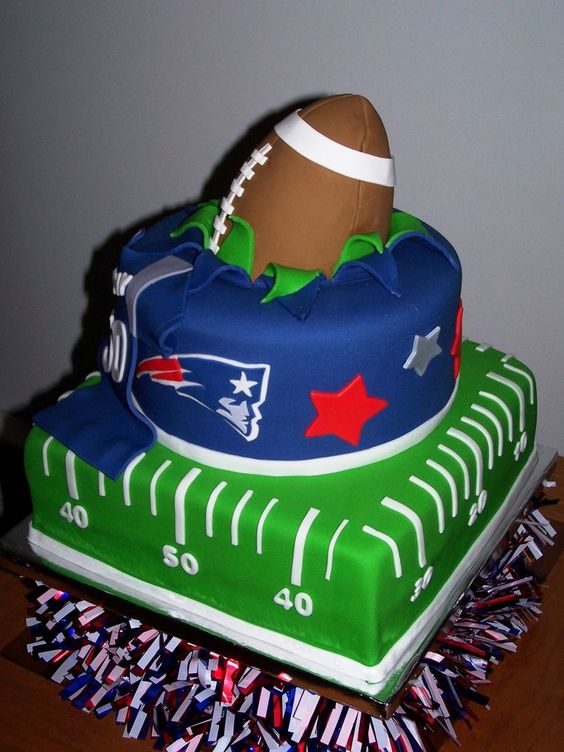 If your kiddo is obsessed with the New England Patriots, this is a fun option you can try. The cake could also work if your family wants to celebrate a big game your favorite team won. What's more? The cake is easy to make and should be filled with chocolatey goodness.
I recommend serving the cake with a pizza football bomb and brownies. Mmmm brownies.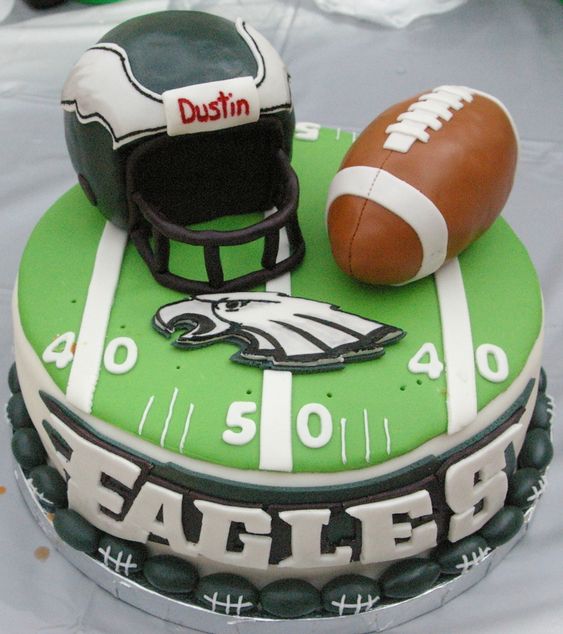 Kick any football-themed party into high gear with this Philadelphia Eagles Football Cake. The rich, tender cake has been smothered in a decadent buttercream filling, making it every chocolate (and football) lover's dream.
Also, don't let the helmet and football-shaped cake additions intimidate you. You can recreate them using the same steps I've highlighted above. If you don't have a piping bag in hand, use a zip-lock bag with one of its corners cut off.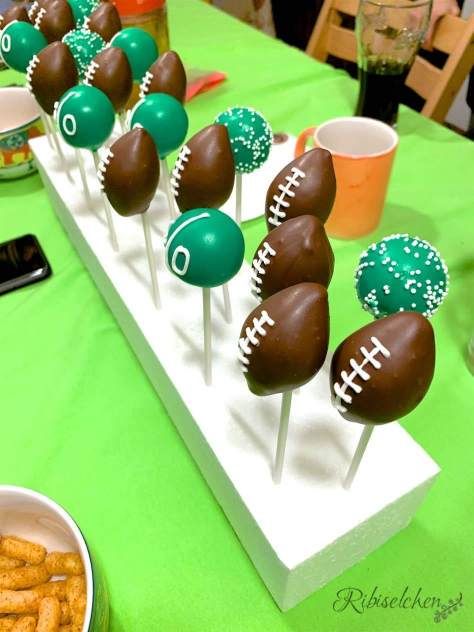 Would you rather make cake pops that are more creative than regular cakes for the football lover in your life? Here is an adorable idea you can try. Take the design a step further with a sprinkled crowd and speech bubbles. The messages on the bubbles can make it look like the sprinkles are cheering.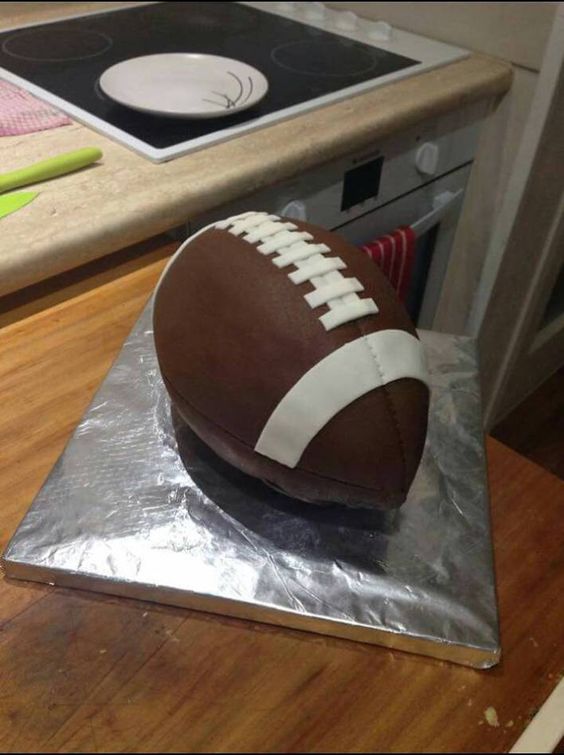 Not taking this chocolate-covered cake to the tailgate at least once in your life will be a giant fumble. Like with most similar ideas we've looked at already, you won't need to tediously trim the cake to attain its shape. You can cut a bit from the middle to create a fully football-themed cake.
Serve it with a scoop of vanilla ice cream for maximum pleasure.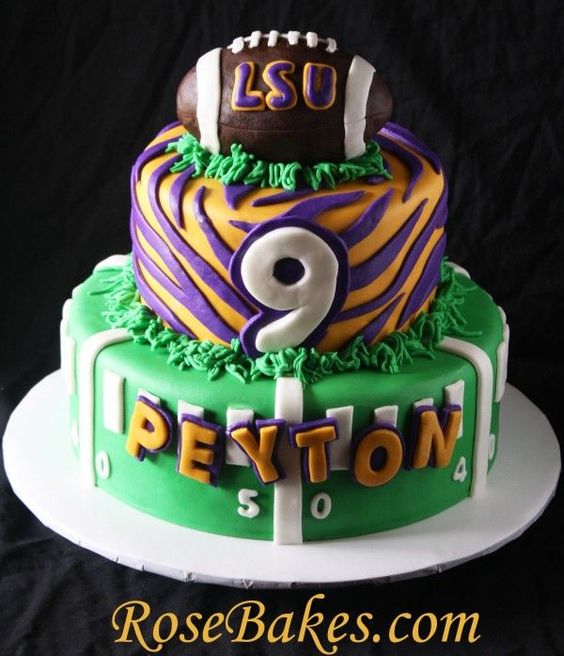 Needless to say, this LSU football cake will be a hassle to pull off. That said, rest assured that all the time and effort will be worth it. Also, remember to swap the decorations and color combination with the cake's recipient's favorite college or NFL team.
For the football on top of the cake, you can easily make one out of rice cereal treats. Carefully shape it, then cover it in melted chocolate almond bark before letting it set. Once it has set, smooth out the surface using your hand or towel, then wrap it in dark chocolate fondant.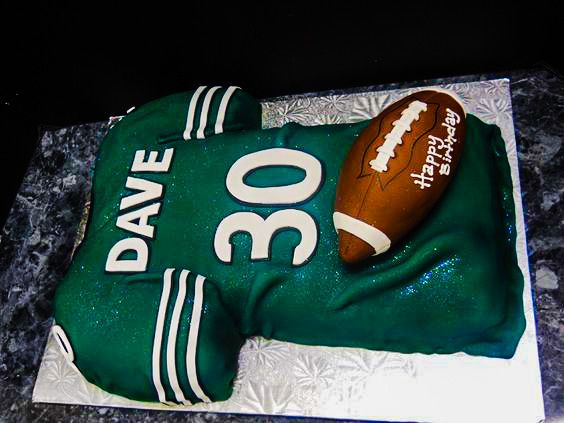 This Eagles football jersey cake is not only beautifully created and decorated but also appears to be full of flavor. Regular cake flavors you can employ while recreating the cake include red marble, marble, red velvet, chocolate, and vanilla.
Are you worried about the intricate nature of the cake's design? Then start the preparations a day or two in advance. This guarantees that the cake will be ready for the event without putting too much pressure on you.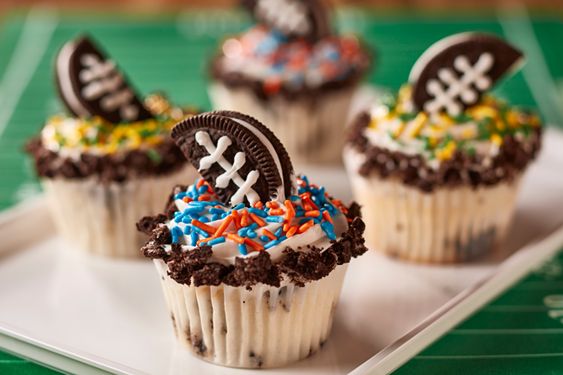 Have you curved your football cake and iced it but are unsure about what to do with the remaining cake? This cake idea shows you how you can pair your main cake with some bite-sized cookie cupcakes. They may even end up being the favorites at the party.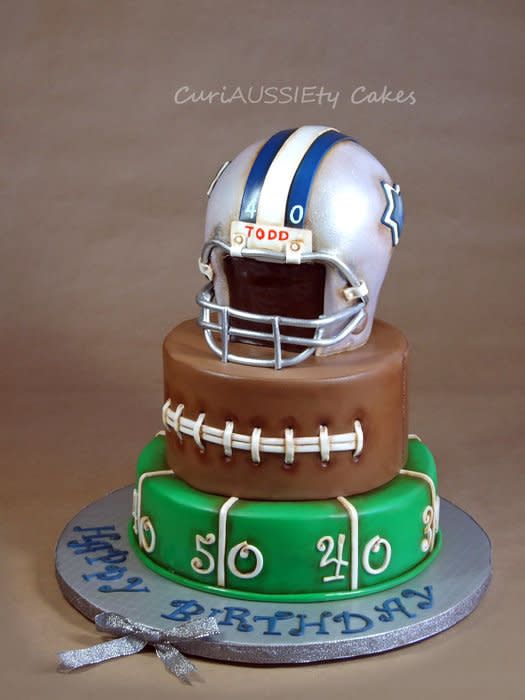 The multi-tiered nature of this football cake is cool and all. But the part that caught my eye is how realistic the helmet appears. Pull this off, and I assure you you'll be the unchallenged hostess with the mostess the entire season.
The base cake is plain yellow cake with buttercream. The mid-tire cake is chocolate with Kahlua buttercream, and the helmet is pineapple cake with sangria filling. But feel free to pick different flavors and add your own personal touch to the cake you create.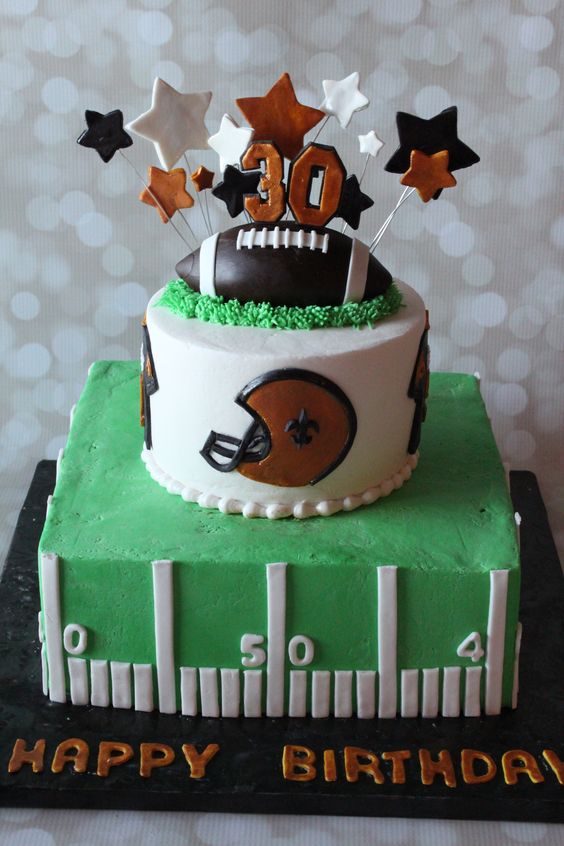 This one is super easy to pull off. For the football-shaped cake at the top, start by spreading an even layer of chocolate frosting onto your cake. Next, using white frosting, pipe the football lines onto the surface. I always recommend starting with the long line down the center and then several cross-over lines.
End the piping session with two curved corner lines, and VOILA! You've created one of the most aesthetic and hopefully delicious football cakes.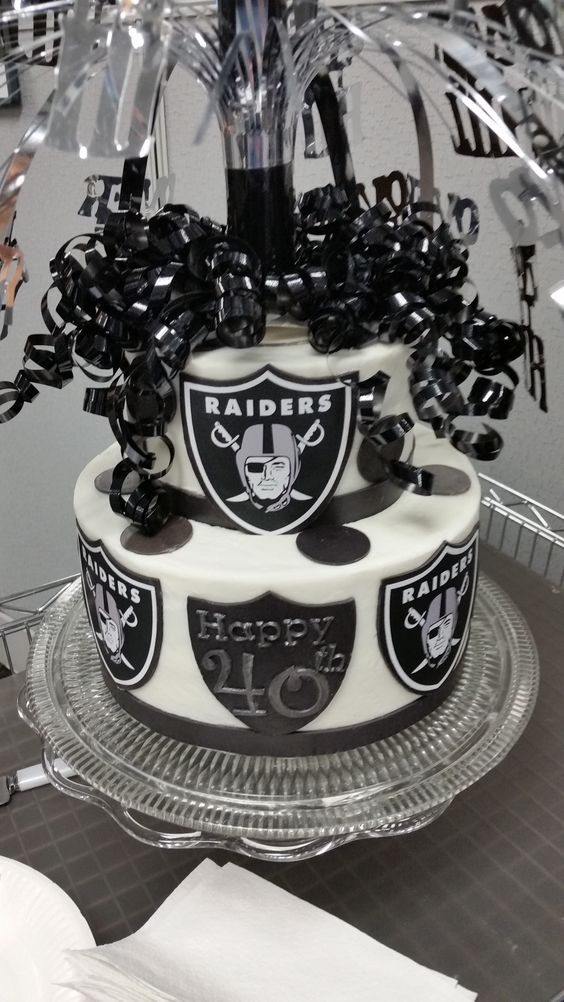 No special cake pans are required here. You can easily make this adorable game-day football cake from two cleverly baked round cakes. But REMEMBER this if you plan on preparing the cake in advance and letting it sit in the fridge?
Ensure you let it sit at room temperature for at least an hour before serving. This allows the cake to soften a smidge.
Football Cake Must-Haves
With custom-made football cakes, the possibilities are endless and can sometimes be overwhelming. Let this list of six must-haves on any football cake guide you.
Edible "grass"
Official colors of the NFL (Blue, red, and white)
The football itself
Trophies
Moments in football history
A team's theme
Cake Types to Consider
You have many cake types to choose from when making a show-stopping cake for a big football fan. Here are eight different types you should consider.
Drip cake
Cupcakes
Round cake
Slab cake
Sheet Cake
Tiered cake
Cake pops
Tower cake
FAQ
Question: How Do You Make a Football Cake?
Answer: To make a football cake quickly, bake a regular round cake, then cut a strip from the center. Next, secure the remaining pieces together using frosting to create the football shape and frost further with chocolate frosting. Add the white football laces using white frosting.
Question: How Can I Decorate My Cake Like a Football Field?
Answer: You have two options when it comes to decorating a cake like a football field. First, you can pipe green frosting all over the cake using the zigzag motion. Alternatively, you can sprinkle coconut flakes that have been mixed with green food coloring.
Question: How Do You Make a Football on Top of a Cake?
Answer: The easiest way to have a football on top of a cake is to bake it separately. You can then place it on the main cake when both cakes are ready. I've included several similar football cake ideas you can try in the guide above.
Touch Down!
Whether at birthdays or office events, football-themed cakes can spice up any room with a dash of action and adrenaline. Every football cake idea I've included in the list is also fantastic to look at.
So, whichever you pick may serve as a fascinating conversation piece at the party. Pick the right one, and I promise you won't care about anything else (even if your team loses.) For more themed cake ideas and party tips, check out our site!
Recommended Reads