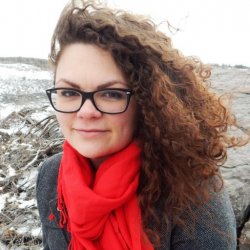 Latest posts by Candace Osmond
(see all)
I was a bit of a nutty Pokemon fan. I entered drawing contests, did cosplay, and even *gulp* wrote fan fiction. I know, know…cringe. But that love stuck with me over the years, and now I get to fall in love all over again through my kids. And this year, I think I might do a Pokemon cake for them.
So, as new generations fall in love with these pocket monsters, this is your chance to get into the game. One way is to throw your child (heck, even yourself) a Pokémon-themed party, complete with a Pokémon cake. And I've got all the best Pokemon cake ideas to get you started.
Bottom Line Upfront
How can I pick just one– PIKACHU! I CHOOSE YOU! I spent my time creating heavily detailed and complicated cakes years ago. Now I opt for easy and practical, especially with two kids who want cool birthday cakes. So, this year, I might try the Pikachu Pokémon Cake idea for my son. Seems easy enough, and I could have some fun with it!
Top 3 Picks
After running through various Pokémon cake ideas, these were the three that stood out the most to me.
Best Pokémon Cake Idea: Pokémon Marble Sponge Cake
Why not keep it simple with this Pokémon cake that features everyone's favorite Pokémon characters.
Best Pikachu Cake Idea: Pikachu Pokémon Cake
If you ever find yourself running out of cake ideas, remember one can't go wrong with a Pikachu head cake.
Best Charmander Cake Idea: Pink and Green Charmander Cake
Go ahead, think outside the box and go with a Charmander-shaped vanilla or chocolate cake.
The Best Pokémon Cake Ideas to Try
Here is a list of Pokémon cake ideas for any DIY enthusiast who wants to jump on the bandwagon. I tried to pick ideas that seemed fairly easy to attempt but also ones that appealed to a wide range of ages and genders.
Pinata Pokeball Cake
For my daughter's last birthday, my husband and I decided on a low-key gathering (thanks to the pandemic.) So, to make up for the missing crowd, we had to go for something special. I made her a special Pokémon Pokeball cookie cake and decorated it with pre-colored buttercream frosting.
The results were as close to what's pictured above as they could've been. The only difference is that we didn't decorate my daughter's cake with miniature Pokémon figures in the middle.
Topped Pokémon Cake
The easiest way to convert any regular cake into a Pokémon idea is to top it with Pokémon-themed goodies. The straightforward buttercream drip cake pictured above is a great example. The Pokémon display attached on top is made from double-sided laser-printed cards and comes ready assembled.
If you are ordering the cake online, note that the topper is safe for use with food but isn't edible.
Squirtle Cake
Does your kiddo (like my best friend's) prefer water-type Pokémon characters? Then a Squirtle-shaped Pokémon cake could be a perfect choice. The cake is made of fondant and looks borderline too cute to eat.
The only downside with this Squirtle-shaped Pokémon cake is it's not for the novice baker. Even I had a hard time whipping it out (regardless of my decade's worth of baking experience.) So, if you'd like a perfectly contoured Squirtle cake but are a beginner, I recommend leaving it to a seasoned baker.
Pokeball Topper
https://www.pinterest.ca/pin/73535406406901612/
The perfect bday cake for a super fan of Pokémon Go would be this Pokémon cake with a Pokeball topper. To complete the look, have Snorlax sleeping on top of the Pokeball, with Pikachu on his back, as shown above.
The Pokeball also doesn't need to be an edible portion of the cake. Simply smear Crisco/Holsum over a polystyrene ball, then mold or drape red, white, and black paste over the ball accordingly.
Pikachu Pokémon Cake
Most Pikachu Pokémon cakes would be incomplete without tones of Pikachu yellow. While trying to recreate the cake in the image, I went with a delicious Vanilla Layer Cake with Lemon Curd. My husband insisted that I give it another shot, so I guess he loved the results.
Is your kid, like mine, not the biggest fan of Pikachu? Then replace the miniature figures on the top side with their favorite characters.
Giant Pikachu Head
Would you like to trim the fat but still go for an idea that'll blow any kid's mind? Then consider having a single cake done as a giant Pikachu head. I witnessed how this bold cake brought the themed birthday party to life.
But don't take my word for it. Try it yourself on the next kid's birthday. If it doesn't result in loud shrieks and screams of "Pikachu, Pikachu!", I don't know what will.
Eevee Evolution Cupcakes
Here's your chance to evolve yourself with each cupcake bite. To recreate the Eevee design, use buttercream swirls with fondant ears.
Beyond the hard-to-beat aesthetics, the cupcakes were also delicious. From the rich and thick frosting to the distinctively soft, moist, and fluffy layers encapsulated, the appeal is aplenty.
Pokémon Go Pokeball
Remember when the Pokémon Go craze first hit a few years ago? That's when I decided to take on the challenge and take a stab at baking my first Pokémon cake. At the time, I had conquered my sphere with everything from BB-8 Cakes and kettlebell Cakes to Ornament Cakes.
Still, I acknowledged that the unique pattern of the PokeBalls would call for a completely new fondant process.
First, I added the red and white fondant. Subsequently, I used a cake board as a guide while removing inches of fondant from both spheres' rims. That's where I added an inch-thick black fondant to create the black band. I'd generally say that my goal of recreating this Pokémon Go Pokeball cake was a success.
Pokémon Marble Sponge
What happens when you mix a wide array of Pokémon characters with a delicious cake? A delicacy that's assured to blow everyone's mind: including adults. The only downside with this marble sponge cake is it'll take skill and a lot of decorating to pull off.
You can have the characters made out of fondant or plastic (if time isn't on your side.)
Bulbasaur and Charmander
I suggest this design if you're not a seasoned baker but would still like to bake the cake yourself. There is a reason Pokeball cakes are repeatedly voted as the easiest Pokémon cakes to make. Using fondant, you just make a regular round cake and decorate it to look like a Pokeball.
Feel free to replace Bulbasaur and Charmander on top with the cake's recipient's favorite Pokémon pocket monsters.
Pokémon Number Cake
Are you scouring the internet looking for something straightforward yet impactful and wow-worthy? You could always give a Pokémon number cake a try. Kids generally love number cakes. The Pokémon character decorations will be the icing on the cake.
I'm thinking about baking one of these for my family when I get the time one of these weekends.
Cute Squirtle Cake
For good reason, Squirtle Pokémon cakes will never run out of fashion. First, Squirtle is one of the most beloved characters. Second, any baker and cake lover will appreciate the time and effort required to design a Squirtle cake.
Do you not have the time to bake a Squirtle cake from scratch? Use a cake mix or get a store-bought cake and decorate it.
Creative Pokémon Cake
We've already established that Pokeball Pokémon cakes are some of the easiest to make and decorate. This idea shows you how you can add a little ump to the creation and make an even bigger impression.
Of course, making the three characters on top won't be quick, but it will be time well spent.
Pokeball Cake Pops
Sweet, easy, and entirely cute, these Pokeball cake pops will capture any cake lover's taste buds.
Also, cake pops have the perfect shape you can easily transform into a Pokeball. Simply dip the whole cake op in white frosting, then dip the top half in red frosting. To complete the look, add some signature black detailing across the middle.
I'd probably make these as an extra to go with a full cake, just because I'm THAT mom, and I loathe myself for it.
Pumpkin Spice Cake
A pumpkin spice cake with rainbow drip and packed with your kid's Pokémon characters. If this doesn't blow the little Pokémon lover's mind, I don't know what will. Take it even further and make the characters out of fondant (instead of using non-edibles like plastic or cut-outs.)
Charmander Pokémon Cake
A Charmander Pokémon cake is exactly what the name suggests; a cake made to look like the Pokémon Charmander. While baking a similar cake for my friend's son's party, I went with vanilla ice, chocolate frosting, and chocolate cake.
The cake even includes Charmander's key features, including the tail and teeth.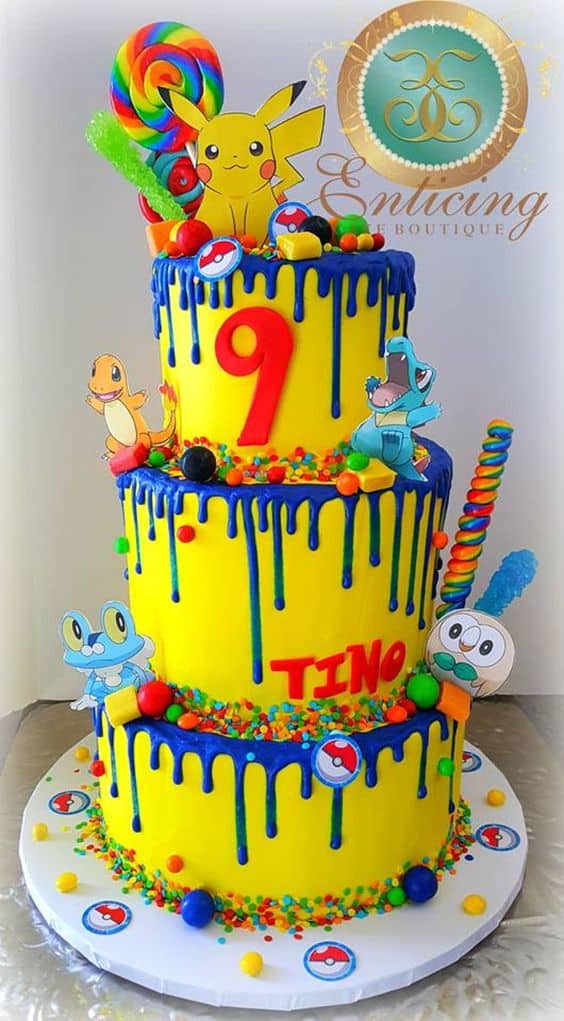 Some Pokémon monsters may not yet be found in the current Pokémon Go app. Still, that doesn't mean you cannot get creative and have them featured on your Pokémon drip cake. Find any pocket monster you can, and get started theming your Pokémon drip cake.
Plus, you never know. These new characters could end up being your young ones' favorites. An added advantage of drip cakes is they are extremely easy to make and will cut decorating time in half.
Charmander Cut-Out On Cake
https://www.pinterest.ca/pin/5348093299120572/
A great idea for the total beginner is to bake a regular cake and stick a cut-out image of Charmander.
Is the cake too simple for your liking, but time still isn't on your side? Then consider placing regular miniature figures of the cake's recipient's favorite characters like Jigglypuff and Squirtle.
Two-Tier Pokémon Cake
If you have experience creating two-tire cakes, this tower cake shouldn't be a hassle to pull off. The fact it's a two-tire will also leave you ample space to get creative. Add Pokémon figures made of plastic or fondant and line the base as well as the first tier.
Replace the Pokeball with the cake recipient's favorite Pokémon star and have them as the standout figure.
Squirtle Cake
Any die-hard fan of Squirtle (like my daughter) will adore this vibrant Squirtle cake. The cake is made from fondant and sprinkled with a vanilla Swiss Meringue buttercream. Needless to say, the cake's design won't be easy to pull off.
Cupcake Characters
Why not catch them all with these Pokémon-themed cakes and cupcakes. Want to be sure that the cakes will make any Pokémon jump up and down with joy? I suggest making the central Pokeball cake with delicious layers of moist sponge cake in your choice of flavors.
The cupcake's tops have been decorated using edible images of everyone's favorite Pokémon characters, including Pokémon and Charizard. Customize the images on top as per your child's personal preferences
Hollow Pokeball Cake
Here is your chance to wow every kid at your child's party with a hollow Pokeball cake. The cake is decorated using white fondant, black fondant icing, and a fabulous Pokémon mini-figures surprise in the middle. You can simply use good quality red food coloring to paint the red part of the Pokeball.
Sitting Charmander Pokémon Cake
It's impossible to go wrong with a simple cake made of every Charmander-lover's favorite Pokémon, Charmander (see what I did there?) The only thing I'd change about this is I'd replace the tip of the tail with a real sparkle candle.
Pokémon Tower Cake
https://www.pinterest.ca/pin/208713763972735563/
My best friend made a similar Pokémon cake for her son to take to his club camping weekend. The cake was a marble sponge base with a chocolate sponge cake on top. Both layers had a buttercream filling and were covered in a buttercream crumb coating.
Both cakes were then covered in fondant and stacked together. The huge Pokeball on top was also made out of fondant. The Pokémon figures weren't made of fondant, but she let her son pick her favorites.
Tall Pokémon Drip Cake
Kids are visual creatures. So, if you'd like to deliver a cool Pokémon-themed experience, they'll never forget bright colors are the way to go. This image shows how you can take a sky drip cake and load it up with visually appealing figures.
I also love how action-packed the cake is with all-things Pokémon.
Charizard Round Cake
To recreate this image inspiration, I made a medium-sized round cake and covered it in yellow buttercream. I also included a black and red ball border around the cake. I sculpted the Charizard figure from fondant.
The process took approximately 5 hours, but I'd happily do it again. The results were both cute and delicious.
Three-Tier Tower Cake
If you know anything about me at all, you know I love challenges. Baking challenges to be precise. So it's no surprise I went for a three-tier tower cake amidst all the hype around Pokémon Go in 2016.
I had never baked anything Pokémon-related at the time, so this image came in handy in the inspiration department. It's been saved to one of my Pinterest boards ever since.
Pokeball Chocolate Candy Cake
This delicious cake features everyone's favorite Pokémon feature, the Pokeball. What's more? Rather than spending hours recreating the Pokeball look, this shows you how you can use Kit Kat and M&Ms instead.
Pokeball Frosted Cake
Here is a Pokémon cake idea that uses both frosting and fondant. If you love working with both, this cake image should provide sufficient inspiration for your next Pokémon Cake.
Pikachu Face Cake
This is, without a single doubt in my mind, one of the easiest Pokémon cake ideas in this detailed list. You'll only need to recreate Pikachu's head, with his iconic large ears included. To spice things up, consider using strawberry slices for the nose and chocolate chips for the eyes.
The cake also has red frosting tips that form Pikachu's red cheeks. You don't want to forget those, as they serve an important purpose in Pikachu's biology.
Pink and Green Charmander Cake
You don't often come across pink or green Pokémon cakes, let alone a cake idea with both colors. I think that this Charmander cake looks unique and creative and would be super fun to make. Plus, it looks simplistically delicious.
Most Popular Pokémon Characters for Cakes
In honor of Pokémon's 25th Anniversary, different outlets surveyed Pokémon fans to see which characters are the most popular worldwide.
While the answers varied from nation to nation, several Pokémon came up repeatedly. These included iconic Pokémon from generation 1, like Charizard and Pikachu.
Additional characters that took the top spot include Gengar, Mewtwo, Dragonite, Squirtle, Eevee, Arcanine, Bulbasaur, Charmander, Ninetales, Snorlax, and Blastoise.
Like all lists, the list of the most popular Pokémon characters changes as the years' pass. So, I suggest using the most recent surveys when picking the most popular Pokémon characters for cakes.
See also: How to Find The Best Cake Ideas
FAQ
While researching for this guide on Pokémon cake ideas, I came across a myriad of questions people had regarding the subject. That's what inspired this little FAQ section. I hope it helps alleviate any concerns or Pokémon cakes-related questions you may have?
Question: What is the Most Popular Pokémon?
Answer: The most popular Pokémon globally is the iconic Pikachu, followed closely by Charizard. Interestingly, the most popular Pokémon in Canada and the United States aren't Pikachu. According to research by TheToyZone, the most popular Pokémon in Canada and the US are Gengar and Charizard, respectively.
Question: Can Adults Have Pokémon Cakes?
Answer: Adults can enjoy Pokémon Cakes just as much as children can. Whether you're celebrating an essential milestone or are just craving a tasty Pokémon cake, I'd say go for it.
Question: Is Pokémon Still Popular?
Answer: Of course, Pokémon is still popular. So popular that Pokémon Go's in-app purchase revenues surpassed 904 Million U.S dollars worldwide in 2021.
Catch 'Em All!
There you go, my detailed guide on the best Pokémon cake ideas I could find. As you can see, the options for customization and creativity you can run with are endless.
So, next time you need some fun ideas or inspiration, this list will be here waiting. But if you want my suggestion, I say go with the Pikachu Pokémon Cake idea. You could also check out my other guide on Lego cake ideas. It could give you an idea or two (or even three.)
Recommended Reads: