Fault line cakes are among the latest cake decorating trends to grace the cake universe. Essentially, fault line cakes are cakes with a (mostly horizontal) crack in the middle of the buttercream frosting. The crack or crevice is filled with decorative elements like sprinkles, fruit slices, edible images, or fondant figures, or it could just be an under-layer of different-colored buttercream. Now, that may sound simple, but this trend can be applied in so many ways and fault line cakes can come in many different variations. In fact, I have compiled several fault line cake ideas to show you exactly what I mean.
I have seen a lot of fault line cakes in various celebrations over the past few years. Even with specific cake themes, this technique is a favorite among bakers and cakemakers to incorporate into their creations. The fault line style can also be applied with other new trends to make cakes look more chic and modern.
My Bottom Line Up Front
The most beautiful fault line cakes are the most innovative ones. My personal choice would be those fault line cakes with edible printed wrappers or sliced fruits in their crevices. Cake wrappers are thin sheets of wafer or rice paper printed with your design of choice, usually based on the theme, using edible ink. Meanwhile, fault line cakes with fruits in their crevices usually use fruits that can be sliced thinly, like lemon, kiwi, and strawberry.
Shortlisting Fault Line Cake Ideas
In coming up with my list of favorite fault line cake ideas, I also looked into aesthetics, uniqueness, and creativity. My favorite fault line cakes look beautiful and well-made or polished. These cakes are also not very common or ordinary.
Other Considerations
You will see many fault line cakes when you look for them, and it's easy to get overwhelmed. That's why it is important to keep certain considerations in mind. These considerations will help you sift through your choices and narrow down your list.
These are the things you need to consider when picking a fault line cake, or any cake for that matter:
Flavor
A cake is more than just a centerpiece for your table and more than just a decoration. You actually need to make sure the celebrant will love eating it as much as they'll love looking at it. So get cake, filling, and frosting flavors that you know they will love. You will also need to consult with your baker or cakemaker and see what flavors they are offering.
Party and Cake Size
How small or big is the party going to be? While fault line cakes are generally not that big in terms of circumference, they can be made in one or multiple layers. So if we're talking about a small or intimate party, a one-layer fault line cake would do. But for a bigger party, you might want a two-layer or even three-layer cake.
Budget
Set a budget for your fault-line cake. Different cakes are priced differently, depending on the size, the flavors, the level of difficulty of the design, and even the baker. To get an estimate of how much your desired fault line cake would cost, you can call your local bakeshops and cake stores and inquire about their pricing or their rates.
Fault Line Cake Ideas
1. Moroccan Tile Fault Line Cake
I think tile or Moroccan tile cakes are some of the most beautiful cakes to trend lately. These tile cakes come in different looks and variations, some even incorporating other decorating techniques. The tile designs are usually done via stencil and edible watercolor or edible printed image.

This vanilla and lemon curd cake with cream cheese frosting is an example of how you can combine the fault line and Moroccan tile decorating techniques. You can see the edible tile design in between the cracks. The cake is topped with fresh lemons and leaves.You can also do the tiles in reverse. Instead of using the edible image within the crack, you can wrap it around the outer buttercream layer and leave the crack clean.
2. Fault Line With Fruits
You can make fault line cakes with thinly sliced fresh fruits in the middle.

This fault line cake has sliced strawberries in between the opposite layers of buttercream. The ragged edges are painted in gold.

Lemons also make great fruits to wedge inside the crevices of fault line cakes. This fault line cake is made even lovelier with flower accents and stenciled buttercream. You can also check out this honey fig fault line cake.
Kiwi is also an ideal fruit to use for fault line cakes. You can slice kiwis thinly so you can easily bend them along the rounded sides of your cake. Kiwis also don't oxidize and will remain fresh-looking until the cake is sliced and eaten.
3. Flowery Fault Line Cake
Fault line cakes with flowers in the middle look very beautiful and dainty. You can use synthetic flowers or sugar icing. You can also just use an edible wrap with printed blooms.

This fault line cake is simple yet pretty, with nothing but synthetic blooms within the crack and gold-painted edges. The absence of other decorative elements makes you focus on the flowers in different shades of white, pink, and peach.

Here's yet another floral fault line cake with realistic flowers peeking out the crack. This peach-toned cake is decorated with the same flowers on top, as well as a gold acrylic topper.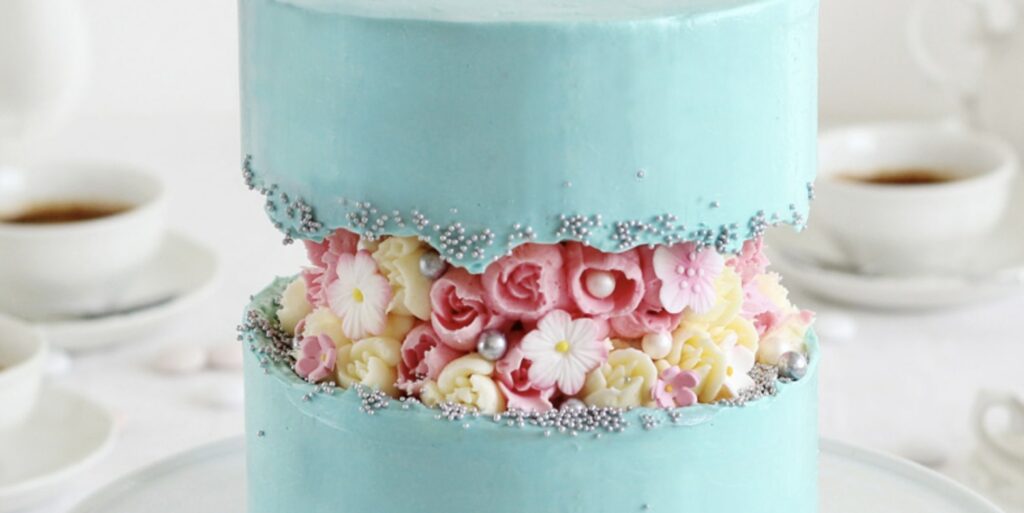 Here's an example of a fault line cake with flowers made of piped buttercream and sugar icing. The edges of the cracks are sprinkled with silver pearls. The cake itself has blue buttercream frosting, which provides some contrast against the pink and white florals.

An edible wrap with floral print also makes an equally pretty alternative. Using this edible wafer paper is easier and less time-consuming since you only need to plaster it onto the buttercream and cover parts of it with another layer of buttercream.

Sometimes, you don't have to put the flowers in between the cracks. Take this small, simple, and dainty fault line cake, for instance. It has fresh little white asters placed all over the cake except for the inside of the crack, which is done in marbled pastel colors with specks of gold leaves.
4. Pattern Fault Line Cake
There are a wide array of patterns that you can choose from to decorate your fault line cake with. You can have your chosen pattern printed on edible wafer paper to make it look seamless and perfect, or you can use a stencil.

This red and white fault line cake with patterned stencil work in the middle is an example of what I'm talking about.
5. Mermaid Fault Line Cake
Mermaid-themed cakes are pretty much a fad these days. So I think a combination of a trendy theme and a trendy decorating style would be a hit, especially among little girls.

This cake is a good example of a mermaid-themed fault line cake in the trendy pink, blue, purple, and turquoise color palette. The mermaid scales are done in stencil within the crack and the mermaid tails serve as toppers and accents.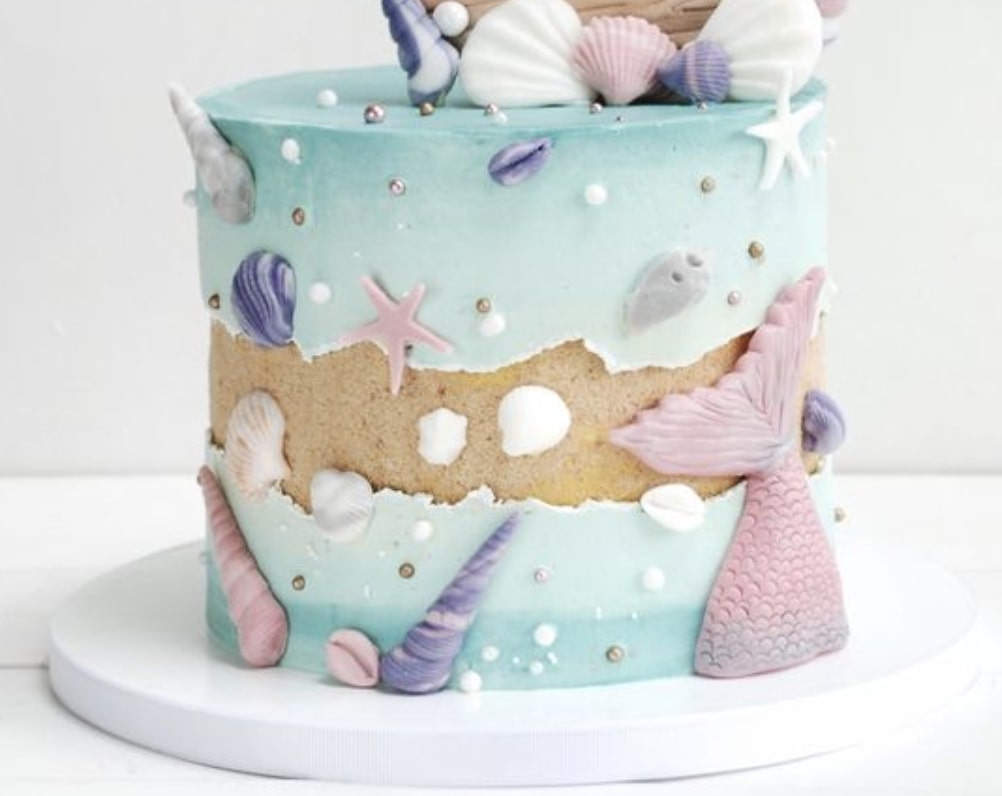 Here's another take on the mermaid fault line cake concept. Inside the crack is edible sand. Mermaid tails and shells are on the surface.
6. Van Gogh or Art Fault Line Cake
Transform your cake into a work of art, inspired by your favorite masterpiece.
This cake is perfect for those who love paintings or Van Gogh himself. Starry Night is printed on edible wafer paper and placed in between layers of blue buttercream with gold accents. Sugar sunflowers in a vase adorn the top of the cake, as a reference to yet another one of Van Gogh's paintings.
7. Brand Logo Fault Line Cake
For the fashionistas, a fault line cake with the logo of their favorite brands couldn't be more fitting. These logos can be printed on a sheet of wafer or rice paper using edible ink.

This Louis Vuitton cake has the brand's signature print on the edible wrapper, laid in between two layers of buttercream. Add white roses and gold leaves as an accent and the cake is ready to take center stage.

Another beloved fashion brand is Gucci. So the Gucci print is tucked inside the fault lines. You can also see other decorating trends here: macarons and a golden palm leaf.

A Dior signature print would be nice, too, if that's your brand of choice. This Dior fault line cake is elegant and simple in a way that you don't see a lot of other decorative elements on it. You only have a Dior gift ribbon, a few white and gold balls at the base, and a gold Happy Birthday topper.
8. Musical Fault Line Cake
If we're talking about a fault line celebration cake for someone who loves music, then get anything musical in there.
This cake has piano keys peeking out the fault line. The pink buttercream with little piped roses and pearl sprinkles gives it a feminine touch. A rolled music sheet on the cake with a gold "Happy Birthday" serves as a lovely topper.
9. Jungle Fault Line Cake
If you can have flowers, fruits, and paintings peeking out of fault lines, then you can have animals, too. Go for a jungle-themed fault line cake by sculpting animal figures from fondant or gumpaste, putting them in the middle, and adding top and bottom layers of buttercream.

This pink and white jungle-themed cake is gorgeous, with small gumpaste giraffe, zebra, and elephant heads (and front legs) sticking out of the crack to say hello. The fondant lion sits on top of the cake with a background of pink monstera leaves. Paper butterflies on thin wires create the illusion that they are hovering about.
10. Marbled Fault Line Cake
Marbled cakes are quite the trend now, too. Marbling is just fun to do and you get to play with colors. So make a marbled fault line cake for that uber-modern look.

This triple chocolate cake with buttercream and marbled fault line is just chic and fabulous. The marbled isomalt sail is also very contemporary. Add berries and gold-coated chocolate balls to complete the look.
11. Book Lover's Fault Line Cake
You can use edible cake wraps printed with your favorite book covers or even pages of text. Place your cake wrap along the side of your cake before adding buttercream for the fault line.

This cake, for example, is for someone who loves The Babysitters' Club. The cakemaker had selected covers printed onto the edible cake wrap.

This one, meanwhile, is an example of selected text on certain pages.
12. World Map Fault Line Cake

A fault line cake with a world map cake wrap is a great idea for someone who loves to travel. This cake is an example. The map provides all the colors you need for the cake since the buttercream is all in white, with touches of silver, and without other decorative elements. You can make it interesting by adding a few travel-oriented accents here and there.
13. Photo Fault Line Cake
I admit that I am not a huge fan of using photographs for fault line cakes because they can get tacky and cheap-looking quite easily. But if done right, the cake could turn into something really meaningful and even sentimental. It would encourage everyone to look more closely into the cake and examine the photos, making it a great conversation piece.

This vanilla sponge cake is an example of a photo fault line cake that was done well. It's nice that the photos are in black and white so the eyes don't get too overwhelmed by the visual elements. The buttercream is also in dirty white, the topper is in gold, and a single white flower adorns it.
14. Tropical Flamingo Fault Line Cake

This cake demonstrates that your fault line doesn't need to have anything dramatic on it. That you can use the fault line technique to highlight the contrast in colors, like the coral pink and the mint green here. The buttercream on the sides doesn't have prints and only has pearl sprinkles, so it's nice that there are gumpaste decorations.
15. Gold Fault Line Cake
Using gold leaf or gold edible paint is also very common these days. So a fault line with gold in it is doubly trendy.

Take a look at this blue and gold cake. The fault line is painted with gold, there are splatters of gold on the blue buttercream, and it is decorated with a gold acrylic topper and gold-colored chocolate balls.

Meanwhile, this boho cake uses gold leaf for the fault line, with gold pearl sprinkles on the ragged edges. This cream-colored cake is decorated with dried pampas and bunny tail grass, cotton, and chocolate palm leaves. All of these decorative elements are themselves en vogue, too.
16. Sprinkle Fault Line Cake
Putting sprinkles on the fault line is a common cake decorating technique, too. There are now fancy metallic sprinkles available and you can get them in specific colors, unlike the basic rainbow sprinkles we used to have.

This fault line cake uses sprinkles in colors that are used for the cake: blue, white, and gold. Honestly, that's the only way I'd want my cake's sprinkle colors to be. No colors that don't appear anywhere else on the cake.

Here's another sprinkle fault line cake that I think looks very classy and sophisticated. While the cake has ecru buttercream with gold-painted edges, the chocolate sail is in white, which matches the white sprinkles in the middle.
17. Chocolate Fault Line Cake
Get the celebrant's favorite chocolates and line them up inside the crevice.

This black and gold cake, for instance, has Cadbury Crunchies.

Or go ahead and stuff your fault line with an assortment of chocolates!
18. Christmas Fault Line Cake
Get a fault line cake for the Holidays and incorporate this decorating style into a Christmas theme.

Like this festive holly cake. There are hollies in the fault and more hollies on top.

This gingerbread man fault line cake also screams Christmas. You have gingerbread man cookies in the fault, a bigger gingerbread man on top, and candy canes here and there.

You can go for something that's low-key Christmassy, too. This cake has pine cones and something red and green.
19. Single Fault Line Cake
Fault line cakes aren't just those cakes with huge cracks that part widely to create a crevice. Even cakes with a single protruding layer of buttercream and have no crevices are also considered by some as fault line cakes.

This disco-themed cake is a good example of what I'm talking about. There's just a cream-colored layer of buttercream frosting, covered by a layer of marbled gray buttercream on the bottom part.

Another example is this buttercream cake covered with a gorgeous sage-colored frosting on the lower portion. It also has a beautiful acrylic topper with a gold sign.

This very lovely vanilla sponge cake may have two protruding layers of maple buttercream, but they are both on the bottom part.
20. Halloween Fault Line Cake
You can do a fault line cake for Halloween and incorporate a spooky theme into it.

Like this black cake, with its crevice full of hexagons decorated with webs and spiders.

Here's a graveyard-themed Halloween cake topped with fondant tombstones and a pumpkin. In the center of the crack are skulls and bones.

This simple cake has bones and pumpkins in its fault line crevice.

Now, this is a Halloween cake kids will surely love because it has a smorgasbord of toppings! The crevice has little eyeballs, ghosts, and pumpkins inside.
Frequently Asked Questions
Question: Are fault line cakes easy to make?
Answer: Fault line cakes are not that difficult to make as long as you get your buttercream frosting skills down pat. All you really need to do is cover your cake with a layer of buttercream, smooth it out, place whatever you plan to put in the crevice, and add another layer of frosting while leaving the crevice uncovered.
Here is a YouTube video tutorial on how you can make a simple fault line cake.
For deeper crevices, you can simply assemble three layers of cake, with the middle layer smaller than the bottom and top layers. Cover the cake with buttercream one cake layer at a time. This technique is ideal if you have bigger or more three-dimensional decorative elements for the crevice.
Check out this video tutorial on how to make a fault line cake with a deep crevice.
Question: How much is a fault line cake?
Answer: The cost of a fault line cake would depend on several factors, so it is hard to give a specific price. For one, it would depend on the design you have in mind. The more decorative elements and techniques used, the more expensive the cake will be. Cake and frosting flavors will also factor in because that would dictate the ingredients your cake maker would need and the complexity of the baking process. Of course, your baker's own experience and skill level would add to the pricing, too. The more experienced your cake maker is, the more polished you can expect your cake to be. That means a pricier cake, too.
Question: I want to use fresh fruits for my fault line cake. How do I keep them fresh?
Answer: First, keep in mind that not all fruits are ideal for cake decoration. Some fruits oxidize or turn yellow very quickly, like apples, while some fruits easily turn bad or deteriorate, like bananas. However, for fruits that are commonly used as cake toppers, there is something you can do to make sure they don't turn moldy or go bad very quickly. You can soak them in a mixture of water and white vinegar.

Combine four cups of water and half a cup of white vinegar, add in your fruits, and leave them for five minutes. Rinse them in cool water and dry them on a paper towel. Doing this will extend the life of your fruits as it will get rid of mold, but without affecting the taste of your fruits.
Conclusion
Fault line cakes are the rage these days because aside from the fact that they look really cool and stylish, they offer cake makers a lot of room for creativity. We may be talking about just one decorating trend, but fault line cakes are very flexible and allow us to apply a few other decorating techniques. Moreover, you can pick a specific theme for whatever celebration it is, and you can still go for a fault line cake.
Recommended Reads: