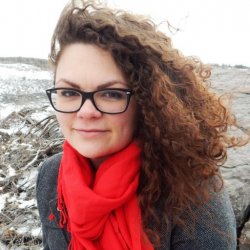 Latest posts by Candace Osmond
(see all)
Are you a Batman fan, or do you have someone dear in your life that loves Gotham's hero? Then making a Batman-themed cake for their upcoming birthday will knock their socks off. If you're short on Batman cake ideas, I have 30 masterpieces to show you.
Bottom Line Upfront
Holy amazing cakes, Batman! It's so hard to pick which one I love the most. But if it were my birthday, I'd go with the Classy Batman Cake because it looks easy enough to recreate, and it's shiny!
Top 3 Picks
See also: How to Find The Best Cake Ideas
The Best Batman Cake Ideas for Any Birthday or Occasion
It wasn't hard to come up with this list; the internet is full of amazing ideas. But I chose these based on factors that would appeal to a wide range of people and occasions. I considered the style, difficulty level, and age of the recipient.
Fight the Night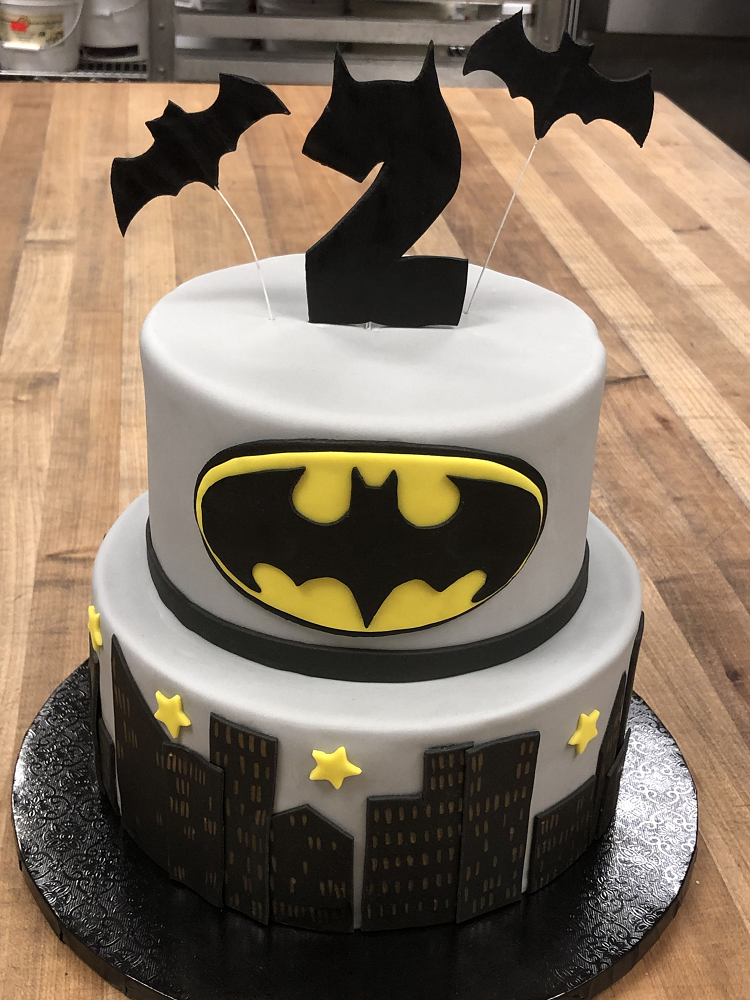 You can keep it simple and go with the classic Gotham at night calling for the Batman to the rescue theme. The details on the cake are very easy to make if you have a little spare time. The bat toppers are an adorable addition and match the theme perfectly. The cute little stars are also very easy to make.
Classy Batman Cake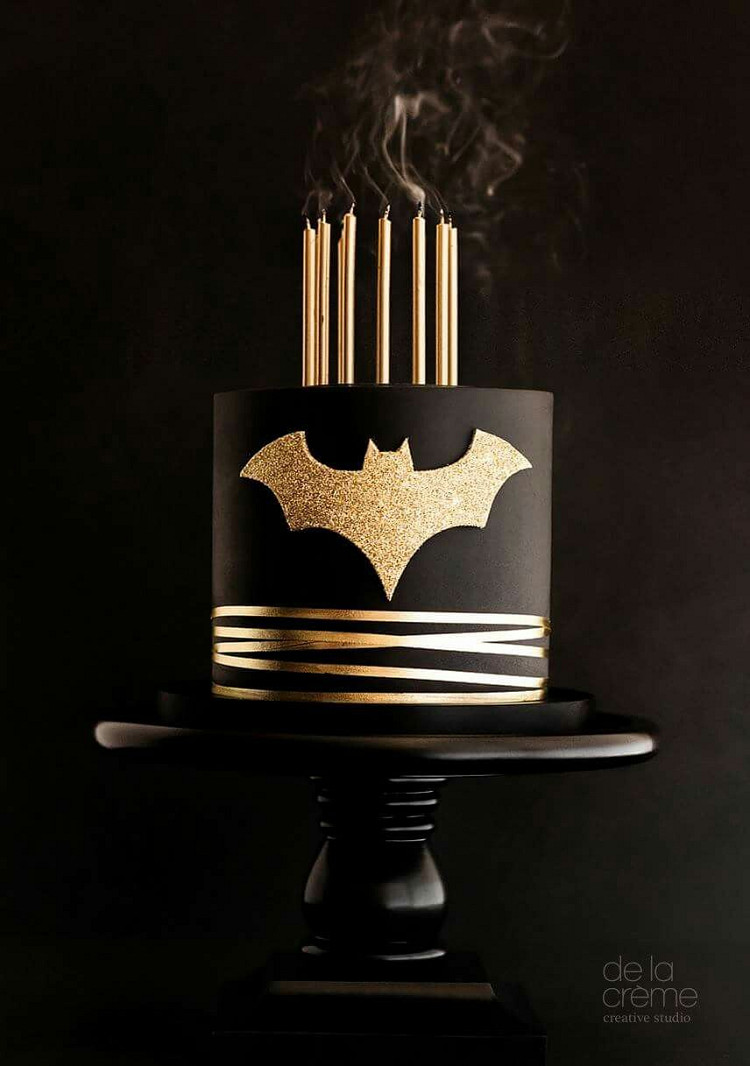 Batman is a timeless character and one that's loved by children and adults alike. So, if you're looking to decorate a cake for an adult who isn't into colors, you can't go wrong with a black cake with golden details.
The Batman logo is perfect, and the matching golden candles are a detail that one can't just overlook. The simplicity of the cake is what makes it so classy. I sent a screenshot to my husband with no context. I hope he gets the hint.
Golden Figure

I'm always amazing at what can be with a bit of patience and some gold foil. Go for some black fondant or dye the icing to make it the black color that's so specific to this Batman theme.
The gold foil and the shadow figure are perfect for making a simpler and more elegant cake. I love the golden macarons on top, which are not only delicious but match the rest of the cake.
Brushed Gold Mystery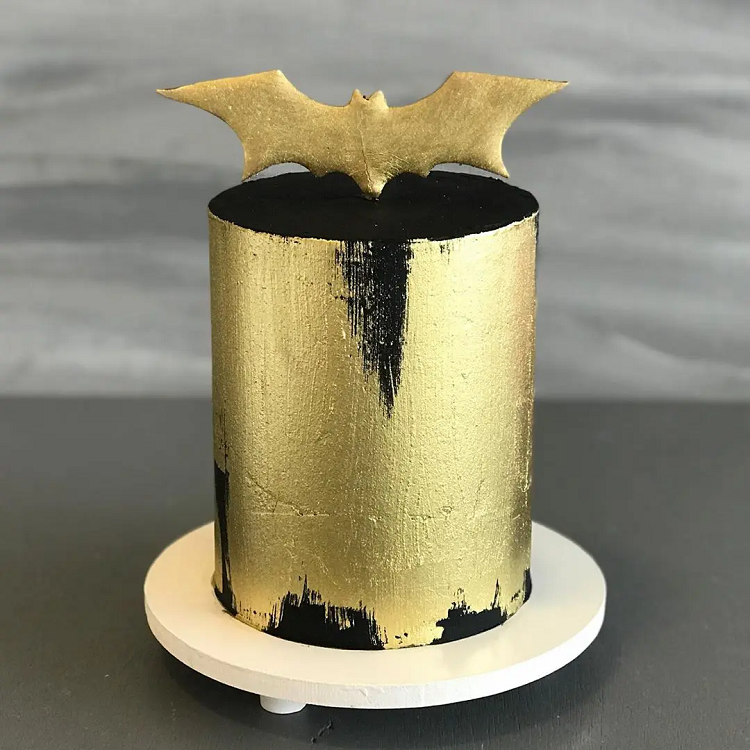 If you're looking for a stunningly beautiful adult Batman cake, look no further! The appearance of a cake that is layered in black and gold and is topped with the Batman insignia is sure to attract partygoers and is certain to take the spotlight at any event. Considering the simple design, it's also very easy to make.
Cake and Cake Pops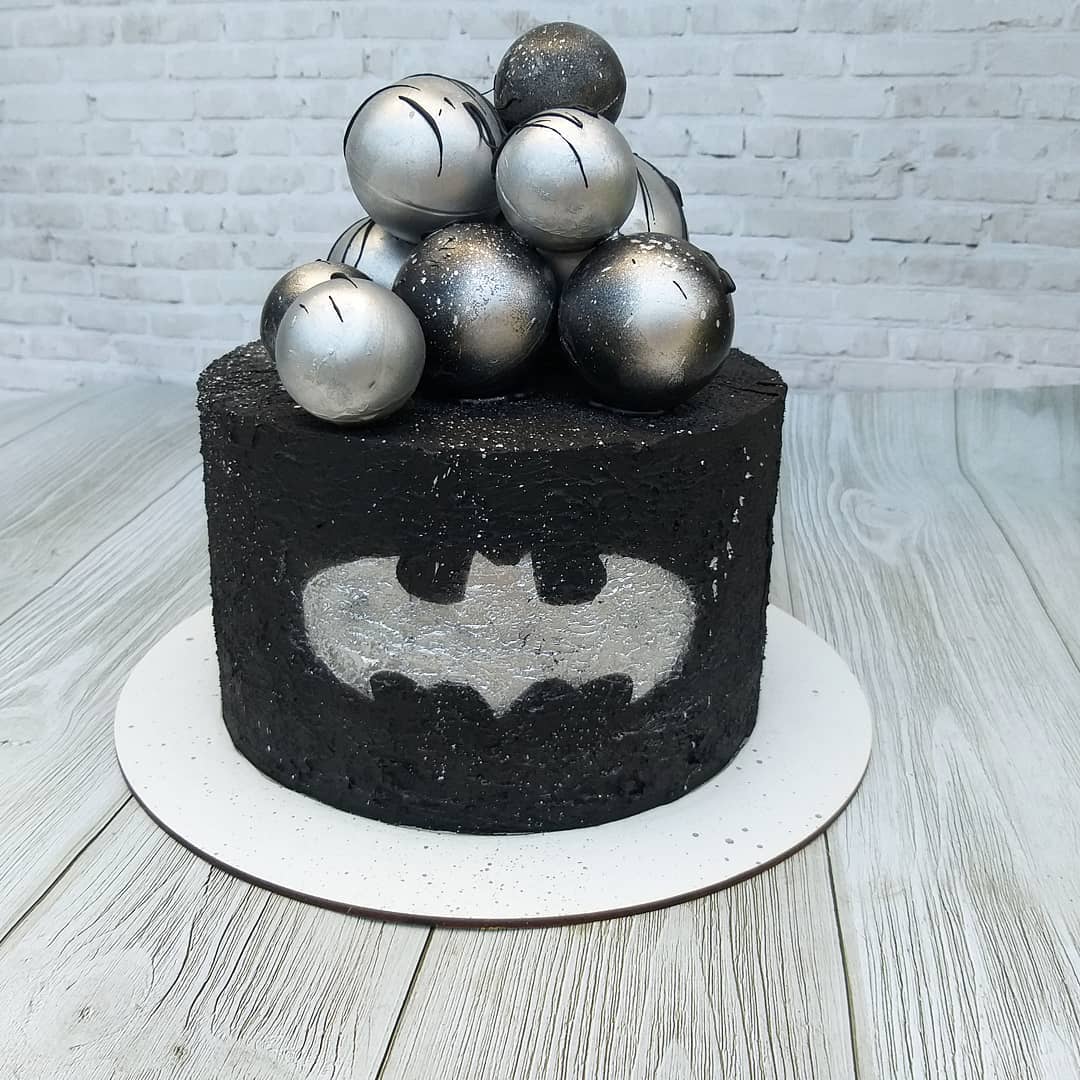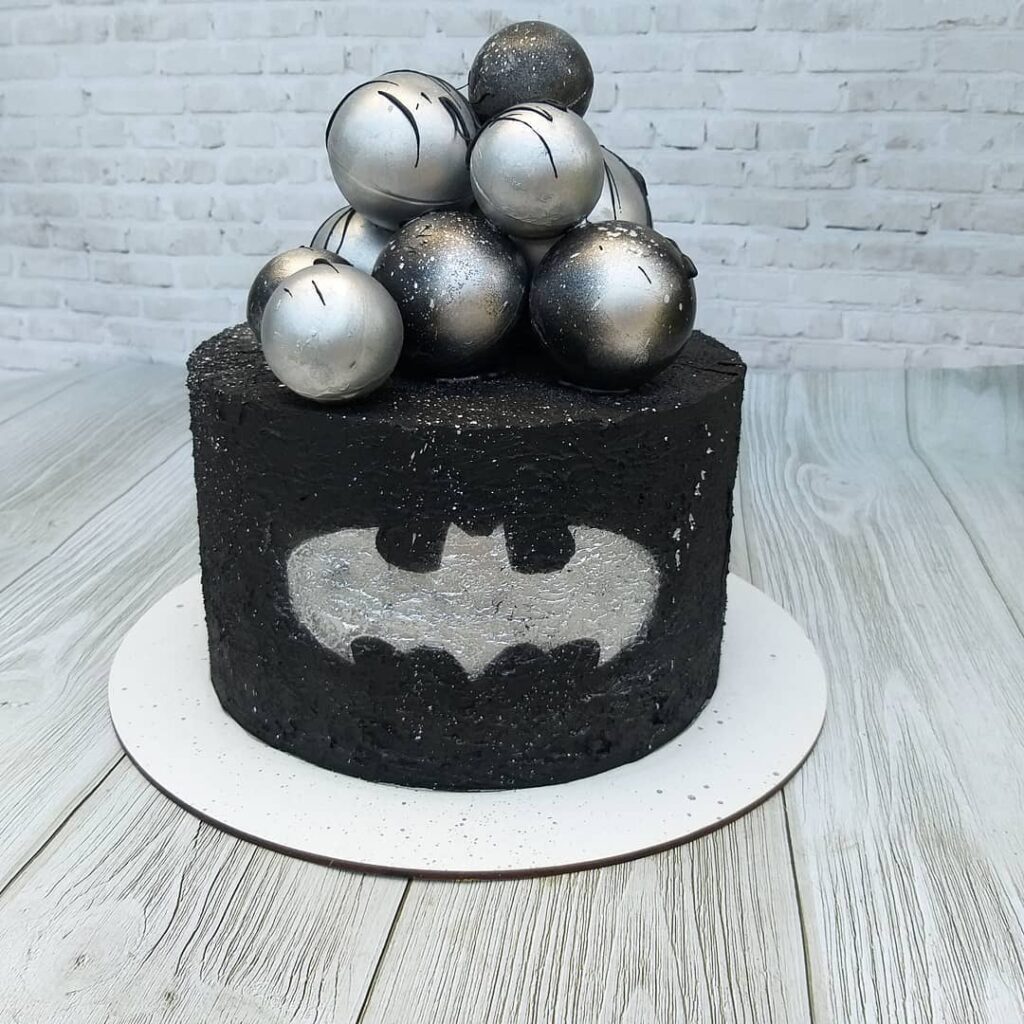 When you look for cake designs, you get to experience creativity in a wide variety of forms, which is one of the many benefits of doing so.
You can have something as basic as a Batman birthday cake, and this particular one uses a variety of decorations and components to create a visually appealing cake. Decorating this cake is as simple as adding some cake pops on top of it.
Golden Shadow Reloaded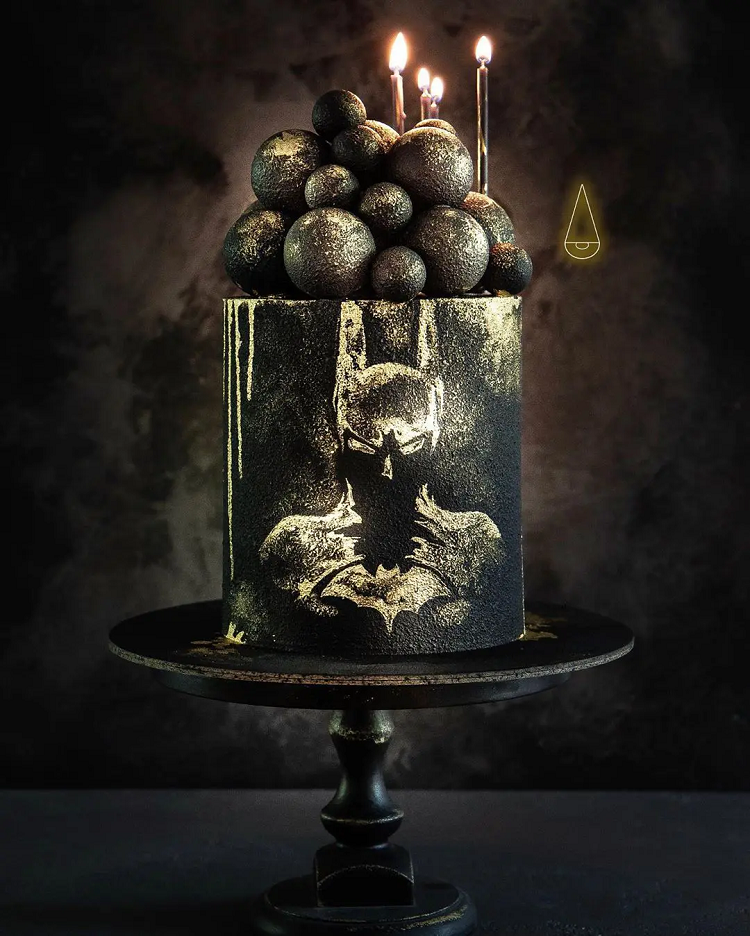 If you loved the idea of having the shadow Batman figure on the cake but would like something more intricate, you're going to love this. To make the job easier for you, just make a stencil and use a golden spray that's used for decorating cakes. The top of the cake is decorated with cake pops which are also very easy to make.
The Bat-Signal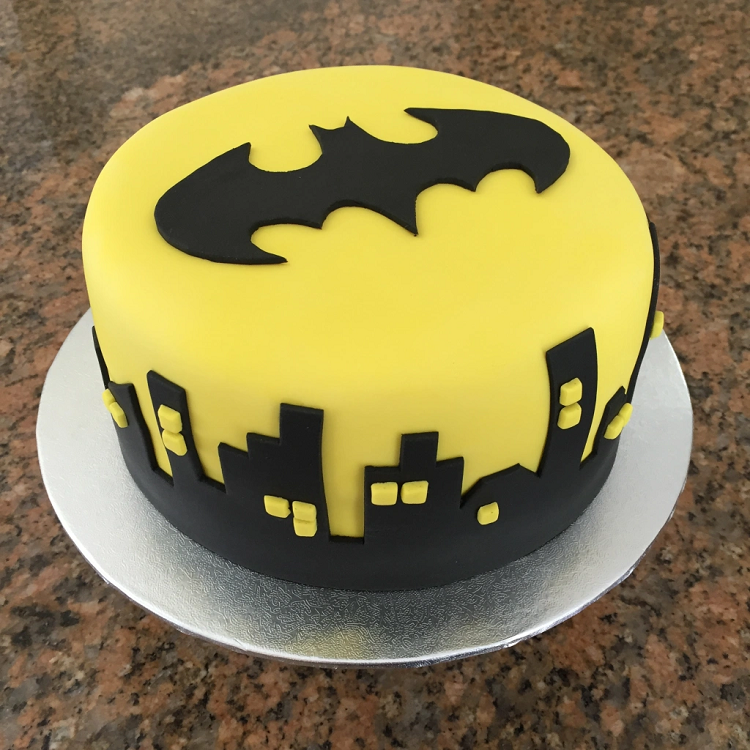 Gasp! Is that the Bat signal? No, it's a cake.
When it comes to making a Batman-themed cake, a lot of people are afraid of the decorations because they want them to look realistic.
Making the bat logo is the easiest thing, especially since you can cut the fondant into about any shape you want. Notice how easy it is to make it using baking paper. Grab a Batman logo off the internet, put it on your monitor, place parchment paper on top, and draw the outline with a pencil.
Fondant Name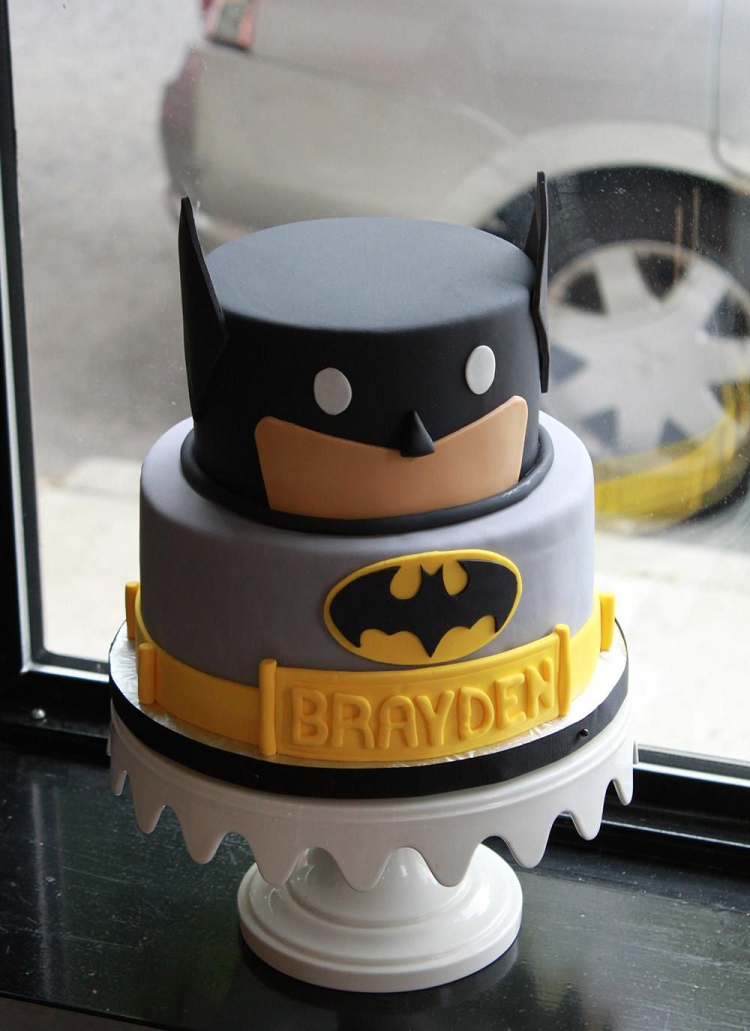 Fondant comes to the rescue once again, offering a great way for you to make your Batman cake just the way you like it. This example right here is as adorable as it gets. As long as you're comfortable working with fondant. It takes some practice, so I suggest you play with it first.
Aside from the adorable Funko-style entails of the cake, you can see the belt "engraved" with the birthday boy's name. It gives the cake a more personal touch and makes for some great photos.
Emerging Bat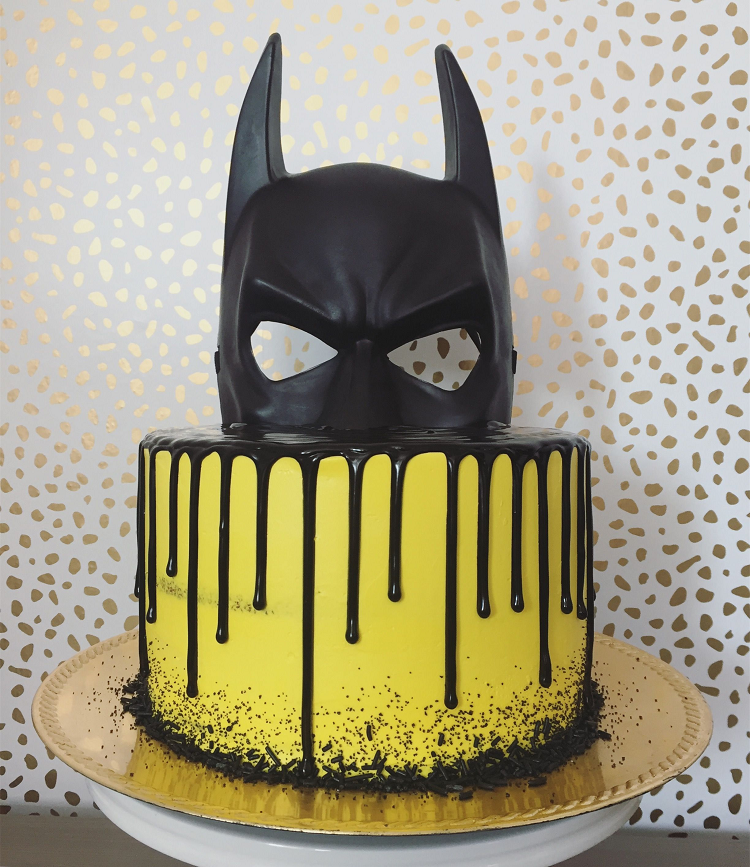 Watch the Batman emerge from a pool of chocolate drizzle as he's ready to save Gotham and sing Happy Birthday to whoever is celebrating today.
This delicious yellow cake is topped with dripping chocolate ganache, which I'm sure tastes great and is also easy to make. The ultra-realistic mask is likely made from fondant as well.
Top Tier Cake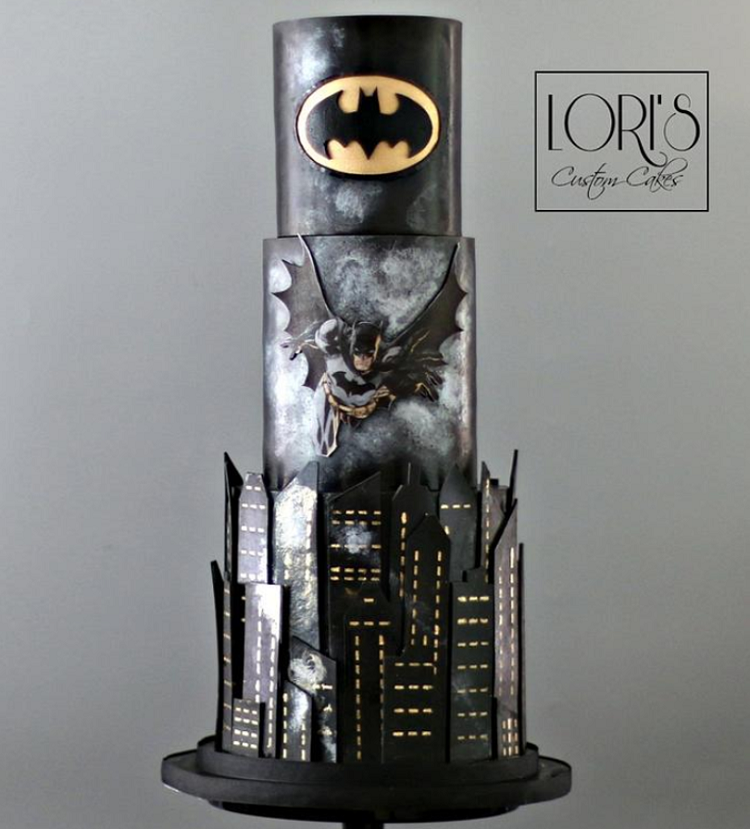 Ok, maybe making a Batman cake with this level of detail isn't exactly a walk in the park, but I wanted to show it to you, nevertheless. Isn't it a masterpiece?
Each tier is so carefully planned, with the city on the bottom tier, our masked hero guarding it in the middle tier, and the Bat-signal on the top tier, calling out for the city's savior.
Funky Funko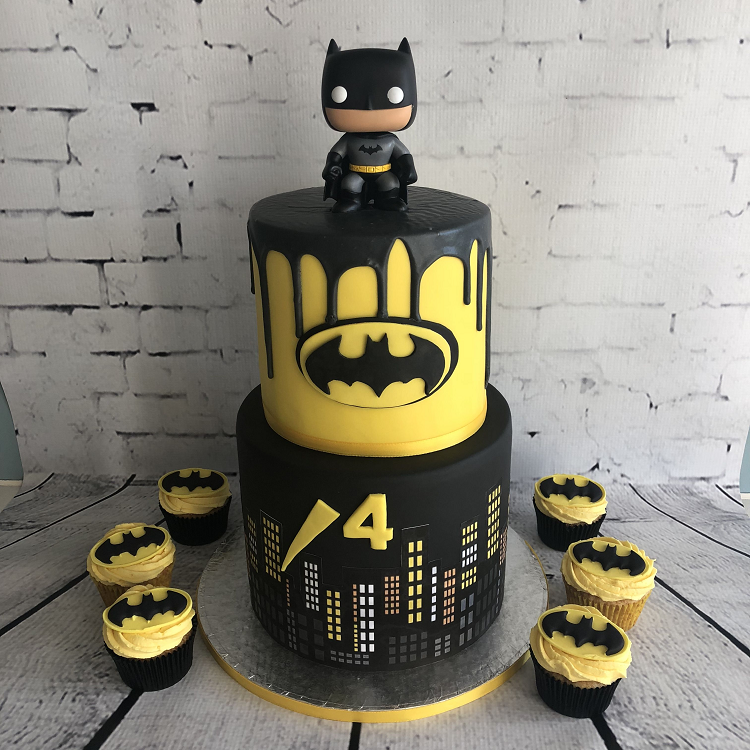 Everyone loves a good Funko pop figurine, especially if you like collecting merchandise that supports your passion for certain characters. Here we can see a Batman cake topper designed to replicate a Funko figure.
The matching cupcakes are a delight and can be made using the same recipe as the cake itself. Don't worry about making another batter.
Celebrate the Father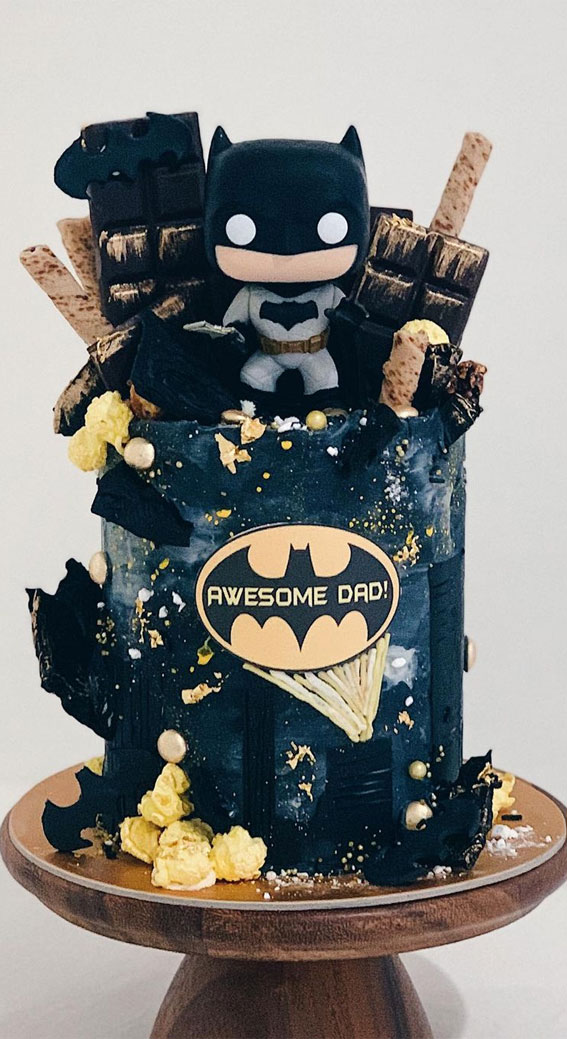 Time to celebrate Father's Day in style or show your dad how awesome he is with a cake reigned by his favorite masked hero. With delicious sweets to adorn the top, colors that stay true to the Batman universe and the Bat signal that shows how cool your dad is, this is the cake that will leave him talking for the rest of the year.
Fly, Baby, Fly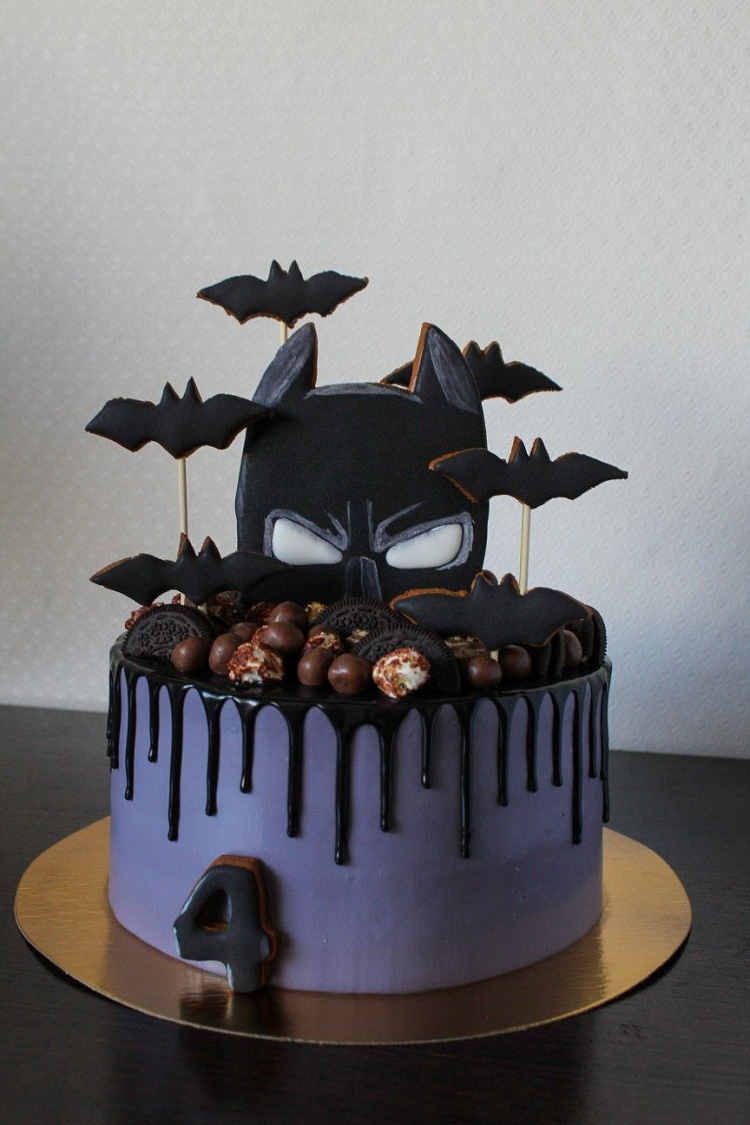 Bats don't show up often enough, considering the name of our superhero but putting some on your cake kind of makes sense. These bats are easy to make with some proper fondant, and the rest is easy: just put them on spikes and place them on the cake.
Use cake pops and all sorts of chocolate bonbons for the topping, and don't forget about the cherry on top: Batman himself emerging from the icing.
Fabulous Fondants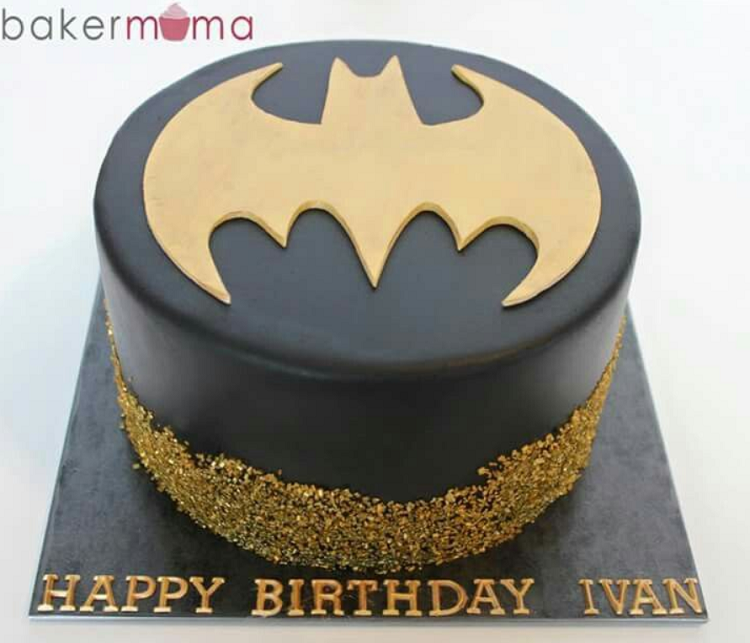 Here's one more example of how easy it is to make a Batman-themed cake even if you don't know your way around deserts.
With some simple black icing, the Bat logo made from fondant, and some edible glitter on the bottom half of the cake, you can end up making some marvelous, tasty, and appreciated by the birthday hero.
Fluffy Batman Cake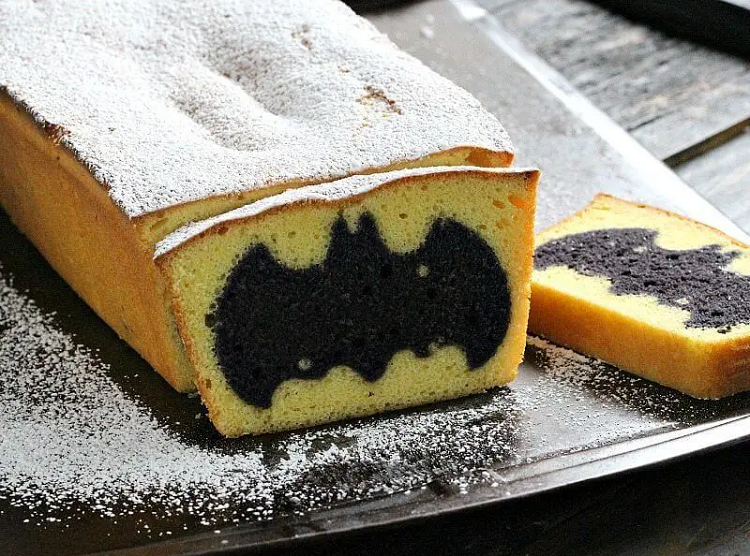 Cake is quite a broad term, so you could even get away with making sponge cake instead of actual cake. If you bring this cake to a playdate or party event, you can be confident that it will be enjoyed by both the children and the adults in attendance.
And you don't need any fancy ingredients to make it, as it's mostly eggs, milk, butter, sugar, flour, and baking powder.
A Masked Wedding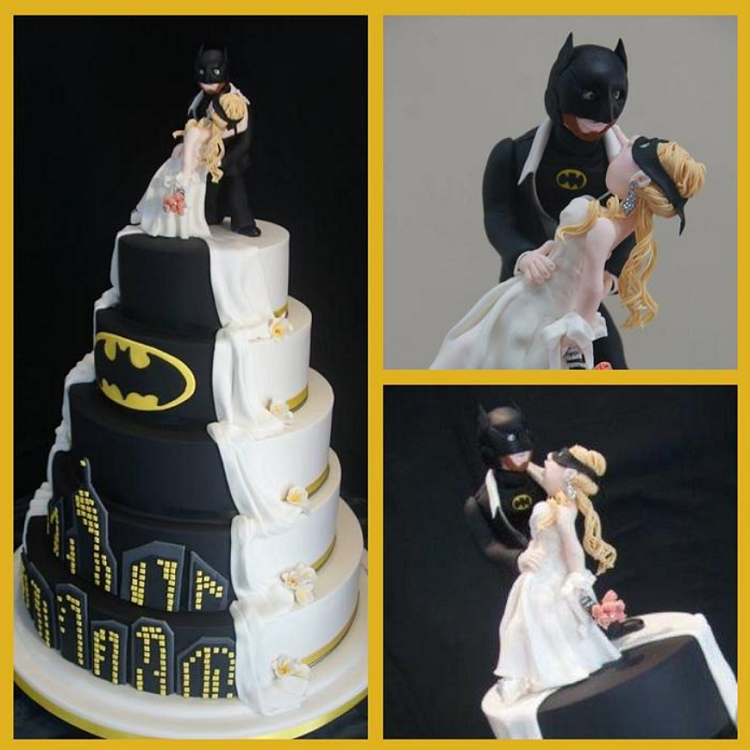 When it comes to Batman wedding cakes, this one takes home the… well, the cake! The white icing that you usually see on wedding cakes is partially removed to reveal a nocturnal image of Gotham, as well as the Bat signal.
Our bride and groom toppers look exactly like a damsel in distress and our masked vigilante leaning in for a kiss. Isn't it romantic?
Sweet and Simple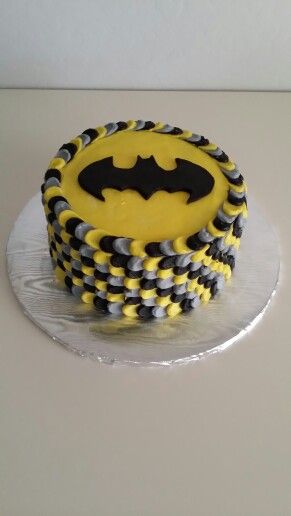 You don't need fancy baking items or years of practice to make a good and nice-looking Batman-themed cake. You can use a normal food-grade bag to make the piping, and cutting the Batman logo from fondant is very easy if you download a template from the internet.
As you can see, this cake uses basic decorative elements and still manages to look tasty and tasteful.
Call in the Batman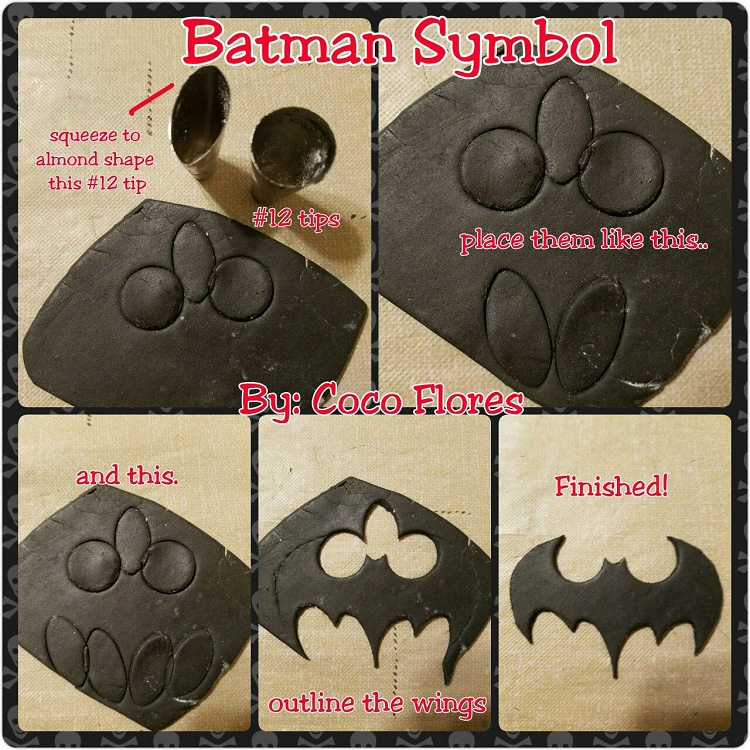 This is a quick tutorial that will show you how insanely easy it is to make the Batman symbol from fondants. With just two shapes, you can cut the extra fondant in just a few seconds. This leaves you with a perfect Batman cake decoration that can be used on the top or placed on the sides.
Forever and a Day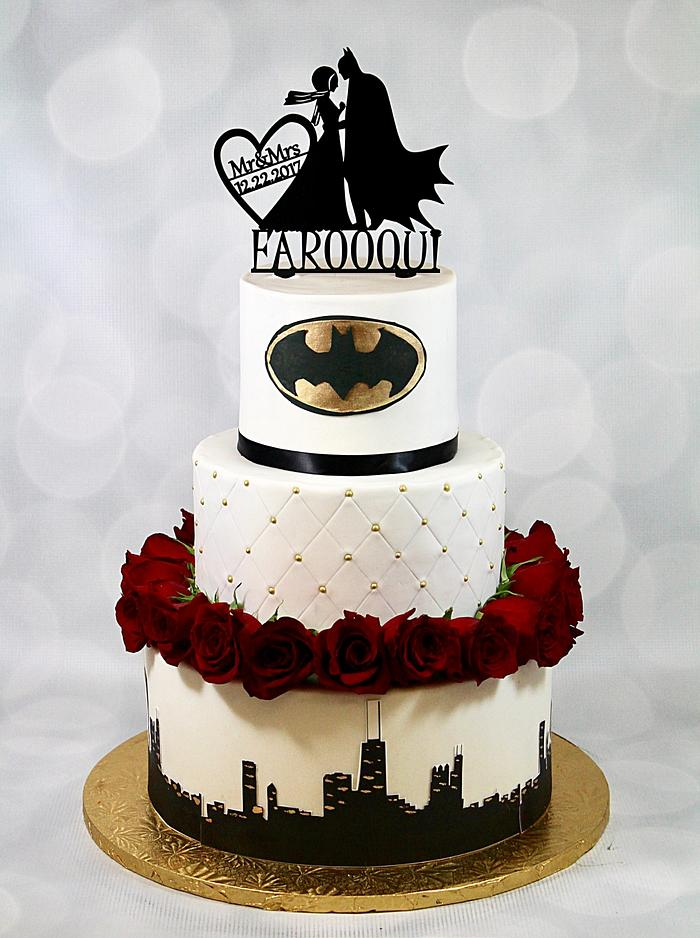 Here's another amazing wedding cake idea that you have to look into if you and your spouse are Batman fans. The fondant keeps that white color that we're used to seeing in wedding cakes but embeds details from the universe of Gotham. The roses add a drop of color and a beautiful contrast to all that white.
Donut Eat All the Cake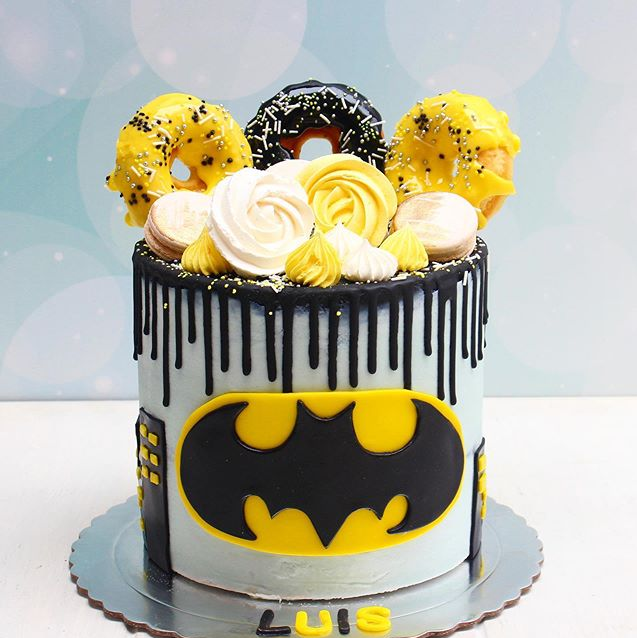 This Batman cake falls on the original side of things as it uses donuts, macarons, and meringue as decorations for the top side. The cake itself is pretty simple to make, especially since everything on top can be purchased ready-made from the store. Just looks for sweets that match the theme colors.
Flying Perfection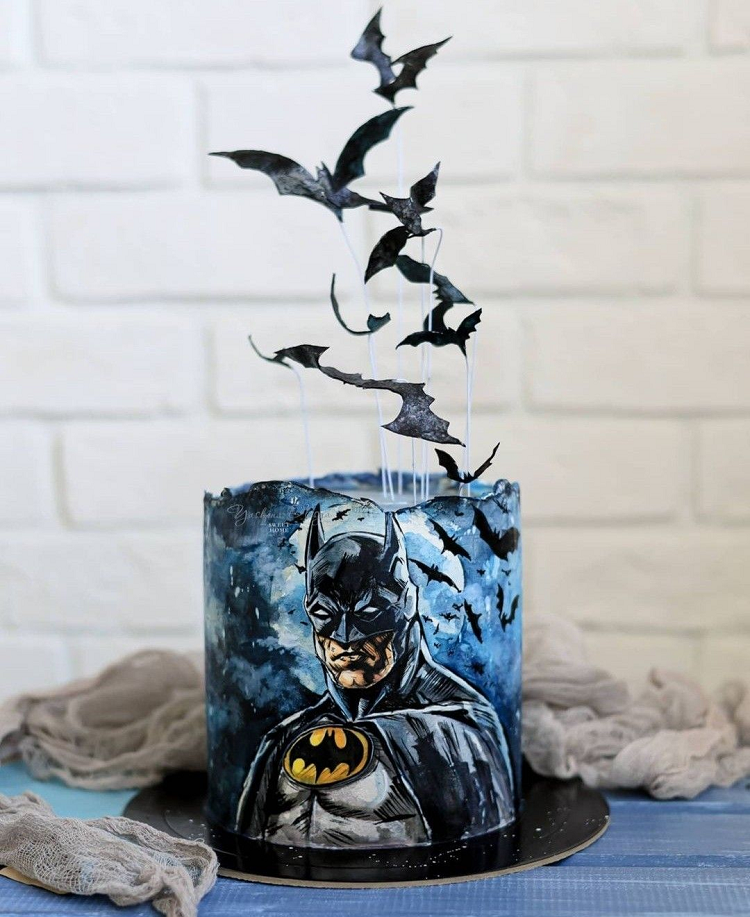 This has to be my favorite Batman cake ever. The level of detail on this thing just blows my mind. The noir Pulp Fiction-style Batman bust is rich in detail, with perfect lines and shadows.
The bats are likely made from fondant and placed on light-colored sticks to make it seem like they're flying away. It's absolute perfection.
Night Lights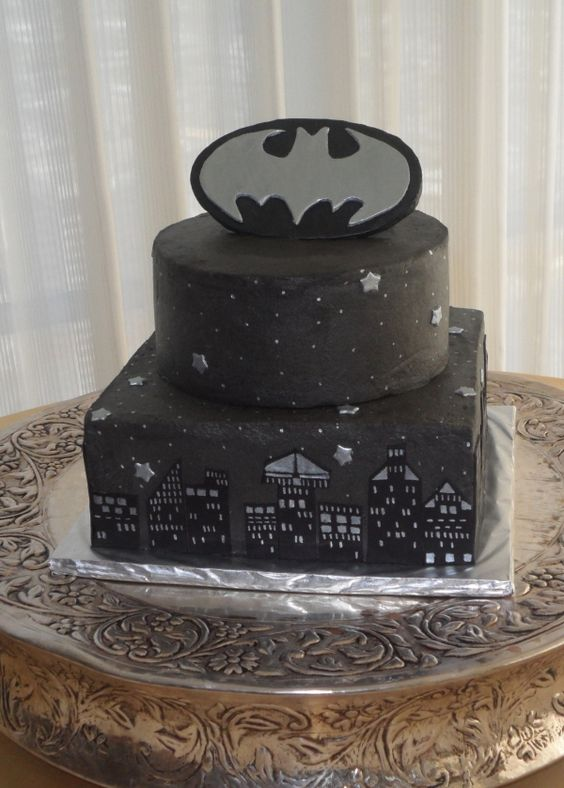 If you're not a fan of too much yellow on a cake, you can also substitute the use of yellow light with silver. As you can see, it's easy to create a dreamy nighttime Gotham scene using silver stars and building lights. You could also get playful with other colors if you want a more original Batman-themed cake.
Powdered Cake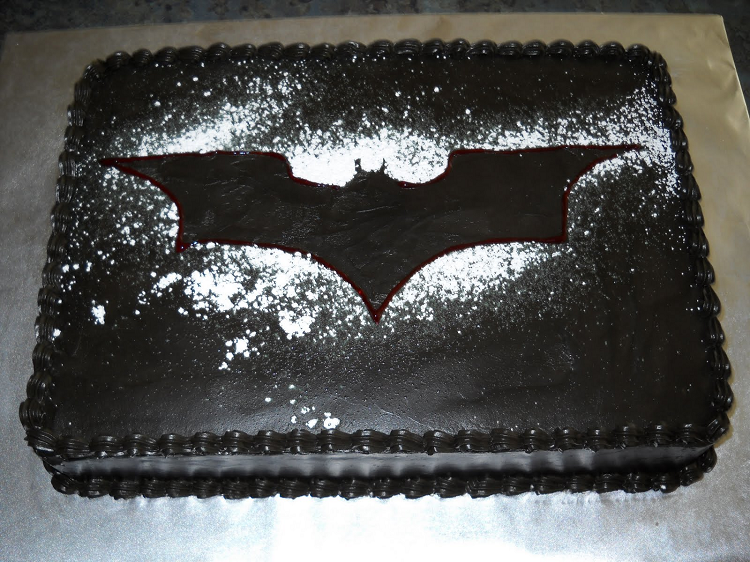 Here's one more cake for people who don't want to spend too much time making decorations. What you do here is make a cardboard Batman logo, hold it on top of the cake, right in the center, and throw some powdered sugar above it.
You should be left with the hallow Batman logo, which is now visible because of the sugar on the edges.
Bat M&Ms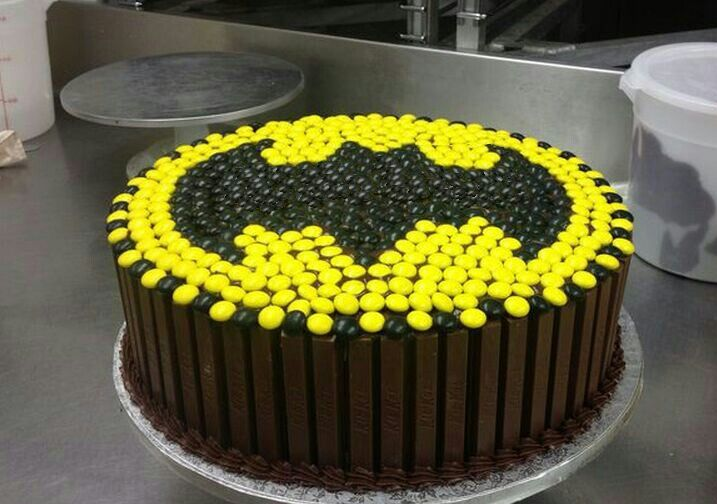 Another easy way to decorate your Batman cake is to use yellow and dark brown or black candies or bonbons on top. The sides are adorned with KitKats, a trick that's been used in cake-making for quite a few years.
It might take some patience to place all those candies on top, but it beats more complicated methods of cake decorating.
His and Hers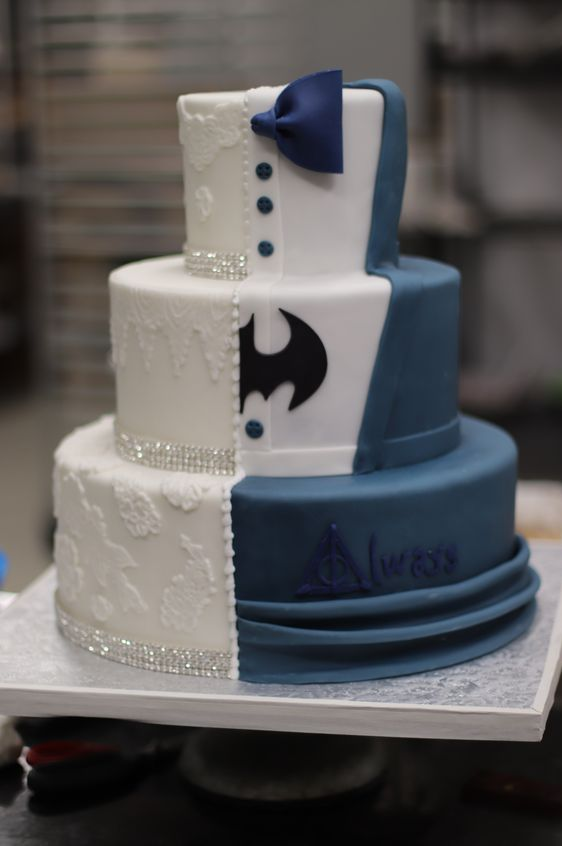 Everything about this game is gorgeous. The duality of the cake combines the elegance of a wedding cake on one side and some Batman elements on the other. Take a closer look at the cake. You will also notice a Harry Potter Easter Egg, which is the Deathly Hallows symbol drawn on the side.
A Heroic Wedding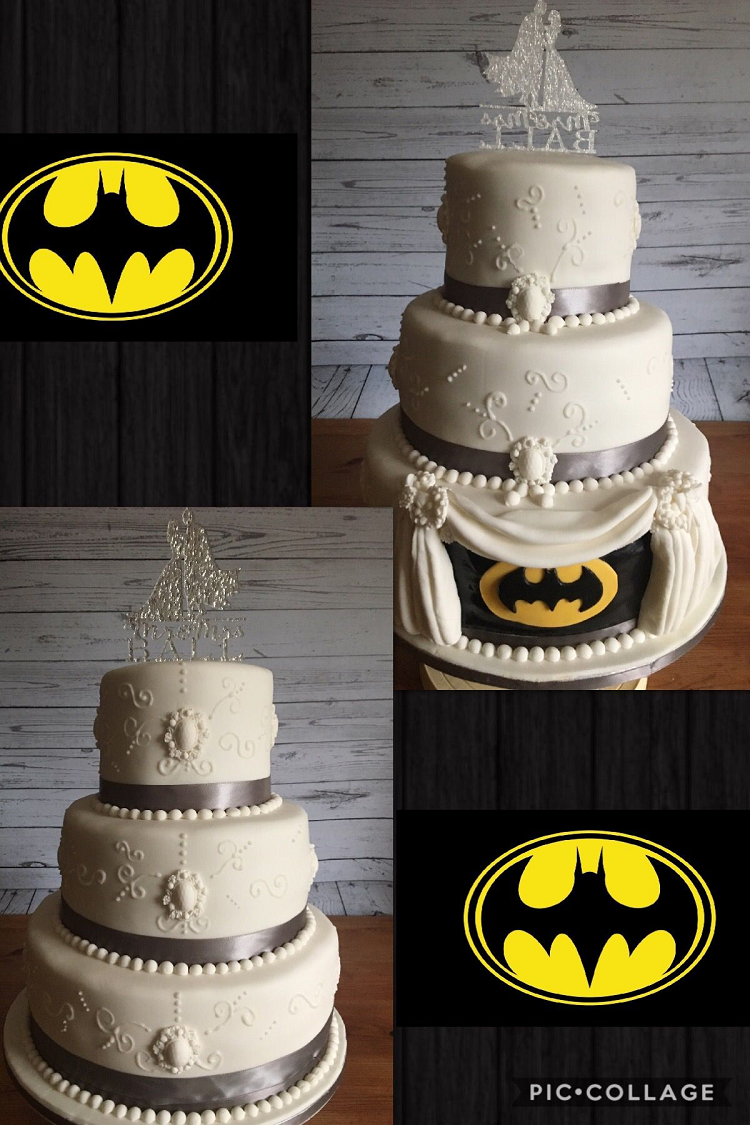 Aside from a birthday party, what's the second most likely place to enjoy cake? A wedding, of course! If you and your future spouse want to make history in the minds of your guests, then a Batman wedding cake seems like the way to go.
I just love how the Batman logo is relieved underneath that common white frosting, making this cake unique.
Comic Companions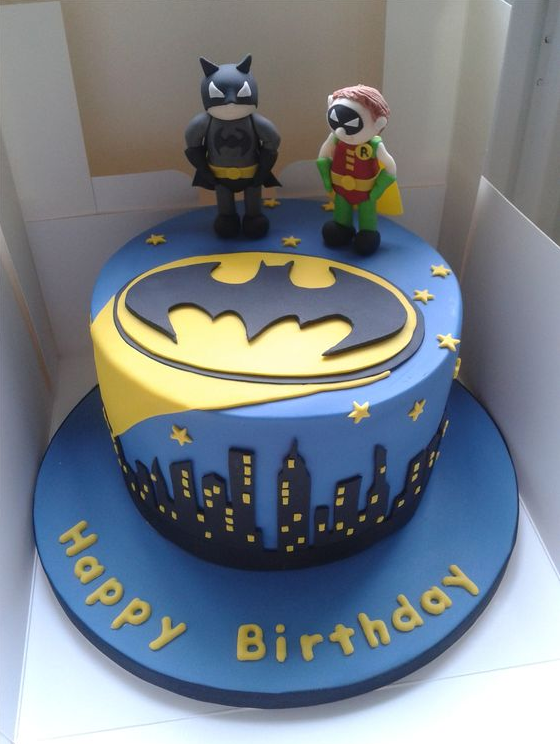 If you like the crazy duet of Batman and Robin, how about making a cake that shows off both of these beloved characters. Created to be an apprentice to Batman, Robin was young and quirky, with humor loved by all. Have them both watch over Gotham and attempt to bring justice to the foul streets of Gotham!
Wonder Waffle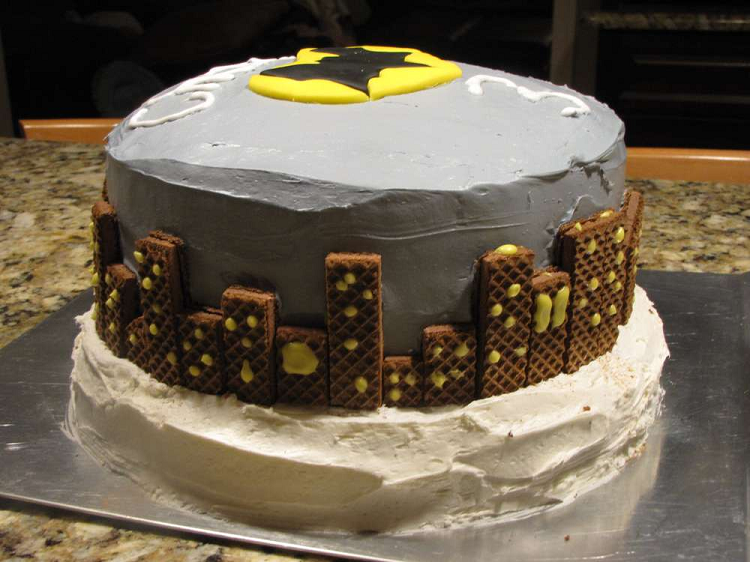 If you love all these ideas of decorating a cake with Gotham's skyline, but you think it's too much work, here is an excellent approach.
Just but some wafers into different sizes, use them to mimic buildings of different heights and make some small square icing windows to see the design through. It's probably the easiest way to bring delicious Gotham to life.
Gotham's Hero
If you want to celebrate someone's special day with a more colored cake, then decorating one of these is pretty simple. You can get away with a simple frosting recipe and adorn it with a Batman cake topper.
The topper could also be a toy used strictly for decorative purposes. Just remove it from the cake before the kids try to eat it.
Gotham City Skyline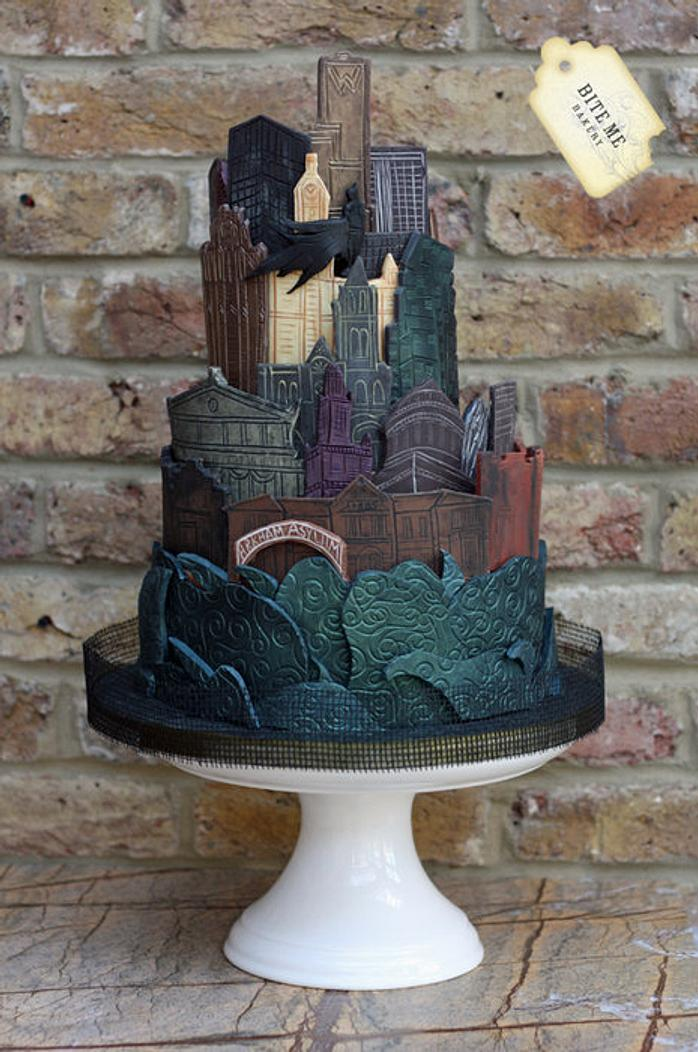 This is definitely one of my favorite cakes on this list. I don't know if I have the patience or skills to pull it off, but it looks astonishing. It's a cake idea for those who want to take on a challenge and take things up a notch.
The details on this are amazing, and it almost looks like a wooden sculpture of the city Batman swore to protect.
Batman Cake Must-Haves
If you're looking to make your own Batman cake, but you're not sure what to include (or don't know much about the Batman universe), here are some items that you should consider including:
Colors – The predominant ones should be black and yellow.
Logo – When it comes to replicating a superhero logo, the Batman one is probably the easiest to make.
Belt – Batman's belt is one of the most iconic things about his suit.
Bat mask – The second one is the bat-shaped mask he wears.
Batmobile – If making the Batmobile is too difficult, just buy a non-edible toy from a store and remove it when cutting the cake.
Cake Decorating Materials for DIY Batman Cakes
Fondant
The exterior of cakes and pastries can be iced with fondant, which is a sort of frosting. It is a sugar mixture that may be physically manipulated in the form of molding, rolling, and shaping in other ways to decorate cakes and other sweets as well.
Since fondant can be colored and otherwise given texture in a variety of ways, it is possible to find a wide variety of edible cakes that are both colorful and stunning. These cakes can take on a variety of forms and can have a variety of appearances.
Modeling Chocolate
Modeling chocolate is a paste made by combining chocolate with different kinds of syrup: golden, glucose, or corn.
The industry of cake decorating makes extensive use of modeling chocolate due to its high versatility and wide range of applications.
Because it functions so similarly to clay, it lends itself particularly well to the creation of lifelike facial sculptures. It is possible to build it up, make the seams less noticeable, and it is very good at holding details.
Buttercream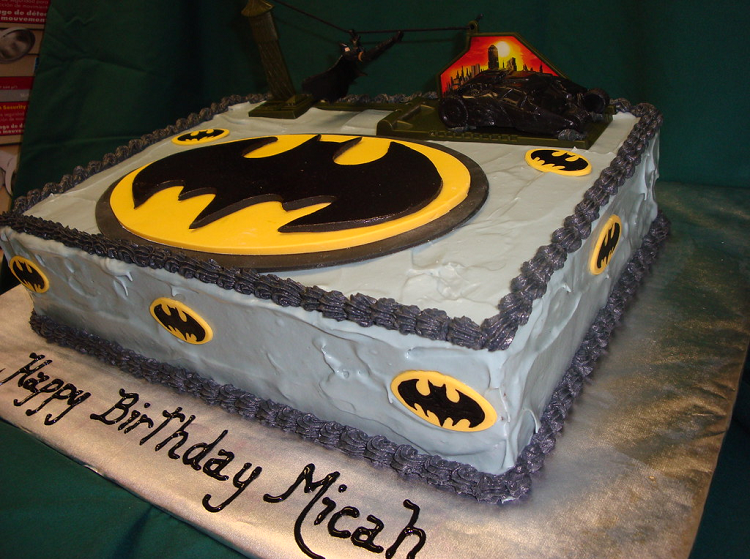 This confection, which is made with butter and icing sugar, can be flavored with a variety of ingredients, such as lemon zest or chocolate, for instance.
The use of buttercream not only makes for tasty cake fillings but also makes an excellent crumb coat. Buttercream is less grainy and smoother in texture. You can purchase ready-made buttercreams.
Royal Icing
This is a type of icing that is firm and brittle, and it is typically used to decorate baked goods like cakes and biscuits. You may make it from scratch, but many bakers prefer to use meringue powder instead, which can be found in places that sell baking supplies and even in some supermarkets.
After the powdered meringue and liquid are mixed, the mixture is typically colored with food coloring.
Glaze
Glazes are the most straightforward form of icing. When blended with a liquid, powdered sugar produces a runnier viscosity. Glazes are typically applied to the tops of baked goods like cakes and cookies by either pouring or drizzling them on. When the glaze dries, this creates a crust that is beautiful and durable.
Ganache
Chocolate and heavy cream are simply heated together to make a ganache. Cakes and cookies can be given a stunningly lustrous finish with the help of this icing. Using your homemade ganache, you can easily pull off this simple dessert trick.
You can make truffles by first chilling the ganache, then beating it with a mixer until it becomes fluffy and firm, and finally rolling the mixture into balls. Additionally, a ganache can be refrigerated, beaten, and then used to rapidly frost a layer of cake with an airy effect.
FAQs
Question: Which is Better, Icing or Buttercream?
Answer: When it comes to flavor and mouthfeel, buttercream takes the cake. The frosting is smooth, creamy, and does not dry up quickly.
Question: What do I Need to Make Fondant?
Answer: An easy way to make fondant at home is by melting marshmallows and combining them with powdered sugar. The more complicated recipe requires gelatin, water, glucose, glycerin, and confectioner's sugar.
Question: Can You Eat Fondant?
Answer: Yes. Fondant is made with edible ingredients, so it's safe to eat it. However, you might see people taking the fondant off the cake instead of eating it. That's just a matter of personal preference, as there are people who dislike the texture or flavor.
Na Na Na Na Na Na Batman
With loads of different ideas to choose from, a Batman cake seems like a great gift for a Batman fan. You can get creative with a lot of the details, and if you're not a fan of decorating cakes, there are a lot of shortcuts at your disposal.
Just make the bat logo from some fondant and slap it on a yellow background. I love the Classy Batman Cake idea and think it would be perfect for any age! If you want even more epic ideas, check out our site!
Recommended Reads: