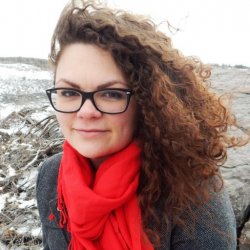 Latest posts by Candace Osmond
(see all)
Does a Pokémon Master in your life have a birthday coming up? Want to make their big day extra special? To throw someone the ultimate Pokémon-themed party, you'll need Pokémon party supplies. Today, I'll walk you through the best Pokémon party dishes, games, decorations, and more. I'll also cover some beginner's information about Pokémon, so don't worry if you don't know much about the show or video games. Without further ado, let's get into it!
Bottom Line Upfront
I love a sweet balloon arch! They can level up any event and gives that wow factor that everyone will remember. So, I'd highly recommend the 116 Pack Red Black Yellow Balloon Garland Arch Kit for Pokémon.
Top Picks
Wanna skip right to the best part? Check out these balloons, decorations, dishes, wrapping paper, games, and party favors that I'd consider top-tier. I'll give more info about each of these party essentials further down.
Best Balloons: Lovsong 5 Pieces – Pokémon Birthday Balloons
Best Decorations: 7 X 5 Ft Cartoon Video Game Pokémon Birthday Photography Backdrop
Best Party Dishes: Pokémon Party Supplies Pack – Serves 16
Best Wrapping Paper: Hallmark Pokémon Wrapping Paper with Cutlines on Reverse
Best Game: Pokémon Catch Pikachu Pin the Tail on the Donkey
Best Party Favor: COUOAO 12 Pcs Mini Push Pop Sensory Fidget Toy – Pikachu
What Age Range is Pokémon for?
Pokémon is intended for kids ages 6 and up. I'm going to argue that Pokémon is for adults, too, since it's mostly adults who make money from competitive Pokémon gaming and streaming (and lots of us grew up with the show.)
Key Party Elements for a Pokémon Birthday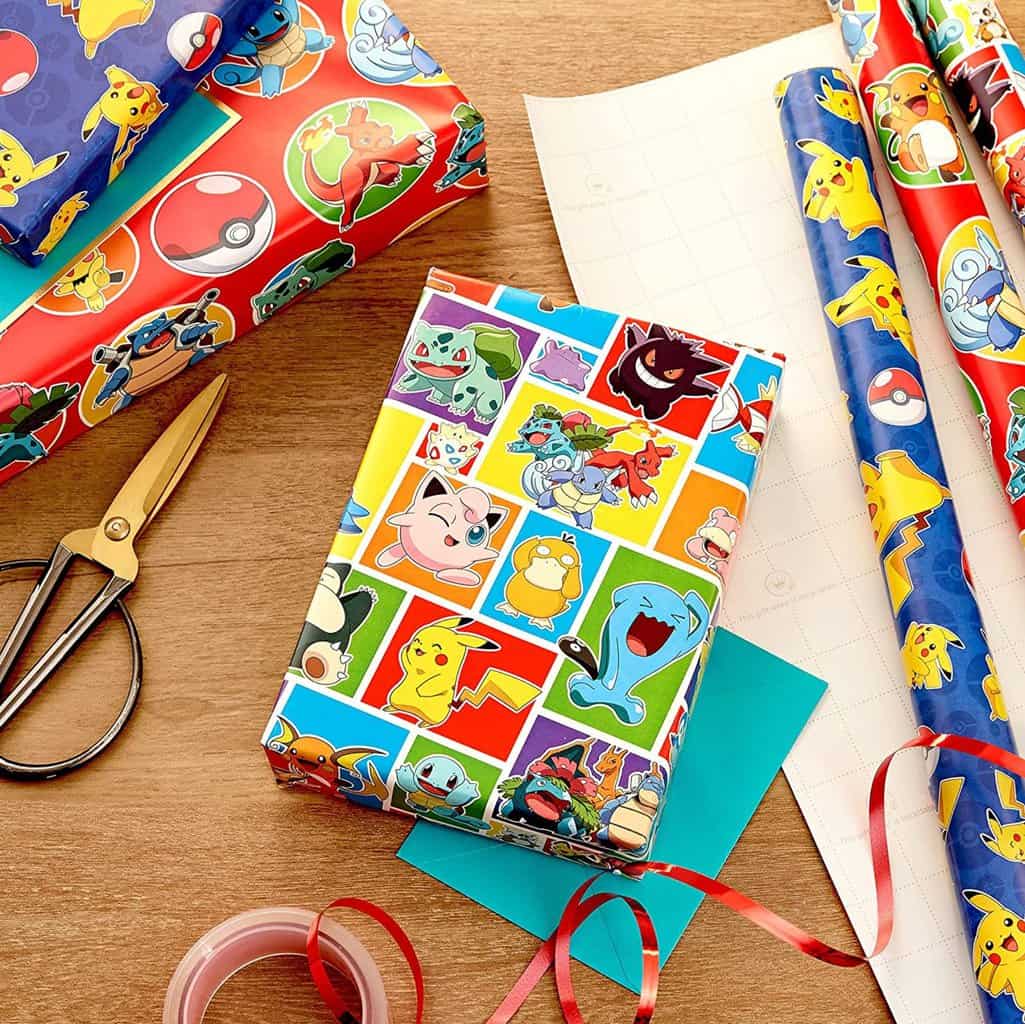 Here's a quick idea of what you might want to include at your Pokémon party. Even if you have next to no knowledge of Pokémon, this section will give you a good idea of what to look for.
Colors – The most prominent color scheme in Pokémon is red, white, black, and yellow. Pokeballs are red and white. Pikachu is black and yellow.
Symbols from the show – You'll want to include pokeballs at your Pokémon party, but you could also include fruit shown in every Pokémon season like oran berries, cherri berries, and pecha berries.
Characters – The main character of every Pokémon season is Ash. All the other characters change with every new region, so you'll need to know which regions your child likes to understand their favorite characters.
Popular Pokémon – When in doubt, go for the popular Pokémon like Pikachu, Bulbasaur, Charmander, Squirtle, Meowth, Eevee, Psyduck, and Jigglypuff.
The Best Pokémon Party Supplies
Ready to look through the best Pokémon party supplies you can find online? I've spent a lot of time compiling this list to show items I'd want for my child's (or my own) Pokémon birthday party and a variety to appeal to different ages. I'll describe what makes each item best, give some key specs, and list the pros and cons, so you can decide if you like each one.
Best Pokémon Balloons
A party isn't a party without balloons! I've got 4 Pokémon balloon packs to show you, and I know that at least one of these will be a huge hit at the birthday bash. Let's check them out!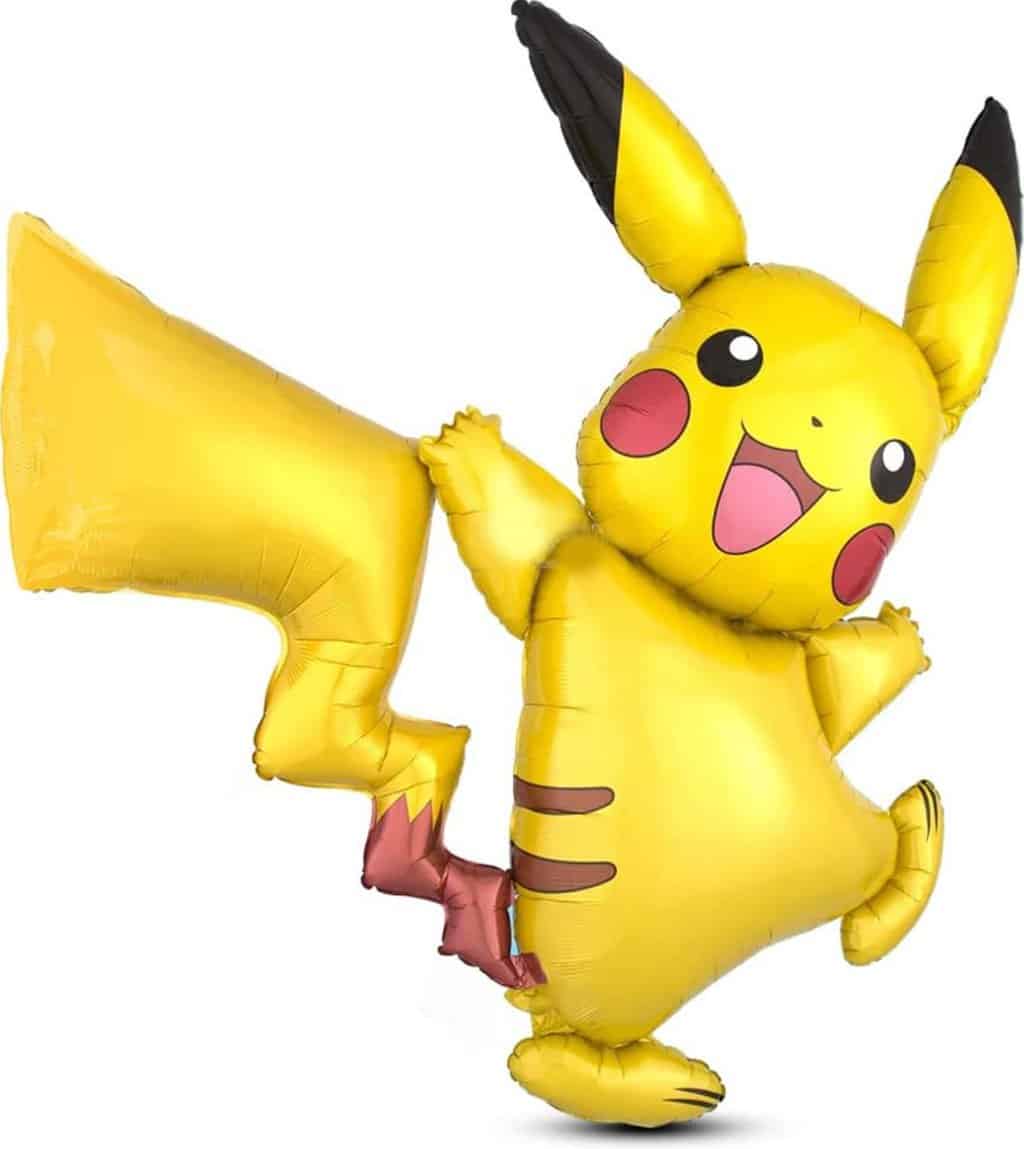 This huge Pikachu balloon might be even bigger than your child! At 57″ tall, this one is much larger than life size.
Pikachu is striking a pose! I think Pokémon fans would be thrilled to receive this giant balloon featuring the world's most iconic Pokémon. From episode one to the newest episodes airing now, Pikachu has been winning fan popularity contests for decades. How can anyone get enough of that cutesy smile and pudgy little body filled to the brim with electrical currents?
Price Range: $11-$21
Quantity: 1
Best Feature: Large size
This balloon is 57 inches tall and made of mylar foil. You may want to buy a helium pump with this balloon if you don't have one already.
Pros
Biggest balloon on the list
Almost every fan loves Pikachu
Inexpensive for the size
Cons
Some Pokémon fans are tired of seeing Pikachu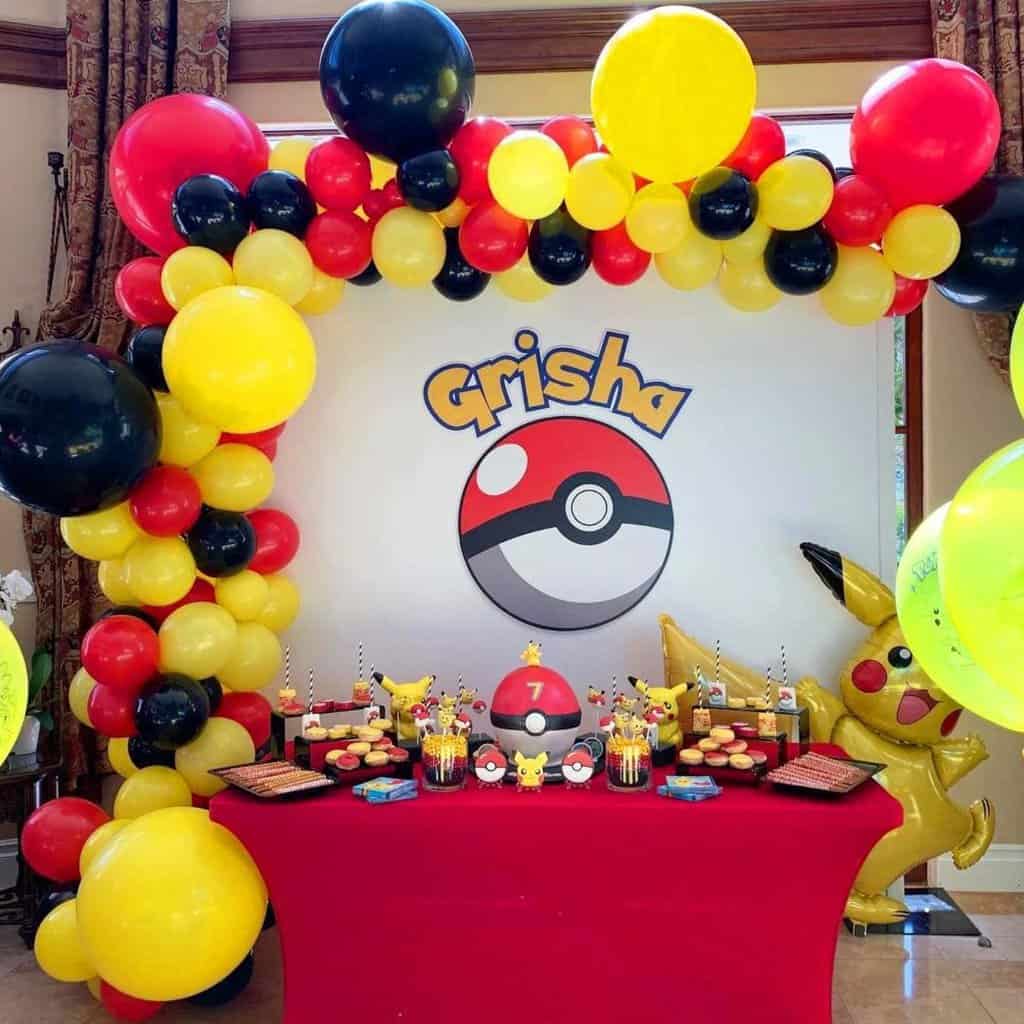 Now, this is how you decorate a partaaay! With this kit, you can create an entire archway with red, black, and yellow balloons.
Price Range: $10-$20
Quantity: 116
Best Feature: Great for large displays
I've always thought archways made of hundreds of balloons looked impressive, so I thought I'd show you this idea. You can create your own archway in your home or at a venue with 116 red, black, and yellow balloons. Red, black, and yellow are some of the most popular colors used in the Pokémon series (for characters and branding,) so these balloons match the theme perfectly. Stick up a few pictures of Pokeballs, Pikachu, and Ash to really tie the colors together.
Pros
Low price
Lets you decorate an entire archway
Colors match the Pokémon color scheme
Cons
Doesn't feature any Pokémon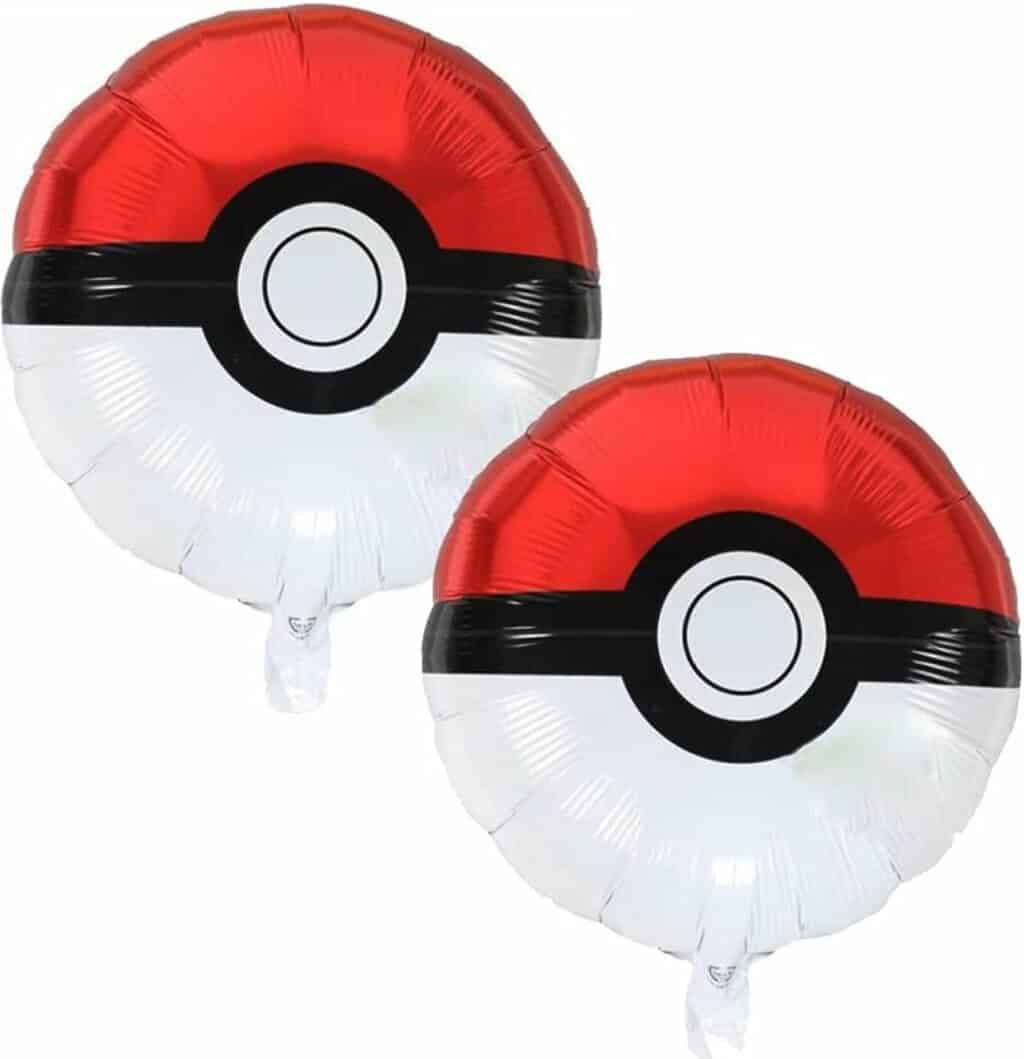 When in doubt, decorate with some pokeballs. No matter who the birthday boy or girl's favorite mon is, everybody needs pokeballs to catch the little pocket monsters.
Price Range: $4-$14
Quantity: 2
Best Feature: Great for fans of any kind of Pokémon
These balloons are what I would consider Pokémon party essentials. Every Pokémon party has to feature pokeballs somewhere, and balloons make perfect sense because they're already round. This set gives you 2 18-inch foil balloons, which I like since they're reflective and catch the light. Since you get 2, it might be a good idea to tie them to opposite ends of a table or hang them on both ends of a Happy Birthday sign. Having an even number of balloons like this means you can make a display look more symmetrical.
Pros
2 in 1 pack
Every Pokémon fan likes pokeballs
Large size
Cons
Doesn't feature any Pokémon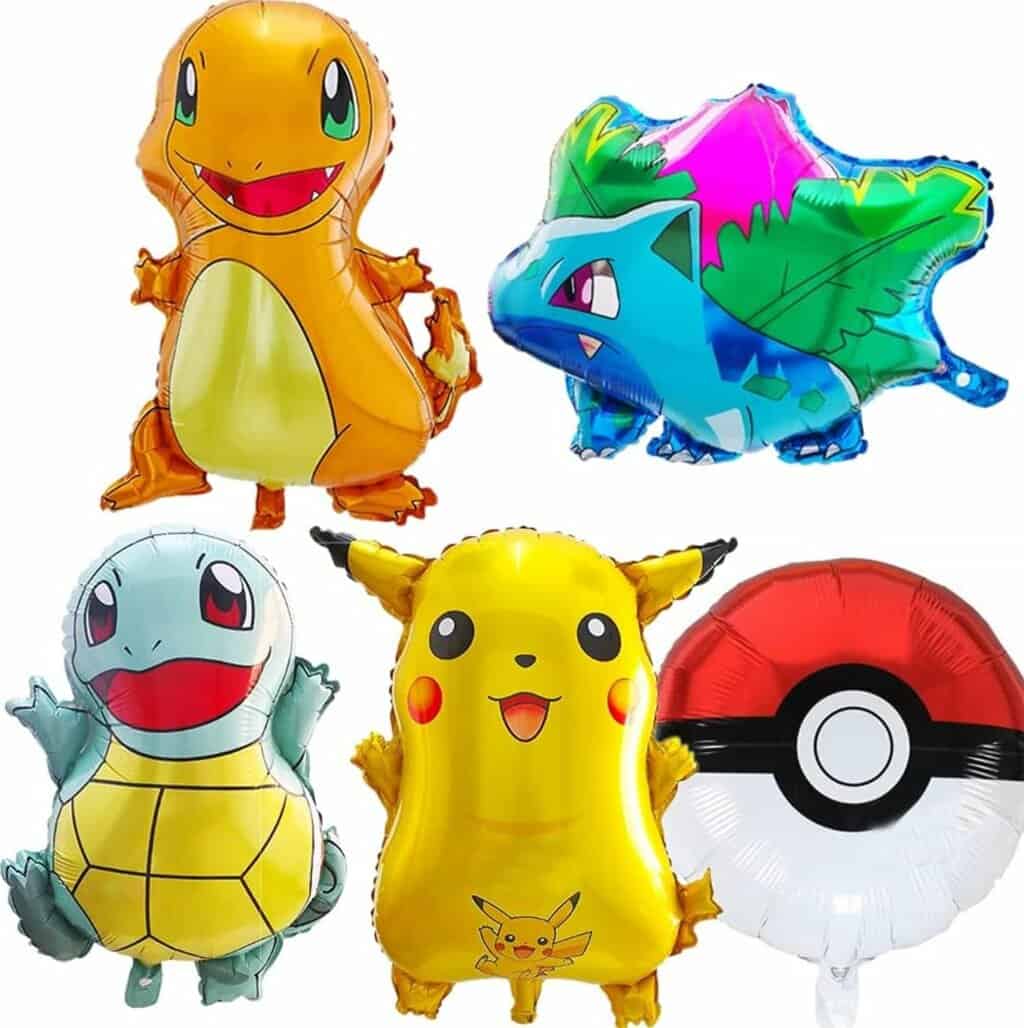 Gotta catch 'em all! You'll get Pikachu, Charmander, Squirtle, Ivysaur, and a Pokeball balloon in this pack! Consider this the ultimate Pokémon Master's balloon pack. Not only is the star of the show, Pikachu, included, but you'll get 3 of the Kanto region starters and a Pokeball, too. The Pokémon series started off in the Kanto region, so the Pokémon you see here are some of the first ones ever created and loved by fans.
Price Range: $8-$18
Quantity: 5
Best Feature: 4 different Pokémon included
Charmander and Squirtle are two of the 3 Pokémon trainers get to choose from as their first Pokémon at the beginning of that region. Ivysaur is the evolved form of the 3rd Pokémon in that trio of choices. What does this mean? Fans of all ages will adore these Pokémon because pretty much every fan knows who they are.
Pros
Features 4 Pokémon and 1 Pokeball
Pokémon included are some of the most popular
Low price
Cons
Some younger fans may have never played a Kanto region game with these Pokémon
Best Pokémon Decorations
You've got to have the standard decorations at every party: balloons, streamers, a birthday banner, etc. You know the drill. That's why I wanted to be a little more creative here and show you a couple of ideas you may not have seen before. Let's take a look!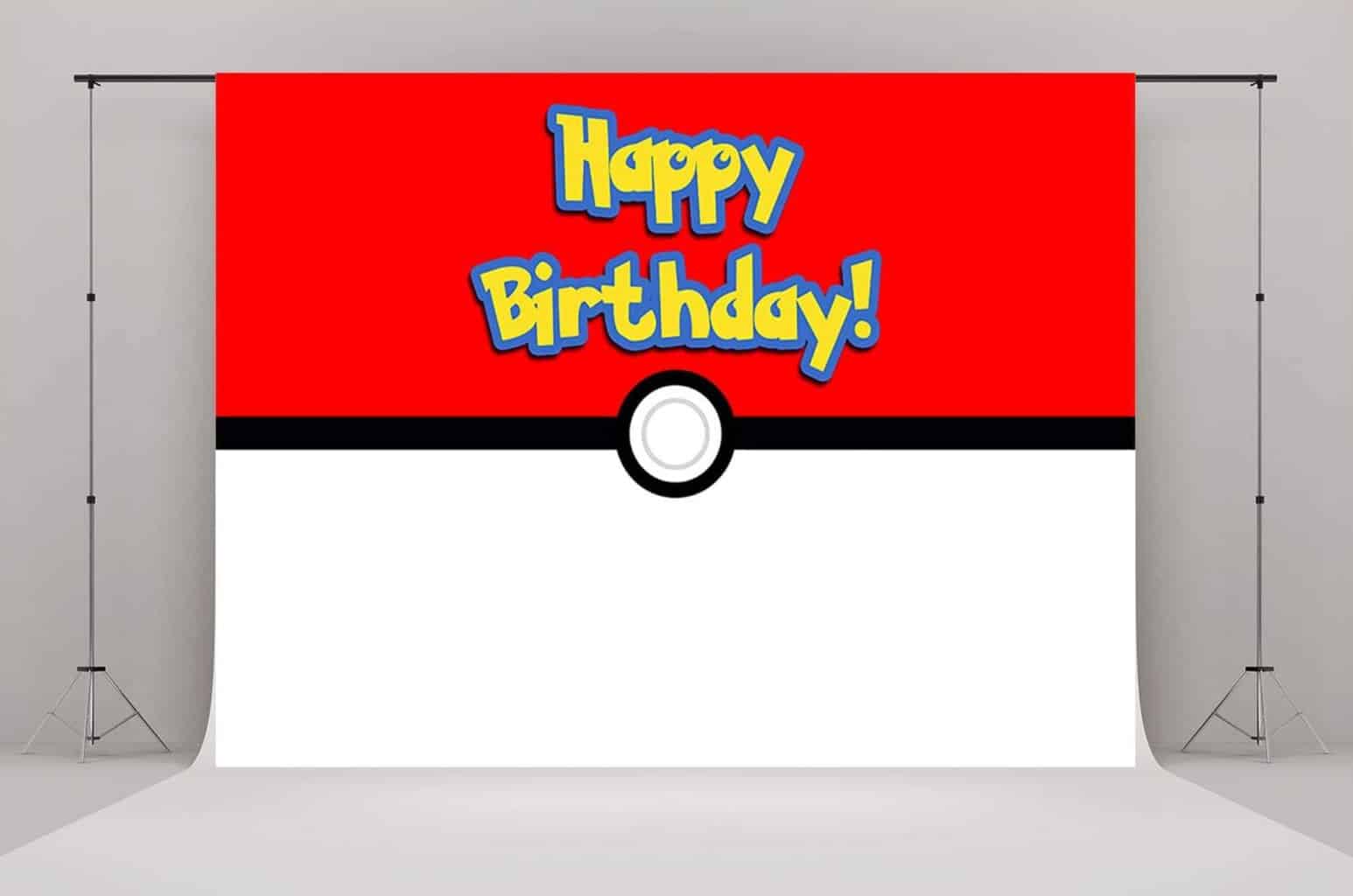 I know I struggle to get my kids to want to pose for a picture. I think having a photography backdrop featuring their favorite show might help.
Price Range: $13-$23
Quantity: 1
Best Feature: Interactive
Say Pikachu on 3! I absolutely adore this photography backdrop. It's exciting for kids and adults to take their pictures in front of colorful backdrops, so this is the perfect add-on to any party. Want to be a little extra? Buy some Pokémon accessories like pokeballs and trainer clothes for guests to dress up in before they get their picture taken. If this is a kid's birthday party, make sure to hand out pictures to each of the parents when they come back for their little ones.
Pros
Let's party-goers take commemorative photos
 Inexpensive for value
Large decoration that creates a fun atmosphere
Cons
Kids could easily knock it down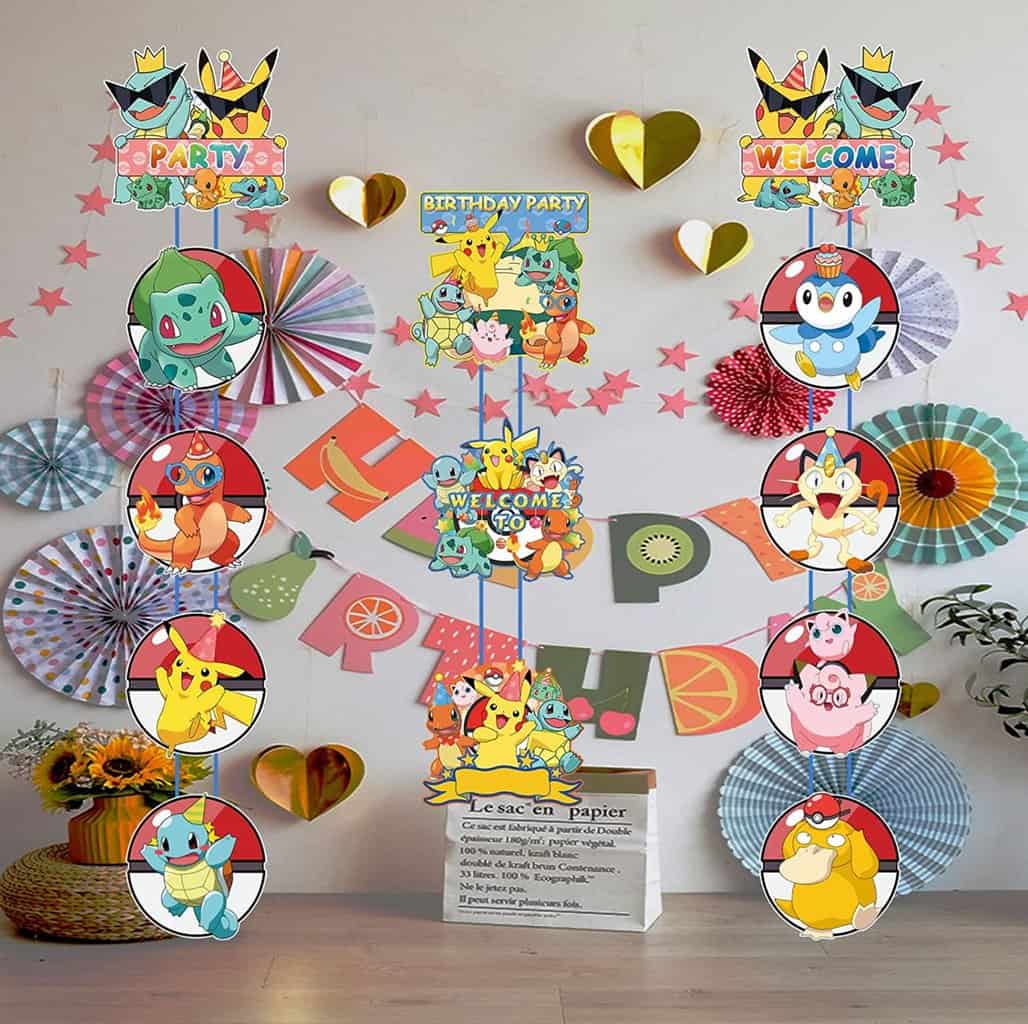 These are cute and feature long-time fan favorites like Pikachu, Piplup, Meowth, and Psyduck dressed up for a birthday party! I think they look nice hung above your porch or from the ceiling.
Price Range: $10-$20
Quantity: 3
Best Feature: Lots of Pokémon included
At any good party, there are colorful banners, streamers, and wall-hanging garlands. Pokémon up through generation 4, which took place in the Sinnoh region, can be found on these decorations. If your child has played Pokémon Brilliant Diamond or Pokémon Shining Pearl on their Nintendo Switch, this party garland is a great choice! Plus, seeing their favorite mons dressed up just for their party will make your kid feel extra special.
Pros
Bright colors and lots of Pokémon
Easy to hang up
3 in a pack
Cons
Best Pokémon Party Dishes
Themed party dishes and napkins make cake time feel even more exciting. Every great Pokémon party has got to have cute paper plates and perhaps some colorful plastic silverware, so take a look at these awesome sets I found! You'll find everything you need for food, drinks, and snacks.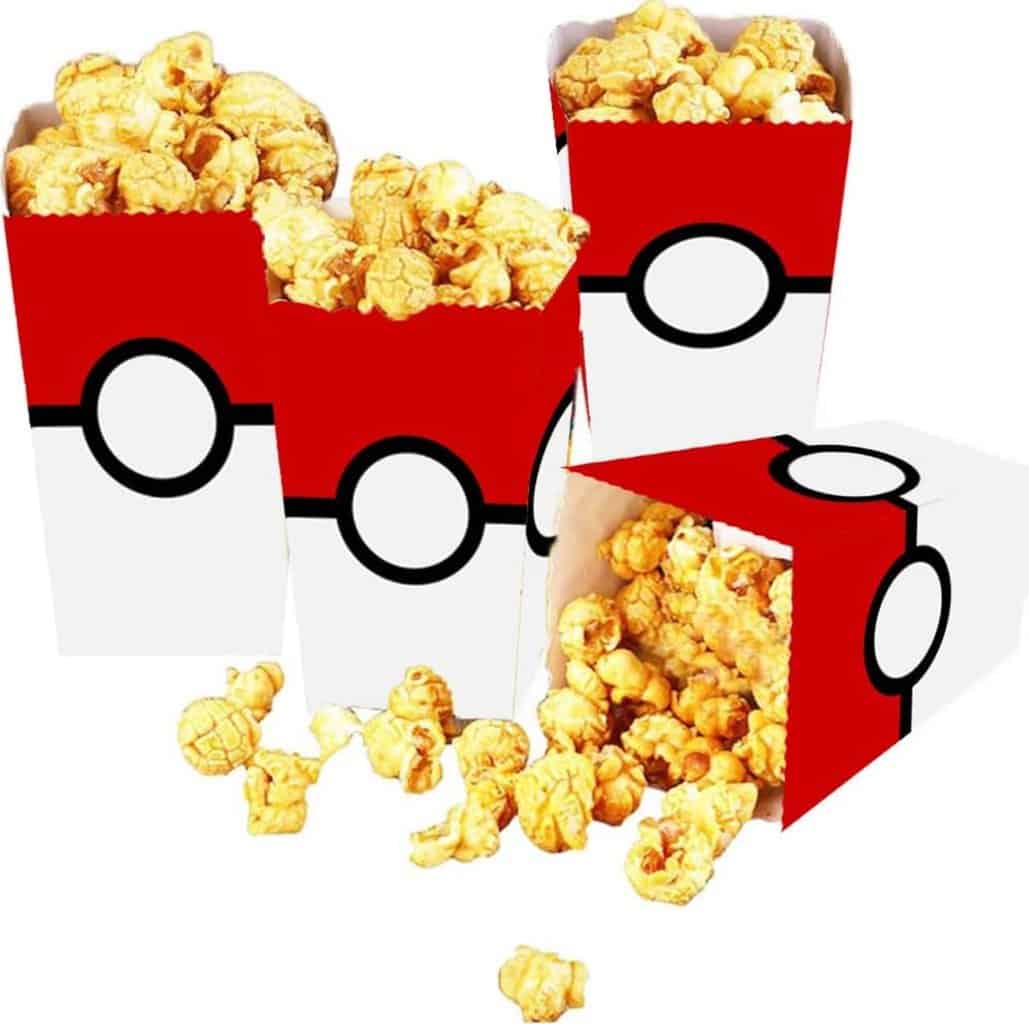 If you're throwing a party, you need snacks! These cute Pokeball snack holders are great for popcorn, chips, candy, and other small finger foods.
Price Range: $8-$18
Quantity: 20
Best Feature: Easy to assemble
Who's that Pokémon? Just kidding, it's popcorn! These cute boxes, like pokeballs, are meant to hold all the best party snacks. They're incredibly easy to put together and come with instructions, so you won't get tripped up. The boxes are 5.2″ X 3.5″ X 2.5″, so they're big enough for you to fit small prizes inside, too. There are lots of small Pokémon figurines you could buy to do just that.
Pros
Best option for snacks
Universally recognizable Pokeball design
Reasonable price
Easy assembly
Cons
If you have more than 20 guests, you'll need to buy extra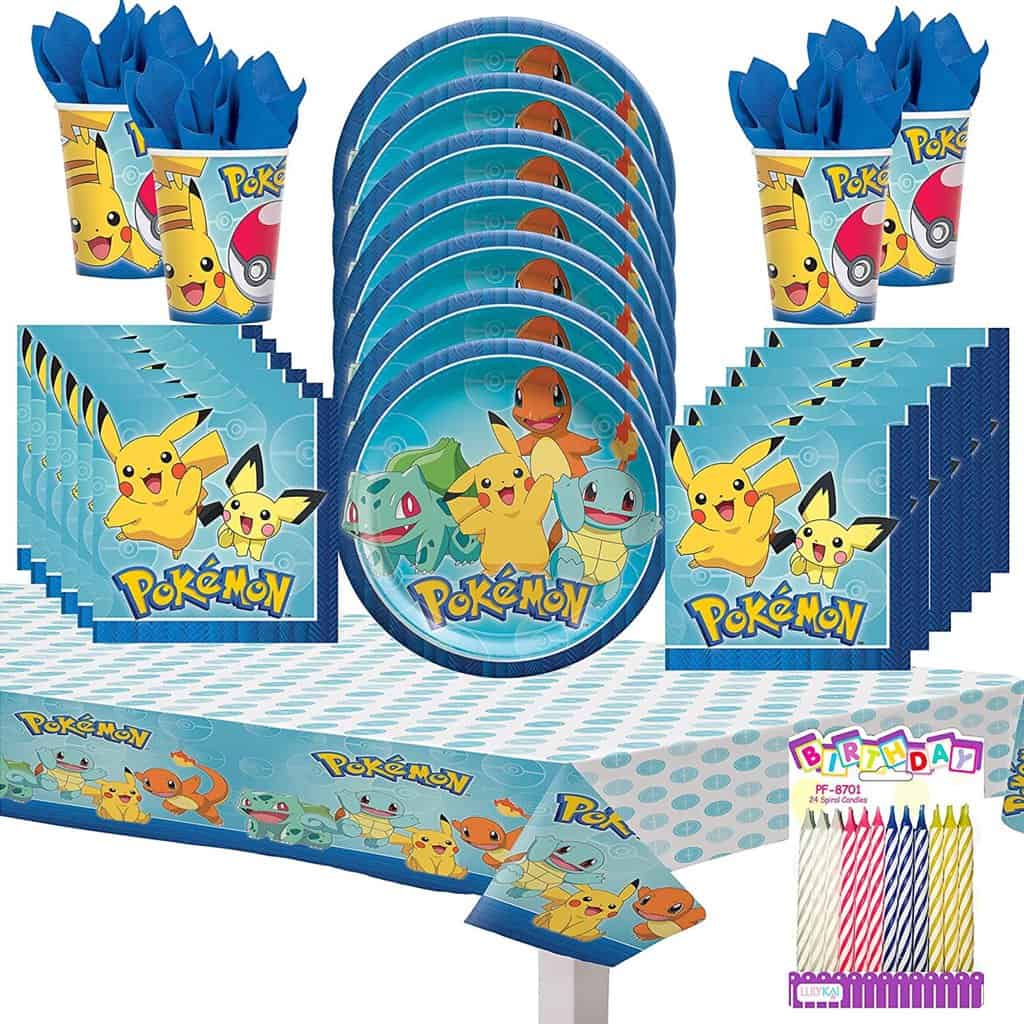 Get ready, trainers! This is the ultimate Pokémon party supplies set for Pokémon masters only. Everything you need to set the table, prepare the candles, and serve the cake is included.
Price Range: $25-$35
Quantity: 16 of each item
Best Feature: Complete party food and drink set
It's covered in starters! Bulbasaur, Charmander, Squirtle, and Pikachu cover everything (the first Pokémon you can get in the first games.) Pichu, Pikachu's first evolution, is even posed beside him on the napkins. You'll get 16 cups, plates, and napkins in the set, along with a tablecloth and birthday candles. All you'll need is the plastic silverware! Consider buying yellow silverware for Pikachu.
Pros
Features 5 popular Pokémon
Eye-catching, colorful designs
Includes everything you'll need for cake, food, and drinks
Includes extra goodies like a tablecloth and birthday candles
Cons
Pricier than the other 2 options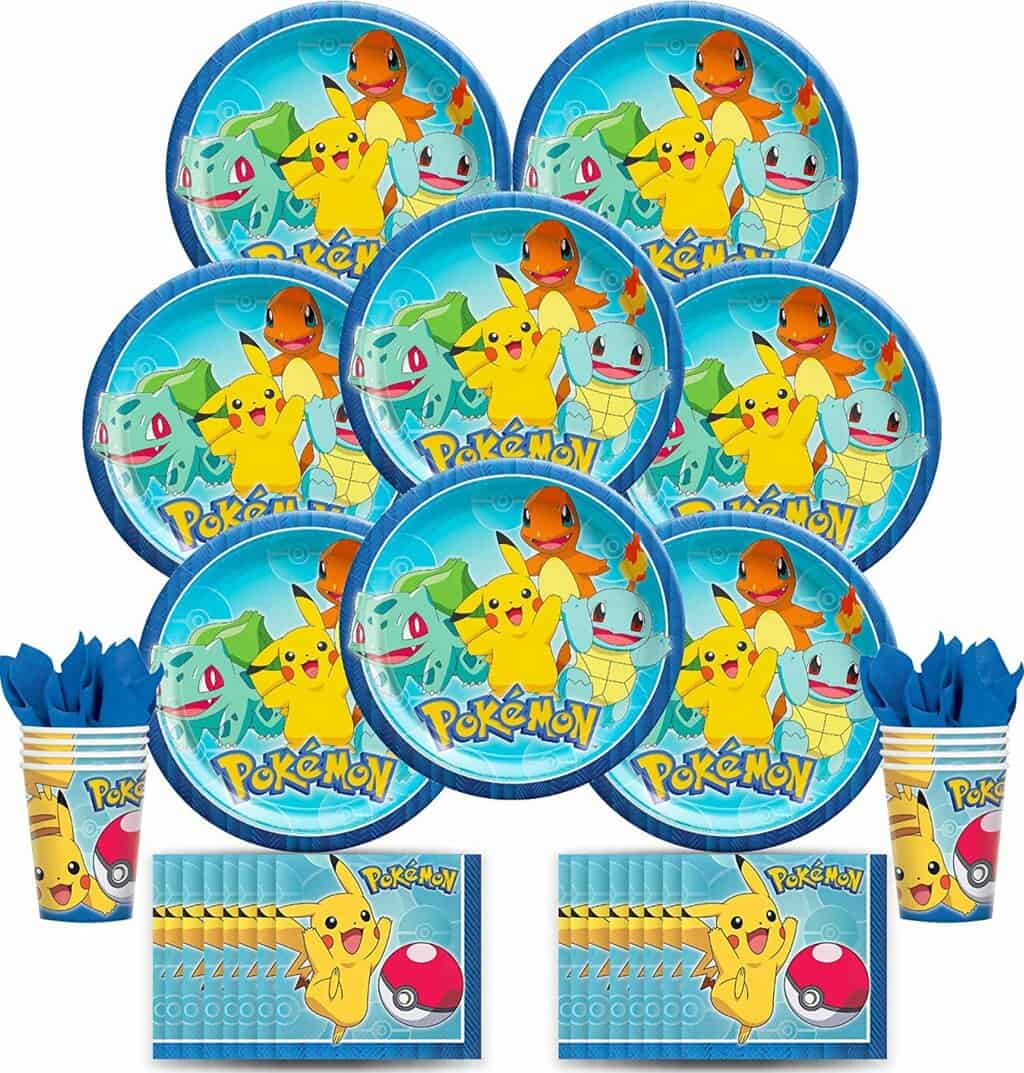 This is a smaller version of the set we just looked at above. Got a smaller guest list of 8 people or under? This is the set you've been looking for!
Price Range: $11-$21
Quantity: 8 of each
Best Feature: Features all Kanto region starters and Pikachu
If you like the set above but have a smaller guest list than 16, check out this set that serves 8. The tablecloth and birthday candles aren't included, but the plates, cups, and napkins are. Just like in the set above, Pikachu, Charmander, Squirtle, and Bulbasaur cover everything. I love that you get the best parts of the last set for a lower price in this set, aren't you?
Pros
Features 4 of the most popular Pokémon
Plates, cups, silverware, and napkins included
Reasonable price
Colorful and fun designs
Cons
Best Pokémon Wrapping Paper
I would start singing the Pokémon rap, but today we're talking about a different kind of wrapping. I've got 2 Poke-centric wrapping paper choices to show you that I know fans of the series will get a kick out of. Let's look at them.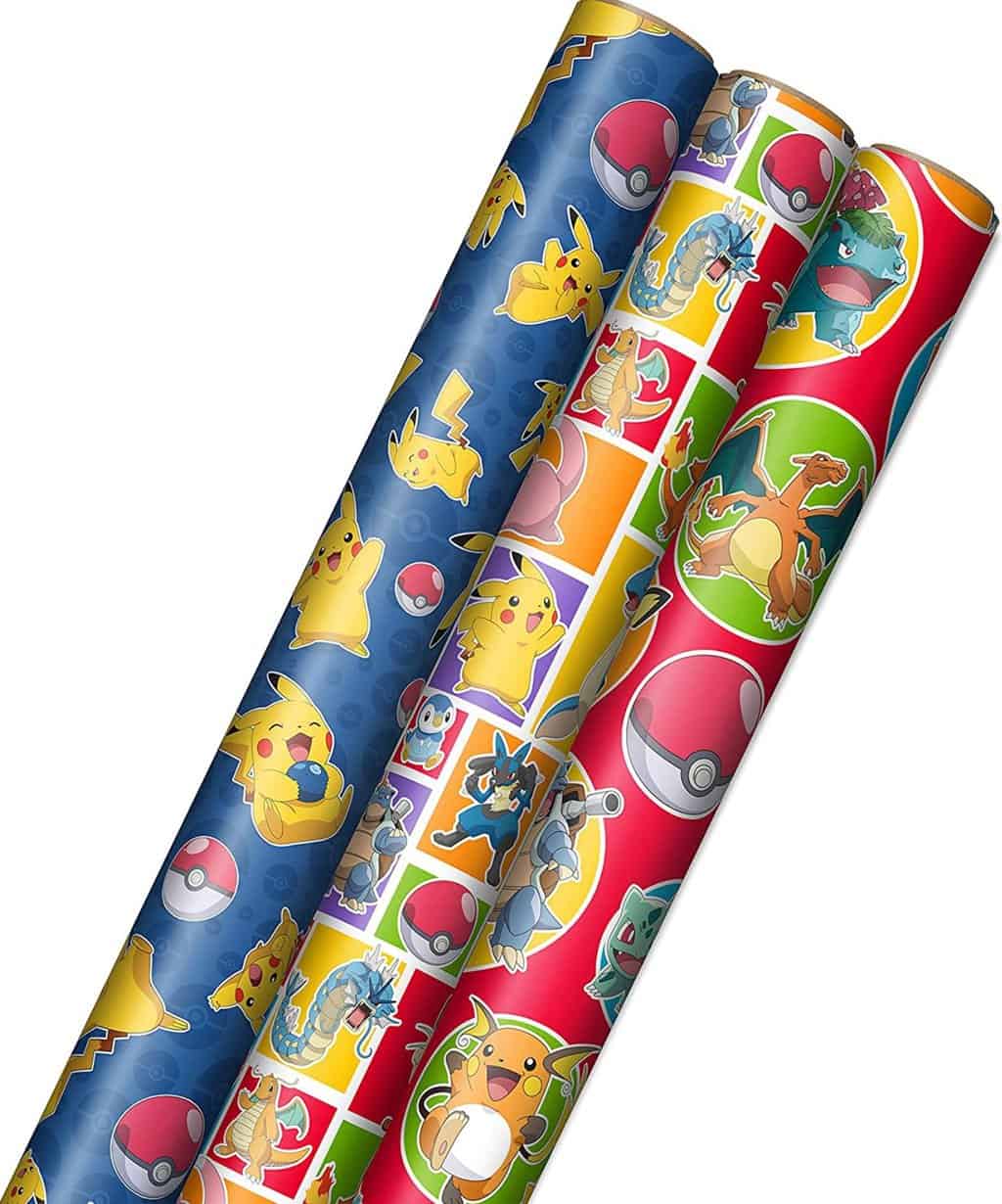 You're a Pokémon expert if you can name every mon on these 3 rolls of wrapping paper! This is great for young and old fans because there are newer and older Pokémon featured here.
This is the absolute best Pokémon wrapping paper set you will find. I'm a huge fan of Hallmark wrapping paper because it doesn't rip against corners. You'll also get the cut lines on the reverse side, which makes it easier to wrap neatly.
Price Range: $12-$22
Quantity: 3
Best Feature: Features lots of different Pokémon
The blue paper is the safe choice for any Pokefan – it just features Pikachu doing a variety of cute things. The red paper is great for older fans and young fans who have played Let's Go! Eevee or Let's Go! Pikachu (which takes place in the first Pokémon region.) The block pattern paper has Pokémon from regions 1-4, so there is a wider variety of mons.
Pros
Lots of favorite Pokémon from across different regions are included
Cutlines on the reverse side of the paper
High-quality Hallmark brand
Cons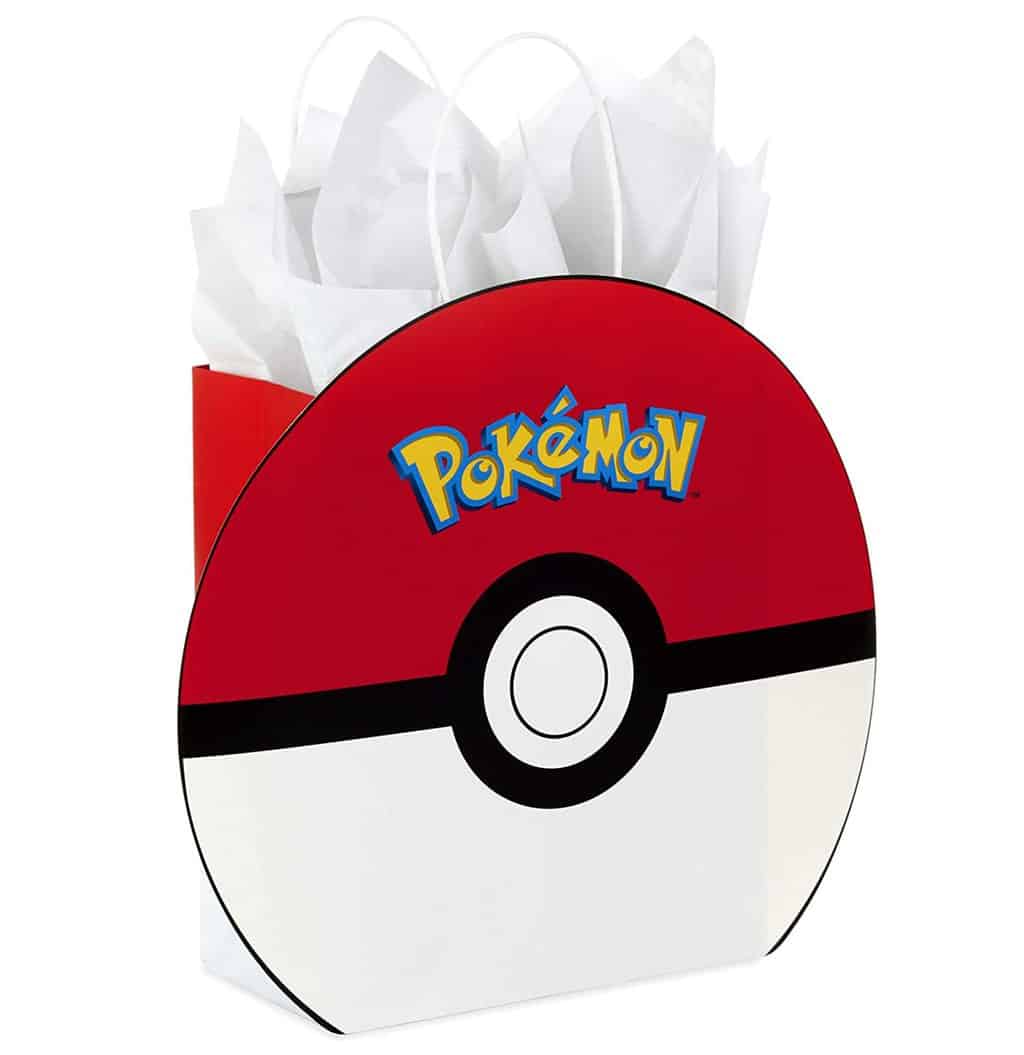 Sometimes you want to wrap a stuffed toy or an action figure that is just too awkwardly shaped to be wrapped with paper. The solution? A Pokeball-shaped gift bag, of course.
Price Range: $3-$9
Quantity: 1
Best Feature: It looks round like a Pokeball
You've got this party in the bag! A Pokeball bag, to be exact. I think it's great to give the birthday boy or girl at least one Pokémon stuffed toy at the party. That's why you'll need a bag to stick their favorite Pokémon inside since it's hard to wrap stuffies with paper. As always, this is another gift-wrapping solution from Hallmark. The bag is 9″ tall and comes with white tissue paper so you can cover up the top. Though this is officially branded, the cost is low.
Pros
Inexpensive
Features a Pokeball design and Pokémon logo
Great for wrapping gifts not in a box
Cons
Best Pokémon Game
Let's check out the best Pokémon game that's great for birthday parties that host kids of all ages. Once you see this game, you'll know exactly what it is, even if you haven't played the Pokémon version of it before.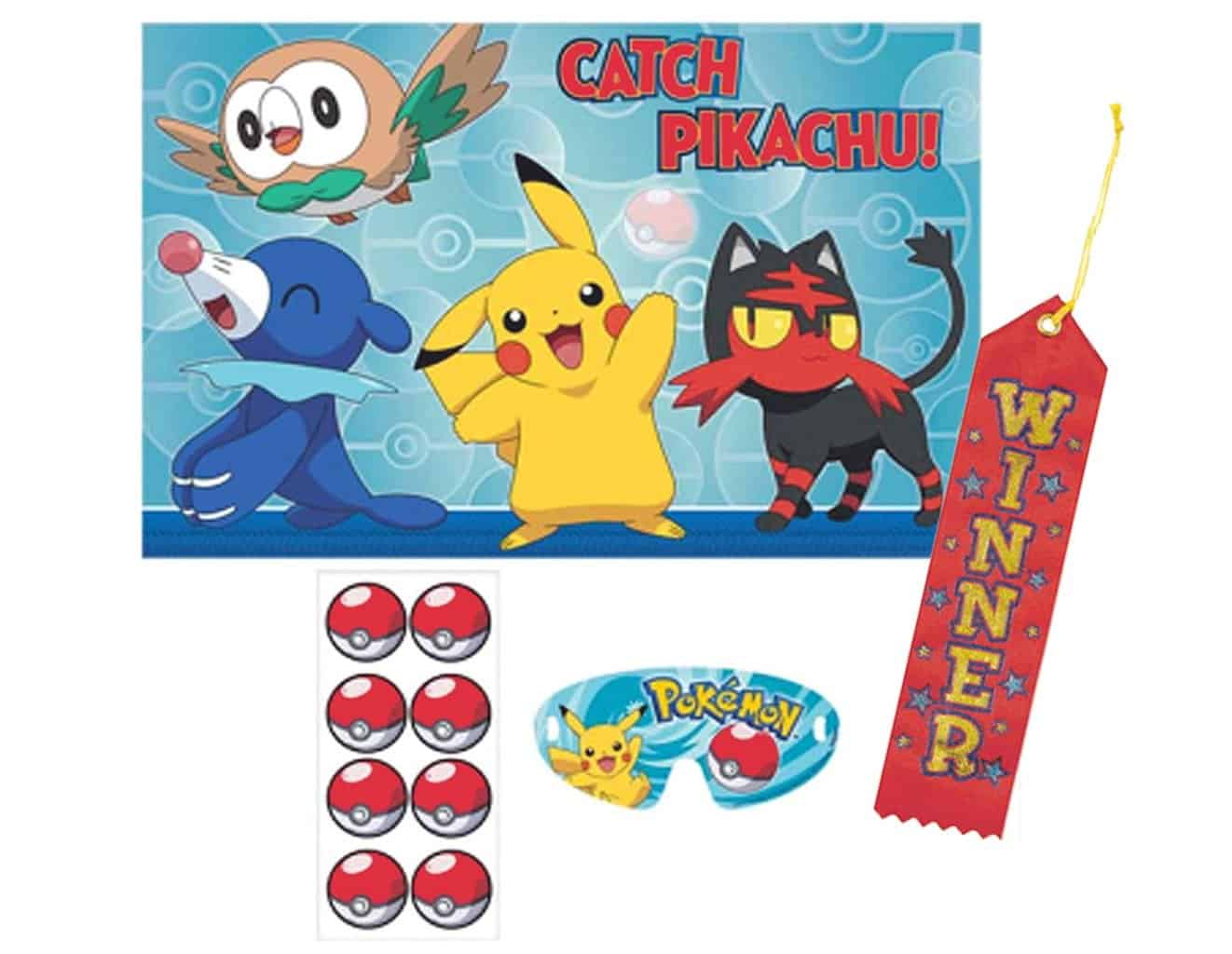 Time for a Poke-spin on a classic game! Any kid can enjoy this one. Alola! That's how you say hello and goodbye in the Alola region, which is where lots of the Pokémon in this game are from. This game is an awesome choice if your child loves playing Pokémon Sun or Moon, or enjoys watching the Pokémon Sun and Moon anime series.
Price Range: $8-$18
Quantity: 1
Best Feature: Adorable Sun and Moon Pokémon
This game operates just like pin the tail on the donkey, but instead, you pin the tail on the Pikachu. How cute! A red winner ribbon comes with the game, so you can award whoever does the best with a special treat.
Pros
Adorable take on a classic game
Easy for all ages to enjoy
Winner ribbon included
Cons
These Pokémon aren't from the newest generation
Best Pokémon Party Favors
It's important to make sure your little guests get something, too, so that no one feels left out. That's where your candy-and-toy-stuffed loot bags come in! Check out these adorable Pokémon bags and toys I've selected, so everything you get matches the theme. If you want to do a little extra, fill the bags with some Pokémon-themed candy, too.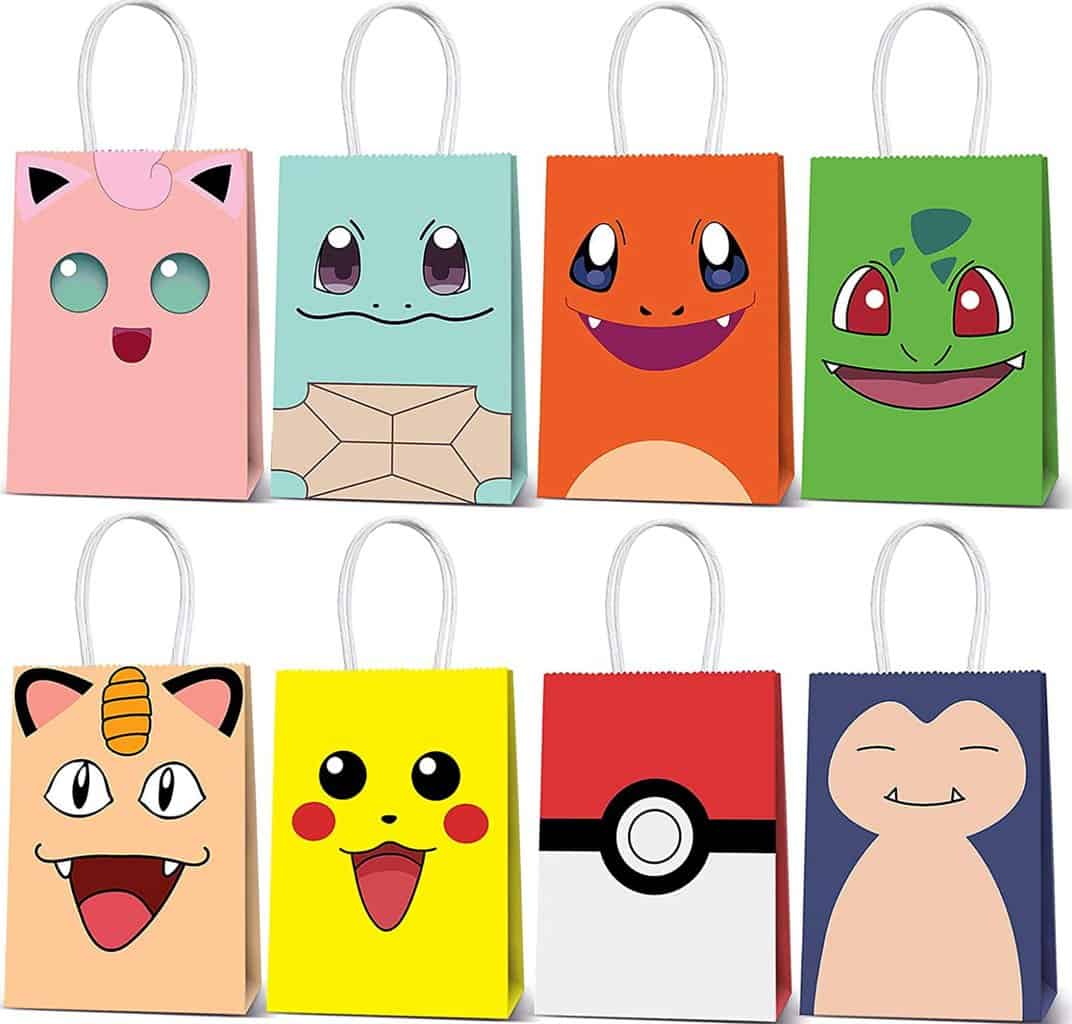 These cute bags allow every trainer at the party to pick up their favorite Pokémon! I'm a fan of how lots of the most popular Pokémon are available, like Jigglypuff, Charmander, and Snorlax.
Price Range: $18-$28
Quantity: 16
Best Feature: Adorable Pokémon faces
These are all Pokémon from the first generation, so make sure your birthday boy or girl has watched the original Pokémon season or played a Kanto game (like the Let's Go! games on Switch.) It might be a cute idea to fill these bags up with candy and small toys.
Pros
Recognizable Pokémon faces and Pokeball designs
Helps you host up to 36 guests
Perfect for the party theme
Cons
Not official Pokémon merchandise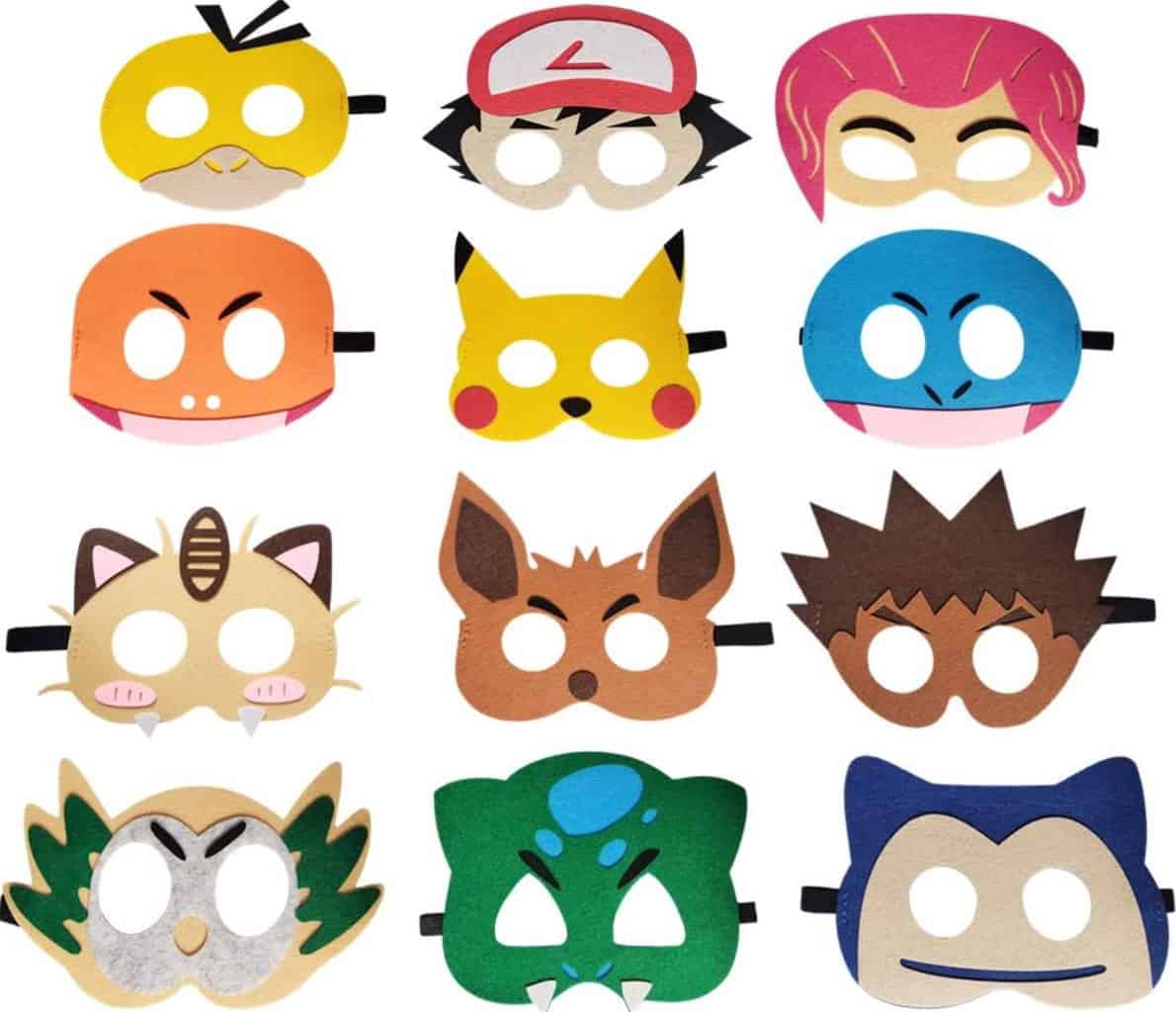 Who needs party hats when you can have awesome party masks? This set is so fun because, besides Pokémon characters you can be, there are also trainer masks! You can be Ash, Brock, or even Jessie from Team Rocket.
Price Range: $11-$21
Quantity: 12
Best Feature: Comfortable fabric to wear
Since the masks are made from felt and don't have any plastic, it won't hurt to wear them around for a while. The headband is elastic, so you won't have to worry about adjusting them.
Pros
Pokémon and human characters
Soft felt fabric isn't uncomfortable to wear
Colorful and eye-catching
Cons
Some kids may not want to be one of the less-popular characters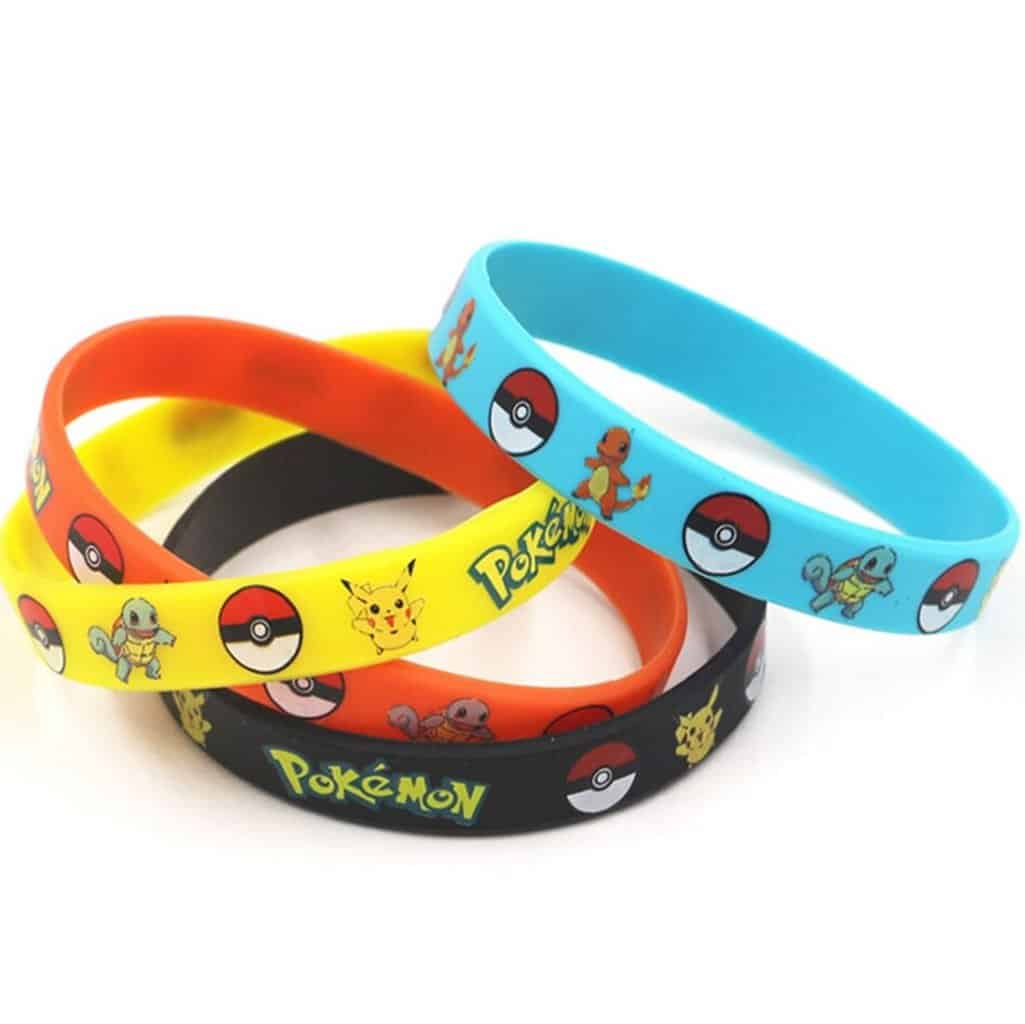 Preteens and teens who like Pokémon might prefer party favors more like this. These rubber bracelets feature pokeballs and Pikachu. You'll find red, yellow, blue, and black bracelets in this pack, since they stick to the Pokémon color scheme.
Price Range: $11-$21
Quantity: 36
Best Feature: Low price
If you wanted to do gift bags at a party for older kids but aren't sure what to put in the bags besides candy, I recommend these.
Pros
Each bracelet is less than $1
Cute Pokeball and Pokémon designs
Brightly colored
Cons
Some kids never wear bracelets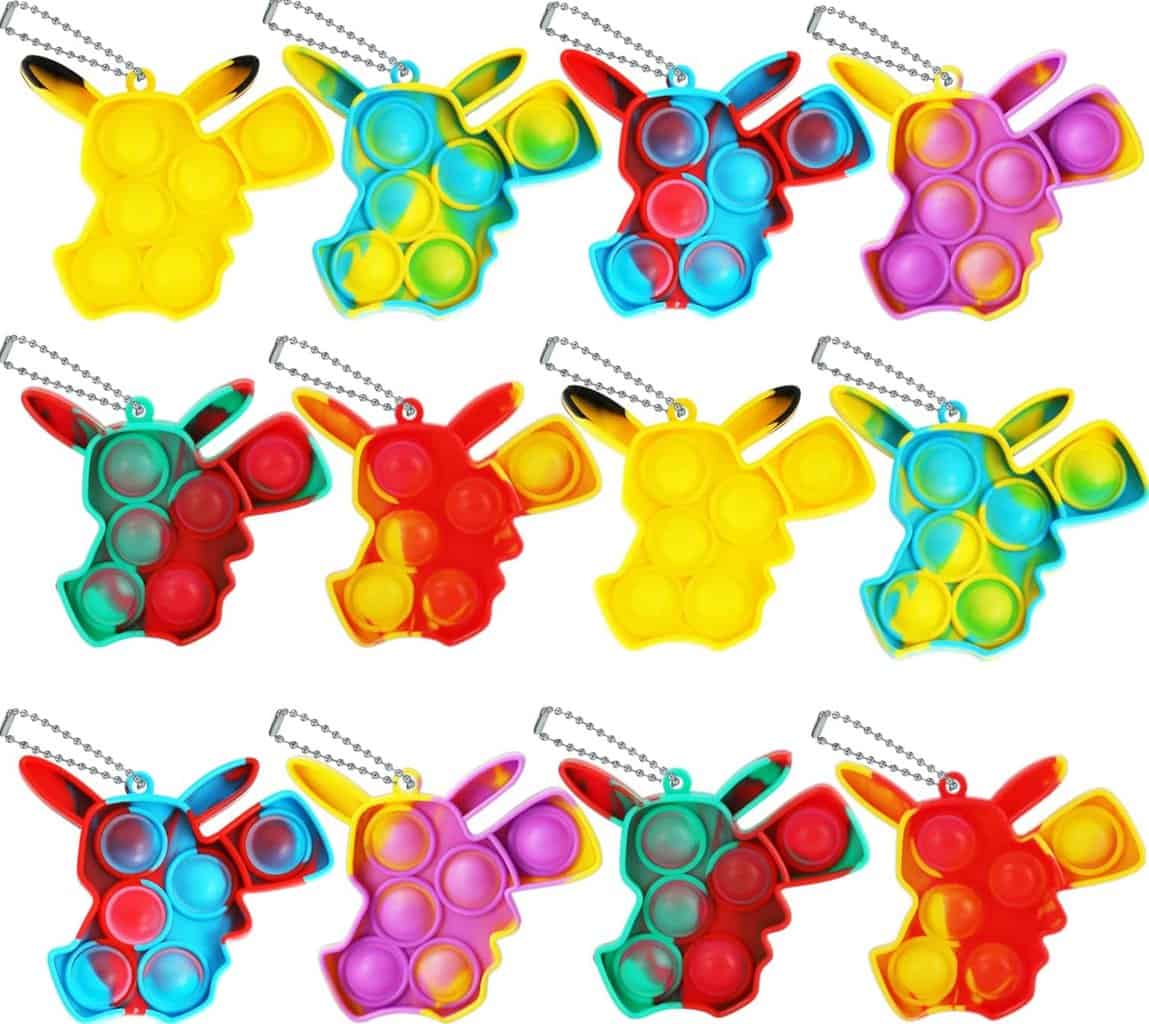 Fidget toys are so popular that I think these are great for kids and adults of all ages. If you've never seen these before, all you do to play or fidget is pop the silicone dots in and out.
Price Range: $10-$20
Quantity: 12
Best Feature: Popular toy
It's kind of like a stress ball. These ones are all shaped like Pikachu, but what makes them stand out is the fun color schemes used to create vibrant Pikas in all shades. Adorable!
Pros
Sensory toys are very popular
Cute and recognizable Pikachu designs
Lots of bright color choices
Can be used as a decorative keychain
Cons
The keychains may break easily
FAQ
Before you dash off to catch all 890 Pokémon, I want to answer your most frequently asked questions about Pokémon party supplies.
Question: Where can I get Pokémon Party Supplies?
Answer: You can pick up Pokémon party supplies pretty much anywhere! Amazon, Party City, Walmart, Target, and even eBay are some places you can look. To get creative, you can even try to DIY some of the party decorations for a personalized touch.
Question: How Many Kids Should I Expect for a Birthday Party?
Answer: That's up to you! If your child wants to invite their own guests, let them invite all their close friends so nobody feels left out and there isn't drama at school. If you're throwing a party with family, consider if you want the party to be held in your house or in a venue to come up with a guest list.
Question: How Long Should a Birthday Party Be?
Answer: For kids, plan for a birthday party to last between 2 and 4 hours. If the kids are really young, aged 2-5, it's probably best to keep the party to an hour and a half.
Let's Battle and Party!
If you and your loved ones are gearing up for another spectacular birthday party, I hope you found my Pokémon party supplies guide helpful. Was there a favorite decoration, game, or other sets you saw that you would buy for the big day? I'd highly recommend the 116 Pack Red Black Yellow Balloon Garland Arch Kit for Pokémon if you can only get one kind of decoration. For even more helpful party guides, please come check out our website!
Recommended Reads: