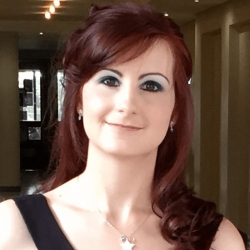 Latest posts by Denine Walters
(see all)
It was my sister's 21st birthday, and she had one clear instruction. She wanted an epic birthday cake that would wow her friends, and (here comes the twist) it had to be a Disney cake. Not just any Disney cake, mind you. She wanted a Moana birthday cake. So, I had to come up with Disney Moana cake ideas that stayed true to the Disney movie and said, "hey, I'm 21 today." I had my work cut out for me.
Are you standing at the water's edge, gazing over the horizon, and struggling to choose the best Moana cake for your guests?
Yes?
Then let me help you navigate the vast ocean of cake options that lie before you (that does sound dramatic, doesn't it?). Here are the most adventurous and daring cake ideas for all your Moana cake needs.
My Bottom Line Up Front: The Best Moana Cake
My favorite Moana cake has to be the Moana birthday photo cake. Bake a simple sponge cake and print an edible photo scene from the movie that is perfect for any occasion.
What more could you possibly need for a Moana-themed cake? It's tasty and budget-friendly, and you can make it at home or get a baker to make it.
Your Moana Cake Checklist 
Sailing into the world of Moana cakes can be overwhelming, especially with all the fantastic ideas that are floating around. I would even go as far as to say it's kinda like sitting in a little boat way out in the middle of the ocean, where each wave is a new idea.
Keep your boat steady by keeping these considerations in mind when choosing your Moana cake: 
What's the Luau (Celebration)?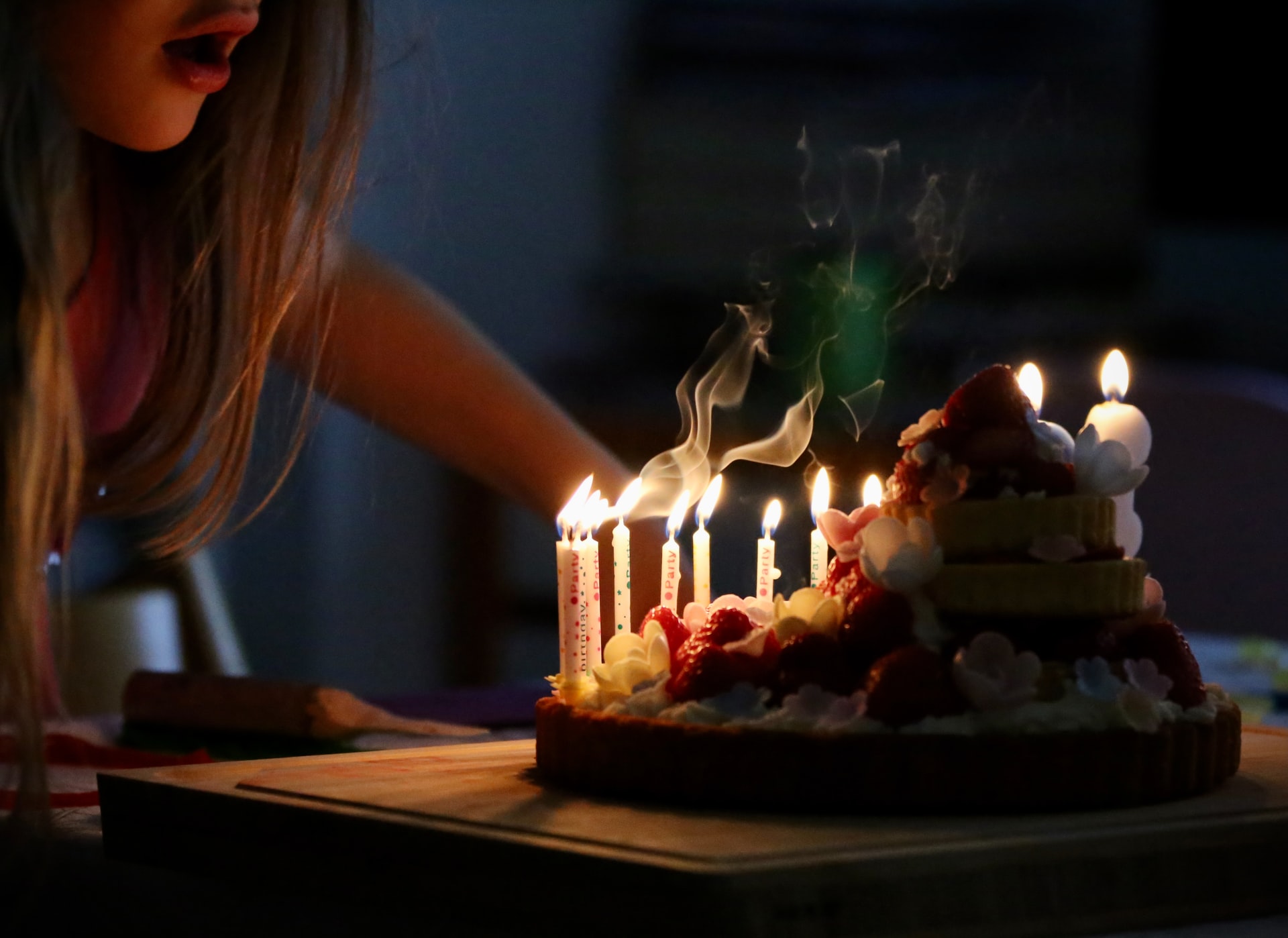 Obvs, you must first establish who the lucky islander is and what kind of luau is taking place. From here on out, it's generally smooth sailing as there is a Moana cake idea for any celebration. After all, it's a Disney movie. And it's timeless. 
For example:
Cake Size
I know everyone says size doesn't count, but it most certainly does for cakes. The size of your cake says everything. For example:
A

small cake

might say, "this is a personal and private celebration."

A

medium cake

might say,

"

yeah, I'd like to have a small group of friends over, and I'd like to make an impression.

"

A

large cake

might say, "now, here's a cake that says I want to make waves."
Cake Shades 
Mixing colors is so much fun. When it comes to Disney cakes, your color palette reaches as far as your imagination takes you. These are the main colors that I used:
Golden brown:

Imagine the color of sugary brown beach sand.

Shades of blue:

Play with shades of blue to match the ocean and the clear skies above.

Turquoise and green:

One of my fav colors is turquoise, and this color really pops on a cake. Imagine looking into Te Fiti's heart and seeing the colors that would be reflected back at you.

Bright red, orange, and yellow:

Imagine the color of the glowing sticky lava from Te Kā flowing over your cake. Moana's clothing is also a gorgeous reddish-orange shade.
Moana Cake Ideas: What Are My Criteria?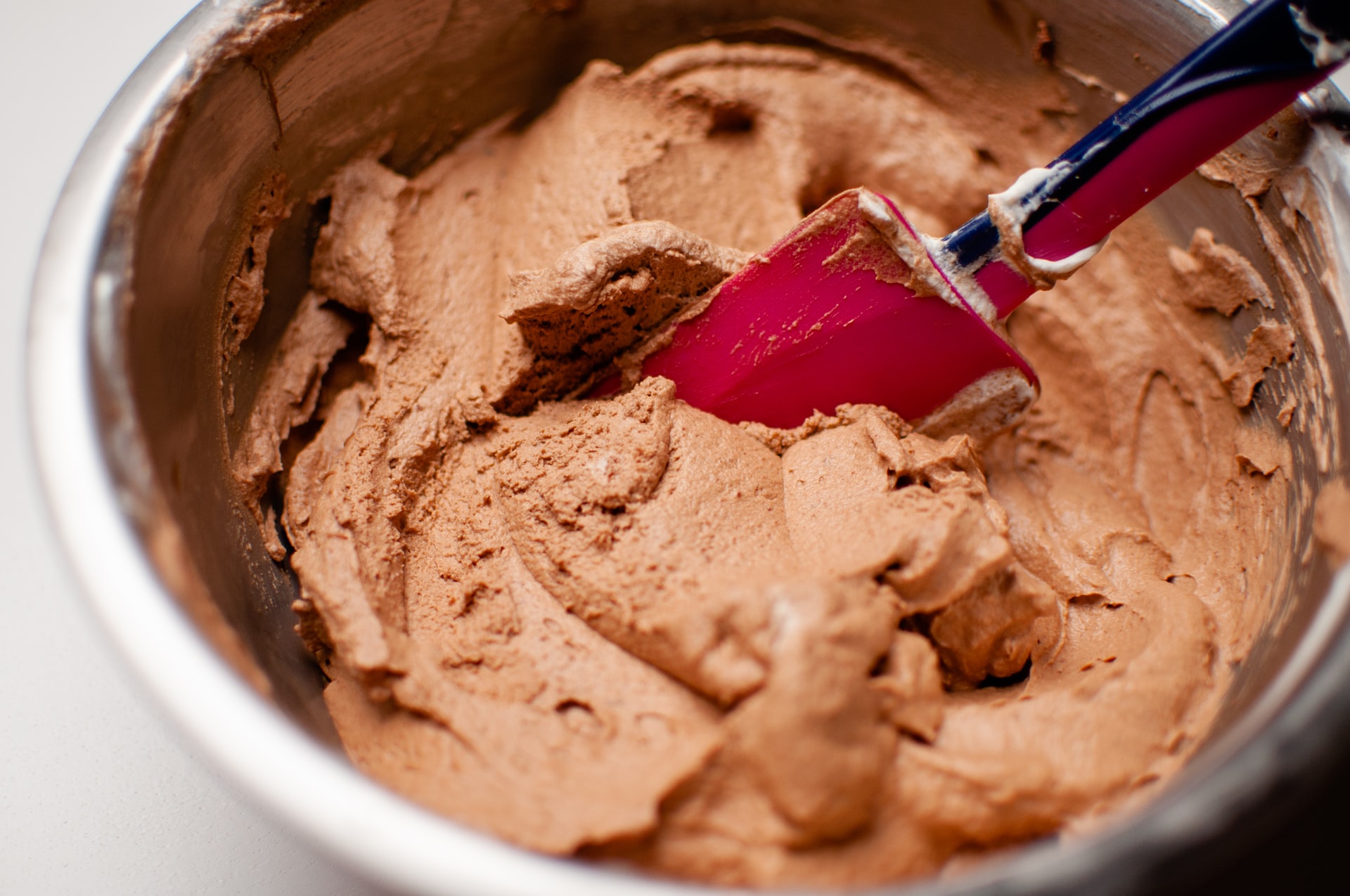 Any explorer knows that you can't simply embark on an adventure without having some kind of map or compass to guide you. (Learning to read the sun and the stars also helps. *Jokes*)
For the Moana cakes, I made sure that each one:
Brought out the Moana color scheme (shades of blue, gold, reddish-orange, yellow and turquoise)

Used as many of the characters and their personalities as possible (there are so many characters to choose from)

Didn't drift away from the Moana movie theme

Focused on the luau (celebration) at hand
Most importantly, I had to ensure the cakes were easy to make and that the ingredients were readily available at almost any local grocery store. With all the characters and ideas, it was easy to lose focus. 
See also: How To Find The Best Cake Ideas
So to avoid swimming in circles, I put together 13 adventurous Moana cake ideas to help you navigate these amazing unchartered waters.
13 Best Moana Cake Ideas 
So, my fellow voyager, what are we waiting for? Let's set sail into the beautiful world of Moana-inspired cakes.
Here are my 13 absolute fave Moana cake ideas:
1. Tamatoa Gigantic Crab Cake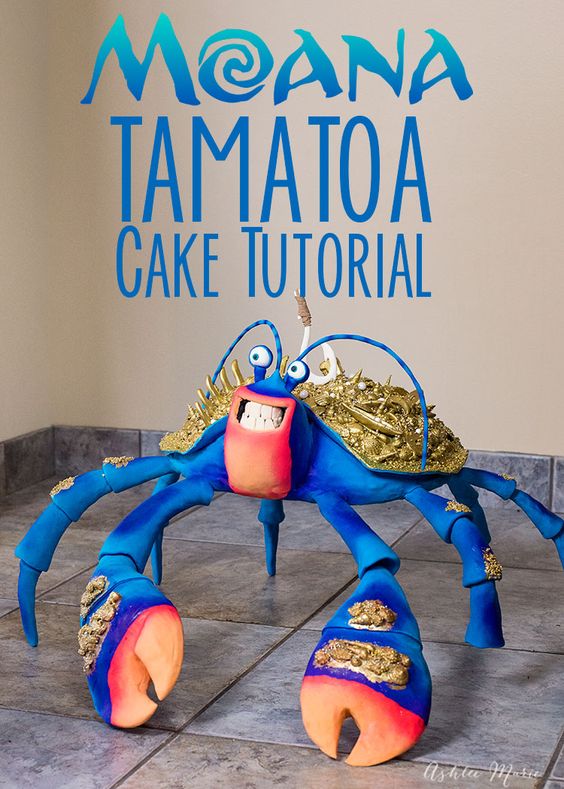 Is there anyone (in my opinion) as stylish as Tamatoa, the villainous crab? This gigantic crab is just so extra, with a dazzling smile, operatic singing voice, and some serious 'bling' going on. This Tamatoa gigantic crab cake is the perfect cake for a young boy's (or girl's) birthday.
This gorgeous cake is made from a soft chocolatey sponge with a gooey coconut center (in true island style) that will have your little guests lining up for more. This marvel stands on four legs, and his back is decorated with a gold-colored fondant in the shape of shells, bones, and little treasures. 
For some extra bling, add some golden confetti candy and make it EXTRA-shiny (yes, I was singing his song as I typed this).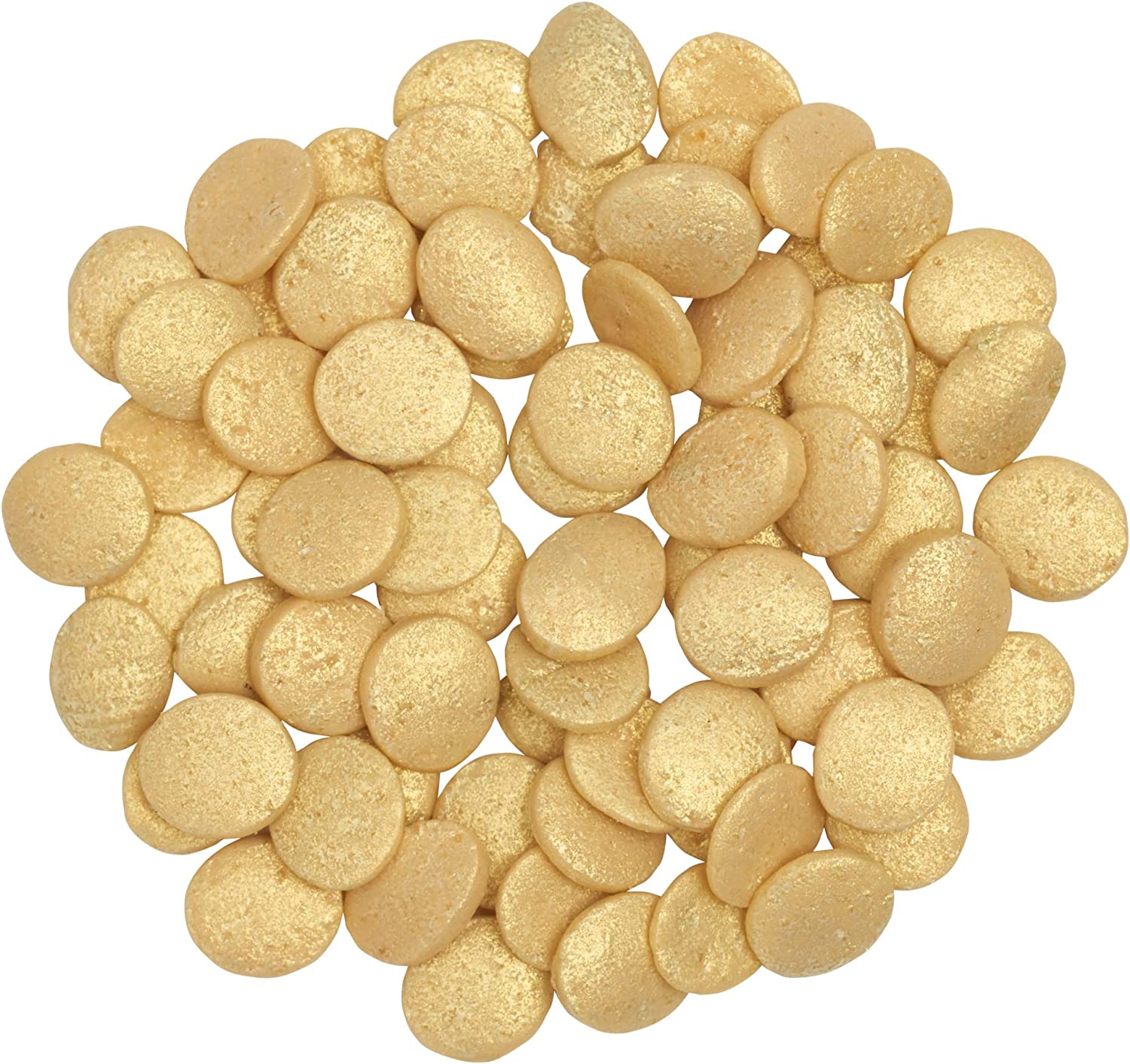 2. Hei Hei Cake Pops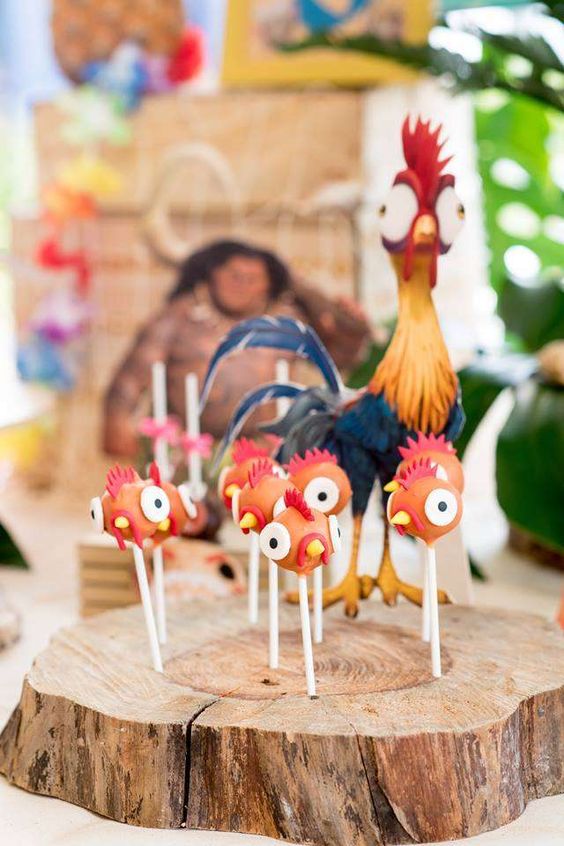 Hei Hei has to be my absolute favorite of all the characters. He is so absent-minded and funny, and he really steals the show (kinda like these Hei Hei cake pops do). These brightly colored little gems are a great snack addition to any celebration. 
The best part is that they are super quick and easy to make. It's absolutely perfect if you run short of time and want to impress your guests with a Moana-inspired cake snack.
If this is your first time trying your hand at making cake pops, then don't stress. I got you! Here is a super easy, step-by-step tutorial on making the perfect cake pop. 
3. Moana Birthday Photo Cake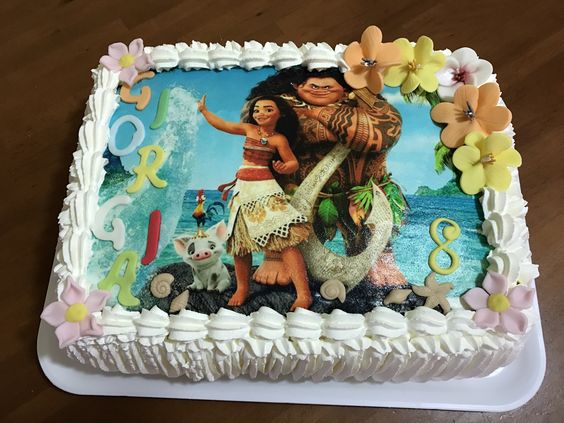 Here's a birthday cake that will impress any birthday boy or girl. The Moana birthday photo cake is such a simple and fun birthday cake to make. Baking and decorating this at home is a breeze (sea breeze, hehe). 
Bake a simple vanilla-flavored sponge cake, and you can pick any Moana scene you like. Ask a baker to print the photo with some edible ink on a yummy layer of wafer paper. Frame it with a thick frosting of any flavor or color, and finish the cake with one of these cute Moana cake topper figurines.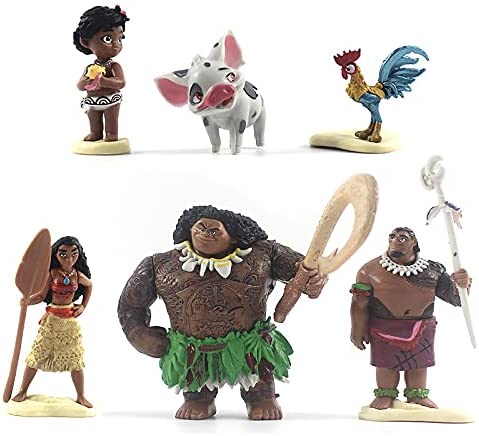 4. Pua Gender Reveal Cake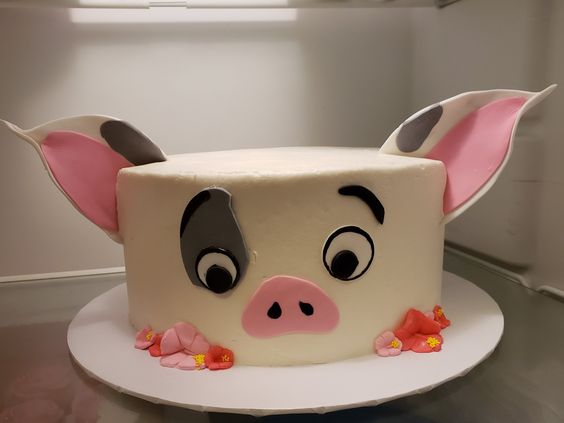 Ahhh! What better way to reveal the gender of your unborn baby than by doing it with a delicious slice of cake. This Pua gender reveal cake is just too gorgeous to resist. Pua is Moana's best friend, and he happens to be a pot-bellied pig (I want one too). 
This single-layer, simple sponge cake is super easy to make and decorate. Color the sponge blue or pink, depending on the gender of your little bundle of joy. Or, ask a baker to bake it for you and give them a sealed envelope from your OB-GYN with the baby's gender if you want to be surprised!). 
Add some yummy vanilla frosting, and voila, a beautiful memory that is one for the books.
Fun fact: Pua means flower (in Hawaiian). Could that be any more perfect for a gender reveal (sigh)?
5. Te Kā Halloween Cake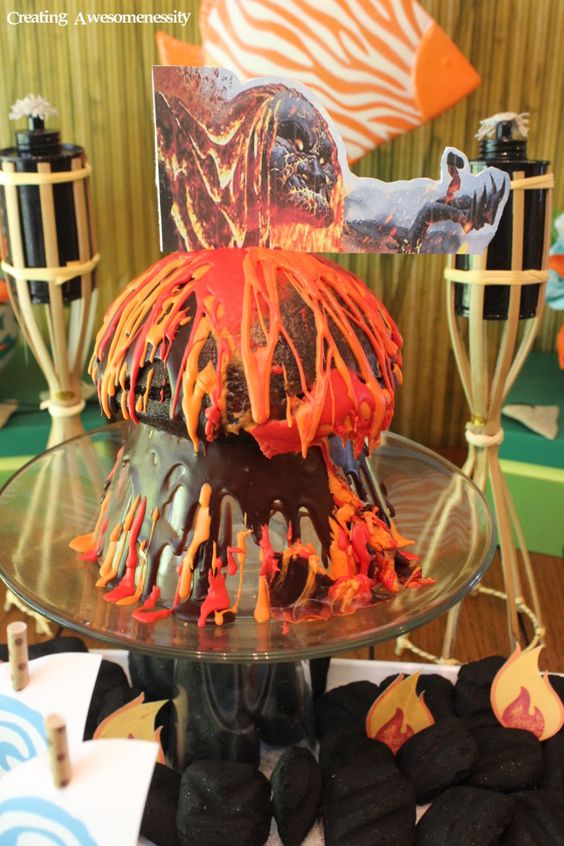 This Te Kā Halloween cake is coming in hot with its dark chocolate two-layered deliciousness. Color some creamy white chocolate in shades of orange and yellow, and slowly melt it over the top of your cake to give it that hot lava look.
Your guests will be mesmerized and creeped out by this monstrous Halloween cake. But wait, there's more! Once they bite into this monstrosity, the saucy center will catch them by surprise with its spicy orange-cinnamon-flavored syrup. Make sure to have napkins on hand, as this cake is sure to be a sticky hit.
6. Heart of Te Fiti Engagement Cake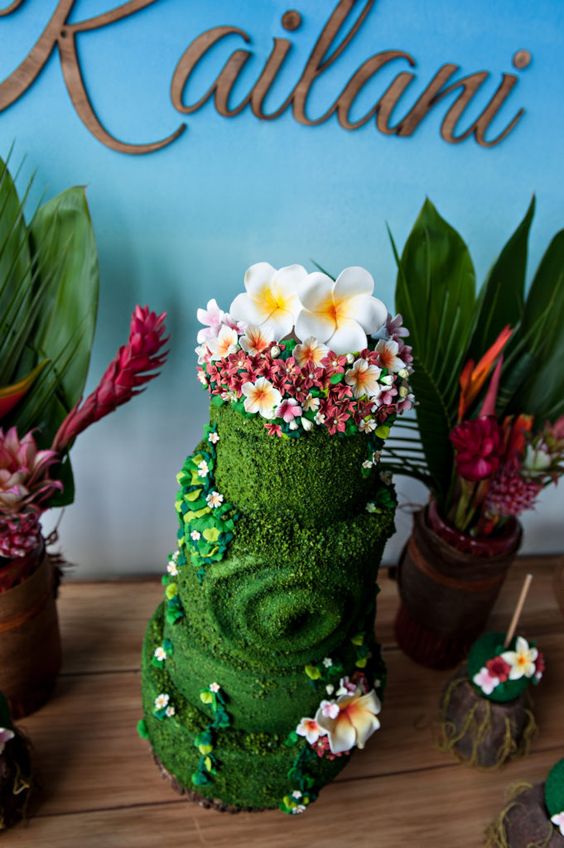 The heart of Te Fiti engagement cake is probably one of the most romantic cakes ever. Imagine popping the question to the person you want to spend the rest of your life with, with this cake? I mean, come on; think about the Moana soundtrack: "I have crossed the horizon to find you. I know your name".
I don't know about you, but if someone asked me to marry them and read that line while handing me a piece of cake, I would say yes! This engagement cake is simply marvelous with its 4-layers of red velvet goodness. 
It's covered in a beautiful buttercream frosting and dusted with a hearty amount of green-colored coconut shavings for that natural look that we all love about the character Te Fiti.
These heart of Te Fiti cake pops would look fabulous alongside the engagement cake and are so easy to make. 
Another option is to make these heart of Te Fiti cupcakes that get as much attention as the cake (if not more). They are perfect for those of us who don't have enough time to decorate a whole cake.

7. Moana the Voyager Cake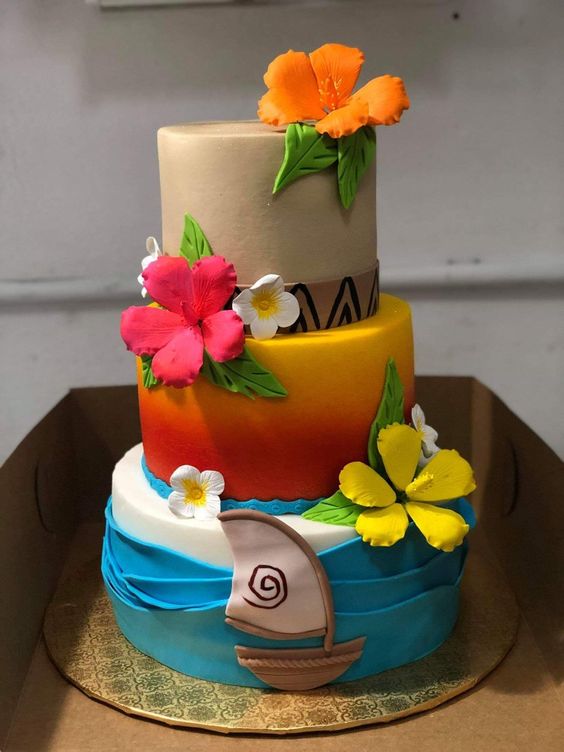 The Moana the Voyager cake is the perfect farewell cake for someone traveling across the sea (or land). It's simple yet so detailed at the same time. Each layer tells a different character's story:
The blue layer with the sailboat tells the story of Moana's courage.

The burnt-orange layer tells the story of Moana's island people and their struggle to accept change.

The top layer with the tribal decor tells the story of Maui, the demi-god, and his need to be worshiped.
If you need a smaller cake (and one with less detail), this 2-layered Moana cake is a fabulous option. It's such a pretty little cake, and the colors complement one another so well. This is the perfect cake for any age group.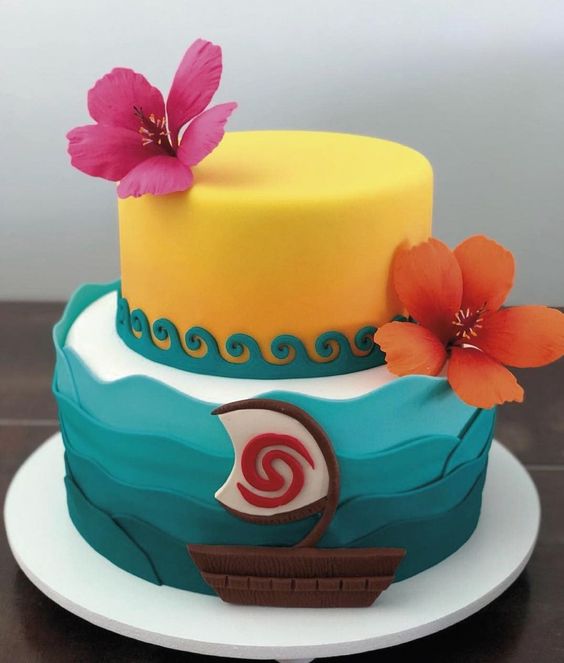 8. Moana Cake Smash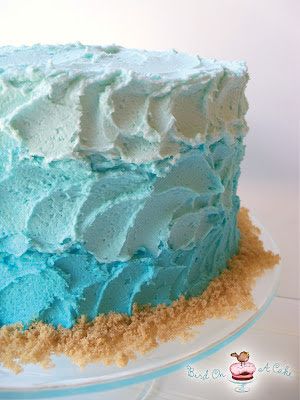 I am a huge fan of birthday cake smashes. I love watching a little one's face when given a big cake, and it's all theirs for the smashing. The photos and videos are priceless. Imagine your little one digging into this gorgeous Moana cake smash cake.
This is a simple two-layered cake decorated with a beautiful blue ombre combination of sugary sweet buttercream. I can guarantee you that the photos will be priceless, especially when your little one mixes all the colors. 
9. Moana Hula Cake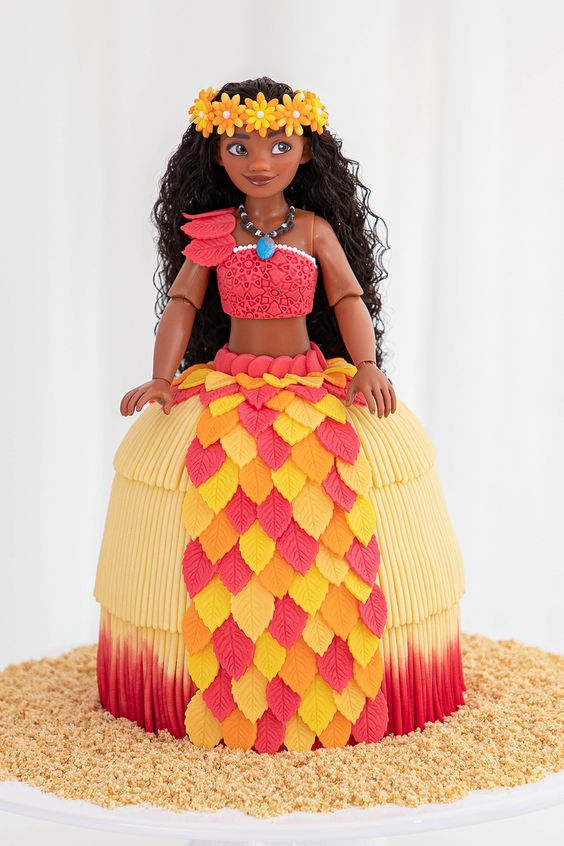 One birthday cake that stands out in my childhood memory is the famous Barbie doll cake. Mothers would pick out Barbie from their little girl's doll collection and make a beautiful princess dress around the Barbie out of delicious sponge cake. The icing was done so carefully, and it looked just like a fairytale princess dress. I remember being so proud of my Malibu Barbie birthday cake when I was 5. 
So, how perfect is this Moana hula cake for a little girl's birthday party? The hula skirt makes it, if you ask me. Another great thing about this cake is that it's so easy to make at home. Order one of these cute Moana dolls and follow this easy-peasy tutorial video if you want to make a Moana hula cake.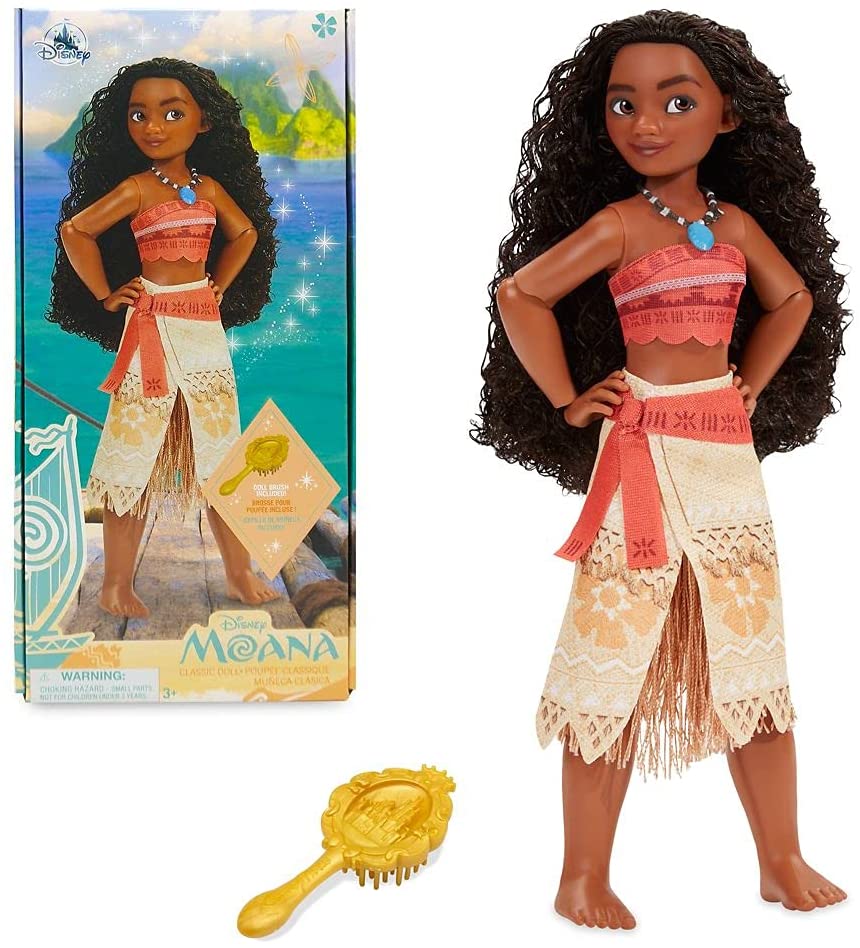 I love this cake because the Moana dolls come in different ages. For example, you can get a toddler figurine of Moana or a teenager version of her.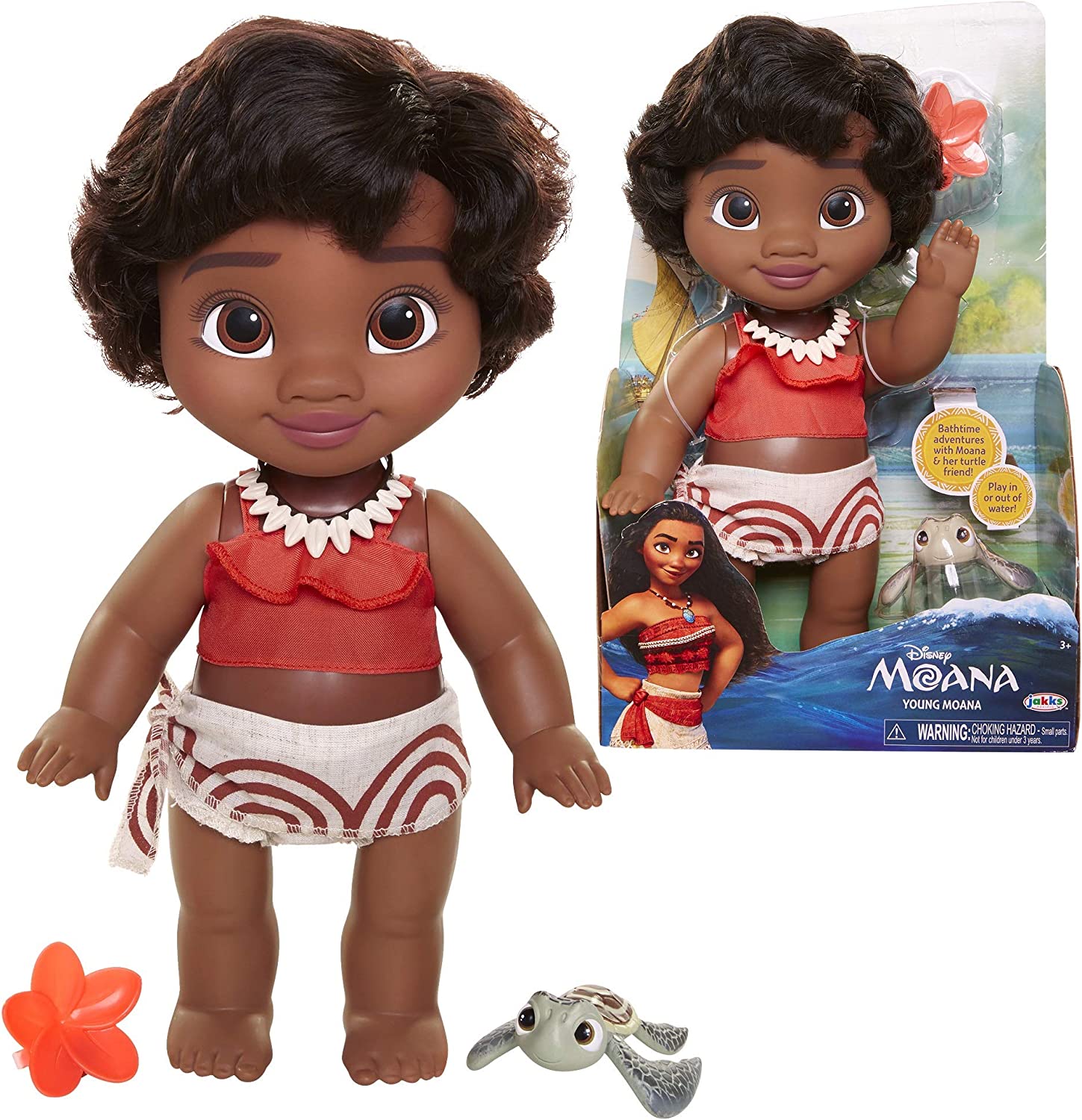 10. Moana Ruffle Wedding Cake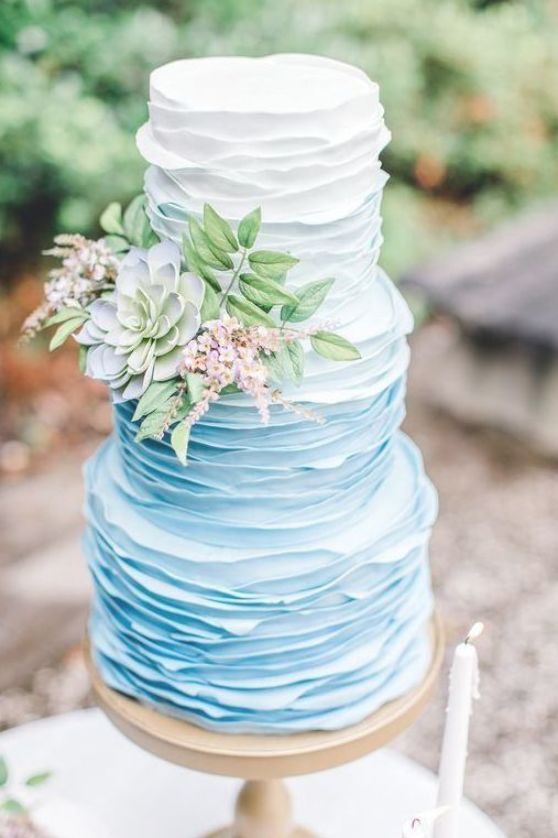 Now, I know what you are thinking. Moana isn't a love story, so how could I possibly find romance in this Disney film? I agree, but if you pay attention to the meaning behind Moana, it's about self-discovery and the love of one girl for her island. They meant so much to her that she was prepared to hop onto a little boat and sail across a turbulent and unknown sea to save her people. 
Now, if that isn't true love, then I don't know what is. This jaw-droppingly beautiful Moana ruffle wedding cake takes the cake in my books. It's simplistic with dusty blue ruffles that mimic a calm ocean. Deep shades of blue frosting at the bottom open up to the classic white horses (breaking of the waves) on the top of this majestic three-tiered cake.
Another beautiful wedding cake is this marble wedding cake. This is a slightly smaller cake with a stunning marble effect of blue and gold, giving it a classy ocean wave look.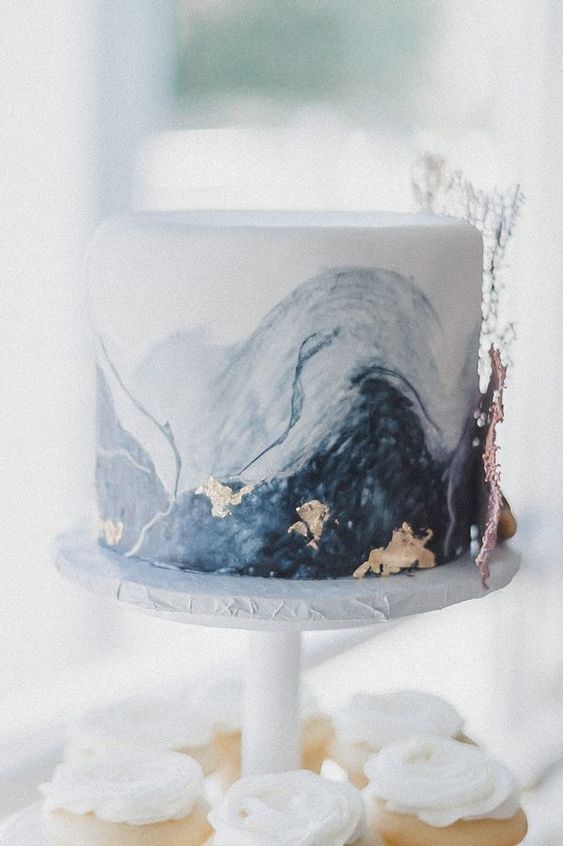 11. Beach Sand Cupcakes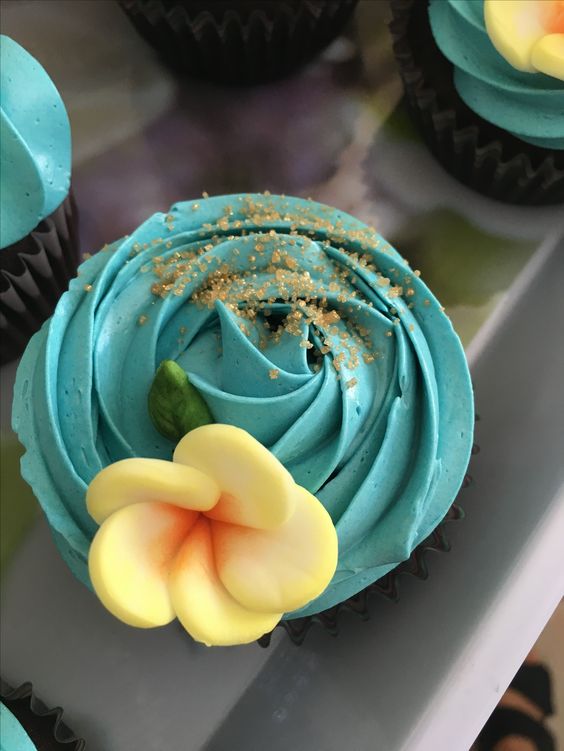 These sweet little cupcakes are the perfect dessert for any occasion. A housewarming, baby shower, 80th birthday party, you name it. They are just perfect. The beach sand cupcakes are made from a lovely rose and coconut flavored sponge and decorated with a decadent swirl of turquoise frosting. 
Top your cupcakes with a hearty sprinkling of edible golden beach sand, and add an edible wafer flower to your cupcake. 
You definitely aren't limited to the turquoise-colored frosting. Why not make the frosting yellow for a sunshine cupcake. It fits in beautifully with the Moana theme.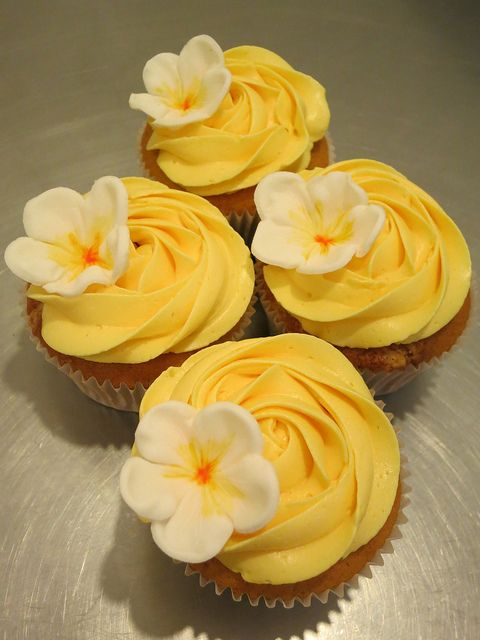 12. Kakamora Tribal Cake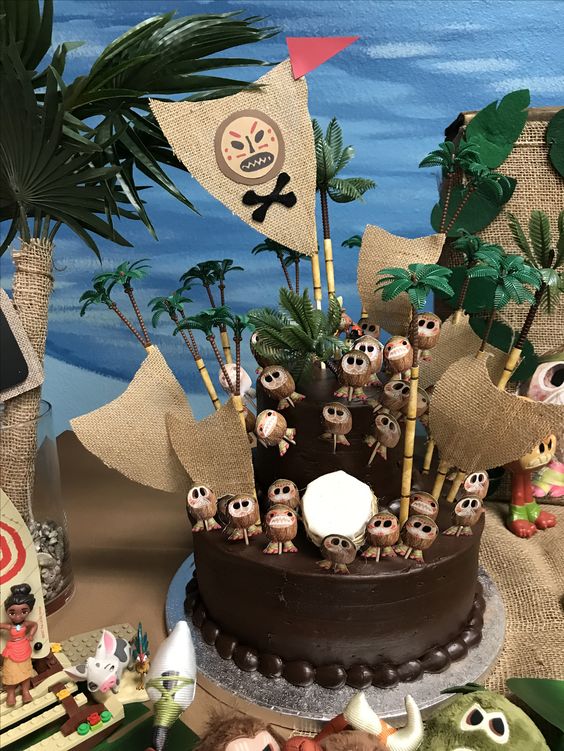 Arrrr! Enter the most savage tribe of coconut-like pirates ever to sail the ocean! Here is the best cake for a little boy's party. The Kakamora tribal cake is definitely going to make waves at your next birthday party.
This is a simple dark chocolate cake with different shaped layers, covered in a creamy chocolate fudge frosting. Decorate the cake with these fantastic Kakamora toys and island tree toys.
When the party's over, and the cake has been devoured, your little one can add the toys to their Moana toy collection. 
If you don't have the time or the budget to make such a big cake, then these Kakamora cake pops are just as divine (and a more budget-friendly option). Let your little one help you make these sweet little cake pops by following this simple tutorial.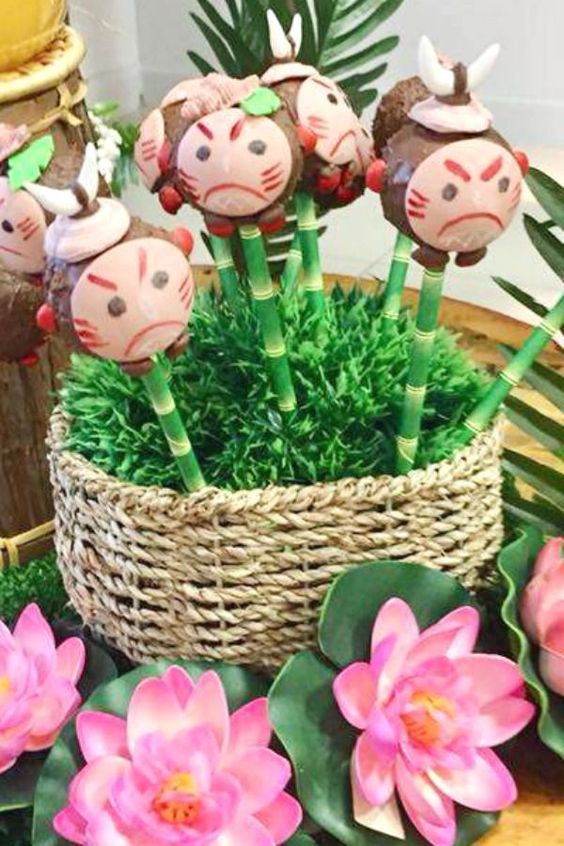 13. Maui in Your Face Cake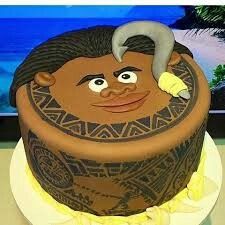 This Maui in your face cake is the perfect tribute to this demi-god. The cake is boastful and mischievous. It's simply a single layer of chocolate cake covered in a caramel frosting. Maui's face fills up the whole surface of the cake, just like his big personality!
Framing his face is the famous fish hook that gives him the power to shapeshift and represents energy and strength. Who wouldn't love this bold cake? 
If you have a teenage son and you are looking for a suitable cake for his birthday or school function, then this Maui tribal tattoo buttercream cake will impress his classmates. (And we all know that teenagers are hard to impress.)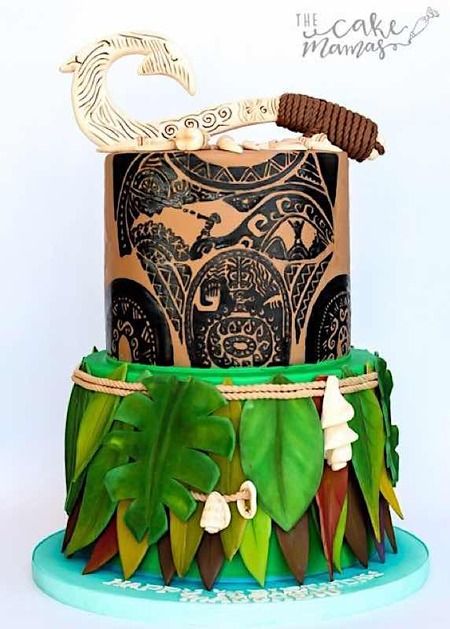 Moana Cake Ideas FAQs
Question: How do you get waves on top of a cake? 
Answer: Mix blue food coloring into some fluffy buttercream to get a light aqua color. Then scoop a tablespoon of the buttercream into a piping bag. Add less coloring to your next tablespoon of buttercream and continue the process until you only put white buttercream in.
Make ruffles by starting at the top of the cake and steadily squeezing the frosting through the piping bag. Make sure to keep turning your cake to create that soft wave effect. Keep going until you reach the bottom of the cake. Voila, you have waves.
Question: What are Moana colors?
Answer: The colors for Moana are true to the traditional clothes worn by the islanders, which is a reddish-orange color. The color brown and different shades of blue are used to show the beach sand and the color of the ocean.
Question: What does Moana look like? 
Answer: Moana has a slender, slightly muscular build with medium-tanned skin. She has beautiful wavy black hair and thick eyebrows framing deep brown eyes. 
My Final Thoughts on the Best Moana Cake Ideas
Trust me when I say there are plenty of cakes in the sea, and there is a perfect Moana cake out there for everyone. Moana is a Disney classic that provides endless cake options that will make waves at your next luau.
I hope my 13 best Moana cakes have helped you navigate all the available cake options. If the adventurer in you is looking for more Moana inspiration, check out our 25 best Moana birthday party ideas to ignite the voyager in you.
Happy sailing, my fellow voyager, and I have been itching to say this (I know Maui would be proud) but here goes. In my best Maui rendition:
What can I say except, "You're welcome."
For the ideas, the cake, and the fun.
Recommended Reads: