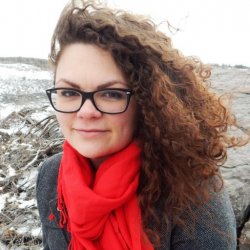 Latest posts by Candace Osmond
(see all)
Peace, love, understanding, – and Cake. Are you baking one for a preschooler who adores arts and crafts or a die-hard fan of the Grateful Dead? Or perhaps you'd just like to bake one for someone who likes colorful surprises.
Whatever the case, I'm confident you'll find inspiration in some of these super cool psychedelics and rainbow tie-dye cake ideas. I'm ready to give them a try, are you?
Bottom Line Upfront
Hands down, my fav on this list is the Spiral Tie-dye Pattern idea for several reasons. It looks SO easy to do, for one. Also, I love how you could use just about anything; candies, berries, large bead sprinkles, etc. Personally, I'd use berries.
Top 3 Picks
After creating the shortlist below, I also ranked the three best tie-dye cakes according to situations they're best suited for.
Best Tie-Dye Cake For Adults: Spiral Tie-dye Pattern
I recommend adding this spiral tie-dye pattern to any cake for a simple yet impactful tie-dye cake.
Best Tie-Dye Cake For Kids: Vibrant Tie-dye Round Cake
Embrace your inner cake artist with this vibrant tie-dye rainbow cake.
Best Easy Tie-Dye Cake: Powdered Sugar Tie-Dye Cake
If you're on a quest for the tie-dye cake that's easiest to make, I recommend the powdered sugar option.
The Best Tie-Dye Cake Ideas For Any Age
Okay, believe it or not, before I was a professional Interior Designer, I was a cake decorator for a local bakery where I grew up. It was probably my fav job of all my career choices, and tie-dye cakes were one of our specialities! That's why I chose to write this topic because I can't even count how many different tie-dye cakes I've done.
So, I rounded up the best ideas for all ages and occasions. I chose them based on their design but also how easy they'd be to DIY. Enjoy!
Powdered Sugar Tie-Dye Cake
Name a better way to start an article on tie-dye cake ideas than with the easiest-to-make option. I'm waiting.
Here, start by mixing water and powdered sugar to make a glaze. Subsequently, add a drop of your chosen food gel colors and let them settle. No need to mix – let them settle where they will. Next, line a wire rack with parchment and place the fondant-covered Cake over the wire.
Lastly, pour the icing over the Cake, let it dry, and enjoy.
Tie-Dye Drip Cake
The first batch of tie-dye cakes I made was for my friend Mike's birthday. He is a die-hard deadhead. So, I made him tie-dye cupcakes and one massive drip cake in green, pink, yellow, white, and blue. The tie-dye drip cake closely resembled what's pictured above, and it sure put a smile on Michael's face.
Before making a tie-dye drip cake of your own, ensure that all your ingredients are at room temperature. When it comes to the colors, I recommend using less than five. Any more, and you risk overmixing, which I learned the hard way might turn your whole Cake a murky brown.
Tie-Dye Tower Cake
I don't know about you, but cake making and baking are like therapy to me. Perhaps that is why I enjoyed recreating this tie-dye tower cake so much. At one point, the session even reminded me of my finger painting sessions in kindergarten.
I'm also in love with the small dollops of buttercream frosting placed around the Cake's bases. I used skittles and M&Ms on my Cake instead.
Rainbow Tie-Dye Cake
This is one of the coolest tie-dye cakes you can bake yourself and show off to your friends. It's one of the most practical, too, as it'll be easy to theme any party around the colors. You can choose from whatever shades you desire and aren't locked into a specific look.
Want a simplified solution on how to create this rainbow tie-dye cake? Prepare a white cake mix, divide it into five bowls, and make each bowl a different rainbow shade before baking.
Tie-Dye Cake Pops
I considered creating a tutorial about how to create tie-dye cake pops, but there's no need. Better yet, there isn't a specific method you should use.
I personally start by placing multiple colors of melted candy into a small dish. Subsequently, I dip the cake pops in at different angles and twirl them around. You can have each color melt in its own bowl if you wish.
Vanilla Tie-Dye Cake
White cake mix, vanilla extracts, powdered sugar, food coloring, eggs, whipping cream, oil, and unsalted butter. That's all you'll need to recreate this vanilla cake with a brightly colored tie-dye pattern. Point to note: Wait until the Cake is cool before using a knife to cut it up and add dollops of buttercream.
Once it's ready, keep it refrigerated and enjoy within 4-5 days. I recommend serving it with a scoop of chocolate ice cream or a big glass of milk. Trust me; you'll thank me later.
Buttercream Tie-Dye Dye Cake
Who knew a simple vanilla cake made groovy with five different colors could stand out among all other cakes? I have two pro tips you should abide by to ensure success while recreating this buttercream tie-dye cake.
First, do not be afraid to add flavors of your choice to the Cake. You can even change out the flavor completely or add additional colors to the buttercream. Basically, make the Cake your own. Second, remember to place a parchment around the bottom of your pans, so the Cake doesn't stick to the bottom.
American Buttercream Cake
This surprise American buttercream cake is easily customizable for anyone's birthday or special event. I've made it three times so far. Once for a friend's wedding, another time for a neighbor's retirement party, and another time for my daughter's birthday.
Thanks to its scope and size, the Cake should take approx. 12 hours to prepare. Don't let that discourage you. You'll spend a good bit of that waiting for it to bake and cool so you can cover it in frosting. Also, remember to use diluted gel food coloring for the light shades.
Hat-Shaped Tie-Dye Cake
At this point, I can rarely wow my family with any of my creations. That's why I'd give anything to see their jaws drop as they did after seeing my recreation of this tie-dye cake. What's more? The vanilla buttercream cake tasted just as good (if not more) as it looked.
I chose to make the tie day green, blue, orange, yellow, and pink. Go with any colors you prefer and let your inner artist come through.
Groovy Tie-Dye Cake
Here comes a tie-dye cake guaranteed to brighten your day while simultaneously satisfying your cake cravings. The Cake combines the awesomeness of rainbows and bright tie-dye patterns to deliver an unforgettable experience.
You do not need to have the insides of the groovy tie-dye cake as colorful as the outside layer.
Tie-Dye Sheet Cake
Dazzle your guests (be they kids or adults) with this beautiful creation on any occasion. To keep the Cake fresh, keep it covered at room temperature or in the refrigerator for five days. I know what you may be thinking. Can I recreate this vibrant look, but with cupcakes?
Absolutely! Just remember to layer the batter into the cupcake liners before baking.
Vibrant Tie-Dye Round Cake
A few years ago, my kid attended a classmate's party where the mom made a similar tie-dye cake. My daughter wouldn't stop talking about it for weeks, and you can tell why at first glance. It's one of the most vibrant tie-dye cakes I've ever seen.
Swirl-Patterned Tie-Dye Cake
This is a two-tire round cake, iced in tie-dye buttercream and trimmed with tie-dye shirts as cake toppers. Both cakes have similar designs and tie-dye patterns. Make the two cakes separately, then stack them on top of one another when you're done.
What ingredients will you need to recreate this swirl-patterned tie-dye cake? Gel colors, food-safe brushes, piping bags, offset spatula, a cake turntable stand, cake pans, and a kitchen aid mixer.
Floral Tie-Dye Cake
Building any layered tie-dye cake takes time, from baking the different layers to decorating the finished dessert. This tie-dye cake idea takes the challenge a step further with floral frost decorations. These are borderline impossible to recreate without prior experience.
Do not be disheartened, though, because the learning curve isn't that steep. You should be able to pull off a similar floral cake by your fifth try.
Tie-Dye Cake with Sprinkles
You'll meet two kinds of people in the realm of tie-dye cake lovers. The first group loves simple, solid rainbow colors. On the other end, however, you'll find people who love crazy, wild colors and decorations. This tie-dye cake appeals to the latter.
The '70s Inspired Tie-Dye Cake
Do you have a loved one who loves some mixture of elegance and the hippie culture? Then this is the tie-dye cake for them. Just remember to add the stylish, floral elements.
Tie-Dye Pinwheel Cake
Do you have extra frosting and Cake left over after making your previous tie-dye cake? This idea shows you how you can cut the remaining Cake into small circles or pinwheels and create mini cakes. Pipe the rainbow frosting on the mini cakes, and you have ten or more cakes.
Here is a pro tip; if the frosting is too thick, add a little more cream. Keep adding a tablespoon at a time, and mix thoroughly until you get the consistency you prefer.
Tie-Dye Layer Cake
This Hippie Tie-dye Cake was super fun to recreate. It's super colorful and triple-layered, and the homemade frosting on top was yummy. We made the Cake for a friend's father's themed retirement party.
As with all other cake ideas, I recommend starting with a boxed cake mix if you're a novice baker. Also, feel free to go this route if this will be your first time preparing a tie-dye cake. This way, you'll get to focus on the decorations and presentation and not waste time on the flavor.
Shirt Tie Dye Cake
Customized cakes are all the rage nowadays, and for good reason. Customization allows people to pick their preferred colors, sizes, or designs, letting them add personal touches to the Cake. That's what the baker clearly went for in this shirt-shaped tie-dye cake idea.
Now, can you imagine amalgamating your creativity with everyone's love for tie-dye cakes? Whatever you create is destined to be an instant hit.
Block Tie-Dye Cake
https://www.pinterest.com/pin/556968678925308353/
This tie-dye cake is the ultimate arts and crafts project you can eat. The patterns on this Cake took the least time to make than most other cakes on this list. It won't need vibrant colors either. And if time isn't on your side, just have the tie-dye patterns on the surface.
Vanilla Tie-Dye Cake
This tie-dye cake idea shows a vibrant vanilla tie-dye cake with a cute rainbow pattern. The Cake also boasts buttercream frosting dollops on the top side.
Do you know what I'd love to see? How the Cake would've turned out if the baker had added these dollops in between the Cake's layers as well. That would concrete its position as one of the cutest tie-dye cakes for children and adults alike.
Tie-Dye Cupcakes
If you're like me, you go all out with your baking endeavors. That applies to tie-dye cakes as well. Top that off with your culinary skills and rest assured any tie-dye enthusiast will adore the colorful cupcakes you deliver.
Three-Tier Cake
Consider this idea your perfect opportunity to develop your fondant skills and get in on this radical cake design. Something else you'll love about all the color work is it'll work in your favor and conceal any accidental bumps.
The Cake's straightforward design shouldn't be a hassle to pull off, even for total beginners. Another pro tip; use gel food colors to change the shade of your cake batter. Compared to water-based colors, gel alternatives are more vibrant. This implies you won't need to use as much to get a bold hue.
Spiral Tie-Dye Pattern
Since you're only going for the swirl effect with this creation, you can be less precise when portioning the batter. Also, remember that you'll be working with small portions of batter, so adjust the coloring accordingly. I suggest adding one drop and only keep adding if the shade isn't vibrant enough.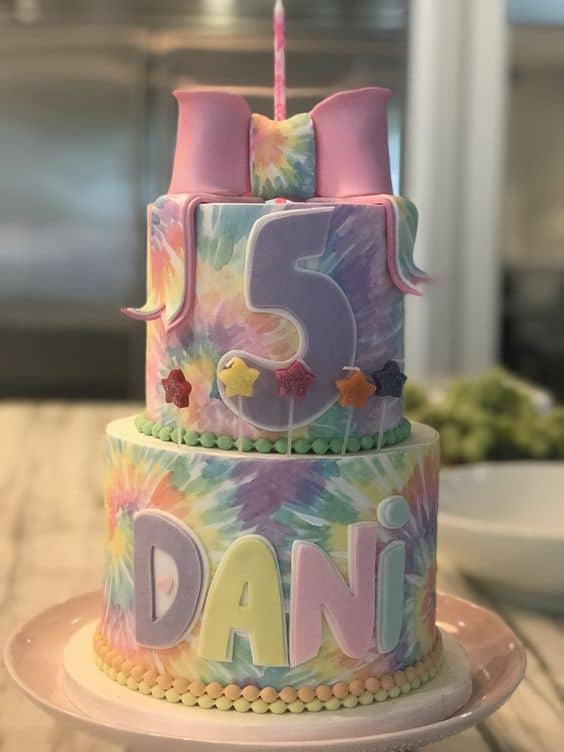 This was the second tie-dye cake I created after my first trial run for Mike's birthday. The second Cake was for my co-worker's daughter. Anyway, now that I had more confidence in my tie-dye cake-making abilities, I decided to up the challenge. Instead of a regular round cake, I went for a two-tire.
By the look on her face when I gave her the Cake, I think it was a hit. Interestingly, one of my little cousins is also really into peace signs. If that doesn't prove all things "hippie" are hitting the mainstream again, I don't know what does.
Where Did Tie-Dye Come From?
In North America, the rainbow swirls of tie-dye bring to mind the early 70s' and late 60s counterculture movements. This is especially true in Canada and the U.S. If you were around back then, the Grateful Dead and Jimi Hendrix may dance across your mind.
That said, the truth is tie-dye's history stretches far beyond psychedelia and the summer of love. Many cultures worldwide (from Japan and China to Nigeria) have been using this technique for thousands of years. Specific tie-dye patterns have even come to represent specific regions.
In Japan, tie-dye techniques have been around since 550 CE. They became widespread in the region around the 8th Century C.E. The earliest version of Japanese tie-dye favored Indigo dye, which was readily available then.
In India, the earliest form of tie-dying can be traced back to as early as 4000 BCE. The technique is known as "bandhani," which is derived from "bandh," a Sanskrit word that means "to tie or to bind." Indians used Bandhanis for thousands of years in religious ceremonies like funerals and weddings.
The earliest examples of tie-dying can be traced to Peru. The oldest Indigo-dyed fabric was discovered in the region and can be traced to around 6,200 years ago.
FAQ
Question: Can You Use Food Coloring to Dye Cake Batter?
Answer: Yes, you can use any brand of gel food coloring to dye cake batter. But make sure you pick one that can give a vibrant color to the Cake without thinning the batter.
Question: How Do You Dye Cake Batter?
Answer: To dye cake batter, add drops of gel food coloring to the bowl of batter and stir until well combined. You'll have to eyeball the amount of coloring you add since effectiveness varies from brand to brand.
Question: What Kind of Dye is Needed for Cakes?
Answer: The dye you use on cakes will depend on your needs. For more vibrant colors, go for gel and paste food coloring. For less intense colors, use liquid food coloring. Both options are available in a wide array of colors.
Get Groovy with Your Cake
This guide proves that baking a tie-dye cake doesn't need to be daunting. You can even speed up things by using boxed cake mix or going for simple decoration. I won't judge! Provided the flavor is sweet and the colors are bright, any tie-dye cake is sure to be a hit.
Which one did you love? Was it my pick, the Spiral Tie-dye Pattern idea? For more cake ideas, head over to our website!
Recommended Reads: