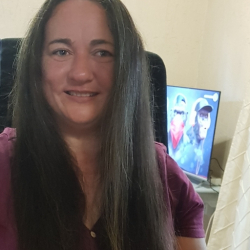 Latest posts by Caroline Lambert
(see all)
Elsa, Olaf, and Anna are famous characters for little princesses waiting to see their fairytale birthday parties. I've been decorating and baking cakes for years.
Still, I carefully selected beginner and expert Frozen cake ideas to ensure every little princess gets her dream birthday. Party supplies are the beginning of a great plan.
The next step in revolutionizing my party ideas is to pick the cake. I want a centerpiece so gorgeous that even a princess would feel impressed.
I'm here to share the range of Frozen cake ideas that inspire beginners and experts to create the masterpiece every princess will love. Beauty is in the eye of your princess.
Let's get to the icy details before Elsa's castle melts.
The Winning Princess-Style Frozen Cake Idea
My love for cake decorating stems from years of being the go-to person who experimented with sculpted designs and painted beauties. My friends and family (kids included) saw my cake ideas and wanted their favorite characters. So, I made themed cakes, and I'm here to find my first Frozen cake idea.
I picked two winners because I'm focusing on cake ideas for beginners and experts. Don't worry; I plan to help beginners and inexperienced decorators with the essential tools to create my gorgeous cake idea.
The "Gravity-Defying" Frozen Cake Idea is my winner for beginner bakers because it's a simple but awe-inspiring cake design.
The decorations are easy for beginners, and you can use cake pop sticks to support the gravity-defying snowflakes. This cake is a masterpiece with little effort, making it an excellent Frozen cake idea.
The "Twisted Sugar" Frozen Cake Idea is the winner for experts because it challenges an experienced baker to intricate decorations with sugar paste, gum paste, and fondant. The snowflakes around Elsa are fragile and take hours of patient work. However, the result is jaw-dropping because guests investigate the wonder.
Now, I've shared my winning Frozen cake ideas for beginners and experts. So, let's get into how I selected the rest of the ideas and which tips can help beginners achieve easy yet professional-looking Frozen cake designs.
Selecting the Best Frozen Cake Ideas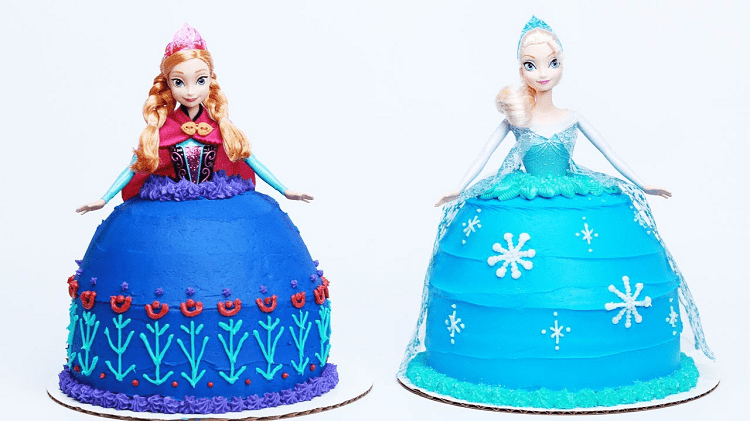 Frozen allows little girls to feel like they're enjoying a fairytale world. I want Frozen cake ideas with a princess vibe or fairytale style. The cakes should include Elsa, Olaf, Anna, and Sitron as some characters. The characters and storyline should inspire the decorations.
Additionally, fairytales are enchanting, meaning I want frozen cake ideas with aesthetic quality. Buttercream frosting, edible wafer paper, fondant, and modeling chocolate are great starters for beautiful and tasty cakes. Aesthetic beauty doesn't require an expert baker, either. I'll share some tips soon.
Finally, the cake ideas fall into two categories. First, beginner bakers can enjoy the more straightforward Frozen cake ideas by watching a few video tutorials.
In contrast, some Frozen cake ideas are better suited to experts. Some paint techniques and gravity-defying details are hard to achieve with video tutorials and no experience.
Tips for Frozen Cakes
You don't need flat or printed Frozen cake ideas as a beginner. However, it would help to have some tips on making specific cake toppers and decorating the cakes like a pro. Some Frozen cake ideas work well for beginners with a few piping, cake-topping, and fondant wrapping tips.
Here are six easy-going tips to help you design a professional-looking Frozen cake:
Tip 1: Decorate Neat Cakes
Professional-looking cakes sometimes merely need smooth edges and careful fondant wrapping. Sugar Geek shows you how to create beautifully smooth buttercream edges. On the other hand, Abby from Abbylicious shares a secret about smooth fondant edges without paneling techniques.
Tip 2: Let It, Snow
Frozen cake ideas will use many snow-style techniques to finish the cake. Learn how to make edible snow to make your Frozen cakes stand out. You can complete the cake with snow dust created with icing sugar. You'll also need to watch video tutorials to show how you can design snowflakes with fondant or gum paste.
Tip 3: Piping the Details
Combining fondant and buttercream frosting is like heaven. Still, you should watch a few tutorials about basic yet pretty piping techniques. Practice is the key. Georgia's Cakes has a basic piping tutorial you should watch. Becky's Cakes also has a video tutorial that shows various techniques you might use on Frozen cake ideas.
Tip 4: Color Me Silly
It's harder to blend colors than you think. The wrong colors can make a Frozen cake look awful. The Artisan Cake Company has an excellent tutorial to help you color fondant. Gel colors are the best. Additionally, you can use Wilton gel colors to get perfection with buttercream frosting if you watch this tutorial.
Tip 5: Carve the Castles
Cake carving can be challenging for beginners, but Frozen cakes often use princess castle towers. I found a simple castle tutorial to help you carve Frozen cake ideas when you want your little princess to feel like one. In addition, Tan Dulce published another video tutorial for beginners to sculpt castles.
Tip 6: Sculpt Cake Toppers
A professional-looking Frozen cake would have edible cake toppers. I'll stick to fondant tutorials to narrow the options because it's easier to source and color fondant than to model chocolate and gum paste. Here are the popular Frozen cake toppers to consider:
Frozen Cake Ideas: Elsa's 30 Beautiful Beginner Ideas
Beginner's cakes are by no means any less beautiful than expertly-decorated cakes. However, the challenge fits someone who doesn't have tons of experience. For example, an inexperienced cake designer won't easily use paint techniques, and realistic-looking sculpts. Nonetheless, here are 30 Frozen cake ideas that look gorgeous.
1. "Adorable Olaf" Frozen Cake Idea
Olaf is the one bi-gender cake design you can use for little prince charmings if they love Frozen. Boys can love the film, too. Olaf looks like an adorable snowman toppling the world of buttercream blended with fondant flavors. The design is straightforward as long as you get the Olaf cake topper right. It's ideal for girls and boys.
2. "Baby Cheeks" Frozen Cake Idea

How young is your little princess? Wouldn't she love the baby cheeks or chibi-style Frozen cake design? The flowers can be challenging on this cake idea, but you can replace them with snowflakes or pretty piping techniques. The cake toppers are also intricate but use a chibi-style fondant tutorial to create them.
3. "Care-Free" Olaf Cake Idea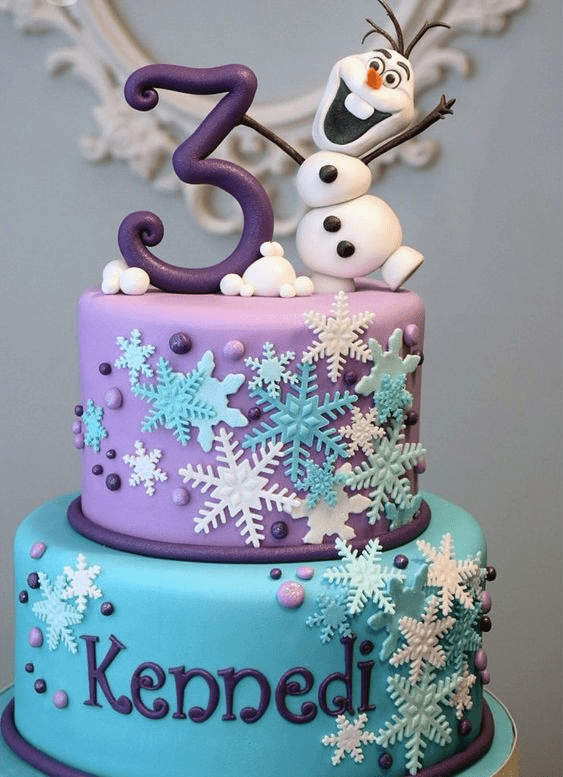 I love the Olaf cake ideas that work for boys and girls. This Olaf cake design is a brighter exception with gorgeous snowflake details you can easily pull off. Making Olaf stand in a different position as a cake topper is about practicing and trying again. I love that he hangs from the number, which could be any child's age.
4. "Catch Me" Elsa and Olaf Cake Idea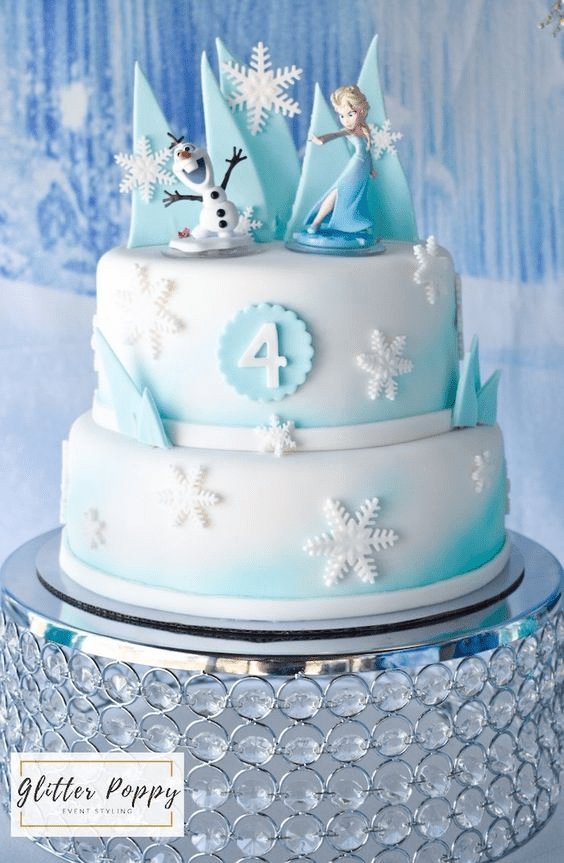 Elsa and Olaf look beautiful on a cake, especially when it looks like they're playing tag. On the other hand, maybe they're sliding down a glacier.
Either way, this Frozen cake is pretty and impressive. You don't need the cake toppers to look the same. The design with snowflake decorations and icy glacier pieces works perfectly.

Frozen has much to do with ice, snow, and the cold. It also has strong fairytale vibes as a general rule. Hence, you can combine the two ideas into a simple Frozen cake design that looks pretty good. This Elsa cake idea would work better with royal icing for the snow running down the cake's sides, which also comes out white.
6. "Doll Cakes" Frozen Cake Idea
Doll cakes have long been a dream for little girls who love princesses, castles, and fairytales. It's also one of the easiest ways a beginner cake designer can use fondant to create a beautiful feature. For example, Elsa's dress doesn't need to be perfect because princess dresses are bold. However, swap the doll for an Elsa cake topper.
7. "Dressing Up" Elsa Cake Idea

The doll cakes gave me another idea, and I found this beautiful Frozen cake design. Printing Elsa's picture on edible wafer paper and slapping snowflakes around the cake works well.
However, I love this Frozen cake design because it includes a simple ballgown drape for Elsa's dress. You could make it with fondant.
8. "Frozen Thrones" Elsa and Olaf Cake Idea
I'm genuinely impressed by the new ideas coming from doll cakes, and this Frozen cake design has the same ballgown draping effect with added features.
You could add an Olaf cake topper, or you could have Elsa and Anna cake toppers on top of the final tier. The gravity-defying snowflakes are gorgeous details for depth.
9. "Hot Springs" Olaf Cake Idea
I laughed when I saw this Frozen cake idea because Olaf is a snowman. He couldn't possibly enjoy a hot tub or springs. However, the designer's imagination took an unexpected turn.
The cake design makes an ideal option for beginners because chocolate borders with buttercream water and a fondant Olaf cake topper work.
10."Iced Forest" Frozen Cake Idea

The forests around Elsa's castle seem cold and icy, but they make beautiful cake designs. Snow and ice are attractive opportunities to make princess cakes, and Frozen is the top theme right now.
The tree decorations and cake toppers are also easy to make with fondant cutouts and simple sculpting. You don't need perfection.
11. "Ice Castle" Frozen Cake Idea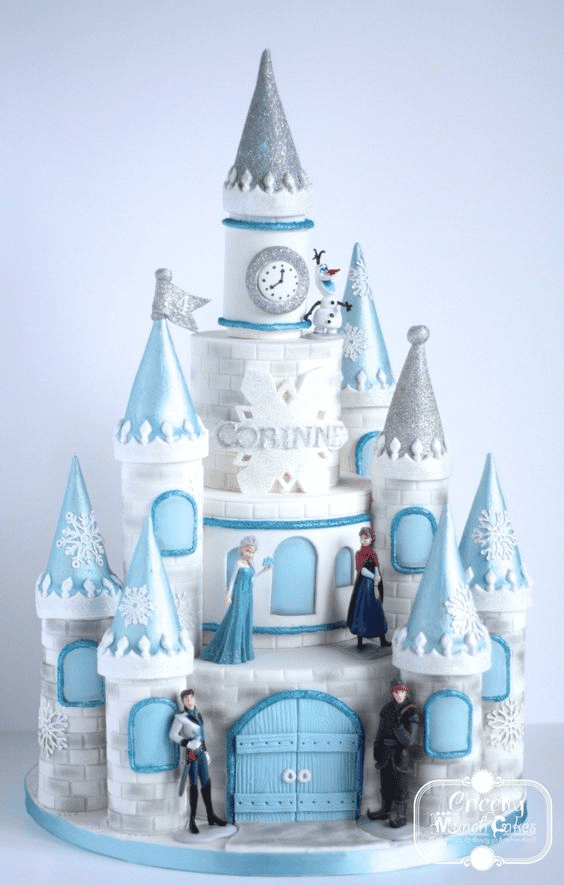 The ice castle in Frozen is like every little princess fan's dream vacation spot. I love this ice castle cake idea because a beginner can skip the paint techniques on the castle walls.
The carving for this Frozen cake will be straightforward if you use the tutorials. Then, add a few decorative details, snowflakes, and cake toppers.

How do you make a princess feel like one? First, of course, you can give her a tiara. Then, your little princess can wear her tiara, or she can eat it.
I love this Elsa cake idea because the piping techniques are beautiful around her portrait. But don't stress about detailed piping. You could create a similar border with different snowflakes.
13. "Ice Portrait" Elsa Cake Idea
Elsa's cake portraits are gorgeous because she's a princess with every beauty spot in its place. I agree little girls shouldn't moon over pretty princesses with generalized qualities, but Elsa is a famous character.
So, I'd make a few changes to this Elsa cake. For example, I'd put miniature fondant snowflake cutouts around the cake.
My teeth rattle when I watch Frozen. I'm not a fan of ice and the cold, but little princesses who watch Frozen want snowflakes, ice, and cold decorations.
Thank goodness they don't have the same effect on your teeth. This icy plain cake idea would look impressive with a simple Elsa and Anna cake topper fondant set.
Admittedly, Olaf steals my heart for Frozen cakes that appeal to boys and girls. I'd remove the paint-technique ice pieces behind Olaf and replace them with massively oversized snowflake cutouts. You'll have to dry your fondant properly using massive cutouts if you want them to stay upright. Use supports behind them.
16. "Pretty Piping" Elsa Cake Idea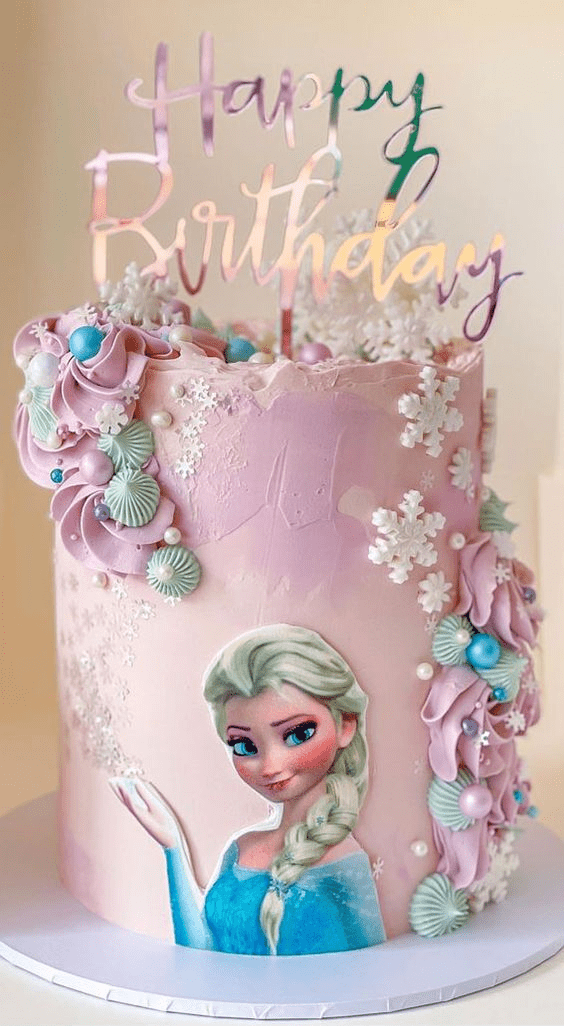 I haven't seen a girlier Frozen cake idea than this Elsa design. Sure, it removes the well-known blue background with white snow.
Still, it includes snowflake decorations and a pretty Elsa edible print. Of course, you could replace Elsa with a cake topper, too. The piping on this cake requires patience and trial, but it's worth it.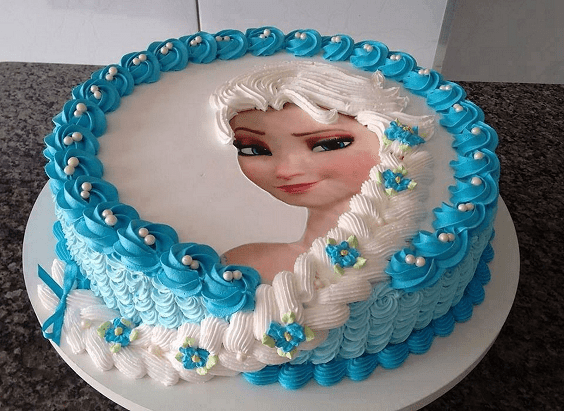 Number 15 on my list is beautiful, but this Elsa cake idea takes it up another notch by focusing on her gorgeous braid.
The piping techniques on her braid and the cake's border would require patience, but the result is more detailed than number 15. Additionally, you could add a few fondant decorations to improve the cake.
18. "Princess Ruffles" Elsa Cake Idea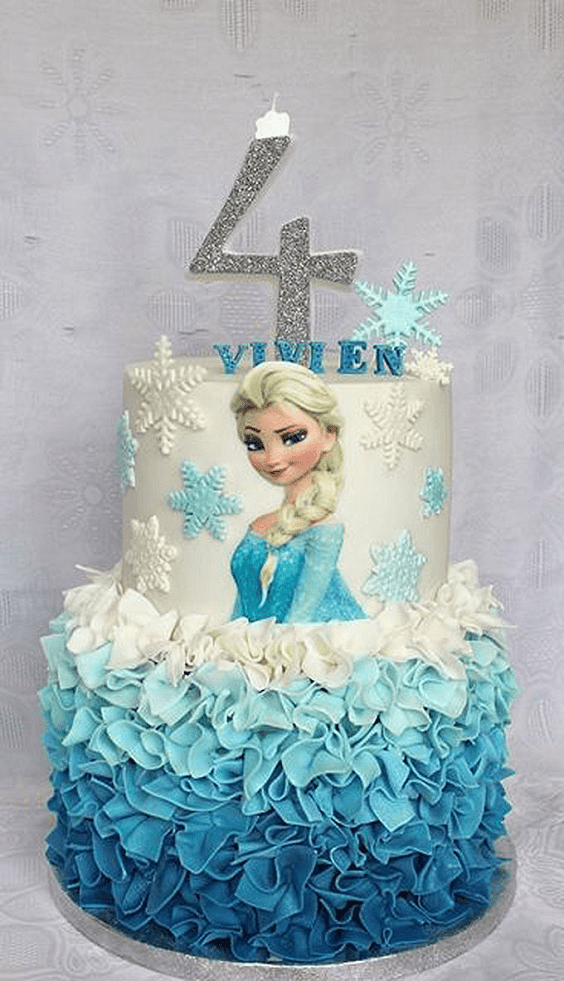 I'm falling back into the princess vibes with this cake design, but adding buttercream ruffles around the bottom tier of a two-tier cake would impress your little princess. But, of course, she would think it's Elsa's dress, and this simple video tutorial will help you pipe them easily.
19. "Princess Tiara" Elsa Cake Idea

Tiaras, gold, and pretty dresses make a princess feel like one. This Elsa cake idea is another gorgeous ballgown drape design with added touches of gold and a tiara on top.
If you want to attempt this beauty, there's an easy way to paint edible gold on cakes. The painting technique isn't too complicated for beginners.
20. "Scared Olaf" Frozen Cake Idea

Olaf makes some of the best Frozen cake designs. However, this Olaf cake idea is more girly than it appears boyish because it has a beautiful Elsa cake topper above Olaf.
You could place the Olaf cake topper anywhere, and making him look scared is as simple as opening the mouth design on the fondant cake topper.
21. "Sisterhood Window" Elsa and Anna Cake Idea
Anna's cake ideas aren't as famous as Olaf and Elsa's. Still, she makes an excellent addition if you want the sisters together.
I love how this Frozen cake idea is straightforward, with an Olaf cake topper above the window that looks into the beautiful friendship between Anna and Elsa. The many snowflakes make it jaw-dropping.
22. "Sisters for Life" Elsa and Anna Cake Idea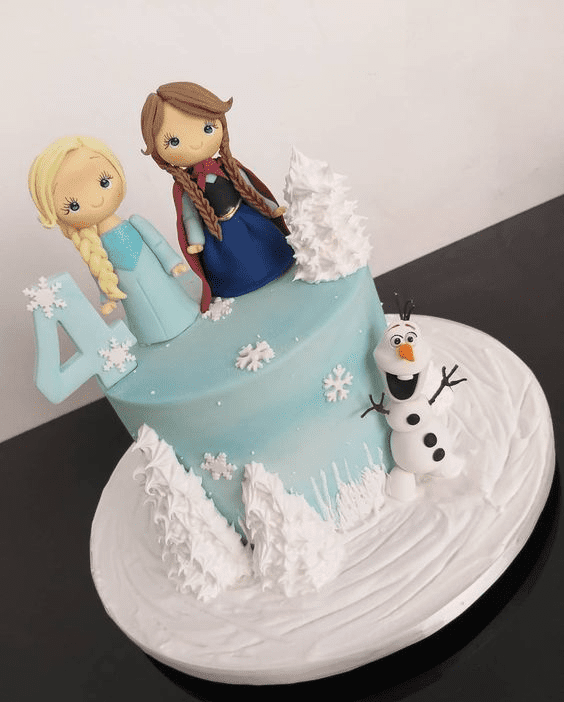 I searched for another Frozen idea with an Anna cake design. Anna joins her sister as a cake topper on this gorgeous single-tier buttercream cake. The super-smooth edges undoubtedly impress me.
The snowy tree decorations can stay as they are or change to green trees with snow peaks. The sisters look so happy here.
Smash cakes are a glorious way for us to remember a child's first birthday, and new toddlers can also enjoy the Frozen franchise.
I recommend sticking to the edible printed wafer paper cutout for Elsa and Anna if using this smash cake for its purpose. The snowflakes give it the extra detail you need. It's a pretty cake for smashing.
24. "Snow Globe" Frozen Cake Idea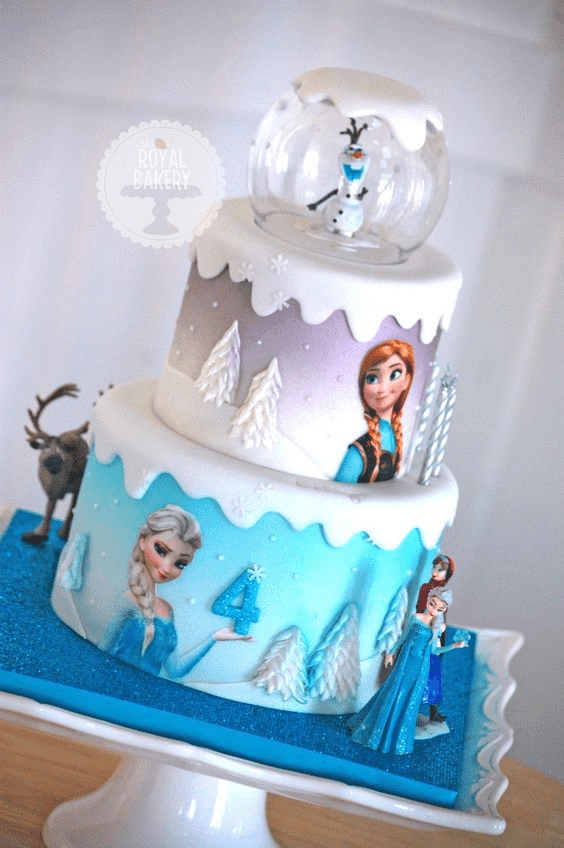 I'm giving you one idea that isn't entirely edible but works for Frozen cake designs. Putting a snow globe on top of an Olaf cake topper is priceless. Instead, you could use a glass bowl from the kitchen to create this gorgeous design. It's minimal effort and doesn't even need the other toppers.
25. "Snowy Mountain" Frozen Cake Idea
Mountains and snow go hand-in-hand like Frozen and Elsa. I love this Frozen cake idea because it can be the foundation of many designs.
For example, you could change the cake toppers or add gravity-defying snowflakes. You could also keep the cake as you see it. Simple techniques are often enough to impress kids.
26. "Snow Secrets" Elsa Cake Idea
Elsa looks like she's hiding a secret with this cake design. I'd replace the printout with an Elsa fondant cake topper, but the design is excellent for simplicity and Frozen themes.
The snowflake fondant cutouts are massive, and you'll have to support or dry them properly. However, the icicle sheets are smooth fondant cutouts.
27. "Tiara Tiers" Frozen Cake Idea
Please remember how I spell the name because I don't mean tears. Who wants a princess crying at her birthday party? This Frozen cake idea will ensure she doesn't shed a tear.
It's a similar design to my winning expert-level Frozen cake design, but it doesn't have the intricate work required. Dried fondant cutouts would work well.
28. "Tiaras & Princesses" Elsa Cake Idea
I'm adding another non-edible cake design by inspiring you to wrap a plastic tiara around the top tier of a beautiful Frozen cake. You might be lucky to find one with Elsa's face like this designer did. However, the pretty rosette piping around the cake captures the princess vibes well, and your little one will love it.
29. "Timeline" Frozen Cake Idea
Number-shaped cakes are fantastic for little princesses. Adding Frozen themes, printed edibles, cute piping techniques, snowflakes, and miniature cake toppers would kick the cake to another level.
The fondant cutouts also give you places to add a child's name and age, and you can paste the edible prints on them.
30. "Traditional Princesses" Frozen Cake Idea
I wanted another Frozen cake idea with Anna and Elsa because the sisters can inspire little princesses to play nice with each other.
I also chose this video tutorial as a doll cake for the sisters because two sisters bake and decorate the beauties. You could use the cake toppers or actual dolls to center the cakes.
Frozen Cake Ideas: Elsa's 10 Gorgeous Expert Ideas
I should tell you that I love challenging experienced bakers with Frozen cake ideas that would wow even the best decorators. So, I carefully picked the top ten expert-level Frozen cake ideas that include intricate sculpting, refined paint techniques, and artistic flair. So, look at my top ten picks for experienced bakers.
31. "Arty Ice Queen" Elsa Cake Idea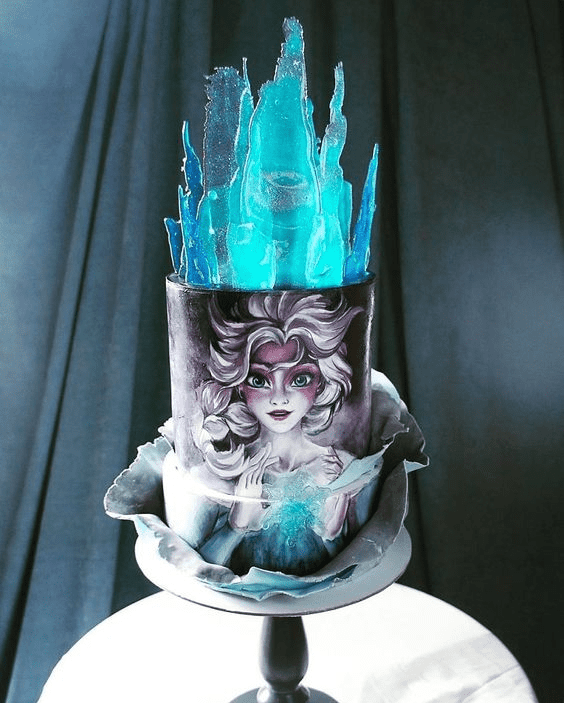 I'm taking the challenge to a new level by inspiring you to use delicate paint techniques to design a jaw-dropping Elsa cake idea. The ice glacier effect is also challenging.
You'll likely use a geode tutorial to inspire the icy sugar crystals. Otherwise, consider sparkling isomalt ice decorations to finish the cake.
32. "Beautiful Princess" Elsa Cake Idea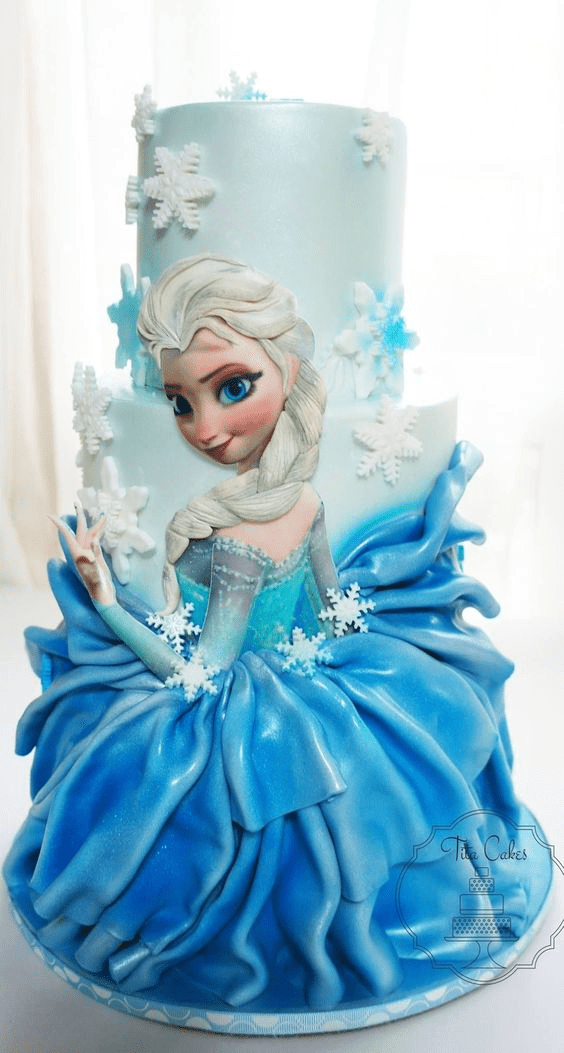 I love the Elsa dress cake designs for beginners and experienced bakers. However, I put this Elsa cake idea in the expert category because you can experiment with 3D painting techniques for the draping gown.
Unfortunately, I never found a good tutorial for 3D cake painting techniques, but challenge yourself to finish it.
33. "Dancing Queen" Princess Elsa Cake Idea
Doll cakes aren't beneath experienced bakers and designers. In contrast, there are gorgeous Elsa doll cake designs that allow you to push your limits and show your skills.
The fondant details on this Elsa doll cake idea are impressive, and a beginner might struggle with them. Sculpting and carving skills are a must.
34. "Ice Sculptures" Nokk Cake Idea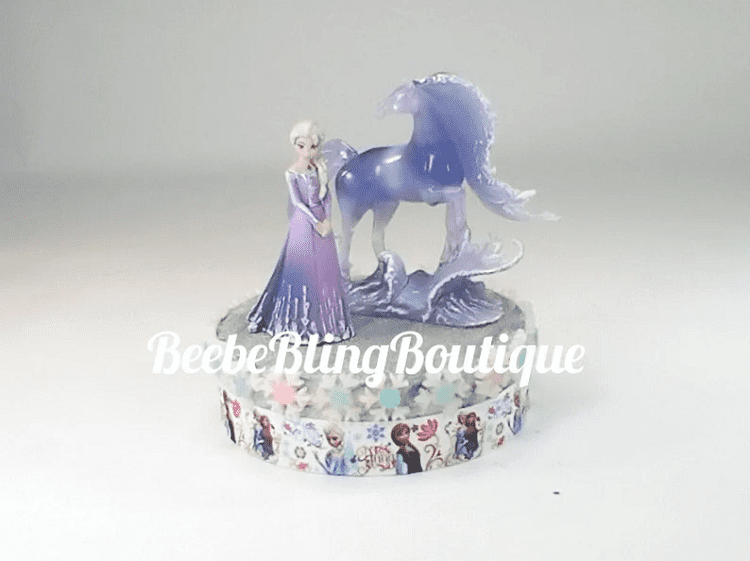 I couldn't find one cake idea for Frozen, including Nokk, the ice horse. However, I found this beautiful cake topper while looking. I challenge you as an expert baker to design one.
I recommend using silvers and metallic cake paints to create the ice sculpture effect, but you can try to sculpt and carve Nokk, the beauty.
35. "Painted Impressionism" Frozen Cake Idea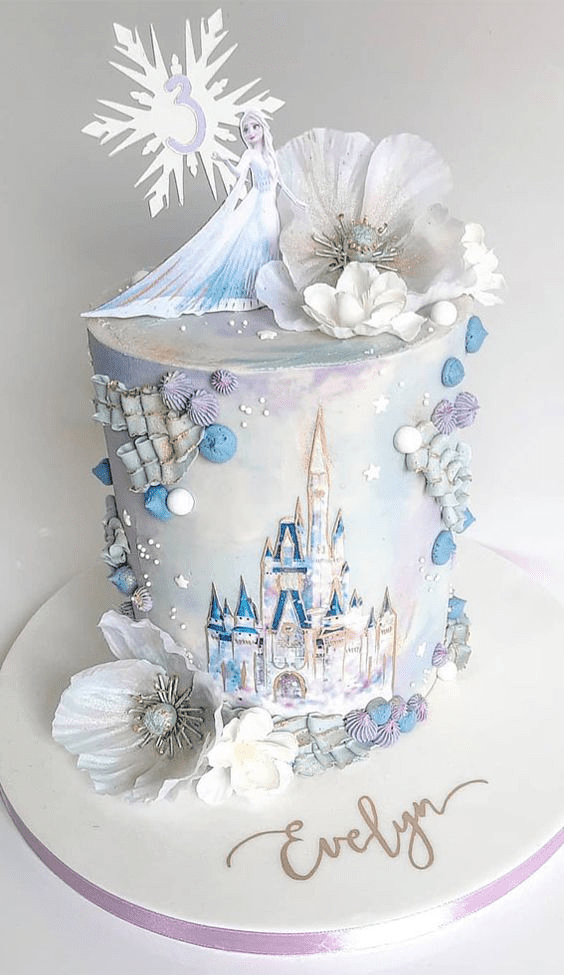 I love hand-painted cakes more than most, and some experienced bakers have the creative edge to master this Frozen cake design.
I don't have the techniques yet learned, but I hope to create painted beauty soon enough. You'll need tons of patience to put this gorgeous Frozen cake idea together.
36. "Sculpted Sisters" Elsa and Anna Cake Idea
Cake designs are taking a 3D form, not only the paint techniques. I love this 3D sculpted Anna and Elsa cake idea because it pops better than a printed edible sheet of wafer paper.
Of course, you'll need to experiment with 3D cake painting techniques to do the finishing touches, but wow is all I can say.
37. "Sculpted Castle" Frozen Ice Castle Cake Idea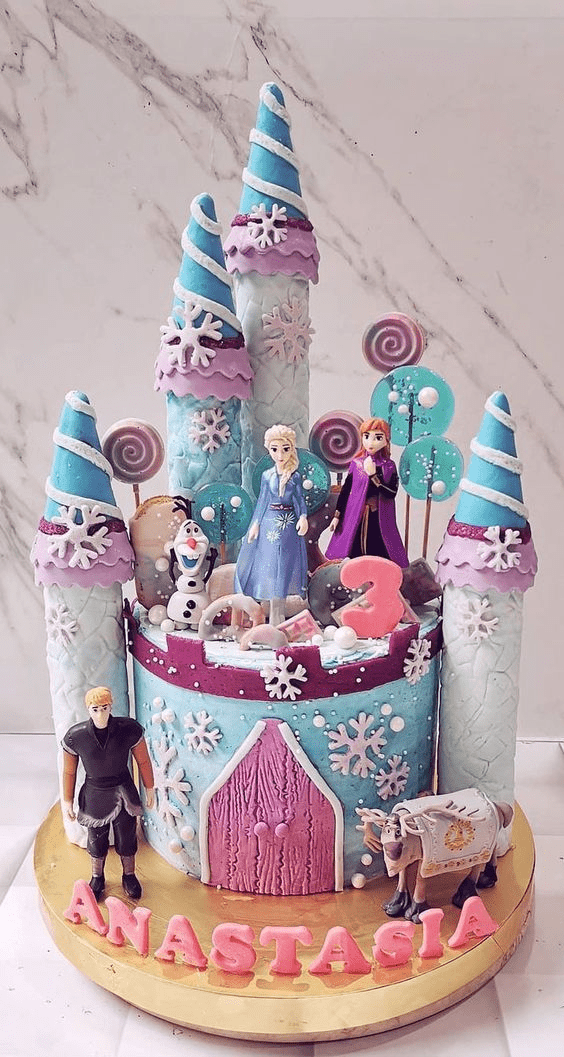 The details and carving for a Frozen Ice Castle cake idea seem simple enough, but I chose this gorgeous design because it has depth.
I recommended that beginners start with untextured castle walls. Still, experienced bakers should add as many textures and paint techniques as possible. It makes the cake look even better.
You could make the castle cake idea perfect instead of adding texture as an experienced baker. You'll know how hard perfection is with cake designs. Making a Frozen Ice Castle cake idea with perfectly smooth walls that extend higher than most cakes is challenging enough. You don't even need to over-decorate the cake.
39. "Special Effects" Frozen Cake Idea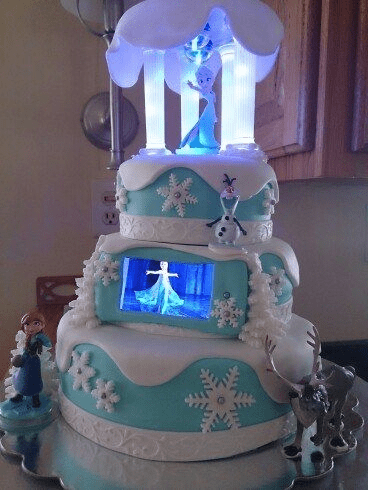 Experienced bakers are experimenting with lights, sounds, and moving features on cakes. The interactive Frozen cake idea is a challenge for you to add features to what would seem like a regular two-tier Elsa cake. Imagine a child's and the party guest's faces light up when you switch on the cake features. It's a masterpiece.
40. "Two Tier" Frozen Cake Idea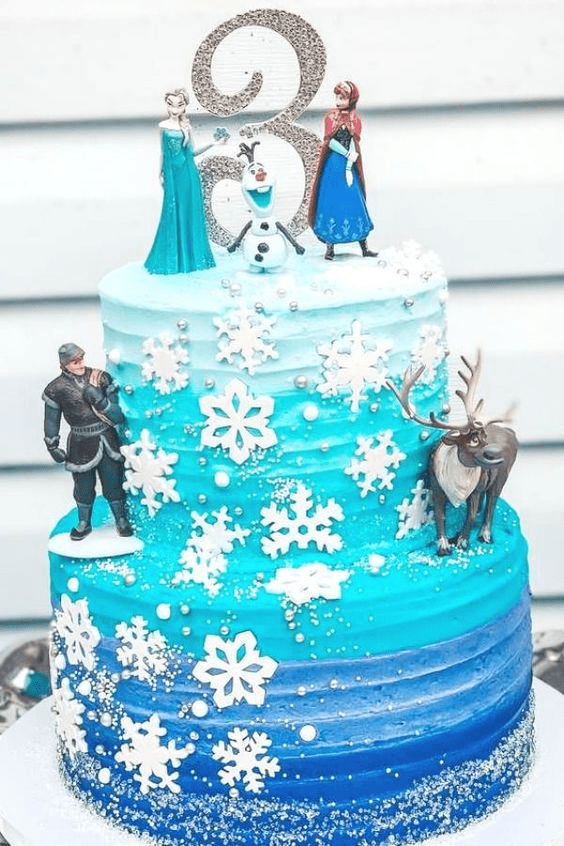 Fair enough, I've added super challenging Frozen cake ideas for experienced bakers. Hence, I'll end my list with a simple but time-consuming Frozen cake design.
The most challenging part of the design is getting buttercream layers that don't mix, mainly because they're not flat. The snow dust also adds depth.
Top Frozen Cake Ideas Q&As
Question: Is There a Simple Frozen Cake Idea?
Answer: Simple Frozen cake ideas are quick-to-bake and easy to decorate. One of the prettiest and easiest Frozen cake ideas is the Elsa Face Cake Design With Piped Braids.
It has a 3D effect, even though you're only piping some fancy buttercream patterns and printing Elsa's face on edible wafer paper.
Question: Are There Pretty 1-Layer Frozen Cake Designs?
Answer: There are many beautiful single-layer Frozen cake ideas. The Elsa and Friends Cake Design is a simple buttercream, single-layer cake with a wow factor.
The Dancing Elsa Cake Design adds a touch of complexity because you have to sculpt the fondant cake topper, but it's another jaw-dropping cake.
Question: Which Sponge Cake Works the Best In Frozen Cakes?
Answer: The beauty of Frozen sponge cake recipes is that they're no different from other recipes.
Add the standard Frozen colors inside the cake, creating layers of blue, white, and silver if you want the inside to match the outside decorations. I'd start with a dark blue, a light blue, a silver, and then a white sponge at the top.
Frozen Cake Ideas: Conclusion
Frozen cake ideas are everywhere. Unfortunately, there are some bad ones, too. I hope my list inspired you to bake the prettiest Frozen cake for a little princess who deserves nothing less. My tips and the tutorials I shared should help beginners create masterpieces that look professional.
For example, the winner for beginners is the "Gravity-Defying" Frozen Cake Idea because your little princess will wonder how mommy got the gravity-challenge right.
But, little kids wonder quickly, and you can impress your princess with this beautiful Frozen cake design. You could even change Elsa's picture to hers.
On the other hand, experts have a few challenges to consider. It's time to improve your painting techniques and sculpting skills because I go big when I challenge someone.
I chose the "Twisted Sugar" Frozen Cake Idea to challenge you because it doesn't require baking science but has jaw-dropping details.
I love challenges, but I like beautiful cakes with simple and effective decorations. So, choose your inspiration and start baking. You'll never know what comes from your creative mind until you dig deep.
For more party inspiration: