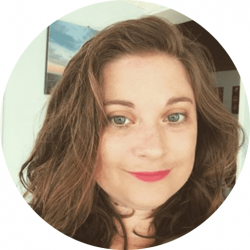 Latest posts by Samantha Bellinger
(see all)
I would have given anything for a list of dinosaur cake ideas like this years ago! You see, dinosaur cakes make me think about one of my earliest jobs at a natural history museum. We had a giant dinosaur skeleton in our front entryway, so we always had dinosaur-themed events. During the summer, we had a lot of dinosaur birthday parties, weddings, and retirement parties. It would have been great to direct party planners to this list for their dinosaur cake ideas.  
Cake Considerations
With fifteen years of event planning experience, I recognize how fun it is to visualize your ideal cake. It is hard not to jump straight into the idea list. However, a few things are essential to consider before deciding on a cake design. The two most important are determining your budget and the size of the event, which in turn helps to select the size/cost of your cake. 
Budget
I routinely tell my clients to start by figuring out their budgets. I recognize it isn't the most exciting portion of the event planning process, but it will help you in the long run. Knowing your overall event budget will help you decide on the budget for your cake.
Size
To pick the right cake, you'll need to know how many people you want to feed. The reasoning is that the number of guests dictates the size of the cake. Bakers will likely ask you for the number of servings (instead of guests). You can calculate that by the number of guests (if it is a range, go for this highest number) and any leftovers you might want. I recommend ordering 10% more than you think you will need; it helps prevent running out. 
Bottom Line Up Front
My aim for this list of dinosaur cake ideas was to incorporate cakes for all occasions, showcase various styles and cater to multiple skill levels. The goal is to ensure that there is something for everyone on this list. Of all 27 dinosaur cake ideas, my favorite is the Sparkling Blue Stegosaurus Cake. The amount of work required to create this 3D masterpiece is impressive. Plus, I'm a sucker for sparkly cakes; they win my appreciation a large portion of the time. Scroll down to see all the dinosaur cake ideas and see if you agree with me. 
Dinosaur Cake Ideas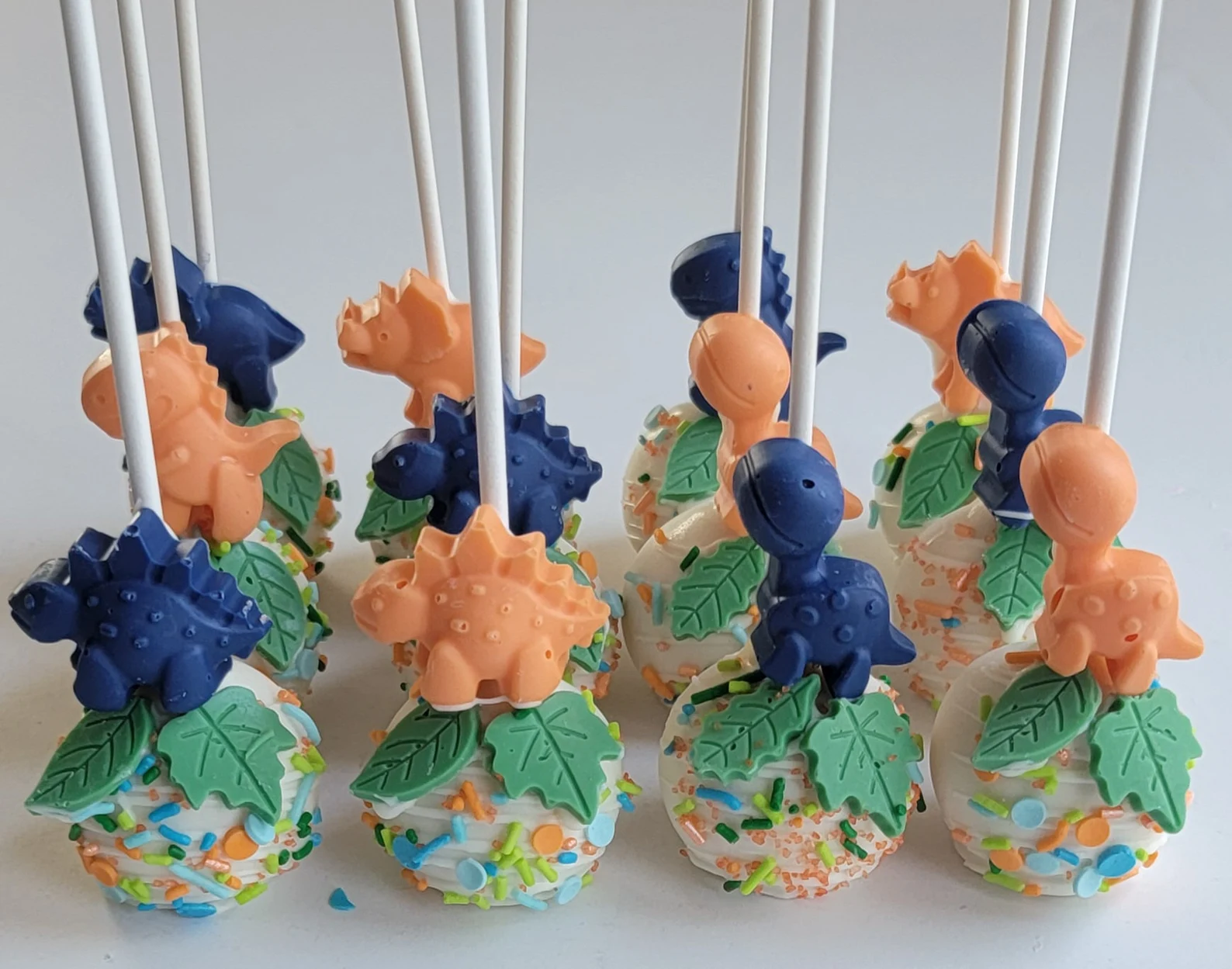 Cake pops are an excellent way to provide guests with an easy, mess-free cake option. These particular cake pops would be an adorable addition to any baby shower.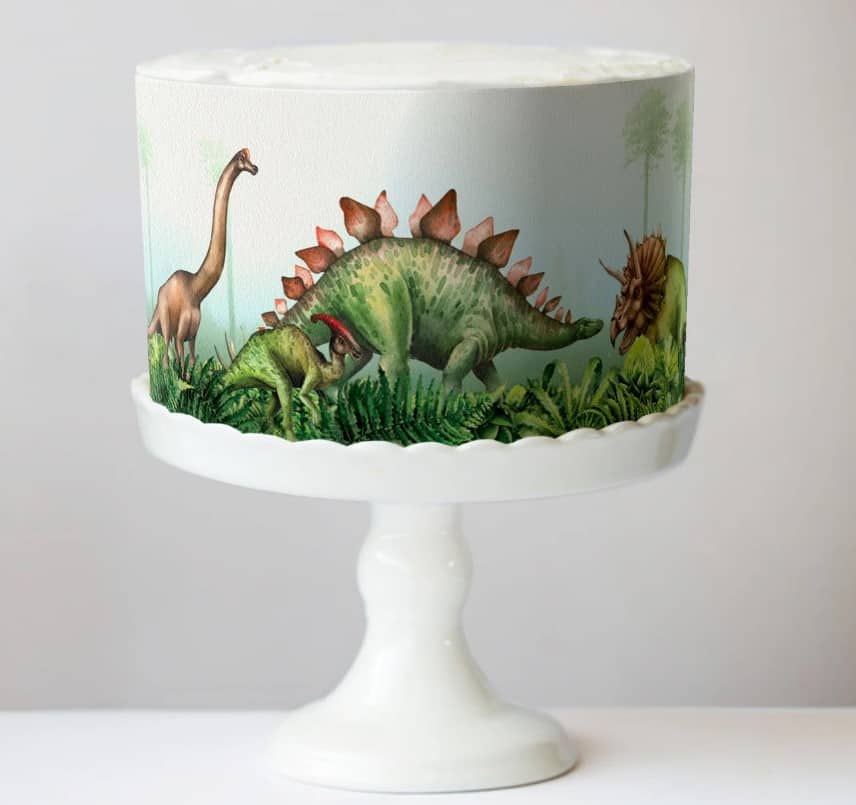 This picturesque dinosaur cake was created using an edible image wrapper. What I love about this is that it achieves a fantastic image quality without resorting to elaborate fondant decorations.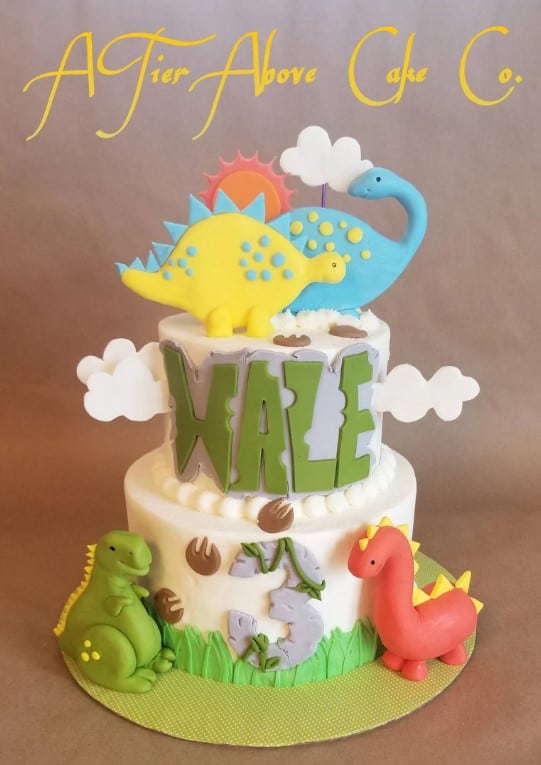 What I love about this particular cake is that you can purchase the 3D fondant cake toppers on Etsy and then add them to any tiered cake (or have the baker do it for you).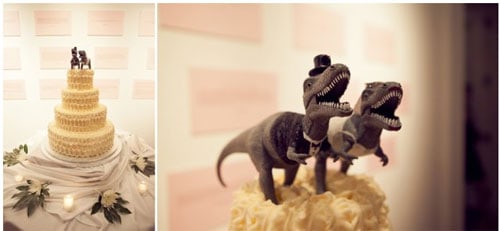 I mentioned in my introduction that I witnessed several dinosaur-themed weddings while working at the Natural History Museum. This cake would have been perfect for those events.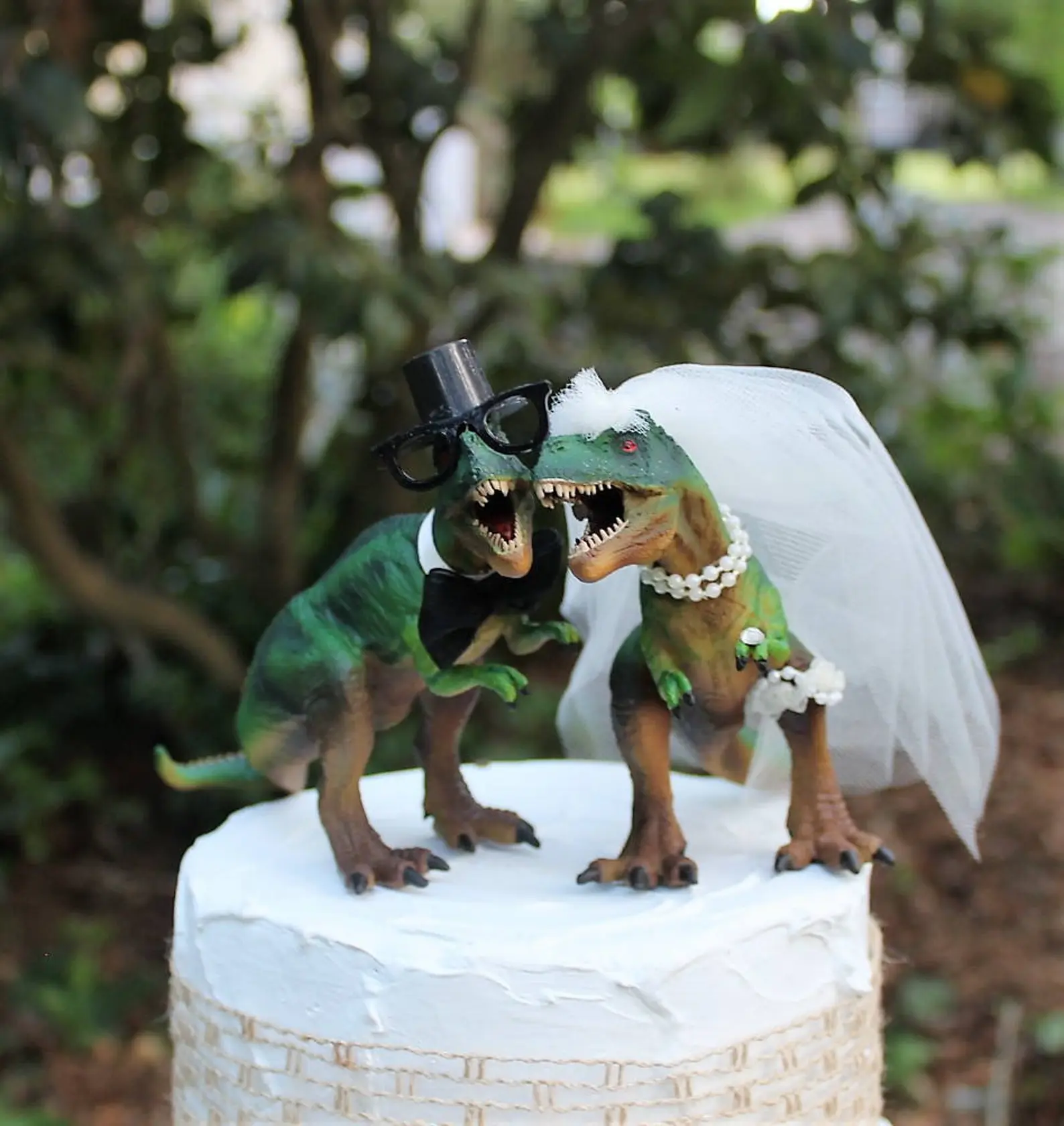 Thinking of weddings, I had to focus on a wedding cake with a hilarious option. The cake is relatively standard, but the topper makes it stand out from the crowd. Who wouldn't want a sunglass-wearing groom T-Rex and a veiled T-Rex bride with a garter? I wish I knew about these for my wedding.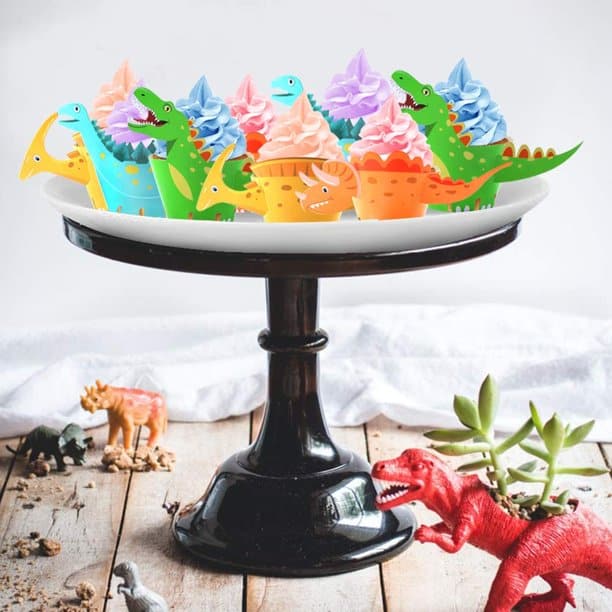 OMG, I love these dino-wrapped cupcakes. They can be placed around whatever flavor cupcakes you choose and add to the dinosaur theme in the most adorable way possible. Maybe my next birthday party will need to be dinosaur-themed, so I can have a reason to buy these.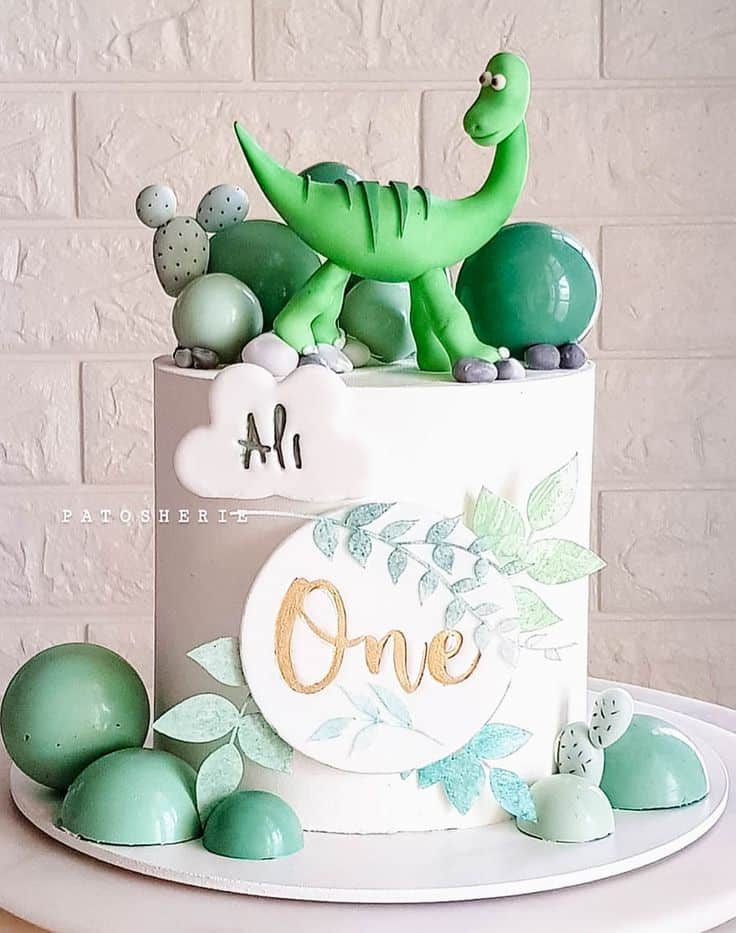 This delightful dinosaur cake was made for a child's first birthday, and the cutesy dino topper is perfect for young dinosaur enthusiasts. Credit for this cake goes to Patosheire.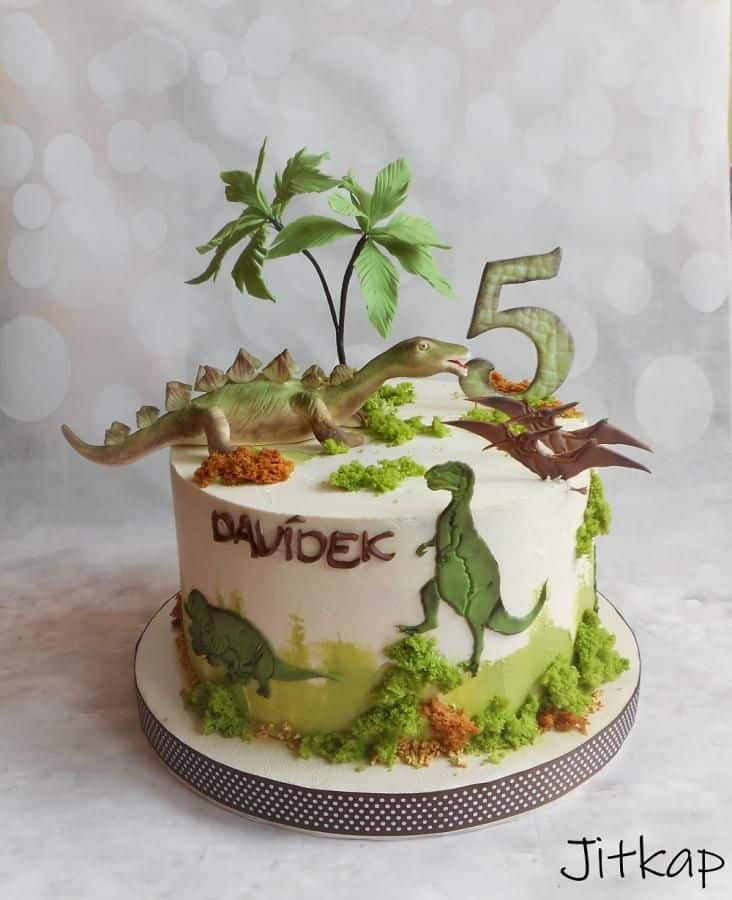 The 5-year-old who received this cake is a lucky kid. The tropical feel is an excellent setting for the multiple dinosaurs decorating this cake. I'm also fascinated by the moss-like topping to indicate greenery; I can't tell what it is made of, but it complements the design well. 
I'm always impressed by cakes that have a drip topping. I'm terrible at achieving that effect on my own; my drips run to the bottom or are incredibly uneven. Every time I see a cake with perfectly spaced and controlled drips, I'm dazzled. 
Now, this is my type of cake decoration! It is a simple round cake, but the elaborate scale decoration on the top makes it appear to be a resting stegosaurus. Ingenious design! 
Wow, just wow. The detail of this cake is mind-blowing. It is so detailed it looks more like a fondant sculpture than a cake.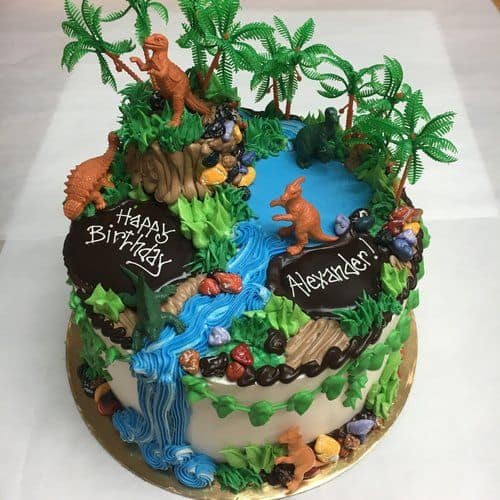 This cake design takes me back to many of the cakes I had growing up; the waterfall theme was pervasive and still holds strong today.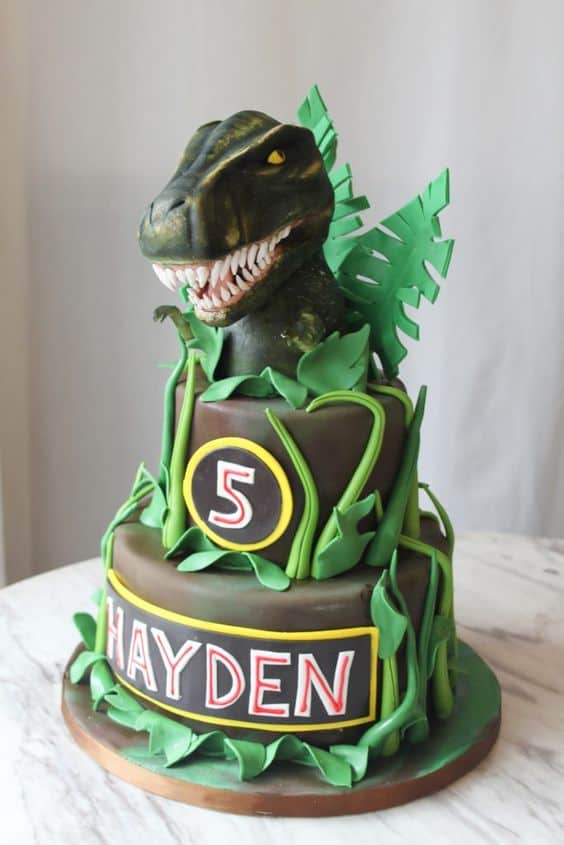 Want to go full Jurassic Park for your next birthday? Try this tiered Jurassic cake! The dinosaur head alone sold me on this one.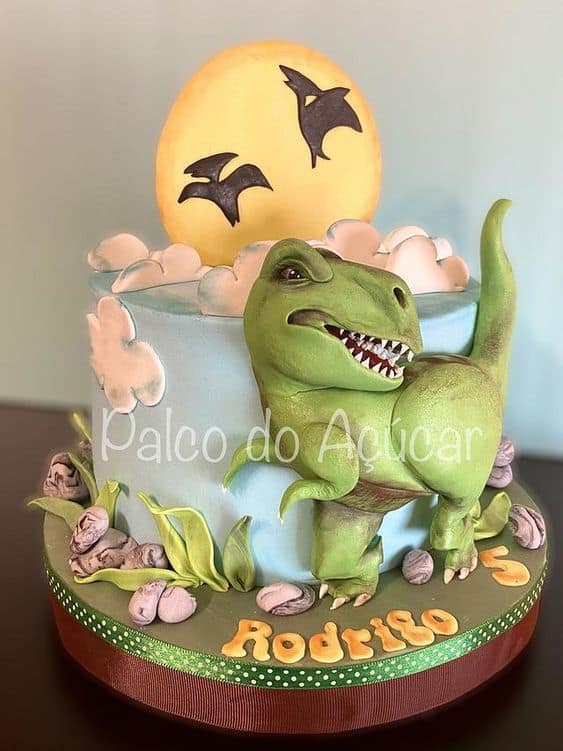 This charming little cake has a soft style that would make for a cute addition to any baby shower or kid's birthday party.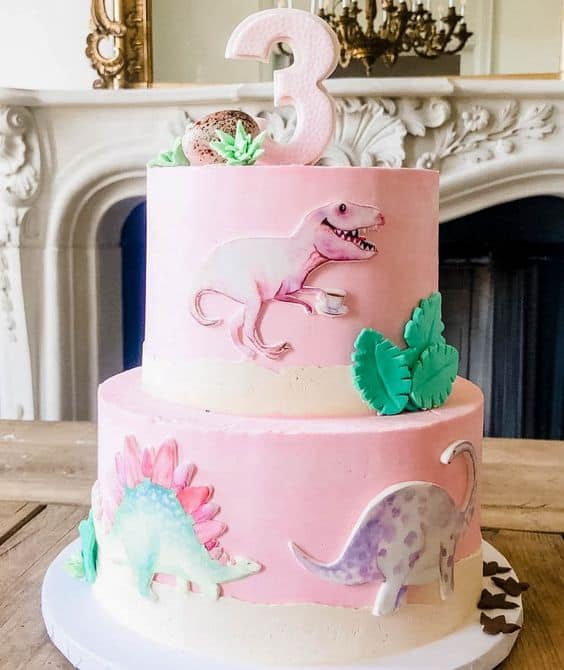 I love this 2-tiered pink dinosaur cake. It was a nice change from the sea of blue and green cakes that filled my screen. The dinosaur designs on the side also have a fun watercolor feel to them.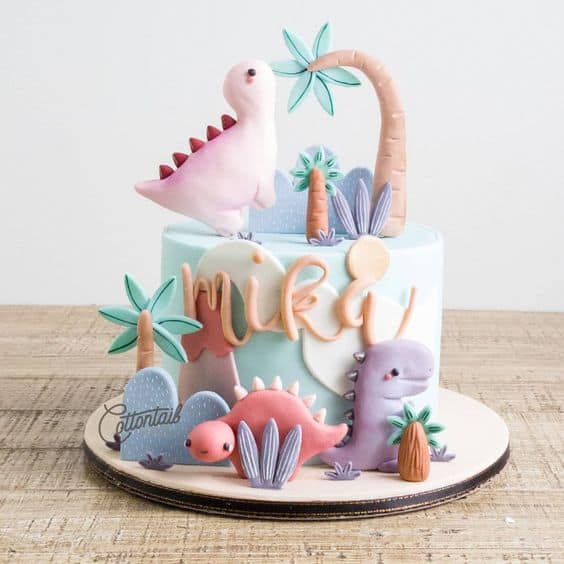 This cake is another great option for a baby shower or a young child's birthday party. The cute style is soft enough to use for either celebration.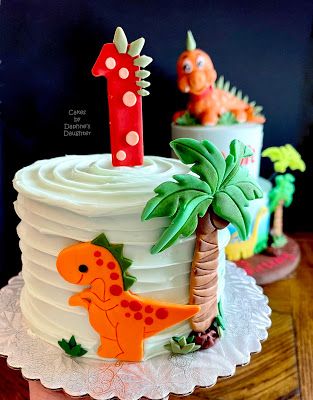 Have you seen the trend on social media where young kids smash their first birthday cake? This one is a perfect option for a baby's first smash cake.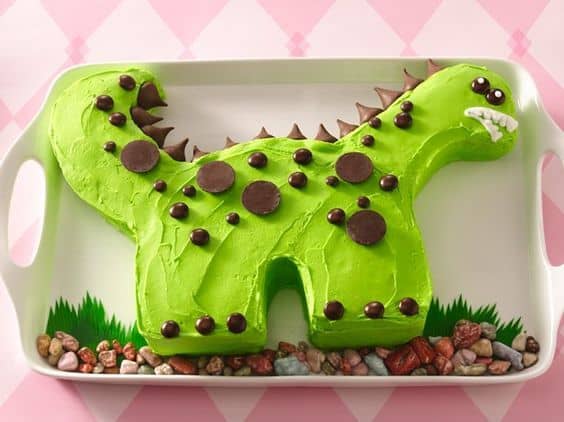 The Betty Crocker recipe creates a free-formed dinosaur cake. I like it because it is something you can make with a young baker; having a little helper makes them more invested in the outcome. However, I wish the recipe came with more precise instructions about the form of the cake because the official template link doesn't work anymore. While I couldn't use the link, I was eventually able to track down instructions on Pinterest.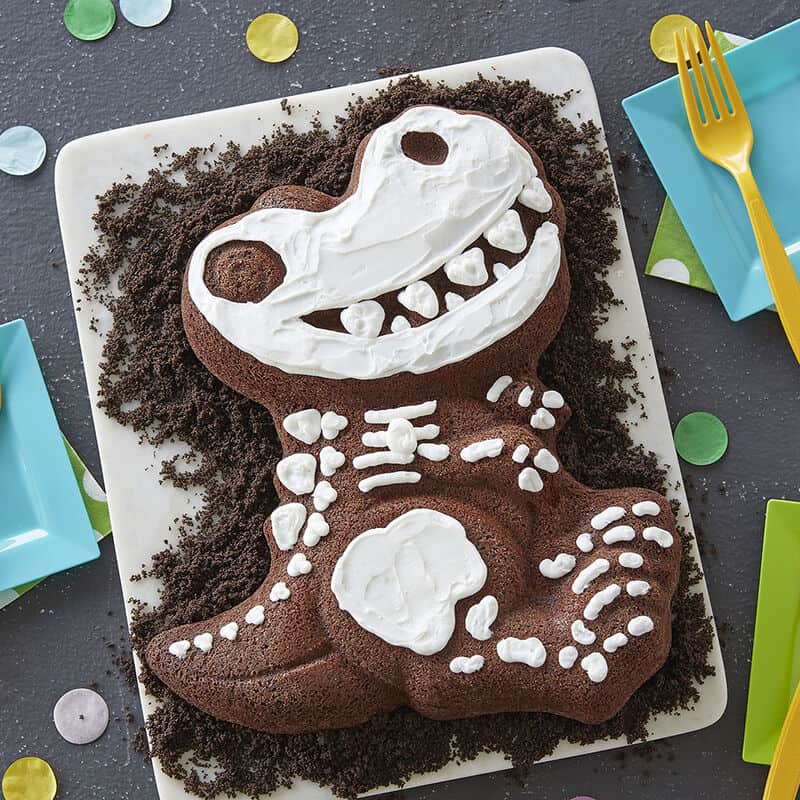 Perfect for the budding archeologist or paleontologist! This molded cake uses icing to make it look like dinosaur bones. It uses a cake pan from Wilton, so you know it is a good quality pan and designed to be easy to use. It also means this dinosaur cake idea is easy to replicate.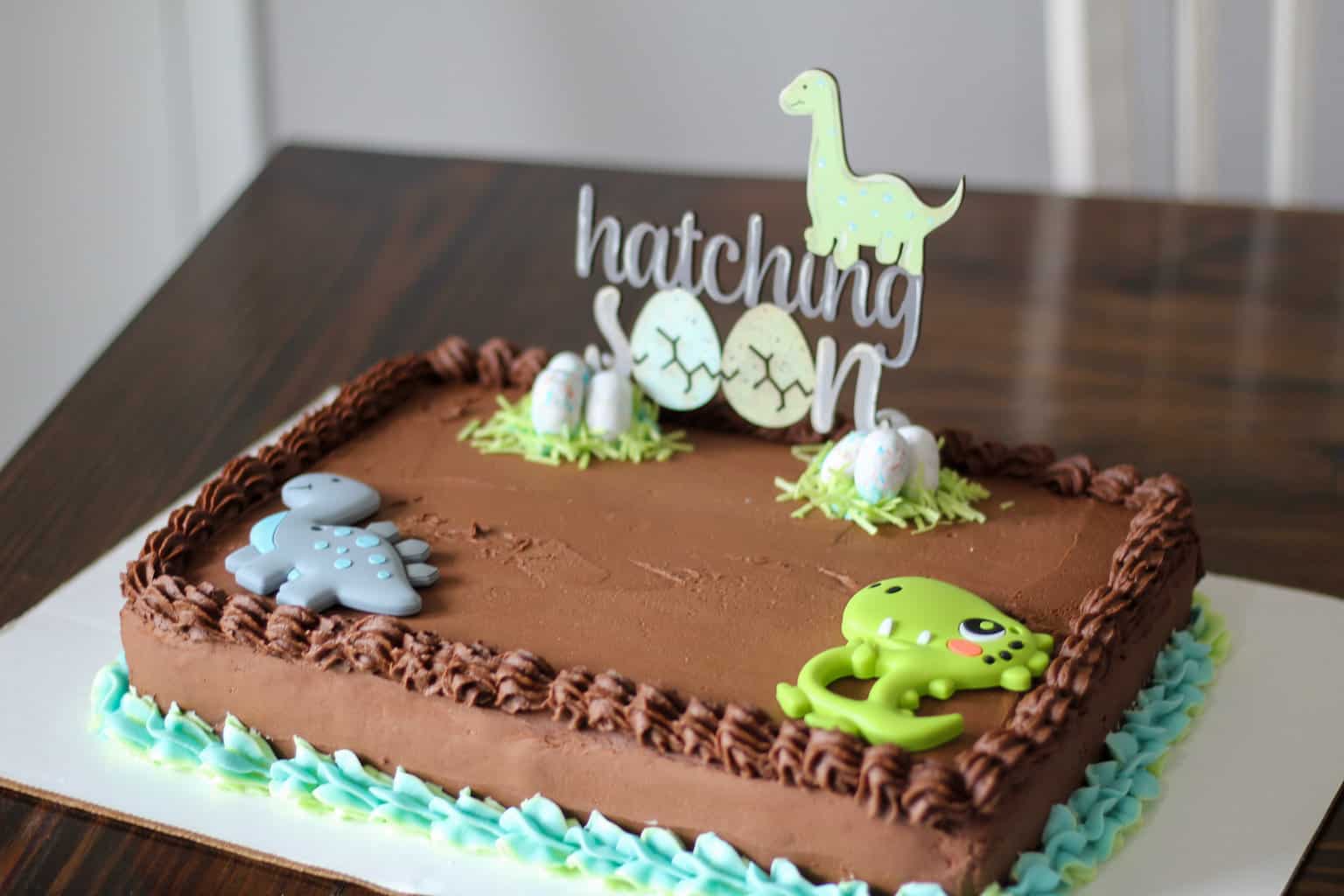 This sheet cake is a wonderful way to add a dinosaur theme to your baby shower. The "hatching soon" topper and baby sugar dinosaurs are easily placed on top of a simple sheet cake. 
What a cute cake for a baby shower! This fondant creation features a sleeping dino with its head resting on its egg. I love it because one can easily use it for any gender baby.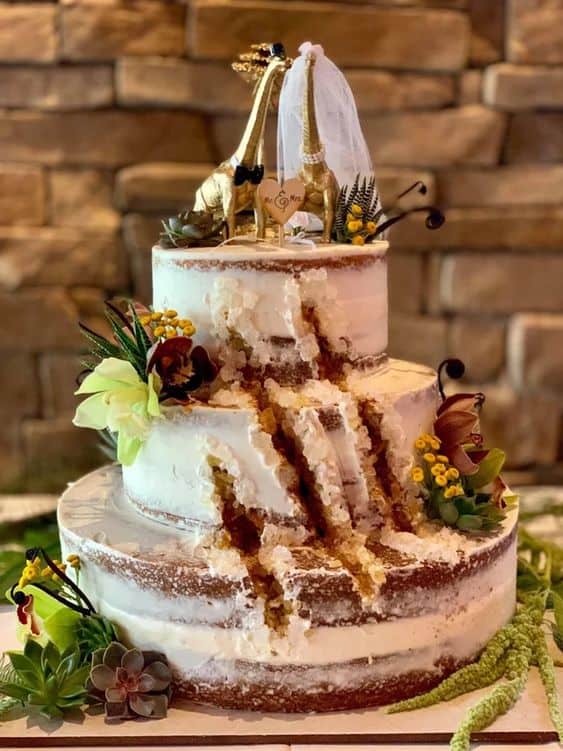 I don't know what draws my attention more: the dinosaur claw marks or the golden dino topper. Either way, this is a fantastic way to incorporate a Jurassic feel into your wedding cake.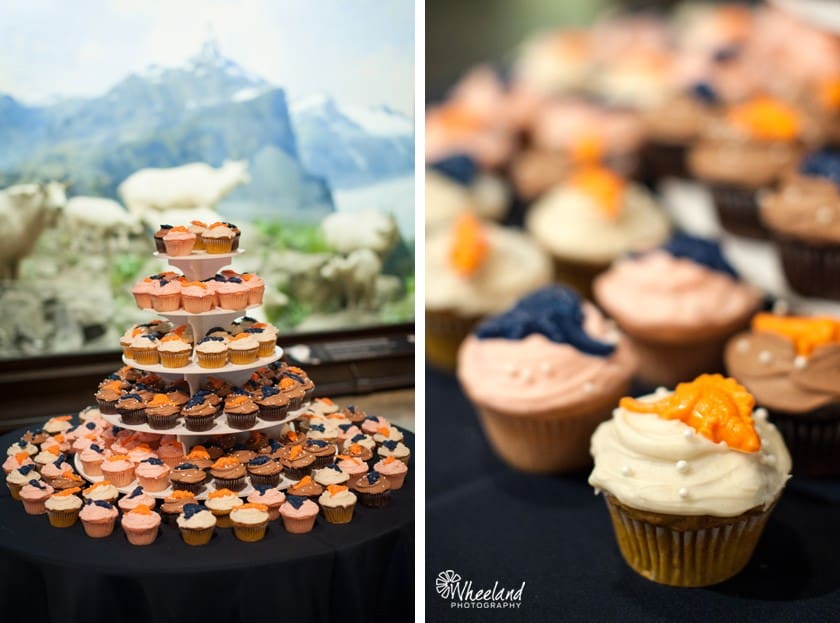 No list of dinosaur cake ideas is complete with a tower of cupcakes. A couple served this particular set at a wedding held in a natural history museum (how fitting!)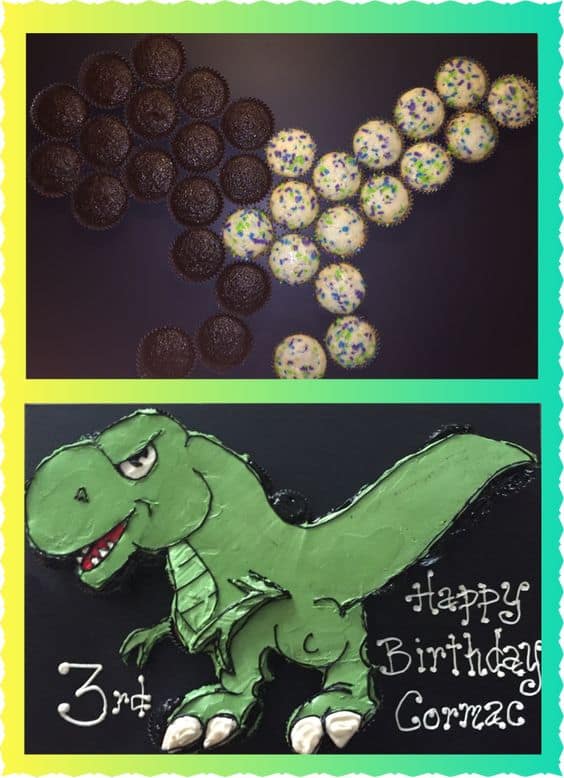 I am a huge fan of cupcakes arranged in the shape of a bigger cake. The decoration on this T-Rex is impressive! I can hardly tell that the cupcakes are making up the larger shape; thankfully, the photo includes an image of how the baker arranged the cupcakes before icing. That diagram is a lifesaver!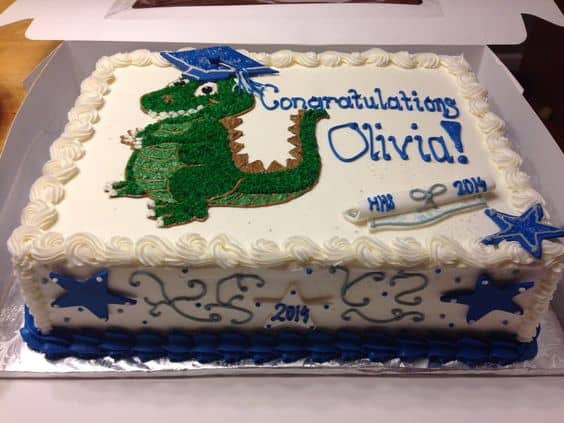 A unique way to celebrate graduations! I love that the baker created the decoration with buttercream icing on top of a regular sheet cake. It means that the cake will be delicious!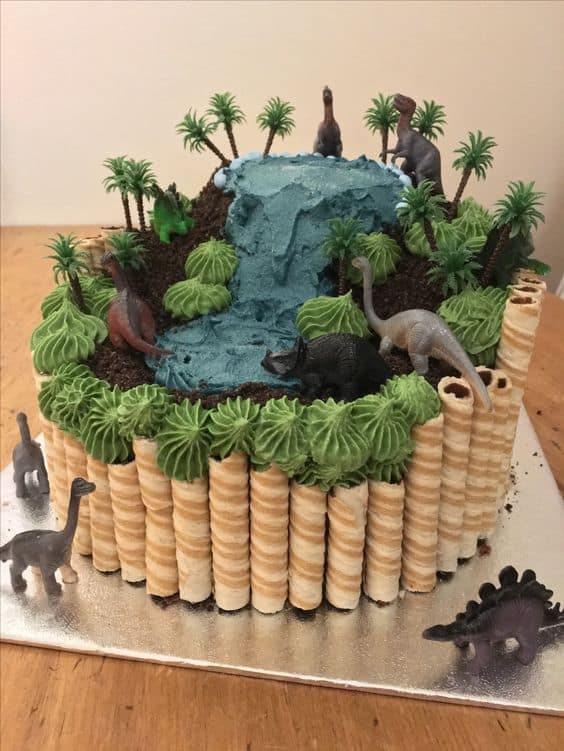 What a creative way to decorate; I love that this cake uses pirouette cookies to line the bottom edge of the cake. I also appreciate that some of the top portions of the cake are unfrosted to make it look like dirt. 
No cake list is complete without a sparkly option. If the sculpted stegosaurus cake wasn't impressive enough, the baker added blue sugar crystals all over the top to make it sparkle in the light. This cake is by far my favorite one out of all the options listed above. The work that went into sculpting this 3D masterpiece is impressive, and I can't help but fall in love with a sparkly cake.
Frequently Asked Questions
Question: Which dinosaur cake should I choose?
Answer: I have my opinion on this, but it doesn't mean it's right for everyone and every party. I prefer the Sparkling Blue Stegosaurus Cake dinosaur cake; it'd be great for all occasions. However, you must determine the person of honor's tastes and the party's purpose. 
T-Rex Cupcake Cake might be best if it's a school birthday party. That way, each child in the class gets a cupcake, and there isn't the mess of cutting a cake. Or Hatching could be best if it is a baby shower. Finally, you might choose Graduation Dino Sheet Cake for a graduation party because of the design and the fact that sheet cakes can feed a large number of party-goers.  
Honestly, it is up to you and your preferences.
Question: Fondant vs. Buttercream?
Answer: Almost every time I plan an event, a client will be confused about their icing options, or they'll need guidance in understanding the differences. I can't tell you the number of times someone has wanted a fancy sculpture-like cake but requested buttercream icing. To help you avoid recipes for disaster, let me explain the difference between the two most common cake icings: Buttercream and Fondant. 
These two options have very different roles in cake design. Buttercream is delicious and easily colored. However, it is made out of a lot of butter, so it'll start melting at higher temperatures. Fondant is used with you want elaborate designs or decoration. It has a stiff texture which helps it hold its shape. It's great if you want a certain aesthetic, but the taste is severely lacking. 
I suggest you decide what you want to prioritize with this cake (design or taste) and then decide on the icing that best suits your needs.
Question: Why Dinosaur-Themed Cakes?
Answer: If you are browsing this list, I'm guessing the person of honor already has an affinity for dinosaurs. That is certainly a perfect reason to pick a dinosaur-themed cake. If you need convincing, let me ask you this: why not? You can use dinosaur-themed cakes for all ages and all occasions. The list above proves that you can easily modify the theme to fit your needs.
Conclusion
The above Dinosaur Cake ideas are exceptional choices for your next get-together. My personal favorite is the Sparkling Blue Stegosaurus Cake for two main reasons: the amount of skill required to sculpt the cake and the fact that they made it sparkly. Who doesn't love sparkles? That said, you can't go wrong with any of the cake ideas on this Dinosaur Cake Ideas list. I'm curious about which one you'll choose; let me know your favorites!
Recommended Reads: