Our 30th birthday is a milestone birthday. It signifies a time in our lives when we've already enjoyed the best of our youth and should be ready for some serious adulting. And what better way to mark this milestone than by hosting a gathering of friends and loved ones? Of course, we also shouldn't forget the party staple: the birthday cake. And if you need 30th birthday cake ideas, whether for your own birthday, for a family member's, or for a friend's, you've come to the right place.
I had planned surprise 30th birthday parties for my husband, my siblings, and a few of my closest friends not too long ago. And ordering the cake for them is always a part of the task. I'd say that while there aren't exactly any special rules for picking a 30th birthday cake and you are free to go with any design you'd like, all the ideas you'd find online can get overwhelming. So it's always best to refer to an already-shortened list of designs.
My Bottom Line Up Front
When you're over 20, you seldom get to pick your own cake because your family or friends almost always surprise you with one. Cakes, therefore, have traditionally become a tribute to birthday celebrants and a proof of how much their friends and family know them. So, if you ask me what I consider the best 30th birthday cake, I'd say it's something that fits a celebrant's personality or that reflects the things they are passionate about or most interested in. It should be something that would make everyone in the room go "Yes, your cake is so you."
Now, it's been almost a decade since I turned 30 and while I loved my own 30th birthday cake, a lot of new cake decorating trends have emerged since then. So when it comes to my own personal pick and if I were to turn 30 again (which I'd totally be up for!), I'd go for a Moroccan tile cake. I also wouldn't mind a number 30 cake with all the trimmings: meringues, chocolates, macarons fresh flowers, etc.
Shortlisting 30th Birthday Cake Ideas
As I've said, you don't have to abide by certain rules when picking a 30th birthday cake. In other words, there are no requirements. You can pick any cake design you'd like, plant a candle or sparkler into it, and get the birthday boy or birthday girl to make a wish. But the question is how to make sure you get a cake befitting a milestone birthday.
To keep this list manageable and to help you sift through the smorgasbord of lovely options that would turn up when you do your own search, I selected 30th birthday cake ideas according to different categories. There are neat cakes for the ladies and for the gents, as well as cakes that suit certain interests, like sports, the outdoors, and fashion.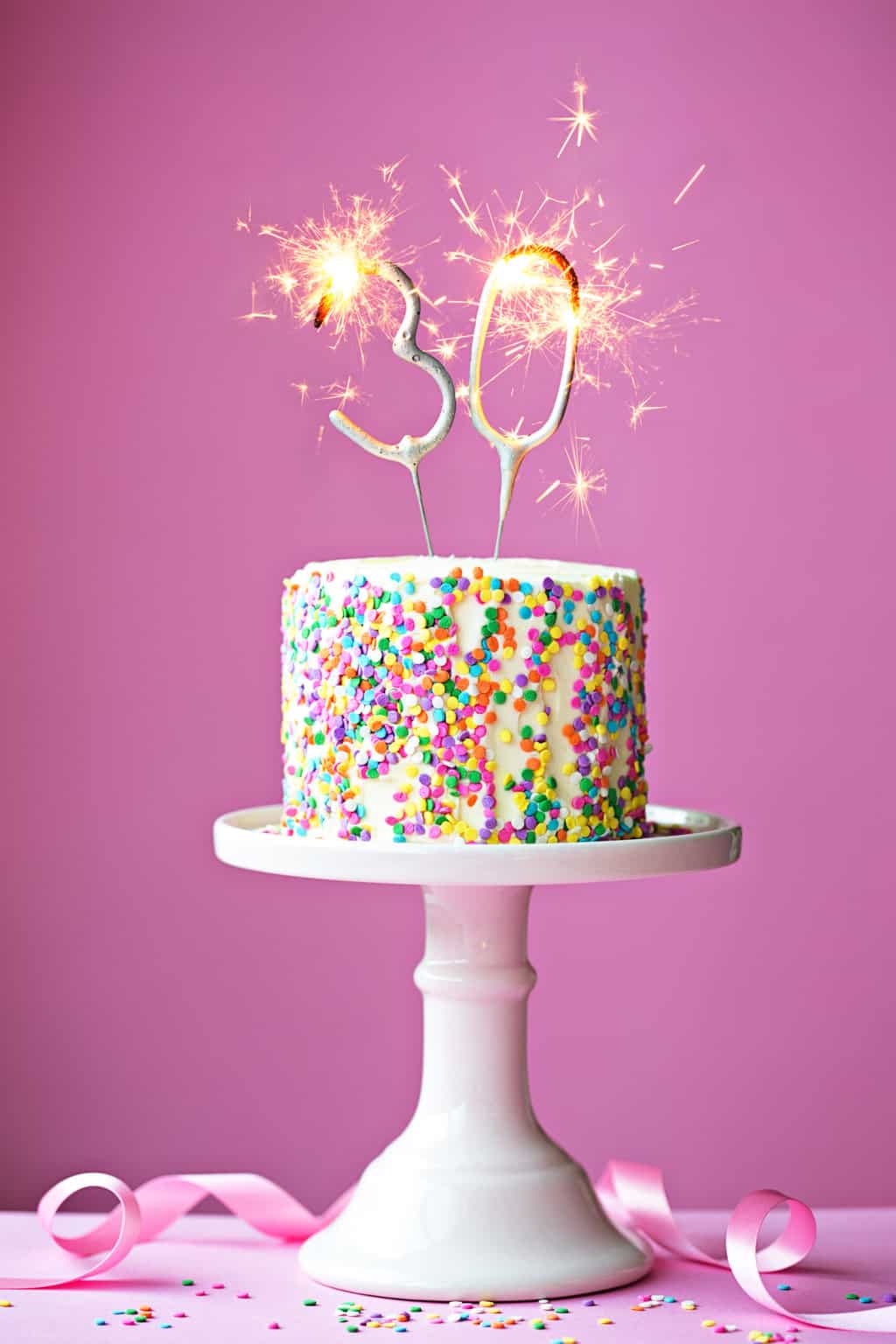 First Things First: What You Need to Consider Before Ordering a 30th Birthday Cake
Before ordering your cake, you will need to know and decide on a few things. This should make it easier and quicker for you
Cake Flavor
What is your birthday celebrant's favorite cake flavor? If you know the celebrant enough to be picking their cake design, then you should also know them enough to know the flavors they like. But if they are not very particular about cake flavors, you can go with something safe and ordinary, such as vanilla or chocolate.
Budget
Are you paying for the cake yourself? If so, how much are you spending for it? You can try calling bakeshops and cakemakers and ask them how much their cakes cost so you would get an idea and you can set aside enough budget for it. You can ask them additional questions, depending the kind of cake you're planning to order, the complexity of the design you're going for, and the size you would like the cake to be.
Party and Cake Size
How small or how big a party are we looking at? If it's an intimate one, a small cake would be appropriate. Everyone gets to have a slice. Bigger parties would warrant bigger cakes. You can also get an average-sized cake with matching cupcakes.
30th Birthday Cake Ideas
For the Birthday Girl
Here are a few feminine cake designs for a special lady who's turning 30:
This girly cake comes in different shades of pink and is adorned with gold butterflies, balls made of white chocolate, and paper flowers. It is iced in pink buttercream and is stenciled, purposefully in an imperfect manner, to give it some rough texture. And let's not forget that witty "talk 30 to me" topper.
You can decorate your cake for the birthday girl using dried flowers. It would also be nice if you can get a topper and an accent like this one to give the buttercream surface a little more pizzazz.
A bejeweled birthday girl for a queenly lady. This buttercream cake has nothing on it other than a crystal tiara and a large 30 up front that's covered with synthetic crystals or Swarovskis.
See also: 15 Best Minimalist Cake Ideas You Need for Your Next Party
This buttercream cake gives you another take on dried flowers as decoration. It uses dried pampas grass and bunny tails, as well as a gold-coated fan leaf made of wafer paper as toppers. Both are hot cake decorating trends now. You can also add an acrylic topper. Toss in some sugar cookies as finishing touches.
Here's another elegant buttercream cake that might be neutral-colored but is feminine, with an unevenly stenciled surface, dried flowers, a golden topper, and a gold ring accent.
This black and gold cake is just the perfect size for an intimate gathering among girlfriends to celebrate a 30th birthday. It has a black fondant or buttercream frosting, with gold flakes, a gold 3O topper, and white flowers to complete its elegant look.
We know drip cakes and macarons are modern cake trends. This light pink drip cake is made of lemon sponge with lemon buttercream. It has white chocolate ganache dripping down from the top and is topped with raspberry French macarons.
Who says it has to be pink for it to be a cake for the birthday girl? This blue and gold cake with chocolate balls and dried foliage is suitable for a lady celebrating her 30th year on earth.
This buttercream cake showcases the cakemaker's skills with the pallet knife. It has plastic flowers and dried grass on top, beside the gold topper.
Real orchids and other blooms in lovely pink and purple tones would make lovely decorations for an otherwise plain-looking buttercream cake.
See also: How to Find the Best Cake Ideas
For the Birthday Boy
This lemon sponge cake with white chocolate buttercream in black and gold frosting has the marble effect, which is another modern cake decorating trend. It has macarons and chocolates and a gold-glittered topper. I'd say this one's perfect for any gentleman celebrating his 30th birthday.
Here's another example of a marble cake. This one, however, is in navy blue and white, with gold flakes. That acrylic topper adds to the cake's simple elegance.
How about a marble cake in tones of grey with specks of gold? This chocolate sponge cake with vanilla buttercream and layers of salted caramel showcases the baker's skills with their pallet knife and in making hollow chocolate balls. And note the bottle of liquor behind the customized gold topper.
Any guy who knows and loves his beer would be happy to get a beer mug cake for his 30th. Nothing complicated about this cake; it's basic with a straightforward design, just like how most men prefer it.
Favorite City
This chocolate sponge cake with Mars bar filling symbolizes the city the birthday celebrant loves: New York. It has all the charms to remind him of NYC, from hotdog and pizza, to pretzel, to Wall St., to yellow cabs. And note the Broadway signage bearing the birthday boy's name.
How about a 30th birthday cake showcasing fabulous Las Vegas? And there's nothing more "Vegas" than the casino.
For the Fashionista
Does your fashionista birthday girl love her Louis Vuitton? Then give her an LV cake! This one has the LV logo printed on edible wafer paper, accented with a white artificial rose, and finished off with a golden topper.
Why stop at the logo when you can have a whole Louis Vuitton bag for a cake?
Here's another signature brand that's well-loved among the ladies: Chanel. The Chanel logo is probably stenciled or printed on wafer paper. The perfume bottle is made of gumpaste, and probably the rose, too.
See also: 15 Best Halloween Birthday Cake Ideas For A Spooky Birthday
A dress and a whole lotta purses for the purse lover! This chocolate and strawberry fusion cake has all these fashion items made from gumpaste.
Makeup is a part of fashion, too. So for the makeup lover, a cake with lots of cosmetic items on top of it would be a lovely idea. This cake, however, is for someone who not only loves her lipsticks, mascaras, and powders, but she also loves her numbers.
This gorgeous red, black, and gold fondant cake is a guaranteed scene-stealer, thanks to the bold colors and the smooth quilted design.
For the Sporty or Athletic Celebrant
This Liverpool-themed cake is perfect for fans of the Liverpool Football Club. It has a buttercream frosting in the team's bright red color, with its bird mascot on the custom-cut topper.
A soccer player deserves a lovely soccer-inspired cake for his birthday. The small bottle of Jack Daniel's in this white, black, and gold buttercream cake is an extra.
Or, if your cakemaker is skilled in gumpaste modeling, you can go for a likeness of the celebrant holding their favorite sporting equipment. Just like this light-colored two-tiered buttercream cake with a gumpaste figurine of the birthday girl holding her tennis racket.
Look at this fondant cake that is as green as a golf course. And to avoid confusion, there's a golf ball, a golf hole, and a bag of golf clubs.
Here's another take on a golf course cake. You can pipe green buttercream grass to add texture, then plant a golfer figurine and a red flag by the hole.
This chocolate-orange billiards cake is unique and may even be an optical illusion at first glance because the front portion of the cake serves as the top view of a billiards table. You can add a pair of wooden sticks for a more realistic effect than a glittered cardboard topper.
For the Music Lover
Does the birthday celebrant love music or play an instrument? If so, go for a music-themed cake. This buttercream cake, for example, shows a piano peeking from a fault line, which is yet another cake decorating trend nowadays. Toss in some flowers and a perhaps some notes and you're good to go.
For the Outdoorsy
Perhaps a cake that reflects how much the birthday celebrant loves the outdoors and outdoor activities? This blue buttercream cake, for instance, is very apt for the birthday boy who loves deep-sea fishing. The customized topper says it all.
This carrot cake with orange cream cheese buttercream filling and white chocolate ganache frosting is for a birthday boy who loves shooting. The cake is decorated with a cocker spaniel figurine and fondant foliage.
Hikers would love a cake that reminds them of the woods, the unobstructed view of the sky, the campsite, and all things outdoors.
Go for a beach-themed for the beach bum. This lemon cake has blue buttercream frosting to represent the sea, sand made of brown sugar (it could be crushed graham crackers), and shells made of fondant.
For the Professional
What does the birthday celebrant do for a living? If they are passionate about their career or profession, then design a cake inspired by it. Take this cake especially designed for a chef, for example.
This simple fondant cake is pretty basic, but there's no question about it: the birthday celebrant is an architect.
This may be a gory cake, but it's beautiful for a birthday celebrant who works as a police officer in the criminal investigations department.
For the Plant Lover
This chocolate cake with raspberry buttercream filling and swiss meringue buttercream frosting would surely make any succulent lover happy. It is decorated with rice paper flowers and succulents and a macrame made of fondant.
Number Cake
Number cakes are also quite popular these days. So while we're at it, why not get a three and zero? This one has a whipped cream cheese filling, topped with strawberries, raspberries, chocolates, meringues, and macarons. You can even toss in fresh flowers if you like.
This number cake is not quite like the usual because it is a chocolate cake and therefore comes in dark color. It has buttercream icing piped in three different colors, shapes, and sizes. It also has other decorative accents made of fondant.
Another number cake with a fabulous white and gold color theme. On top of the buttercream piping are gold-coated strawberries, Ferrero Rocher chocolates, white chocolate accents, and white flowers.
Their Favorite Things
If your birthday boy or girl has too many interests that it's hard to pick just one, why not just put everything in there? This fondant cake, for example, is clearly for someone who loves Pikachu, Winnie the Pooh, video games, soccer, chocolates, beers, and wine.
Here's another cake that highlights all of the birthday boy's favorite things, like drums, sushi, Coke, books, his black dog, and his remote control.
A cake inspired by the celebrant's favorite comedy series? Here's a purple fondant Friends cake with edible logos, clapper board, and chocolate balls.
Is traveling their favorite thing to do? Order a travel-inspired cake like this red velvet cake with Belgian chocolate filling topped with everything a travel junkie would need.
Geode Cake
Another modern trend is the geode cake, with colored sugar crystals peeking from the crack.
This black geode cake with touches of gold is absolutely incredible.
See also: Amazing Space Cake Ideas That Are Out Of This World
Fruity Cake
At 30, people may prefer something more fruity and refreshing to one covered in cream and sugar. So you might consider something like this naked lemon and blueberry cake. The top frosting has real blueberries and edible flowers.
This fruity number cake a bit guilt-free with all those fresh fruits on top. There are blueberries, blackberries, raspberries, strawberry slices, and kiwi slices. There are also fruity macarons here and there.
This birthday cake has the colors of tropical fruits. It is decorated with passion fruit, coconut, and kiwi, as well as with carnations.
Funny/Adult Humor Cakes
Insert some humor into your cake. This mango cake with buttercream frosting, for instance, has a not-too-wholesome topper.
This tombstone-inspired buttercream cake jokes about the end of the celebrant's youth.
Because you're old enough to be dirty when you're 30, might as well let your cake reflect that. This buttercream cake with chocolate balls and gold leaves is wholesome, but not the topper.
Say F-you to your twenties and manifest lots of money through a money cake. You can print dollar bills on wafer paper to make it edible.
Fairy Tale Cake
If your birthday girl still believes in fairy tales or simply a fan of Disney's Beauty and the Beast, try this stained glass window-inspired cake. Plant a red sugar paste rose on top and scatter some petals.
Liquor Cake
For those who love their liquor, you can incorporate it into your cake design. This drip cake combines the birthday boy's fave drink, bourbon whiskey, and chocolates. Miniature whiskey bottles sit on top of the cake, along with Toblerones, Oreos, Milkas, Knoppers, and Twix, among other chocolate brands.
This grey vodka cake has a buttercream frosting with a stenciled design.
Minimalist Cake
This trendy fault line vanilla eggless cake has a very simple, minimalist design. It has blackberries, blueberries, and an isomalt sail on top of its buttercream frosting.
Moroccan Tile Cake
Tile cakes are so IN right now. This beautiful buttercream cake has tiles printed on wafer paper and is adorned with pink bougainvillea blooms.
This splendid cake is wrapped in wafer paper with blue-and-yellow tiles printed on it. The cake is topped with real lemons, real lemon leaves, and real white roses.
Here's another tile cake topped with fresh passion fruits, lemons, lime, and citrus leaves, as well as a golden topper.
Instead of wrapping it in printed wafer paper, the tiles on this cake are probably stenciled gumpaste. On top of the cake are real flowers and fruits.
Frequently Asked Questions


 
Question: What is a 30th birthday called?
Answer: Your 30th anniversary is called a "Pearl Anniversary," and since your 30th birthday is the 30th anniversary of your birth, you can call it your pearl birthday.
Question: Why is your 30th birthday a big deal?
Answer: Your 30th birthday is a big deal because it means saying goodbye to your twenties, which is generally that time in your life when you explored new experiences, tested your limits, enjoyed your independence to the fullest, partied until you dropped, and figured out what you wanted to do in life. Once you hit your 30s, this is when you start to settle into a steady, more comfortable rhythm.

So your 30th birthday signals the end of your youth and the beginning of your serious adult life. As you enter your fourth decade in this world, you and your friends will shift your focus and priorities to getting married, starting your own family, and building more stable careers.
Question: What is a safe gift for someone celebrating their 30th birthday?
Answer: If you are close to the birthday celebrant, I'd assume you know what they are interested in and what they like. They like modern fiction novels? Get them the latest on the bestsellers list. They like to draw and paint? Get them a sketch notebook, or a new set of watercolors. They like to cook? Get them a personalized apron and mittens.

You may also want to give them something they could use for their current state of mind or current state of being. If they just moved into a new, more permanent home, you can get them something decorative or something practical they could use daily. Think fancy or funny bookends, dainty teacups, or an essential oil diffuser, among others.

However, if by "safe" gifts you mean those general gifts you can give anybody, then you can get gift checks for a spa treat or a massage, a basket of gourmet food items or a grazing box, a bottle of good wine, or monogrammed towels.
Conclusion
Picking a 30th birthday cake for someone can be hard, not because of how limited your choices are but because of how many they are. The fact that there are so many cool and wonderful cake decorating trends that have emerged within the past few years does not help us narrow down our list.
What would help greatly is if you pick a favorite trend and incorporate a personal cake design idea. For instance, I'd go for a tile cake, with the tiles in shades of teal, aqua, light blue, and green, then use a clear acrylic topper, as well as fresh foliage and white flowers.
Recommended Reads: