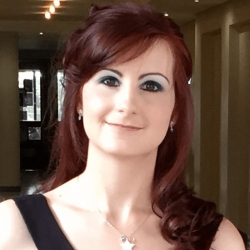 Latest posts by Denine Walters
(see all)
I wish I had a guide to the best Halloween birthday cake ideas when I was planning a spooky party for my nephew. My sister and I decided to plan this party together, and I was in charge of the birthday cake. There were so many different cakes to choose from that I found myself lost between pumpkin cake pops and gigantic Frankenstein creepy cakes (to mention a few).
If you want to avoid turning into a zombie (like I did) from scrolling through endless pages of Halloween-inspired birthday cakes, then look no further. I have compiled the perfect ghoulish guide with easy-to-make cakes, super creepy cake decor ideas, and age-appropriate suggestions, especially for you.
My Bottom Line Up Front 
The best Halloween birthday cake idea is the rocky road Halloween slices. This cake is different from the other Halloween cakes, as it's a no-bake cake, which can be made within minutes and decorated any way you please. It's guaranteed to be a hit for any age Halloween birthday party.
What more could you possibly need?
Your Halloween Birthday Cake Checklist 
When searching for the perfect Halloween birthday cake idea, I find that it's essential to keep these considerations in my mind: 
Age of the Celebrant 
As you know, Halloween can go from super cute to spine-chilling very quickly. I would advise that you consider the guest of honor's age when choosing the birthday cake.
For example:
My nephew is 12 years old, so an animated haunted house cake was a perfect cake for him. 

If you are looking for a cake for an adult, you can add the gore and blood element to your cake decor and design (like a severed head with their age displayed proudly on top).

You don't want to scare the little ones, so go for something more like a friendly ghost (

Casper

, anyone?) or a

unicorn bat cake

with sparkles.
Cake Colors 
You really can go to town with the colors you choose for Halloween inspired birthday cakes: 
I love the purple, black, and green color scheme, but you can go with any vibrant colors (especially for the little kids).

A simple white and black cake can also make a big impression on your guests. 

Bring in colors like burnt orange, yellow, and cyan to get that pumpkin vibe going.

Don't forget the obvious black, gray, and brown shades for that eerie look.
Cake Flavor 
Vanilla and chocolate cake are obvious (and delicious) choices, but there are so many other flavors out there and ways to make them pop, such as:
Your Budget 
I decided to make my Halloween birthday cake for my nephew as I had a limited budget. Luckily there are plenty of DIY options for you to make a fabulous cake. 
Unlike my sister, I'm not blessed with a creative side. That's where online stores and party shops came in handy with their array of party decor elements to make my job easier:
Get a baker or cake decorator to make your Halloween cake if your budget allows it. Doing this will save you time. I recommend finding images of Halloween cakes that you like so that your baker knows precisely what your vision for the cake is.
Halloween Birthday Cake Ideas: What Are My Criteria? 
There are so many fantastic ghoulish and scream-worthy Halloween birthday cake ideas that I found it challenging to sift through them all. I had to walk a fine line between horrifying and over-exaggerated gore, which in my opinion, can look tacky. 
So I felt the Halloween birthday cakes I chose should:
Have some level of scary/horror to them (it's Halloween, after all)

Have the Halloween color scheme (purple, black, white, lime, and red). Pastel and vibrant colors can also make your cake pop and attract more attention

Have traditional Halloween elements (usually ghosts, pumpkins, Frankenstein's monster, fangs, and edible blood – to mention a few)

Make sure to take the age of the guest of honor into consideration
I also had to consider how easy it would be to make these Halloween birthday cakes, as some of these ideas can be quite far out there, and then it's challenging to achieve the desired look. 
That's why I have 15 unique and straightforward cake options for your Halloween birthday party. 
See also: How to Find the Best Cake Ideas
15 Halloween Birthday Cake Ideas 
The moment you have been waiting for has finally arrived. 
Here are my top 15 spooktacular Halloween birthday cake ideas:
Halloween Birthday Cake Ideas for Little Ones 
Here are my five favorite Halloween Birthday cake ideas for little ones:
1. Trick or Treat Halloween Cake
This cute Trick or Treat Halloween Cake had me jumping up and down with excitement. I wanted a cake that had the little ones just as excited as I was and not terrified of the Halloween cake. 
What better way to grab a little one's attention than by stuffing a cake full of candy (genius, I know). 
This little two-layered buttercream pumpkin cake has a cute and happy face that can easily be made with chocolate icing and a piping bag. No artistic talent is needed here.
The colors are simple orange and black, and the witch's hat can be molded with some black fondant. The best part of this cake is the surprise piñata effect. Fill the cake with gumballs, sprinkles, candies, and more. This little cake has the perfect amount of trick and treat.
2. Monster Bundt Cake
This colorful monster bundt cake is another winner in my books. This simple bundt cake is easy to make at home, and you only need eight ingredients. 
Another tip is to get a baker to make a plain bundt cake for you and then decorate it yourself at home. Voila, a whole cake for half the work.
Decorating this cake is also a breeze; grab a piping bag and some vanilla icing mixed with vibrant neon colors. Go crazy and trail neon icing along with the bundt cake, and add some edible eyeballs to give it that monstrous finish.
3. Rocky Road Halloween Slices
These rocky road Halloween slices are to die for (no pun intended), and the kids go crazy for the sticky goodness of this gorgeous cake.
If you find yourself pressed for time and you have forgotten to book a baker for a cake, then this little slice of heaven is for you. This is a no-bake cake, which can be thrown together literally in minutes. 
Another bonus is that this recipe can evolve as you go; add some gummy worms, edible eye candy, or any candy you please. These slices will have the little boys and ghouls (I got a bit carried away there – I meant girls) coming back for more.
4. Ghost Cupcakes
These boo-tiful ghost cupcakes are guaranteed to be a hit with the little ones. They are super adorable and not scary-looking at all. 
I've always found that cupcakes are a win at kids' birthday parties, as they eat the whole thing, and there is no waste. You can use marshmallows or meringues to make the little ghosts on the cupcake. 
The easy-peasy ghost cupcake with a yummy marshmallow frosting is another gorgeous ghost cupcake that won't break the bank.
5. Frankenstein Donuts
'It's Alive.' Last but not least is the frightfully fun Frankenstein Donuts. These tasty donuts are full of flavor and loved by all. 
Make your own donut batter (which is healthier) and decorate with green icing sugar. You can add features to your Frankenstein monster with a piping bag and some edible eyes. 
Personally, I prefer to stop by the bakery and pick up a box of donuts and decorate them myself at home. A fun party suggestion is to provide the decorating elements and a plain donut for your little party guests to decorate themselves. 
Halloween Birthday Cake Ideas for Teens
Here are my top 5 Hallo-Scream birthday cake ideas for teenagers:
6. Retro Black Buttercream Cake
In my experience, teenagers love anything retro, and this retro black buttercream cake is gorgeous. A great selling point is that this buttercream won't stain your teeth black (unless that's the desired effect that you would like to add). 
Decorate your cake with some Halloween sprinkles or goodies from the graveyard candy decorating kit that will pop against the black color.
If you are looking for some more retro-styled Halloween cakes, I've got you covered: 
7. Rainbow Skull Drip Cake
Teenage girls will go gaga for this funky rainbow skull drip cake. This two-layered vanilla delight cake is the perfect amount of spooky and fashionable, with a large skull as a cake topper and beautiful drips of pastel covering every inch of the cake. 
Get creative by adding gold and silver-painted roses made from fondant. Trail some candy-coated popcorn and crushed nuts over the base and top of the cake for a delicious crunch. 
This cake goes the extra mile by adding two ice cream cones as horns for the skull. It's, in short, a work of art.
8. Horror Movie-Inspired Halloween Birthday Cake
This horror movie-inspired Halloween birthday cake will impress even the most difficult teenagers. What teenager doesn't appreciate a good horror movie?  This birthday cake showcases quite a few of them.
This multi-tiered cake has characters from It, The Ring, Saw, and The Chainsaw Massacre (all the classics) and is sure to be a fabulous prop for selfies (which we all know teenagers love).
The subtle blood splattering is literally the cherry on top.
Here are a few other movie-inspired birthday cakes that I found terrific: 
9. Graveyard Halloween Birthday Cake
The graveyard Halloween birthday cake will give your guests the creeps with its 3-tiered layers and spooky tombstone cake toppers. The fondant grass is a fabulous touch, and I love the attention to detail.
These marvelous Halloween silicone molds are perfect for adding the finishing touches to your cake. I recommend melting white chocolate into the molds and placing them around the cake; they look amazing and are super yummy.
If you want to make the cake even more terrifying, write some of your guests' names on the tombstones and watch them gasp when they see your masterpiece. Again, this is a perfect selfie prop.
10. Zombie Brain Cupcakes
When I first saw these zombie brain cupcakes, I must admit that I felt quite queasy. They are so simple and yet so realistic. The strawberry syrup completes the look. If you would like to decorate these cupcakes yourself, it's pretty easy. Simply follow these simple steps.
Another gruesome idea is to add a sprinkling of coconut flakes to the top of the brains to make it look like it's crawling with maggots (eeeew). 
These cupcakes are sure to make your guests cringe. Here are three more suggestions for cringe-worthy cupcakes and cake pops:
Halloween Birthday Cake Ideas for Adults
"You may be too old to trick or treat, but you're never too old to get a treat." Here are my top 5 birthday cake ideas for adults:
11. Deep Purple Velvet Cake
This deep purple velvet cake is a must for any adult Halloween birthday cake. The deep purple and black color bleed effortlessly into one another, giving this cake a more sophisticated and gothic vibe. 
This one-tiered cake has a thin layer of buttercream frosting with fresh mulberries topping. Imagine cutting into this beauty and those mulberries bursting with vibrant purple-stained goodness. Your guests' mouths will be stained purple in true vampire style, and the birthday cake will be further covered in mulberry blood. 
I replaced the mulberries with cherries, which had the same desired effect, but you can also use pomegranates, blueberries, or blackberries, all of which are great for that dripping blood effect. 
12. Bloody Fondue and Black Rose Cake Pops
This bloody fondue with cake pops will be a gruesome addition to your Halloween birthday party for those of you with a flair for the dramatic. I do warn you; this is certainly not a cake for the squeamish. 
This little nightmare of a cake is very easy to put together. Grab a fondue fountain and color some white chocolate a deep red; this will make your fondue look like a fountain of bubbling, congealing blood. 
I highly recommend these beautiful black rose cake pops for dipping into the red chocolate. The finished look is spine-chilling (#pictureperfect). Follow this simple black rose cake pop tutorial to make your own at home. 
13. Bloody Shattered Glass Cupcakes
When I came across these bloody shattered glass cupcakes, I couldn't resist adding them to my list.
These little horrors are a hit at any Halloween-themed birthday party with their rich red velvet and chocolate flavors. For that gruesome look, the topping is a cheeky cream cheese drizzled with sticky strawberry or raspberry syrup.
To finish it off, add shards of edible sugar glass to give your cupcakes that broken glass appearance. I love this sugar glass recipe for your realistic shattered glass finish.
14. A Red Velvet Murder Cake 
This red velvet murder cake is sure to be a scream, with two layers of yummy velvet sponge cake covered in a delicious whipped cream cheese frosting.
The great thing about this cake is that you don't need much to make it freaky. Spray some edible blood over the cake, and voila, you have a murder scene. I guarantee that this blood-splattered cake will impress your guests.
Stab a knife or a pair of old-fashioned scissors into the middle of the cake for an extra Halloweeny effect. And if you want to push the boundaries, display a few of these severed fingers along the base of your cake. It's simply cringeworthy.
15. Black Forest and Chocolate Shards Halloween Cake
Imagine walking into a room and seeing this beautiful and moody black forest with chocolate shards Halloween cake on the center table. 
The more I stare at this cake, the more it looks like a haunted forest, with its thin and ominous chocolate shards surrounding the cake like crooked old trees. 
The plum cherries on top of the cake look bloody brilliant (wink, wink). I personally think this cake looks suave and decadent for those with a more sophisticated pallet.
I recommend this cake for those who don't enjoy the gore element but would like a touch of gothic meets emo to keep in line with the Halloween theme.
If this cake caught your attention, here are a few other cakes that are sure to 'put a spell on you:' 
FAQs
Question: How is Halloween celebrated in North America? 
Answer: In North America, Halloween is celebrated on October 31, and people dress up in costumes and tell scary stories. Children trick-or-treat around their neighborhoods to collect candy to fill their Halloween bags. Another Halloween tradition is to carve pumpkins into jack-o-lanterns that glow at night.
Question: How do you throw an adult Halloween party?
 
Answer: Throwing an adult Halloween party is easier than you think, as you can go overboard gory or keep the blood and guts to a minimum for squeamish people. To throw an adult Halloween party, you need:
Creepy invitations
Freak-show karaoke 
A suitable Halloween theme (super gory or funky, for example)
Ghoulish snacks and punch
Age-appropriate Halloween games such as bobbing for rotten apples in a bucket of punch
Question: How old is Halloween?
Answer: Halloween or All Hallows' Eve originated almost 2,000 years ago in Ancient Britain and Ireland and was celebrated at the ancient Celtic Festival of Samhain. Halloween was dedicated to remembering the dead and the saints (otherwise known as the hallows). Their new year was celebrated on  November 1.
My Final Thoughts on the Best Halloween Birthday Cake Ideas 
There is no limit to the terrifying and jaw-droppingly beautiful Halloween birthday cake ideas that are available. Each cake on my list caters to everyone's Halloween fetish, from pastel skulls to zombie brain cupcakes.
Did these eerie cake ideas grab your attention, and now you're looking for more? I've got you covered; check out our 40th birthday cake ideas or 21st birthday cake ideas for more inspiration.
Recommended Reads: