Peppa Pig is a cartoon show adored by kids and toddlers, especially little girls — including my own. I think it is the very simple visual presentation of the show, the relatable family-oriented characters and the fact that they are majorly pink, and the easy-to-follow storyline for each episode that make Peppa Pig irresistible to toddlers and pre-school girls. That's why, if you ask your little girl what kind of party she'd like for her birthday, it really won't be a surprise if she says Peppa Pig. And I am saying that as someone who's had to throw one for her daughter and her niece, as well as attend countless others thrown by her mommy friends for their own little girls. So, if you are planning one yourself and are on the lookout for some Peppa Pig birthday party ideas, I'm sharing a few good ones from my own vision board.
As a mom and aunt of erstwhile Peppa Pig fans, I had planned Peppa Pig birthday parties that are only a couple of weeks apart. I had to make sure that even with a similar theme, they would still be different and unique parties. So I had to gather as many Peppa Pig birthday party ideas as I could in order to give each one a different twist and come up with different activities.
I admit that it's tempting to just insert Peppa Pig merchandise into everything and call it a day. Your birthday girl or boy may not mind seeing their favorite cartoon friend displayed or printed on every party supply you get — from the invitations, party hats, cups, plates, balloons, to the cake, to the backdrop — but you wouldn't want it to be an overkill. Well, I'll tell you what: you can definitely pull off a Peppa Pig birthday party even while going easy on all the Peppa Pig merch.
I have collected some ideas for your Peppa Pig birthday party to help you throw an epic one for your toddler or preschooler.
My Bottom Line Up Front
A Peppa Pig birthday party sounds easy to plan and execute considering that Peppa Pig party supplies are available almost everywhere. But my kind of Peppa Pig birthday party is one that also has a secondary theme. In my case, for example, I did a Peppa Pig Tutu Party for my little girl. In the invitation, I asked all the girls, including the moms, to come in a tutu.
Shortlisting Peppa Pig Birthday Ideas
There aren't a lot of unique Peppa Pig birthday ideas out there. For many parents, preparing to throw a Peppa Pig party for their kids means heading out to the nearest party supply store and tossing anything with Peppa Pig prints into the shopping cart, ordering a Peppa Pig birthday cake, preparing a kid-friendly menu, and sending out the Peppa Pig-inspired invites. However, there are actually different ways to make an otherwise ordinary Peppa Pig party more special and more one-of-a-kind.
I have looked for fun, kid-friendly games and activities that would go well with or that you can tweak or modify to fit a Peppa Pig birthday theme. I have also looked for lovely decor ideas that would add more value and more pizzazz to your overall aesthetic. You'll also get some tips and tricks on Peppa Pig treats, as well as ideas for a secondary theme.
Peppa Pig Birthday Party Ideas
You don't have to look for special Peppa Pig birthday party ideas elsewhere because I've created a go-to list for you right here. You can now skip having to sift through countless concepts that will end up overwhelming you and confusing you all the more.
Fun, Kid-Friendly Peppa Pig-Inspired Games and Activities
It's time to redefine your idea of a Peppa Pig birthday party. You have to go out of the box and go beyond just the physical aspect of things. That means incorporating Peppa Pig into the fun and not just into all the party paraphernalia that people can see. If you are still wondering what I mean by that, here are a few examples:
Longest Mummy Contest
I don't mean the bandage-wrapped Egyptian mummies, but the word "mommy" is pronounced with a British English accent. In other words, the way Peppa calls her mommy. Because, as they say, you'd know your kid is a Peppa Pig fan because she'd call you mummy instead of mommy.
Here's what you need to do: Call all the kids to the front and have them call their mummies, the way Peppa does. But instead of just stopping, they need to extend the last syllable until their breaths run out. You will also need a timekeeper for this contest. The one with the longest "mummyyyyyyyyyyyyyyyyyyy" wins a special prize.
Musical Muddy Puddles
This is Peppa's take on the musical chairs. But instead of using chairs, you have muddy puddles.
Paint or print muddy puddles on pieces of cardboard paper and arrange them in a circle. The rules are the same: the kids form a line, they dance to the music (maybe Peppa Pig's theme song) as they move around the circle of muddy puddles, and they step on a puddle when the music stops. Whoever is not on a puddle is out of the game. Take away one puddle after each round until only one puddle and two kids are left. Whoever gets to the last puddle after the music wins the game.
Design Your Own Crown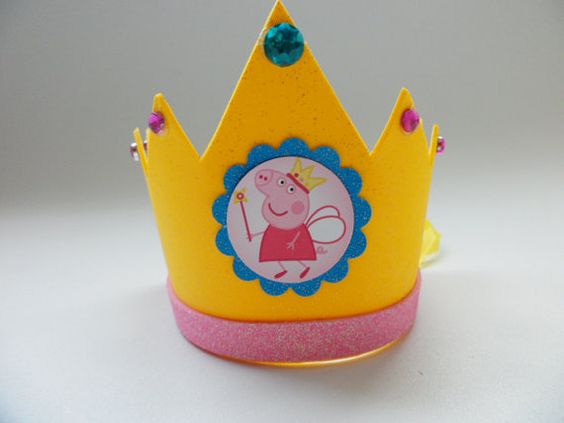 Peppa Pig loves her crown. So why don't you let the kids make their own crowns, too? You can get gold glitter paper or felt cloth and cut and assemble the crowns before the party. Prepare "jewels" made of glitter or glossy paper in various shapes, colors, and sizes. Lay all these crowns and jewels out on a crafting table, and don't forget the glue sticks, too. Let your guests embellish their own crown just the way they like it, and let them wear it for the rest of the party.
You can also make the activity more exciting by giving out awards like the "Most Creative Crown" and "Most Colorful Crown," then giving special prizes to the winners.
Peppa's Treasure Hunt
Little kids love treasure hunts. This activity allows them to be alert and encourages healthy competition.
What you can do is get little Peppa Pig toy figurines, hide them within your party area, preferably outdoors for fresh air and to keep your breakables safe. Let the kids find these figurines. Instead of toy figures, you can also get pink egg with surprise treats inside.
Another version involves treasure hunt cards. All you need to do is print two sets of cards with Peppa Pig characters or scenes. Hide the first set of cards and keep the second set. Give the second set of cards to the kids, or to the teams, and have them find their matching cards. The first ones to collect all their matching cards win the game.
Peppa's Puzzle Race
Get easy-to-do Peppa Pig Puzzles for toddlers or for little kids from the party supply shop. Have the kids solve these puzzles. The first ones to complete their puzzles get to win a special prize. Of course, let them keep and bring their puzzles home.
Peppa Pig Party Secondary Themes
So you've settled for a Peppa Pig-themed birthday party for your little one. It's a great idea to actually look for a secondary theme to help further define your party. Here are a few examples of what I'm talking about:
See also: Baby Yoda Party Supplies Guide [2022]
Peppa Pig Tutu Party
If you're throwing an all-girls birthday party for your little daughter and you've got your party aesthetics covered by Peppa Pig, you can surely make it a lot more fun and extraordinary by adding one tiny instruction on your invitation: Come in a tutu. The girls would surely love twirling around in their tulle skirts, pretending they are princesses or ballerinas.
Peppa Pig Bubble Fun Party
Kids, no matter what age they are, can never resist bubbles. So add a bubble twist to your baby's Peppa Pig birthday party. Rent a bubble machine or give everyone a bubble gun so they can shoot bubbles everywhere. There are also people you can hire to give a bubble show.
Peppa Pig Paint Party
Invite your kid's friends to a Peppa Pig paint party. You don't necessarily have to hire a painting teacher to facilitate painting sessions or give lessons. Since we're talking mostly about preschool-aged children, you can prepare canvas boards with pre-painted outlines of Peppa Pig scenes or characters and a copy of the original color picture as reference. Or you can print these outlines on thick paper, then mount them on a much thicker board. You should also prepare wooden easels, poster paints, brushes, and Peppa Pig aprons.
You can also get plaster figurines and have the kids paint them. You can order these figurines from plaster makers, or you can get plaster kit mold sets like the one in this video below. You can also make more figurines using the mold from this kit. Simply buy Plaster of Paris or white cement and make the figurines days before the party to allow them to dry completely.-
Peppa Pig Tea Party
Why stop at Peppa Pig when you can go British all the way? Throw a fancy Peppa Pig tea party for your little girl and her besties! Take your fancy pastel-colored teacups and saucers out into the garden, fill your pastry trays with dainty cakes and goodies, and finish off your setup with flowers, balloons, and ribbons.
Peppa Pig Birthday Party Add-Ons
Here are more Peppa Pig-inspired items you may want to add to the party.
See also: 27 Coolest Winnie the Pooh Cake Ideas
Peppa Piñata
For some people, a birthday party is never complete without a piñata. So don't forget to get one shaped like Peppa Pig and fill it up with goodies!
Custom Peppa Pig Treats
A Peppa Pig birthday cake, cupcakes, and cookies are a no-brainer. These are the treats and dessert items that are the easiest to fit into whatever theme you're going for because you can decorate them using gumpaste or royal icing. However, there are also other treats and edibles that you could work into the Peppa Pig theme.
Muddy Milkshakes
How about some muddy milkshakes for drinks? Of course, they're just your normal chocolate milkshakes or chocolate milk. It's the label that makes it more interesting.
Pigs in a Blanket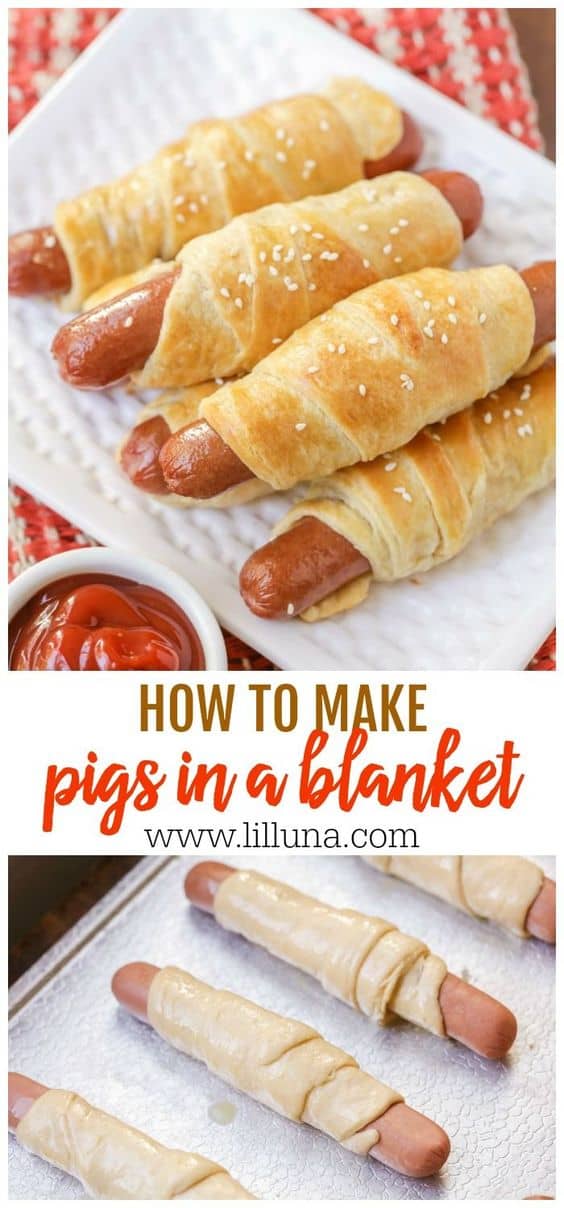 This finger food is a staple in many kiddie parties because they are easy to make and most kids love hotdogs. But this time, they are named so aptly because they just fit into the pig theme.
Peppa Pig Apples
Melt some white chocolate in separate bowls and add a different coloring to each bowl. Dip your apples in the chocolate, add some sprinkles, and finish it off with decorative icing before the chocolate hardens. You can also tie a pastel ribbon around the stick.
Peppa Pig Strawberries
Melt white chocolate, add coloring to it, and dip the strawberries. You can add sprinkles, edible glitter, and other edible decorations or printed toppers.
You can do the same with rice crispies, pretzel sticks, and cake pops.
Peppa Pig Macaron Tower
Make macarons shaped into Peppa Pigs and some in circles. Arrange them into a cone or pyramid.
Peppa Pig Party Setup
Here are a few Peppa Pig birthday party setups that are truly impressive:
Pastel-colored balloons, a candy cart, kiddie tables and chairs, a picket fence, floral centerpiece, and custom gift boxes all make this setup an eye candy!
This garden setup showcases big standees of Peppa Pig characters, which clearly make up for the few balloons. And the carpet of green grass balances out all the pink.
Peppa Pig party setups don't always have to be dominantly pink. And they're not just for girls. This setup, which is mainly blue, white, and yellow, is perfect for a little boy.
This lovely Peppa Pig picnic party setup at the park makes use of crates transformed into low tables, blankets and tablecloths, throw pillows, and a tepee for accent. And just because it's outdoors doesn't mean you should do without placemats and crystal glasses.
Frequently Asked Questions
Question: Can I invite adults without children to my kid's birthday party?
Answer: Of course. There are no hard rules against inviting grownups without children to a kiddie party. As long as we're talking about close friends whom you think would still enjoy the party and not get too bored, then go ahead and invite them. It goes without saying, too, that these friends should have a relationship with your kid. Otherwise, you may want to spare them and instead just set a date for some adult hangout.
Question: How do you keep toddlers and preschoolers entertained at a party?
 
Answer: Young children have very short attention spans. So make sure you have a wide range of activities prepared to they don't get restless. And make sure these activities don't take too long to complete. You can have short activities where the kids need to sit down and alternate these with activities that require them to stand up and roam around.

If you need help with entertainment, you can always hire a clown, magician, or balloon twister.
Question: I want to be as environment-friendly and sustainable as much as possible. What is a good alternative to balloons as a decoration for a kiddie party?
Answer: Balloons make great backdrops and space fillers for your setup, especially at your dessert table area, which is the centerpiece of your decorations. However, if you don't like the idea of balloons, you can always use round hanging paper lanterns, paper buntings, and papel picado or Mexican banners. You can also make a canopy of tulle fabrics.
Conclusion
A Peppa Pig birthday party will always be a hit among little kids because the show is among the most loved in recent times. And because it has become a common theme for kiddie parties, you may want to give it your own unique twist to make it extra memorable for your guests. Prepare games and activities that are age-appropriate and don't be afraid to tweak them so they'd fit into the theme. It would be fun if you just connect "pigs," "England," or anything that reminds you of the show into these activities and even in the food you are serving. I would recommend the musical muddy puddle game for one of your activities, as well as the  "muddy milkshakes" and the pigs in the blanket for your menu. Make sure to label your food so the pun isn't lost.  I also recommend being extra creative and introducing a secondary theme, like asking female guests to come in a tutu as part of the dress code. It would be like hitting two birds with one stone, especially if your birthday girl loves her tutus! And hey, you can even make it into a Peppa Pig Tutu Tea Party, which means combining three themes into one fun party.
Recommended Reads: