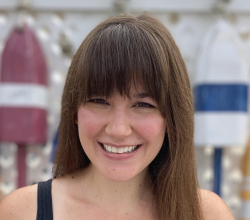 Latest posts by Lauren Vigdor
(see all)
I can't think of a more cheerful symbol of the leisure days of summer than a sunflower. I always associate sunflowers with backyard parties, picnics, and sunny celebrations in the country.
I've hosted a lot of parties, both professionally and for fun, and whenever possible, I like to stick with themes, decor, and food that feels seasonally appropriate.
A sunflower cake is a great choice for a late summer or early autumn celebration, whether it be a birthday, shower, anniversary, or wedding.
Sunflowers are a gorgeous symbol of warmth and joy, and a sunflower cake is a great way to bring some of those emotions into your celebration. For a list of sunflower cake ideas, read on! 
Bottom Line Up Front
There's a sunflower cake for everyone somewhere on this list, but my personal favorite is the Realistic Sunflower Cake. It's bright, cheerful, and a little wild, just like a sunflower! I love the texture of this cake and think it would be an excellent choice for any occasion. 
What do Sunflowers Symbolize?
Sunflowers represent happiness, longevity, optimism, and good fortune. They're often seen as a symbol of loyalty and faithfulness due to the faithful way that their blossoms track the sun across the sky. The flower is native to North America but has been cultivated worldwide for its beauty and edible components. 
Sunflowers are the official flower of the Leo zodiac sign. They exude warmth and fire, much like a Leo. A sunflower cake is an excellent choice for a Leo's birthday cake. 
Sunflowers are also the third-anniversary flower. In addition to warmth and happiness, the flowers symbolize loyalty, longevity, and strength. A sweet sunflower cake is the perfect way to celebrate your third anniversary. 
My Favorite Sunflower Cake Ideas
This list includes Sunflower cake ideas for all occasions. I've broken the selections into categories to make it easier to navigate if you're looking for something specific.
If you're planning to make your own sunflower cake, I suggest starting with the first section. You'll find sunflower wedding cakes towards the end and all sorts of other celebration cakes in between. 
All of the cakes on this list are unique and can be customized to your liking. I tried to showcase a variety of styles of sunflower cakes, so if you're looking for something outside the box, you've come to the right place!
Most importantly, all of the cakes on this list celebrate that gorgeous symbol of long summer afternoons, the sunflower. 
Simple Sunflower Cakes
These cake designs are all simple enough for a home baker to execute. 
Summer Sunflower Cake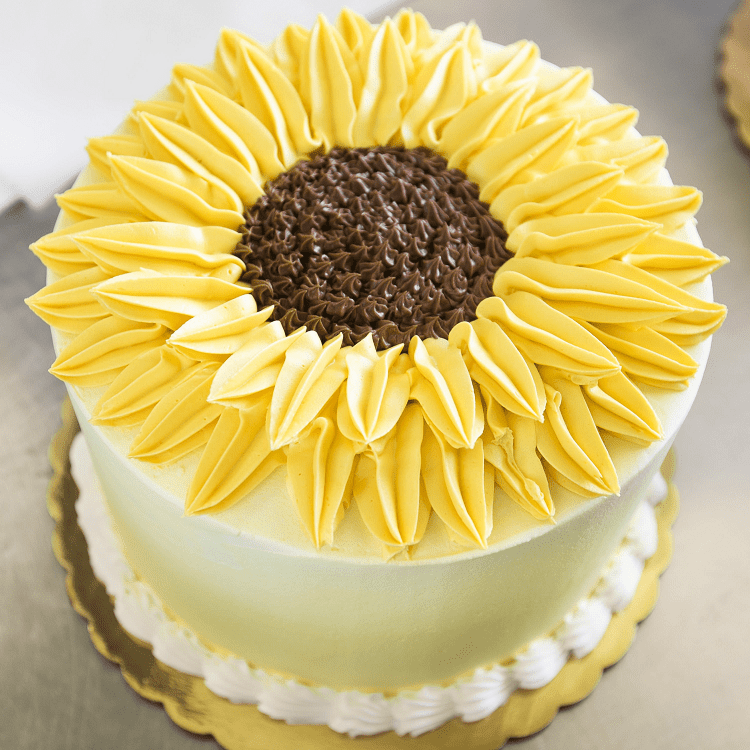 If I were going to attempt to make a sunflower cake, it would probably look a lot like this one. With the right consistency of buttercream, the correct piping bag tip, and maybe a few practice runs, even a novice baker can learn to pipe petals like this.
The center of the flower is made with buttercream piped with a star tip in this image, but you could easily substitute a handful of chocolate chips to make this cake even simpler!
Sunflower Shaped Cake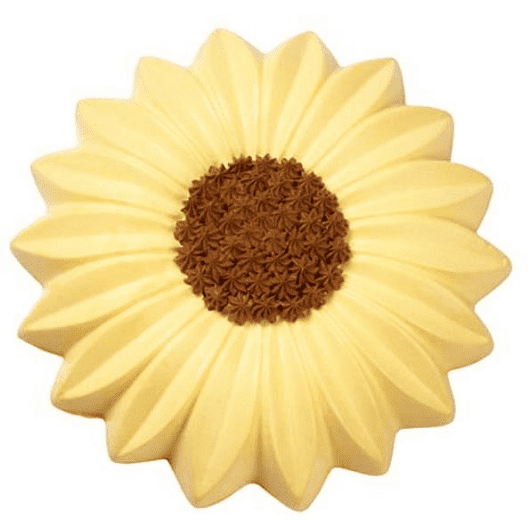 This cake utilizes a sunflower-shaped cake pan for this effect. I can't think of a more straightforward way to achieve the look of a sunflower cake than to have the pan bake the cake into a sunflower shape!
Once your cake is cooled, you can decorate it however you'd like, but I think simpler is better for this cake shape. If you add too much embellishment, you'll run the risk of obscuring the form of the cake. 
Sunflower Decorated Cake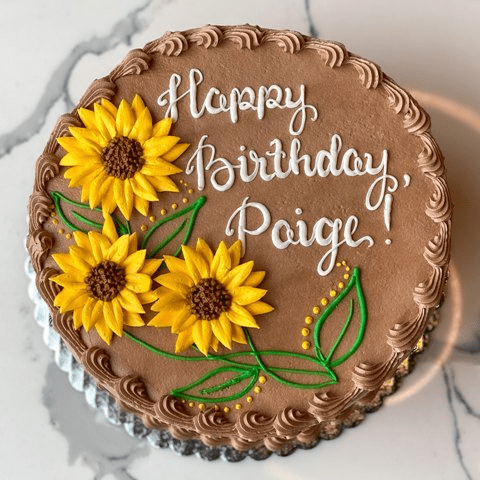 The sunflower decorations on this cake are made the same way as the first cake on this list, but with a smaller piping tip. If you're nervous about making mistakes, try piping a few flowers onto a piece of wax paper or parchment on a flat surface.
Let the flowers dry slightly, then gently lift them off the paper by sliding a thin spatula or butter knife under them and carefully placing them onto the cake. 
See also: 22 Best Ocean Cake Ideas
Ombre Sunflower Cake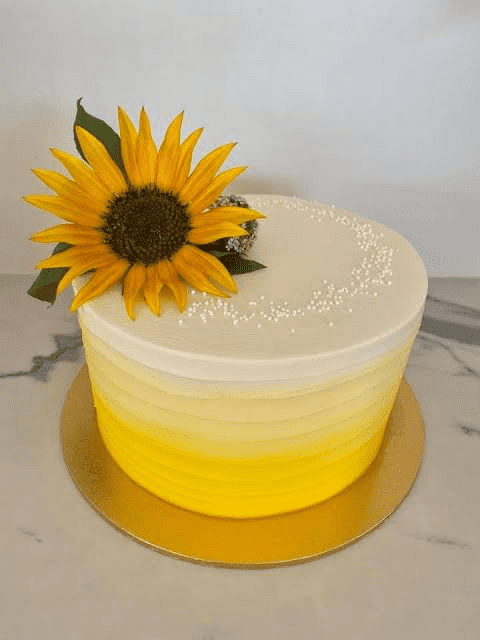 Every part of a sunflower is edible (though some parts taste better than others), so you can absolutely use a real sunflower on top of your cake.
Please make sure that it's clean and hasn't been treated with any chemicals, such as pesticides! If you're nervous, you can find artificial sunflowers at craft shops, home goods stores, or on Amazon. 
Sunflower and Sugar Pearl Cake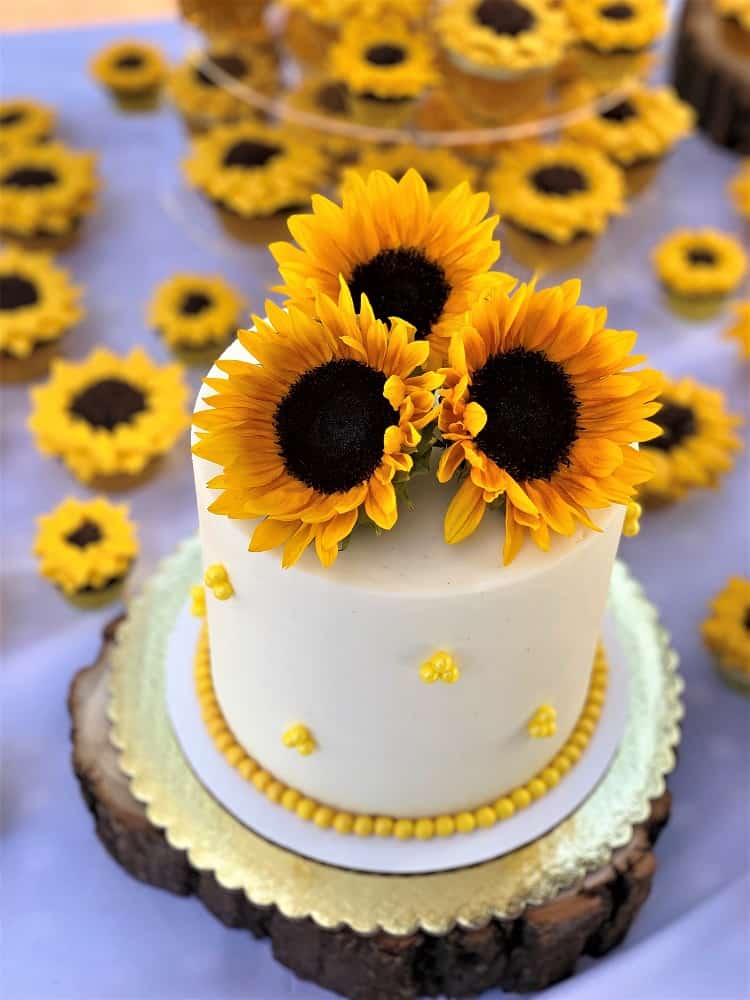 Just like with the cake above, it's up to you whether you want to use real (clean!) or faux flowers here. I like cakes like this because they're very customizable. If you're making this cake for a party or a wedding, you could alternate the colors of the sugar pearls to match your theme colors, for example. 
Single Tier Celebration Cakes
These cake designs are a little more ornate. They're perfect for a special birthday, baby shower, or anniversary party. 
Sunflower and Daisy Cake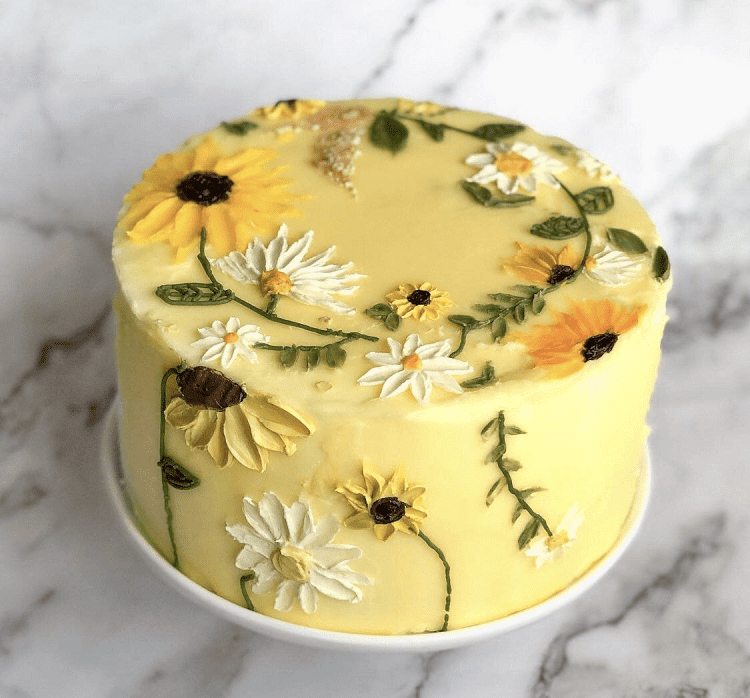 I think this is one of the most original cakes on this list. It's got a charming, vintage appeal to it. I love the painterly approach to the design.
The tangle of wildflowers looks so natural, and the soft colors are so appealing. This cake would be lovely for a baby or bridal shower, Mother's Day, or a spring or summer birthday celebration. 
White Sunflower Cake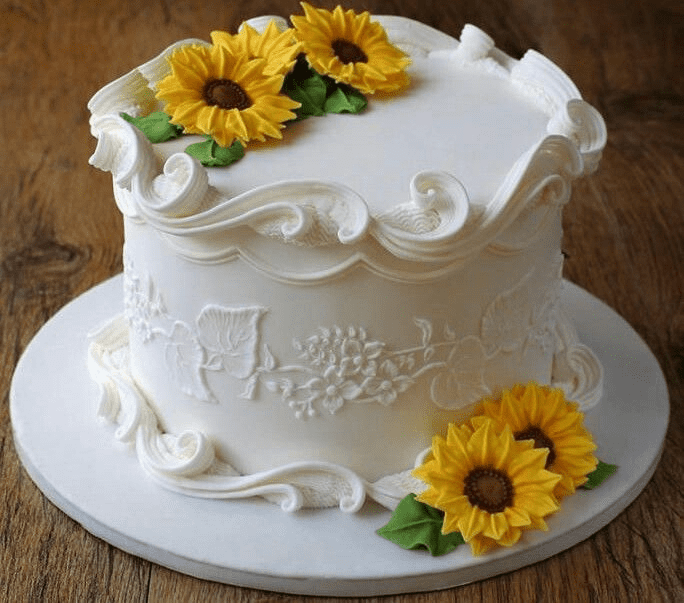 This cake is elegant and dreamy. I think this would be perfect for a summer bridal shower or intimate wedding. The gorgeous white detail work and pillowy swirls just scream wedding to me. I love how they contrast with the cheerful pop of color from the sunflowers. 
Watercolor Sunflower Cake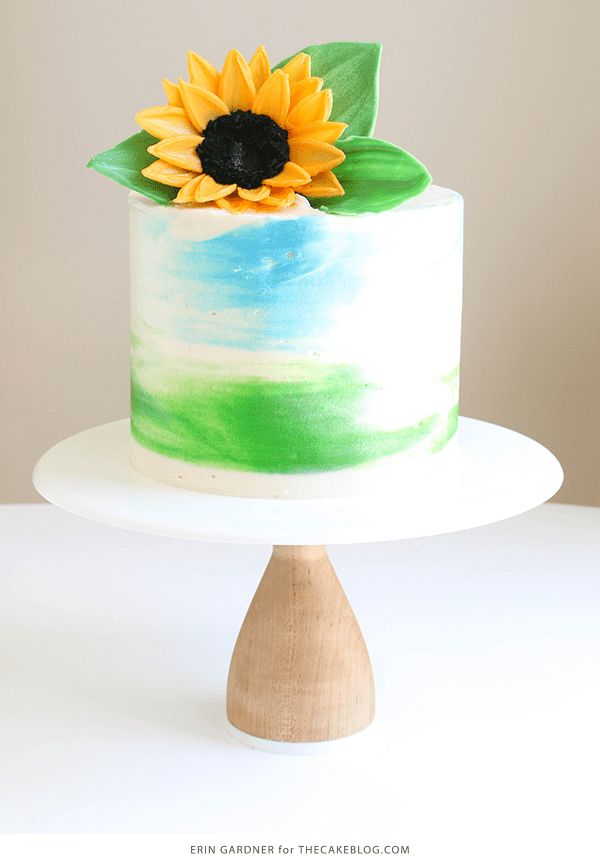 I love this colorful, summery cake! The bright washes of color and bold chocolate flower topper are so cheerful! It's incredible how the right colors can make even a simple cake look special. This would be an excellent cake for an outdoor summer birthday or shower.
Sunflower Harvest Cake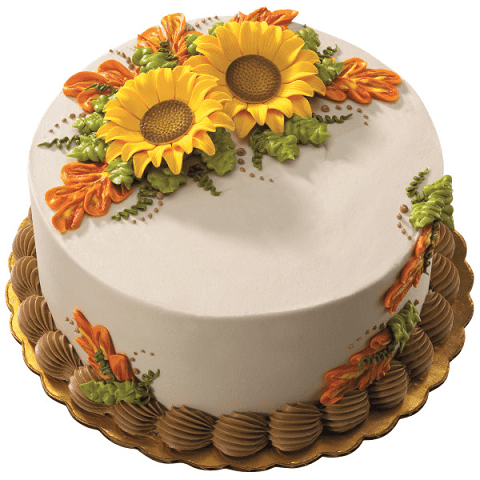 This is the ultimate autumn sunflower cake. The warm, rich colors are lovely for a Thanksgiving celebration or fall gathering. I love that the gum paste flowers and flourishes have a vintage yet timeless feel to them. This cake would be perfect for a nostalgic family holiday. 
Flowers and Petals Cake
This is one of the more refined cakes on this list. I love the scattered flowers and petals on the cake. I'm really impressed by the height the decorator achieved when piping the flowers. It makes them look so realistic! This design is timeless but still feels fresh. It would work for just about any occasion. 
Modern Sunflower Cake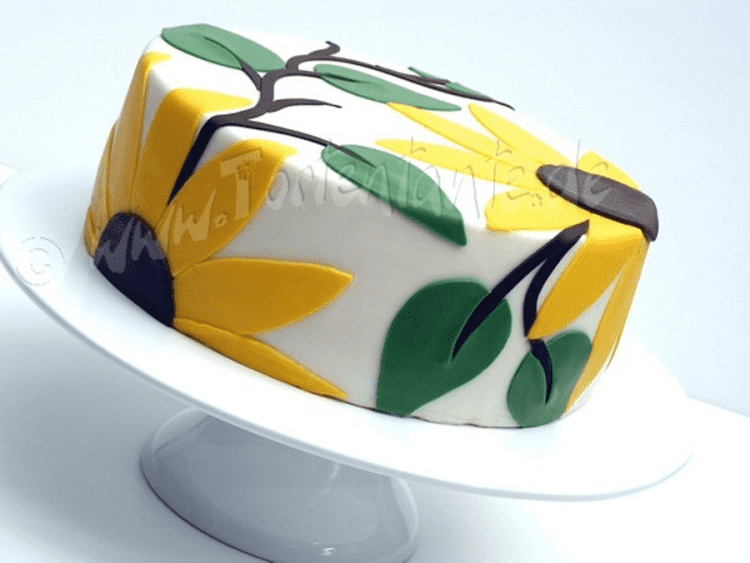 This simple and stunning cake is a different take on a sunflower design. It makes me think of a textile pattern, which I think is so cool! If you've got a steady hand, you could recreate this design at home with fondant and a sharp knife.
I would recommend sketching your design out in two dimensions on a piece of wax paper or parchment first and then draping the cut pieces over the cake. 
Realistic Sunflower Cake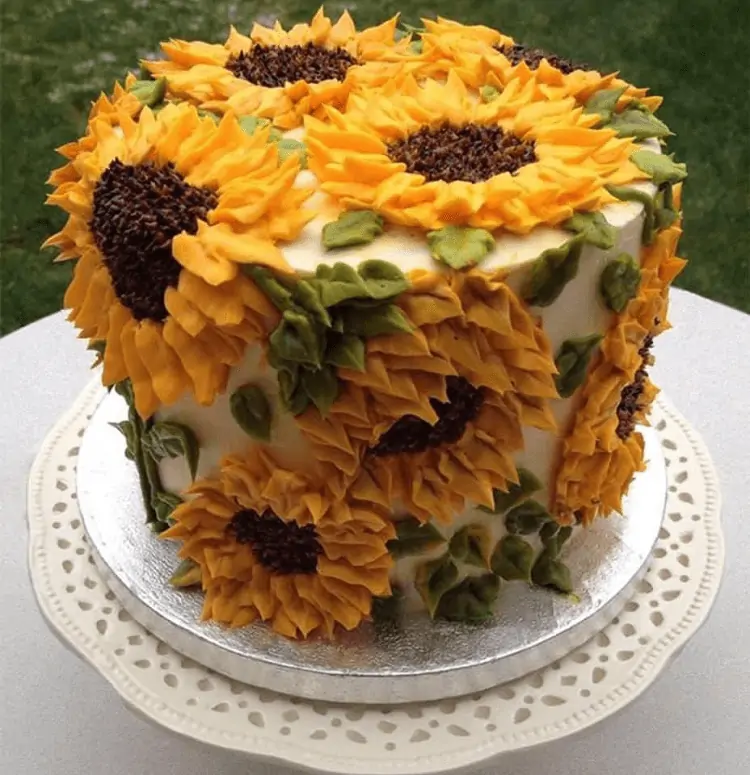 Holy texture! This is my favorite cake on the list. The sunflowers on this cake look realistic, but at the same time, they remind me of an oil painting. This is an absolutely gorgeous cake for any celebration. As a bonus, the slightly muted color palette works for all seasons!
Embracing Couple Sunflower Cake
This cake is perfect for an engagement party or anniversary. I love the image of a loving couple in a field of sunflowers. A custom portrait on a cake is such a beautiful way to honor the people being celebrated. 
Raw Edge Sunflower Cake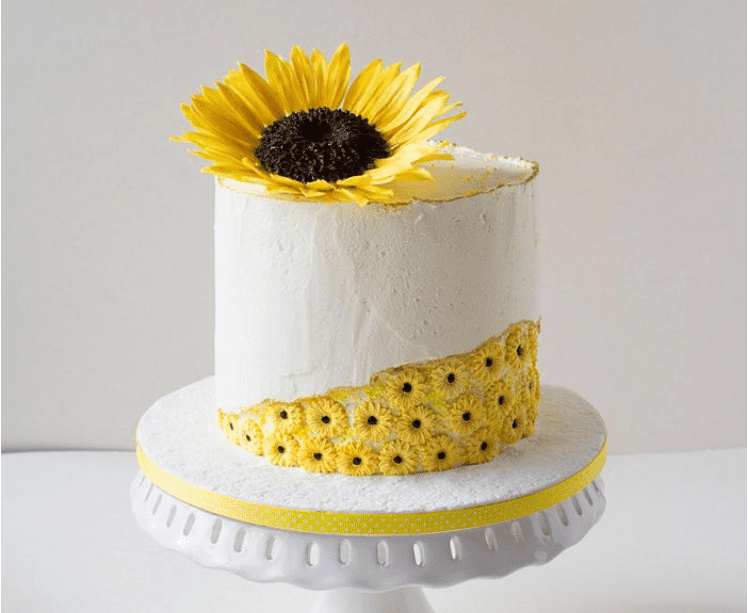 This is another modern take on a sunflower cake. I love the gold-painted raw edges on the frosting. If you want to attempt to make this cake at home, Wilton makes sugar sunflower decorations that can be used to decorate the base. You can find them in select grocery stores, craft stores, and on Amazon. 
Ornate and Multi-Tier Cakes
The following cakes are show-stoppers worthy of your next big bash. These are some of the most unique sunflower cakes on this list. 
Stained Glass Sunflower Cake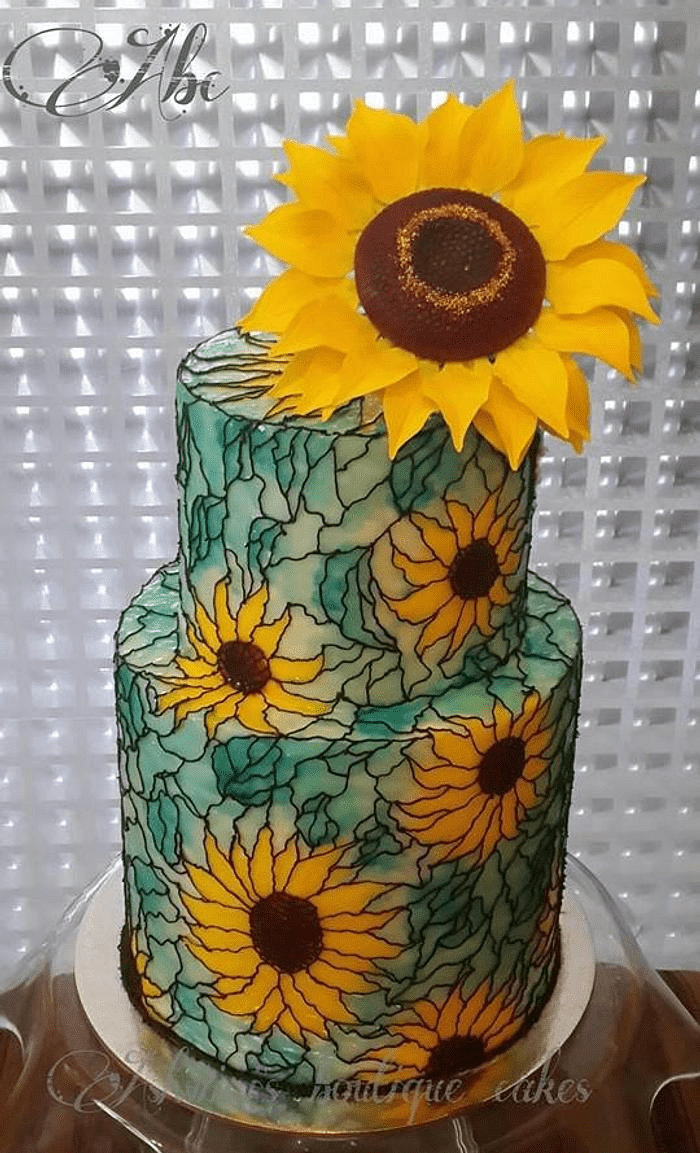 This stained glass technique is so clever. It makes this sunflower cake so unique! I love the pops of yellow against the blue-green background of the cake. This one will definitely wow your guests! 
Bird and Sunflower Cake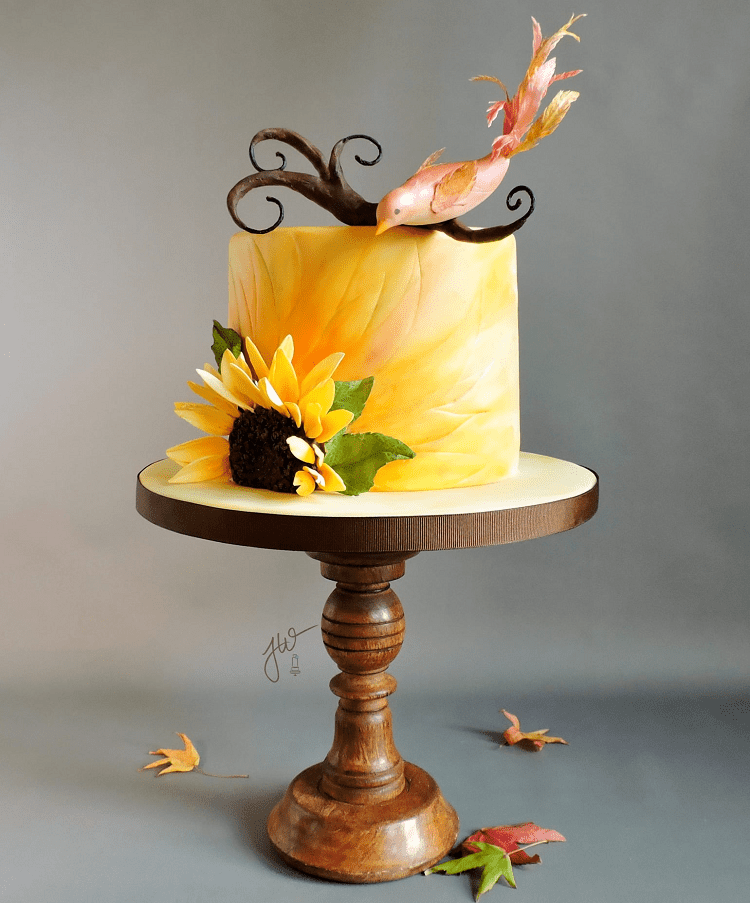 This is a cake, a sculpture, and a painting all in one. The little bird perched on top is awe-inspiring, and the painted cake base looks so refined. This is an excellent choice if you're looking for a small cake that makes a big impact. 
Bucket of Flowers Cake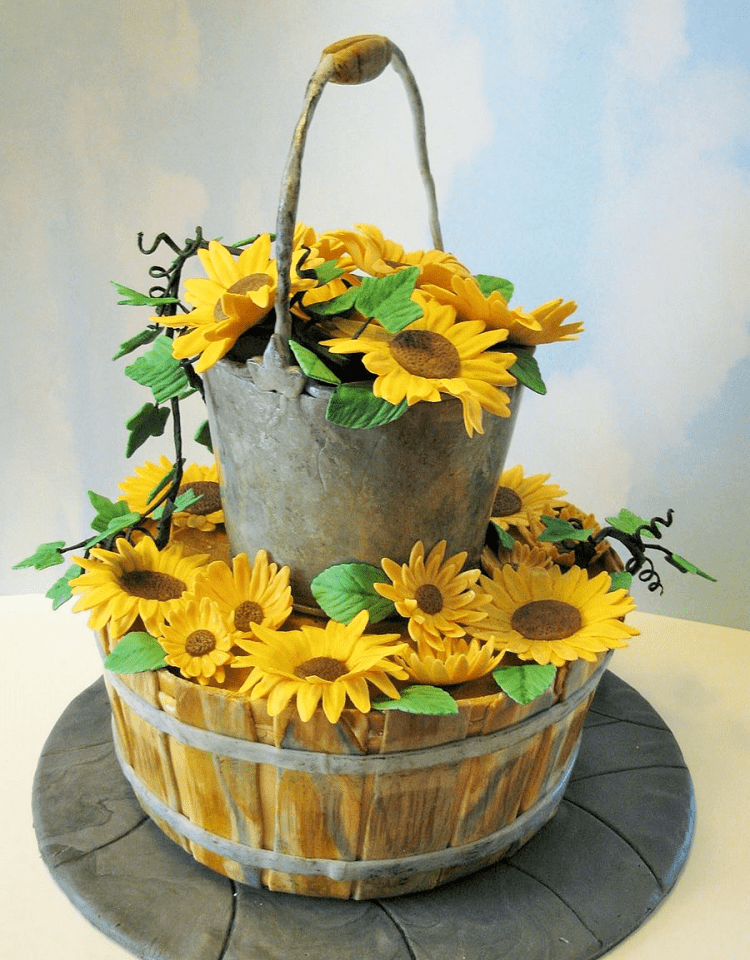 Cakes shaped like things that aren't cake is a trend that isn't going away any time soon. From all of the tv shows centered around elaborate cake construction to "is it cake?" trends on social media, it seems like these hyper-realistic, sculptural cakes are everywhere.
I love this basket of flowers for a country wedding or chic backyard celebration. It's a gorgeous conversation piece. 
Van Gogh Sunflowers Cake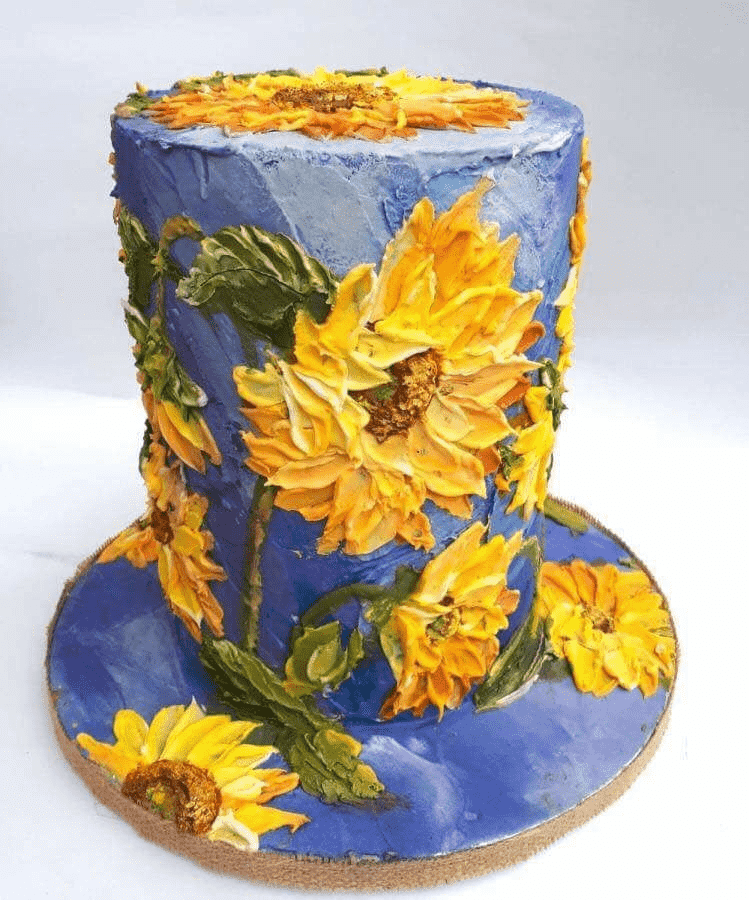 It's impossible to look at the palette knife texture of this cake and not think of one of Van Gogh's iconic sunflower paintings.
The texture and colors of this cake really make it stand out. It's definitely a work of art. A cake like this would be appropriate for any special celebration, but I think it's perfect for a graduation party for an artist or art enthusiast. 
Bees and Butterflies
The following sunflower cakes feature a sunflower's two best friends, bees and butterflies!
Isa's Cake Sunflower and Butterfly Cake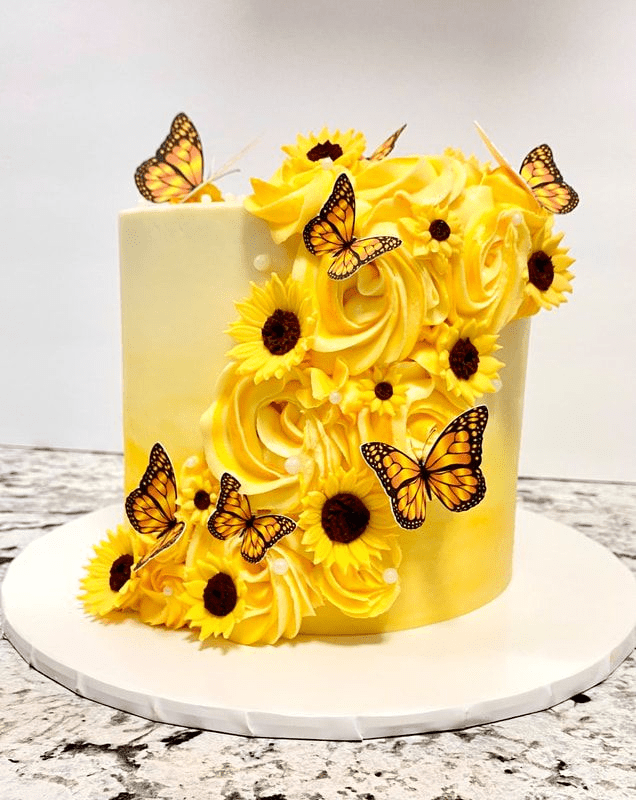 This sunny cascade of sunflowers and monarch butterflies is a show-stopper! It's a sophisticated and dramatic take on a sunflower cake. I love the monochromatic color scheme, and subtle ombre of the base cake, plus the butterflies are so sweet!
Honeycomb Tiered Cake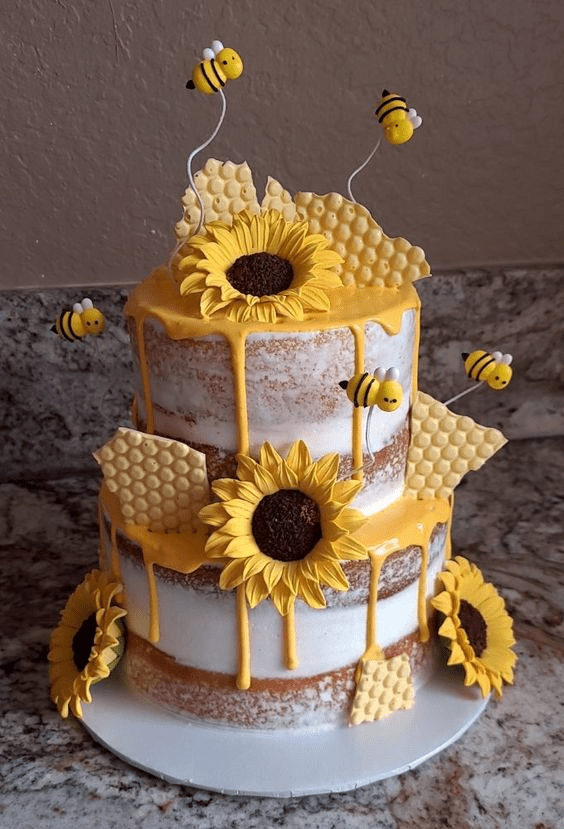 This little two-tier cake is so cute! I really love the little bees and "honey" drips. This cake is cheerful, sweet, and playful, and although it's expertly executed, there's something not too serious about it. This is a great cake for a shower or even a wedding! 
Modern Bumblebee Cake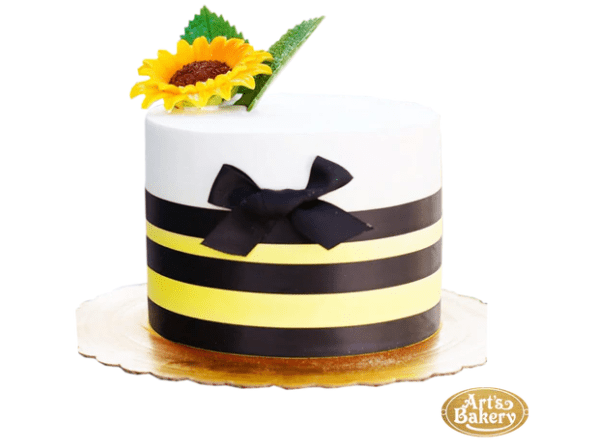 This cake takes a less literal approach to the sunflower and bee pairing, but there's no mistaking it. The bold lines decorating this cake will look great in photographs, which means this is an excellent option for a shower or a cake smash.
It's also a great cake if you're looking for a more modern design. Just like with some of the cakes above, this cake can be made with a natural or artificial (edible or non-edible) sunflower on top. I think it would also look great with a cluster of flowers in place of the solo blossom. 
Butterfly Garden Cake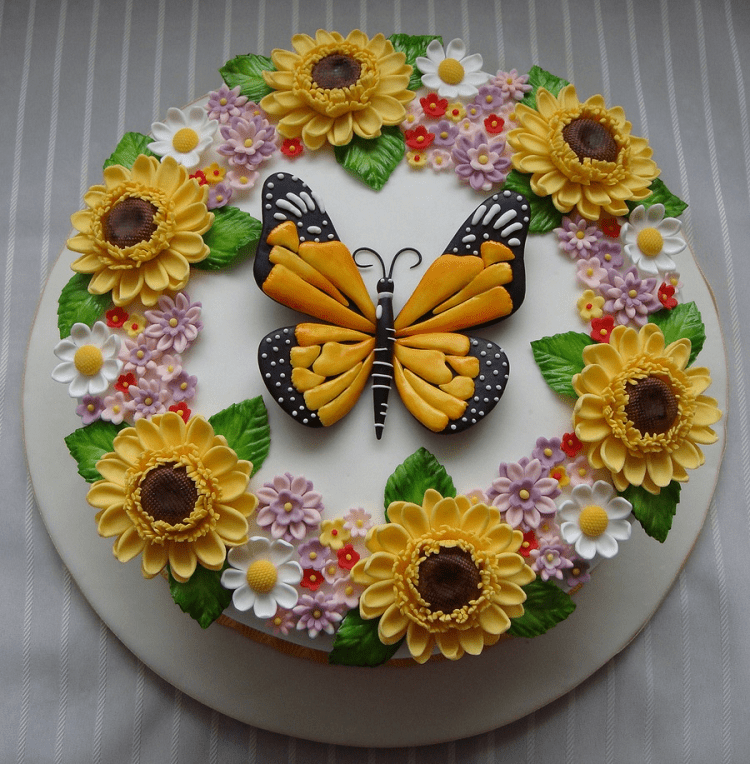 The butterfly almost steals the show from the sunflowers here, but I can't say I'm upset about it. It's absolutely stunning. I love all the detail work that went into this cake. Each flower is a tiny sculpture. It's so impressive! I also love that you could customize the colors of the flowers to fit your party theme. 
Sunflower Wedding Cakes
These cakes are all great options for a wedding. I particularly like sunflowers for a late fall or early autumn wedding during the flower's peak season, but many of these cakes will look great any time of year. 
Birch Tree Wedding Cake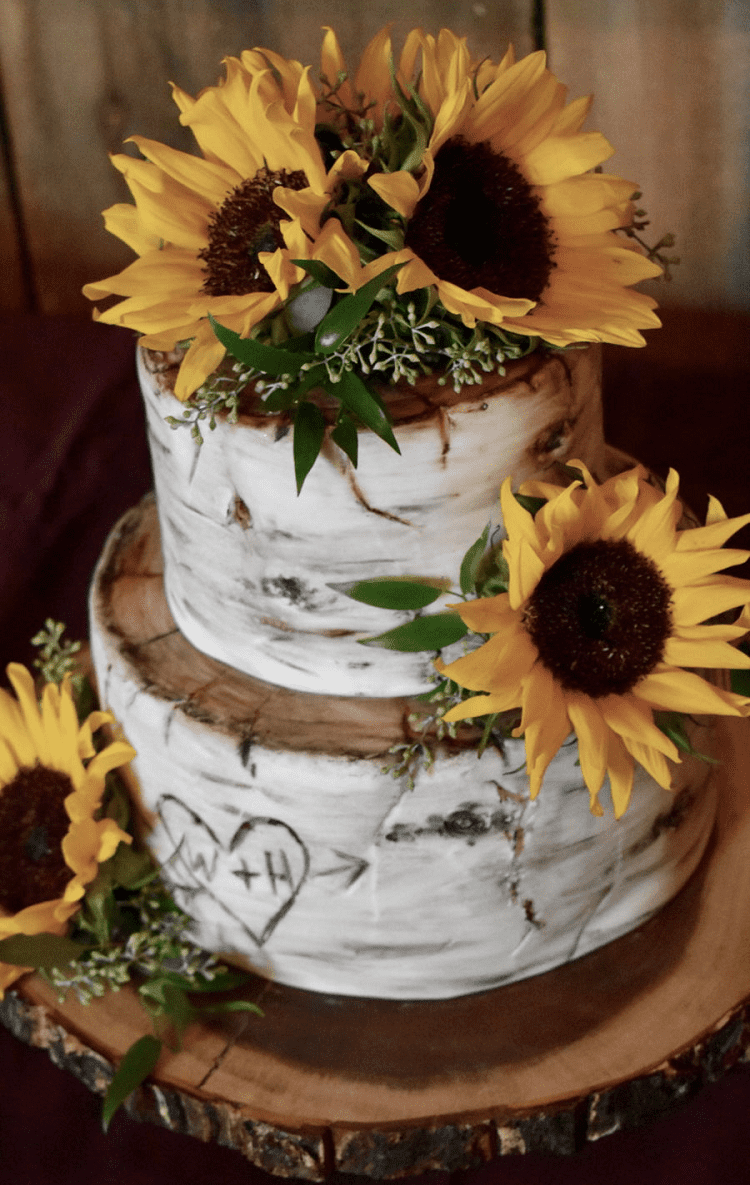 I love this rustic and romantic wedding cake. The bark technique is gorgeous, and the initials carved into the base really make this cake extra special. This would be gorgeous for a rustic barn wedding. 
Sunflower Drip Cake
This tiered cake would be a bold choice for a wedding, which is why I love it! It's a great option if you're looking for something unconventional but not too out of the box.
I like that you can adjust the colors of the buttercream and even replace the chocolate ganache with different colored drips to fit your wedding theme colors. 
Pressed Flower Cake
As I said before, sunflowers are edible, making them perfect for pressed flower cake decorations! I love this charming and delicate-looking cake for an intimate backyard or garden wedding.
If you're going to make this cake yourself, just make sure that you use clean flowers that haven't been sprayed with any pesticides or other chemicals!
Rustic Sunflower Wedding Cake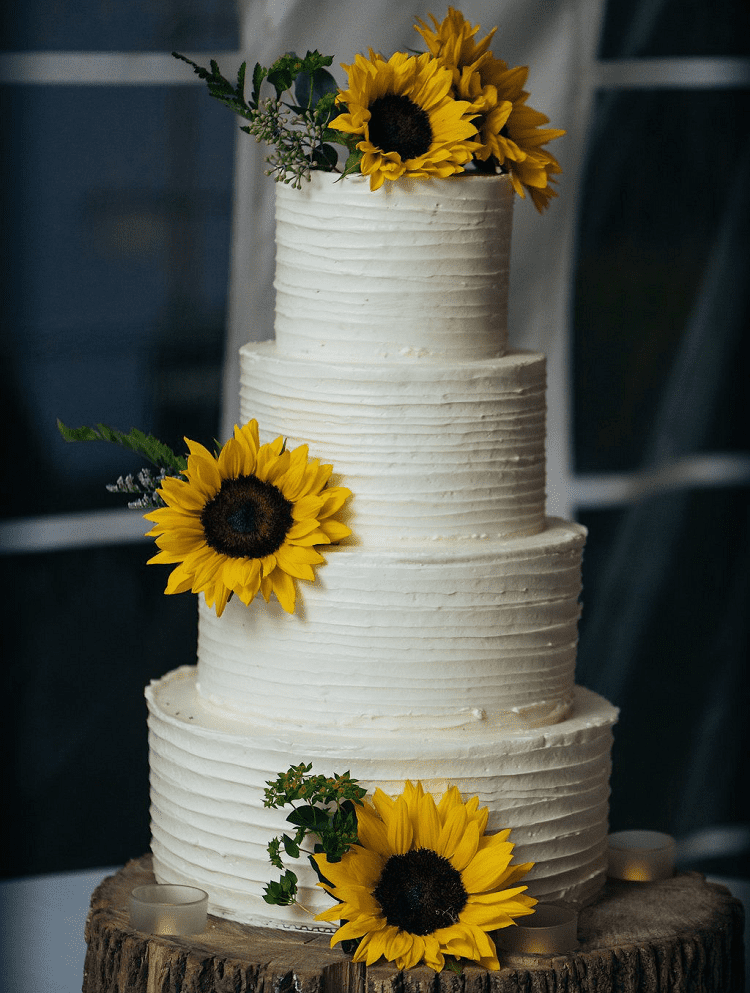 I love that this cake is elegant and pastoral at the same time. There's something inherently rustic about sunflowers, and they add warmth and charm to this simple textured wedding cake. I think this cake is stunning in its simplicity. 
Modern Sunflower Wedding Cake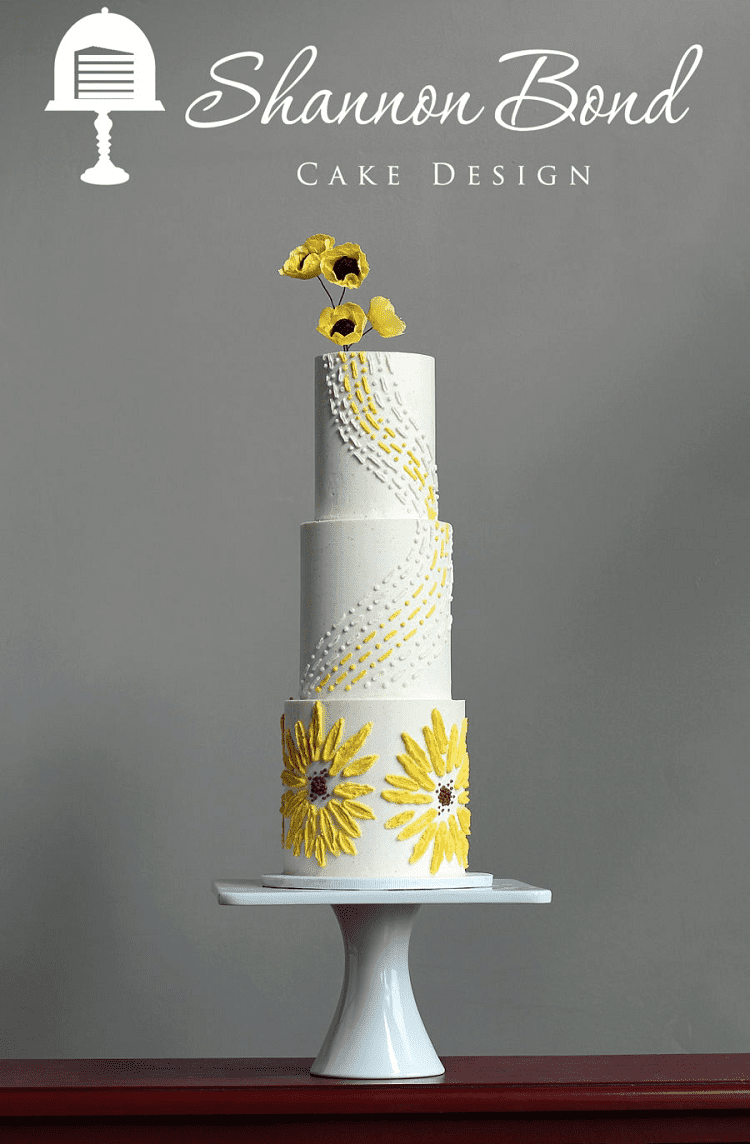 This is a more abstract take on a sunflower wedding cake for all of you chic, modern brides out there. I can just picture this striking cake at a fashionable museum wedding.
I love the texture of the design work against the smooth cake base. It makes the cake feel monolithic. The unconventional but still recognizable sunflower designs are such an interesting touch. 
Sunflower Cascade Wedding Cake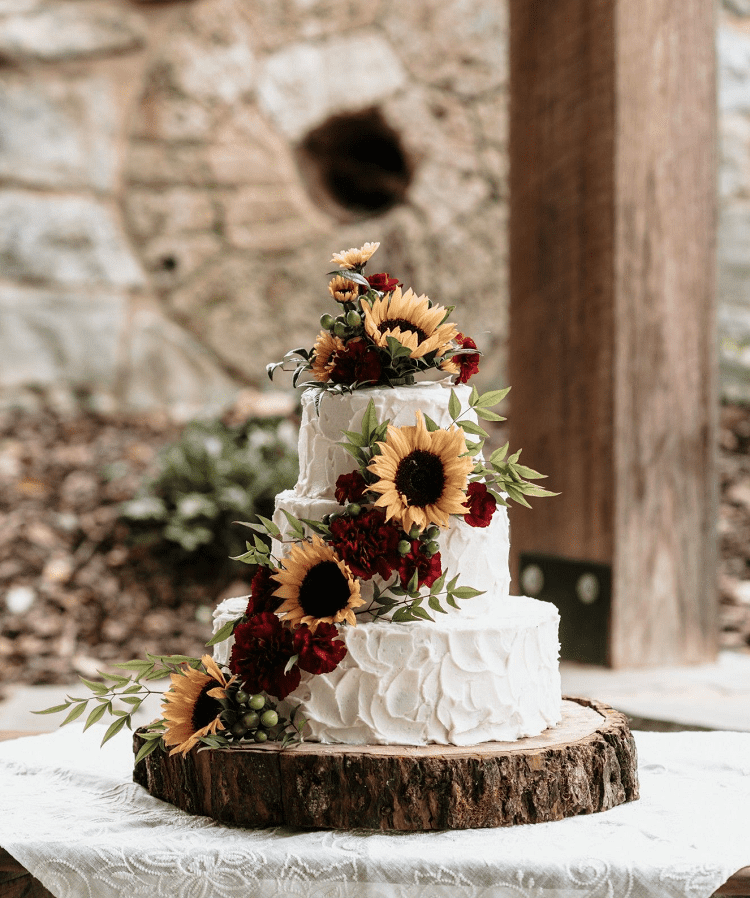 This is the perfect cake for a fall wedding. These colors make gorgeous autumn wedding colors, and the cascade of flowers down the side of this cake is so romantic. If I were going to pick one of these sunflower cakes for my wedding, this would be it. 
Sunflower Cupcakes
Cupcakes are a low-stress way to feed a crowd at a celebration. I had to include some on this list!
Elegant Sunflower Cupcakes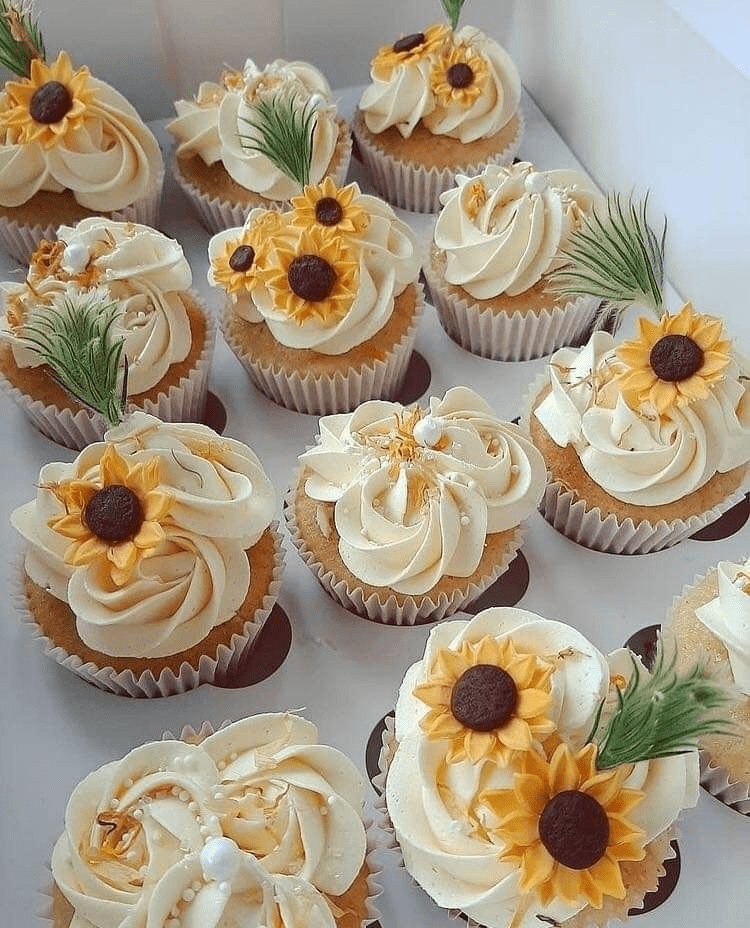 I think these cupcakes would be perfect for a bridal shower or a wedding cupcake tower. These are definitely "grown-up" sunflower cupcakes. Unlike many other cakes and cupcakes on this list, these aren't cutesy or even rustic looking. I like that they're very different from many other designs out there. 
Oreo Sunflower Cupcakes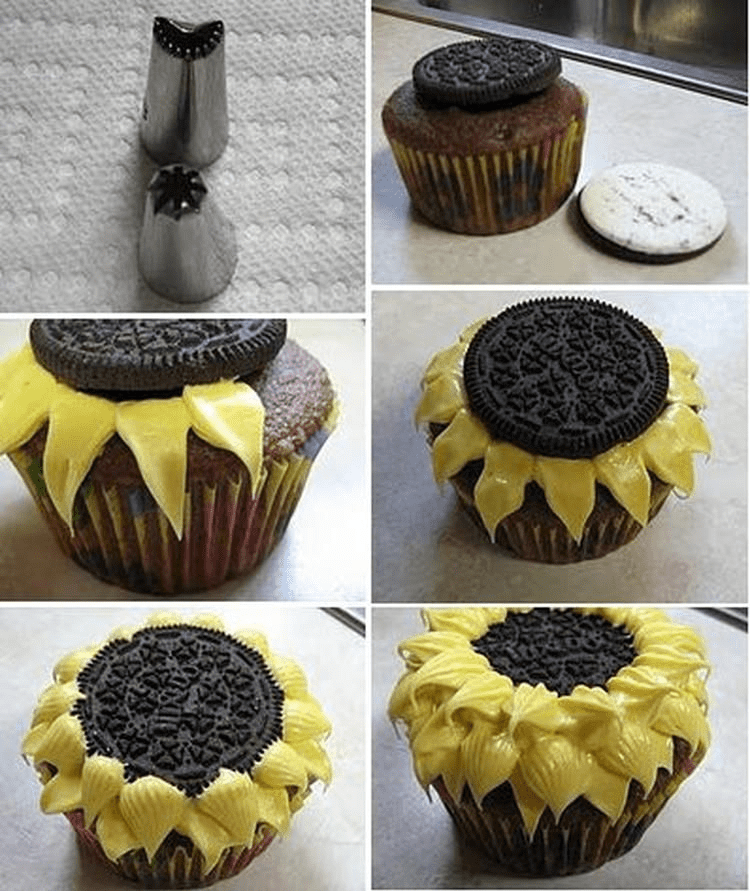 These are the ultimate DIY sunflower cupcakes! This design is so fun and relatively simple to execute. I love these for a shower or birthday party!
For a realistic-looking sunflower on a standard-sized cupcake, make sure you use a mini oreo for the center of the flower or pipe a ring of petals overlapping the edge of a regular oreo to keep the center from looking out of proportion with the rest of the flower. 
Terra Cotta Sunflower Cupcakes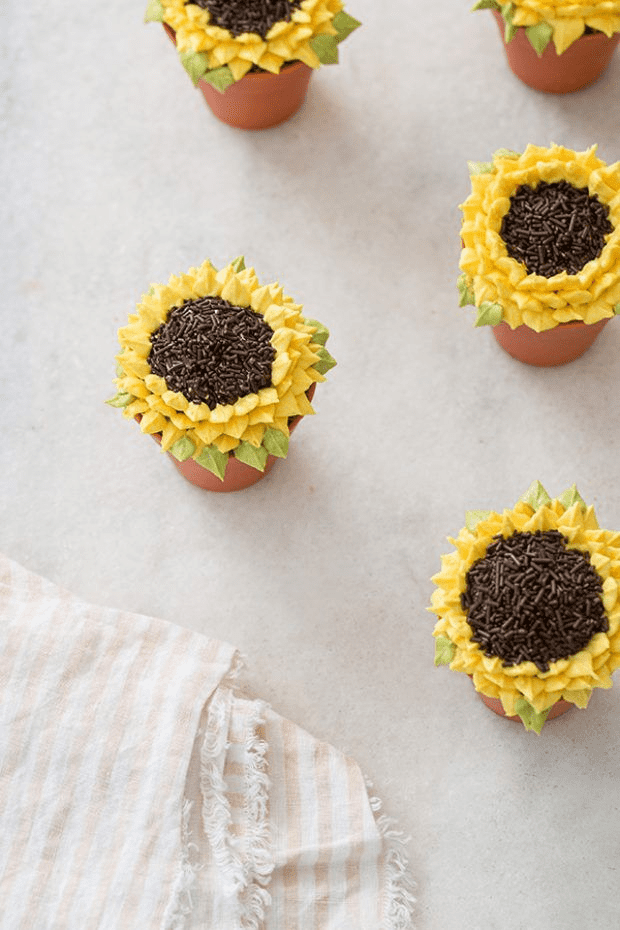 I can't think of a cuter way to present your sunflower cupcakes than in a mini flower pot. The "pots" pictured here are actually silicone baking cups, but anything small and food safe that looks like a flower pot would work (including real terracotta pots!)
Make sure that your cupcake is slightly taller than the pot, otherwise the design won't work. 
Sunflower Cupcake Tower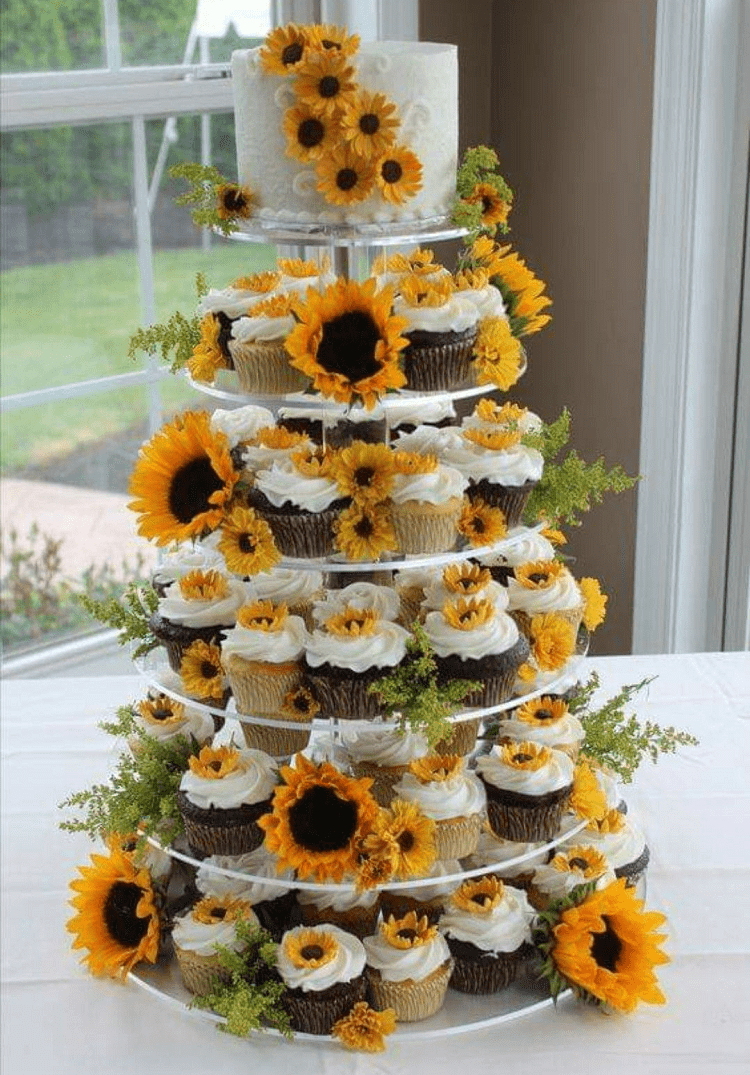 Cupcake towers are a trendy alternative to large tiered cakes for weddings. They're easier to transport and less expensive, and if you'd like, you can provide your guests with a variety of flavors to choose from. This sunflower cupcake tower looks gorgeous and would be pretty simple to DIY. 
FAQs
Question: What Tip do I Use to Pipe a Sunflower?
Answer: A leaf-shaped cake decorating tip is best for piping the petals of a sunflower. What size leaf tip you need will depend on the size of the flower you want to pipe. Star-shaped tips are helpful for the center of the flower. Wilton has instructions for piping a sunflower on their website. 
Question: Can You Put Fresh Sunflowers on a Cake?
Answer: All parts of a sunflower plant are edible, which means you can use fresh sunflowers on your cake! Just make sure that they are clean and haven't been sprayed with any chemicals or pesticides.
Question: How do you Practice Flower Piping?
Answer: You can practice flower piping on a large piece of parchment or wax paper spread on a flat surface like a baking sheet or counter. Practice using one color of frosting, that way you can scrape it off the parchment and save it or put it back in your piping bag to try again. 
Final Thoughts
A sunflower cake is an excellent idea for a summer or fall celebration (or any celebration where you want to pretend that it's summer or fall.) I love them for country weddings and backyard birthday parties.
They're also an excellent choice for both bridal and baby showers. I love all of the cakes on this list, but the Realistic Sunflower Cake is my favorite. It's cheerful and a little wild and works for any occasion. 
Recommended Reads: