Cocomelon has babies and toddlers hooked. It is what parents play for their children's allotted screen time because it's wholesome and educational. And it's Cocomelon to the rescue when parents need to catch a break or when the little ones need some distraction. So, if you're one of these parents, you know that a Cocomelon theme for your baby's birthday makes the most sense. And since every Cocomelon party would need a Cocomelon cake, that means you'd have to go through some Cocomelon cake ideas, too.
To be quite honest, my children didn't grow up watching Cocomelon, but it's because the show didn't come about until a few years later. But the show has gotten so popular among the much younger kids that it's become a household name. It is even the most-viewed YouTube channel and streaming media show in the United States. So I wasn't entirely clueless when a friend asked me to help her plan a Cocomelon party for her baby, Alec, earlier this year.
Looking for great Cocomelon cake ideas for Alec's party was difficult. Sure, there's no shortage of Cocomelon cakes when you search online. But the cakes almost look the same: round with light green frosting and darker green strips, plus Cocomelon's square face in front — or any variation of that. So I thought it was a good chance to compile the less common cake designs.
My Bottom Line Up Front
Among the lovely Cocomelon cake ideas I've come across, my personal fave is this cake decorated in buttercream icing.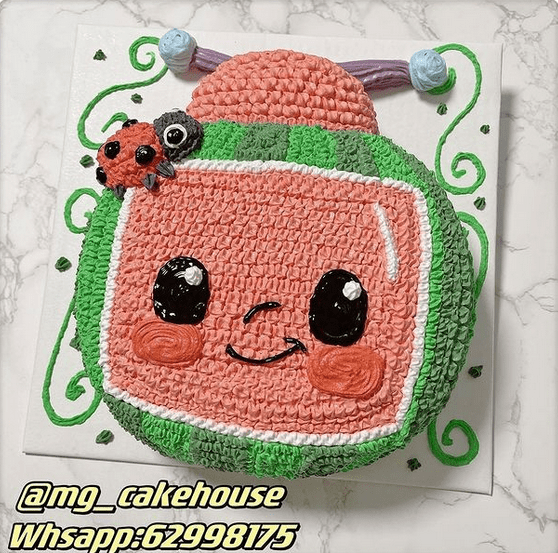 That is mainly because I have a weakness for cakes covered in piped buttercream or sugar icing art. I honestly believe icing tastes way better than fondant. And as long as the decorator has amazing piping skills, old-school buttercream cakes would give fondant and other modern cakes a run for their money. Also, I find icing cakes nostalgic. They take me back to the days of my childhood when celebration cakes were decorated this way.
Selection Criteria for Cocomelon Cake Ideas
I don't exactly follow any "rules" when looking for Cocomelon cake ideas. As with all other cakes, I assess them according to their aesthetic value. However, I do try to avoid those with run-of-the-mill designs, like the one where the entire cake is decorated as Cocomelon.
I also tend to gravitate towards Cocomelon-themed cakes that showcase modern cake styles or decorating trends, as well as those that use colors that are not usually associated with Cocomelon. Cakes that are unique when it comes to their decorative elements get extra points, too.
Moreover, I also look at these cakes and think about whether they're easy for home bakers to make or recreate.
Cocomelon Cake Ideas
#01 Number Cake
Number cakes are always on top of my list of favorite cake trends. They are relatively easy to make and it's also way easier to decorate them. With number cakes, you don't even need a focal point anymore. Plus, you can get creative with the things you use as decorative elements and with how you incorporate the theme.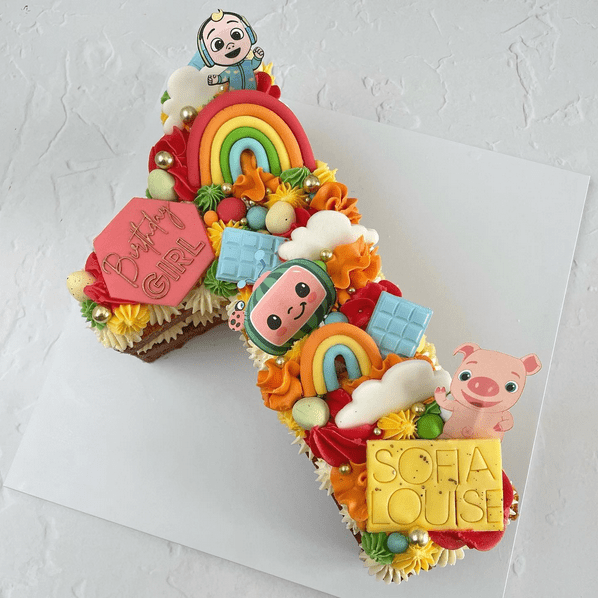 This Cocomelon number cake, for example, has bright-colored buttercream swirls and molded chocolates. There are some fondant rainbows and clouds, gold pearl sprinkles, and printed Cocomelon images.
What I love about this cake is how colorful it is, without going over the top. It's not easy to use many colors and come up with something that doesn't look tacky. However, I'd say this cake is easy to recreate.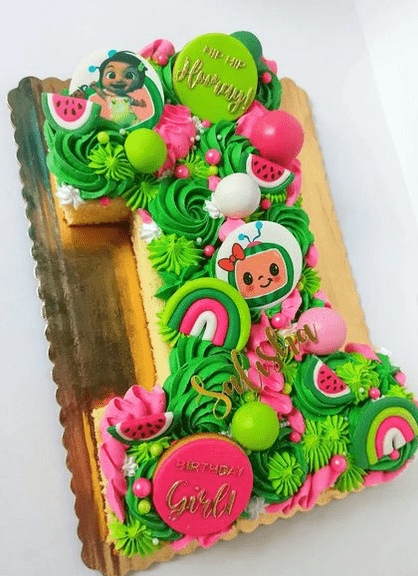 That number cake above uses the watermelon colors of green and pink. It is decorated with buttercream swirls, sprinkles, fondant watermelon slices and rainbows, sugar cookies, and little Cocomelon prints. This cake is something you can do yourself.
This one's a number cake made of chocolate sponge cake, with pastel-colored buttercream swirls on top. It is adorned with little Cocomelon toy figurines and cookies. See, you can definitely use toys for number cakes as long as they're small enough not to overwhelm the entire thing.
Letters are pretty much like number cakes. But to be quite honest, I'd rather use the celebrant's initials rather than their age. Letter cakes are also not as common as number cakes. And, as I've said, it's easy to be creative with this type of cake because you can use little decorative elements and charms, then put them together in a harmonious way.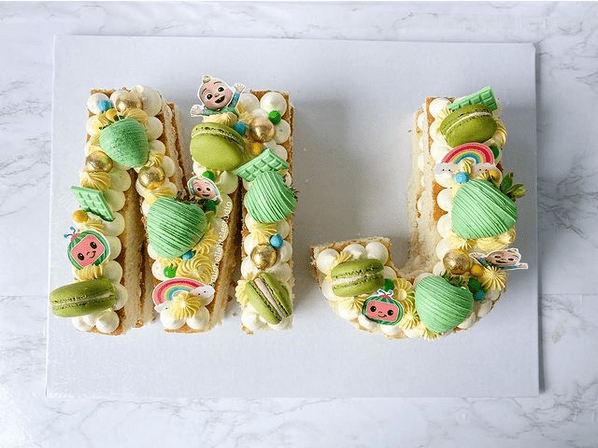 This "MJ" cake is lovely, with its soft green color motif. It has white cream pipings, fresh strawberries covered in green chocolate, green macarons, light yellow buttercream swirls, and green chocolate bars. Add some Cocomelon paper prints to introduce the Cocomelon theme and you'd be good to go.
#03 Fondant Cake with the Gang
Fondant cakes are best when you want to depict scenes and cartoon characters. But only when they are depicted accurately. So, as long as you have a talented fondant artist to make the figures, these cakes will look polished — like they are official merchandise.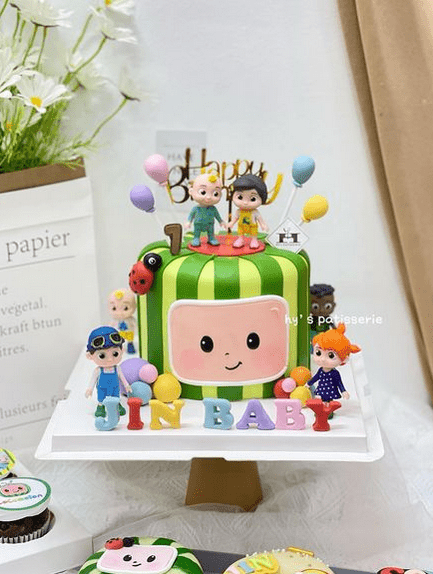 I know I said Cocomelon cakes like this have become cliché, but I'm going to make an exception for this one because it's so well-made and the figures are so accurately colored and sculpted. Needless to say, if you don't have high-level fondant or gumpaste sculpting skills, or don't know anyone who has, go for other Cocomelon cake ideas. You wouldn't want to make characters that look weird.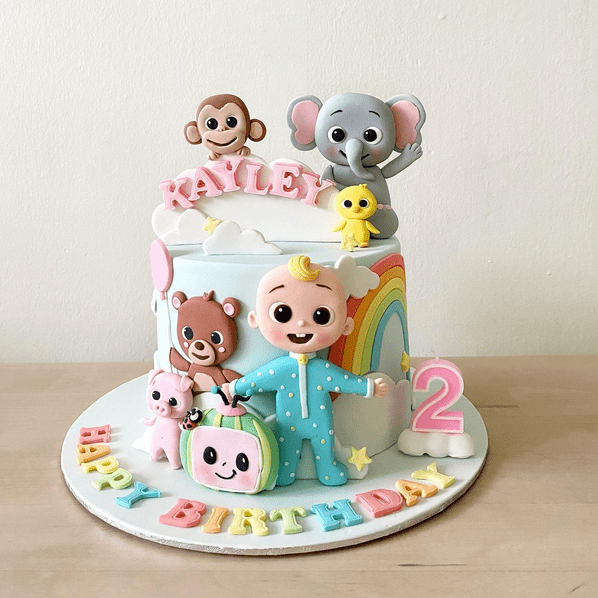 Here's another very well-made fondant Cocomelon cake. The colors are more subdued, but the characters were done accurately. None of them look creepy.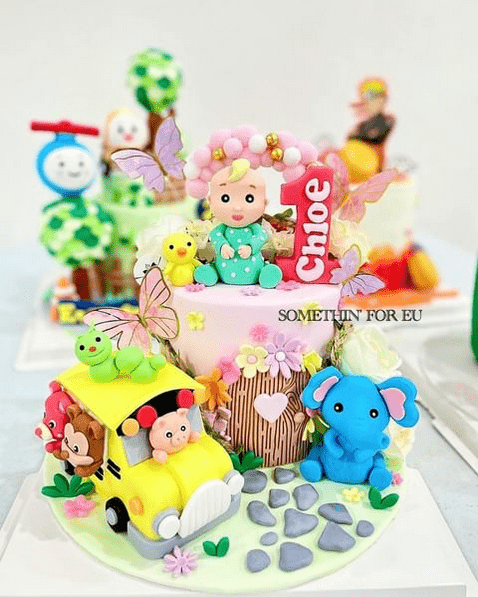 And here's another fondant cake that's very cute and colorful. And for a change, Cocomelon isn't there. The paper butterflies, the synthetic flowers, and the fairy house add a whimsical touch to it.
#04 Baby JJ Cake
Let's take away the spotlight from the watermelon and let Baby JJ be the star of the cake!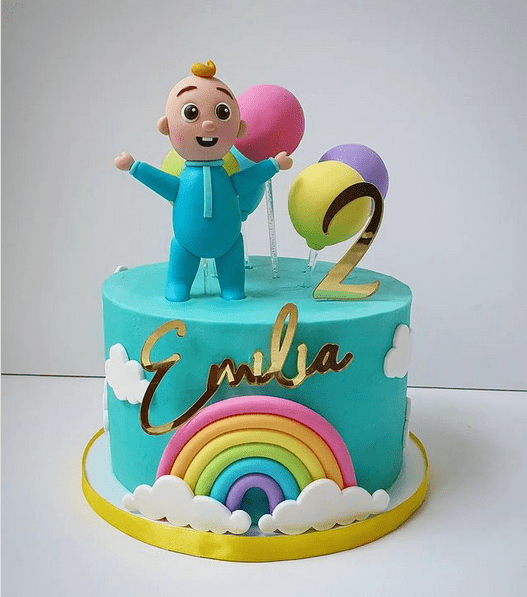 This fondant cake has nothing but JJ and, of course, the trademark Cocomelon rainbow. I love how this cake isn't in the usual bright Cocomelon colors and how, if you take away JJ, it's just going to look like a generic rainbow and balloon cake.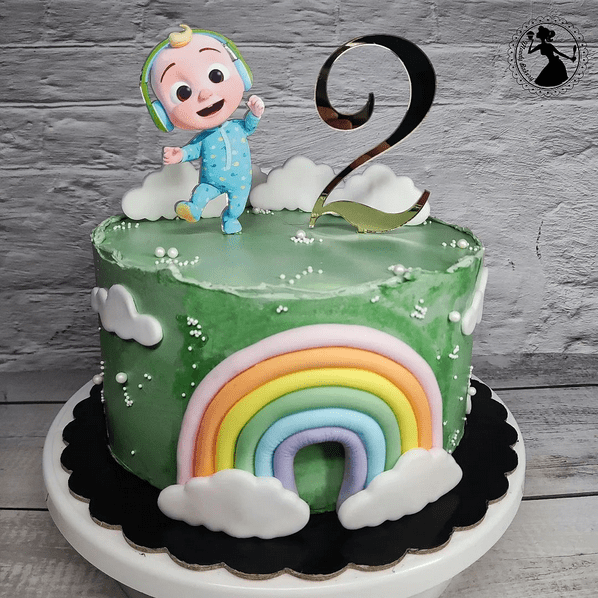 Speaking of JJ and the rainbow, this cake gives you a different take on that. The JJ topper is most probably made of acrylic and the rainbow is made of fondant. But what caught my eye is the buttercream, which is not the Cocomelon shade of green. Now whether that's intentional or not, I think it worked pretty well because that gave the cake a unique touch.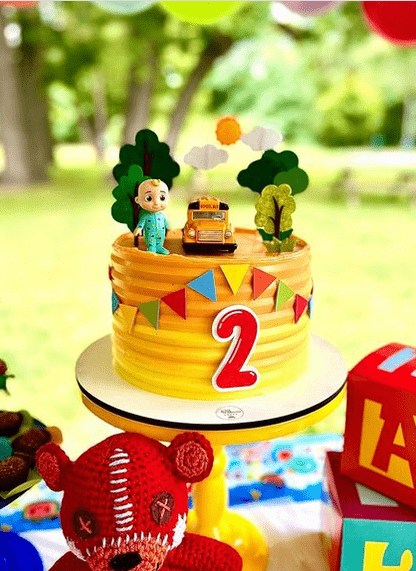 I'm also liking how this yellow buttercream cake only has JJ and the school bus, keeping the Cocomelon elements to a minimum. Both JJ and the bus are toy figurines, which is a practical way to decorate a cake. That also means this cake is very easy for you to recreate. You can get any two Cocomelon toy figurines as cake toppers and make trees, clouds, and sun out of felt cloth. Add paper buntings to the front of the cake, too.
If you think your cake needs a bit more height and your Cocomelon character topper needs a background that provides more headspace, using small-sized real balloons would be the perfect solution.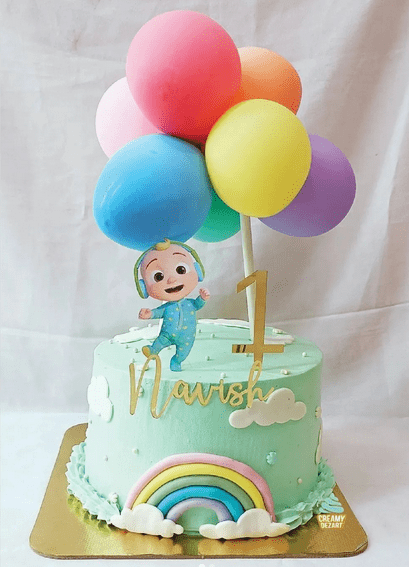 Ok, we've already seen this "JJ + rainbow" concept, but this cake shows us how we can use real balloons as a topper. While the buttercream is in mint green and the rainbow is in pastels, the balloons are in brighter colors — but not too bright to clash against each other.
Do you know what makes a great alternative to the watermelon-shaped cake? A Cocomelon school bus-shaped cake.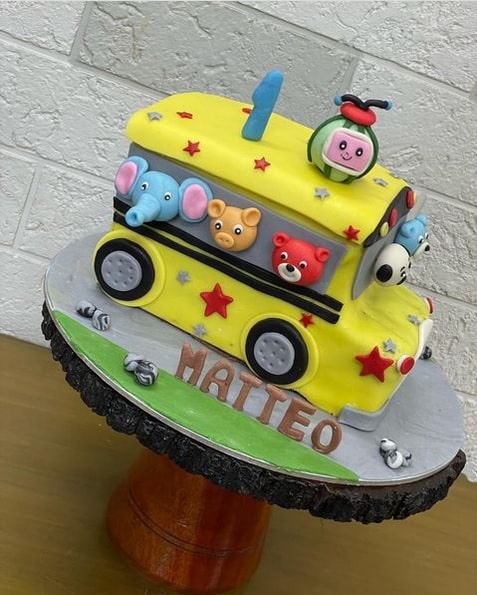 This fondant cake takes the shape of Cocomelon's yellow school bus with the characters looking out the window. I think this cake is kind of unique because I haven't seen any others like it.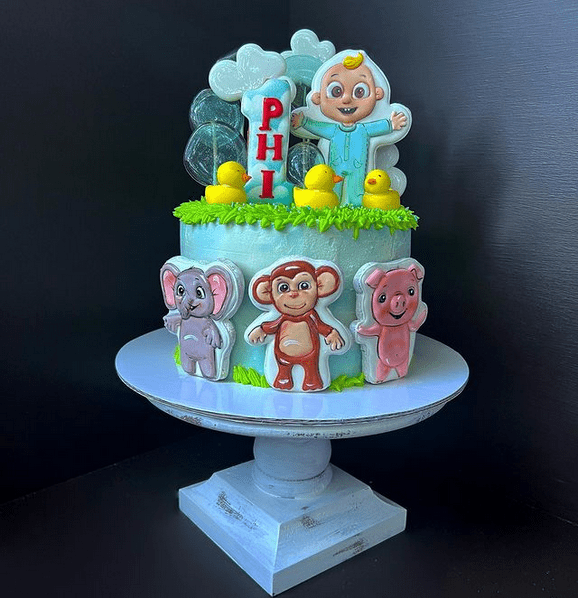 Cookie cakes may look simple: you just get a cake with buttercream frosting and slap on some customized cookies. But it's actually the part where you decorate the cookies with royal icing that's difficult or time-consuming. Especially when we're talking about cookies with very fine details. If your cookie decorating skills are a zero out of ten, you can always order custom cookies from someone who can make them.
#08 Pastel-Colored Cocomelon Cake
Part of what makes Cocomelon a hit with the tots is its use of attractive bright colors. And most Cocomelon cakes do apply these colors. So when I see cakes that use a combination of soft pastel colors, I actually find it refreshing.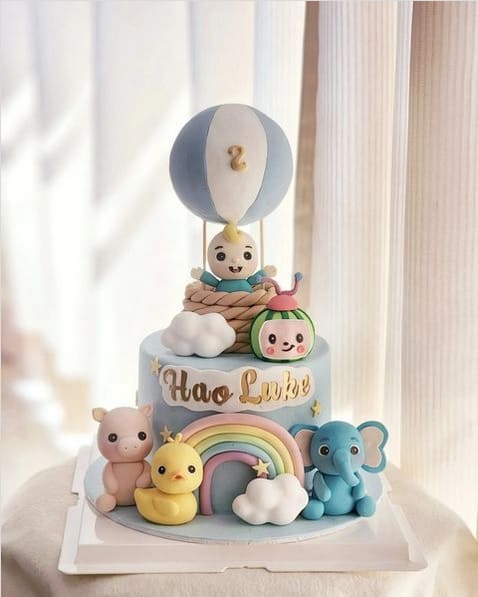 This soft-colored fondant Cocomelon cake is just fit for a baby shower, a christening, or a first birthday. You can recreate this cake if you know your way around fondant or gumpaste. And by that, I mean the ability to accurately make Cocomelon characters.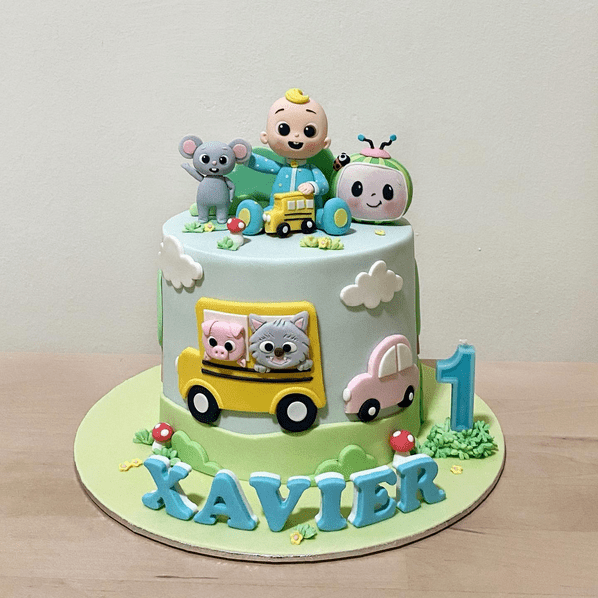 Here's another pastel-colored fondant cake. I like how the cakemaker combined both three-dimensional gumpaste Cocomelon characters, which serve as toppers, and two-dimensional ones placed on the side of the cake.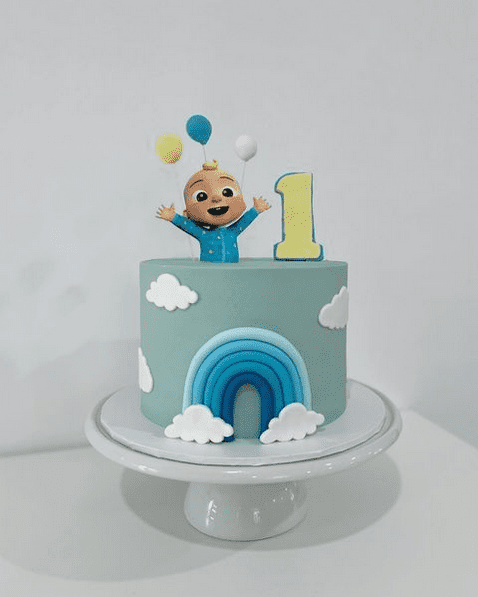 I find this cake lovely because it comes in shades of blue with touches of yellow.
#09 Papercraft Topper
Papercraft toppers are a quick, easy, and practical way to decorate your cake and incorporate the theme into it. I say quick and easy because you can get these toppers from party supply stores, or you can print and make them yourself if you're the crafty kind.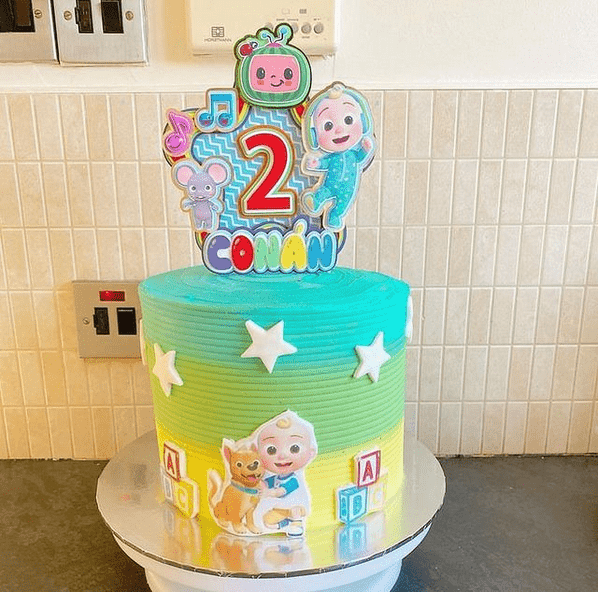 A multi-colored buttercream is all you need here. Stick some sugar stars on the side, and decorate the rest with Cocomelon paper products.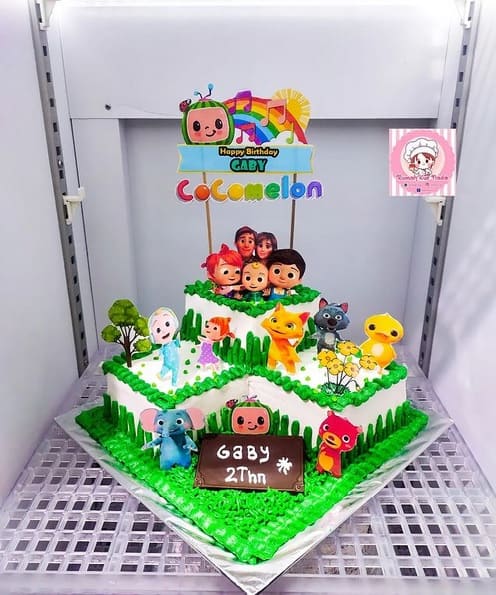 This cake has a not-too-common shape. And since the cakemaker is using Cocomelon paper prints, they decided not to spare anything. I think all of the characters are here. Not to mention a taller Cocomelon sign for the much-needed height.
I've always said that if I were little and somebody asked me what kind of cake I'd like for my birthday, it would be something with toys on top. In fact, I'd prefer toy figurines of my favorite cartoon characters instead of ones made of fondant. I'd be able to play with the toys after the party, which I can't do with gumpaste.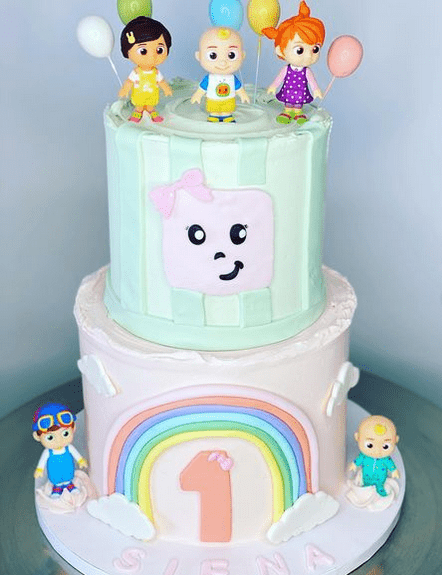 The usual colors we see for Cocomelon cakes are green, white, and sometimes blue. I have noticed that I didn't come across too many pink ones. So I think one way to make your Cocomelon cake stand out is to make it in various shades of pink.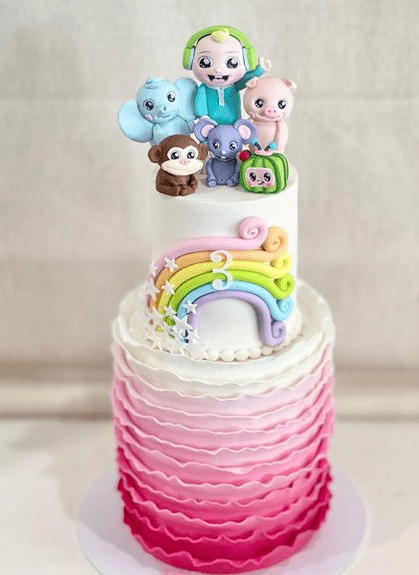 The ruffles on this cake are done in pink, in an ombre effect — which means it starts with white, then baby pink, and eventually in a darker shade of pink. The Cocomelon characters, as well as the rainbow, are all done in gumpaste.
Blue, white, and gold are also not your usual Cocomelon colors. This color combination isn't what you'd expect your Cocomelon cake to be. That's why you go for it!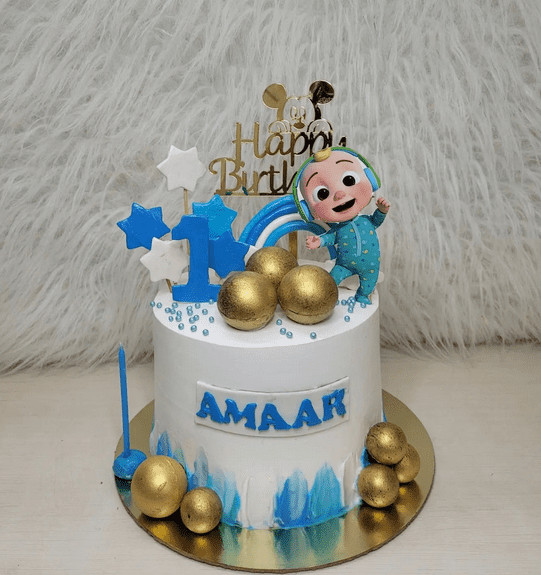 This buttercream cake is in white and is decorated with gold chocolate balls, blue pearl sprinkles, and white and blue rainbow and star toppers. The only clue that it's a Cocomelon cake is the printed picture of JJ on top. Of course, if it were me, I'd take that Mickey Mouse topper to avoid confusion. I honestly don't know why the cakemaker used something with Mickey; it makes me think they ran out of more appropriate toppers.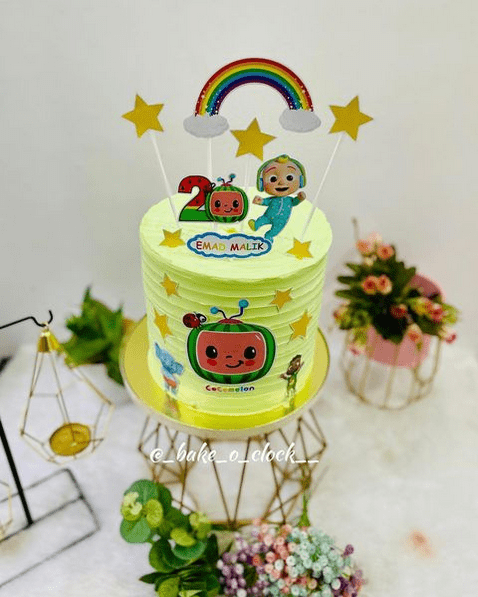 Do you know what other color isn't typical of a Cocomelon cake? Yellow. And yellow is such a lovely hue that reminds me of sunshine and summer. So seeing this yellow buttercream cake with stars all over and with paper Cocomelon elements just makes me smile.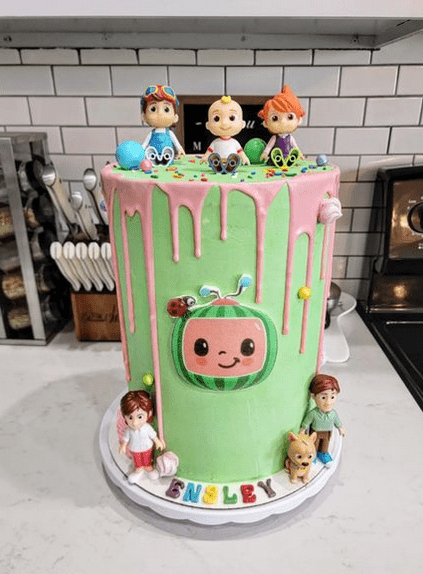 Green and pink together are watermelon colors, so why not use this combo? I'm glad this cake did. It is made of green buttercream, with pink chocolate dripping down the side. Plant in some Cocomelon toy figurines to complete the theme.
Frequently Asked Questions
Question: What makes Cocomelon so popular among little children?
Answer: Cocomelon is popular among babies, toddlers, and preschool-aged kids because of its lively music, bright colors, and rapid transitions. Some have observed that while its graphics are simple, the videos themselves have constant action and are therefore stimulating. Babies love the show because it works with their still-developing line of vision and they are naturally fascinated with flashy visuals and bright colors with great contrast.
Question: How much is a Cocomelon cake?
Answer: It depends. A Cocomelon cake, as with any cake with any theme, will be priced according to its size, its flavor and the ingredients used, the decorative elements, the complexity of the design, and the skills and expertise of the cakemaker. If you want to get the lowest price for a Cocomelon cake, you can make it yourself or get a home baker friend to make it for you. You also don't need to get pricey fondant Cocomelon figures to come up with a beautiful cake.
Question: The advice is to set a budget for a Cocomelon cake. How do I do that?
Answer: You can set a budget for a Cocomelon cake by first gathering a few design ideas. Then call or visit your local bakeshops or cake makers and ask them for quotes. Show them your cake ideas and ask them how much they'd be charging for every idea. By then you'd have an estimate of how much these cakes cost. See which cake fits into your budget or the amount you're willing to spend for it and which cake shop offers you the best value for your money.
Conclusion
Cocomelon is a favorite among babies, toddlers, and preschool kids because of many factors. But among its attractive qualities are its bright and visually stimulating colors. So it would be nice to reflect these colors on your cake. However, if your goal is to have a Cocomelon cake that's more unique and uncommon, you may try other color combinations. What's really most important is for the cake to showcase a Cocomelon element that your little celebrant will be able to recognize instantly.
Recommended Reads: