If you have a kid who loves to play video games, chances are you have heard of Among Us, a space-themed game with cute and colorful cartoon astronauts. That's how I knew about the game, too. Being the party planner in my friend group, I have helped with a couple of Among Us parties for their kids and I can't wait to share some cool Among Us birthday party ideas with you.
My Bottom Line Up Front
When planning parties, I always recommend a secondary theme next to the main one. Having a second theme makes it easier for you to tie things together and make all the party elements look more cohesive. It also gives you a fallback for when you need to plan activities and nothing seems to fit into your main theme.
With that being said, I prefer an Among Us birthday party with a secondary theme. My favorite is an Among Us + Alien party, which is something I have done before. These two themes are not far from each other. The alien sub-theme just blends well with Among Us, yet it can also stand alone in case you run out of activities or decor ideas that fit with the main theme.
My Selection Guide for Among Us Birthday Party Ideas
The term "party ideas" can be very broad because there are so many elements to a party and so many items you'd need to tick off your list. So for this one, I tried to cover as many party elements as I can. I have categorized the Among Us birthday party ideas into five:
Secondary Themes
Party Invites
Games and Activities
Party Favors and Goodie Bags
Decors
As to how I picked my suggestions and product recommendations under each category, I just let my creative eye and my knack for anything DIY guide me. Some are mostly just tips, though.
Among Us Birthday Party Ideas
Cool Secondary Themes for an Among Us Party
Your secondary theme can be more of a color scheme, an activity-centered sub-theme, or anything as long as it doesn't overshadow the Among Us main theme.
Here are some ideas for cool secondary themes:
1. Black & White Among Us Birthday Party
I know Among Us is very colorful, but if you're planning a party for an older kid, perhaps for a teenager, you can go monochromatic. A black and white Among Us party means black and white astronauts, black and white balloons, and black and white everything else.
2. Blue Among Us Birthday Party
Speaking of monochromatic colors for an Among Us party, another good pick would be blue. But hey, just because it's blue doesn't mean you can't add a pop of another color in there. Take this blue Among Us party, for example. While the dominant color is blue, you'd see pops of orange and silver here and there.
3. Among Us + Superhero Party
If you have a kid who loves Among Us, as well as a particular superhero, you can join these two things together as a party theme. How? You can use that superhero's logo on the astronauts' space suits and use that superhero's colors.
Here's an example. This cake gives you an example of how you can do an Among Us + Spiderman party. You can dress your astronauts as Spiderman!
4. Pastel Among Us Party
Does your girl love pastel colors? If she does, give her an Among Us party in shades of baby pink, powder blue, mint green, lavender, lilac, peach, periwinkle and light yellow.
5. Among Us + LEGO Party
Another cool party theme would be a combination of Among Us and LEGO. LEGOs are among children's favorite toys, so if your birthday boy or birthday girl is into their building blocks and Among Us, these two themes are pretty easy to integrate into each other. Think Among Us astronauts built out of Lego blocks, like these:
6. Among Us Unicorn Party
If your little girl is torn between Among Us and unicorns, she doesn't have to pick just one because she can have both! Just take some pink astronauts, put a unicorn horn on their heads, and some rainbow-colored mane or wings.
7. Among Us Pool/Spa/Tepee/Slumber Party
As I've said earlier, your secondary theme can be based on an activity your kids would love to do. It could be an Among Us pool party, an Among Us spa party, or it can also be an Among Us tepee slumber party.
Among Us Party Invites
Birthday party invites are among the first things you need to get out of the way. So once you decide on a theme, a date, and certain other party details, get your invites out the door so your guests can mark their calendars.
If you have an Among Us theme, you can find birthday invitation cards sold by sets in your local party supplies stores. You can also find them online.
This 30-piece invitation card set is available on Amazon: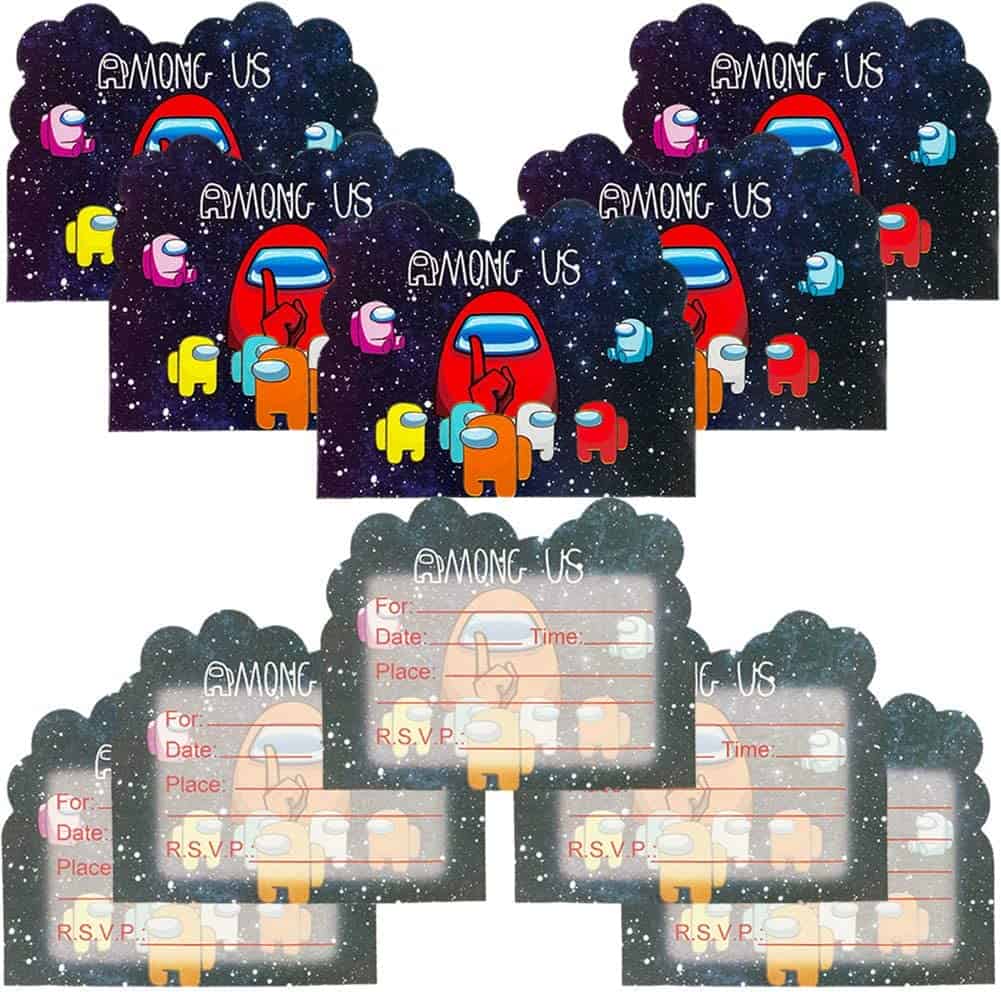 But since most people are already on social media, party invites have actually taken on a digital form. So if you don't know how to do layouts via image or graphic editing software like Photoshop and Canva and don't know anyone who does, you can purchase downloadable invitations online, like on Etsy. These digital invites can be edited and you can easily send them to friends and family on your guest list. You can also print hard copies.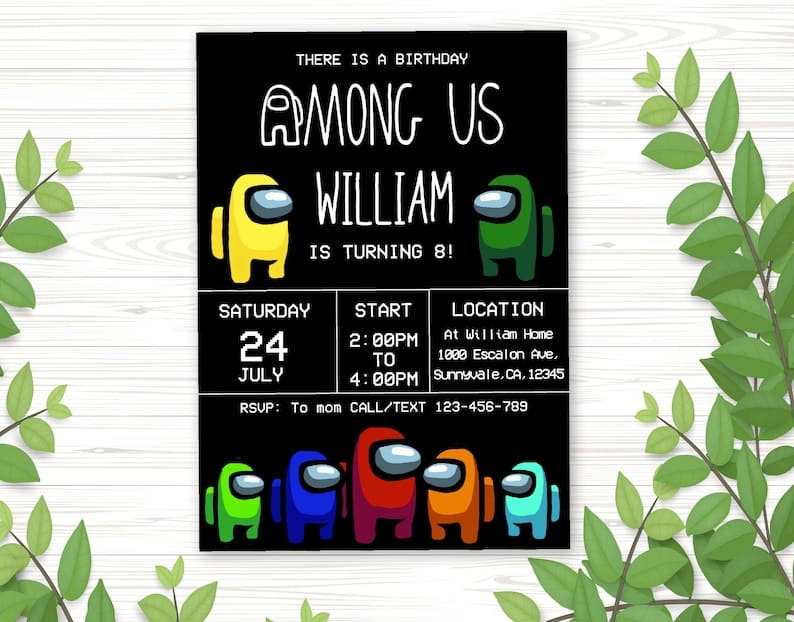 Among Us digital invite from Super Kids Studio.
Of course, if you have a secondary theme and would like that to be reflected on your Among Us party invitations, you would need to customize your design and layout. You would need to pay an artist to do the customized layout if you have to.
Among Us Games and Activities
The aesthetic part of the party is actually the easy part. It's the entertainment that's tricky because you can't always tell how the kids will respond to the games and activities you prepare.
When planning your party activities, you need to consider the following:
The gender and age group of your guests. With young kids, all you need are simple games and activities. Avoid activities that require too much fine motor skills and go for big movements. Of course, it also matters whether your little guests are girls or boys because you can plan different activities for them.
The number of kids who will be there. Having very few guests allows you to plan more intimate activities for your party. For instance, you can have a spa party or a pool party. But with a larger number of kids, you may have to organize group games.
How big or small the venue area is. The kind of activities you can do also depends on much space you have. Do you have enough space for the kids to run around and get messy? Or do you only have enough space for work tables?
Of course, you also need to consider the materials you'd be using for your activities and how available these materials are. You also need to think about how long each activity takes to finish.
Among Us Activity Ideas
1. Decorate Your Own Among Us Cookie
You can bake sugar cookies and prepare piping bags with royal icing in various colors. Have the kids decorate them with astronauts, spaceships, planets, and galaxies. You can make a little contest out of it.
2. Build a LEGO Among Us Scene
You can prepare LEGO blocks and get the kids busy building astronauts and spaceships. This would be a great activity for both young and older kids. It would also be perfect if you have an Among Us LEGO birthday party. You can have the kids work in groups or as individuals, and even hand a prize to the best LEGO work.
3. Dress An Astronaut
If you are looking for a fun Among Us activity for girls, you can do a fashion-related one. Prepare some Among Us astronaut standees made of cardboard and gather a bunch of fashion items and accessories like scarves, hats, feather boas, ribbons, belts, bead necklaces, and even blankets and toilet paper. Let the girls dress the astronauts as stylishly as they can. Most fashionable astronaut wins!
Among Us Party Favors and Goodie Bags
Of course, you'd like to thank your guests for taking the time to come and celebrate with you. There's no better way to express this gratitude than by giving them party favors or goodie bags.
Here are some cool Among Us goodie bags or boxes:
If you want a DIY bag that is very simple and easy to do, here's a tutorial video:
You can also get favor boxes from online suppliers, like Party Bag Co and Paper Dream Creation, which are both on Etsy.
If you don't know what to toss into the favor bags or boxes, you have a universe of options! You can put in customized cookies, custom shirts, activity sets, toy kits, or just candies.
Your little guests would go giddy over these Among Us detachable toy figures from Printed Labs: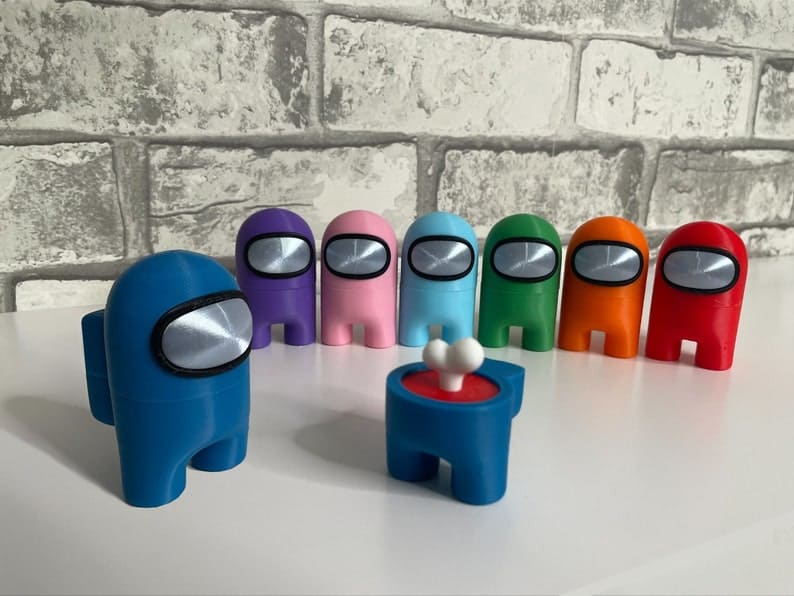 You can also do self-care items and toiletries, like hand sanitizers, face towels, and these Among Us bath bombs from Rusted Acre Soap Co on Etsy: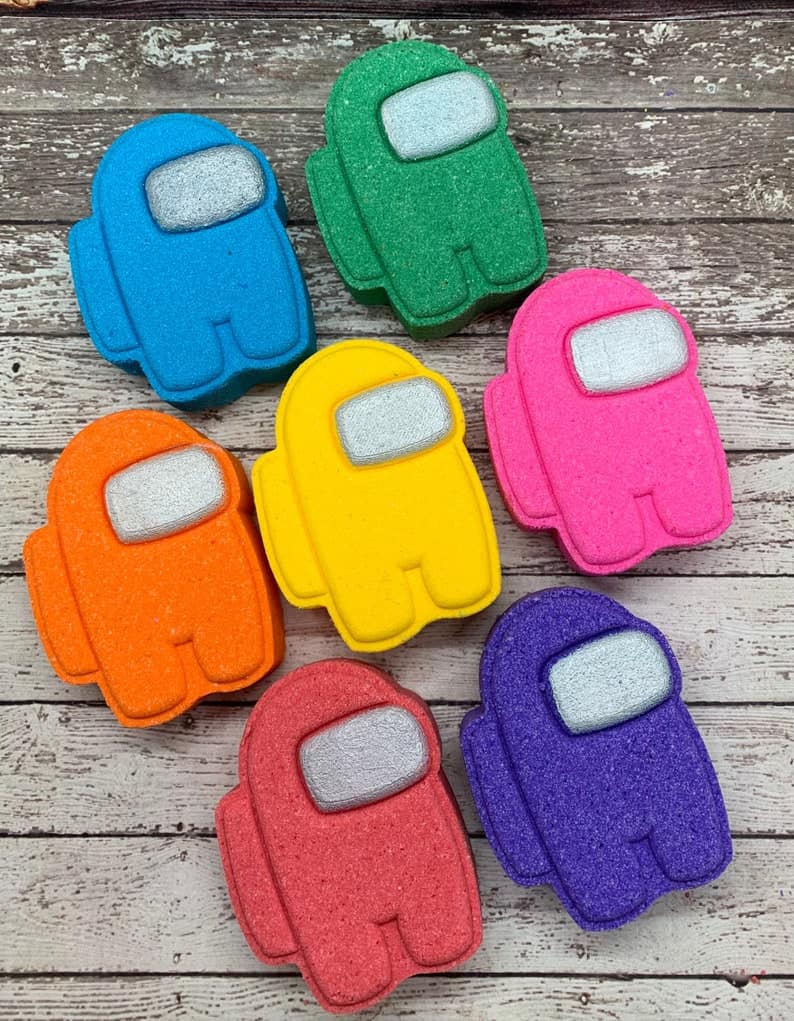 You can also give out small candy boxes, like these:

Among Us Decors
If you're a sucker for DIY decorations like me, then you wouldn't need to hire professional party stylists to make your backdrops, balloon arches, lawn welcome signs, dessert buffet or candy bar, and table setups and centerpieces. Making the decorative elements yourself will help you save money and even recycle some items at home, too. The good thing about doing an Among Us theme is that it's actually easy. The astronauts, for instance, are easy to draw and paint.
Here's a tutorial video on how you can create little astronaut standees for your tables:
And look at these painted Styrofoam decors:
If you have the time and the patience, or if someone in your family does, you can also make your own balloon arch even without the stand. Here's how:
I also love this Among Us Pop It balloon mosaic from Bubaparty: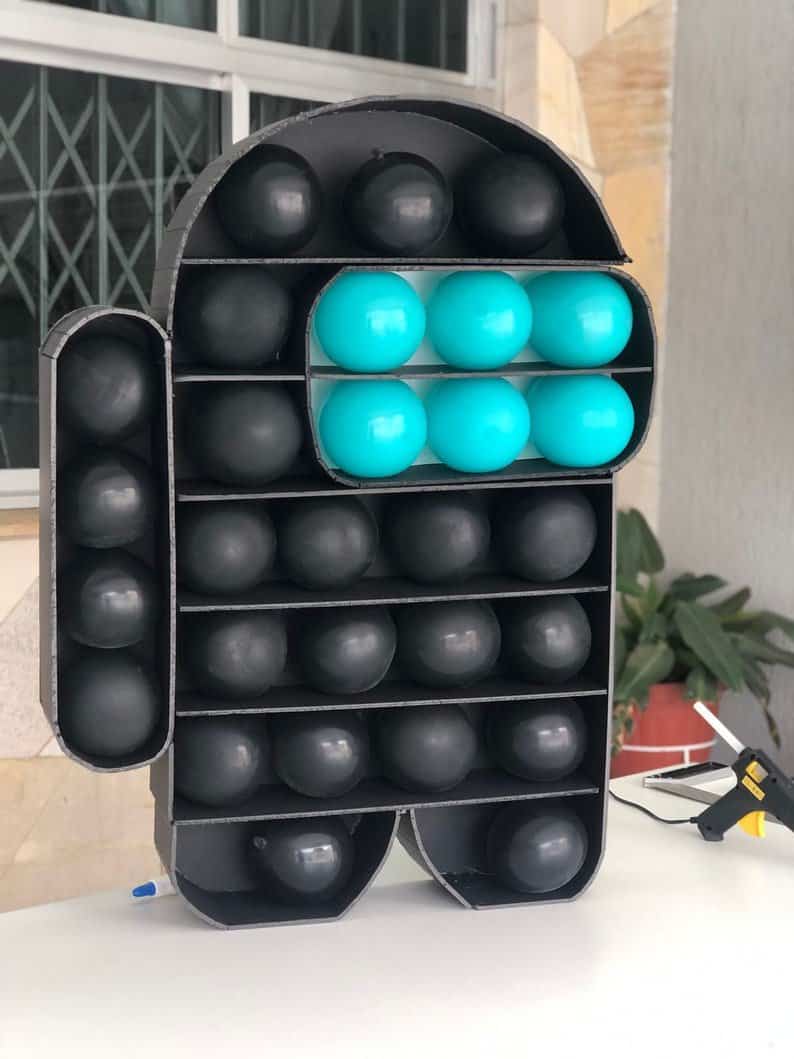 You wouldn't want your dessert table looking plain and uninspired. So put up an Among Us party banner in front of it. Or you can hang the banner on the wall as part of your backdrop. You can make your banner yourself by following this tutorial:
Frequently Asked Questions
Question: Is Among Us just for little kids?
Answer: Among Us is not just for little kids. There are pre-teens, teenagers, and even adults who play this multiplayer game and love it. However, it is really more popular among the kids and the younger set because it is a simple game that involves a lot of interaction with other players. Older players may not find the game challenging or exciting anymore after playing it a few times. As such, those who are new to the game would find themselves interacting with children.
Question: What's so good about Among Us when its graphics are so simple?
Answer: The best thing about Among Us is that it promotes teamwork and communication so that the players could find the Imposter, which is the goal of the game. For the Imposters, there's the thrill of hiding their identity, while for the Crewmates, there's the challenge of clearing their name so that they don't get voted out.
Question: How much budget should I set aside for an Among Us party?
Answer: Your budget for an Among Us party depends on a lot of things. Are we talking about a big party or a small and intimate one? Of course, the bigger the party, the more it will cost you. You also need to decide on the venue, the catering, the cake, the decor, and all party elements. Just know that if you have a limited budget, you can still work around it and you can still come up with something fun and pretty. For example, you can hold the party at home instead of another venue and you can DIY your decorations.
Conclusion
Among Us has grown significantly more popular over the past couple of years, mainly because of the COVID-19 pandemic. The game allowed for online social interactions as social distancing was imposed. So it's no wonder why Among Us also saw a surge in popularity as a party theme. It has become especially attractive to children because of its bright colors.
As I've mentioned above, I recommend an Among Us party with a secondary theme to support it. My personal pick is an Among Us + Alien theme, mainly because they are two very related themes, thanks to the intergalactic setting of Among Us.
Recommended Reads: