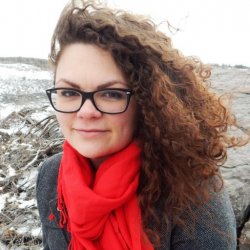 Latest posts by Candace Osmond
(see all)
The Avengers movies may be over, but the fanbase for this juggernaut of a franchise is still going strong. If your loved one, young or old, is crazy about some of Marvel's most popular heroes, then choosing an Avengers theme for their birthday party is sure to be a hit.
So, I'd like to show off some of the best Avengers cake ideas from around the internet to help you celebrate their special day. Come take a look at this huge assortment of cakes featuring Iron Man, Captain America, Thor, The Incredible Hulk, and more!
Bottom Line Upfront
Oh, man, it's so hard to pick my fav, but with my son's birthday approaching this fall, I better start planning his epic cake. I think I might try this masterpiece Avengers cake and see where the stress takes me. Pray for me.
Top 3 Picks
Before I begin our tour through 29 amazing Avengers cake ideas, let's take a moment to look at the best 3. Whether the Marvel fan you know and love is younger or older, these cake ideas will totally bring a smile to their face. Check these out, because you might find the perfect idea for your loved one right away.
Best Overall: The Avengers: A Masterpiece
Best Avengers Cake for Kids: Marvel and DC Superhero Faces Cupcakes
Best Avengers Cake for Adults: Epic Avengers Cake Idea
Some of the Best Avengers Cake Ideas
I have 29 of the best Avengers cake ideas lined up right here. I think this selection of cakes has something to offer for every Marvel fan, whether they're rooting for the good guys or the villains. But I chose this list based on the overall design, coolness factor, and mixed in some that are easy to do for beginner cake decorators.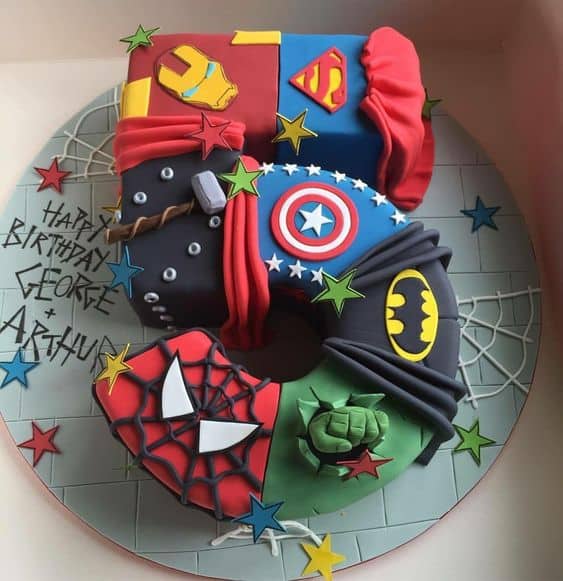 How cute is this? I love that the cake has been layered and cut into the shape of the number 5. You can make this cake idea into any number, so it's customizable for your little Avenger's birthday bash. You'll need lots of different colors of fondant to make this at home, but luckily fondant isn't very expensive. Batman and Superman have a section in this cake, too, so it meshes Marvel with DC together.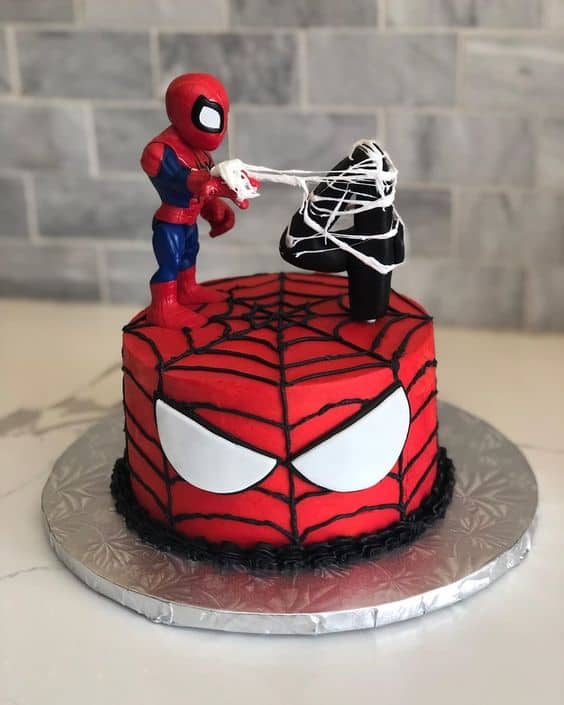 Never fear, Spider-Man is here! This is a perfect cake to make at home by yourself, and here's some good news: you won't have to worry about fondant or modeling chocolate for Peter Parker! The Spider-Man you see on top of the cake is a figurine. I'm a fan of how beginner-friendly this cake is, because most of the details are simple, but when you throw it all together it looks impressive.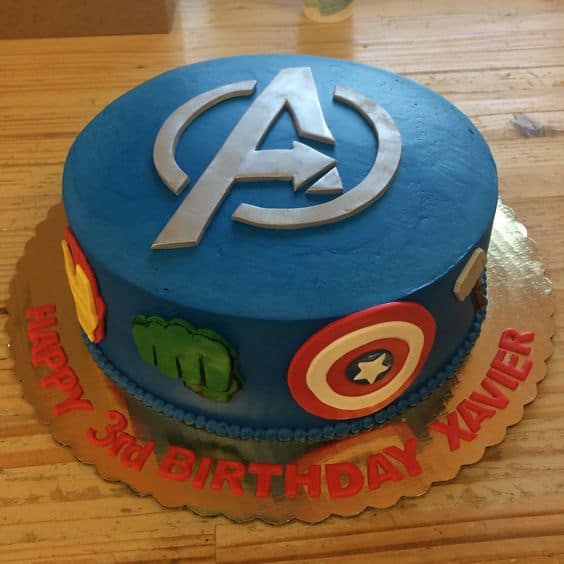 Here is another perfect Avengers cake for you to make at home. The symbols made out of fondant to represent some of the most popular Avengers like Iron Man, Thor, Captain America, and the Hulk are simple shapes. I'm loving the way the Avengers A on top stands out against the blue buttercream frosting.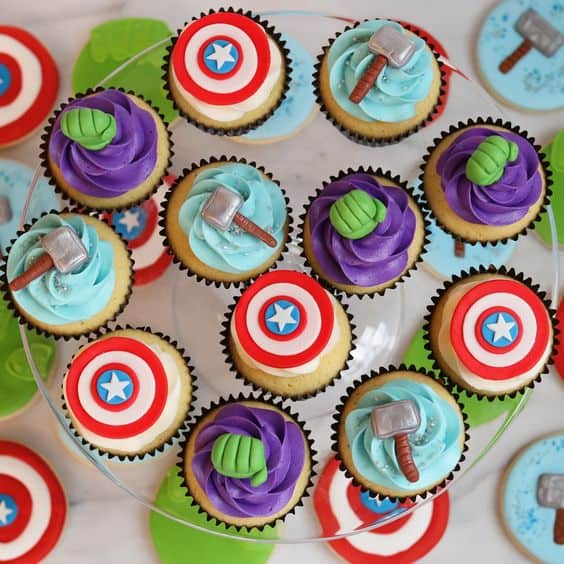 When you've got lots of people to feed at your party, I know I like to turn to cupcakes. With cupcakes, you can make a few different flavors so that everyone's happy. With these cupcakes, I'm such a fan of the bold colors. Using purple frosting against the Hulk's green fist was such a smart idea because it reminds everyone of his vibrant purple shorts.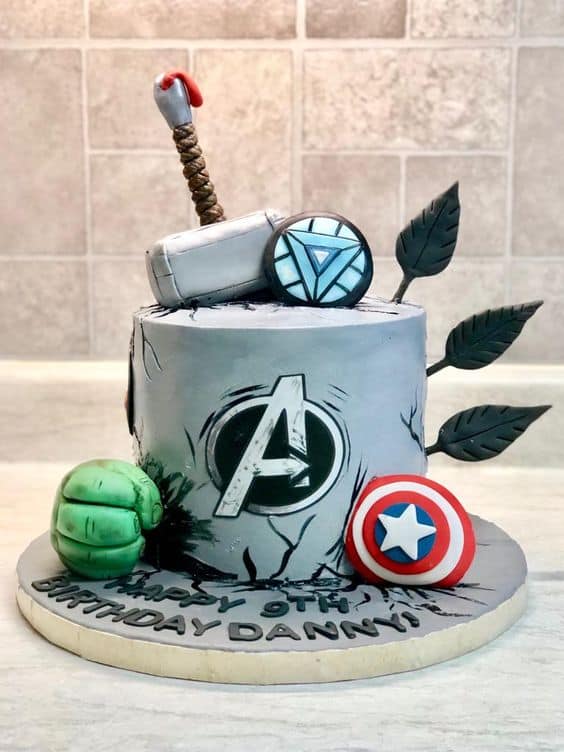 This cake has seen battle! Hawkeye's arrows are piercing the side of the cake, while Thor's hammer crashes down on top of it. Captain America's shield punctures the bottom, and on the opposite side, the Incredible Hulk's fist appears to be smashing through to the outside. What I love about this cake idea is how it captures the essence of the Avengers movies.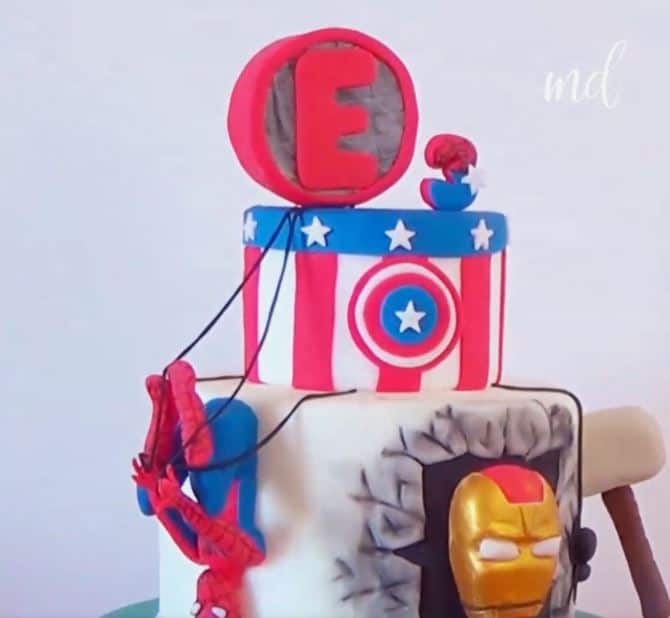 Ever wanted to take on the challenge of making a tiered cake at home? Well, try this idea on for size! I'm a visual learner, so watching along with the video tutorial here is an easy way to learn how to make a killer cake. MetDaan Cakes shows you step-for-step how to carve fondant and make the perfect shapes out of modeling chocolate.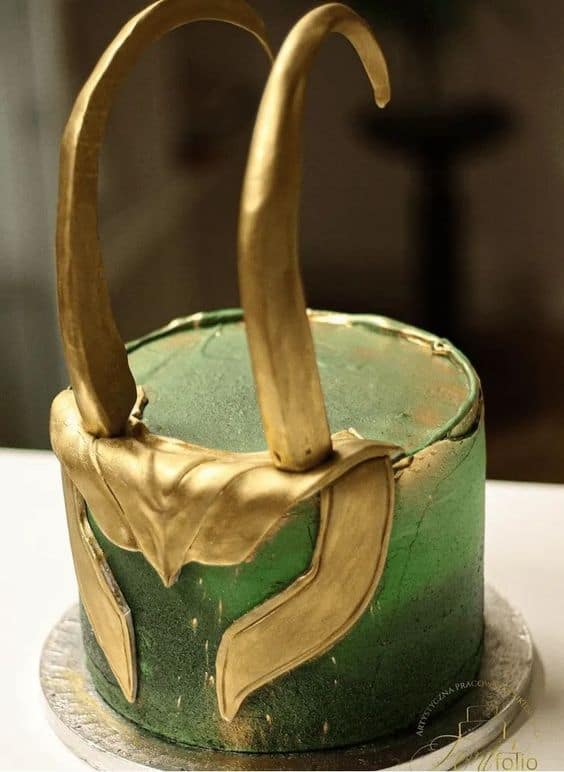 Heroes wouldn't be heroes without villains to beat, right? Speaking of everyone's favorite supervillain…er…non-villain…um…anti-hero? I dunno what to really call him, but this gorgeously airbrushed cake is all about Loki!
The horns of Loki's helmet may look intimidating because they curl so high above the cake, but by wrapping modeling chocolate around flexible wires, you can achieve the same look. As a Loki fan myself, I would be thrilled with how luscious and gold Loki's helmet looks and how the green reminds me of his armor.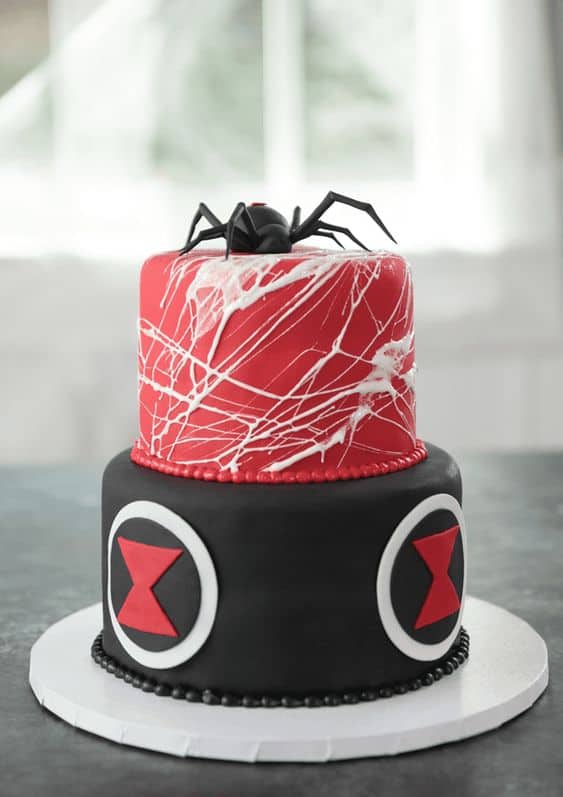 I adore how the spider made from modeling chocolate and fondant on the top of the cake looks realistic yet cute at the same time. Black Widow is a classic Marvel baddie who has a huge following, so if the Marvel fan you know is crazy about her, this is an awesome cake for them. The sticky marshmallow fluff that's been spread over the second tier to look like spider webbing offers a dangerous yet delicious appeal.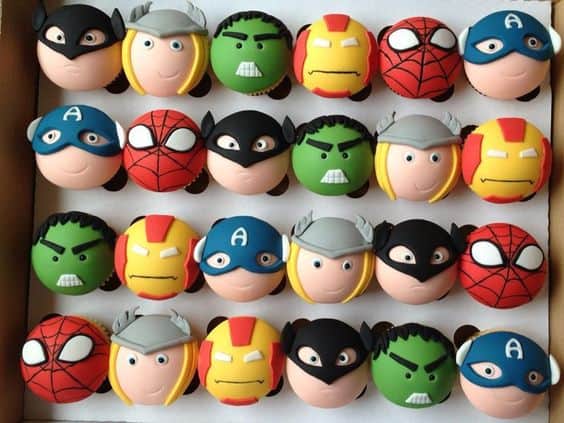 These cupcakes are nothing but cute cute cute! Iron Man, Captain America, Thor, the Incredible Hulk, Spider-Man, and Batman have been transformed into adorable chibi versions of themselves. I know these cupcakes would be a big hit with my nieces and nephews, who would immediately dive into this box for their favorite characters. The fondant is shaped perfectly, which is exactly what you need to keep the cuteness factor turned up.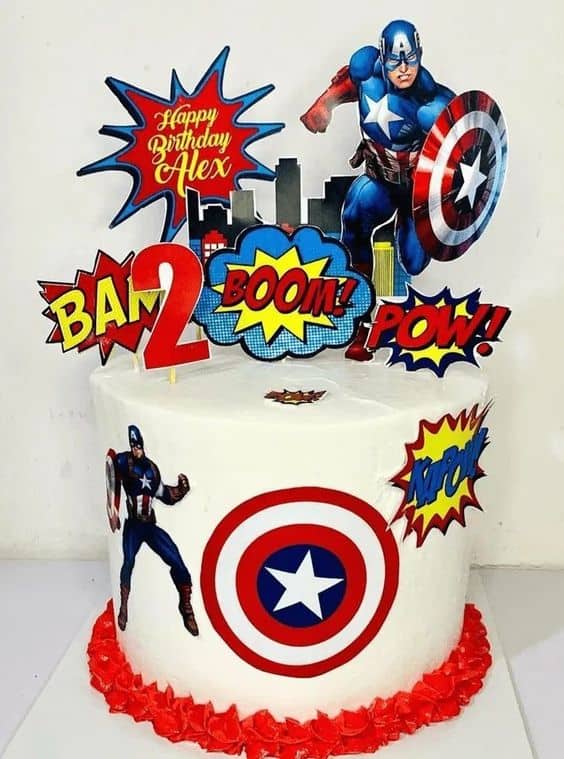 Bam! Boom! Pow! Captain America is racing into action on this birthday cake! Here's the deal: using edible stickers makes decorating a cake so much easier. If you're a beginner cake decorator and you don't want to deal with fondant or modeling chocolate, I highly recommend trying this idea. With some edible stickers, you can simply place them all over a plain white cake to dress it up.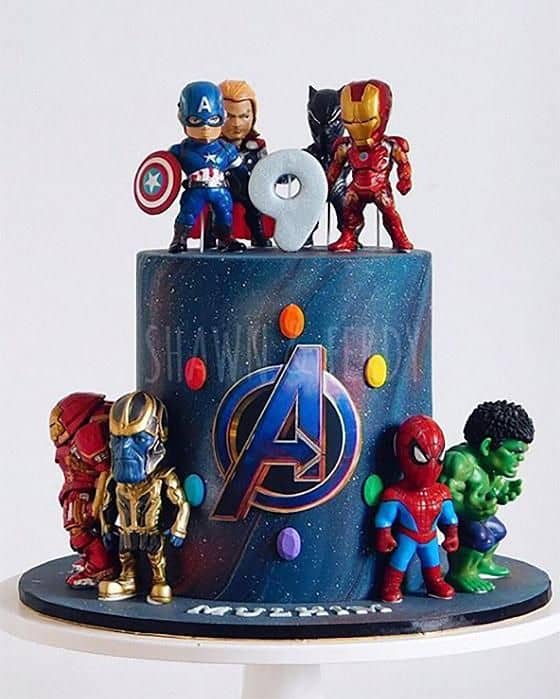 On this cake, the Avengers have assembled once again to defeat the notorious Thanos. Look how gorgeous that galaxy print is! As you know, I love putting action figures on cakes because A) It saves time and B) The characters will always look perfect. Make sure to buy action figures from the same toy line, as you see on this cake, so that they all feature the same art style.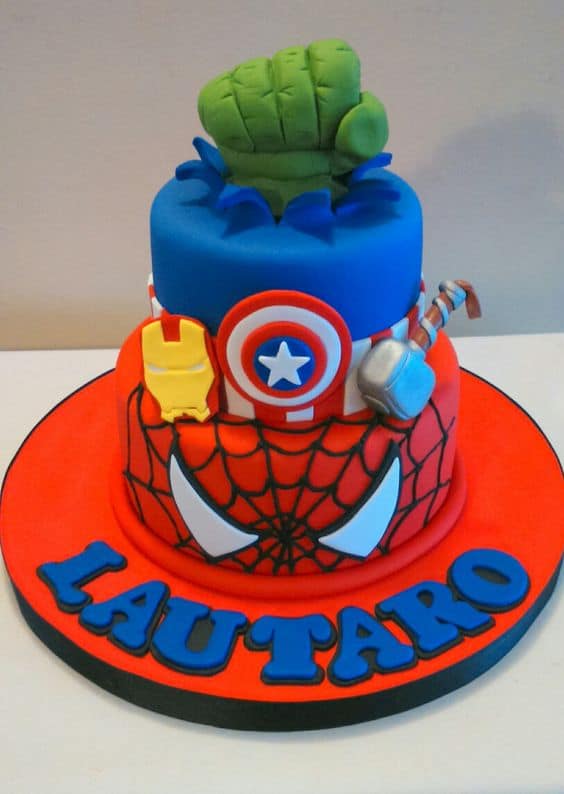 I say it's time to take on a challenge and try making a tiered cake all by yourself. This cake may look a little complicated, but trust me, if you complete this cake step-by-step even beginners can do this one.
The most complicated part of making this cake is shaping Hulk's fist punching out of the top tier, but with a little patience, you can do it, too. I love the little red and white striped layer in the center because it gives the cake some definition.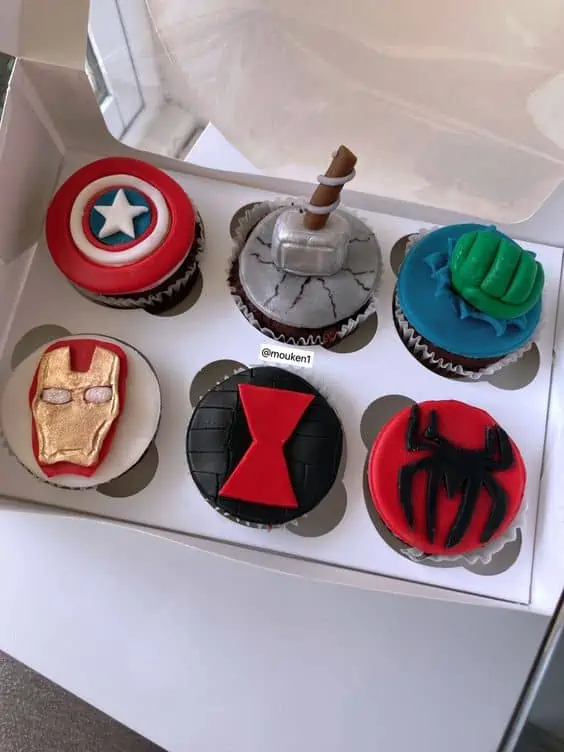 Let them eat cake-or rather, let them eat cupcakes! When there are a ton of mouths to feed at a party, maybe you want to consider making a mass amount of vanilla and chocolate cupcakes. What I love about these is how instantly recognizable each character's symbol is. You'll see Cap's shield, Tony's helmet, Thor's hammer, Bruce's fist, Natasha's hourglass, and Peter's spider. Hey, you could even toss in a bow and some arrows for Hawkeye, too.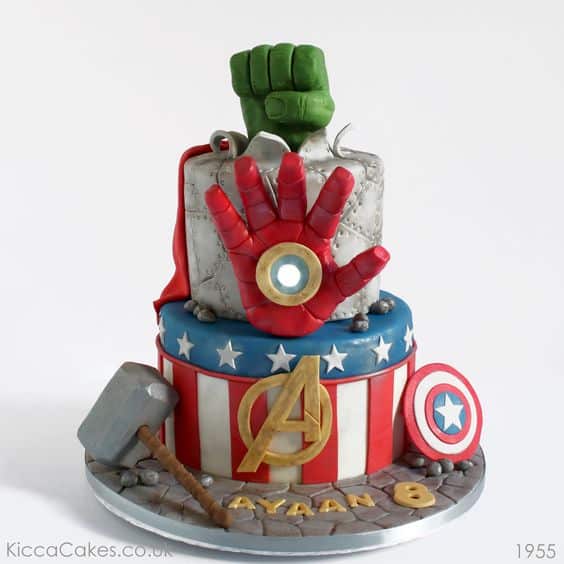 Just looking at this tiered cake makes the Avengers theme song play in my head. I seriously recommend taking this picture to a professional unless you're an expert cake decorator. The details are what makes this cake exceptional-like the way Thor's red cape flows down the side and Iron Man's hand repulsor is lit up with an energy beam. This one is sheer perfection.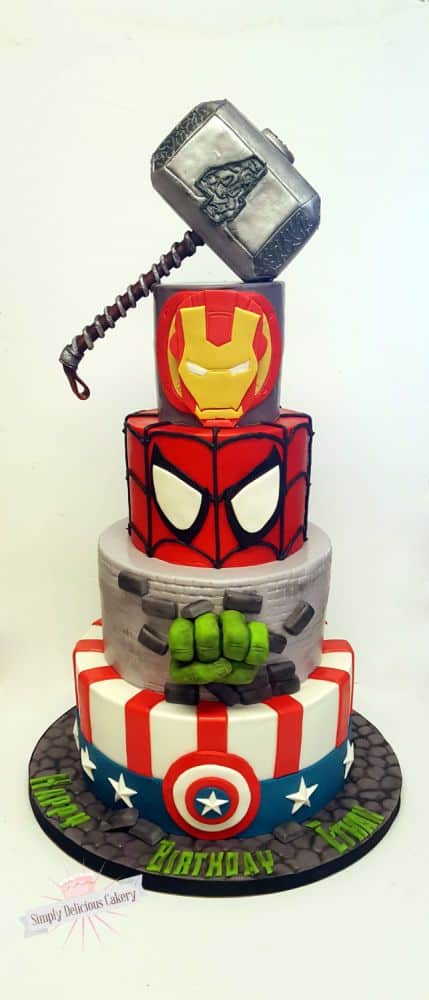 This cake is tiered all the way to the gods in Asgard! There are a whopping 4 tiers in this cake, and each one is pretty hefty. Of course, the real showstopper is Thor's hammer, which is so big it could be its own tier, placed on top of the cake. I think the detailing on the hammer is stunning. You'll find clean, crisp lines all over this edible work of art.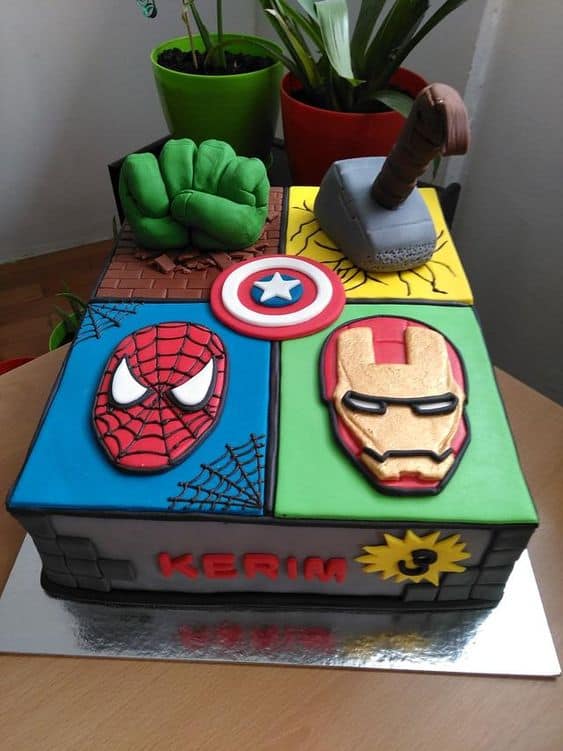 I love how vibrant and colorful this square Avengers cake looks. Instead of using fondant for the tiny details like Spider-Man's webs and the crack marks under Thor's hammer, you'll probably find it's easier to use black gel icing. I'm a huge fan of how each character block is a different color because it makes each character's section of the cake pop.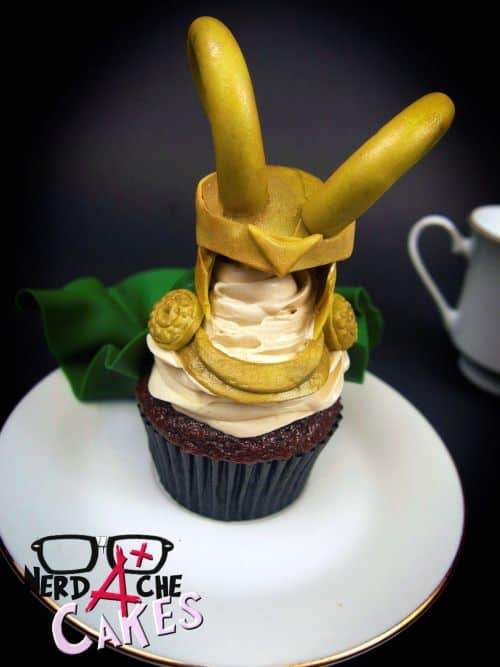 How regal! Loki himself would be impressed with these cupcakes. It must have taken so much time to crinkle that green piece of fondant so that it looks like Loki's flowing cape, but wow was the effect worth it. I think chocolate cupcakes in black wrappers are fitting, too, since large parts of Loki's Asgardian armor are dark.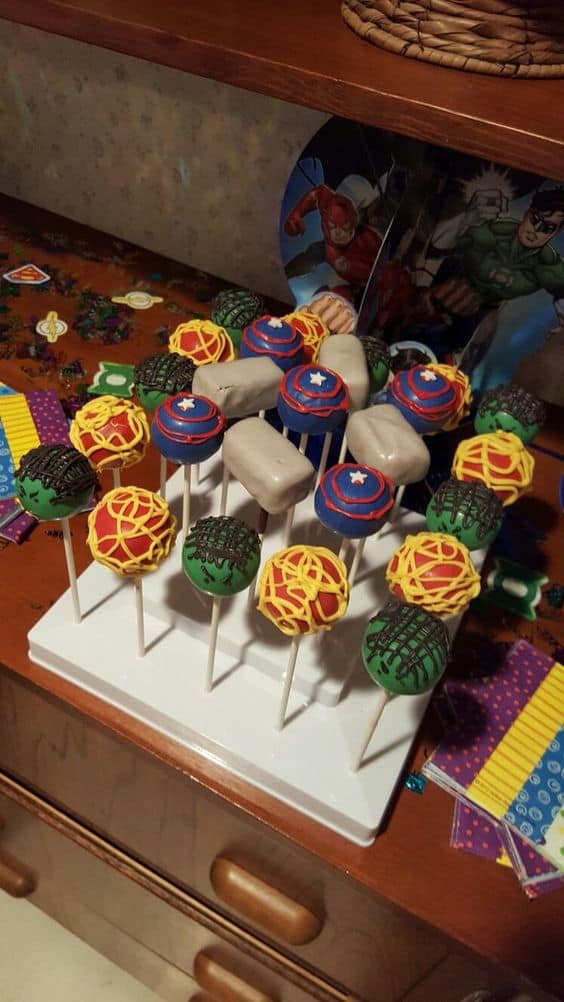 You could make these Avengers cake pops at home in a snap! If you haven't made cake pops before, I recommend baking a cake and then crumbling it up and mixing it with a little icing before forming the mixture into ball shapes. You can also bake cake pops in a cake pop mold, but I don't think they ever turn out as moist.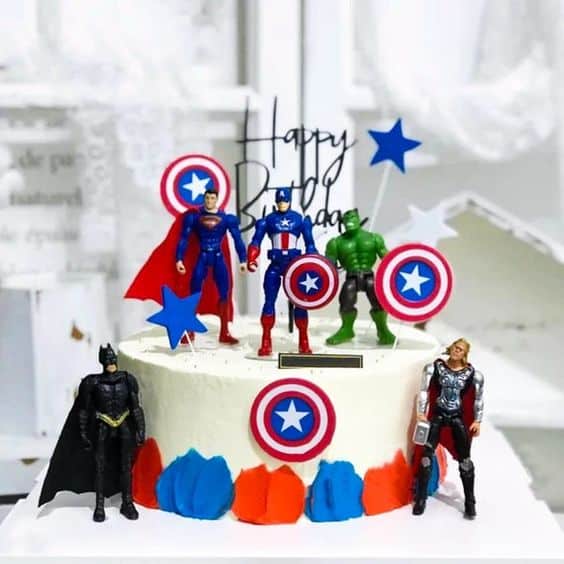 Realistic action figures of the Incredible Hulk, Thor, Captain America, Superman, and Batman decorate this stunning birthday day. Since Captain America is the star of this cake and his action figure is on top and in the center, it's been decorated with red, white, and blue. Depending on your loved one's favorite Avenger, you could match the color scheme to their costume. If your offspring is a fan of the Hulk, replace the red and blue with green and purple.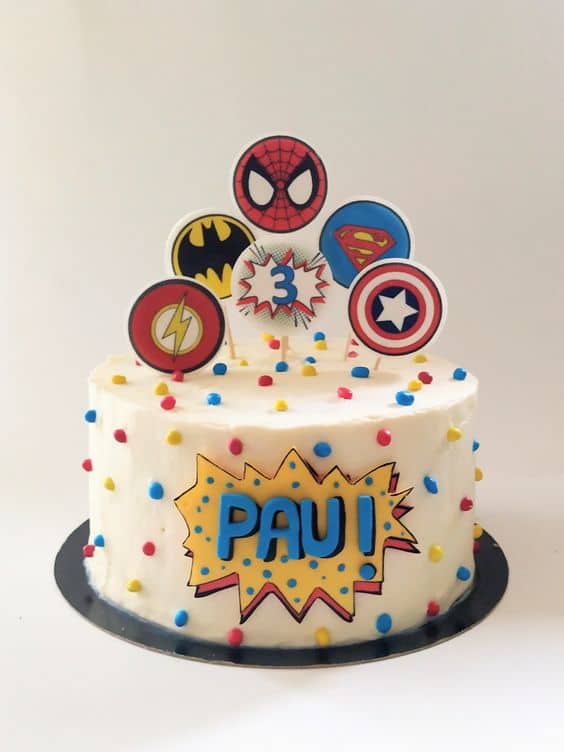 Aww- I think it's so cute that red, blue, and yellow candy dots cover this Avengers cake. Using candy dots gives the cake a comic book, feel-especially when paired with the old-school action bubble placed on the front. I'm also liking that it's very easy to make the decorations on top of the cake. All you'll need to do is attach circular cutouts featuring hero logos to long toothpicks, which you can stick into the cake.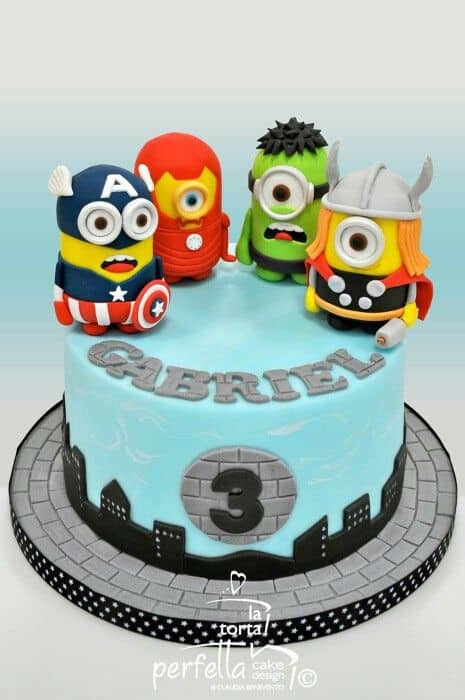 Is the Avenger fan you know also a fan of Minions? Minions have been taking the world by storm for years, and for some reason, it's always hilarious when you combine these little guys with serious characters. I'm laughing at how Tony, Steve, Banner, and Thor have never looked more lost and confused than on this cake as Minions. The cartoonish cityscape helps bring the superhero and Minion theme together, too.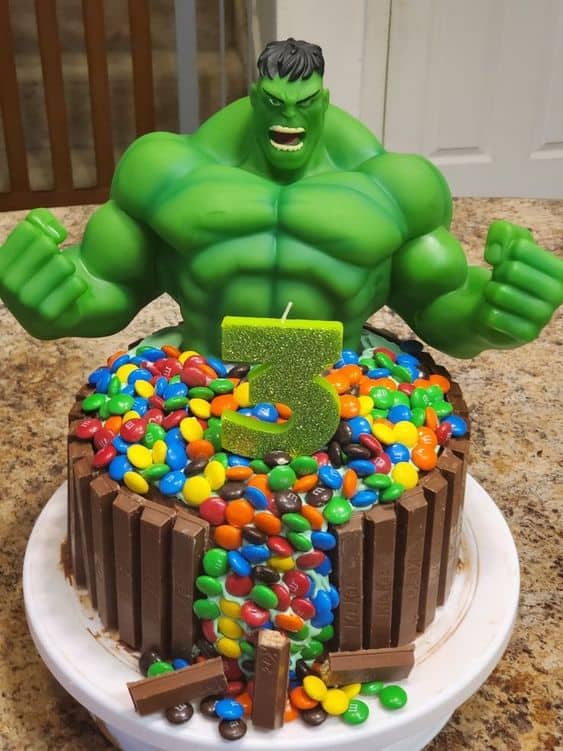 Hulk SMASH! This colorful birthday cake is full of M&Ms held together by a partially-smashed wall made of Kit-Kats. The cake itself is underneath all that candy-coated goodness, while a large figure, the Hulk, raises his fists high above the ensemble. I recommend using a green candle like the one you see in the picture to match Bruce Banner in his Hulk-ed-out form.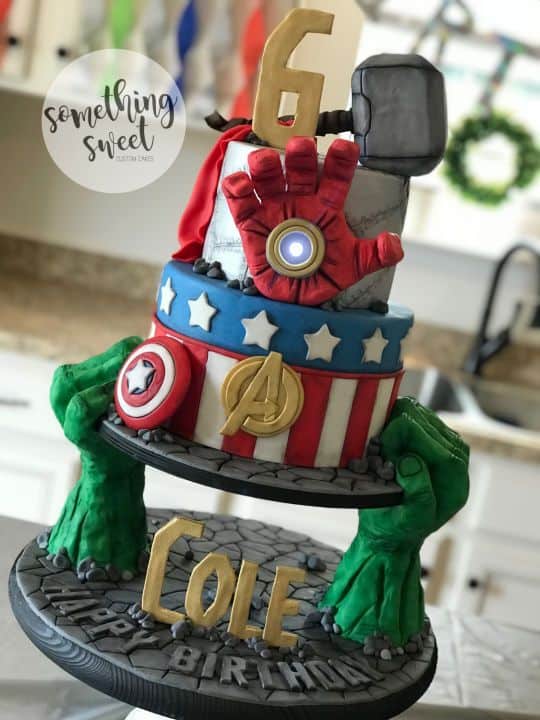 Whoa. This is one of the most epic-themed cakes I've ever seen. If you want to be extra fancy, install a blue-tinted light in the center of Tony's palm, so it looks like a real repulsor beam. I think it's insane how the entire tiered cake is supported by the Incredible Hulk's 2 fists which are plunging out of fondant concrete. Each tier shows off something special about the 4 major Avengers-Tony, Steve, Thor, and Bruce.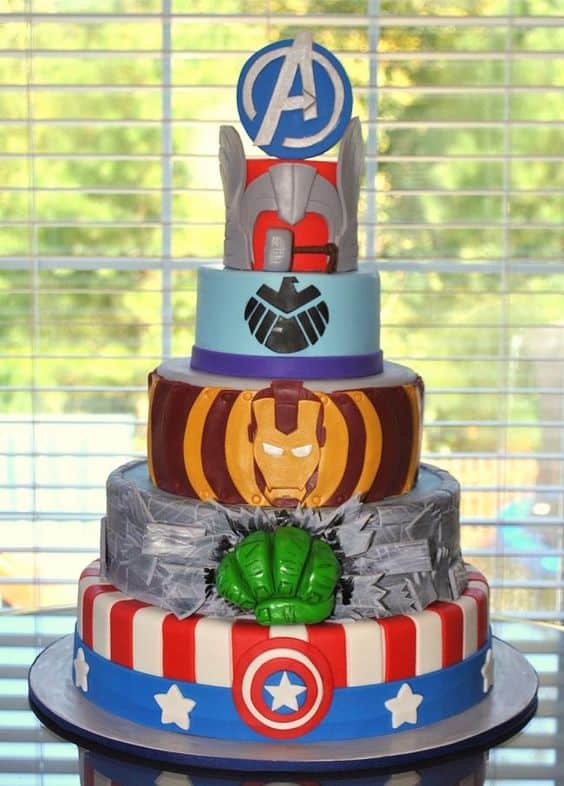 This 5-tiered cake would feed an entire army of Asgardian warriors. I know that you'd need a lot of fondant to make this cake at home, but wouldn't the end result be so worth it? I especially love how clean the red and white stripes in Cap's tier look and how Thor's helmet turned out. The Avengers A on top gives the display a little extra pop.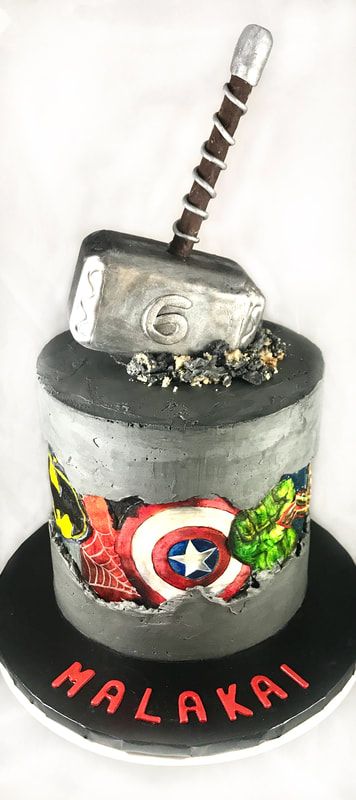 Fans of Thor are going to go crazy for this epic cake! Thor's hammer, Mjolnir, is smashing into the top layer, and only the strongest can lift it from where it sits. It was a unique idea to use mostly gray frosting and then add a wrap-around edible sticker for color. Be sure to use an icing spatula to make a smooth finish!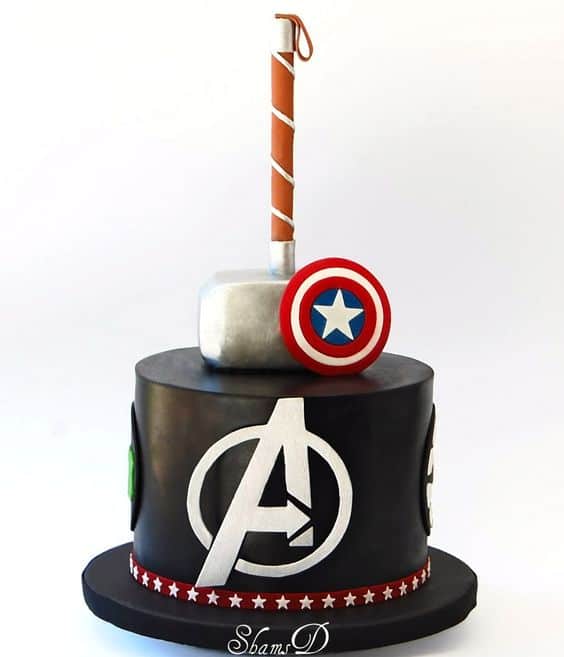 Does your loved one like their cake sweet and simple? This might be the perfect idea for them. A layer of black fondant covers this cake while the front is decorated with the Avengers "A" logo. Thor's hammer and Cap's shield on top are all about clean lines and minimalism. I think this is such a cool idea for older Avengers fans.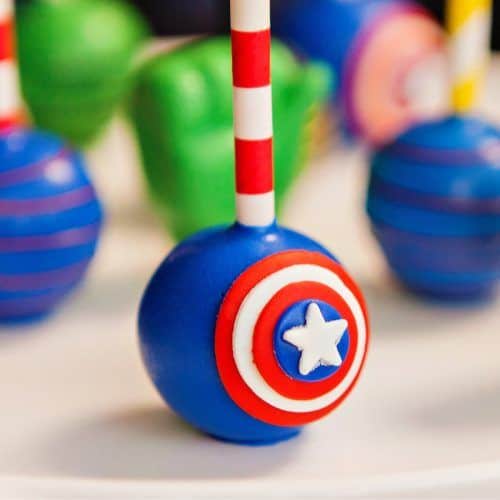 One great thing about Captain America's round shield is that it's the perfect shape for cake pops. This idea makes me want to try whipping up these cake pops at home. To try this out yourself, buy some red and white striped cake pop sticks. Once you have the cake part molded into a ball on the stick, dip them in dyed blue white chocolate. Then, you can stick a fondant shield on each one with a bit of frosting.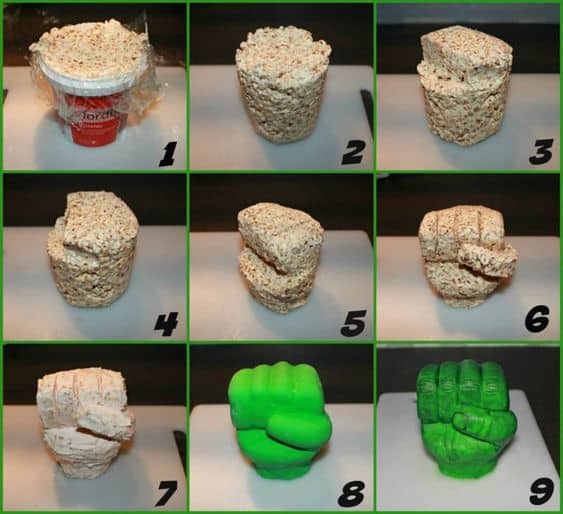 I know what you're thinking: This isn't a cake. You're totally right, but I wanted to include this because so many cakes on this list feature large Hulk hands. By following along with this picture tutorial, you can see how you can mold Hulk fists out of Rice Krispies, ice them, and cover them in fondant.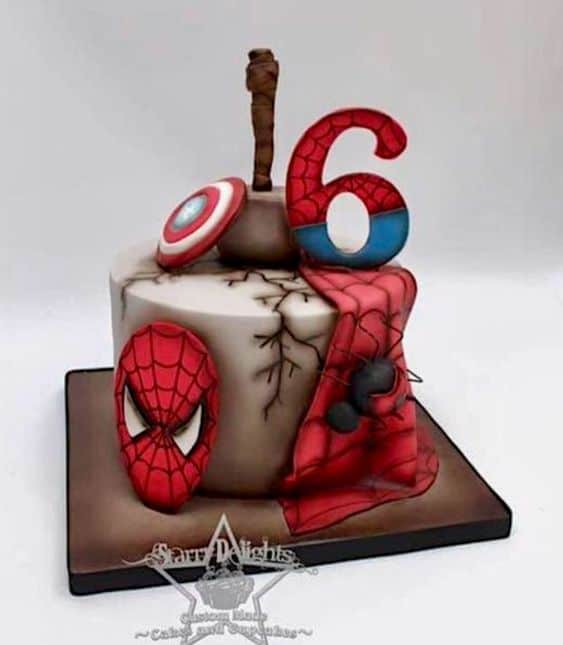 Let's end today's cakewalk with the youngest Avenger in the Marvel Cinematic Universe-Spider-Man. If the birthday person is a fan of Peter Parker and the role he played in the Avengers movies, they'll love this webbed cake. Adding a black widow spider for Natasha that's crawling across Thor's red webbed cake gives everything a Spidey touch.
Main Avengers Characters to Consider for Cakes
Surprised by the number of characters you see here? There are lots of characters that are part of the Avengers in the Marvel Cinematic Universe. Iron Man, Captain America, Thor, Hulk, Black Widow, Hawkeye, and Spider-Man are the most popular, but take a look at this list of characters that are all part of the crew.
Iron Man
Captain America
Thor
The Incredible Hulk
Black Widow
Hawkeye
War Machine
Scarlet Witch
Vison
Falcon
Spider-Man
Captain Marvel
Bucky Barnes
Nebula
Rocket
Okoye
Ant-Man
What to Look for in an Avengers Cake
These are my suggestions for picking out the best Avengers cake idea for your loved one's birthday. Choosing the right characters and style is important, and it can be easy when you keep these few pointers in mind:
Know the birthday person's favorite Avenger character
If you aren't sure, ask if the person likes heroes or villains
Pick out a cake flavor that person is sure to love
Make sure you know of any food allergies beforehand
Decide if you want to make the cake yourself or have a professional do it
Watch tutorial videos online before making the cake if you make it yourself
FAQ
I'm going to end today's article by answering your most frequently asked questions about how to make an exceptional Avengers cake. Don't be intimidated by the technical processes!
Question: Should I Use Fondant or Icing?
Answer: Smoothing down buttercream frosting is typically easier than covering a cake in fondant, so if you're a beginner, you may want to stick to icing for now. Keep in mind, you'll still need icing to make the fondant stick to the cake if you choose to use fondant.
Question: How Do I Get Saturated Colors in Icing?
Answer: First, remember to add coloring to icing in small increments at a time. You might have to mix multiple colors to achieve the look you want. For example, for a saturated light green, you'll need to mix green with yellow. But to get super-saturated colors, use a gel colorant rather than regular food coloring.
Question: How Do I Use Modeling Chocolate?
Answer: Modeling chocolate is a lot like clay. You need to warm it up by working with it first, and then you can shape it. It's basically just like regular modeling clay.
Get Ready for the Big Day, Avengers!
Are you ready for your Avenger's big day? I know they're going to be thrilled once they see the iconic Avengers cake you either made or bought for them. Especially if it's my ambitious pick, the masterpiece Avengers cake.
Let me know which of these Avengers cake ideas was your favorite! Bonus: Tell me who your favorite Avenger is. For even more trendy cake ideas, please come check out our website!
Recommended Reads: