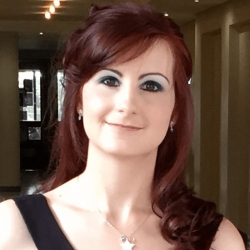 Latest posts by Denine Walters
(see all)
I was put in charge of organizing the mermaid birthday party for my bestie's five-year-old twins (I'm crazy about Ariel and the gang). And I really could have used a mermaid party supplies guide at the time, but down the rabbit hole I went. 
I was given a strict budget to work with (and there wasn't much padding if I'm honest), so I chipped in a bit – after all, they are my God babies, so I gotta spoil them and all that. But the real challenge was knowing exactly what were the best mermaid party supplies for my event and where to get them.
If you are in my shoes and need the best mermaid supplies for your party ASAP, don't worry. I've got a comprehensive guide with everything you need: inspiration and buying-wise!
Psst… if you are here for mermaid baby shower ideas, a tea party, a bridal shower, or a birthday, you are still in the right place! 
My Bottom Line Up Front: The Best Mermaid Party Supplies 
The best mermaid supplies you need for your party are the Mermaid Birthday Party Supplies and Decorations Kit. It's got all the basics at an affordable price and serves 16 guests. 
Additionally, the RUBFAC Mermaid Balloon Garland Kit works perfectly with the theme and has mermaid colors. The mertail arch adds that wow factor your guest of honor and guests will swoon over! 
A Step-by-Step Guide to Mermaid Party Supplies (+ Tips!)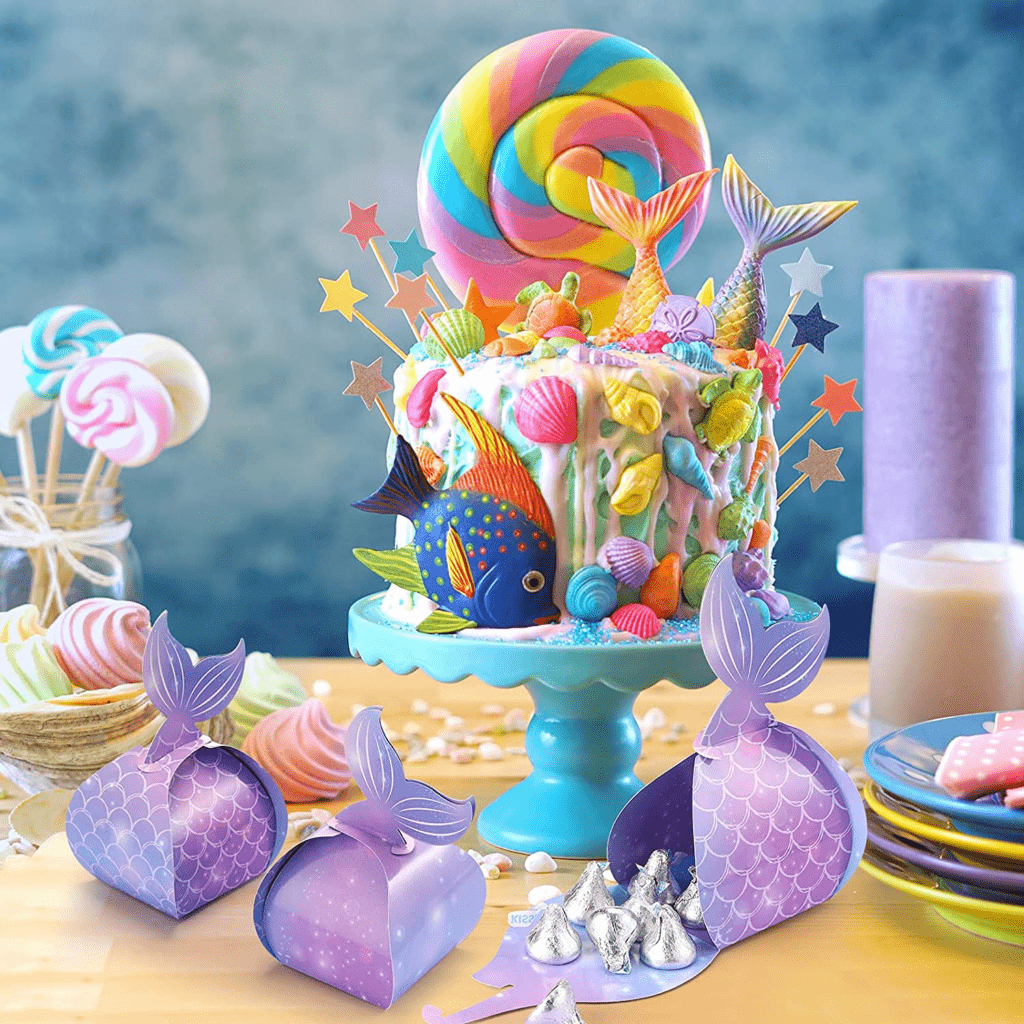 It's hard work to throw a party – a successful one, that is. It requires a lot of brainstorming to ensure the guest of honor and the party guests will have a wonderful time (and that YOUR party will be the one they remember!). 
The party supplies are an essential component of the mermaid-themed party. And don't think that the party starts when the guests arrive. 
Nooo! 
The party starts the minute you start thinking about planning the party. The invitations, the decor, the food and drinks, the music, and the party favors set the tone for your event. 
Here's a step-by-step guide to help you cater to all the mermaid party requirements. 
Step 1: Your Budget for the Mermaid Party 
Throwing a lavish party is fun – if you have an unlimited budget. But even on a strict budget, your party can still be "lavish" – you just need to get creative. 
But every party starts with the budget. You need to know how much you have to spend first. I learned the hard way that there's no use in oohing and aahing over pretty party supplies, only to find out I can only afford a 10th of what I dreamed about. (#talkaboutapartypooper) 
So when you have your figure for party spending, you can plan what you need. 
Pro Tips
Shop around to see what similar (or the same!) items are cheaper. 

Try to buy your mermaid party supplies on Black Friday, Cyber Monday, or when the store has a discount. 

See what you can DIY to save money. Rope in your friends to help you make decor items, food, and the decorations and items for fun activities. 

Itemize the supplies into two categories: nice-to-haves and must-haves. Buy the must-haves first, and if there's money left, see what nice-to-haves are nicer than the others. 

Find the right balance for your party spend. You don't want to splurge on party favors only to find that you have 30% or less left for your decor, entertainment, invitations, and food. 
Step 2: Make a List of the Mermaid Party Supplies You Need 
When you know how much you can spend on the mermaid party, list the necessary supplies. Then, split the list into what you need – functional items to make the party feel like a party – and what you would like to have – supplies that will add that extra pizzazz but aren't a must.
Pro Tips
Create a spreadsheet with five columns. You need a column for the party items, whether it's a must-have or would-like-to-have, the price, where to buy, and notes. 

I use Google to find prices – it's cheaper than driving from store to store and looking like a crazy person with a clipboard and pen running around to see prices. Simply type in the name of your item and cost in Google's search bar or visit online party supply stores. 

Tally up the must-haves versus nice-to-haves, and evaluate your budget. 
A List of Mermaid Party Supplies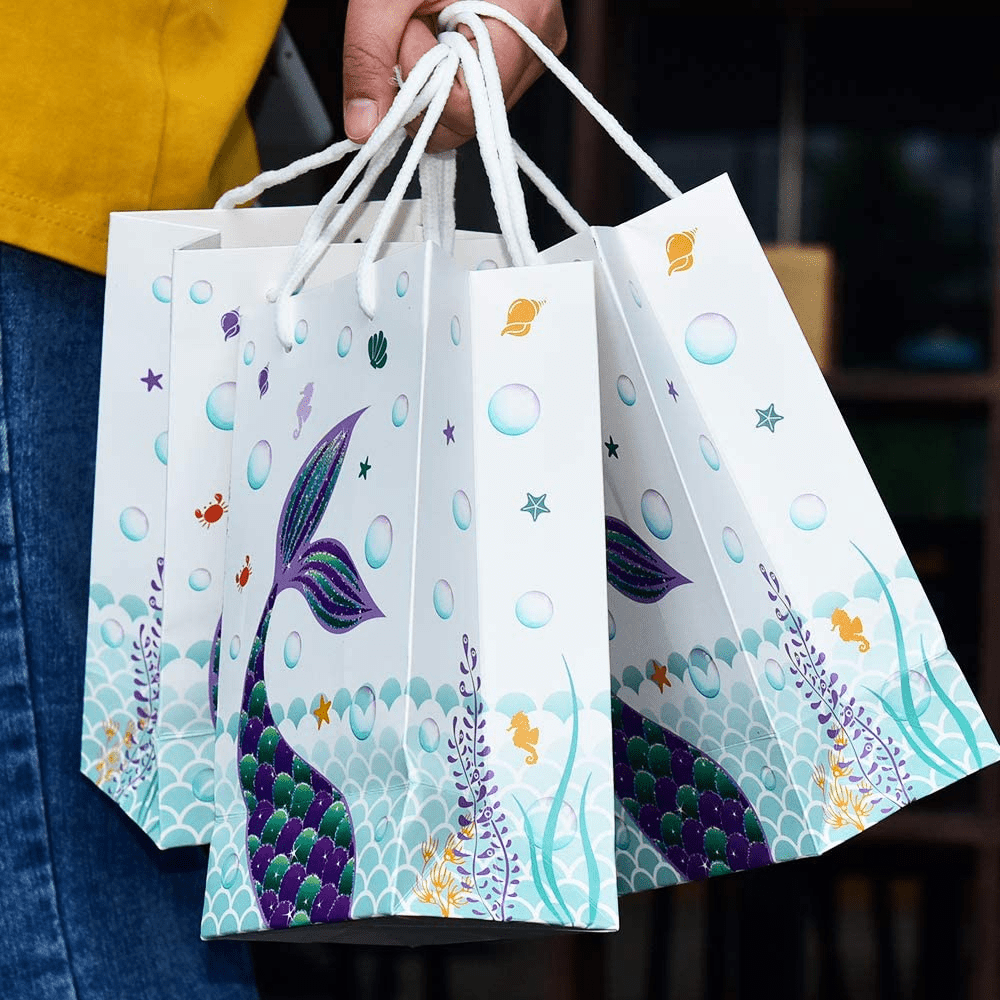 Scared you'll forget a cake topper, table cloth, or thank-you notes? Not to worry. 
Here's a comprehensive list of supplies you may need for your mermaid party. 
General
Decor
Balloons 

Mermaid balloon arch 

Lanterns (like

these jellyfish lanterns

)

Garlands 

Tablecloths 

Tableware – cups, plates, bowls,

straws

, napkins, cutlery, and placemats 

Party banner 

Photo frames 

Photo backdrop

or a photobooth 

Confetti 

Decorations like

sea grass

, sea shells,

water bubbles

,

decorated bottles

, clams with pearls, under-the-sea decor, and sea creatures
Food, Drinks, and Snacks
Entertainment and Activities
Underwater Limbo (like an under-the-sea version of How Low Can You Go?) 

Musical sea shells (aka Musical Chairs) 

Mermaid Tail Race (aka Potato Sack Race) 

Mermaid sleepover

Mermaid makeovers 

Put a Tail on the Mermaid 

Make Mermaid jewelry (like these

starfish bracelets

) 

Make a

Mermaid DIY Jar

 

Make a

Mermaid Tiara

 

Make a

Mermaid Dreamcatcher 
Party Favors
Step 3: Finding Mermaid Party Supplies 
When you are ready with your list of what you need for your mermaid party, you need to find and buy the supplies. 
I love online shopping since I can do it from the comfort of my nice egg chair in my garden with a cup of tea in hand. I particularly like Walmart and Amazon – and there are plenty of mermaid party supplies on the websites of these online retailers. 
However, (#confession) I love seeing the actual supplies with my own two eyes and touching stuff with my hands to gauge quality. So I kinda do a bit of both – buy online and shop in brick-and-mortar party stores. 
Consider USA Party Store, Party Warehouse, and Party City for your party needs in the US. Local shops may also have the mermaid party items you need. 
Pro Tip
Even when I don't buy from an online retailer, I still browse to see what's available. I get some of my best creative ideas this way. 
Step 4: How to Buy the Best Mermaid Party Supplies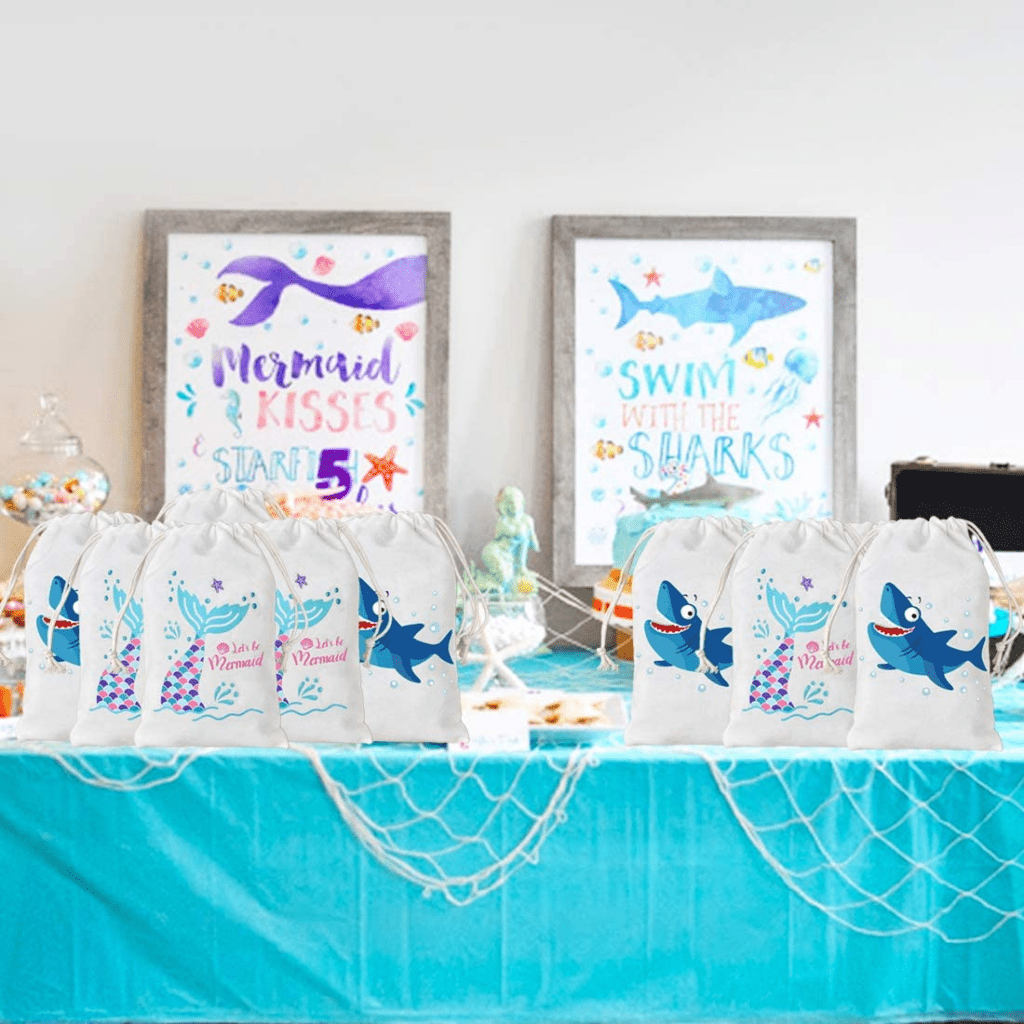 So how do you choose the best mermaid party supplies for your event? I typically keep these three aspects in mind: 
Affordability 
When my budget is tight, one of the first things I look at is the item's affordability – but I also keep quality in mind. And if my budget allows for more, I don't opt for the pricier items – instead, I can just do more to make the party extra special. 
Versatility 
Where possible, I like to reuse items. If you pick mermaid supplies that are Ariel (The Little Mermaid) specific, you may not be able to reuse them again. But if you choose more general and special mermaid-themed ideas, you can also throw an under-the-sea, Moana, or pirates party. 
Reviews 
I always check out the reviews on the items I'm considering buying. There are sometimes great reviews with detailed pros and cons of the product, and I keep those in mind when deciding to click "buy." 
Generally, 4+ star ratings mean the party item will serve you well, but always make your own decision. And don't be scared to take a risk now and again on an item that hasn't yet been reviewed. It may just be newly listed and a great find. 
The Best Must-Have Mermaid Party Supplies 
Here are the best mermaid party supplies you need for your event: 
1. Mermaid Balloon Garland Kit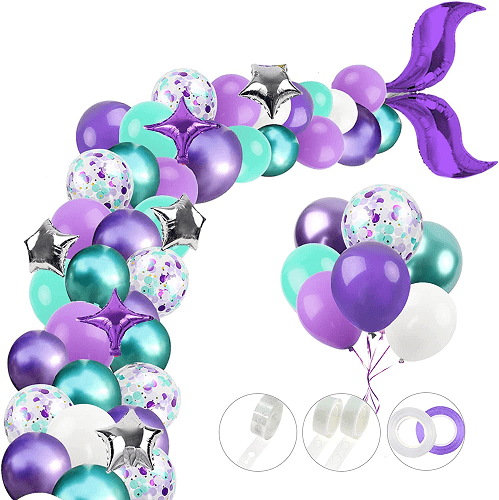 I love the RUBFAC Mermaid Balloon Garland Kit. It's perfect for any party you want to organize, from a birthday and baby shower to a mermaid-themed wedding. 
The balloon colors are classy mermaid – purple, turquoise, silver, and white. 
Possibly best of all, the kit comes with everything you need, and there's even a how-to video showing you how to set up the mermaid tail arch. 
2. Under the Sea Circle Garland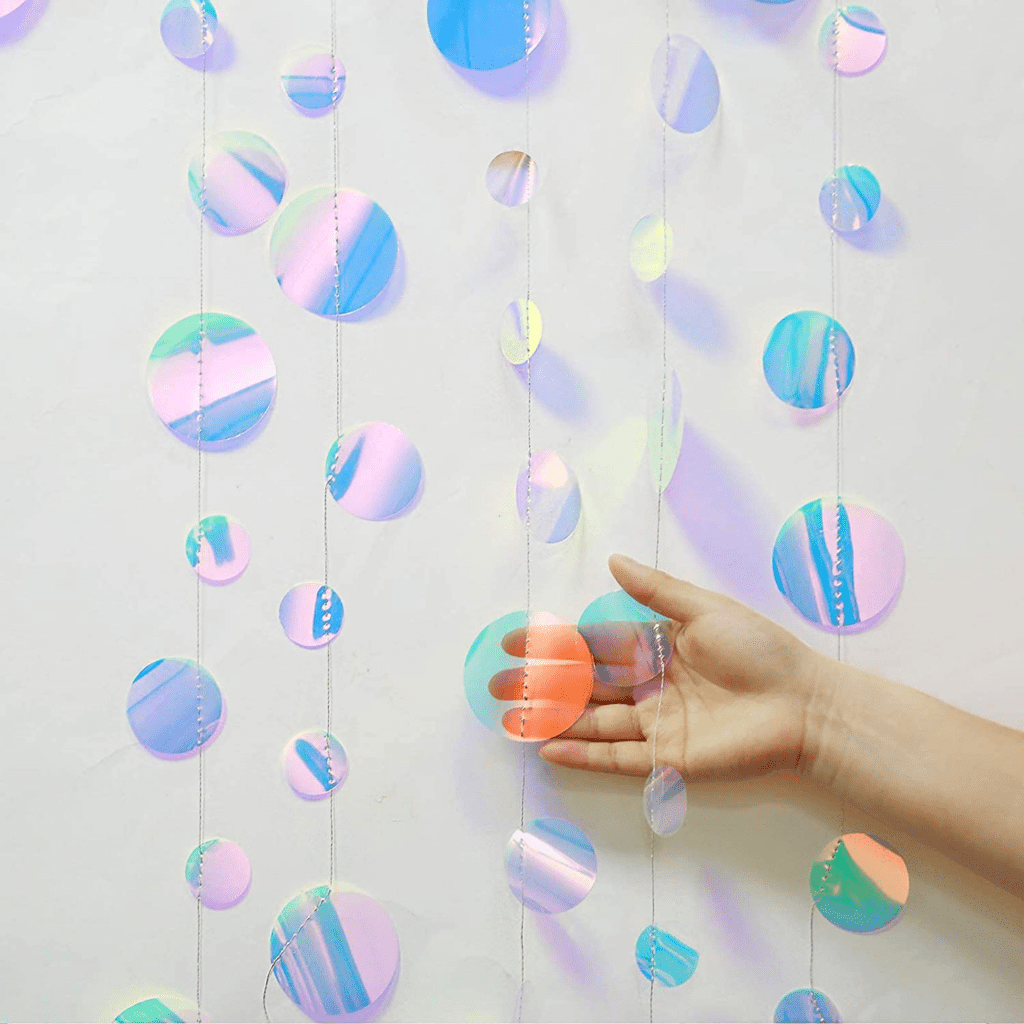 This is one of the best and most versatile mermaid party decorations. After the party I had to organize for the 5-year-olds, I took the liberty of stringing the Under the Sea Circle Garland in holographic bubble shapes in the twin's room, so it had a purpose after the party. 
It's ideal for indoor and outdoor use as any light will bounce off the holographic discs and add that iridescent under-the-sea feel that your mermaid party needs. 
3. Mermaid Paper Eyeglasses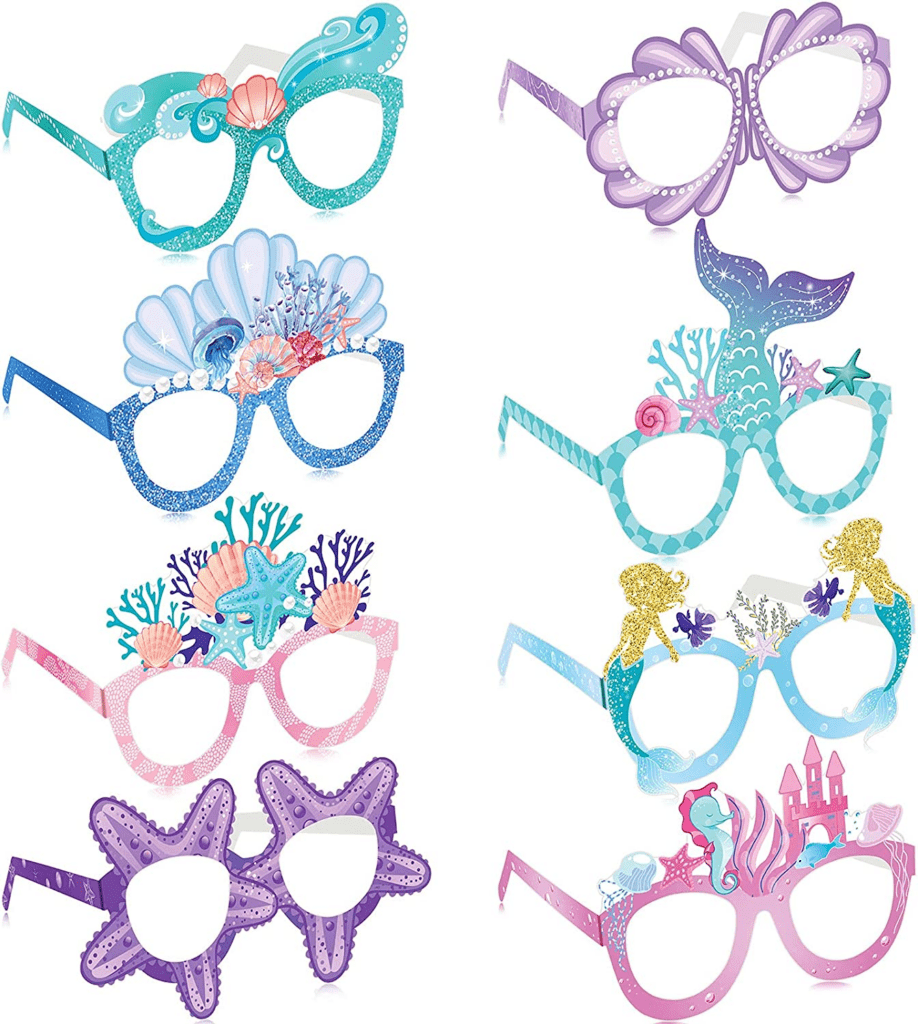 Adults and kids alike can have fun with these Mermaid-Themes Paper Eyeglasses. It comes in a pack of 24 or 32.
Use the eyeglasses at the party so the guests can feel like they are part of the theme, or add a pair of eyeglasses to your party favor bags. 
4. Mermaid Birthday Party Supplies and Decorations Kit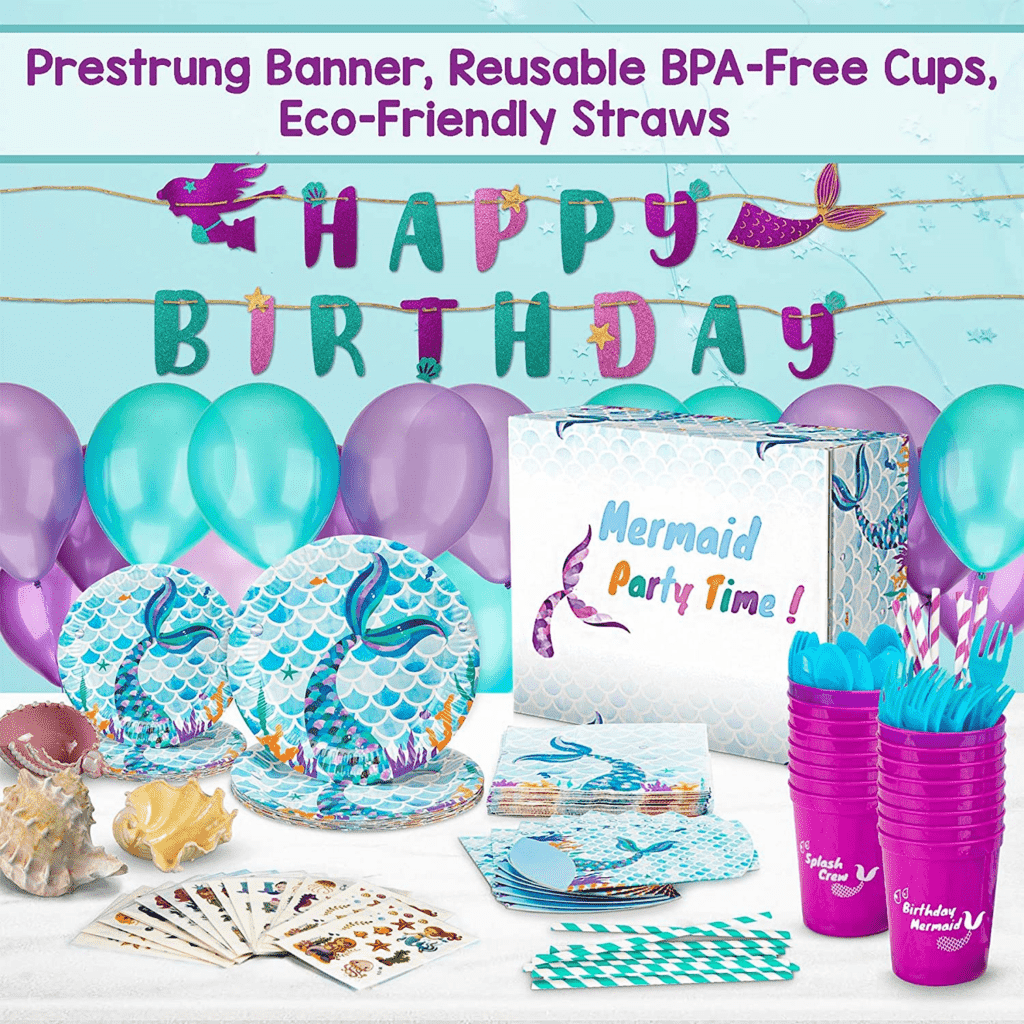 I simply love these kinds of kits, especially if you are on a budget. You get most of the essentials in the kit. Then it's simply a matter of buying the other decor items, sorting out the drinks, snacks, and activities, and putting party favors together. 
The Mermaid Birthday Party Supplies and Decorations Kit has everything you need: balloons, plates, napkins, cutlery, cups, straws, a happy birthday banner, tablecloth, and tattoos. 
It serves 16 guests, so if you are inviting more people to the party, you may need to get a second kit. Or do a mix and match, and get this kit that also serves 16 guests. It only has napkins, cups, and plates. 
5. Natural Fish Net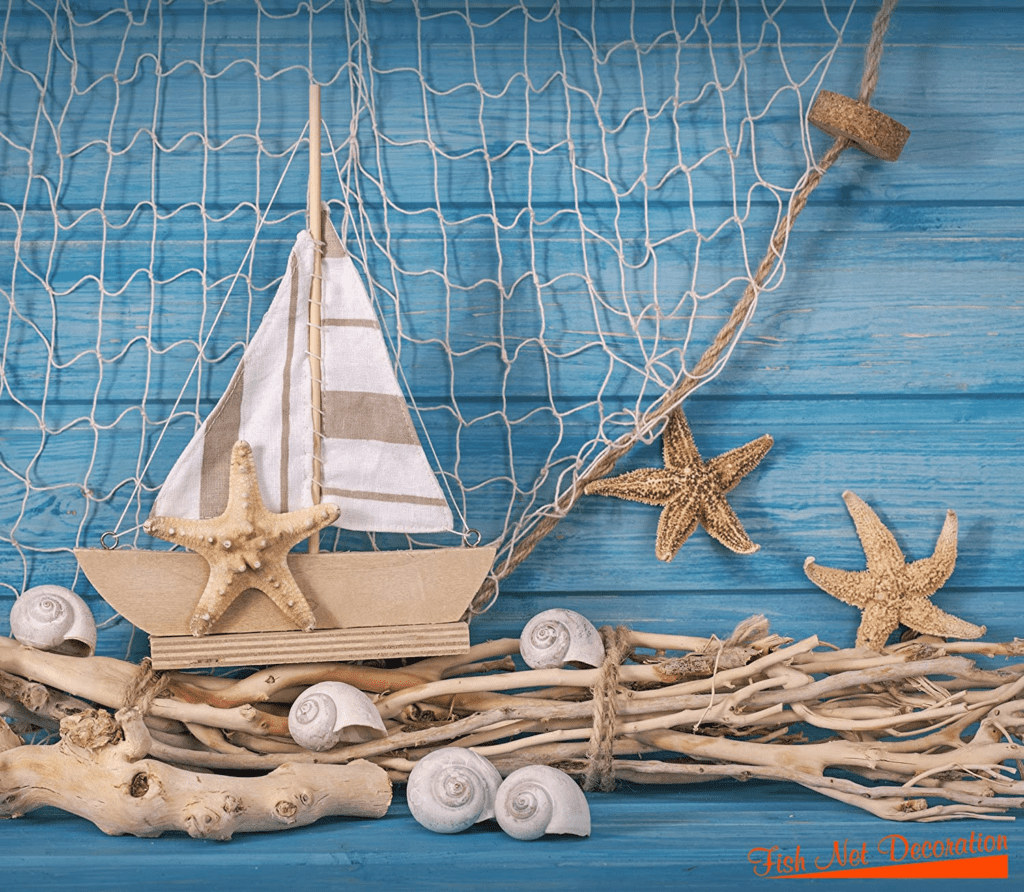 Another versatile and original addition to your party decor: natural fish net! You can use the fish net as a tablecloth, over a tablecloth, or drape it over furniture. Add seashells, fish shapes, clams, pearls, and anything else that fits into your mermaid-themed party. 
I think this is a fantastic find! 
6. Mermaid Tail Straws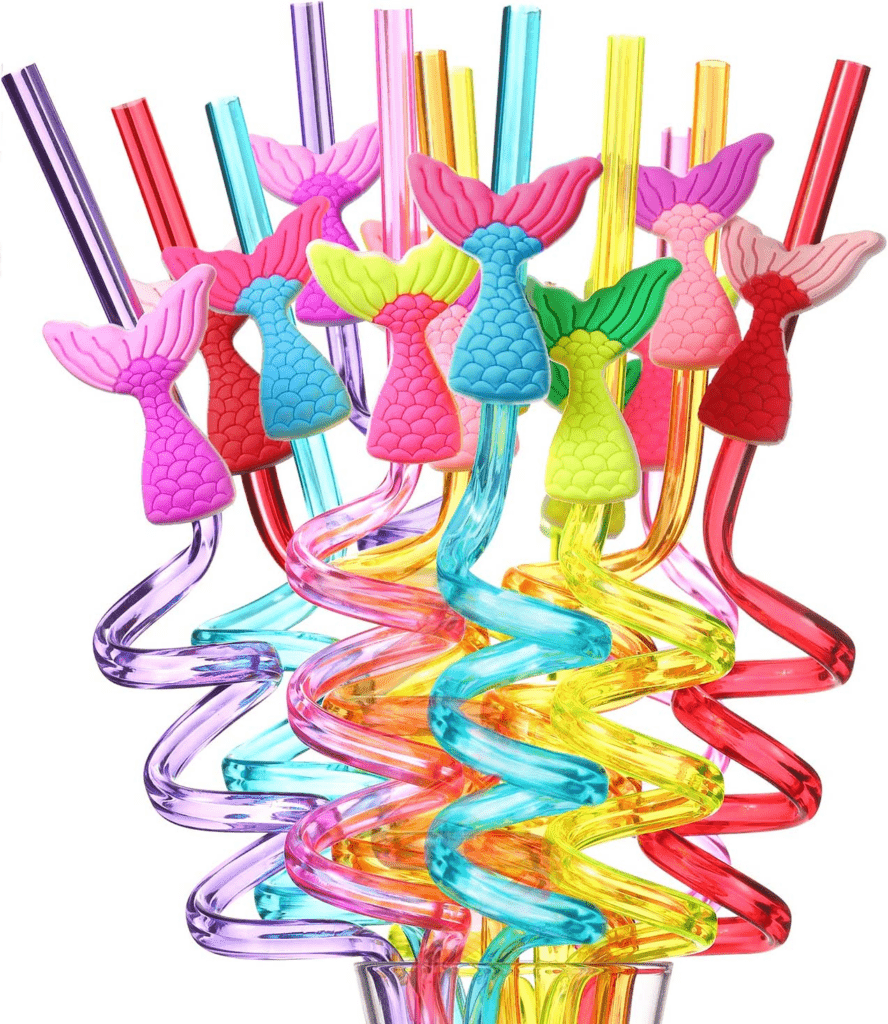 These mermaid tail straws are super cute, and best of all, they are eco-friendly and reusable. The 21 straws come with 2 cleaning brushes, so after the party, wash these and let your kids use their favorite straws whenever they have a drink. 
Or the straws can be part of your party favors: Every guest can place the straw they used into their party bag on their way out. (#win-win) 
7. Mermaid Birthday Party Supplies Favors Kit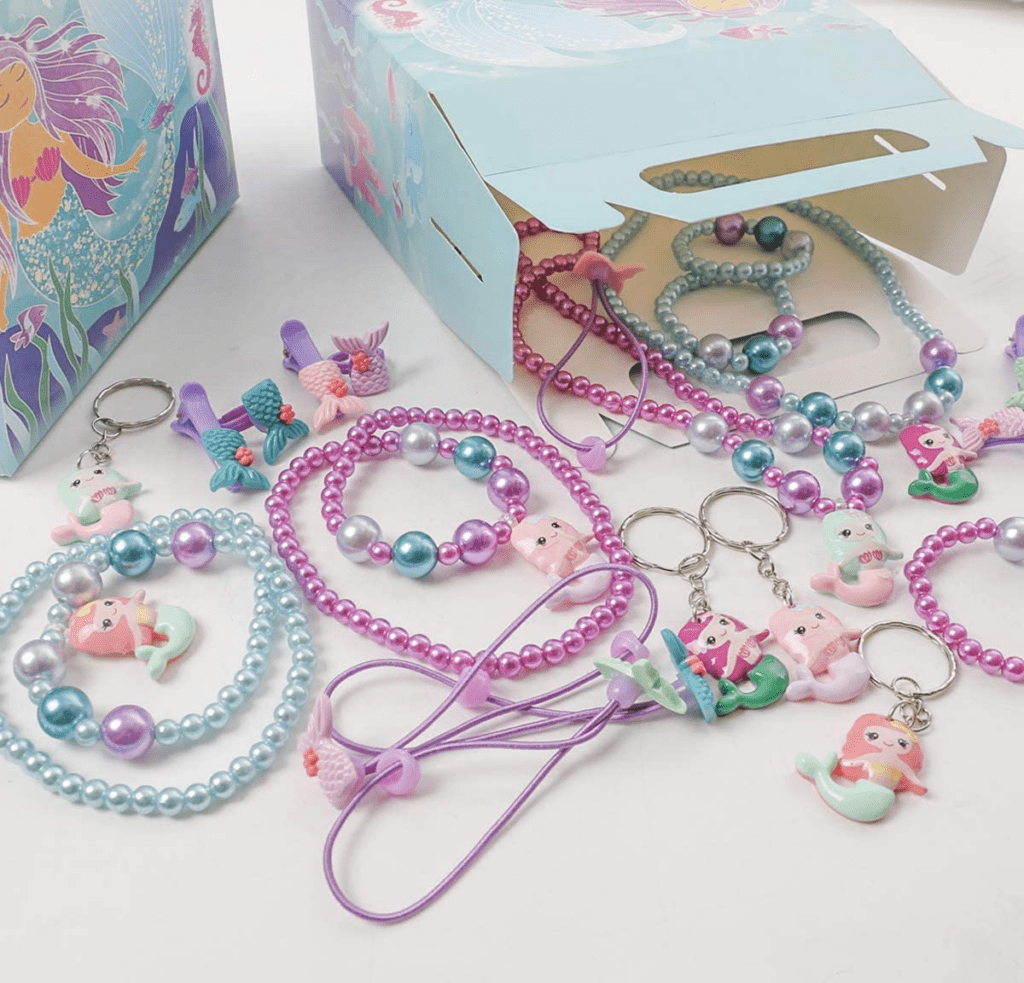 Speaking of party favors, this mermaid birthday party supplies favors kit is perfect for the little ones. If you give every child a hairclip, ring, bracelet, hairband, tattoo sheet, necklace, and keychain, you can make 16 party favor goodie bags. 
I got this set for the twin's birthday, and I cheated a little. (Hey, don't judge. I had a budget to work with, or my bestie was gonna kill me!) I placed 3-4 items in a goodie bag with mermaid fluff, cookies, a mermaid pen, and a notebook. A great goodie bag, wouldn't you say? 
8. Mermaid Party Favor Bags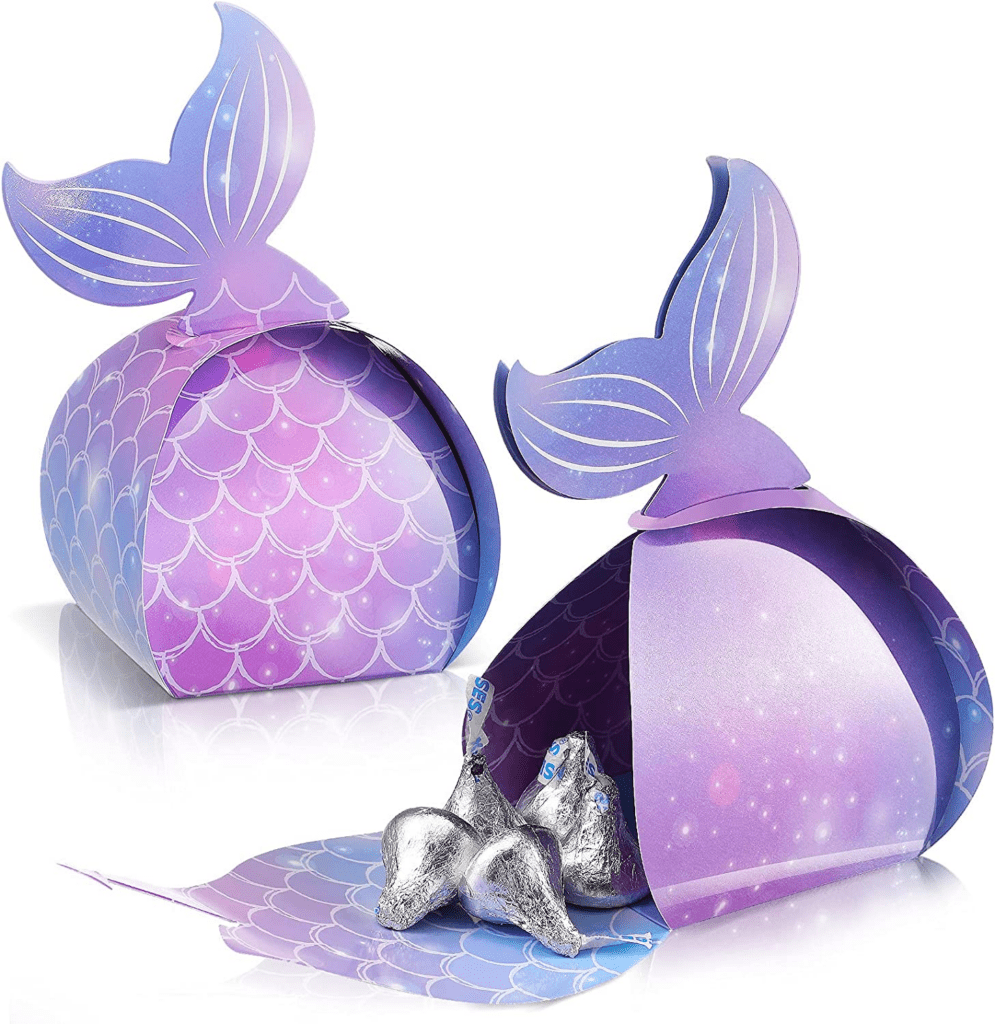 Okay, so I've got a few options for you here, but bear with me. 
The classy design of these white drawstring bags with two designs – a mermaid tail and a friendly shark – is perfect if you have a party with boys and girls. But if you want glitz and glamor, the sparkling mermaid tail waterproof drawstring bag is your winner. 
I love the mermaid candy boxes you can fill with Hershey's Kisses, Reese's, a mermaid popcorn mix, or mermaid sugar cookies. This is a hit with the kids – and the adults! 
These mermaid gift bags are the best "normal" party favor bags; they fit in perfectly with the mermaid decor kit and mertail balloon arch. 
If you have the budget, two unique options are the Naanle Mermaid Canvas Tote Bag (or this color option) or the WERNNSAI Mermaid Neoprene Insulated Lunch Tote Bag. These options are fab for an adult mermaid party, and every time the guests use one of the tote bags, they'll be reminded of your awesome party. 
One more unique option is the Wildkin Mermaid Toiletry Bag. Add a mermaid pen, jewelry, and some makeup in here, and the guests will think you are a genius. 
9. Mermaid Party Invitations

The cheapest option is to do e-invites. Who gets snail mail anymore, in any case?
There are plenty of free mermaid party invite templates you can find online, or you can head on over to Canva, sign up, and create your own invites. Download the file into a .jpg or .pdf and email the invites to your guest list. 
You can also share the invite to your contact list via your favorite messaging app.
Alternatively, look at this cute Little Mermaid invite. I used a similar design for the twin's mermaid birthday party, and I really like the animation. 
10. Mermaid Party Banner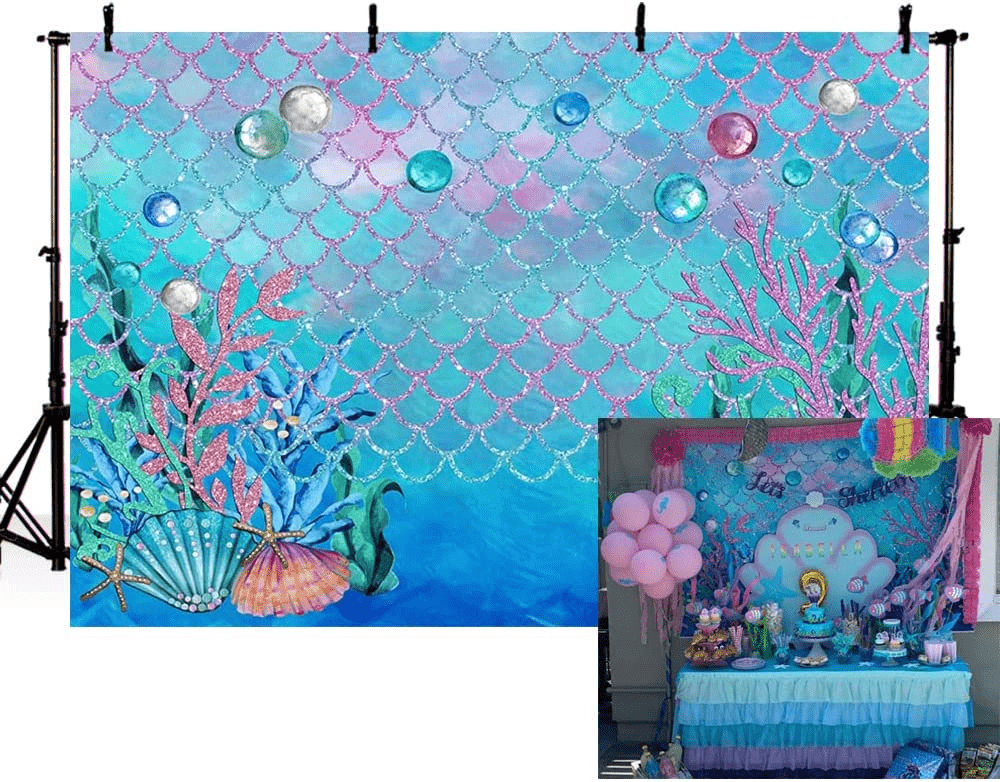 The MEHOFOND Under the Sea Blue Photography Backdrop is perfect for your mermaid party – whether you host adults, children, or both. It comes in two sizes (7' x 5' or 8' x 6') and can be used as a wall banner, tablecloth, curtain, or any under-the-sea background you need at your party. 
Once the party was done and dusted, I convinced my bestie to let the kids use the banner as a play surface on the tiles. The kids love it! 
So I told you I splurged a bit, right? I also got this Transparent Mermaid Happy Birthday Bubble Garland. It was the perfect addition to the photography backdrop. I also like that the garland isn't so mermaid-ish that you can never use it again; I already have plans for the twin's next birthday, and we can use this garland again. 
To make the guests feel like they are having a magical mermaid and under-the-sea experience, I opted for this Ocean Blue Under the Sea Party Decoration Tinsel Foil Fringe Curtain Backdrop. I got the 6.6' curtain with 4 garlands, but there's a 3.3' with 2 garlands. Like the other two banners, this one is reusable! 
11. Unique Party Favor Gifts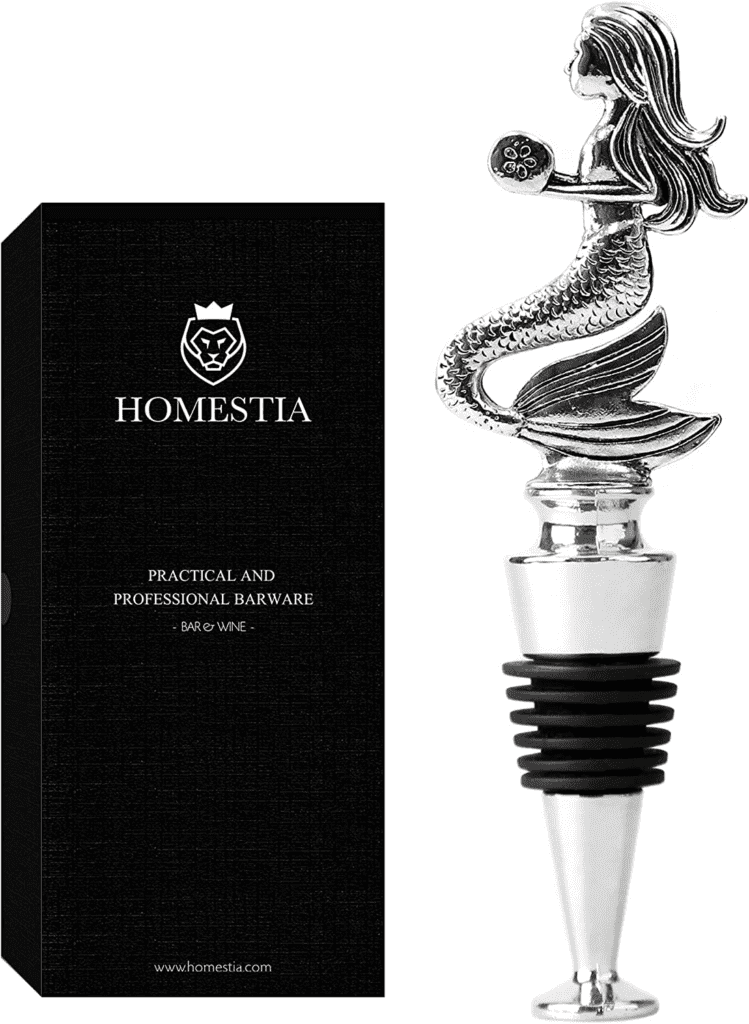 When it comes to party favor gifts, you really have to ensure you stay within your budget AND that the gifts are unique (especially when the mermaid party is for teenagers or adults). 
An excellent mermaid party favor gift for adults (men and women) are the Homestia Mermaid Wine Bottle Stopper. The mermaid looks like she was born to sit on top of your favorite red wine or whiskey.
Another option is the Karma Gifts Black and White Boho Tea Towel with a mermaid print. This looks fabulous in my kitchen, and I think of the party whenever I use it. 
A fun party favor gift for kids and adults (and one that's always a firm favorite) is a mertail blankie. Who doesn't like to cuddle up with something cutesy and warm? I like the D DMY Mermaid Tail Crochet Blanket that's available in 5 colors – blue, fruit-green, green, purple, and pink. AmyHomie Mermaid Tail Blankets are also a great choice. These are available in adult and kids sizes and 13 colors. 
12. Mermaid Thank-You Notes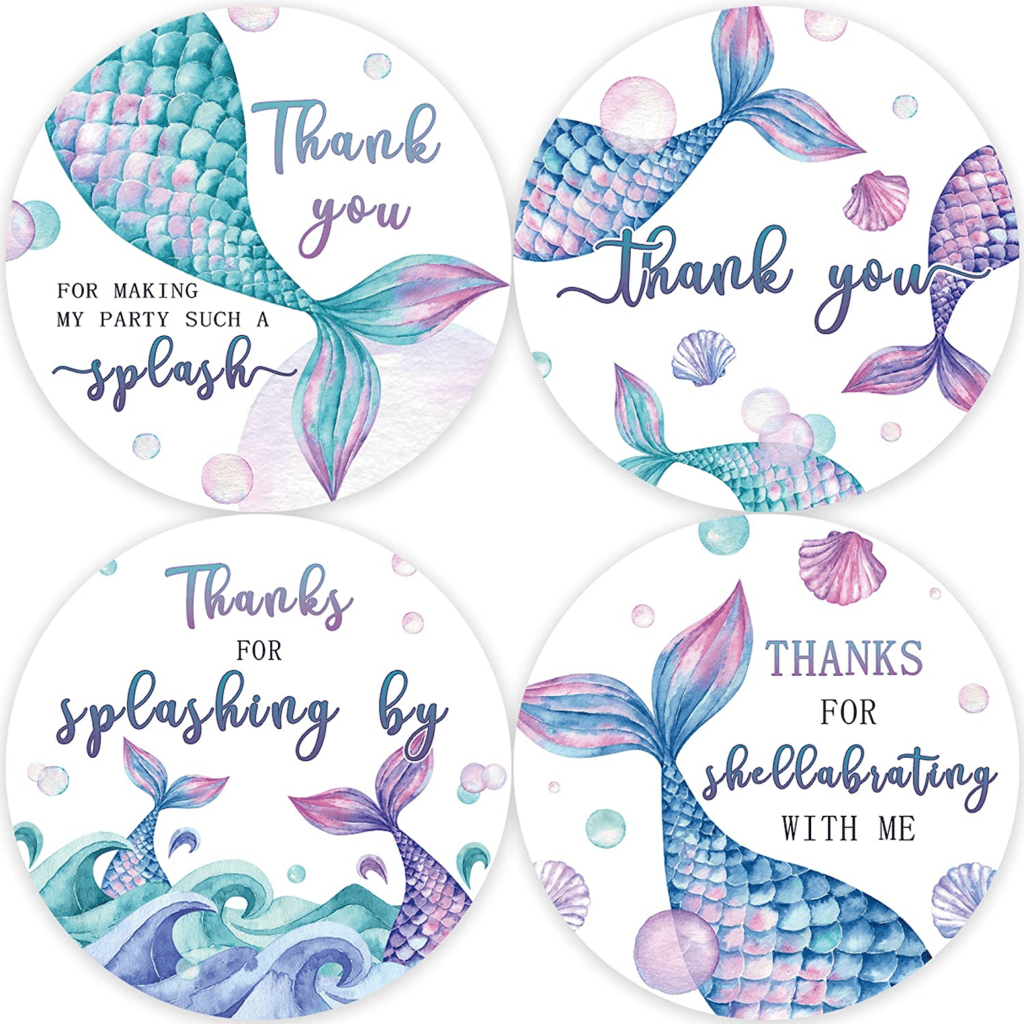 Let's not forget to thank the guests for attending the party. These thank-you stickers are perfect. I particularly like the "Thanks for splashing by." 
I simply stuck them on the goodie bags, but you can also hand them out as your guests leave. 
Since we live in such a digital world, you can also make a simple thank you note on Canva and share via email or messenger app. And this is the least expensive option. 
Mermaid Party Supplies FAQs 
Question: What do You Need for a Mermaid Party? 
Answer: Start with an idea for your mermaid party, and then build on that. Supplies you need for your mermaid-themed party include a banner, foodware, cutlery, balloons, streamers, tablecloths, activity stations, music, party favors, food, cake, snacks, drinks, and mermaid decorations. 
Question: How do You Throw a Mermaid Party? 
Answer: Throwing a mermaid party starts with a budget, a mermaid color scheme, a list of supplies and requirements from the guest of honor, and a guest list. You also need to find a suitable venue, think of hiring furniture, lights, and entertainment, and roping in friends to help mind the little ones. 
Question: What do You do at a Mermaid Party? 
Answer: There are various activities and entertainment options when you organize a mermaid party. Kids can swim, make mermaid bracelets, play mermaid versions of How Low Can You Go, I Spy Treasure Hunt, Musical Chairs, and a Potato Sack Race. Adults can mingle, also have fun with mermaid games, and engage with mermaid arts and crafts. 
My Final Thoughts on the Best Mermaid Party Supplies
The twin's mermaid party was a hit, and I didn't even have to pitch in that much. Everyone loved the activities, the unique party favors, the mermaid birthday cake, and the snacks.
You, too, can stay within your budget and buy the essential mermaid party supplies. DIY what you can, and remember that repurposing is your friend.
If you are looking for party and cake ideas, I have an awesome mermaid party ideas guide and 22 of the best mermaid cake ideas.
Recommended Reads: