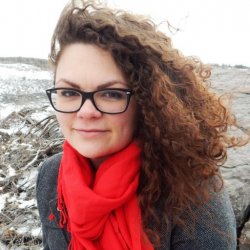 Latest posts by Candace Osmond
(see all)
I'm old enough to have Blue's Clues as part of my childhood but also part of my kids' childhood. How cool is that? Blue's Clues brings back nostalgia for millennials and provides new memories for kids today. If your kid loves to sing along with Steve and solve mysteries with Blue, then making or buying them a Blue's Clues cake will make their birthday that much more special.
I'm going to show you 24 of the best Blue's Clues cake ideas in today's article, so there's one your child would love. Let's dive right in!
Bottom Line Up Front
I love the Blue's Clues Cake + Cupcakes idea because a) it looks easy enough to replicate and b) you get cake AND cupcakes! I mean, talk about a bonus!
Best Blue's Clues Cake Ideas for Your Little Ones
This list was so easy to whip up! I tried my best to choose ideas that would suit a range of ages but also appeal to parents who might be taking the DIY route.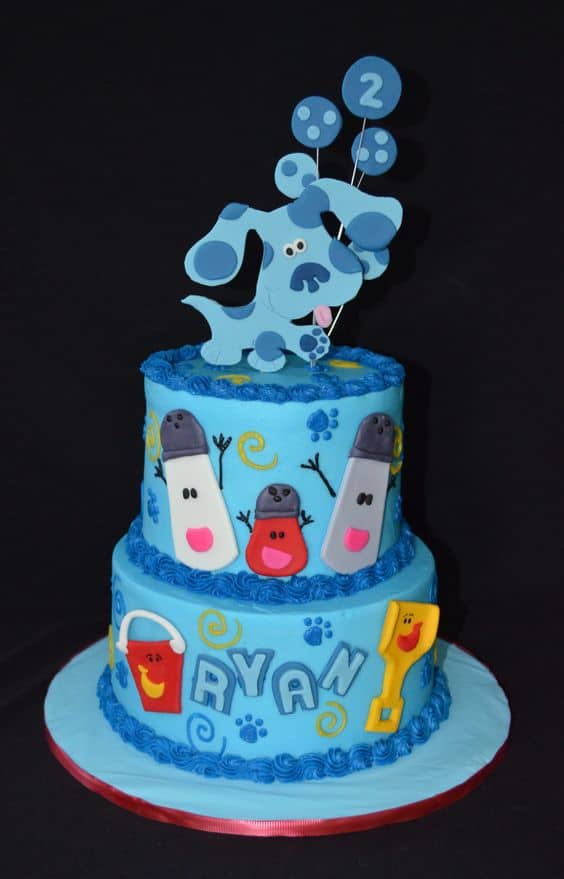 Blue and some of his closest BFFs make an appearance on this adorable, tiered cake! Blue, Mr. Salt, Mrs. Pepper, Paprika, Shovel, and Pail are all lined up to attend your little one's birthday bash.
Having our favorite little blue puppy standing on top of the cake with a bunch of balloons is better than placing a fondant cut-out of him on the sides of the cake because he stands out against all the surrounding blue.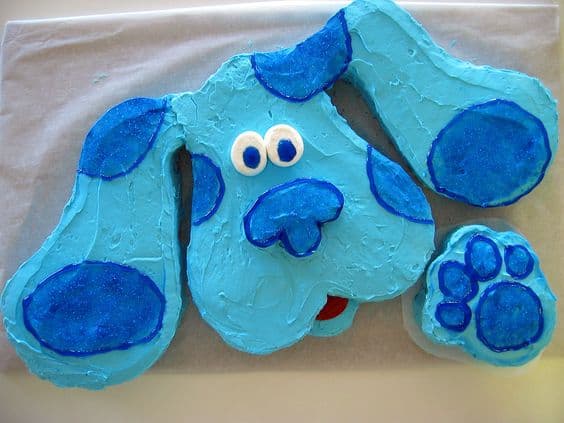 Are you the type of home baker that doesn't like to mess around with fondant, modeling chocolate, piping bags, and all the other bells and whistles? I get it. I used to be a cake decorator, and I know firsthand, even for professionals, how daunting it can be.
That's why I want to show you this idea; all you'll need is cake and buttercream frosting. To achieve this look, you can stack layers of the cake you've cut out and ice them. You could also arrange cupcakes in the shape of Blue's face and paw and then frost those.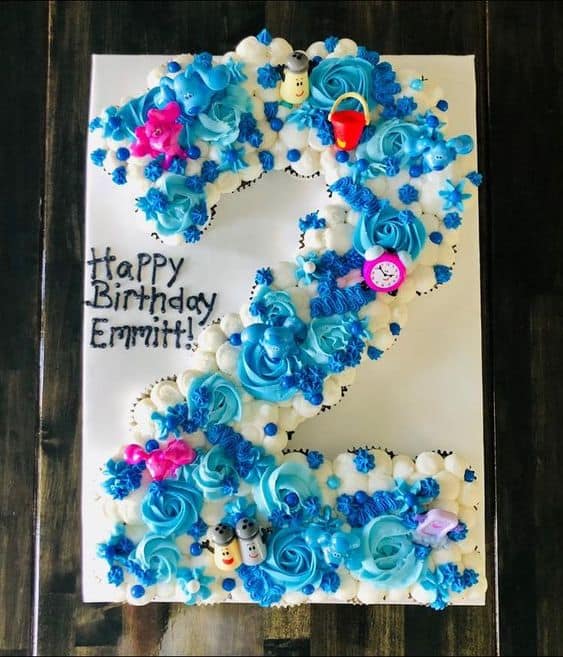 How delightfully modern and yet still super cute! I love that this cupcake cake looks so pretty while showing off a Blue's Clues theme.
To make this look at home, just arrange cupcakes into a number (how old your kid will be on their birthday) and then go nuts with piping bags and different tips. Instead of shaping the characters out of modeling chocolate, you can buy little figurines of Blue, Shovel, Pail, Slippery Soap, and others.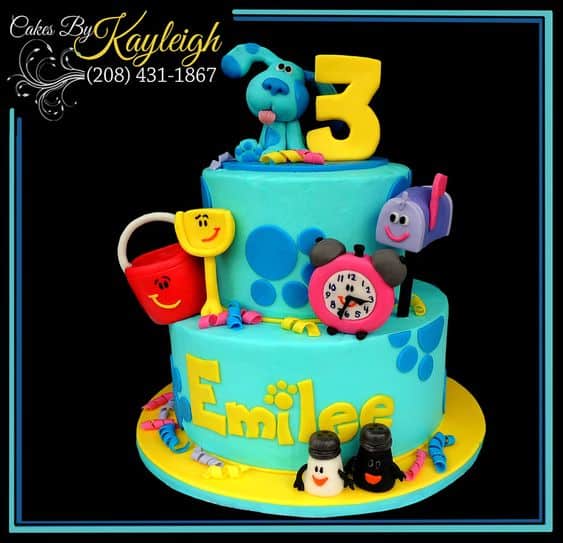 I think you've just got to put Blue on the top of a tiered Blue's Clues cake since he's the main character of the show. That's one reason I adore this tiered cake featuring Blue, Shovel, Pail, Tickety Tock, Mailbox, Mr. Salt, and Mrs. Pepper.
Yes, I know all their names. All these friendly faces have been made from modeling chocolate. I promise working with modeling chocolate isn't as intimidating as it sounds.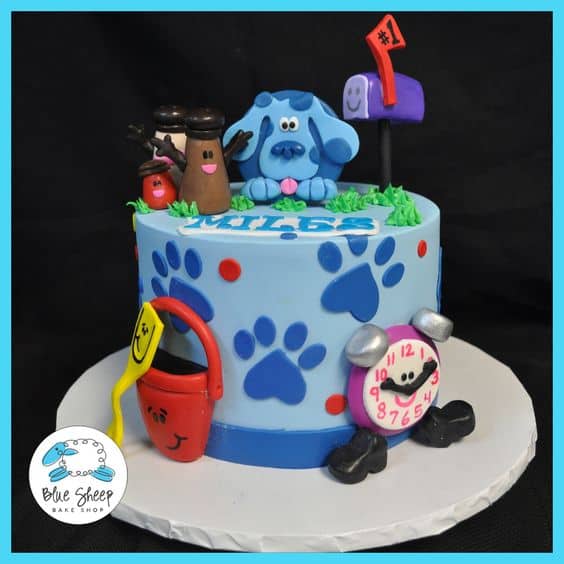 Aw! It's like Blue's been walking all over this cake but in a cute way. Sticking to the Blue's Clue's color scheme, dark blue fondant paw prints have been layered on top of the light blue fondant base. Remember that even if you're covering your cake in fondant, you still need to ice the cake first so the fondant will stick to the frosting!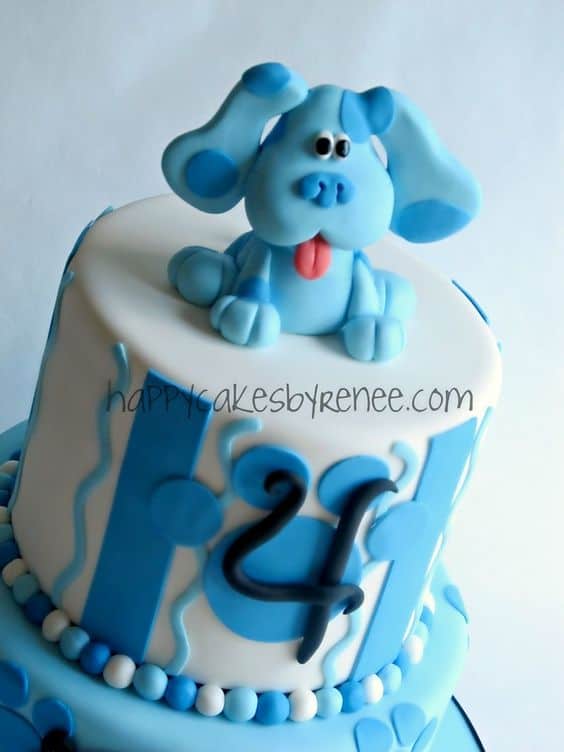 Blue is so small and cute atop this cake, just like a chibi character. I know that as far as modeling chocolate figures go, this one of Blue is one of the easier ones to shape. Even though this birthday cake is relatively simple, some kids might prefer this kind of design because the cake is solely about Blue. The peaceful color scheme with white and calming blues is classic Blue's Clues, and I know your little one is sure to love it.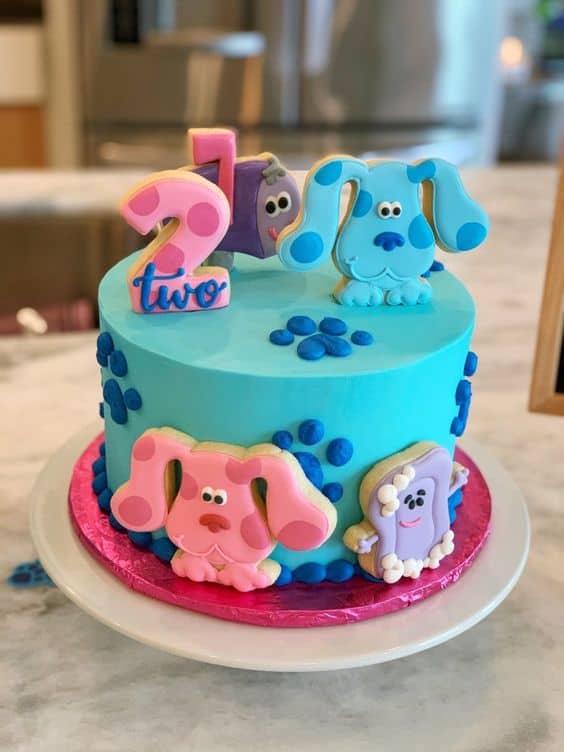 I remember thinking Magenta was the coolest pup on the show when I was a kid, so I would have loved a Blue's Clues cake that included her, too. You'll find her on this cake in cookie form, which I think is such a neat idea! Decorate cookies to look like Blue, Magenta, Mailbox, and Slippery Soap. Then, place them around and on top of the cake for extra sweetness.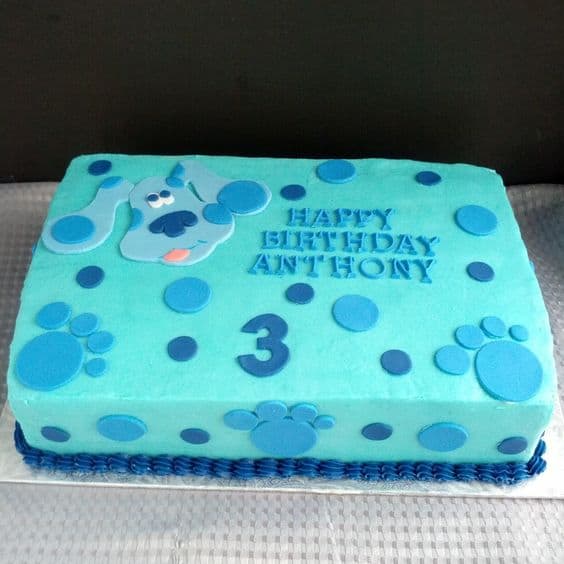 This cake has 3 shades of blue to give off the ultimate Blue's Clues look. The lettering, the decorations, Blue, and even the birthday number are all made with either blue fondant or blue buttercream. It might look hard to DIY, but I bet you could pull it off!
This cake isn't too hard to make yourself, since you won't have to worry about making tiers or working with modeling chocolate. Feel free to make whatever icing border you want with whichever tip you like best-just make sure you stick to blue!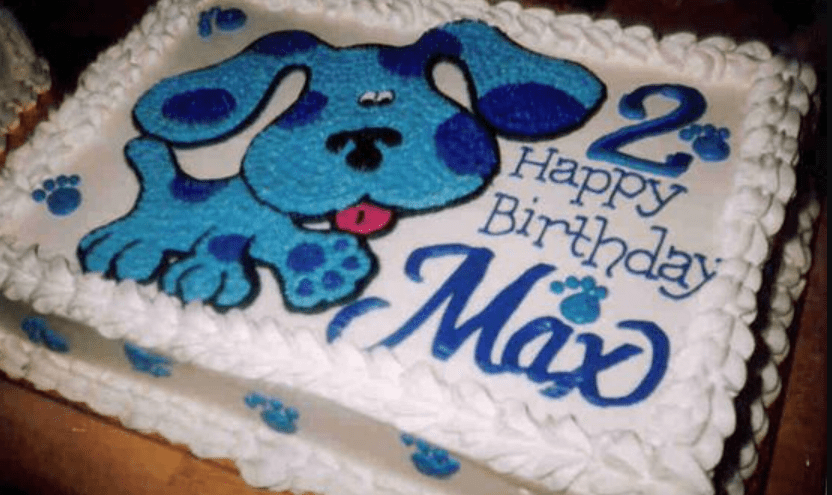 I can't get over how Blue looks like he has actual fur here! If you take your time piping blue frosting onto a sheet cake like this one, you can achieve the same effect. You'll need a much larger piping tip for the frosting along the borders. If you happen to be serious about cake decorating and have an airbrush machine at home, airbrush all the lettering for a polished finish.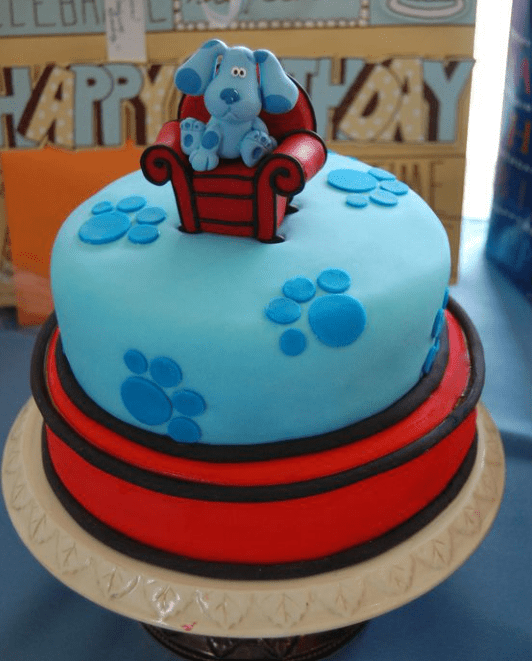 Red and blue sure do stand out when you pair them together. A modeling chocolate Blue on top of this tiered cake looks so relaxed on his little red recliner. By making the tier under the chair blue and the tier under that red, the two colors are evenly alternated. Oh, and don't be intimidated by those blue paw prints. As long as you have circular cut-outs, they're easy to make.
Blue's on the very top of this display with a party hat, and he's ready for the birthday bash to begin! I recommend asking a professional to make this one just to be sure that the entire cake and cupcake display is built correctly. A neat idea might be to make all of the cupcakes chocolate and all of the layered cake vanilla so guests can pick their favorite flavor.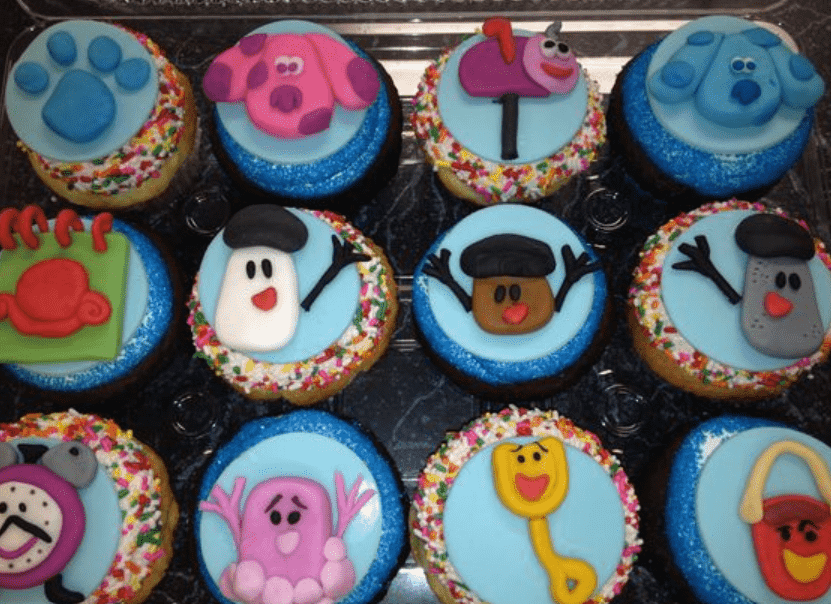 I love the rainbow sprinkles and the blue shimmer sprinkles on these cupcakes! Kids at the party will have a fun time picking out their favorite Blue's Clues character on a cupcake loaded with sprinkles and buttercream frosting. You can make Blue, Magenta, Mr. Salt, Mrs. Pepper, Paprika, Slippery Soap, Mailbox, and even more of Blue's friends using fondant or modeling chocolate.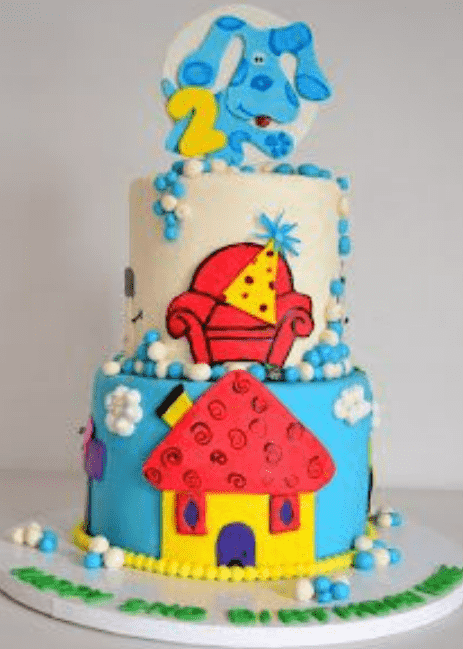 It's such a cozy little home that Blue lives in with Steve. I think this cake captures the essence of that coziness and old childhood nostalgia. The blue and white fondant balls grouped all over the cake are a really fun and modern idea, so I say the more the merrier.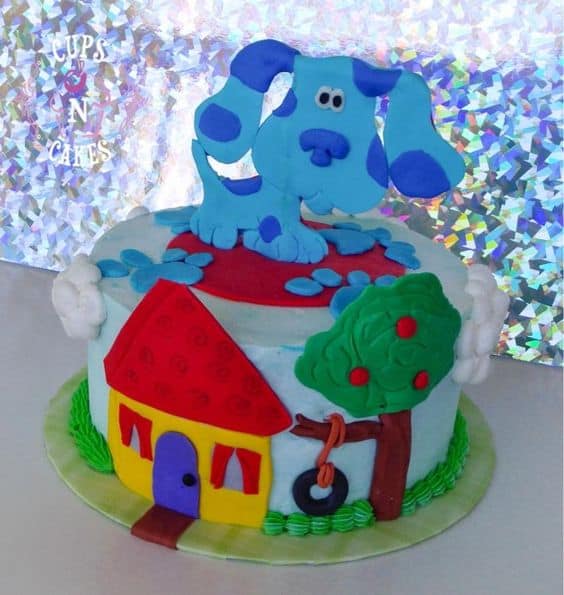 Fondant Blue is just chilling on top of his adorably crafted home. If you want to take on a fondant carving challenge and make this cake in your kitchen, you'll need lots of different colors. Also, keep in mind that since the fondant is flat and can be floppy, you'll need something behind Blue to brace him and keep him upright.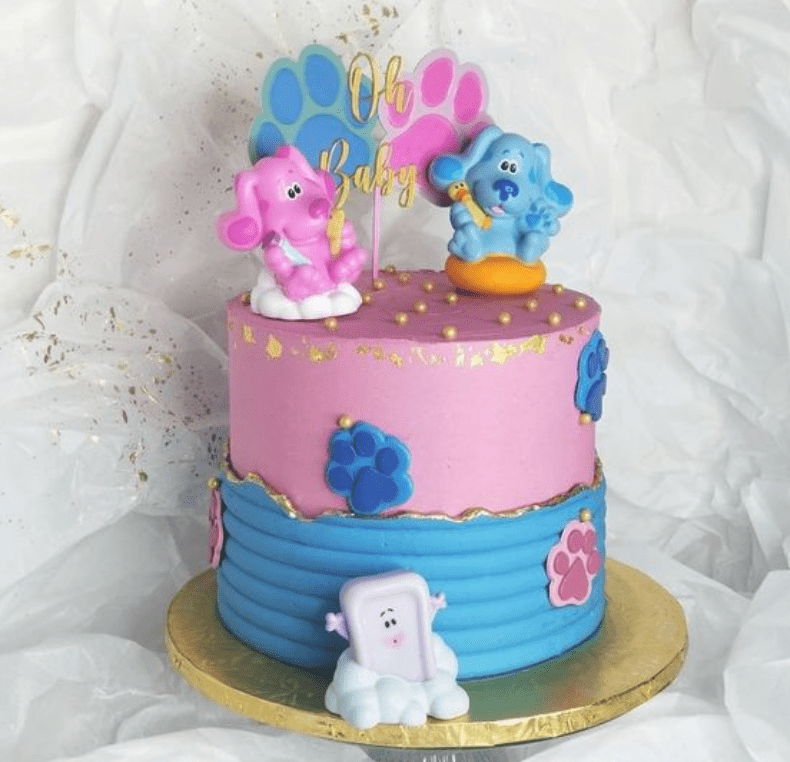 This cake featuring figurines of Blue and Magenta on top is such an oh-so-fabulous idea for your little one. Half the cake is pink and the other half is blue, but what's unique is how the two colors are separated by gold. Edible gold candy balls are placed atop this darling cake, too, which I think gives the already bold colors an extra pop.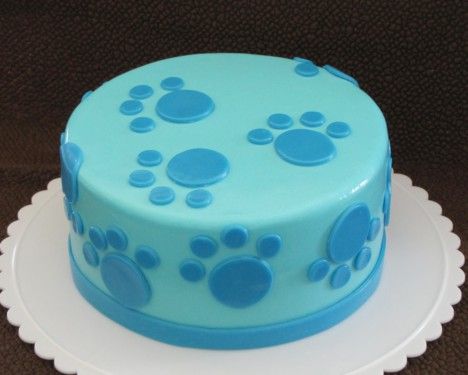 I'm liking the simplicity of this blue cake with Blue's pawprints running all along the sides and the top. You won't have to worry about making tiers for this cake, which always alleviates some of the stress of decorating. If you ask me, it'd be a fun idea to put lots and lots of dark blue candles all over the cake when it's time to make the birthday wish. Just make sure you're being careful with the flames!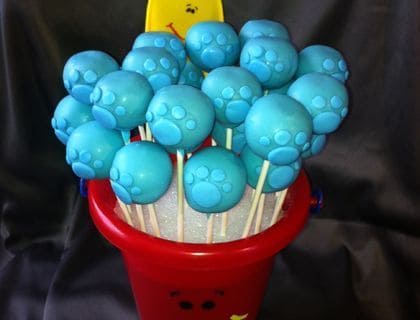 What a fun idea! You know what I love about giving out cake pops at a child's birthday party? Cake pops don't make nearly as much of a mess as regular cake or cupcakes. It's a win for everyone. To make these Blue's Clues cake pops at home, buy some white chocolate chips and blue food dye along with some blue fondant.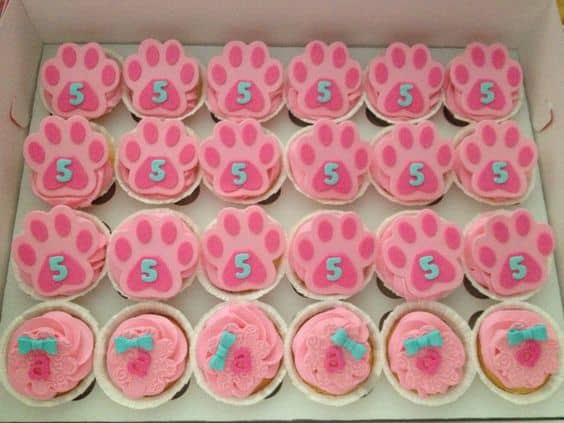 If your little one's favorite pup from the show is Magenta, the pink puppy with magenta spots, then try out these simple cupcakes! As a Magenta fan myself, these are my favorite cupcakes on the list. I think it's pretty easy to make the decorations on top since all you'll need is three shades of fondant and buttercream frosting. Use a chunky icing tip when frosting cupcake tops for an even finish and a generous helping of sugary frosting.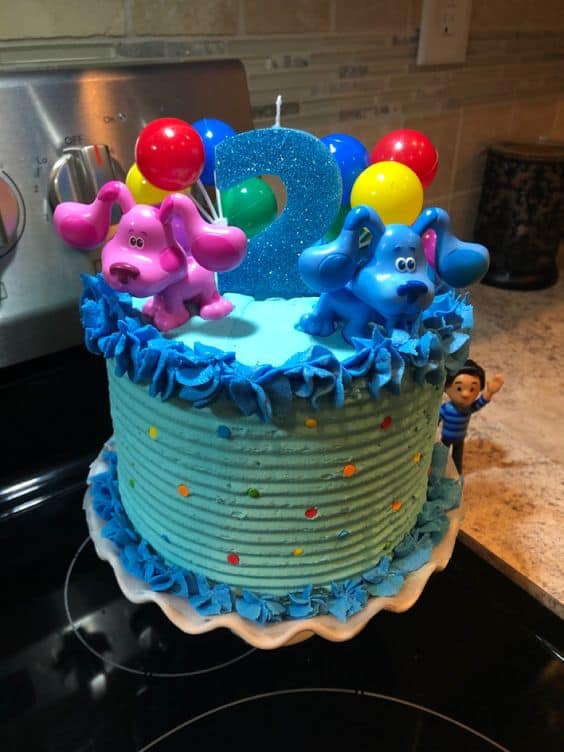 It's time to whip out the blue buttercream frosting for this cake! And make extra if you're like me and love to eat it while using it LOL
Smooth down light blue frosting for the base and pipe dark blue frosting along with borders for a polished look. Adding rainbow sprinkles and Blue's Clues figurines gives this simple birthday cake the extra pops of color it needs.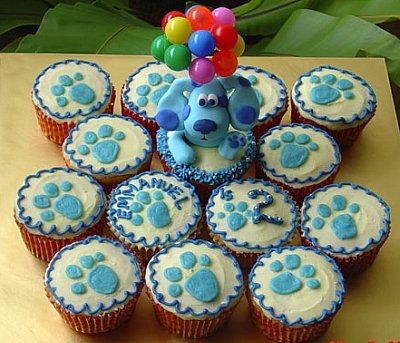 These Blue's Clues cupcakes are homemade and sure do look delicious. You don't always have to make the fanciest fondant cut-outs for cupcakes when you're just showing someone how much you care about them on their special day. This picture shows that you can make super cute cupcakes with just frosting. You could even forgo the modeling chocolate Blue in lieu of a toy Blue.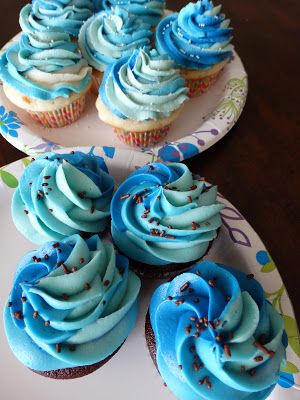 These cupcakes don't have anything to do with Blue's Clues specifically, but if you're throwing a Blue's Clues-themed party, they fit the theme. Swirls of dark blue mixed with light blue icing look so decadent here. If you wanted to make these even more Blue-centric, you could add plastic figures of Blue's Clues characters on top of each cupcake.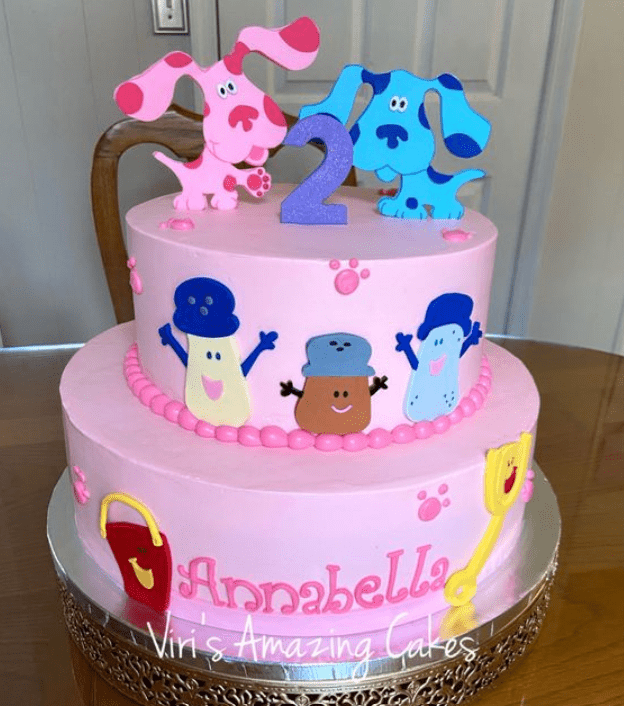 If your girly girl is obsessed with the little pink and magenta puppy from Blue's Clues, then she'd love this cake that's all about her fav character. Instead of a fondant background, this cake is covered in smooth pink buttercream frosting. Fondant characters decorate the cake, with Magenta and Blue being the stars of the show on top.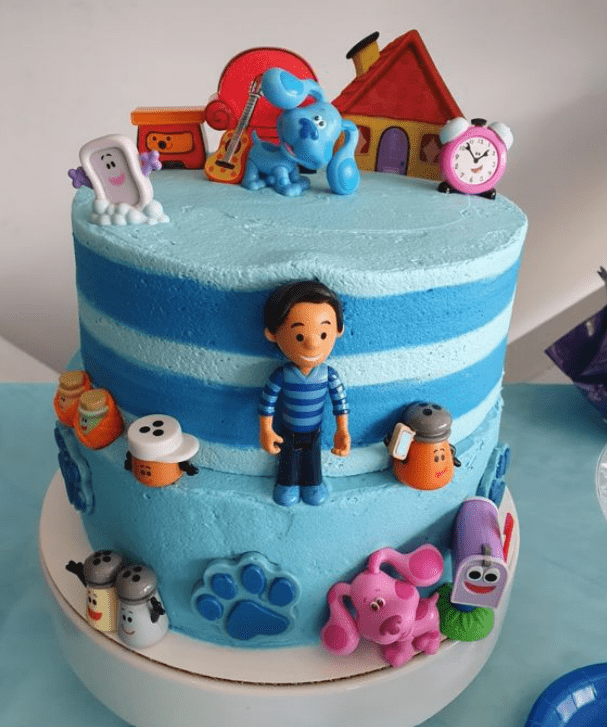 Steve, Blue, Magenta, Slippery Soap, Tickety Tock, Mailbox, and more friends from the show have all shown up to celebrate your little one's special day! Another part about using figurines for cakes that I love is that your little one will get to play with them afterward. Modeling chocolate has to be eaten or thrown away, but your kid can keep figurines as long as they want.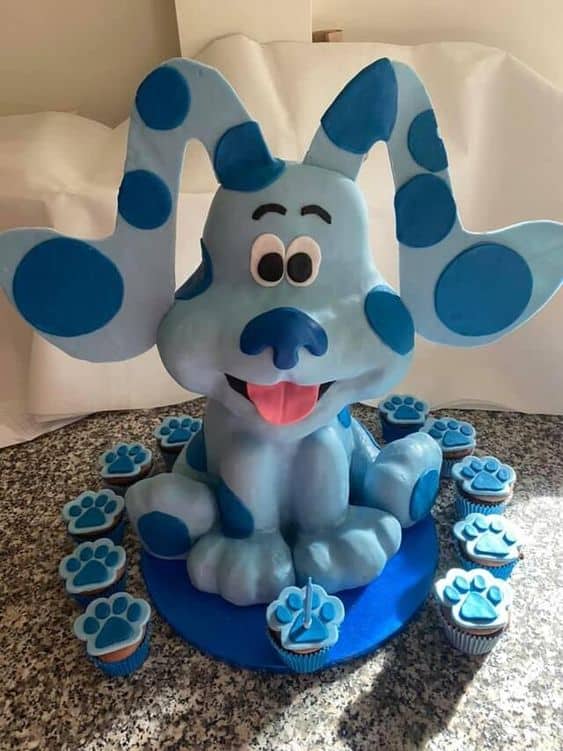 I'm ending this list with a bang because, wow. On this list, this cake is the hardest one to make. Cake and rice Krispie treats have been properly shaped to resemble a little cartoon dog. And, listen, if you want a fun and easy way to model figures for a cake, I can't recommend Krispie treats enough. So easy to make, so easy to work with.
Next, everything has to be frosted and then layered with fondant. The mouth is an especially challenging bit, since Blue's mouth is open, and you can see his tongue. This is some expert-level stuff.
What to Look for in a Blues Clues Cake
Choose a design featuring your child's favorite characters
Pick a cake with bright, eye-catching colors
Take all the guests' food allergies into account
Decide if a cake or cupcakes would be best for the event
Buy figurines of characters to place on top if you aren't comfortable with modeling chocolate
FAQs
Question: Are Blue's Clues Still Popular?
Answer: Blue's Clues is more popular with millennials who grew up with Blue's Clues and now feel nostalgia for the show, but lots of kids still like it. Since lots of millennials have kids now, sometimes their kids watch Blue's Clues with them.
Question: What Age Range is Blues Clues for?
Answer: Blue's Clues was created for kids between the ages of 3 and 6. The show's material is simple and easy to understand because the goal is to teach young children about everyday life.
Question: When Did Blue's Clues Stop Airing?
Answer: It was August 6, 2006, that Blue's Clues officially stopped airing on Nickelodeon. The very first episode of Blue's Clues came out September 8, 1996.
Question: Where Can I Watch Blue's Clues?
Answer: You can tune into Blue's Clues if you have a Paramount Plus account. You can also rent or buy Blue's Clues episodes on Amazon Prime. If you have a Noggin account for your child, you can find it there, too.
Top 3 Picks
Even though I've got 24 adorable Blue's Clues cake ideas to show you down below, I couldn't wait to show you these 3. In terms of design and providing all the sugary goodness kids want, these cakes can't be beaten. Check them out!
Time for the So Long Song
Was it a trip down memory lane to see all the old pals from Blue's Clues? Does your kid love the show? I'm sure they'll love one of these 24 amazing cake ideas featuring their Nickelodeon icons. Let me know which of the Blue's Clues cake ideas was your favorite! Was it my pick, the Blue's Clues Cake + Cupcakes?
Now it's time for so long~ However, if you'd like to sing just one more song and look for more amazing cake ideas for your little one, be sure to check out our website!
Recommended Reads: